Reviews
Light, compact camping chair. Rests low on the ground,…
Rating:


Source: bought it new

Summary
Light, compact camping chair. Rests low on the ground, but this is not a bad thing because it means you can stay seated when using your cooking gear.
Pros
Lightweight
Strong for its weight
Compact
Cons
Can collapse if fabric is not properly fitted to frame
Stability is limited on uneven ground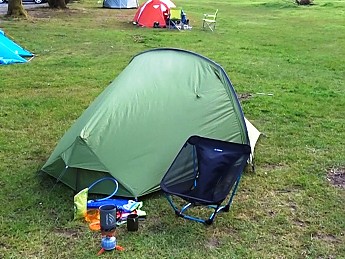 The first time I went camping, I squatted while preparing my supper and spent the rest of the evening sitting on a rock. At night I found it hard to sleep because my back was killing me. I realised that unless I could sit with my back supported, my venture into camping was going to come to a premature end.
The Helinox Ground Chair was the answer. I carried it with me in May 2016 when I walked the Cumbria Way, a 75-mile long trail in England's Lake District, and it saved me from backaches on the nights when I camped.
The Helinox Ground Chair weighs just 625g (22oz), including the plastic bag in which I keep it packed. The chair comes with a sturdy sack of its own, but I don't use this because it adds unnecessary weight.
The folded chair frame looks like a tangle of metal rods, but it is tensioned internally with elasticated cord in much the same way as tent poles. It snaps into place quickly and easily. As shown in the photo above, the chair rests on a square frame rather than on legs. This gives it stability on soft ground, although it needs to be placed with care on uneven ground to make sure it does not tip over when you sit on it.
Fitting the seat fabric onto the frame is straightforward. Each of the upturned ends of the frame fits into a little pocket in a corner of the fabric. Some care is needed to make sure that each end is securely fitted in its pocket otherwise the chair could collapse under you.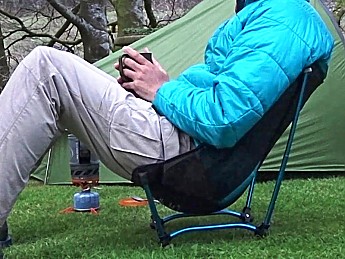 As the photo above shows, the seating position is low, with the back at an angle more like that of a recliner than a chair proper. Getting in and out of the chair takes some effort and involves resting your hands on the ground on each side of the chair.
But the low angle is a plus point rather than a minus, because it allows you to sit in the chair while brewing coffee or preparing supper with your cooking gear set out on the ground. I have not found sitting up or leaning forward in this chair to be a problem.
The chair is rated for a weight of up to 120kg (265lb). However, it looks like it needs gentle treatment, and I would recommend that anyone who weighs that much should be careful when settling into the chair. I'm careful myself and I only weigh 80kg. The chair is lightweight after all, and a trade-off has to be made between sturdiness and portability. 
It is designed to be light enough to carry during the day yet sturdy enough to offer back support in the evening. It achieves this aim admirably well and for this reason I have given it five stars.
Guilty pleasure, luxury item must-have. I've always…
Rating:


Source: bought it new
Price Paid: $87

Summary
Guilty pleasure, luxury item must-have.
Pros
Light
Comfortable
Packs small
I've always been anti backpacking chair (except when I used to bungee an old school steel shorty beach chair to my external frame pack in the early '90s). Several years ago I tried one of those soft seats with the side straps that hold up the back. Hated it and threw it in the trash.
I've seen the expensive packable backpacking chairs going around for years. Wasn't into the Monarch balance version and the ones they added legs to didn't seem sturdy and were very expensive. I've sat on the REI and Therm-a-Rest versions and didn't like them either for their comfort vs weight.
My buddy just picked up a knockoff of the Helinox Chair One on Amazon and I was considering getting a couple for my girlfriend and myself but I just can't justify 2 lbs of luxury weight. Even if they're $30. 
I read good things about the Helinox Chair One, but I didn't like the weight and I didn't like what I read about the little feet sinking in soft ground. After looking at my buddy's knockoff I agree that those little feet will definitely sink.
Then I came across the Ground Chair. It was perfect. 1lb 6oz was more like it. No sinking feet. Same comfy sling chair as the Chair One. Same good looks. Holds 320lbs!!!! I'm 200lbs but it's good to know that I  can trust it in case I accidentally fall into it from weak tired exhausted legs (or tequila).
But it's $110!!!???
OK, so I didn't grab it right away.
I searched and searched and finally got an email from Backcountry Edge that it was on sale for $87 + a free T-shirt!. I grabbed two and love them!!!!
Small, lightweight, sturdy, comfy! I believe it's smaller than or the same size as my old 1.5 liter Nalgene bottle
My girlfriend and I set them up real quick in front of the couch and watched TV. Easy to assemble (no instructions needed). If you can't figure it out real quick I question your backcountry skills and hope your tent survives the night.
They have a great laid back sitting position. I could chill in that thing all day.
For those who said you can't cook in it I disagree. I mimicked/mimed myself sitting forward and clicking on my Jetboil just fine. And I have a beer belly.
I can't wait to take them at the end of the month on my Grand Canyon murder mission.
I know I'll be cursing the extra weight on the climb out of there, but after 10 miles a day for three nights I know my arse and back will appreciate the comfort over a sleep pad on a boulder.
Definitely coming with us whenever we bike ride at the beach so we can take pitstops and get our burn on in the sand with our covert Squirt Palomas.
Very disappointed in this chair. It looked good quality.
Rating:


Source: bought it new
Price Paid: $125 AUD

Summary
Very disappointed in this chair. It looked good quality. It's certainly lightweight and packs down to a tiny package...but it broke immediately when my wife sat on it. The plastic fitting broke and the chair is now useless. My wife is certainly less than the max weight rating.
Pros
Packs up to a tiny size
Lightweight
Look for something more robust.
Where to Buy
sponsored links
Help support this site by making your next gear purchase through one of the links above. Click a link, buy what you need, and the seller will contribute a portion of the purchase price to support Trailspace's independent gear reviews.
Helinox Ground Chair
currently retails for:
$109.95

Recently on Trailspace