Helinox Chair Zero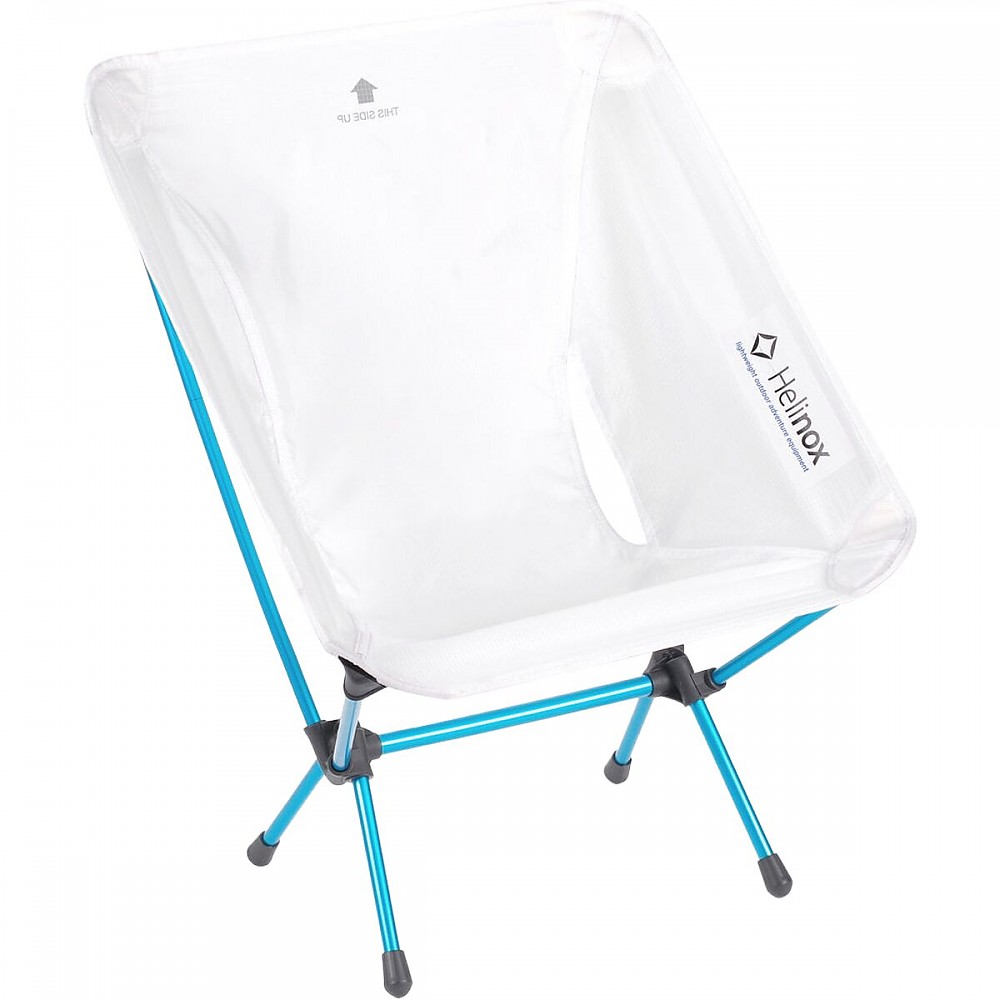 Beautiful design, very well-made, and light enough for backpacking; a bit low for tall people
Pros
Light enough for backpacking
Strong
Gets you off the ground...
Beautiful design
Cons
One size fits all?
Critical ambiguity in assembly instructions
... but too high for vestibule use
Sometimes I get the impression that UL hikers think comfort is a dirty word. For my part, I try to solve the weight-time-distance-comfort equation to maximize the FQ (fun quotient) for any given trip. Something to sit in or at least lean against can dramatically enhance the FQ on some trips, especially those that allow time for sitting around reading, sipping coffee, and nibbling bonbons.
So ever since lightweight-ish chairs for backpackers came out years ago, they have always been somewhere on my "maybe" list for any given trip, usually coming along on weekenders and sometimes even three- to five-day trips, depending on other considerations and necessities.
All the lightweight chairs that I have tried until now were all of the simple "monofold" (Crazy Creek) type, either standalone or ones that work with a self-inflating mattress. The welcome introduction (for my aging bones) of inflatable mattresses has worked against the latter type, because they just don't work well with a full-length, two-inch-thick mattress. It was always hassle converting between uses anyway.
Enter the Chair Zero, a folding sling chair in the one-pound weight class that promises comfortable seating at a minimum weight penalty: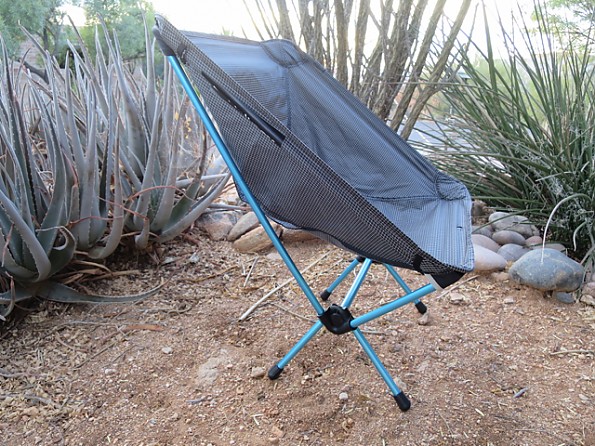 When I read some rave reviews of this little beauty, I immediately thought "his and her Christmas presents!" The Zero is pricey enough that I broached the idea with my wife (rather than spring a surprise at Christmas), and she was in favor. With a 20%-off-any-one-item sale going on at a local retailer we hustled right on down, tried out the Zero, and compared it with a couple of other, somewhat heavier, but also less expensive, backpacker's chairs. Despite the reservations noted below, we set a premium on the saved ounces and got us a couple.
We tried them out on a car-camping weekend, just enough to get a first impression. When we tried them out in the shop, we both noticed a soft spot at the lower back; where other chairs gave some support down there, in the Zero it was missing. But it's so light! So with the discount bringing the price down to under $100, we got a brace of them anyway.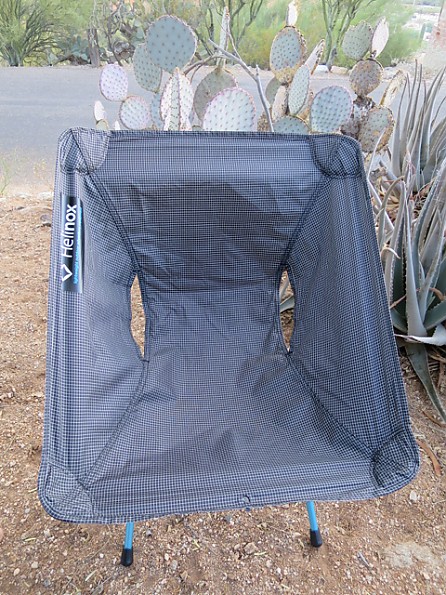 I felt the same soft spot on my lower back when we sat around in them at camp, and cooncluded that the chair just wasn't sized for a tall guy like me. Then after I posted my initial review, another user ponted out that I seemed to have the sling rotated 180˚(see comments below) -- the logo on the chair in the picture above should be on the lower right. The assembly instructions are printed on the back of the sling, and to me (and I think to the people in the shop) it was only natural that they should go right side up on the back rather than under the thighs. There's no indication of the correct rotation in the assembly instructions, so I think it's an understandable error.
Now that I've tried it the other way round it's much better, but I'm finding that I'm sort of locked into a single sitting position, with my long legs stretched out front. People with shorter legs might get a little more variety. My old monofolder has an adjustable angle that offers a little more variety.
I wouldn't dream of using the Zero inside a tent because the four legs could potentially damage the floor. I see that Helinox makes a weight spreader to help keep the legs from sinking into sand or soft ground, another potential problem, but that adds 5 ounces and I still wouldn't trust it on a tent floor.
But during our weekend test, where were using a tent with a roomy vestibule, it occurred to me to try sitting in the vestibule in the Zero, thinking that in inclement weather it might be desirable to be able to do so. Fully loaded, it puts your butt about 6.5 inches off the ground, so using it in a ca. 40 inch high vestibule was a no-go for me, whereas a ground-level monofolder might work just fine.  I guess that's just a trade-off, because it is nice to get up off the ground a bit.
Otherwise it's a beautiful piece of design in a very light package. In the stuff sack it weighs in at 505 g, just shy of 18 oz, so it doesn't quite meet the one pound goal, but it feels feather light. The frame is shock-corded together so that it is effectively one piece, so putting it together and folding it back up is a breeze.
The molded "knuckles" that hold it all together are a bit bulky but made of some kind of tough plastic that handles the weight and flexing well. I haven't tested the given 265 pound load limit (I would need to sit in it with nearly 100 pounds in my lap—my wife weighs a bit more than that…) but I believe that it should be able to handle it no problem.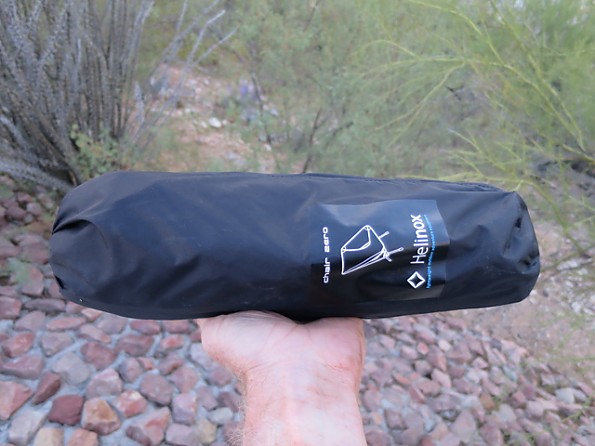 The folded-up package is small enough to fit into a water bottle pocket on the outside of a pack or wouldn't take up much room in the main compartment. 
Before I was notified of my mistake, I was thinking I would return my Zero because I just couldn't get comfortable in it for very long. But now that I've got it turned around the right way I'm really looking forward to having it along on my next backpacking trip. But I'd still suggest potentials buyers to go to a shop and "try before you buy".
Source: bought it new
Price Paid: About $90

Having made fun of such chairs carried by other backpackers, I had to eat my words this summer when I caved in and bought the Helinox Chair Zero.
Cons
Legs can sink into soft ground
I consider myself an ultralight backpacker, a veteran of many decades. My current pack weight for a week on the trail usually comes in at about 20-23 pounds (depending on bear canister or no), including food, so to consider adding a whole POUND of weight to my load required a monumental trade-off. For me, this chair is well worth the extra pound of weight.
Some of the earlier folding chairs come in at about 2 pounds, and that is completely out of the question, but when Helinox came out with this one at half that weight, it got my interest. 
I've had the chair for about 6 months, and I've carried it on one 9-day trip and a number of shorter ones, and I have many good impressions. I occasionally get some lower back pain when bending over to set up camp, so it's good to have a place to sit and relax completely when done. Can't do that sitting on a rock or on a bear canister. No back support. This chair gives me that option. It is low enough to cook with the stove sitting on the ground, and also low enough to use sitting just outside the tent while organizing the inside, inflating air pad, laying out sleeping bag, etc. 
It folds up small enough to easily fit inside my pack, or to tie to the outside if I need the additional inside space for a bear canister. Setup and break down is fast and simple.
Because of the low height, some of us older folks might find it a little harder to get up from it, compared to getting up off a bear canister, for comparison. However, that is of little consequence when you learn that you can just push up with your hands on the front supports when standing. 
The only other problem, common to all of these chairs with four individual legs, is that it tends to sink into the soft sand on beach or desert terrain. And because of the individual legs, you definitely do not want to sit on it inside your tent, if the tent has a floor.
Bottom line, I can no longer make fun of others who carry chairs. And, this is the best of them all.
Source: bought it new
Price Paid: $119.95

Great backcountry comfort in a small package that will only add a pound to your pack.
Pros
Lightweight
Compact
Quick to set up
Comfortable
And did I mention lightweight?
Cons
If you are a large person the chair may be a bit narrow through the hips. It's a lightweight chair, and while quite stable, considering the materials, it is not as stable as a full sized folding chair.
This little nugget is worth its weight in gold. At today's price of gold that would be around $1800, but fortunately the Chair Zero costs considerably less than that. But the point being, that at a scant 1 pound in weight, it affords a lot of lightweight comfort after a day on the trail. At $120 it's not exactly cheap, but I'm not getting any younger and comfort in camp is a luxury I'm willing to pay for.
I've used this chair for day hikes, as well, as it sets up in a matter of seconds and sure beats sitting on a rock or a log while taking a break for lunch. The packed chair is small enough to easily stow in a day pack and the aforementioned weight of one pound makes it a no brainer to take along for just about any outing where you need a collapsible chair.
Contrary to its diminutive size the Chair Zero offers big comfort (although if you're a very large person it might be a bit confining). I've found the chair to be quite stable on firm ground. On softer soil or sand there are golfball-sized "feet" you can add to the bottom of the legs to prevent sinking (I have these but have yet to use them).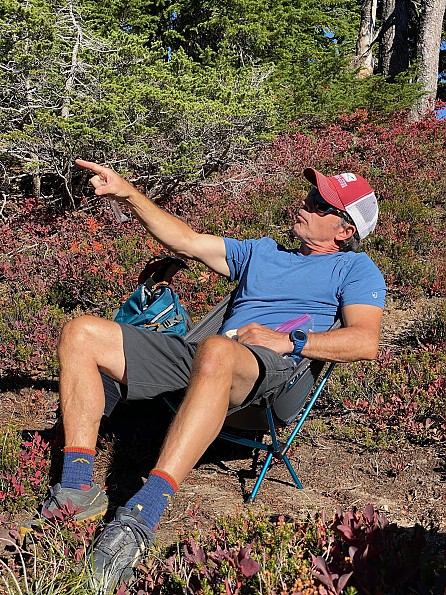 Background
I've used this chair while backpacking and hiking.
Source: bought it new
Price Paid: Retail $120

This is a great chair and comfortable for what it is.
The first debate is, do you want to carry "un-needed" extra weight? Everyone has to make their own choice on that.  For me, the days of hoping to find a semi-comfortable rock or log at a campsite are over. What if there's nothing there at all? Plus, if you do find something, can you move it easily? When I was younger I did not carry a chair. If a chair like this had been available back then though I would have.
The chair itself is well made and supports me well. I average between 230 and 245 pounds and have used this chair at 240 with no feeling that it would fail.
I will mention two potential negatives about it which  are unavoidable in my opinion. One is the fabric. Make sure you do not have any sharp objects on you or in your pockets because I don't think the fabric can hold up to them. The other is the legs. You need solid ground to keep from driving the legs into the ground like stakes.  
Other than that this is a comfortable, sturdy, and lightweight chair. I will not be found on the trail without it.
Background
I've used several other "packable" chairs. This one is the best for backpacking that I have used by far.
Source: bought it new
Price Paid: I paid around $115 for it.

This is a super light chair which is very useful in the backpack or even the paniers on a bike trip. It weighs less than a full water bottle, and it is great for a picnic. The legs will sink into loose dirt, mud, or sand—so pick hard ground.
Pros
Very light and portable
Easy setup
Simple design
Sturdy material
Cons
You are in one sitting position, so it's hard to cross your legs, shift around, etc. in the chair
The legs can sink into loose/wet ground and become unstable
The chair has been a great addition to the backpack and paniers on day trips and adventures in the woods. It works for adults and kids, making it something we fight over! It also is great for the living room when adults, who are perhaps not as nimble, are asked by preschoolers to play on the floor for hours on end.
Source: bought it new

Your Review
Where to Buy
Help support this site by making your next gear purchase through one of the links above. Click a link, buy what you need, and the seller will contribute a portion of the purchase price to support Trailspace's independent gear reviews.
You May Like
Specs
assembled
packed
Price
MSRP: $129.95
Current Retail: $112.39-$159.95
Historic Range: $89.96-$159.95
Reviewers Paid: $90.00-$120.00

Height
25 in / 64 cm
13.5 in / 35 cm
Width
18.5 in / 48 cm
3.5 in / 10 cm
Depth
20 in / 52 cm
3.5 in / 10 cm
Weight
1 lb 1 oz / 0.49 kg
1 lb 2 oz / 0.51 kg
Capacity
265 lb / 120 kg

Recently on Trailspace