Helinox Chair One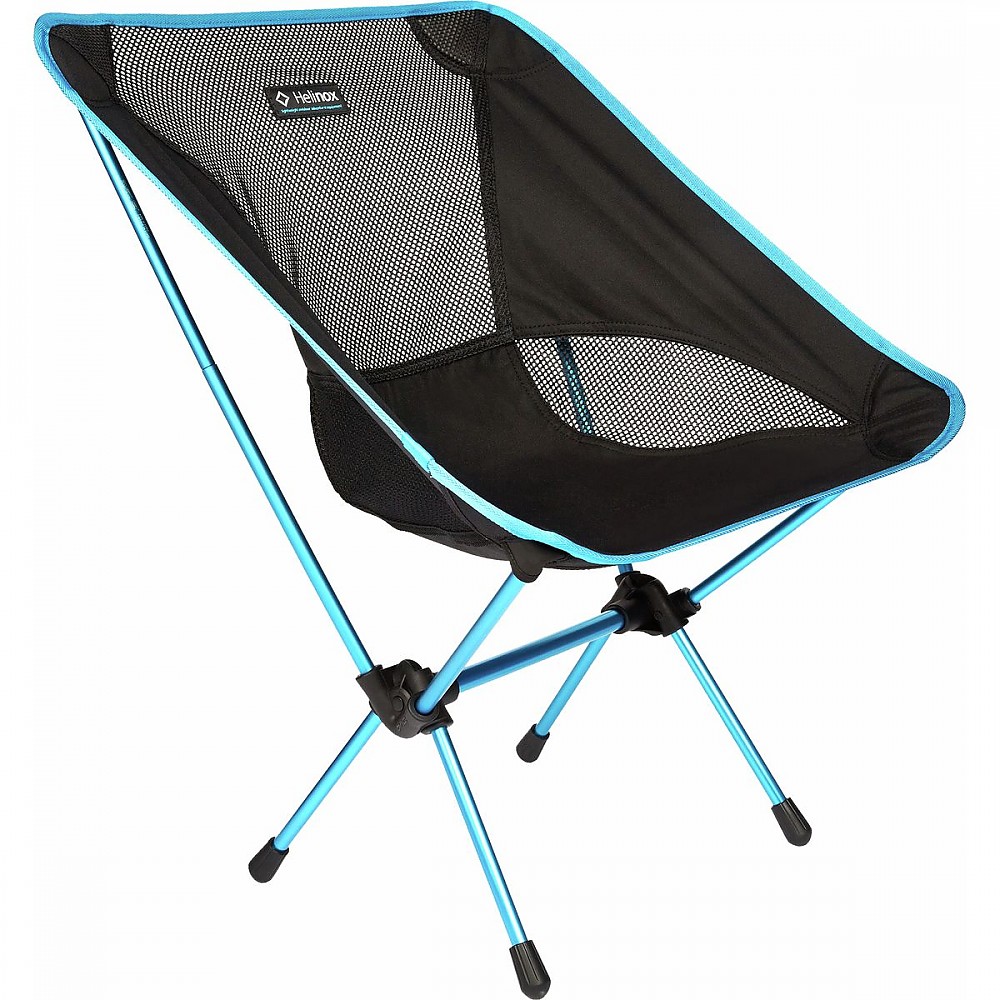 This is one of my favorite campfire accessories. This chair is comfortable enough to fall asleep in and small enough to keep stashed in the car / boat at all times.
Pros
Packs down small
Weighs just over 2 lbs
Easy to asssemble
320 lb capacity
Cons
Legs sink into soft ground
Too large for backpacking
I came across the Chair One while riding in the Tour de Cure New England Classic this past summer. I stopped in at a bike shop somewhere in Vermont to pick up spare parts. While waiting for a few other folks to finish up repairs, I sat down in a Helinox Chair One and promptly fell asleep. After a few minutes, I had to buy one!  
I love this little chair. It's great for hanging out around the campfire, the grill, or the telescope. It's too large to take on a backpacking trip, but works wonderfully for just about everything else.
COMFORT:  All in all, this is an amazingly comfortable chair. It is very slightly reclined and does a good job with regards to back support. The only downside is that the back isn't high enough to fall asleep in unless you have a wall / tree behind you. Helinox does make two high back version of this chair (both the Camp Chair and the Sunset Chair have higher backs than that Chair One), but I haven't picked one up yet.  
DESIGN:  The Chair One has a segmented aluminum frame connected by bungee cords, just like what you find in modern tent poles. Two 5-hole joints connect the various portions of the frame into a chair shape with 4 plastic feet and an elongated back. The seat itself is nylon and mesh and easily stretches over the frame.
The storage bag for this chair includes a nylon daisy chain for attaching it to other pieces of gear and also includes two large handle loops. These can be attached to the frame of the chair in order to avoid losing the storage bag when the chair is assembled.
EASE OF USE:  The Chair One is really easy to set up. As soon as you remove it from its bag, the frame begins to snap itself together. Once the frame is assembled, the seat stretches over the primary four poles of the frame—each of these poles fits into a color-coded pocket on the back of the seat.
STABILITY:  The design of this chair allows the frame to pivot on either of its two plastic joints. This allows it to shift to fit various terrain, but can be a little unsettling at first. Despite how flimsy this chair looks and how lightweight it feels, it's a sturdy little chair! The advertised capacity is 320 lbs. At 180 lbs, I don't even come close, so I can't really speak to how accurate this number is. I can definitely vouch for this chair's ability to support a ~200 lb person with ease.
When setting up this chain, be certain to choose solid, dry ground. The feet on this chair are too narrow to support the 320 lb maximum load. When I say this, I don't mean that they are structurally unsound. Rather, the narrow feet mean that the load isn't properly dispersed on the ground. Even at 180 lbs, I have frequently found myself sinking into soft / wet soil.
PACKABILITY:  The Chair One packs down to about 14" x 4" and weighs in at 2 lbs 1.8 oz. It isn't compact or light enough that I would consider it for use while backpacking, but is great for car camping, canoe camping, etc. Given how small it is, I usually keep mine in the trunk of my car just in case.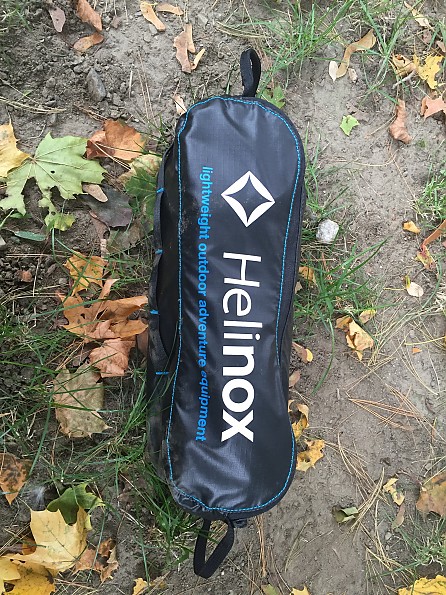 Source: bought it new
Price Paid: $99

Ergonomic, durable, lightweight, and comfortable. This chair will be sure to turn heads. Great alternative to a bulky "sports event chair." Conveniently packs into a bag for easy transport and takes up little space.
Pros
Comfortable
Lightweight
Color and style options
Easy setup and pack up
Back ventilation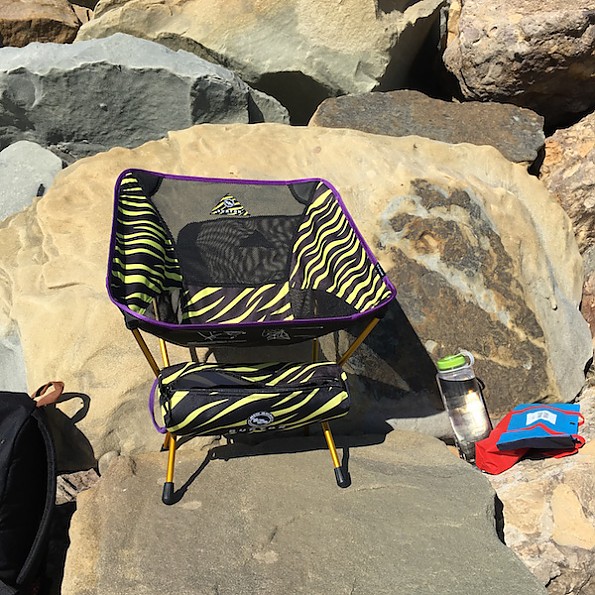 It was a toss up between getting the 'Evrgrn Campfire Rocker' chair and when I tried the Rocker chair upon getting up, the chair slid from under me and my butt ended up on the floor, can you imagine if you had a hot drink in your hand? So yeah, this Helinox chair came out the clear winner. 
This little gem weighs in at 1.9lbs and can hold up to 320lbs. It comes with a pack bag that roughly is 14" x 4" x 5" in size.  
Set up is real easy and quick. There are two main components: the frame and the fabric seat.
All you have to do is lock in the frame legs into the attached connectors and snap the back support into its slots. With the frame standing on its legs, slide in the back of the seat to the corresponding pole and do the same with the bottom half. Set up should take a few seconds. Taking the chair apart should be just as easy. 
You can easily attach the pack bag onto the bottom of the frame before you slide in the bottom half of the seat. This is great for convenient storage of your knickknacks and easy access to your personal items. See pic below.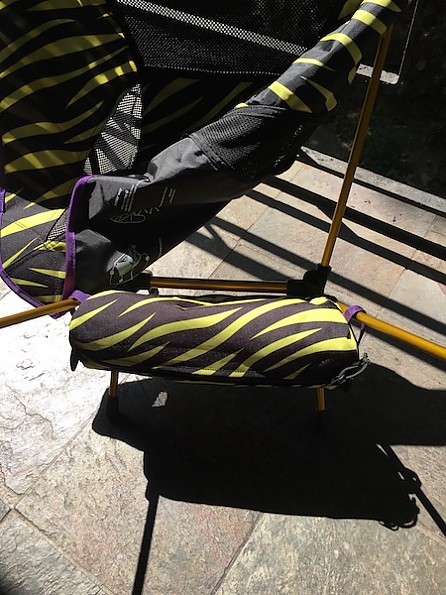 The great thing about this Helinox chair is its versatility. You can pretty much use this chair on nearly any type of ground. 
The frame is made from aluminium alloy and the feet have rubber caps to help improve traction and stability. The seat itself is made from polyester and a durable mesh to help with keeping it lightweight. The mesh backing helps with breathability, no more sweaty backs! The ergonomic shape of the chair allows the user to sit comfortably with the seat cradling your bottom and back support allowing you to slightly recline in your chair with ease.
I recently took my Helinox chair to a desert campout and was pleased and relieved the fabric withstood stray embers from the campfire. Suffice to say my friends' pants did not have the same luck. With that noted the fabric on the Helinox chair is great!
Some points to consider:
The chair can teeter totter if the frame legs are on unstable ground.
No drink attachment or holder. (Sold separately for $14.95 + tax).
At 1.9lbs it could be quite weighty for a serious hike or backpacking trip.
All in all, this is a wonderful and comfortable chair. If you are an avid RV or car camper, like to take short hikes, a beachgoer and don't want to deal with sitting in the sand, on a rocks or a log this chair is definitely one to consider taking with you on your next trip.
Below are more detailed pics of some rough measurements of the Helinox Chair One.
P.S. I'm writing this review sitting in my Helinox chair.
Source: bought it new

Reviewed several lightweight chairs before choosing this one. Glad I chose the Helinox. It's great for backpacking and for music festivals. This chair is perfect for that. It is very comfortable too. With four feet it stays off the ground unlike some other LW models.

Pros
Lightweight
Compact
Stable
Looks good
Cons
No cup holder
No head rest
This is a really great chair for the size and weight. The sitting height is ideal; it's tall enough that you can still stand up from it without having to push off with your arms while still sitting low for camp fires and music festivals.
The chair frame will "adjust" to fit uneven ground surface so it is very stable.
The cloth and stitching are top notch quality. I anticipate many years of service from this chair.
The bag is easy to use; you don't have to solve a puzzle to get the chair back in the pouch. It has loops so you can strap it to the outside of your pack.
We use this chair at the kids' sporting events too. Way easier to carry than one of those backyard lounge chairs. Worked great at the beach too. The feet sunk into the sand just enough to anchor it from blowing over when not being used.
All in all... Love this chair and will be getting another one soon.
Source: bought it new
Price Paid: $89.95

These chairs are light, pack small, and are pretty comfortable. Who says they are not for backpacking? I take mine on every trip. Just wait until you get a little older. A chair changes everything when it comes to comfort in the outdoors.
Pros
Packs small
Lightweight
Stands up to use
Cons
The legs are narrow and sink into soft ground
Easy to set up. Works like it is supposed to. Well made.
The first thing I do at the end of a day on the trail when backpacking is take off the pack, set up the chair, and sit down and take off the hiking boats and slip into a pair of crocs. That is living. 
On soft ground like pumice, or muddy ground the chair legs can sink below the surface. You can get the legs on rocks, or you could make some small round pieces of wood to set the legs on. That would be the only improvement. 
Experience
I have two of these chairs. I take them to parades packed up. Great for hiking to a destination. They have been on many backpacking trips. I will never go backpacking without one.
Source: bought it new

Excellent chair for camping, backpacking, festivals, etc. Easy to put together with the shock-corded poles. Two pounds with the included sturdy carry bag. Sturdy well made chair that can hold up to 320 lbs.
Pros
Easy to assemble
4 legs keep you up off the ground
Holds up to 320 lbs
Well sewn, sturdy fabric/mesh
Comfortable
Cons
The heavy duty carry bag is heavy
4 leg design does sink into soft soils and sand
I use this comfortable chair often in any type of situation where a chair comes in handy. The poles are corded together so assembly is a snap. The fabric is durable and well sewn. This sturdy little chair can even hold up to 320 lbs. It comes with a very heavy duty carry bag that has a handy daisy chain on it to make attaching it to your pack easy. After six months of frequent use, it shows no signs of wear and tear.
I have used this most often on full day hikes. When it is time to take a break, in under a minute I can have my chair out and assembled. Others may laugh, but I get a relaxing and rejuvenating rest kicking back in my chair while they search for a dry bug free spot to sit on the ground. 
The four-leg design does make it prone to sinking into soft soil or sand. In those situations if I want to keep the seat up off the ground, I have placed the chair so it straddles a small log alternatively tennis balls on the end of the legs will help prevent sinking. 
While the heavy duty carry bag is great for storage, it is indeed heavy for carrying long distances so I usually leave it at home and just wrap the poles up in the chair fabric for long hikes. 
I highly recommend this chair. It may start out as a luxury item when hiking or backpacking, but you will quickly find you don't want to leave it at home.
Source: bought it new
Price Paid: $70 (with discount coupon)

This chair is for the hiker who is ready for the most comfort for their carry! I've sat in a lot of styles of camp chairs but this one far succeeds its competition. Just over a pound it is so nice to be off the ground especially when the ground is wet!
Pros
Sturdy construction
Very compact
Hammock campers don't have to carry a sit pad
Cons
Heavier than a sit pad
Legs sink on soft ground
Does weigh over a pound
This chair has cords in the legs so when assembling or breaking down, all the parts stay together. It also has a very sturdy seat with the proper ventilation for your warmer adventures. Altogether it will make anyone's adventure more comfortable around the campsite.
Source: bought it new
Price Paid: $79.99

The chair is lightweight, simple to put together, and keeps you off the cold/wet ground. I'm a solid 240lbs and wasn't worried at all regarding the structural integrity of the chair. They boast a 320lb-rating and I see no reason to question those specs.

The reason for only 4-1/2 stars was due to the legs wanting to sink in the soil...larger feet pads could help eliminate that. Overall a great addition to one's gear closet!
Cons
Feet of the chair wanted to sink into the dirt
The chair is lightweight, simple to put together, and keeps you off the cold/wet ground. It packs up nicely in the included zippered carry bag and is approximately 14"x 4"x 5". 
Overall a great addition to ones gear closet for those that don't mind a litt extra weight for those backcountry creature comforts!
Experience
It has performed exactly as expected. Owned it for several years and use it quite frequently for backpacking, camping, and taking it to festivals. It is always a solid chair that takes up little to no space.
Source: received it as a personal gift

Lightweight, comfortable backpacking chair. Easy to set up and take down. Well made.
Pros
Light
Easy setup and take down
Sturdy
Comfortable
Just returned from a 200-mile backcountry cycle tour in Idaho. Brought the Helinox chair with me as a luxury item. The slight weight penalty (very light for what it does) was well worth the comfort that it provided.
This chair is easy to set up. It comes in a zippered carry bag with two loop straps that make storage of the bag easy. The shock corded aluminium chair structure pops together just like a tent pole structure. The chair material is heavy duty cordura with some appropriate mesh cut out for cooling. The corners are highly reinforced where the aluminium structure is inserted into the chair material. A very well made piece. Comfortable to boot.
Will be my go-to chair for bike touring, hunting, kayaking or even going to the beach. Great buy.
Source: bought it new
Price Paid: $69

Not for serious backpackers or, of course, the UL crowd—this chair is a wee bit heavy—but for most any other outings these are perfect.
Short backpacking trips, bike touring, canoe/kayak trips, the fireworks at the gazebo, the free concert in the park, these chairs are great. Over the years somehow I've collected four of them. My friends and I use them all the time. 
Lately there's been quite a few others on the market. Be careful with the specs as the size, weight limit, and other little tweaks like expandable legs might compromise the product. The REI version is a little smaller, and supports less weight. There are Chinese knockoffs, probably from the same line but still are a little different. 
Source: bought it new

I like the chair. The leg pole broke. I had to pay to ship their defective chair frame back to the company to get fixed, and when I got it back the replaced leg was a different color???
Source: bought it new
Price Paid: $120

Your Review
Where to Buy
Help support this site by making your next gear purchase through one of the links above. Click a link, buy what you need, and the seller will contribute a portion of the purchase price to support Trailspace's independent gear reviews.
You May Like
Specs
assembled
packed
Price
MSRP: $99.95
Current Retail: $26.60-$109.95
Historic Range: $26.60-$169.95
Reviewers Paid: $69.00-$120.00

Height
25.5 in / 66 cm
3.5 in / 10 cm
Width
19.5 in / 50 cm
13.5 in / 35 cm
Depth
20 in / 52 cm
4.5 in / 12 cm
Weight
1 lb 15 oz / 0.89 kg
2 lbs 2 oz / 0.96 kg
Capacity
320 lb / 145 kg