Helinox Ground Chair

A well-engineered balance of light weight, comfort, and functionality. Gets you off the ground, but low enough to use in a tent or vestibule. The stable base won't sink into soft ground. Extra insulation needed for cold weather use or to protect tent floor.
Pros
Lightweight
Stable and won't sink in to soft ground
Low enough to use in tent or vestibule
Durable
Comfort!
Cons
Extra insulation needed for cold weather use
Pricey
Heavier than some alternatives
Some backcountry campsites have features that provide natural seating. While a rock or a log to sit on stool-wise is a good start, for my part I want something that I can lean against: a big tree that curves gracefully into its roots or a boulder or ledge that slopes into the ground at a comfy angle. But in many sites it can be hard to get comfortable for a little afternoon meditation or for cooking the evening meal. Under these conditions, a chair, however minimal, can be a great civilizer.
The new generation of lightweight, aluminum frame sling chairs fills this need elegantly, and the Helinox Ground Chair is my pick of the pack. I traded in a lighter Helinox Chair Zero in for this one, and I am happy with the weight-for-functionality tradeoff.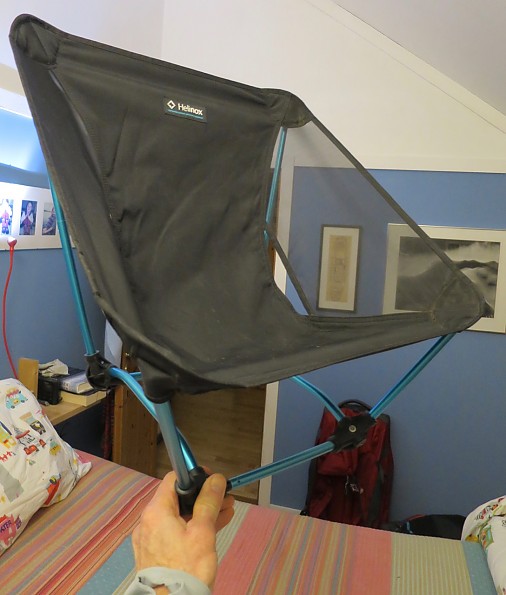 The Ground Chair has been in may pack for every backpacking trip I have taken in the year since I bought it, mostly during a year's stay in the southwestern U.S., and has seen some use while car camping on road trips as well. Weighing in at 636 g (22 oz) with stuff sack, it is light enough to come along on not-too-ambitious trips of up to four or five nights. It packs down to a reasonable 30 x 10 cm (12 x 4 inches).
The stuff sack has room for a folding, closed cell foam butt pad (see below), which brings the diameter up to about 12 cm (call it 5 inches) and weight up to 675 g (24 oz). In my current packing system it goes inside and near the top, ready to come out for lunch, but it could also strapped on the outside or maybe squeezed into a water bottle pocket.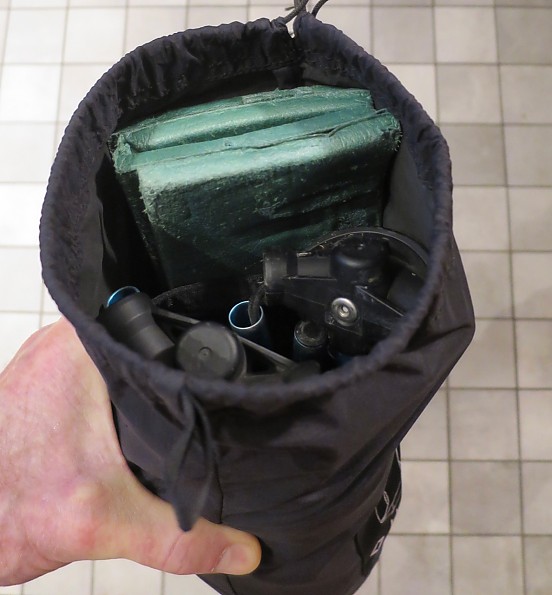 One advantage of the Ground Chair over some of the alternatives is its square, stable base that rests more or less directly on the ground, so that it won't sink in to soft ground more than a few centimeters.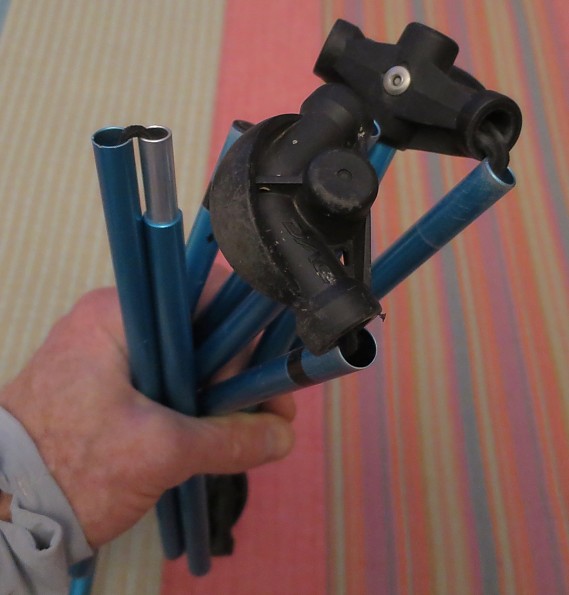 All the frame parts are shock-corded into a single unit, so assembly requires no sorting, little thought, except to insure that all frame parts are inserted fully into their sockets. The molded plastic hubs and stiff aluminum upright tubes support the sling seat, which rises up to the middle of my long back and provides support where it is most needed.
I have found the chair comfortable enough for an hour or more of reading, with the occasional shift in leg position to keep the blood flowing. Because it is close to the ground, it also works well as a master chef's seat—I like to gather my cookware all the fixings and arrange them on one side of the chair before I take my seat, so that I can proceed from ingredients to full belly in comfort and without having to rise.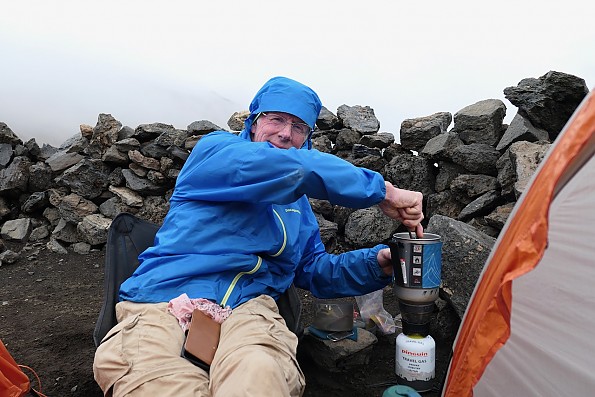 Being close to the ground, it can require a little oomph to get up, especially for a tall and rather stiff fellow like myself, but this can be accomplished with a concerted push with the hands from the middle of the sling on either side; the solid base provided by the square foundation is again an advantage in this maneuver.
One of the disadvantages of sling chairs as compared to the old camp chair type (Crazy Creek, Therm-a-Rest) is their lack of insulation. A cold seat is not a comfortable one, so a square of closed-cell foam under the butt and back becomes a necessity as temperatures fall toward and below freezing. Helinox offers a seat warmer accessory for this and other chairs, but I have not tried it.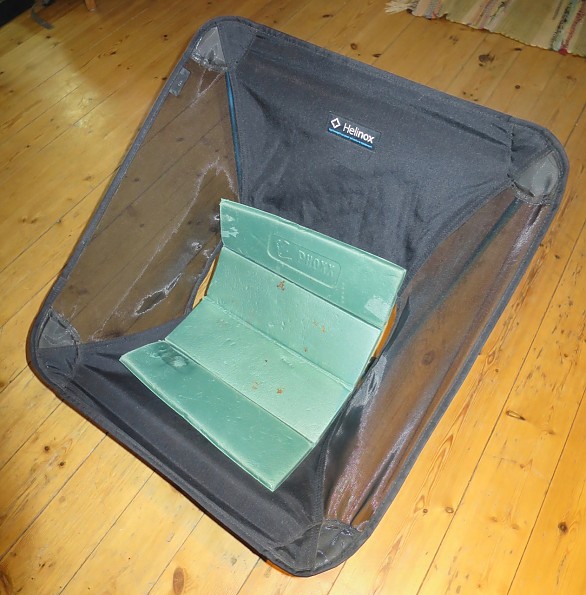 Unlike some of its longer-legged cousins, the Ground Chair is also low enough to use inside a tent or vestibule in the event of inclement weather or attack by hordes of biting insects. As a tall guy, I have to arrange it so that my head is under the highest point, but I can usually get it to work, and recently cooked a meal in the roomy vestibule of my winter tent. I have been reluctant to use it fully inside, fearing damage to the tent floor, but a square of closed cell foam would help spread the weight and could double as butt insulation for using the chair outside in the cold. Peg-legged chairs would also seem to present a greater risk of floor damage.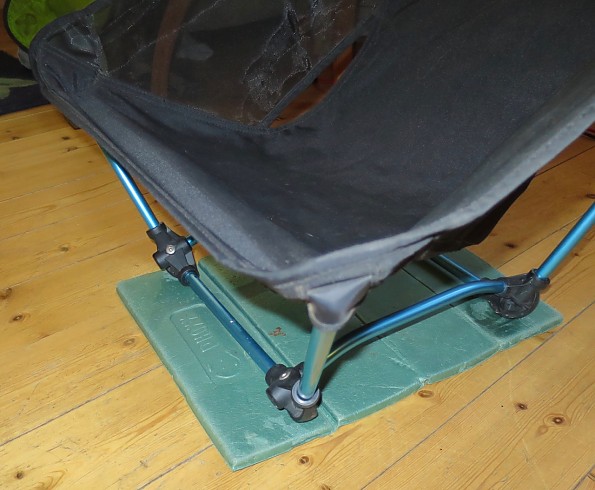 As with any piece of gear, durability is a possible concern. The frame, including the plastic hubs, is solid and has held up well in its first year with no sign of fatigue. Helinox might hav shaved some grams by making the sling of lighter fabric, but the heavy-duty nylon is also showing no signs of wear and looks to be the better choice. The sewn-in pockets where the frame inserts into the sling are potential weak points, but they are thoroughly reinforced with extra layers of fabric and have also held up well so far. Time and use will tell how well that chair holds up in the long run.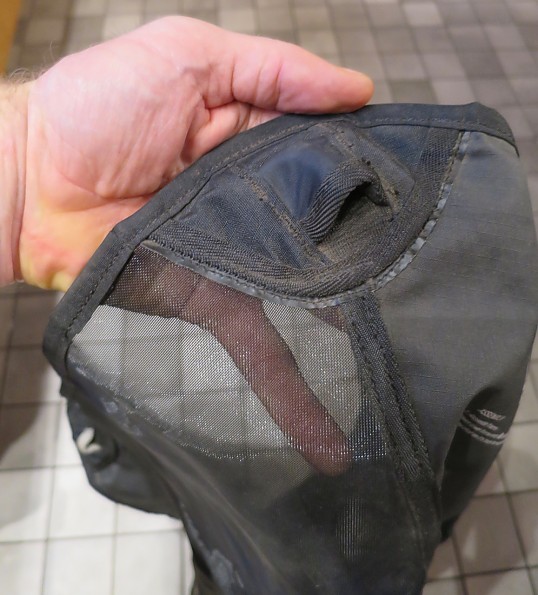 A little creature comfort goes a long way. The Ground Chair offers a well-engineered mix of light weight, comfort, and functionality that make it a good choice for creatures seeking to add a little more comfort to their kit.
Background
I have had it for a year, and used it on backpacking trips of up to four nights duration as well as some car camping, adding up to maybe a month of use total, mostly in fair weather. I traded in a Chair Zero for this one, and my wife still has a Chair Zero, so I have been able to compare the two directly. I prefer the Ground Chair for both comfort and functionality.
Source: bought it new
Price Paid: About $120

Light, compact camping chair. Rests low on the ground, but this is not a bad thing because it means you can stay seated when using your cooking gear.
Pros
Lightweight
Strong for its weight
Compact
Cons
Can collapse if fabric is not properly fitted to frame
Stability is limited on uneven ground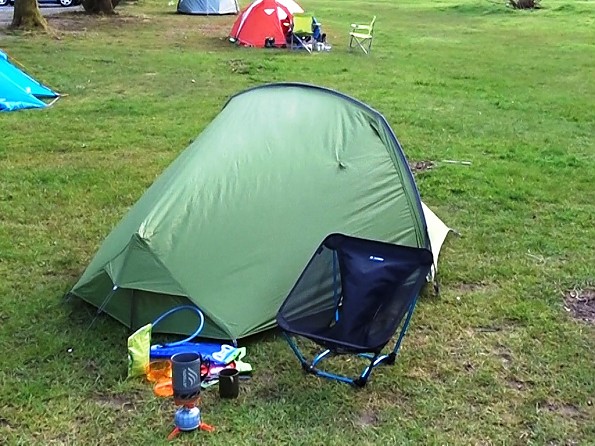 The first time I went camping, I squatted while preparing my supper and spent the rest of the evening sitting on a rock. At night I found it hard to sleep because my back was killing me. I realised that unless I could sit with my back supported, my venture into camping was going to come to a premature end.
The Helinox Ground Chair was the answer. I carried it with me in May 2016 when I walked the Cumbria Way, a 75-mile long trail in England's Lake District, and it saved me from backaches on the nights when I camped.
The Helinox Ground Chair weighs just 625g (22oz), including the plastic bag in which I keep it packed. The chair comes with a sturdy sack of its own, but I don't use this because it adds unnecessary weight.
The folded chair frame looks like a tangle of metal rods, but it is tensioned internally with elasticated cord in much the same way as tent poles. It snaps into place quickly and easily. As shown in the photo above, the chair rests on a square frame rather than on legs. This gives it stability on soft ground, although it needs to be placed with care on uneven ground to make sure it does not tip over when you sit on it.
Fitting the seat fabric onto the frame is straightforward. Each of the upturned ends of the frame fits into a little pocket in a corner of the fabric. Some care is needed to make sure that each end is securely fitted in its pocket otherwise the chair could collapse under you.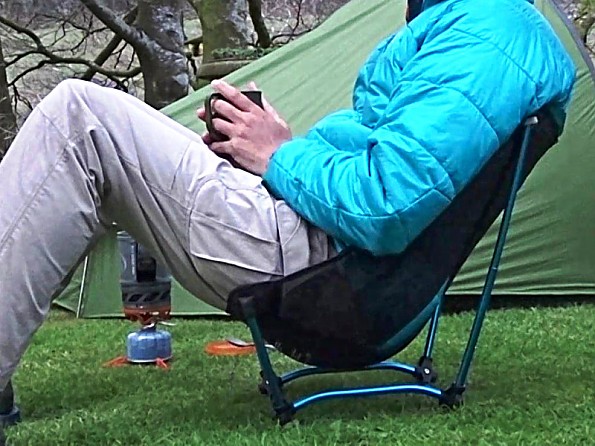 As the photo above shows, the seating position is low, with the back at an angle more like that of a recliner than a chair proper. Getting in and out of the chair takes some effort and involves resting your hands on the ground on each side of the chair.
But the low angle is a plus point rather than a minus, because it allows you to sit in the chair while brewing coffee or preparing supper with your cooking gear set out on the ground. I have not found sitting up or leaning forward in this chair to be a problem.
The chair is rated for a weight of up to 120kg (265lb). However, it looks like it needs gentle treatment, and I would recommend that anyone who weighs that much should be careful when settling into the chair. I'm careful myself and I only weigh 80kg. The chair is lightweight after all, and a trade-off has to be made between sturdiness and portability. 
It is designed to be light enough to carry during the day yet sturdy enough to offer back support in the evening. It achieves this aim admirably well and for this reason I have given it five stars.
Source: bought it new

Guilty pleasure, luxury item must-have.
Pros
Light
Comfortable
Packs small
I've always been anti backpacking chair (except when I used to bungee an old school steel shorty beach chair to my external frame pack in the early '90s). Several years ago I tried one of those soft seats with the side straps that hold up the back. Hated it and threw it in the trash.
I've seen the expensive packable backpacking chairs going around for years. Wasn't into the Monarch balance version and the ones they added legs to didn't seem sturdy and were very expensive. I've sat on the REI and Therm-a-Rest versions and didn't like them either for their comfort vs weight.
My buddy just picked up a knockoff of the Helinox Chair One on Amazon and I was considering getting a couple for my girlfriend and myself but I just can't justify 2 lbs of luxury weight. Even if they're $30. 
I read good things about the Helinox Chair One, but I didn't like the weight and I didn't like what I read about the little feet sinking in soft ground. After looking at my buddy's knockoff I agree that those little feet will definitely sink.
Then I came across the Ground Chair. It was perfect. 1lb 6oz was more like it. No sinking feet. Same comfy sling chair as the Chair One. Same good looks. Holds 320lbs!!!! I'm 200lbs but it's good to know that I  can trust it in case I accidentally fall into it from weak tired exhausted legs (or tequila).
But it's $110!!!???
OK, so I didn't grab it right away.
I searched and searched and finally got an email from Backcountry Edge that it was on sale for $87 + a free T-shirt!. I grabbed two and love them!!!!
Small, lightweight, sturdy, comfy! I believe it's smaller than or the same size as my old 1.5 liter Nalgene bottle
My girlfriend and I set them up real quick in front of the couch and watched TV. Easy to assemble (no instructions needed). If you can't figure it out real quick I question your backcountry skills and hope your tent survives the night.
They have a great laid back sitting position. I could chill in that thing all day.
For those who said you can't cook in it I disagree. I mimicked/mimed myself sitting forward and clicking on my Jetboil just fine. And I have a beer belly.
I can't wait to take them at the end of the month on my Grand Canyon murder mission.
I know I'll be cursing the extra weight on the climb out of there, but after 10 miles a day for three nights I know my arse and back will appreciate the comfort over a sleep pad on a boulder.
Definitely coming with us whenever we bike ride at the beach so we can take pitstops and get our burn on in the sand with our covert Squirt Palomas.
Source: bought it new
Price Paid: $87

Worth the small weight.
Pros
Comfortable
Very light compared to other camping chairs
Cons
Expensive
Requires very level ground to work
Been using this for several years. It's a bit tricky to get in and out of, but to me it's worth the trouble. Used mainly on canoe trips in the backcountry. While others are sitting on damp ground, rocks, or their PFD's, I'm sitting comfortably.
The "ultralight" crowd will poo-poo the little bit of weight, but then they all want to sit in it when I bring it along. There are now asian knockoffs at a much lower price of this chair, no idea how reliable they are. I personally love it and won't travel without it.
Watch out around campfires. I have a bunch of holes from sparks already:(.  
If it's windy, you'll want to weigh it down, tends to blow away easily.
Background
Plenty of use while backcountry canoeing.
Source: bought it new
Price Paid: Can't recall, but it wasn't cheap.

Very disappointed in this chair. It looked good quality. It's certainly lightweight and packs down to a tiny package...but it broke immediately when my wife sat on it. The plastic fitting broke and the chair is now useless. My wife is certainly less than the max weight rating.
Pros
Packs up to a tiny size
Lightweight
Look for something more robust.
Source: bought it new
Price Paid: $125 AUD

Chair's OK.
Cons
Back of chair is on too much of an angle
Went on a backpacking trip in Mammoth Cave NP two years ago with a friend. He had the chair, I didn't. I used it more than he did and bought it from him when we returned. Was better than sitting on the ground or a log but the angle of the back was uncomfortable for me.
Source: bought it used
Price Paid: full price

Your Review
Where to Buy
Help support this site by making your next gear purchase through one of the links above. Click a link, buy what you need, and the seller will contribute a portion of the purchase price to support Trailspace's independent gear reviews.
You May Like
Specs
assembled
packed
Price
MSRP: $109.95
Current Retail: $97.46-$129.95
Historic Range: $73.69-$129.95
Reviewers Paid: $87.00-$120.00

Height
19.7 in / 50 cm
4.3 in / 11 cm
Width
20 in / 52 cm
11.8 in / 30 cm
Depth
17.3 in / 44 cm
4.3 in / 11 cm
Weight
1 lb 5 oz / 0.615 kg
1 lb 7 oz / 0.64 kg
Capacity
265 lb / 120 kg

Recently on Trailspace