Katadyn
Hiker/Hiker PRO/Base Camp Replacement Element
1

review

5-star:

0

4-star:

1

3-star:

0

2-star:

0

1-star:

0
Reviews
REVIEW/REPLACEMENT WALKTHROUGH: A simple, easy to…
Rating:


Source: bought it new
Price Paid: $50

Summary
REVIEW/REPLACEMENT WALKTHROUGH: A simple, easy to replace cartridge. With replacement, this will upgrade your Hiker model to the Hiker Pro! Added field serviceable filter protector extends filter life in murky conditions. 4 stars only because I think the replacement element is pretty expensive.
Pros
Easy replacement
Comes with all needed parts for maintenance
Easy to find for purchase
Servicing my 20-year-old PUR Hiker this weekend, I decided to post a walkthrough of the filter cartridge replacement. This kit will maintain all PUR and Katadyn Hiker/Hiker PRO models. This model of element has been readily available for a long time, and I think it will continue to be. The replacement specification of the cartridge is every 300 gallons/1135 liters. It is also recommended to disassemble the filter after use to dry all parts out in order to prevent mold & bacteria growth. 
There are two main differences betwixt the Katadyn Hiker and Hiker PRO. One is the quick-connect for easily filling water reservoirs. The other is a removable filter protector. With the exception of the quick connect, buying a replacement filter will make your standard Hiker model now a Hiker PRO. I initially doubted the effectiveness of this protector, but after installation I think this will help a lot of users from shortening the lifespan of the element.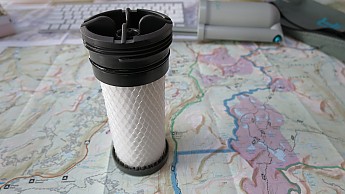 Even with proper care, these cartridges can get pretty nasty... The blue cartridge on the left probably only had filtered about 100 gallons.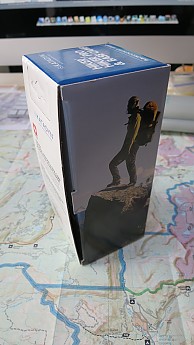 Inside the box, you will also find a small tube of silicone grease to treat the o-ring. Without doing so, these filters become very stubborn. There is also a (quite nice) sponge for servicing the removable filter protector.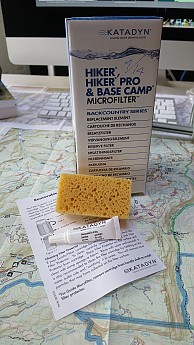 The protector feels like a textured piece of vinyl that has very small pores. The kit also comes with an additional plastic net to secure the filter protector.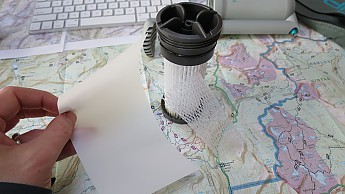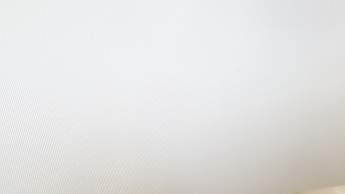 Here is an image of the new cartridge without the removable filter protector.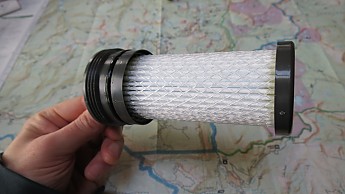 And with the protector.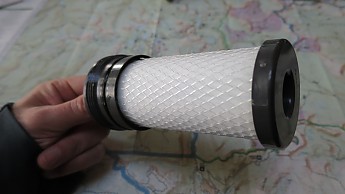 It is also very important to clean and dry the inner housing of the filter itself. I have found it common to find little bits of silt and crud to remove. I also find it helpful to add more silicon grease to the threads.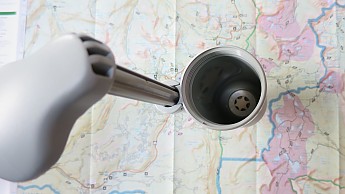 I personally like to put a service date on the filter.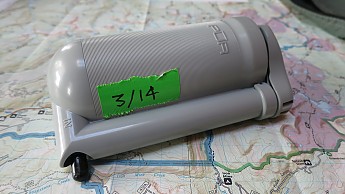 And here is my ~20 year old PUR Hiker, ready to go for another round!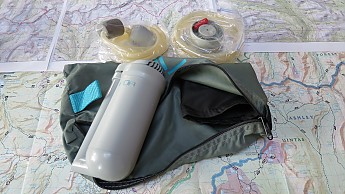 I hope this review is helpful to everyone, thank you for your time!
Where to Buy
sponsored links
Help support Trailspace by making your next purchase through one of the links above.
Manufacturer's Description
Visit Katadyn's Hiker/Hiker PRO/Base Camp Replacement Element page.
Retailers' Descriptions
Here's what other sites are saying:
This is the replacement filter cartridge for the Katadyn Hiker and Base Camp Water Filters.This efficient filter cartridge has 129 square inches of 0.3 micron pore size filter media.Activated carbon in the filter core reduces unpleasant taste and odor from water.Cleans up to 200 gallons (750 liters) of water.Includes the fine-mesh filter protector screen that blocks debris and extends the cartridge life.
- NRS
Replacement element for Katadyn Hiker Pro water filter.
- REI
The Katadyn Hiker, Hiker Pro and Base Camp Microfilter Replacement Element is a replaceable filter cartridge. Compatible with Katadyn Hiker, Hiker Pro and Base Camp Microfilters (not included) 0.3 micron glassfiber eliminates bacteria, protozoa, cysts, algae, spores and sediments Pleats offer more surface area for faster pumping Activated carbon granules reduce chemicals and improve taste and odor Cleanable filter protector screen extends the life of each cartridge Includes cleanable protector screen, flexible netting, cartridge, lubricant and sponge Made in Switzerland
- OMCgear
Katadyn Hiker PRO Replacement CartridgeEnjoy the refreshing feeling of fresh water with the Katadyn Hiker PRO Replacement Cartridge. With this useful Katadyn cartridge, which also fits the Hiker and Base Camp model, you can always have access to fresh water, a must in every hiking or camping trip. You simply need to replace your used cartridge with this new one and you can keep on enjoying clean and healthy water. It is equipped with an EPA approved 0.3 micron microfilter, developed with modern technology to efficiently remove protozoa and bacteria that may damage your health. Its activated-carbon core delivers impressive performance by getting rid of unpleasant odors and tastes. This durable cartridge is manufactured with high-grade pleated glass-fiber that delivers appropriate filtering and can hold up to 200 gallons of liquid, depending on the water quality. This product is ideal for outdoor use since it needs no frequent cleaning. Keep refreshed with the incredible Katadyn Hiker PRO Replacement Cartridge.
- SunnySports
Katadyn Hiker/Hiker PRO/Base Camp Replacement Element
currently retails for:
$43.74 - $59.95
MSRP: $49.95

where to buy: