Katadyn Hiker PRO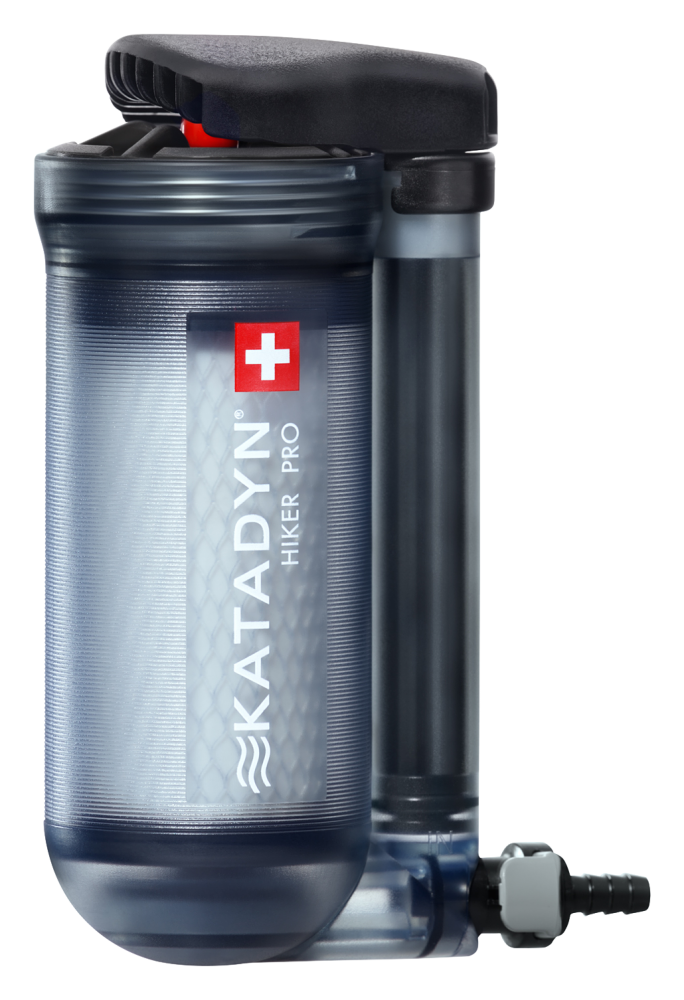 It's hard to look at water filtration as anything but a chore. At least it can be less of one.
Pros
Easy maintenance
Fast
Easy to use
Minimal pieces to fuss with
Cons
Plastic bits can get brittle and snap
Included zipper bag for "clean" parts will be useless in no time
There will be advocates that stump for total protection, who want a purifier. There will be those who do nothing at all and drink the water straight. Since I personally know more than 30 people who've had confirmed giardia cases that were actually a result of wilderness water sources, I have a few different kinds of filter for different kinds of trips. When taking a group and sharing my filter, I bring the Katadyn Hiker Pro.
Like all filters, it will remove most bacteria and protozoa. Like all filters it will not remove viruses -- those require some chemical component. Like all filters and purifiers it does nothing about minerals in the water. Nor will it remove all chemicals - though activated charcoal in the filter cartridge helps. Charcoal is usually what's included in a filter to improve taste and handle some chemicals.
The filter itself is made of glass fiber, though many people look at it and think it's paper. It can be damaged by freezing the filter with water in it. Getting most of the water out before nightfall and storing it in the footbox of the sleeping bag will prevent the destruction of the filter. Since the damage to the glass fibers isn't visible to the naked eye and the filter will appear to work same as always, I usually figure better safe than sorry when temps drop below 30°F.
The manual recommends a new cartridge after 750 liters, or when the unit becomes hard to pump. The thing is, it's tough to know when you hit that magical limit unless you are great at counting the liters and remembering after each trip. Katadyn recommends that before storing the filter for extended periods, run a liter of water through it after adding Micropur MP1 or Micropur Forte DCCNa. This prevents microbiological growth inside the filter, which has clogged one of my filters before, when I got lazy about doing this step, so I also recommend doing this once in a while.
The filter has a prefilter. Sometimes when water is murky I add a coffee filter rubber banded over the prefilter. But generally the prefilter keeps larger particles out of the main filter to avoid clogs. In very dirty water filled with sediment, settling out particles for a few hours in a container before filtering would be necessary to avoid clogging. There's also a removable screen wrapped around the filter cartridge to further protect the glass fibers from clogging.
Unlike some filters with ceramic cartridges there's nothing to do if the cartridge becomes clogged other than replace the cartridge.
I replaced the zippered bag for the clean pieces within a month of starting to use the filter. The zipper quickly tore off the bag. A heavy duty ziploc bag does the job.
At approximately 10 - 12 oz depending on which attachments you carry with the filter, it's not the lightest filter out there but it has been quite reliable. I had to replace the unit when a crack developed in the 'in' quickconnect on the bottom of the filter. It was replaced under warranty (two years from the manufacturer).
I've used the filter a lot and have had no issues. It's been a good backup for people I've hiked with. I'll sometimes bail out someone whose SteriPen or other brand/kind of filter fails them. In reality, all gear fails eventually, and all filters and purifiers have their tradeoffs. In groups I prefer to have two or three people carrying water filters so if one fails there are backups.
When it comes to health issues it's important to not make assumptions. Hikers should also keep their hands clean, be careful when sharing food (don't dig into that bag of trail mix, have the generous person pour some into your hand), keep eating utensils/dishes clean, and always dig your catholes far away from water sources. There are several ways to get sick. The filter is but one of the solutions in the bigger picture.
If you're looking for a no-frills, economical water filter the Hiker Pro has been around since it was marketed under the PUR brand, way back in the day. With recommended maintenance this filter will last years. I've had mine for almost a decade now.
Source: bought it new
Price Paid: ~ $65 on sale

Reliable, durable, lightweight, quick and easy to use.
Pros
Great tasting water
Reliable
Field cleanable
Not dependent on electronics
Cons
Heavier than pills
Bulkier than UV/electronic methods
Summary
Have used the Katadyn Hiker Pro for over a decade and just replaced it a few months ago due to normal wear and tear. The most reliable and high quality water filtration system at a light weight. Best filter for mountain and desert use.
When others were waiting for their pills to purify the water, I was drinking fresh clear water that tastes great. In my opinion, high quality water is essential in the backcountry — measured by the taste, temperature, and clarity — Katadyn Pro delivers.
Ease of Use / Construction
Takes about a minute per liter, easy to pump. Have used one pump for up to four people on backpack trips. Design to keep input and output hoses separate is great. Strong but lightweight pump casing make it easy to use in variety of outdoor settings.
Field Serviceable
About every two to five years, based on usage, I have replaced the filter, easy to do. I mostly use it in Sierras, Cascades, or Rockies, where flowing water is the source. Still water can be less clear and after repeated use on murky water the filter may operate more slowly. No problem — just rinse off the cartridge in the field (with clean water) and performance improves. This was a sign the filter was moving towards replacement. With murky water, can tie a bandana around the inlet screen to keep dissolved silt from entering filter.
One time the filter stopped pumping, and it was easy to correct. An internal intake valve can get stuck and after 30 seconds of swishing water in it, we're back to making fresh water. So read the instructions about this possibility. It only happened once to me. 
Compared to other methods
Companions with UV/electronic methods have enjoyed laughing while I connect input and output tubes and pump away. And I chuckle when they swallow dirt from the bottom of their water bottle. No dirt of any kind with the Katadyn. Also on cold mornings it warms me up a bit by doing a minute or two of pumping.  
The gravity method can work well at camp but is very inconvenient during the day. I prefer to carry enough water for a few hours and refill during the day. 
Durable
This pump lasted over a decade. I use it on rocks all the time and the casing started to show the wear with a hairline crack so I replaced it before it failed. And at over 10 years it was performing just as well as when it was new. I was delighted with its performance and replaced it with another Hiker Pro without hesitation.     
Source: bought it new
Price Paid: $80

Good water filtration system.
Pros
Easy to use
Easy to clean
Cons
Takes up space
Pump handle can break
Replacement cartridges are pricey
I have used this filter for several years now, and have replaced the cartridges about 2 times in the past 5 years.  The system is easy to use and cleans just as easy. Replacement cartridges are easy to take out and place back in. 
I would recommend that when you return home from any trip that you air dry out the cartridge so that it doesn't get any mildew or mold on it. This is coming from my own experience, as I forgot to do that at the end of one season and after several months of leaving it packed away I noticed the foul odor and taste of mildew so had to replace the cartridge.
Also, make sure you lubricate the pumping mechanism. The filter system includes a small tube of lubricant so use it from the get go.There is nothing more frustrating than being in the backcountry, having a difficult time pumping the water, and then having the handle crack. 
Thankfully on that trip I had extra fuel to boil some water to get me through. If you contact Katadyn you are able to buy a replacement pump handle ($8 for part and shipping).  I ordered two so now I have a spare just in case it breaks in the field again.
The system is easy to assemble, comes with a carrying case plus a small plastic case to separate the unfiltered hose from the filtered water hose. There are also adaptors so you can attach the hose directly to bladder hose.
The Hiker Pro is "bulky" and does tend to take up space, and there are more lightweight options. If going lightweight and space in your pack is limited, then I suggest a different method to treat your water.
My one big gripe with the system is that replacement cartridges are expensive. They are half the price or more than a brand new system. But as with all gear, keep scouring the internet, local stores and find the best deals. 
BTW, water from the system tastes great. Just make sure you let a few pumps of water run through to clean out everything before you let the water into your bottle/bladder. Sometimes pieces of the carbon tend to come through after not being used for a while.
Source: bought it new
Price Paid: $80

Works well; pump plunger broke after many uses, but Katadyn replaced it.
Pros
Effective
Ingenious design
Compact
I've gotten a lot of use from my Katadyn Hiker Pro water filter. I used in on a series of 3- to 5-day hikes, and I also used it on a daily basis when I was living for two months in an area where the water supply wasn't safe. Its design is ingenious, and it packs up compactly into a zipper pouch.
The only flaw is that the pump plunger — actually, the flat "knob" at the end of the plunger — broke. (See photos below.) Perhaps it wasn't designed for daily use over a period of weeks.
To their credit, Katadyn mailed me a replacement plunger at no charge, even though I was a couple of months past the two-year warranty. I should note that, even after the knob broke off, I could still use the filter by simply putting a small block of wood or even a folded mitten over the end of the plunger.
I can recommend this filter and would buy another one. Take care, though, not to put too much pressure at the outer edge of the plunger knob. 
Source: bought it new
Price Paid: $65

Compact, lightweight, and field cleanable, the Katadyn Hike PRO is in the top three of my favorite pieces of backpacking/hiking equipment. It's reliable and tough and the cost is reasonable.
Pros
Compact
Lightweight
Reliable
Durable
Pumps a lot of water
Easy to use and clean
Cons
Replacement cartridges are expensive
A bit bulky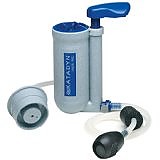 The Katadyn Hiker PRO will take up more space in your pack than a Steripen, but it's a heck of a lot faster, tougher, your water will taste and look better, and it doesn't require batteries.
My better half and I always take this filter with us, whether we're on a day hike or backpacking into the backcountry. It's so reliable, easy to use, and easy to field clean that I can't imagine using anything else. I especially like the two pre-filter screens that block larger particles before the water hits the filter cartridge.  They're easy to remove and clean and greatly improve the life of your filter. The tradeoff is that they slow down the flow rate a little, and make you work a little bit longer/harder.
I've seen reviews mention the pump handle breaking on this filter but that hasn't been my experience. I suppose it could break if you're trying to force it to filter faster than the water can get through the cartridge, but it seems like you'd really have to force it hard. I've dropped my PRO and had it bounce off several big rocks, but short of a couple of nicks there wasn't a thing wrong with it.
My biggest issue with the PRO is that replacement cartridges cost nearly as much as the original filter (about $50 USD), and I've never been able to find a replacement cartridge on sale.
There are very few things not to like about this filter and I'll replace it with the same when mine (only four years old now) reaches the end of its life.  Who knows, it may outlive me!
*BTW, always take a backup means of purification, i.e. UV, tablets, etc., just in case...
Source: bought it new
Price Paid: $65 USD

Great product that instills confidence.
I'm one of those "What If" types of hikers and backpackers. I tend to consider the worst case scenario and move backwards from there. And in terms of "What if I run out of water in my bottles" I know I've got my butt covered with the Katadyn Hiker Pro. And when it comes to "What if I want to lighten my pack?" that's obviously covered as well.
The Hiker Pro has performed wonderfully for me to date. It pumps fast and is well made. I will say that with cold fingers getting the hose on the input stem requires a little patience. They say you should get 200 gallons or so out of the glass fiber element and I'm probably reaching that point. We'll see if that's a fair estimation. What I do know is you get great tasting water sans any chemical taste.
The Hiker Pro weighs in at around 11 oz., which I don't find to be problematic. You are looking at about 40 bucks or so for a replacement filter though so depending on your usage, and budget, it can get a little pricey. I think the life of the filter can be extended though by giving it a quick once over cleaning at the end of a trip and making sure to run clean water through it and let it dry fully. It comes with a nice carry sack and also offers a bottle attachment.
A good quality product by a great manufacturer. You shouldn't go wrong with this one.
Source: bought it new
Price Paid: $75

It's great for filtering (not purifying) water and at a reasonable price.
Pros
It works well
Shape fits in with most gear
Not tooooo heavy
Has lasted a long, long time since 1993-ish PUR brand
Cons
Customer service sounds less than what PUR brand was.
A little heavy/bulky
I have two of these. My first one, PUR brand I got around 1993 and used it for years in the Olympic mountains in Washington. In 2000, I used it when I re-walked Colin Fletcher's 1000 mile summer through California. That state had some funky water... and after seven years and gallons of water it gave up the ghost in Bridgeport, BUT....
The PUR CS people were GREAT. I told them they I was in the middle of the hike and they rushed the replacement parts ASAP and at no charge!!! I have read others here have not had the best luck with Katadyn's CS, which if that's accurate, that's very unfortunate. I also have a Katadyn brand one and haven't used it yet. I keep it in my Bug Out Box.
I take very good care of all my gear and that may be why everything has lasted this long. As far as any differences between the two, it appears to be color. My PUR filter ALWAYS gets back flushed when I get home and I finish it off with a little bleach water and then let it air dry and I lube up the plunger/filter O rings before I put it away. Everything gets a good washing, all the tubing gets soaked and rinsed with bleach water. 
I always double up the length of the in feed tubing. I think it comes about 3 feet long and I always make it about 6 feet, that way I can stand up to pump water. I'm over 60 and getting tired of bending, so standing up is more important than the extra weight of the tubing.
My PUR is like an old friend and is in with my backpacking gear ready to go. The Katadyn Hiker Pro is in my B.O.B. waiting for the end of the world.
Source: bought it new
Price Paid: First was $45, second one was $60

Just bought this as a primary water filtration system. Used it last weekend as we were camping/hiking Jones Mtn in the Shenandoah.
Pros
Easy pumping action
Stable
Long enough tubes
Easy assembly
Long shelf life
Portable, relatively light. Sure every oz counts but this is quite good.
Warranty, reputable company
Not excessively bulky
Cons
Online they're about $25 cheaper than big box stores
You cannot filter directly from the spring (we had a dedicated pvc pipe coming from the spring so we had to use a pot to "pool" the water which we could then drop the suction line into to pump the water)
Not really a con just a recommendation: Get a bigger or bette ziplock baggie to keep equipment separated.
The spring was located right by the cabin we rented. Now I wanted this for the easy pump (47 pumps = 1 liter) and that was indeed easy—NO STRUGGLE or EFFORT needed to accomplish this. And if memory serves it was about 47 pumps.
Lightweight for its size. Separate stowage bag and also one of the ziplock "sandwich" type bag for the dirty (OR CLEAN, depending on what you personally want to keep separated).
Like I mentioned in the "cons", we had to put a pot under the spring outlet to pool the water. You can easily use any type of collection source and then drop the suction hose into that. So obviously you need a second "collection source". Now if you are pumping from a natural pooled area (stream, pond, etc..) then all is good. 
I would buy this again and will keep it. I also have the Sawyer Mini that I use for the water at work (I work in a very industrial environment that's been around since the late 1700s = SHIPYARD...SO I FILTER). I am now using this here because of how easy it is too use.
Highly recommend this model, the Hiker Pro. The difference between this "kit" and the other is simply "this has all the accessories."
Hope this helps... must buy!!!
Source: bought it new
Price Paid: $80

Reliable water filtration system that is easy to operate, pack, and store for the times when you're on the river or in the back country. Katadyn delivers strong with this well designed little pump filtration system.
Pros
Lightweight
Easy to operate
Value for the money
Cons
Filter can become clogged with sediment fairly easily
I took the Katadyn Hiker Pro with me on a 5-day canoe trip during springtime. Other than boiling water it was my group's only source of water purification. 
My first impression was how quickly the filter operated and the clarity of the water after use. There were six adults in our canoe trip and it was more than adequate to supply enough drinkable water for camp and to fill our water bottles for on the river. 
If there was one thing I would be concerned with as someone who prior to this filter had little experience utilizing water filtration systems is the fact that it is imperative to keep the end of the tube off the bottom of the riverbed or creek. It will clog fairly easily if caution is not taken to ensure that the float is set for enough of the tubing to stay off of the sediment. 
I have used the Hiker Pro for 4 canoe trips at all different times of the year and strongly recommend it to anyone that is looking for a lightweight, economically friendly filtration system.
Source: received it as a personal gift

Used on several 50 mile+ multi-day kayak float trips pumping ~8 L/day of water (maybe 80 - 90 L total to date). Light and easy to carry and quick setup. Can tell the filter is starting to clog as water flow was not continuous with last day's pump. But still a good unit for the cost and function.
Pros
Lightweight
Easy to stow
Efficient
Cons
Filter failing faster than expected
Using this system after a much larger system failed on day two of a four-day, 65-mile float. This system has been on two trips to date and has worked well. Easy to set up and pump.
It does take two people to use most effectively and may help ease stress on the handle as the pumper can be more deliberate and focus on pumping and not juggling containers. 
Have not replaced the filter yet, but if we get 120 L out of it, I'd be satisfied based on experience with other pumps. But weight and size were key for me due to limited space in a sit-on kayak.
Source: bought it new
Price Paid: $75 US new

Failed me miserably on my Appalachian Trail thru-hike in 2012. Seriously.
Pros
Works well for about a week
Cons
Handle can break
Becomes extremely sluggish after awhile
Replacement cartridges are obscenely expensive
Don't you dare buy this. Don't. OK, that's harsh, but this thing was the cause of much anger for me.
It says that it can filter about 750 liters, but I'm guessing that is 750 already clean liters of water. When you're in the backcountry, there will be silt and such that constantly clogs the cartridge. For me it started to clog after the first week, which ended up with me taking about 30 minutes to get my water, my muscles straining to push down on the handle, and the vein in my neck bulging with anger. I heard from other people that had this that they pushed on the handle so hard, that it actually broke. 
If you still decide to get this, do yourself a favor and remove the weight on the end of the prefilter where the water enters because that only drags it down into the silt and muck. You can also, from what I hear, get a coffee filter and wrap it around the prefilter to keep large particles from entering. If you have to replace the cartridge, it's like $50 or something ridiculous.
Source: bought it new
Price Paid: $85

Two seasons of use, no issues and very happy with this filter.
Pros
Fast flow rate
Ease of pumping
Multiple bottle adapters
Cons
A lot of small parts
A little bulky for a filter
I've been using this filter for two seasons now and I have had no issues. It has always filtered clean, clear water and I have never had any issues with getting sick.
The only thing that worries me is the amount of small parts that come with it; two hoses and multiple bottle adapters.
I've read some reviews about how people have had the pump handle break or the hose adapter break. I haven't had those issues. I try not to be too rough on my gear. I always stow it like it was when I initially opened it. I never stow it with the hoses attached. I'm not trying to have filter issues when way back in the woods. I haven't had any problems with the filter clogging either. I do have to say that I usually filter relatively clean Colorado mountain water and not pond scum or stagnant pools.
I would highly recommend this filter. I am very confident with the water I drink after filtering with it. It pumps water fast and has not let me down.
Source: bought it new

I've never owned another water filter so I don't have much to compare it to. Then again, I've never needed anything else, which a kind of testimonial in itself. I don't use filters a ton when hiking, and only really use them consistently at lower altitudes. This one works just fine. I can fill up a 32 oz. Nalgene in under a minute from a mountain trickle an inch deep.
While mine has not broken, but given how much wobble is in the pump handle, I can see how it could. So previous reviewers' complaints should probably be considered. I carry chemical water treatment as a backup.

EDIT 6/2016: This guy blew up in bad circumstances a few years ago. During a desert canyon flashflood water became extremely clay-y. After letting the water settle overnight, there was still a lot of suspended clay. I filtered it through my shirt and then attempted to use the Katadyn.
No go. Two gaskets blew causing the whole system to be contaminated. Tried using iodine but couldn't get the sludge down without gagging. Scrambled and swam several miles in 110+ degrees and made it out in pretty rough shape. Had the best slushy in human history after getting to the first gas station.
So, upshot: Carry two filtration systems in water-scarce environments. But yeah, I'd like to see units like this have a better fail safe system that would prevent contamination when the first gasket fails.
Price Paid: $60

A great filter for hiking in the backcountry. This stores small and is fairly lightweight. Would definitely recommend this for anyone hiking where water must be treated.
Cons
Pump is tough to use after a few seasons
I bought this filtration system more than four seasons ago and have not regretted it. It packs light and is easy to use. The fresh water connection fits most Nalgene openings and hydration packs. When it doesn't it is easy to hold the tube along with the container you are pumping water into.  
The one downside is that the pump can be tough to use when you are filling a number of containers at one time. However, that is easily remedied by applying a little lubricant. The pump fills the containers quickly, and treats 99.99% of crud.  
I have used this by itself with no ill effects since purchasing it. The water comes out clear. The one exception was when I was treating from a lake up in Maine that had a lot of tannin in it.  
I will continue to use this product and Katadyn filters once this current one's lifespan has ended.   
Source: bought it new
Price Paid: $85

This lightweight personal filtration pump is my go-to choice for ensuring that I will always have potable/safe water in the backcountry. It gives me the most convenience, reliability, and performance of any other pump.
Pros
Performance
Reliability
Weight
I have used this pump extensively in the backcountry for the past five years (10-12 times per year). Each time that I am out with a group and I watch the others struggle with their "other" brand pumps, it reminds me just how great this Katadyn pump is.
Always easy to set up. Cranks out the water, and easy to pack back up. I have broken off one handle (due to over torqueing by the user, I don't view this as a manufacturing defect) and I did break off an inlet valve (when my son tossed the pump to me but hit rock and it fell 60 feet onto another rock).
I am convinced that this is your best choice for reliability, weight, and performance.
Source: bought it new
Price Paid: $65

Relatively lightweight. Field maintainable. Pumps water very well/quickly. Great tasting water is produced.
Pros
Small size
Lightweight
Ease of use
Quick connect fittings
I've used this filter for a couple of years now and have not had an issue with the actual mechanism/filter. I like the size of it and the bag it comes with. I like that it does what it says it'll do, filter the water and produce water that's tasty, no chemicals added.
It pumps easily and at a respectable rate.  he filter/pre-filter are easily removed and cleaned, either at home or in the field. I can pump a liter of water in about a minute or so. The wide mouth attachment enables me to pump water directly into my widemouth water bottles and canteen. The quick connect fittings also allow me to pump directly into my water bladder.  
The only irritating point I have had is that the tubing cracks over time and I have had to cut it and reattach it.  
Source: bought it new
Price Paid: $69

I have two reasons for my poor rating of this filter:
1) Didn't function in the field
2) Miserable customer service
I tried a new Hiker Pro this past weekend on a hiking trip to the Superior Hiking Trail. The first liter of water was dark grey due to the activated carbon core (per directions this should have cleared up with just one liter of water). I pumped an additional 10 liters with the filter with all the water being a brownish color. I tried some of the "filtered water" and it had a weird taste. Fortunately my friends First Need purifier was yielding perfect tasting crystal clear water so I didn't need to use the Hiker Pro for the rest of the trip.
Upon returning home, I contacted Katadyn and they told me the filter was fine and not intended to remove color, odor, or bad taste although the packaging (and my wastewater treatment classes) told me that's exactly what the granular activated carbon core is for. I suspect a damaged filter but Katadyn just said the filters fine don't worry about it.
So, for a non-functioning product and lousy customer support the Hiker Pro gets 0 stars in my book.
Price Paid: $74.95

My Hiker is actually so old, it's from back when PUR was still making them. Thankfully, when Katadyn bought the company they kept making the Hiker in the same size, so I have upgraded it to the new Hiker Pro filter element. Good to go!
It pumps fast. It's compact. It's simple and reliable.
The endurance of the filters is excellent. I'm an avid lover of the outdoors, and the filters typically last me 2-3 years. The new "Pro" version does seem to last a bit longer. My current filter element started out filtering silty mountain stream water for a party of four on a 3 week climbing trip, and is still pumping with the same ease and speed after 5 more months of use.
The best advice I can give is to remember to take the filter element out of the housing after each trip so it can dry. That goes for all models of filter. Leaving it sealed and wet in your garage will ruin a perfectly good filter.
Anyways, I've had this piece of kit for many years. It's been to a few continents so far, and it has served me very well.
Worked great for about 5 days. Used it for the 1st time on a 7-day trip hiking the AT. I tried using only the clearest springs. It pumped 60-70 liters of water and on day 6 failed. The cartridge was clogged. Because of this it was unsafe to continue hiking 15 miles to our next destination and we barely had enough water to cook with. We had to end our trip a day early and have someone pick us up.
The booklet says that the cartridge should filter effectively for up to 750 liters. We pumped less than 10% of that. I called Katadyn about this and they said that the cartridges have no guarantees. The cartridges are $40 to replace and definitely not worth that if they only last through a 5 day hike.
Katadyn will not stand by their product. They left me with the impression that the cartridges may not last as expected. The bottom line is that Katadyn screwed up the rest of my hike that I had been planning for months. It may be lightweight but the cartridges are crap and way too expensive.
Price Paid: $74.95

I'm a long time camper, backpacker, and general outdoorsman. I bought this last year before heading to Isle Royale - worked great supplying 3 of us for a week then and continues to work well after about 10 additional treks!
Some notes: (1) be careful with the handle...the one our Scout Troop had broke at the hands of a hasty Scout, (2) look for a "clean" spot in the water. The dirtier the water looks, the quicker the filter clogs. If you keep it in clear water, or at least as close as you can get, it'll last the 170 liters they claim. (3) keep the clean parts in a separate bag. (4) carry a spare filter. It is a little big, but a life saver if you need it!
Compared to others I've used, the Katadyn Hiker PRO is faster and fits more bottles. It requires average force to pump (possibly a little easier than many). I will say that because of the handle it is more fragile, but with a little care I don't think it's a problem (note the "hasty Scout" comment).
Price Paid: Don't recall

Simple and reliable, a must have for every trek.
Pros
Easy to use
Very low maintenance
Reliable
Small & light
Fast cartridge filter replacement
1500 liters per filter
Discharge cap fits Nalgene wide opening perfectly
Can be used by myself
Cons
Cost of replacement filter, about $45
Even in high sediment content of the Colorado River at the bottom of the Grand Canyon the same filter was flawless on two separate multi-day treks for four hikers. I have used my filter in as deep as five feet of water and (by digging a small hole) in as little as 1 inch of flowing streams. Even with a lifetime of 1500 liters of water filtered, it is as simple as unscrewing the one-piece canister via built-in finger grip twists and dropping in the new filter. I take mine even on the shortest of day-hikes with known water sources available.
Source: bought it new
Price Paid: $65

Simple and reliable, a must-have for every trek.
Pros
Easy to use
Very low maintenance
Reliable
Small and light
Fast cartridge filter replacement
1500 liters per filter
Discharge cap fits Nalgene wide opening perfectly
Can be used by myself
Cons
Cost of replacement filter, about $45
Even in high sediment content of the Colorado River at the bottom of the Grand Canyon the same filter was flawless on two separate multi-day treks for four hikers. I have used my filter in as deep as five feet of water and (by digging a small hole) in as little as 1 inch of flowing streams.
Even with a lifetime of 1500 liters of water filtered, it is as simple as unscrewing the one-piece canister via built-in finger grip twists and dropping in the new filter.
I take mine even on the shortest of day-hikes with known water sources available.
Source: bought it new
Price Paid: $65

I've been using the Kadayn Hiker Pro for a little over a year now and I can't say enough good about it. Prior to getting this filter I used a regular Katadyn Hiker for eight years. Never had the cracking/breaking problem mentioned by several on this site and in fact, from time to time when I hike with friends I'll bring the old one along.
I've got mine set up to pump directly into my Camelback hydration system and what a blessing that is! I take off the pack, take out the filter, plug it in, pump till full, put it all away and go. No more unpacking my pack, getting the bag out, yada yada. I've also got a spare hose set up with a bottle flange so that I can just hook it up and pump into Nalgene bottles.
Great set up! Just as I've always recommended the Katadyn Hiker without reservation I now recommend the Hiker Pro.
Price Paid: $79

I have used this old PUR filter with iodine in the element and still in use today, now used with a new Katadyn filter. It has served me well and even provided my hiking friends with clean water when their new more expensive filters failed. I also have the original Katadyn ceramic filter which kills viruses but I don't use it as much as my Hiker because it's lighter and don't want to worry about cracking the ceramic element.
I since bought another unit, a Katadyn Hiker Pro which is basically the same exact filter but with upgraded filter and cleanable sleeve. This one has been adapted to my hydration bladder. The other is now in my bug-out-bag.
I gave it a 4.5 because the handle design is not IDIOT proof, I never let anyone else use my filters. Learn how to handle and maintain your equipment. They're the Glocks of filtration units out there.
Price Paid: $15

This lightweight filter purifies a large volume of water with little effort. Easy to clean in the field, it's perfect for backcountry adventures.
Pros
Lightweight
Easy to maintain
Easy to pump
After dozens of trips, my Hiker PRO continues to shine. It's handled difficult water conditions easily, and has never clogged. It's easy to clean in the field or at home, and there aren't a lot of small parts to lose or break.
The output hose includes an adapter that fits most wide-mouth water bottles and bladders. It's very lightweight.  Better still, the pump works so smoothly, your arm won't get tired pumping. A great buy!
Source: bought it new
Price Paid: $60

I am a military deployed in SUDAN with the UN. Canada has issued me this filtration unit for the mission.
After using it for filtering about 100 L of water (the filters are due to be changed after 170 L), the casing of the unit broke on the side of the pump (the small cylinder) and then water gushed out at every pump ... Luckily for me, there are two of us here (two Canadians), so I ended up using my countryman's filtration unit (also a KATAKYN Hiker Pro). Sadly, his unit also broke at the same location, also at about 100 L of pumped water.
After using 2 different units which broke at the same location, after about the same use ... hence I would not recommend this item.
That being said, it is light, easy to use, easy to clean.
Easy to use water filter for backpacking.
Pros
Easy to use
Great design
Durable
Have owned and used since 2013. Love this filter. Very easy to use, especially when utilizing quick-connects for water bladders. Take very little time to set up and filter.
There are several options available (pens, gravity bags, etc), but this has always worked well for me. Very user friendly.
My one recommendation and caution is removing and effectively cleaning/drying the filter inside the unit after use. I didn't do this once and got a moldy filter. Thankfully they are replaceable.
Source: bought it new
Price Paid: $70

If you need to carry a filter for reasonably large volumes of water (camping for several people), this filer works quite well. Lighter options exist now.
Pros
Light weight
Ease of use
Low cost
I've used this filter for several years, but now rarely carry it because I can generally meet my needs (just my wife and I) with a Sawyer Squeeze for a lot lower weight penalty.
I have used my Hiker Pro for 2 seasons now, I have had to clean the filter once when the water volume slowed down.
It is very easy to pump and produces enough water quickly to not be bothersome. I use the filter when dayhiking or overnight trips with 4 people.
I purchased the filter after reading online reviews and figured it was worth a try. Some people have reported the housing is prone to cracking but I have had no issues so far. I do perform regular maintenance, lube seals, rinse housing, etc. I have used it in murky water, alpine streams, and algae covered creeks.
Overall I am very satisfied with the filter and good deals can be found online.
Price Paid: $49.95

The Hiker Pro is a must when drinking water from questionable water sources. I was never worried about getting sick when using this filter.
The filter lasts quite a while and they are not hard to change either. The bottom connection piece did break after 4 years, but a little bit of plastic welding, and it's good as new and ready for my PCT thru hike.
Source: bought it new
Price Paid: $90

This is by far the best water filter for the money. It is comparable to MSR's costing 2 to 3 times as much. Definitely get the Pro version. It is only ten bucks more and you get a field cleaning kit including a prefilter and cleaning sponge and the quick disconnects make it easy to set up prior to your trip. It comes with 1 glad bag and a stuff sack. Keep the clean hoses in the glad bag and the dirty hoses in the stuff sack. This will keep you from cross contaminating. Always use the same bag for each so you don't forget. Water tastes great, even my home water tastes better. You won't get hikers cramp with this filter!!!
Price Paid: $65

Worked well at first. On about the 10th trip, the plastic along the pump shaft split and now water squirts out with every pump. Terrible build quality. You'd think for something that people rely on for clean drinking water, Katadyn wouldn't cheap out on their parts and materials.
As for customer service, Katadyn has not responded to any of the three emails I've sent them over the past year. My intentions are to let them know about what may be a quality issue: the plastic split right along the seam of the shaft which I would say is more indicative of poor design than misuse.
Wouldn't buy again. Save up, get something metal-based and (hopefully) more durable.
Price Paid: 70CAD

I've used the Katadyn Hiker Pro now for several years, off and on, with the "off" periods only being when no filter was needed. It has consistently functioned well, and I've encountered no problems with the device. I would suggest minor alterations in connections, tubing, etc., but these are minor points--the only reason it doesn't receive a 5/5 score from me.
On a side note, Katadyn customer service was both pleasant and prompt in sending me replacement quick-connect fittings after my dog treated some as a chew toy. No charge.
Replacement cartridges are widely available. Very effective. Should I need to buy a new filter device, I'd likely return to the Hiker Pro.
Have had my Hiker Pro for about a year now. Bought it so my son and I could do some backpacking on our own apart from Scouts.
Well it pumps great and fast, but last week we were on a high adventure canoe trip to Tinnerman Canoe Base (great place) and on the 5th day of 7, the handle snapped off just below the grip. Fortunately, we had the handy ole Sweet Water still available. It pumps a heck of a lot slower ... but it pumps!
I haven't taken a run at the customer service windmill yet, but it sounds based on some of these reviews like it won't be an easy ride.
Price Paid: $56

It is the FASTEST pump I've ever used. In 47 strokes you will have a 32oz bottle filled. I can fill three bottles in the same time it takes my buddies with their MSR filters to fill one. The pump has never failed. Carry an extra baggie to keep the hoses separate. The quick disconnect feature is awesome, it breaks down in seconds. The water tastes great. Clean up at home after the trip is easy and painless. After using my Hiker on the second trip last year I converted an MSR user to the Hiker.
Price Paid: $50

I enjoy using this product. It pumps water efficiently and has never gotten me sick. Be sure to use a bandanna or some kind of filter fabric to prevent sediment from prematurely clogging the filter for those water sources with high turbidity. I have not had any problems with the handle or casing breaking, I plan to be careful with this though.
Regardless, always carry a backup source of water treatment. I recommend the Katadyn Micropur MP1 tablets as a backup.
I've been using Katadyn filters for over 30 years now, my latest Hiker pro for two years and still going strong. I don't understand how some can break theirs. I wouldn't say they're bulletproof but with a little care these should last a long time. Take care of your gear and it will take care of you. I recommend the Hiker for its ease of use. I did inquire about getting spare O-rings just to have in my kit.
Price Paid: $35

Love the options! It can fill Camelbaks or wide mouth Nalgene-like bottles...fast. It packs relatively small, and the instructions are simple to follow. The pumping can get tiresome if you're filling more than a gallon at a time (for camp-wide cooking use); but, it's perfect for the individual (or two-some) on a backpacking trek. (I picked mine up at an end-of-season sale at a Dick's Sporting Goods store.)
Price Paid: $49

I can't say enought about the Hiker PRO. Whether I'm doing a long day hike or a 3-night backpacking trip, I make sure I have this lightweight filter. Setup is extremely quick and easy. Filled up three 32oz bottles in just a few minutes. IMO there is plenty of hosing. Best tasting water I've had compared w/two other filters owned.
Price Paid: $60

One of the cheapest and best pumps on the market. I've used it in some murky water with no problems. I was working for a summer camp a summer back and I would typically fill up 20 Nalgenes at a time, worked great, easy to clean, easy to change the filter, and pumps fast. I recommend this to anyone.
Price Paid: $80

This is a must have. This filter is much faster than the MSR ceramic unit my buddy brought on a recent weekend camping trip. My water tasted much cleaner than his and the Katadyn undoubtedly filled our containers much faster than his. I really like the bottle adapter that comes with the unit too.
Price Paid: $69

This water pump is absolutely amazing! Fast, lightweight, great tasting water. I will never use purifying tablets again! The only strange thing about the pump is the little bag it comes with is called the outlet hose, and I use that for the input hose, because the outlet hose is really hard to remove.
Price Paid: $70

Fast as heck and the water tastes great. My only beef is the bag you put the hoses into leads to possible cross contamination, so bring two bags. Mkae sure the bags are different so you don't mix them up (now WHICH one was the "clean" baggie?) Other than that, it's FAST and effective.
Price Paid: $52

Fast, lightweight, compact, but I can't give it 4 stars, something was missing, oh yeah, how about an extra supply hose! I had to cut the one supplied and now I have limited distance from the filter to my water bladder, and the hose tends to jump around while you pump.
Price Paid: $69

I bought this filter when I got sick after my first backpacking trip and didn't treat the water. Mine is an older model (15 years) when Pur made this filter. It is EXCELLENT. After all these years and uses I would buy another one in a heartbeat. Great product.
Price Paid: $50+

Excellent filter. Definitely get the PRO version. It comes with a mesh screen and some other doo-dads that the regular version doesn't. I love the quick disconnect feature. Easy to clean. No exposed moving parts to break like the Sweetwater. It pumps water pretty fast. Go buy one.
Price Paid: $65

This such a handy filter. It's fast, easy-to-use, and lightweight. Used it on recent kayaking trip. It worked wonderfully. I was amazed at how quickly it filled up my Nalgene.
Price Paid: $69

Have been using a Hiker Pro for several years now. It's easy to use, carry, clean, and store. Really, what else do you want from a filter?
I have had my Hiker Pro for nearly 4 years now, and I have nothing but good to say about it. As with anything it has its intended purposes, and if used for that purpose it is great. I use for hunting/hiking in the mountains to refill my hydration bladder.
Of course the first time I used it the water was cloudy, but it quickly cleared up, and the water tastes, well, like water.
The reason for 4.5 stars is because I think everything has some room for improvement even if I cannot think of any.
Update: December 17, 2011
A little over a year from my last review and I still have nothing but good to say. I would easily buy another one if I ever found myself needing to.
Price Paid: don't recall

I have owned the filter for two large trips. The filter doesn't last long, so carry an extra or install a brand new one before you start out. Do not rely on any filter pump exclusively, carry another source for water treatment.
ALSO the housing split at the pump chamber and water leaks from the crank at every pump. A better casting is required to make this product more durable and reliable.
Price Paid: $79

I love using this pump when it works. But I have had the housing split AND the pump handle break. I maintain it well and when it is working it is great, it's just not sturdy.
Price Paid: $79

Your Review
Where to Buy
Help support this site by making your next gear purchase through one of the links above. Click a link, buy what you need, and the seller will contribute a portion of the purchase price to support Trailspace's independent gear reviews.
You May Like
Specs
Price
Current Retail: $84.95-$99.99
Historic Range: $58.93-$99.99
Reviewers Paid: $15.00-$90.00

Water Source
clear water, muddy water

Group Size
1

Output
1 L/minute

Treated Quantity
1150 L

Effective Against
microorganisms, bad taste, chemicals

Weight
233 g

Dimensions
76 x 165 x 61 mm