User Review:
Keen Men's Newport
Rating:


Source: bought it new
Price Paid: 85-95$

Summary
These are the first sandals that I liked and wanted to wear. as far as sandals go they have great arch support, a nice even foot bed, not a lot of movement when you tighten the laces up. Great pair of sandals.
Pros
full toe coverage
arch support
stiff sole, and side to side stiffness. doesn't feel like a sandal.
dries really fast, doesn't smell, (you would think they would smell because of the leather, but they don't)
with a good pair of wool sox I wore these well into fall.
Cons
small rocks get in under your foot and you have to take them off to get them out. sometimes you can move your foot in the current and it will come out, but not always.
FIT- great, with sox or without. feels a lot like a shoe or boot when you tighten up the laces, but you still have the airflow of a sandal.
COMFORT- no real break-in, comfortable from the first time i tried them on.
SUPPORT- more than i would have thought. good arch and side to side. tread is think enough that you can't feel the stones and rocks under foot. sole is stiff enough to keep your feet from flexing side to side.
WATER RESISTANCE- these are sandals, but the leather is listed as water proof, they don't seem to get soaked or water logged. they dry faster than my shower shoes.
TRACTION- as good as my vasque mx2 boots. treads not quite as sticky as approach shoes but close. tread design seems to work well in the water on rocks and in fast water on gravel.
TEMP CONTROL- sandals, nuff said.
EASE OF USE- put them on pull the bungee lace and slide down the keeper. any easier and someone would be putting them on for you.
FEATURES- full toe coverage, this is why i got them. I've spent to much time in the woods to walk around with open toe sandals. scratched and gouged up to many pairs of boots to do it. got them to use while canoeing and kayaking on creeks and rivers here in the mid west. way to many things in the water(re-bar, old fence, nails, tires, scrap metal of all kinds) to go into the water with no toe coverage.
 bungee laces with a keeper, you can't loosen them up without pushing the release.
CONSTRUCTION AND DURABILITY- spent a spring, summer, and a fall canoeing and kayaking in these before they went to Afghanistan with me. used them as winter shower shoes in northern Afghanistan without any problems.
 spring came and every day i woke up these were the first pair of shoes i put on. the talcum powder like dust didn't bother them, the heat didn't dry them out. never a problem. many times these were my go to shoes for those easy nonchalant drives through Afghanistan.
(notice the shoes/sandals, and yes i am wearing sox under them)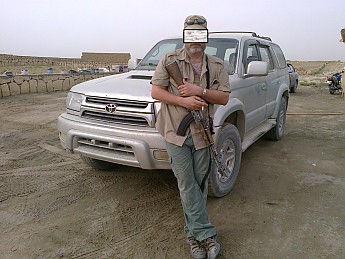 CONDITIONS- i got these in the spring of 2010 wore them all through the spring and summer and into the fall canoeing and kayaking. they went with me to Afghanistan for 11 months. used them daily for everything from shower shoes to work boots. mud, dust, water, dirt, rocks, and even some shrapnel didn't faze them.
I know this was a bit long but they are great sandals, in my opinion you can't go wrong with these.
Thanks. 
Where to Buy
sponsored links
Help support Trailspace by making your next purchase through one of the links above.