Keen Newport H2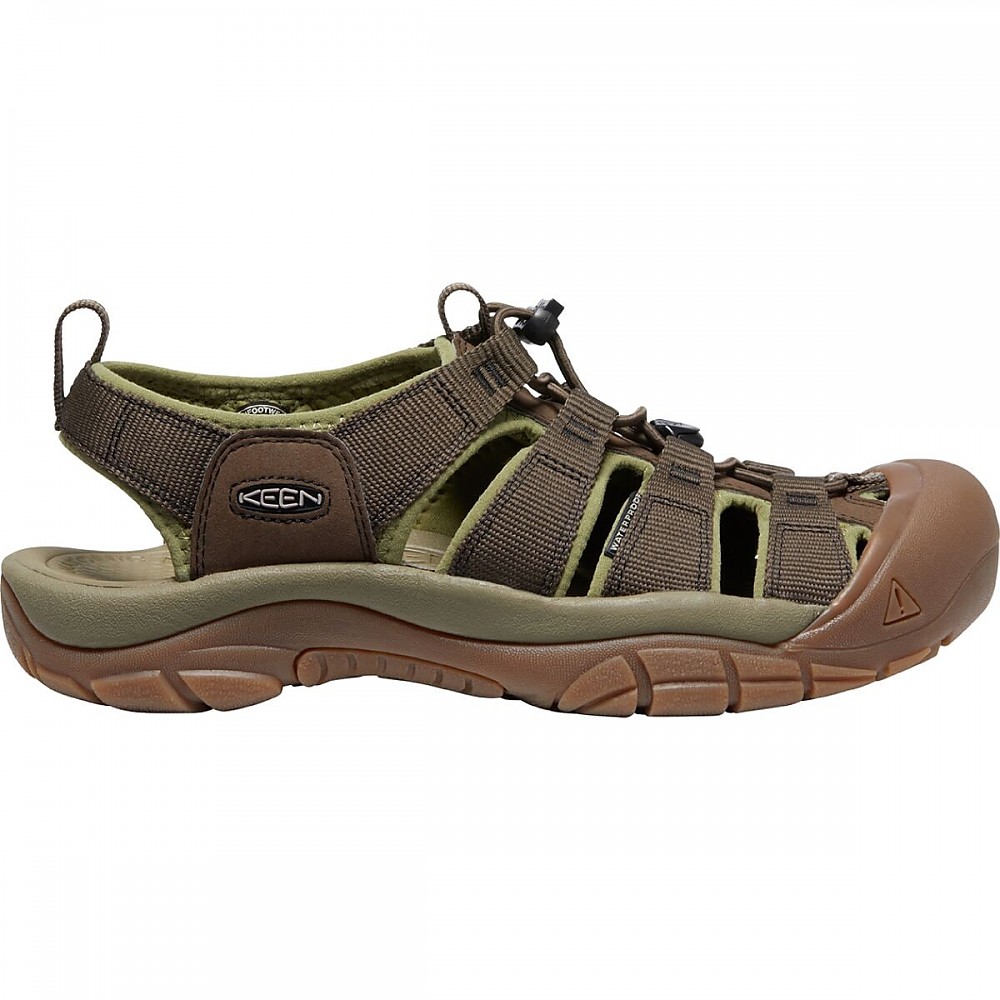 Outstanding sport sandal for all conditions...well maybe not snow and ice, but I haven't tried that yet!
Pros
Comfortable
Durable
Stylish
Dries quick
I bought these the day before I left on a week vacation to the Smokey Mountains. I've heard and read great reviews on these and wanted a good supportive sandal that I could wear all day and stand up to whatever conditions I threw at them. 
Well, I got my money's worth! These were comfortable from the start, a little stiff, but that went away quickly. I did notice that the bottom of my feet did sweat a bit with them on, which was weird being a sandal. But my feet and the rest of me sweat pretty bad.  
I wore them for a week straight after I bought them. I hiked on pavement several times for 2 to 5 miles each, up and down steep paths to overlooks and waterfalls. I made a 6.5 mile round trip, hike up and down a mountain side, on an unpaved, rocky, boulder strewn, full of roots, rated as a "Strenuous" hike, without issue (Rainbow Falls in Gatlinburg). NO blisters, no discomfort, no problems with grip and traction.  I was tired at the end and my muscles were aching, but the sandals were going strong! 
I also went whitewater rafting, they locked in great, held up in the water great, felt great walking on the rocky bottom. During some of those hikes, I even ran for some short distances to catch up after taking pictures and I wanted to see how they felt. I'm a runner. They even felt good running.
I've worn them daily, for a month. The nature of my work allows me to wear them daily as well.
The one thing that I have noticed is the smell. I typically don't have smelly feet, they do sweat a lot, but don't stink. They stink in these.  I sprayed them with some fabreeze last night and will be scrubbing the foot bed with some soap this weekend. 
With that said, I will always own a pair of these. They are awesome. I'm curious to see how they do in winter. 
Source: bought it new
Price Paid: $100

These are great sandals, comfortable, durable, and they perform for what they are made to do.
Pros
Toe protection
Comfy
Light
Durable
I haven't had mine as long as I have had the leather version, but I have used them on a few good adventures where I didn't feel my Chacos would keep my toes safe. Mostly only in river situations, but they dry fast and they drain well!
As far as little pebbles go, every sandal will get little pebbles in them it will just be a little bit harder to get them out of these guys versus a more open sandal. Tis the price paid for that toe protection.
I would recommend these sandals to any casual adventurer looking for a solid outdoor sandal, or any lake goer in need of something comfortable. Personal preference though, unless I really need the toe protection (for example in muddy waters, or swift rivers) I would stick to Chacos.
For those of you reporting the "stink" from the great beyond, KEEN blends the Aegis microbe shield into the footbed, you can reactivate it by putting it in direct sunlight to dry after a good wash. If you would like to machine wash them that is fine, or hand scrub with some good soap either way will work just remember to dry them in direct sunlight.
In the past they had a problem with the back heel strap breaking, that is why in the beginning I went with leather over the H2, but a recent conversation with the KEEN rep at my store revealed to me that about 2 years ago they reinforced the back strap with double stitching to avoid that problem.
Overall, KEEN really does make a quality product. I have seen people wear these for years and years, they'll bring in their old ones all the time to see what we can do for them. 90% of the time the tread has just been worn smooth from adventure.
Source: bought via a "pro deal"

We go to Hawaii every now and then and we always need a water-shoe/light trail shoe in humid and wet conditions that can take a beating. I've tried other brands of water-shoes and river sandals..and sand and debris seems to get stuck on the sole of the sandals and on the heel and it hurts so much you can't really use them.

The Keens work well and wick water away quickly. They are very comfortable to wear for long periods of time. I would use them for all wet activities and only for dry silty sand beaches. Otherwise, you're going to be wearing cheesegraters and every time you take a step, you'll be thinking you are walking barefoot on gravel.etc.
Pros
Very comfortable for in-water applications
Comfortable to wear on wet hikes and kayak/canoe trips
Great for camp lounging
Durable
Cons
Can collect tiny bits of sand on top of sole
Solid, durable river/trail shoes that are comfortable to wear all day or night. Not good for walks on the beach if walking on wet sand. Dry silty sand is OK, though.
Source: bought it used
Price Paid: $34

This sandal is very comfortable, it dries in no time and the sole grips the trail nice and tight. The soft sole guarantees a comfortable hike. I have not had a shoe or sandal that felt this good on the trail here in Georgia or in Colorado. I can boulder with them or trough fish walking around in the stream with no problems.
Pros
super soft sole
very lightweight
dries fast
Cons
I have not any cons to report on this sandal, it's the best sandal I have owned for outdoor use.
Every time I go fishing  or just hike on the trails in Georgia or Colorado I always have my Keens on. I love that on dry land or in the water these are excellent for anything I do. I have bouldered, hiked and fished with these and they are all I need in the warmer months.
The sandal has drawstring laces to secure your foot nice and snug and does not loosen when walking or doing any types of sudden movements. If you're in the water and move to dry land these sandal do not take long to dry, there is never any chaffing with these sandals.
I have had plenty of different brands and Keens are by far the best and most comfortable as well as the most reliable I have owned. I love the fact that this Keen sandal has a closed toe style to protect your toes from sticks on the trail or sharp rocks in the water.
Source: bought it new
Price Paid: $85

When I bought my first pair three years ago I was wondering how well they would hold on in the long run. Well they did. I still own only one pair and I love em still. I can't figure out how many times I haven't sworn after knocking my toes on a hard surface.
I use mine in every matter I can. From river guiding paired with neoprene socks to cruising on my bike in the city. After three years they show some wear but they keep up rather well. Nothing has ripped off and the sole is still grippy.
When they stink, (rarely) I put em in the dishwasher with some carbonate powder. Brand new again.
Comfort is excellent for me; the arch support is just perfect for my foot with a low arch. The mix of EVA and PU for the sole make it durable in comfort and grip if a bit heavy compared to other such closed sandals.
True they don't dry up as fast as one would like but stuffing them with newspaper helps a bunch. I use the «Journal de Montreal». About the best thing you can do with that paper. Plus, you have readymade balls of paper in the morning to start your fire. Some people have their grief others love them. Where you will you fit in? Try em, you'll see.
Here are mine after a good day of river.
Price Paid: 55$ Can. staff deal.

Never ever Keen again!
Pros
The idea is good—opposite to workmanship
Cons
Seams fall apart after one week of light use!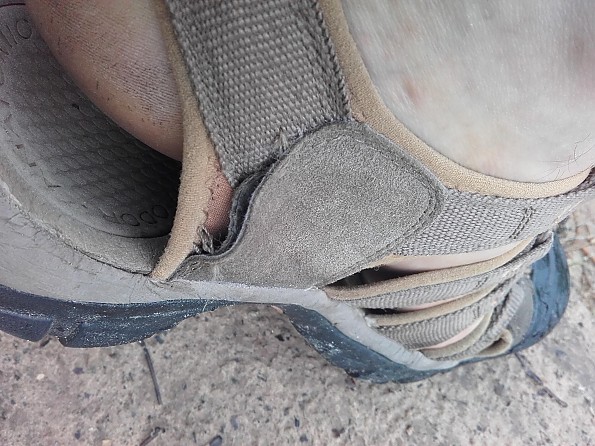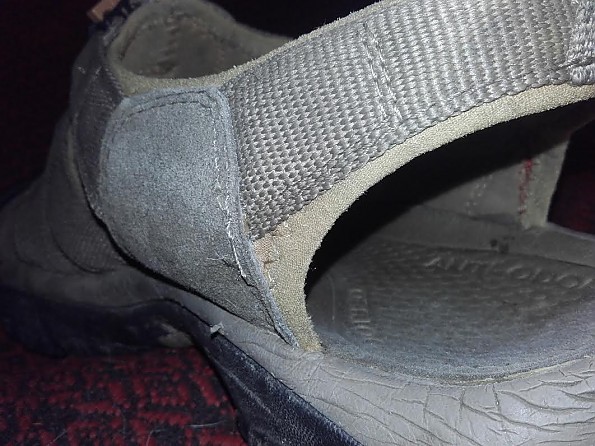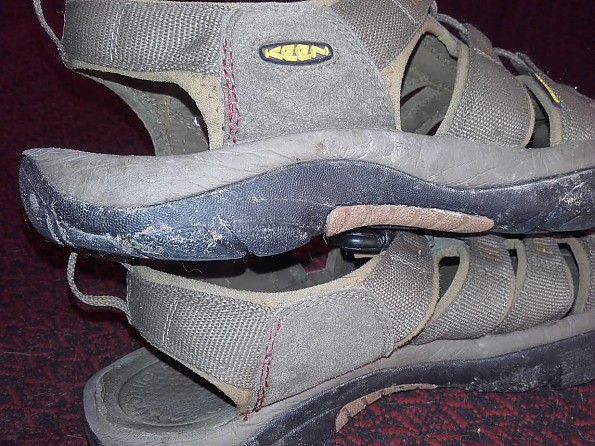 I bought Keen based on reviews and according to my needs.
Fit was good, but lack of tightening below ankle.
Seams started falling apart and by closer inspection I observed more loose thread ends.
There were no possibilities for me to send the sandals back and I spent few evenings to sew by hand with stronger thread (photos available).
The lack of Keen reliability led to further walking with Teva, actually bought for city walking.
Source: bought it new
Price Paid: 95 eiro

Love these water sandals. They are comfy almost all day. Toward the end of the day I developed a rash on the tops of my feet and my guy has the same style and his feet smell by the end of the day! Great overall, very sturdy and durable for our active lifestyle.
Pros
Construction
Comfort
Style
Durability
Cons
Tops of feet get intense rash
Bad smelly feet
Debris gets into small opening
Overall this is a great sandal for water sports or just about anything. I will be looking at the Rose style Keen, it looks to have less coverage on the top of the sandal and that may help my feet breathe more.
I love Keen products and will stay unless I run into the same problem with a different style.
Source: bought it new
Price Paid: $45

I'm not a sandal kind of guy but I wanted something comfortable that I could wear in the water if needed. I was also planning a vacation in the Florida Keys so sandals seemed like the right choice.
I went with the Keens mainly due to the toe cap. I hated the old pair of Birkenstocks I had a long while back. I kept bumping the front end and ended up sending them off to the closet to live out their days. I also don't like showing off my toes, not that they look bad I've seen much worse, it is just not my thing.
Anyway, I found these pieces of footwear to be the most comfortable pair of shoes\sandals I have ever worn. I've only had them a month and they feel great on my feet. They cushion my feet and hold them much better than the shoes I "used" to wear.
I rated them as a 4.5 instead of a 5 due to a small problem I had with them. The thread on the left sandal started to come away from the lining. I contacted Keen and they sent me out a replacement pair the same day. With a company like that I will certainly be purchasing from them in the future.
I should add that my wife has the Venice H2's and she loves them as much as I love mine.
Materials: Canvas & Neoprene (I think?)
Use: Wearing all the time
Break-in Period: none
Weight: 150 LBS
Price Paid: $90 USA

Not what they used to be. Very poor quality control.
I have been wearing Keen Newports since shortly after they were introduced in the early 2000s. I'm probably on my sixth or seventh pair at this point. The original pair of sandals lasted for at least five summers before I retired them due to the soles being worn out. The tops were still very functional.
Since Keen decided to offshore their production the quality is now nonexistent. My latest pair, which was made in Mexico, started off last summer and I have been wearing them for about the past two months, so total wear time on these is about eight months. The soles are in good condition and are far from being worn out. The uppers however are another story. The stretch material under the straps is disintegrating, the stitching on the heel gussets has given out, and  one of the heel straps was never fully under the gusset when it was stitched.
So sad how far this once great product has fallen. Bass Pro sells a knockoff version of these sandals for about $25. If I'm buying imported junk I'd rather spend less.
Experience
I have been buying this sandal for over 15 years.
Source: bought it new
Price Paid: $90

This is the first pair of Keens I have owned. Prior to these I owned a pair of Chacos with the Vibram boot sole for 10 years without issue.
I bought the shoes because of the toe guard. I work in an office and since the sandal isn't technically open toed I can get away with wearing them at work in the summer. I agree with other reviews in that once you get a rock in them you just have to pull the shoe off and shake it out. I will not come out on its own. Also, the shoes stink. I've never had a sandal that puts off an odor this bad. I think it's a combination of the closed toe and the type of rubber they use on the foot bed.
That being said, it's a comfortable sandal and has not given me any major troubles in the first 6 months. If had to choose though between the Keens and another pair of Chacos and the toe guard wasn't an issue at work I'd definitely go with another pair of the Chacos.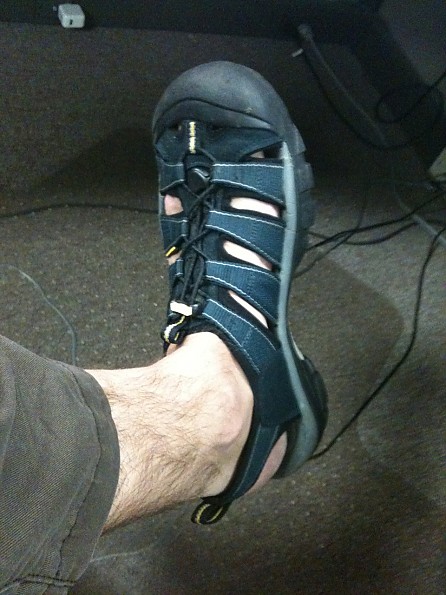 Materials: leather, canvas
Use: dayhikes, everyday shoes
Break-in Period: none
Weight: light
Price Paid: $85

These don't last very long under tougher conditions...
I bought mine almost a year and a half ago. They were really popular here in Austin and getting good reviews from friends and the stores. I liked the reinforced toe and "quick-dry" capability it claimed. Little did I know that the people that reccommended them did little more than hike around town on flat concrete trails and not use them much more than look cool. I used them as my primary river shoe for a year.
At first they were good for flatwater trips but I noticed they collect way too much gravel and sand. It is a real problem with this sandal. The toe is very strong and tough but the little rocks get stuck and are a real annoyance. The soles were grippy for a few months but those wear down quickly as well. We had to portage over a lot of limestone and granite in rivers and that shredded the bottoms after a few trips. The soles are now a mess, one of the back loops keeps tearing and to top it off, after sitting out overnight in dry Texas heat, they are still wet! If used and abused, these won't last long.
Use: kayaking, portaging, short hikes
Price Paid: $90

They have been comfortable from day one. I live in these all summer. If it weren't for my Keen hikers, I would wear them in the snow. Good product I hope Keen hangs onto in the future.
Pros
Easy on
Super comfy in the water, on the trail or in town
Good ventilation
Cons
A bit heavy
As with any sandal, getting rocks out, near impossible without removing the shoe
I adore my Birki river shoes, however finding a pair that protected the toe I found to be difficult. From day one, these Newport H2's have been AWESOME. Good traction in the water and out. They aren't hard to swim with once you get used to their weight.
I just love them, enough said. My Keen hikers are just as wonderful.
Source: bought it new
Price Paid: $125-ish

Comfortable, but not dependable, and not worth the price. Considering this is the most expensive pair of shoes I've ever bought, I wasn't impressed. The first pair's soft outersole ripped when it came in contact with a door. Apparently not geared towards wearing in outdoor environments, if it can't handle getting smacked by a door. The sole also started to split on the seam.
I was using these sandals to jog around nature trails through dusty/damp/muddy conditions. They started to split after about a week and a half. The second pair did the same. If you plan to do more than sit around and sport "extreme" outdoor gear, don't get these.
All the employees at the store said this was the shoe for me, if I was going to run around in wet conditions. They claimed they've taken these shoes to the extremes, but I didn't even leave the city limits and they couldn't hold up.
Price Paid: $85

These shoes are the first and last word in footwear right now. They take a basic design used for centuries in Rome — the roman sandal — and make it with topnotch modern materials to be the perfect shoe.
I bought a pair when my other walking shoes wore out: haven't worn another shoe since. Why would you wear anything else unless you are wearing a well-worn in pair of RM Williams boots? [NOT a plug for RM Williams, a plug for these excellent Keen shoes.] I hope they last.
Perfect
Pros
Supportive
Shock absorbing
Cradles the foot
Easy on and off
i haven't tried hiking with a pack on in hot weather with these, but they are my summer faves:
walking, rock hopping through water, it's all good.
I needed no break-in period. These felt like a dream right out of the box. There's a deep heel cup, generous arch support and roomy toe box.
The lacing system is quick and easy, the sandals offer great traction on wet rock.  
As comfy as my trusty old Birkenstocks, but completely amphibious. Can't go wrong with these.  
Source: bought it new
Price Paid: Around $100

This is my second pair of Keen sandals and I wear them all the time. I also own a pair of the Newport sandals (not to be confused with the H2) and I think they are great as well.
I like the H2 better for a few reasons. One, the footbed is more comfortable and they do not get stinky when they have been on long day hikes. Second, they canvas outers don't stretch nearly as much. The H2s have held their shape much better than the regular Newports which is huge when it comes to blister prevention. For hiking around, wet wading while fly fishing, or just lounging around the house these are my sandal of choice.
Use: hiking, fishing, lounging, after hike shoe, etc.
Break-in Period: immediately comfortable
Weight: too light to care
Price Paid: $79

I bought this sandal because so many people I know had raved about their Keens, and my Tevas were in sad shape. Next time I'll know not to listen to townie yuppies. Debris doesn't clear very well when used in water, ventilation is extremely poor for a sandal, and the spandex material wears out quickly.
A great idea, but piss poor in practice. It's a good choice if you're buying this sandal to be trendy to get around town, but for the uses it's billed for it sucks. I can't wait for them to wear out so I can replace them
Materials: nylon
Use: light hike, kayak/canoe
Break-in Period: none
Weight: 1lb?
Price Paid: $90

Fits great, and keeps feet cool well still offering some toe protection. Didn't have any problem with smell for almost two years (I wear these from spring to fall) and my wife cured that by running them through the dish washer, after-wards they looked, and felt brand new again.
I have used them for day hiking with a light pack, camping, canoeing, fly fishing, around town, and on campus. Yes you will pick up pebbles and or sand, but show me a sandal that doesn't. They grip beautifully on most surfaces and dry quickly when wet.
Price Paid: $99

I actually read the reviews here on this site before buying these shoes. And most people are right, little pebbles do become a problem from time to time. But not that often.
These are great water shoes for stream crossing, they are very comfortable for walking around easy trails. I have been overall happy with them. Although they do get annoying when you are on a trail that kicks up pebbles.
They are really easy to get on and off though, and I think they make excellent camp shoes.
Use: Short Dayhikes, Camp Shoes
Price Paid: $69

This sandal is great for running around trails and diving into rivers. They are very comfortable save for two factors.
The first is that they take forever to dry (even synthetic models) and the second is that they hold debris big time.
The rubber toe is key to protecting the foot, but also holds in all sorts of crap, turning the shoe in to a sand blender on your foot while you are in the water.
Materials: synthetic
Use: everything
Break-in Period: instant
Weight: light
Price Paid: $80

I love these shoes. I bought them for my honeymoon in the Caribbeans and hiking in the rain forest. I didn't expect them to be as comfortable as they are. This is my first pair of Keens and I love them. They don't feel all funny when they are wet and they don't make your feet sweat noticeably either. My wife and mother-in-law have a similar pair and love them as well.
Use: short hikes, long hikes, river walking, stream crossing
Break-in Period: none
Price Paid: $80

The most comfortable and versatile shoe I've ever worn. I was a confirmed Mephisto wearer until I tried the Keen Newport H2. They feel wonderful, they handle any terrain, they dry quickly after getting wet, and they look great. I've worn my Keens standing eight hours in a drafty warehouse, and my legs and back felt great.
Use: in water, on the trail, around town, at the park
Break-in Period: none
Price Paid: $82

Great sandal. I've worn it backpacking, around town. I've even been hit by a car in them when I was on my Honda Metropolitan and aside from being a little melted they were fine. I still use that pair.
I would highly recommend this sandal to anybody at all.
Price Paid: $50

Your Review
Where to Buy
Help support this site by making your next gear purchase through one of the links above. Click a link, buy what you need, and the seller will contribute a portion of the purchase price to support Trailspace's independent gear reviews.
You May Like
Specs
Men's
Price
MSRP: $110.00
Current Retail: $93.75-$130.00
Historic Range: $24.88-$130.00
Reviewers Paid: $34.00-$100.00

Weight
14.2 oz / 402.6 g

Material
Washable polyester webbing upper / Non-marking rubber outsole with razor siping / Compression molded EVA midsole / Quick-dry lining for active use / Metatomical EVA footbed

Women's
Price
MSRP: $110.00
Current Retail: $93.75-$189.99
Historic Range: $19.99-$189.99
Reviewers Paid: $45.00-$125.00

Weight
10.5 oz / 297.7 g

Material
Washable polyester webbing upper / Non-marking rubber outsole / Compression molded EVA midsole / Quick-dry lining for active use / Metatomical EVA footbed

Kids'
Price
MSRP: $55.00
Current Retail: $41.97-$70.00
Historic Range: $9.98-$125.00

Recently on Trailspace