Kind
Fruit & Nut Bar
2

reviews

5-star:

1

4-star:

1

3-star:

0

2-star:

0

1-star:

0
In two words? Freakin' delicious. In more words than…
Rating:


Source: received it as a sample, freebie, or prize (Trailspace.com)

Summary
In two words? Freakin' delicious. In more words than that? A fruit and nut bar that is exactly that: sizable and fresh-tasting fruits and nuts. Special guest appearances by honey and puffed rice add further texture and crunch you won't find in a CLIF bar. I'm a meat-and-potatoes kinda guy, and this bar may actually get me to eat my fruit. Yep. That good.
Pros
Honest, transparent Packaging
All Natural - Great for those with Gluten or Dairy Allergies
Whole almonds!!! Whole!
Fresh-tasting fruit flavor
USA Made
Cons
Fruit paste is sticky on the hands - requires a wrapper
KIND Fruit & Nut Bars - Various Flavors
Boy, am I on cloud nine. Recently I won the monthly raffle drawn from submitted reviews, and I knew I was getting an AAC membership and a Mountainsmith pack.
Well, Trailspace did me one better, and promised to send me an official cap to wear on the trail.
More free stuff? Can't complain about that. 
More things not to complain about?
Well, turns out they packed me a lunch, too: included inside were a couple snack bars. 
This was one of them, and my favorite of the two. 
I sampled the "Apricot and Almond" flavored bar.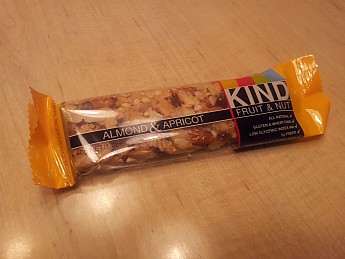 PACKAGING
I like the fact the wrapper is transparent and see-through, so if I was in a store, trying to decide between items, I could easily judge for myself what is in this bar and how appetizing it looks. I think this is something more manufacturers could (or could not) benefit from. Their honest, straightforward approach is much appreciated. 
FLAVOR AND COMPOSITION
"Flavored" is probably a poor way to put it, because — as advertised on the package — this bar tastes like these because it's filled with chunks of them. Whole almonds and meaty chunks of apricot. These make up the majority of the bar, and the filler is simply binding agent. Think of it like a well made crab cake: mostly whole, premium chunks of the meat, with the other ingredients serving the main ones, and keeping them together. Nothing more. 
The apricot makes for an interesting flavor profile. The first thing to hit you is the sweetness, followed by the accompanying tartness of an apricot. Sweet because the fruit is actual fruit and the flavor that comes with it.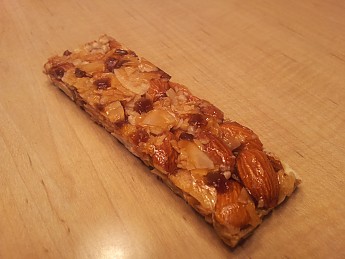 The apricot paste (and the honey) make this a sticky bar to handle, and I'd suggest leaving it in the original wrapper when you pack it with you. That, really, is the only negative thing I have to say about this bar.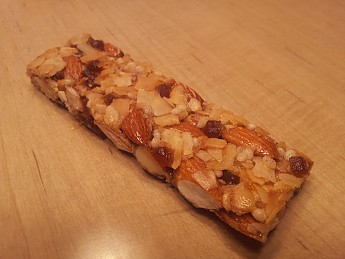 Made in America. If you like freedom, bald eagles, and really flavorful trail food, you'll love this bar. Support the American economy and pick one up.
MOUTHFEEL
At home, I like salads more than any other dish. You can put an entire food pyramid in a bowl, and there's so, so much texture to make every bite interesting. This bar is much the same, containing: Almonds, Dried Coconut, Apricots, Honey, Puffed Rice, and Chicory Fiber. Loved the texture, and the first bite was as good as the last. 
PREP
It's in a freakin' wrapper. No prep to be had.  
ENERGY
Trailspace probably figured I'd pack these away for a trip, but as it was, I just got home from a long driving commute and hadn't yet eaten dinner. This bar definitely took the edge off, and at 190 calories, wasn't something I was going to regret or have to work off later. 
BEST FOR
Well, it's right on the wrapper! This bar is, in no particular order:
All Natural.
Gluten and Wheat-Free (perfect for my gluten-intolerant girlfriend).

Has a Low Glycemic Index (48).

Contains 5g of Fiber.

Non-GMO and No Trans Fats.

Dairy-Free.

Very Low Sodium (15mg - or 1% DV)
I shared this bar with a couple friends because I was that impressed by the flavor.
How many other bar-makers out there are confident enough in their products to put them in a clear wrapper?
That fact alone speaks for this product, and now I do, too.
I think I may have to pick up a box of these things if I'm able, because they're that good.
UPDATE
I liked these so much, I went out of my way (literally, 45 minutes to REI) to pick some more of these up for my first solo backpacking trip.
MEAL ALTERNATIVE
I'm not a breakfast eater, and CLIF bars sit too heavy on my stomach, so I needed something lighter. Mind you, at around 180 calories (give or take) each, one isn't a meal by itself. I packed a couple to take with me. I didn't want to have to bust-out a cook set to make myself lunch, nor did I want to wait for water to boil or food to rehydrate. More importantly, I wanted something that would taste fresh. 
SODIUM CONTENT
My other meals were freeze-dried, which meant I was going to be taking in a LOT of sodium. Sure, I'd have the chance to hike a lot of it off, but I do have high blood pressure and do have to be mindful of my intake. These bars are great because I can eat one, or even several, and not worry about the sodium content.
TRANSPORT & STORAGE
I put these together in one of my mesh hip belt pockets. Well, it was sunny and 80 degrees outside, which meant I was pretty warm and sweating quite a bit.
HOWEVER - for warmer weather, the "Fruit & Nut" line holds up much better than the "Nuts & Spice" line, because it avoids the inclusion of chocolate. "Dark Chocolate Cinnamon Pecan" sounds more like a fall snack, anyhow, doesn't it? 
So, after putting in several miles already, I stopped at a shaded pavilion, took off my pack, and unwrapped a couple of these. The other KIND bar was a "Nuts & Spice" bar, and has its own review, accordingly.
FRUIT AND NUT DELIGHT (FRUIT & NUT VARIETY)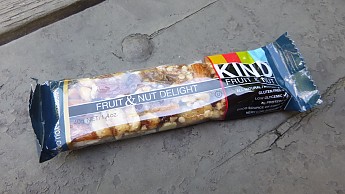 Exactly as the name suggests, this one's primarily fruits. And nuts. No deception to be had, here, and even if you're doubtful after looking through the clear packaging, you'll be convinced after a single bite of this bar it's the real deal.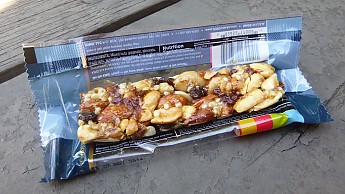 Peanuts, Almonds, Brazil Nuts, Walnuts, Raisins, Apricots, Dates, Honey, Puffed Rice, and Linseed.
You can see it for yourself, you can taste it for yourself.
This, just like the other one, had a great variety of texture. As much as I love almonds, it was nice to have a variety of mixed nuts this time around, as well as a couple other fruits to add to the mix. It really awakens the taste buds and every bite is as enjoyable as the one before it. 
I didn't suffer through the first one of these I had, I didn't suffer through this one, and I have yet to grow any bit tired of these. 
Especially after working up an appetite, these REALLY hit the spot. I don't like to hog-out while I'm being active, so this was a perfect way to get some calories in me while still being able to enjoy them. As convenient as gels and chews are, sometimes it's nice to know you're eating actual, honest food.
First thought through my head after finishing the second and last one I brought with?
"Damn. Should've bought more."
Turns out they come in 12 packs. Good news for me. Bad news for the REI stockroom.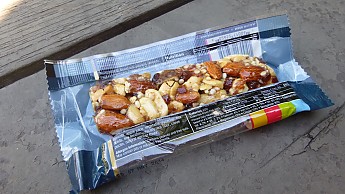 Unlike the "Nuts & Spice" bar, this hadn't any chocolate, so aside from being a little soft and pliable, it was perfectly fine and otherwise unaffected by the heat.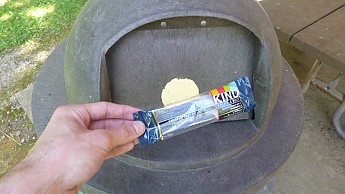 Don't forget to throw it out, or pack it out! Any time I passed a trash can on the trail, I was sure to empty whatever trash I had on me. It worked out really well, and even though I had to hike a mile out and another back, I never once had to worry about carrying food packaging on me.
I've tried many different brand of bars gluten free.
Rating:


Source: bought it new
Price Paid: $1.50

Summary
I've tried many different brand of bars gluten free. The Kind bars are god, texture is great, and they sustain you for a while. They are available at supermarkets and price tag is low.
Great GF bars, unexpensive, tastefull, avalilable anywhere. Can't ask for more!
Where to Buy
sponsored links
Help support Trailspace by making your next purchase through one of the links above.
Kind Fruit & Nut Bar
currently retails for:
$1.75 - $1.99

where to buy: