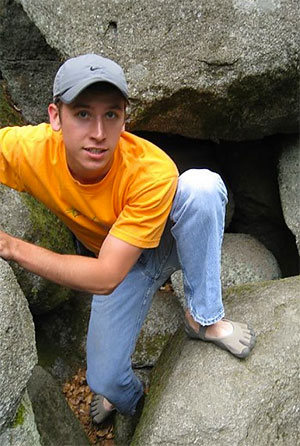 Congratulations to Daniel Oates, Trailspace's newest Reviewer of the Month!
Each month we recognize and get to know a different member of the Trailspace community. This month it's Daniel, a North Carolina hiker and geocacher turned backpacker who says: "I went on a great backcountry hiking trip in August 2013 and I haven't looked back."
Congratulations, Daniel, and thanks for sharing your helpful gear reviews with us. We're happy you found your way into the backcountry and into the Trailspace community!
For your contributions, you win this month's featured Reviewer of the Month prize: a pair of PureGrit 3 trail running shoes, thanks to our friends at Brooks ($120 MSRP). Plus, we're sending you a pack of goodies from A3, Clif, Kind, MSR, Perky Jerky, and Trailspace.*
---
Tell us a little about yourself.
By day I am a CPA…it's exciting, I know, calm down! By night I'm a DIYer who loves to read, play Ultimate, Disc Golf, hike and trail run, and be together with my family whenever I can.
What do you like to do outdoors?
I'm not afraid to try new things or be embarrassed. Most of the time those two go hand-in-hand.
The biggest thing I like to do outdoors is just to get away from the stress of the typical 9-5 job. Put the calculator down, take off the tie, and head out with my wife and pup.
I always carry a Frisbee. Most people have played before and it's a fun way to meet new people at a site, or calm down after miles on a trail.
I love having my camera with me to take those vista shots or embarrassing ones we'd like to forget. I also love to geocache, and if a trail has any geocaches hidden along the way it makes for a fun time!
How did you get started exploring outdoors?
I really started exploring the outdoors when I went off to college in the mountains of North Carolina—mostly day hikes, cliff jumping a bit, or tubing down our local river that ran through campus, the Tuckasegee River.
With the Appalachian Trail and the Blue Ridge Parkway, the area is really family-friendly and there is always something to do. For those people on the "inside," you don't go to Western Carolina University for the nightlife (we have a Walmart!!). You go for the mountains and to be outside.
Any favorite stories?
The road trip where I "caught the bug" of the outdoors would be my trip to Glacier National Park with my three college roomies last fall. It was a college reunion of sorts. Two of us are in North Carolina, one is in Georgia, and the fourth is in Utah. Took weeks of planning for our seven-day trip, but it was well worth it.
Having said that, even the best-laid plans can fall through, but we met up with some cool fellow backpackers, guides, and folks passing through that helped us out. It seems like the trip had it all: bears, waterfalls, a flat tire, a young child covered (amusingly so) in bear bells, and singing what we could remember of childhood Disney songs. What was even cooler was on our way back to our Utah location we spent the last day at Yellowstone.
The trip was unforgettable!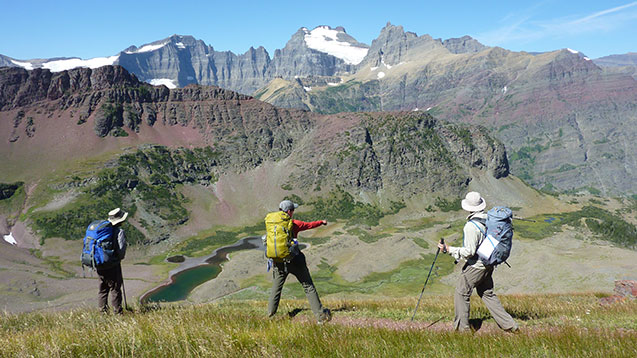 Do you have any outdoor plans you want to share?
I'd love to hike the John Muir Trail with my wife. I think pushing through and experiencing those sites together can really be an awesome adventure together!
What motivated you to share your reviews with Trailspace?
Early last summer, in preparation for the trip to Glacier, I needed some advice on gear. Having really only done day hikes, overnight hikes, or just trail running, I was inexperienced in what was needed for extended trips. My friends were a great resource, but weren't available all the time (I did have a nagging amount of questions).
That's when I found out about Trailspace. I took a laid-back approach at first, just soaking in all of the great reviews and helpful reviewers who were willing to give great advice on the forums.
Starting in spring 2014, I've tried to fine-tune my reviews. I love reading everyone's trip reports and reviews. It's become "a kid in a candy store" sort of addiction.
What's your favorite piece of outdoor gear? Why?
I love my Osprey Exos 58 I got earlier in the spring. Its removable lid makes it a nice daypack, but it can take a load of gear if you wanted a few days on the trail. Super light and very breathable mesh back suspension. With our North Carolina humidity, that can be a lifesaver!
Got any good, bad, funny, or epic gear stories?
Naked, mountaintop Frisbee…perhaps a story for another time.
What's in your backpack right now?
Still working through my gear. My Hubba Hubba NX is my shelter, Osprey Exos 58 is my pack, and an old (soon to be retired) generic sleeping bag round out my top three.
Going from day hiking or just trail running, my multi-day items are few, but growing every month. Sleeping bag and trekking poles are next on my list.
Now only if I knew of a place where I could read gear reviews, talk to other outdoor enthusiasts, and even post my own experience, hmm…
Who or what has been the biggest influence on your life?
My wife is my biggest influence. She always makes sure that I'm happy and never lets me settle or give up. She's there to pick me up and keep me going. Pretty lucky!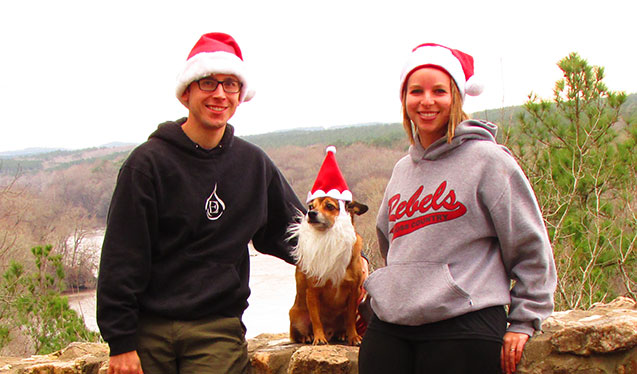 What's your favorite book (outdoors or not)?
It makes me laugh, but a German book Struwwelpeter by Dr. Heinrich Hoffman. It's a children's book…although I use that term loosely. Just a collection of outlandish, non-happily ever after, stories for children warning them to cut their nails, don't suck their thumbs, or complain about meals. Ahh, childhood drama!
What's your favorite quote?
So many quotes. Some inspirational, some funny. I like to laugh, so here's this:
"Give a man a fish; you feed him for a day. Don't teach a man to fish, and you feed yourself. He's a grown man. Fishing's not that hard" —Ron Swanson, Parks and Rec
What would Trailspace members be surprised to learn about you?
Non-outdoor related, but I have dual citizenship: American and German.
Anything else you'd like to share with the Trailspace community?
Every review, every new piece of gear is a unique experience and everyone at Trailspace (Alicia, Seth, the Moderators, and other Reviewers) have helped me to take a new look at every item of have. Everyone's involvement is greatly appreciated! It has helped me to gain a greater passion for the outdoors and undoubtedly has (and continues) to educate me.
Thanks for the recognition. I'll continue representing Trailspace and help out that next person who may be planning the big trip, just like Trailspace helped me.

Last thing is a motto we have with geocaching of "cache in, trash out." So next time you're out, pick up that bottle or gum wrapper you find, LNT.
---
Great job, Daniel!
*Besides Trailspace appreciation, Daniel wins a pair of new-for-2014 PureGrit 3 trail running shoes, thanks to Brooks $120 MSRP). Enjoy them on your North Carolina trail runs, Daniel.

Daniel also gets a goodie pack with A3, Clif, and Kind bars; an MSR Sport Tuque beanie; Perky Jerky; and a Trailspace Trail Runner Cap and stickers.
Join the Trailspace community in recognizing other helpful reviewers by voting up the reviews you find most useful.
Write your own helpful gear reviews and you could be our next Reviewer of the Month.
---
All photos courtesy of Daniel Oates.
Wide Photo 1: Daniel (middle) and friends overlooking Elizabeth Lake in Glacier National Park.
Wide Photo 2: Daniel on a Christmas Eve hike with his wife and their dog in Raven Rock State Park, North Carolina.