Osprey Exos 58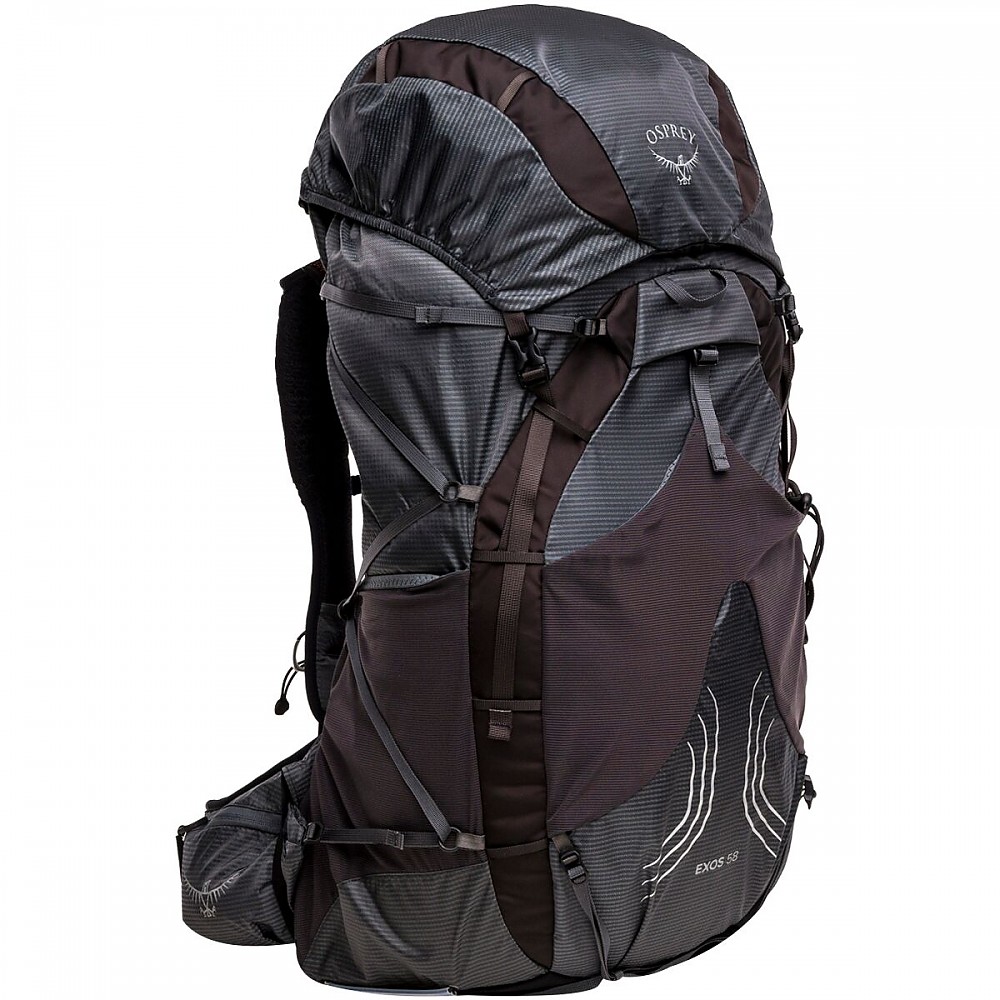 The perfect balance for ultralight backpackers. While you can get a lighter UL pack, you can't do it without shedding features packed into this beauty. The Exos 58 has a great frame, suspension, load lifters, brain, exterior mesh pockets, shoulder strap pockets, and hip belt pockets.

The "Airspeed(tm)" frame keeps the pack a couple inches off your back. It it so effective at letting the air cool your back, I once thought my hydration bladder was leaking, but it was just the chill of the wind across my back. Loved it!

The Exos 58 is best for multi-day backpacking, but I've also used it on day trips because it's so darn light. I wouldn't want to pack it with more than 30 pounds, but I'm never over 25 with 5 days of food and 2 liters of water. I would recommend this pack for anyone who wants to lighten their load but doesn't want to give up all the features of a heavier pack.
Pros
Lightweight
Frame
Load Lifters
3 Exterior mesh pockets
Removable brain
Cons
Sleeping pad webbing is too short for Ridgerest
Only rucksack/top access — no sleeping bag zipper
I have taken a couple overnights and several day hikes with this pack. I am 6 feet tall, 185 lbs, and I use the medium pack. I recommend you let your outfitter measure and fit you for the size. But, this is the perfect size for me. I have loaded this pack to 25 lbs, and I hardly notice it is there.
It is the most comfortable pack I've worn in 16 years of backpacking. I have no issue with the straps or hip belt at all. It holds all the gear I need, and has just the right amount of space for me to throw a couple bags of chips on the top without crushing them.
My 25 lb total load includes 5 days of food and 2 liters of water. I also pack my sleeping bag, tent, stakes, one change of clothes, down puff, and a fleece, stove, pot, fuel, and all my essentials in the brain. I could probably get by with the Exos 48, but there is negligible weight savings and the compression straps work just find to hold the load in place. 
There is only one access to the main compartment, and that's through the top. I would like a sleeping bag compartment, but it hasn't really been an issue. Maybe I'm just used to that from prior packs. Otherwise, the large exterior mesh pocket holds my beanie and shell just fine. The two side mesh pockets for water bottles are useful, but probably difficult to reach. But, I use a hydration bladder, so I don't need to worry about reaching items in the side mesh pockets. I keep my empty softbottle and my sawyer squeeze and bottle in them. 
My longest hike was 8 miles with the full load. It rode well, and only required the occasional adjustment to fine tune the balance of the load. 
I can't say enough good things about the design of this pack with the frame and mesh that keeps the pack off your back. It really helps to stay dry and cool. You will still sweat, but now you will dry faster and your pack isn't rubbing your back. 
To save weight, Osprey had to use lighter, less-durable fabrics. That said, unless you engage in negligent abuse, this pack should easily make it for an entire thru hike without developing any gaping holes affecting usability. 
The only thing I want to change is to get rid of the sleeping pad webbing on the bottom of the pack, and add two straps of webbing to the front and bottom of the pack that will accommodate an old RidgeRest sleeping pad — you couldn't put it at the bottom unless you wanted it banging into your bottom all day long.
UPDATE: 6.23.16
I took this pack on a 60-mile trip on the AT in North Carolina from 6.9.16 to 6.12.16. With five days of food and 2 liters of water, the pack weighed exactly 25 lbs. At one time the first day I added another 2L of water, so I was close to 29 lbs. That's about as heavy as I would want to go with this pack. Any more, and I just don't think the suspension is going to handle it. But, at 25 lbs, I hardly noticed the pack was there. 
The pack held up well and performed well. It was hot out, and the "airspeed" frame helped to ventilate my back. I really enjoyed the side pockets as a great place to store a bandanna and bug spray. I used the pockets on the shoulder straps to hold a comb for my beard and my headphones for easy access. 
I've added a couple photos as well. Still my favorite pack ever.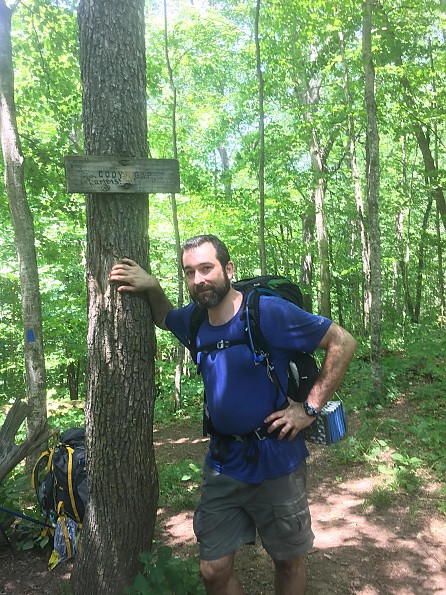 Source: bought it new
Price Paid: $189

Recently purchased the 2014 version of this model. Initial impressions are very good. Form, fit, and feature set are just right for most trips. A full featured, well ventilated design at under 3 lbs is quite a feat!
Pros
Lightweight
Sturdy harness
Comfortable
Versatile
Full featured
Cons
sleeping pad strap too short
I recently purchased this pack. I had a ULA Circuit in my sights and almost purchased it until I saw this pack had just been released to market. I could not believe that a M size 58 L @ 2lb 10oz fully featured pack rated for 38 lbs could be possible. When I saw this pack, I had to have it. 
Osprey Customer Service
I have used and basically worn out a 2004 Osprey Aether 60. My Aether 60 weighs 3 lbs 4 oz and I thought that was light! I am sending this pack back to Osprey where they have agreed to replace worn out straps, a draw string and buckles. They are doing this under warranty! Excellent service. 
When I called Osprey and mentioned to them that the sleeping pad strap on the Exos is too short to wrap around a Zpad, or anything similar, they agreed to provide me a solution. 
Function of Exos 58
My Exos 58 weighs 2 lbs 10 oz.  There are hip belt pockets on each side, and they are big enough to hold a camera, couple energy bars, gps, etc. The full featured hood pocket is fairly large, and it has an additional pocket underneath for wallet, keys, etc. 
There are two pockets, one on each shoulder strap for small items such as goo, energy bar, etc. There are two large mesh, two-way pockets on each side of the bottom of the pack. Finally there is a large exterior stretch mesh panel on the outside/front of the pack.  This is handy for anything wet, overflow gear, etc.
On the interior there is a hydration sleeve next to the backpanel. The sleeve has a handy buckle at the top to secure the water bag. A 2L water bladder fits perfectly.  There are two ports, one on the left and one on the right for your hose. The straps and buckles are all constructed with weight saving in mind.  The side compressionstraps are about 3/8" wide, and run in a Z-pattern up the each side the full length of the pack. The sleeping pad strap is made of the same material and threads through loops to form two larger loops where your pad, tent, etc can be secured at the bottom. 
The shoulder straps and hip belt are lightly but sufficiently padded, and are constructed of a breathable foam mesh. 
The aluminum tube frame runs the perimeter of the pack.  The tubing is about 1/4" in diameter and is very sturdy. The frame also supports the trampoline mesh back panel allowing for superb ventilation and comfort. 
I have loaded my pack up with 26 lbs, and found the fit and comfort to be excellent. The weight distribution to the hips is perfectly balanced. The pack bag sits well on the frame. The M size fits my 17 1/2" torso very well, even though the specs say the M range starts at 18" torso. 
I have not had the opportunity to use the pack on the trail yet, and will provide updates throughout. 
Initial impressions are very assuring that this pack is going to be very comfortable on the trail. The one thing I am most encouraged about is the ventilation in the back panel.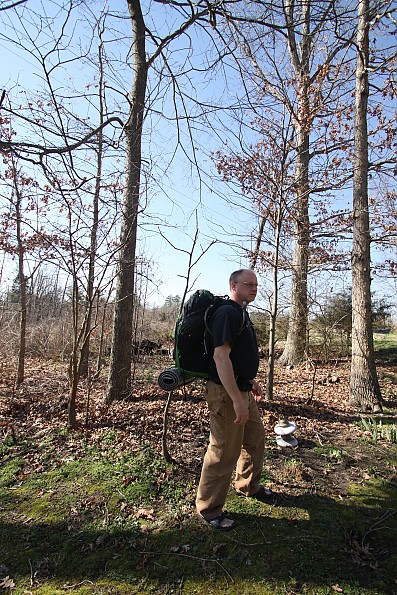 Update on the performance of the Osprey Exos 58
I took this pack on a recent overnight trip. I found the construction to be quite sturdy. The frame is stiff and supportive, yet comfortable. I intentionally loaded it up with 32 lbs. I feel that this is maximum comfort range.
Any more and the pack would struggle to control and support the load. The shoulder straps, hipbelt, and compression straps all worked well to stabilize the pack and distribute the load. I was impressed and surprised at how strong the front pocket strap is. I inadvertently picked it up fully loaded by the pocket strap and it easily supported the weight. 
The feature that stood out the most while hiking is the mesh back panel. The fit was excellent, while airflow was practically unimpeded across my back keeping me quite dry and comfortable. I will especially love this feature on summer hikes.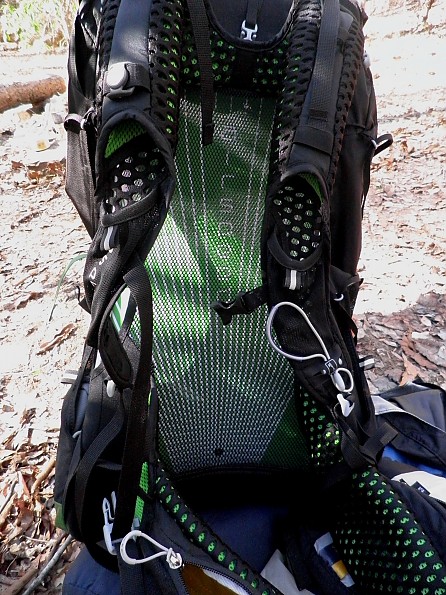 The hydration sleeve is very convenient and paired with the Osprey Hydraulics 2L bladder the fit is perfect. The ports for the hose are on left and right. I was able to thread a Sawyer mini water filter through the hole just barely, but it fit. Using the inline filter and the bladder together provides flexibility of a quick fill drinking system, and a gravity system while in camp. 
Throughout the 12 mile hike, I felt comfortable and making my usual "micro" adjustments while hiking was easy and the buckles worked smoothly. The hipbelt pockets are perfectly placed and the zippers were super smooth to operate. The side stretch pockets are very easily accessible while hiking and can easily hold a 20 oz drink bottle, tent poles and just about anything else. 
If I have a couple of issues, it would be with the top pocket. I believe that it is a bit large for the pack, and also I would like to see the top flap buckles a different color. This pack has a removable top pocket. This is a nice feature.  To accomodate the missing top pocket, you have a top flap permanently attached with identical buckles.  It is easy to confuse the flap buckles with the pocket buckles. 
So far I have seen no potential weak points where premature wear can occur. So far, I am pleased with the fit and function overall of the Exos 58 pack. 
UPDATE:  6/2/2014
Just finished a 40-mile hike in Uwharrie National Forest using this pack.  I can only say that the ventilated back panel kept me very comfortable the entire time. I could actually feel the air circulating between my back and pack. 
I also enjoyed how the pack held adjustment requiring on a tweak or two along the way. The pack suspension supported a 30 lb load comfortably throughout.  I finished my hike with no sore contact points. 
Overall this pack is a top performer.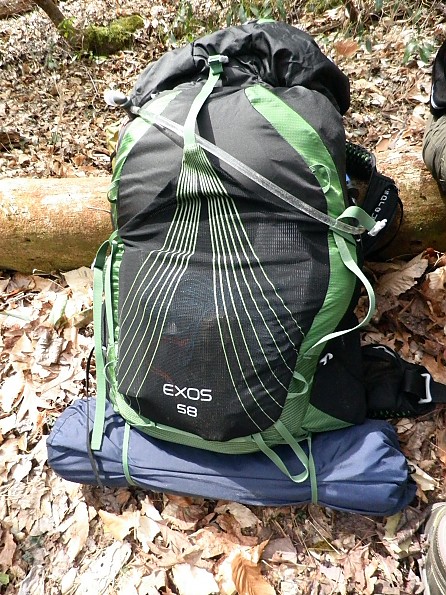 Source: bought it new
Price Paid: $220

Comfortable, full featured, lightweight pack under 2.5 lbs. With an internal frame, this ultralight pack does not sacrifice comfort for weight. Great on the hips and shoulders and the suspension back panel.
Pros
Lightweight (2 lb 6 oz)
Removable lid/converts to daypack
Breathable back panel
Double entry mesh side pockets
Quality construction
Cons
No incl raincover
Limitation of bottom compression straps
Slightly more $$ than some other UL packs
Preface
I purchased this earlier in the spring, shortly after its release.  I have about 120 +/- hours with this pack and will post my review of my experience up to this point. I prefer to describe where I'm at in the life of the pack in trail hours as that seems more appropriate in terms of a piece of equipment which is worn. In essence this is early in the pack's life, but I feel I have enough experience to give my two cents so far!
I am 5'9, 150 lbs., 32 in. waist and 18 7/8 in. torso. 
Other info to note about my review/background. I have only borrowed packs in the past, the most recent being REI's Flash 62 pack. This pre-2014 model comes in at just 3 lbs. for the men's medium. A relatively inexpensive pack for the features and weight, it served me well and I'd recommend it to any new backpacker who wants to jump in but not spend $200+ for a pack.
I have used the GoLite Jam 50 which I really enjoyed too. At 1 lb. 14 oz., it felt like it was the weight of the world off of my shoulders (so to speak…18 total ounces saved!). The weight savings, great cost and comfort really got me to look at my gear closer and make a decision on my first pack purchase.
The 2014 Osprey Exos 58 is where I split the difference, literally in almost every way except for price. I had a 20% off coupon and $50 giftcard, I did my research and figured I'd give it a whirl. A few quick specs to keep in mind:
Advertised at 2 lb. 6 oz. (Don't have digital scale to compare)

Internal frame

Removable lid/new "FlapJacket" to properly cover top when lid is removed

Tensioned "Airspeed" backpanel to increase air flow

Reservoir compatible

Separate (

non ice axe

) rings for trekking poles
Construction & Durability
The pack material seems durable, definitely somewhere between the GoLite material and the Flash's ripstop nylon. The mesh side pockets are always a place of concern if edges of a Platypus or trailside branches get caught. I have used my Nalgene bottles or older 70 oz. Camelback and these side pockets are no concern for me.
The most exterior compartment on the back is also mesh, the idea being that smaller items can just be wedged it after all has been packed such as trailside items or TP bag, etc.
The nylon material which makes up the rest of the pack is highly water resistant.  If it begins to lose a bit of its resistance, I plan on using some Nikwax TX.Direct, but I'm not all that concerned. Even on days when I do not expect rain, I just line my pack with a large trash bag. It makes it easy to take items in and out and also provides a better layer of waterproof capability between my pack exterior and belongings.
With optional lid removed, embedded FlapJacket acting as new lid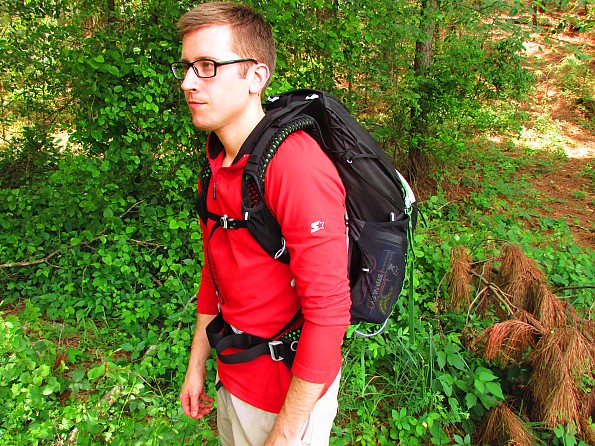 Comfort
I've tried several packs on before, either out on the trail or in the store. The true test is over the course of several miles on whether the pack is comfortable, rides, well and fits as expected. Naturally, pack weight is also a factor in this. Osprey gives a median, max weight of 35 lbs. in their range of 30-40.  I have not had plans to go above 30 lbs as I thought I'd fill up the 58 liters before I got close to that amount.
Most of the trail I had it about 25 lbs. something I thought was reasonable and test the UL aspect out against this weight.
Didn't take a before pic of what I incl above, but was something like this, plus a few other small items.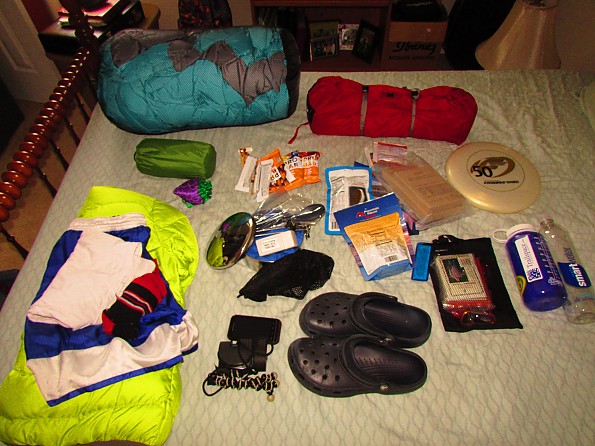 For my size, the medium fits like a glove. The hip belt is extremely comfortable and there is no pressure on my lumbar from the aluminum frame. This was the primary issue I had personally with the Flash. 
The foam shoulder straps also stand out a bit in that the foam material does not extend as long as typical shoulder straps.  Made of the same foam in the hip belt, it has not caused any chaffing or unnecessary pressure on my back, shoulders, chest, or armpits.
Hip belt pockets, pockets on each shoulder strap. Elastic, fits bars and cell phone well.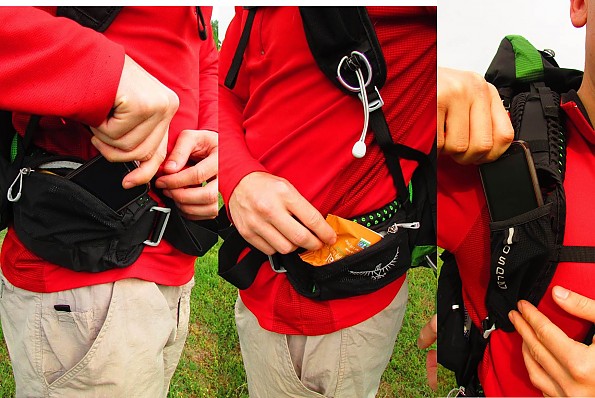 Something that must be mentioned when it comes to comfort is the trampoline suspension of the back panel.  It reminded me of my Mountainsmith day pack. This is a great feature and rates very high for me if I see it on a pack. Only the past two hikes or so while wearing the pack was it getting to be very hot and humid during the day, typically summer coming early after heavy rains.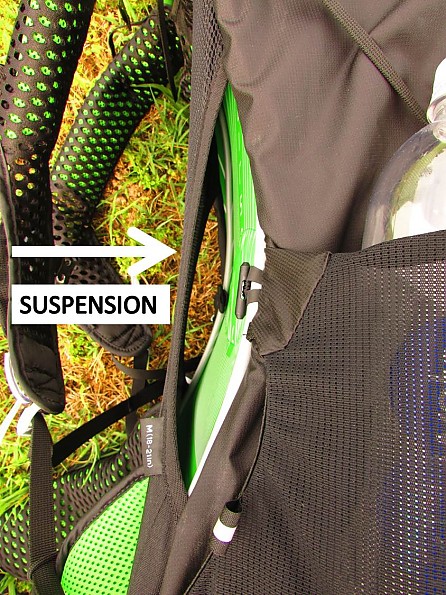 The suspension is supposed to increase air flow over the back and not have a sweaty back and shirt right up against the pack.  While minimal, the trampoline does have slight "give" to it and also conforms well to my back.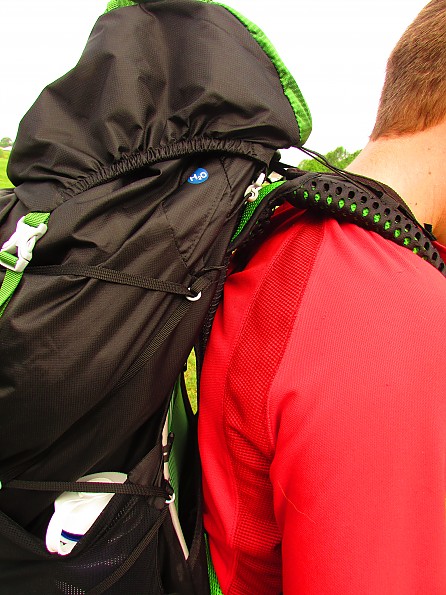 I don't feel there are any negative structural integrity issues with this suspension. Keep in mind that this still has an internal frame so if, by some chance, the suspense were cut horizontally, your back would be right up against the inner plastic support.
The hip belt pockets do protrude slightly, even when not filled, but I didn't see this impact me when I walked with a normal gait. 
There is also an option to have the side compression straps to either go around the mesh side pockets or through (i.e. directly against the pack body).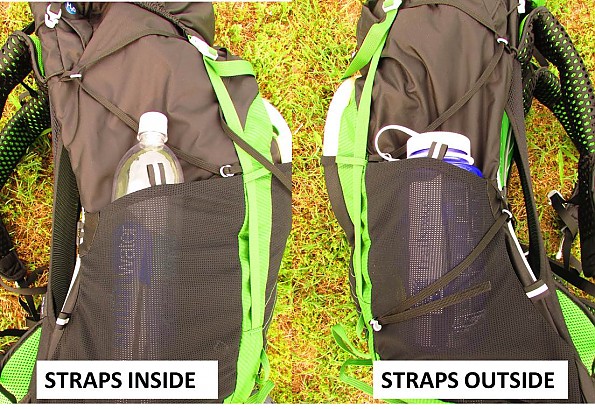 Unique Features of the Design
Positive
One of the newer additions to the Exos was a removable lid. It attaches at three different points with a hook design. There should be no worry about the lid falling off when hiking or at rest.  When I've had the pack loaded and hardly carrying a thing, the attachments didn't come loose on their own.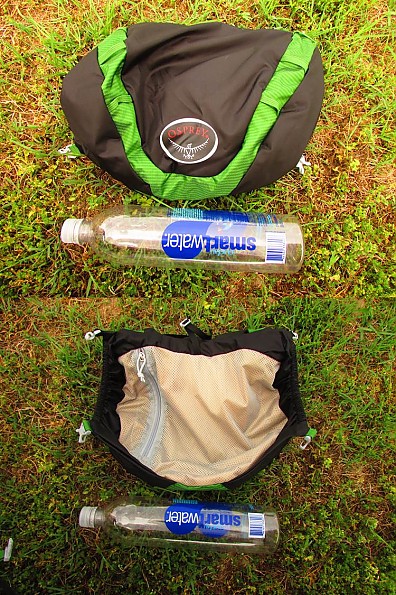 Three hooks like this are what keep the lid attached when in use.  Two on the side and one in the back.  The back hook is adjustable and the sides have three attachment loops to choose from depending on pack height.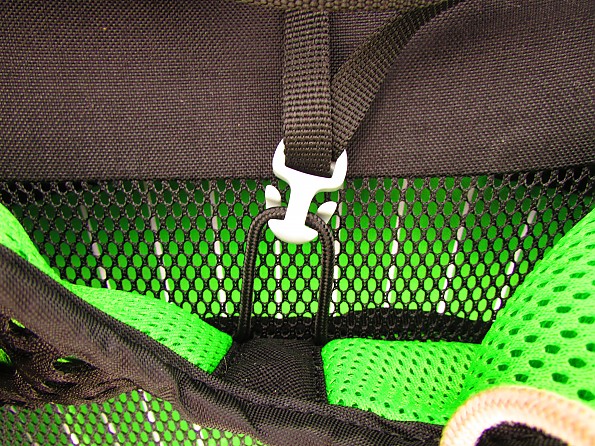 Once removed there is a flap that can flip over and connect to the buckles which the original lid connected, in effect closing the opening and converting it into more of a daypack. A great addition if you keep toiletries or anything else you may just want to take with you after making camp. Just pack it in the lid and take it with you.
I also like the option to have access from the top as well as the side of each mesh side pocket.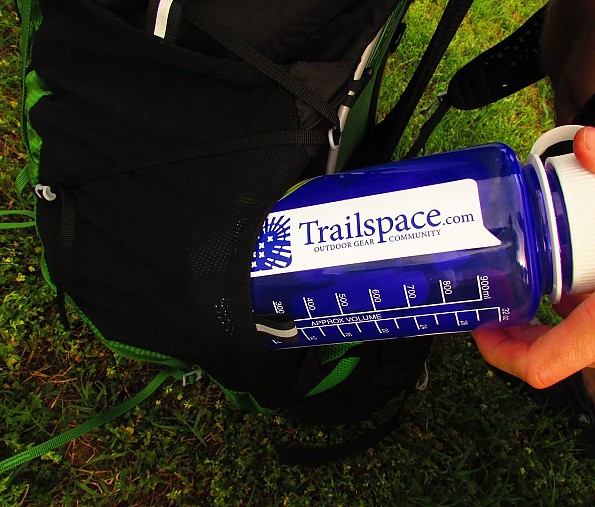 Negative/Neutral
While a small part of its design, there is a hoop on the shoulder strap and at the waist. It gives you the option to hook your trekking poles onto your pack. It can be removable…with a pair of scissors if I decide it's not for me. See the video below:
Keep in mind that the compression straps at the bottom of the pack are not meant for anything other than lightweight gear. I recommend just a wide foam sleeping pad or something of the sort.  I put my Hubba Hubba through it (for curiosity's sake) and the straps, length of straps (maybe something 6-7 inches in diameter once loaded), and weight distribution just doesn't seem that good for options other than a pad. The hoops for the straps seem well made, but items heavier than a pound or two bouncing around…eh, won't risk it.
Lastly, another small item, but the loop which is at the top of the pack is thinner than I would like, feels as though it should be wider and better secured. This is the loop that most packs are hooked to the wall in the stores. With it being an UL pack, it's understandable though that this doesn't need to be able to support 50 lbs., so I see that going for it.
Overview
For me this pack has all of the features of other UL packs and some. This is a great pack for either day hikes or longer thru hikes. I wouldn't be surprised to see this more and more on the PCT, AT, or CDT in the future. For those gram weenies (starting to become one myself), if you remove the top lid, you should be able to get the weight just an ounce or two over 2lbs and have about 52L capacity. That plus it's comfort, hip belt pockets, load lifters, and internal frame, I feel very comfortable and confident recommending this pack to others!
Source: bought it new
Price Paid: $220 (less 20% and $50 giftcard)

Looking for light pack ? This will be a superb choice with its 1.1kg weight. You can pack more stuff in it than in a no-frame pack, but still have to stay under 15kg if needed ultimate comfort. Sizing is crucial, so try it before buying it.
Pros
Light
Adjustable
Quality materials
Epic design
Quiet loadable despite its weight
Resistant
keeps you dry with it's ventilated back panel
Cons
Not good over 15kg / bit of a versatility loss
Hip belt retightening once or twice an hour is obligatory
I tried and tested the pack in many multi-day hikes, but the major outing was again the GR20 last summer. Since then I have been using the pack nearly every second weekend for full day hikes. I don't need that much on gear, in addition I am a trail runner so like to go fast and light, but for training it is epic to smash in a 10 hour walk with a 10kg backpack, just for fun. This means a very regular use on a very abrasive and unforgiving terrain. It is not like dangerous or really mountainous, but more likely very rocky, bushy, and well, abrasive.
The pack, like every single pack where size is correctly chosen can fit anybody if set up well. You gotta load the pack when trying it on and if a company doesn't provide filling weights for the fitting, well, buy it elsewhere. There are three sizes so choose appropriately. I am 6'6" 195cm so a size L was my choice. 
I got the 58L version for any-distance tracking. Even if I went for a long arctic or Himalayan expedition, I would not really carry more weight with me ever than this one is capable. Of course, with no weight changes, volume can still change, but I would't carry more than 20kg for longer than two days even if the bag was an 80L one. It is just dumb and bad for spinal health.
The packs front and side pockets are great for carrying water. If you are sure you will not fall, I recommend to use your bladder on the outside mesh pocket at the back and get bottles on the side, so you can easily fill them up. I added a stretch cord to the outer and I always folded my Z-Lite sleeping pad over the water bladder. I had tent poles and my walking sticks on one side and a 1.5 Nalgene in the other side-pocket.
The top pocket has three levels of height adjustment and you can even take it off, as it has an extra built-in cover, if you wanted to go light and not fully loaded. 
You got some compression cords on the side that are adjustable from both sides. They are a bit weird to use at the beginning, but after a while you get used to it.
On the inside the water-bladder stocking is easy too with the back panel pocket.
The only thing that everybody noted about this bag, that yes, you gotta readjust the hip-belt a bit more often then other bags. I think there is too much shiny and slippery materials used in addition to the Cordura, or maybe the buckle design is not perfect. I don't know, it is not dramatic, but at least once an hour, you gotta readjust your waist belt. 
As I mentioned above, the best weight for the pack is 10kg, it can carry 15kg, but over it is going to be a bit unstable and will also cut your shoulders and the hip-belt will loose its function. The hip-belt is soft, so if you had the habit of putting like 85% of the pack on your waist, this will not happen here. In addition it has a ventilated back-panel, so the weight is even further away from your body. 
This might be a negative for you guys doing distance/heavy hikes and hunters, but this is a high volume fast packing backpack. It is for moving fast, using your whole body. Maybe even for jogging downhill. I think a good 55/45% hip/shoulder ratio is really possible with the pack if you stay around 10kg, but when you go higher it will change very fast. Fast-packing is the key, not carrying. 
The ventilated back-panel means it is for summer use mostly. Otherwise you might get the backchills and cold-feeling in windy conditions. 
As a final thought, this is an excellent pack for what it's intended for. Load it with 10kg and do not go over 15. Fix your foldable poles on the side or use the special Osprey pole hook for some sections on the trail for immediate access if needed. Get your important items like GPS and ER-Beacon on the hip pockets, put your water proofs on the top, wet stuff in the outer net. Add a stretch cord for bigger light items and use the bottom compression cord for a blanket or other hardy stuff. Want to go long, light and fast with a bit more volume ? This might be the one !
PS: No outer raincover, so use your poncho to really protect all your gear. 
Source: bought it new
Price Paid: $150

It's light, it has a lot of room, all the important features, great quality, and no real cons.
Pros
Lightweight
Comfortable
Great quality
Cons
No sleeping bag compartment
Shoulder strap pockets way too small, see edit
I can't add much to what has already been written about this backpack. This is a great pack and if you're on the fence, buy it. I'm reviewing it because it's been a few months since anyone else has, and it's one of the few pieces of gear I have that I am completely satisfied with. 
***3/2017 Edit to review at bottom***
In photo below it's filled to the brim with extra insulation. It's light so I'm not worried about compression.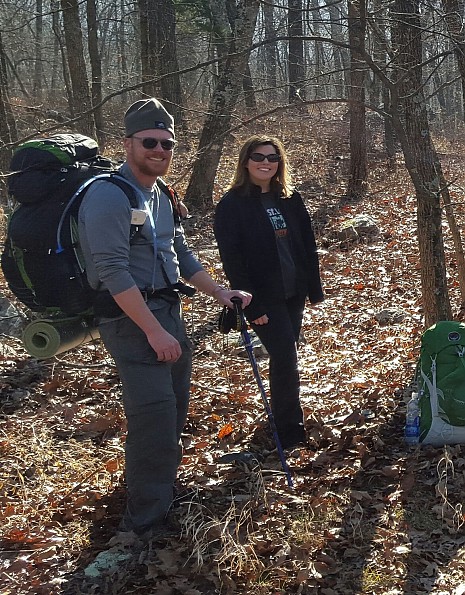 It's big enough to stuff with food and insulation for a week-long winter trip, and by taking the brain off it's a good size for an overnight or weekend trip. For me, distributing 20 lbs in a pack this size means it carries much more comfortably than a smaller, frameless pack. Brainless below, how I prefer the pack...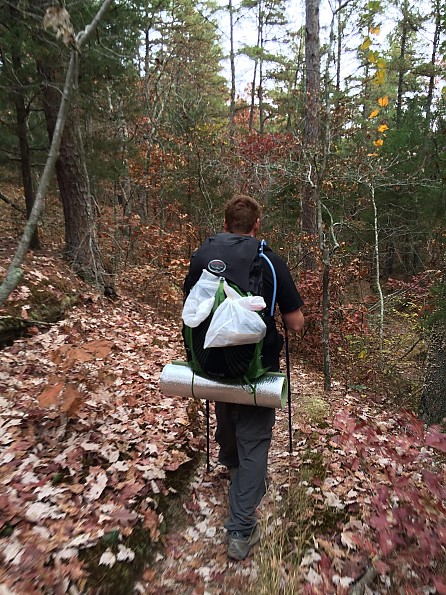 At the start of a few trips I'm sure I've had it over 30 lbs, and at that weight the shoulder straps are loose and the sternum strap is undone. It's just that comfortable. The webbed back panel has kept me cool and dry in the heat, and I haven't noticed a breeze in temps in the teens.
I go back and forth between using a water tube connected to an internal Nalgene bag, or connected to water bottles, or just using water bottles alone. You can easily remove and replace them on-the-go the way the side pockets are designed.
In this pic I'm using the tube and internal bag...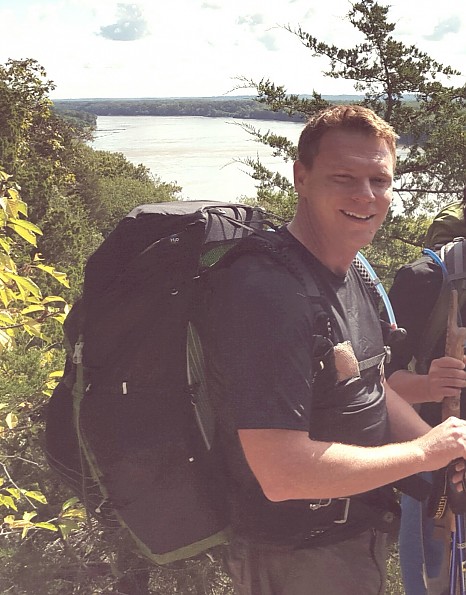 The pack looks like it did the day it was purchased, and it's used several times a month and on multi-day trips where at the end of the day the last thing I care about is if my beloved backpack is thrown on some rocks or maybe dragged through the brush. 
Couldn't find a pic of me abusing the pack, but I'm not easy on it, no qualms about tossing it on the ground...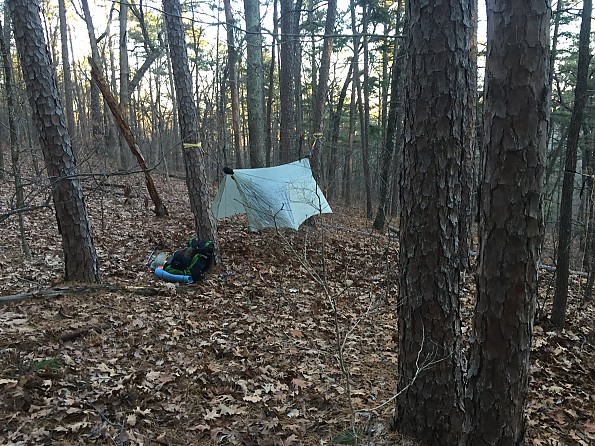 I wish they had added a little zipper for a bag compartment. The shoulder strap pockets are a little small, my iPhone 6 fits, but just barely. But if a family of raccoons ate my Exos 58 for dinner, I would go right out and buy another one without hesitation.
It's never soaked through the back panel like I was afraid it would when first worn.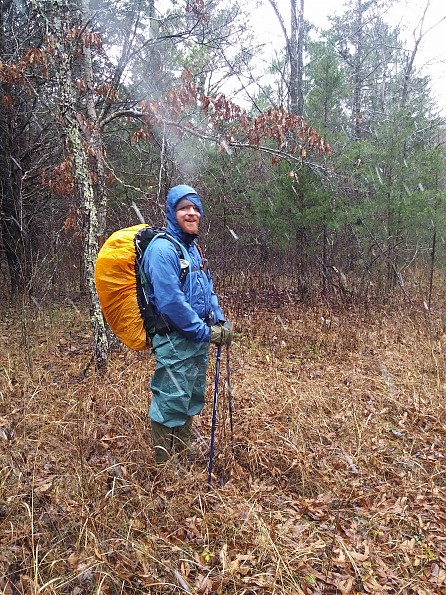 3/25/17 Edit
I took off half a star for the shoulder strap pocket. This pack broke an iPhone 5's volume button, and an Osprey Exos 48 broke an iPhone 6's volume button. The shoulder strap pockets seem like an ideal place to put your iPhone. They are not and the tension exerted near the top of the pocket squeezes on the button to the extent that it breaks.
I also have an Osprey Rev 6 (which I love) that has a dedicated "Digi-Flip" phone pocket. Also only suitable for an iPhone 4 or smaller. You can squeeze a 6 in there without a case, but I wouldn't recommend it. Osprey should do something about these pocket problems.
Source: bought it new
Price Paid: $175

The Osprey Exos 58 is a great lightweight backpack for thru-hiking. I used the older model on multiple long hikes before it began to wear out. Osprey's tremendous warranty resulted in them sending me the new, updated version which, in most ways, seems even better than before.
Pros
Lightweight without being minimalist
Update improved comfort
Lifetime warranty
Cons
Update removed two useful pockets
While warranty is great, would have rather not needed it
I bought my first Osprey Exos 58 before hiking the Colorado Trail in 2014. Last year I used the pack to hike the Long Trail and John Muir Trail. With some other trips, my total mileage with the pack was about 1,500 miles.
When I started planning another long hike, I noticed that the mesh that holds the pack off the back (for ventilation) had started to tear. Rather than repair it myself, under Osprey's All Mighty Guarantee I returned the piece for repair. Rather than repair the pack, Osprey decided to send me a new, updated Exos 58 at no charge.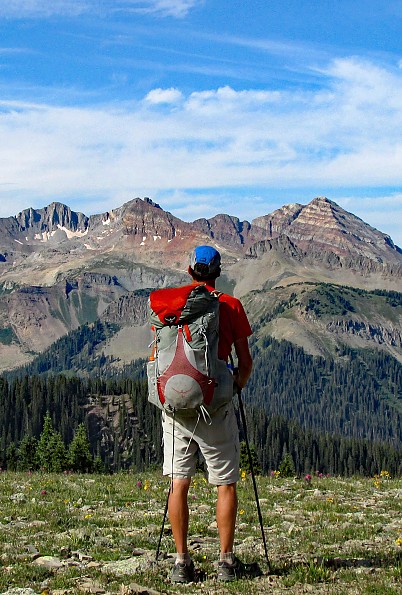 Older version on the Colorado Trail

Since that time, I've taken the new pack on a couple short trips. Like the original, the pack is lightweight, per Osprey, under 2 ½ pounds in a large. The main compartment holds everything I need on a multi-day trip including a tent, bag, pad, extra clothes and even a bear canister when required, without having to attach anything to the outside of the pack. I pack light, but certainly not ultralight. My pack, with four days of food and two liters of water typically weighs a bit under 30 pounds.
The original version handled that weight fairly well, but the update includes a thicker, more comfortable hip belt and shoulder straps. The Airspeed suspension system continues to work like a charm, holding the load steady while keeping a cooling airspace between the load and my back. Compression straps are thin, but well placed. I'm 6' 2" and the large fits me well.
There were a few other changes to the pack. Perhaps the biggest was removing two large outside pockets from the main compartment. They intruded on the main compartment, so didn't add any capacity, but I was sorry to see them go. In one I kept my water filter, first aid kit and odds and ends like spare batteries and duct tape. In the other was my rain gear and pack's rain cover. These items were handy when needed, but left alone when I set up or broke down camp. How I pack just got a bit more complicated.
There is also a new integrated "flapjacket" to cover the main compartment when the removable top lid is taken off. However, with the removal of the other two pockets, my style of packing means the removable top lid, and it's two pockets, will stay on for most every trip.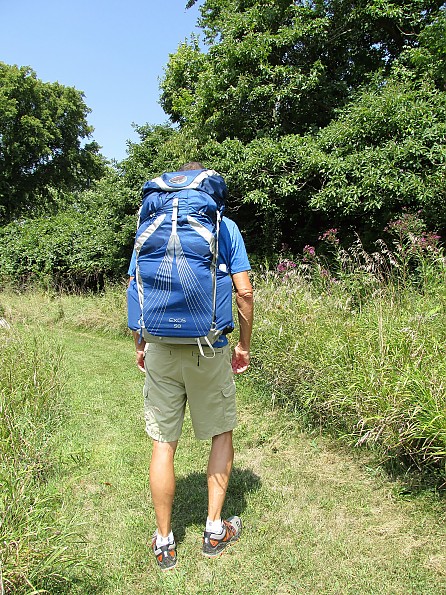 Trying the new version with a big load

The Exos 58 remains a great pack however. It is comfortable with loads up to 35 pounds. There are still stretch pockets on the sides that I use for water bottles. It can handle a bladder, though I'm not a convert to those yet. A large elastic pocket across the back easily holds camp sandals and may become my new home for raingear. Small pockets on the straps and hip belt can handle snacks, sanitizer and a small camera. There are straps designed to hold collapsed hiking poles. So, despite its light weight, it is not a minimalist pack.
For those that want a lightweight pack that can handle a decent sized load, this is a pack to consider. If you want a pack that will last the rest of your life, or be repaired or replaced if it doesn't, this is still the pack to consider.
Source: bought it new
Price Paid: $159

I took this pack on the Boulder Mail Trail from Escalante, Utah, to Boulder, Utah. Three nights, lots of climbing into and out of slickrock canyons. It performed like a champ.
Pros
Lightweight
Lots of room
Easy to stay organized
Comfortable shoulder straps
I like the air ventilation on my back
Cons
The bottom compression straps were not long enough to hold my sleeping pad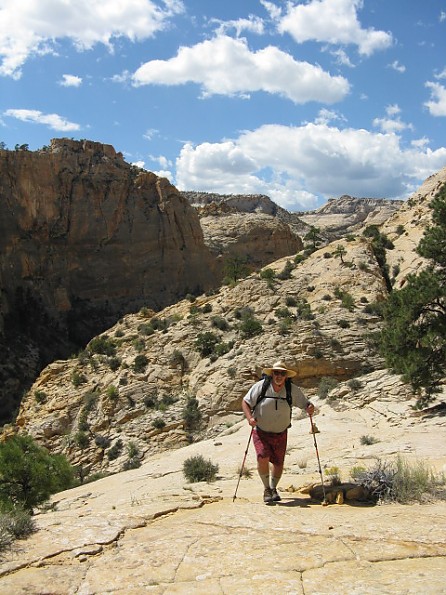 I am in love with my Exos 58. It is perfect for multi-day trips.  I try to go light verging on ultralight. It easily swallowed my Backcountry Bed sleeping bag and my Flashlight 2 tent and a Bear Vault 500 with plenty of room for everything else.
I think the tendency might be to overload this pack. It is probably best under 40 pounds. I noticed that I enjoyed life more as the load got lighter but who doesn't? We were originally going to hike the beaten path near my home in the Beartooths of Montana/Wyoming, but the weather looked a little iffy. We changed plans and headed to Capitol Reef in Utah.
Our first night out we went into Spring Canyon. After hiking in about four miles we camped and went in search of water that was supposed to be nearby. After another five miles of scouting there was no water. We abandoned Capitol Reef the next morning and headed for the Grand Staircase Escalante National Monument. There was water in the Escalante River and in slick rock pools and the three canyons we crossed.
This is a great hike. It is recommended from Boulder to Escalante because of elevation changes but we had already dropped our shuttle car in Boulder when we hit the Visitor Center in Escalante to get our permit.
As we all know it is either lungs or knees so really it didn't make any difference in the long run. We got rained on a couple of times and my pack kept everything dry. I had bought a rain cover, but never deployed it.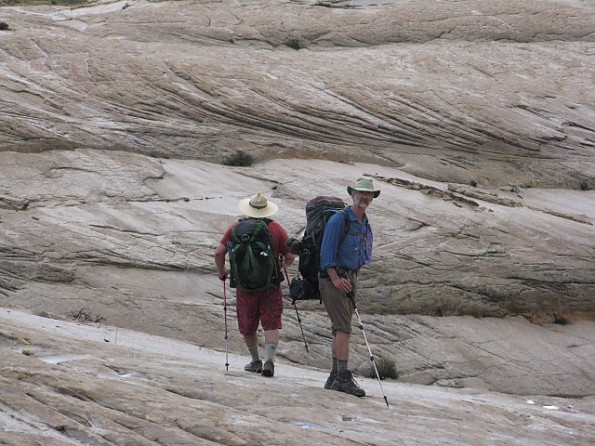 Since this trip I have taken the pack on a couple of long day hikes in the Beartooth Mountains and to the top of Heart Mountain. One of the things I particularly like is that the top compartment, great for organizing small things on a multi-day trip, is removable and the compression straps make for a great large day pack. This will be great in the winter when I tend to take extra clothing on long day hikes.
I use bottles for water and they fit very nicely in the side pockets and were easy to get at and replace without removing the pack. The trekking pole holder on the pack I thought was just extra weight and a little gimmicky, however I did use it a couple of times in very steep situations when I wanted my hands free and while hiking a mile upstream in Death Hollow.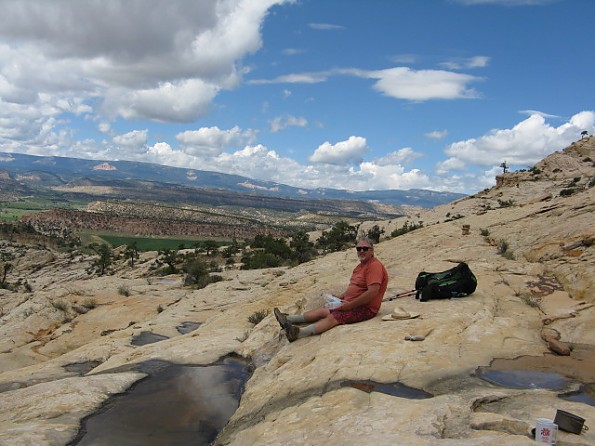 People have wondered about the durability of the Exos line. I have seen no wear at all on my pack after this and two other outings. I think that as long as one is not throwing the pack around it should hold up well. It is light weight and comfortable for me. I am slowly going lighter and lighter and this pack is a good first step. I am going to go for a quilt next to shave a couple of pounds off my sleep system. Happy walking. g
Source: bought it new
Price Paid: $219

Just what I needed! A very airy back, 1oz per 1lb carry range (40oz pack to 40lb max carry). Like most corporations it's hard for them to tell the truth as my 2014 medium Exos 58 was listed at 2lb 6 oz, but my two digital scales say 2lbs 10oz.

Stripped of yuppie add-ons and hood, it was to be 2lb 2oz per Osprey, but my digital deliars say 2lbs 6oz. I suppose if I take a knife to the various gimmick add-ons and straps it would be as they listed.

Nevertheless, it will have to do as I see and feel no other pack better. I used a 13oz beltless Jardine Golite Breeze for my PCT, AT & CDT thru-hikes and feel it's time to rest my shoulders and air out my back now.
Pros
Light frame
Airy frame back
Comfy straps and belt
Straps and belt are better than older Exos
Cons
4 oz heavier than listed by Osprey
Too many gimmicky add ons
$220, knock it down $44 with a 20% off REI coupon
Very comfy for a 2lb 6oz pack. I like it better than my weekend trip pack Gregory Z55. I trimmed down to 3lb 2 oz. I have long awaited for such a pack like the Exos to be 2lbs or less. I'm almost ready to retire the use of beltless/frameless rucks like the Breeze.  
I was hoping to trim down the Exos to 2lbs or less, but Osprey got me believing my pack was 2lbs 2oz stripped until I took out the deliars. I figured I could trim off 2oz easy, but didn't realize it was over 4oz heavier per their claim.
No matter, it's light enough and comfortable to carry over 30lbs, unlike all the various ultralight cottage brands that most thru-hikers use that don't have the airy back feature like the Exos or can carry over 30lbs comfortably. I've tried them all and sometimes you just have to go heavier to get the comfort you want. Otherwise just use a frameless and beltless sub 1lb ruck and keep your total pack weight under 20lbs (7lb or less base weight). 
Source: bought it new (better than old Exos models)
Price Paid: $176 with 20% off REi

Version reviewed: 2018 model
Great pack (and it doesn't need hipbelt pockets).
Cons
More muted color choice might be nice.
This is a high-quality product. It is comfortable. This is my first Osprey, so I had to learn how to wear it.
Here's how:
Put it on with everything loose.

Buckle the hip belt first and tighten it on your hips.

Then tighten the shoulder straps, BUT NOT TOO TIGHT. (It will not be comfortable on the shoulders if you crank down too much on the shoulder straps.)

Then pull the load lifter straps all the way in nice and tight.

Now you should have the weight on your hips and almost no pressure on your shoulders.
Here's another thing I noticed. The lack of hip belt pockets that everyone is whining about is overblown. The side pockets can hold your Smartwater bottle and a bag of trail mix easily. And you can get to it without taking off the pack. I actually like that they didn't put some little hip belt pockets on this thing. It just complicates things, and you have to remember which pocket you left your Aquamira in, etc.
Another thing that people sometimes don't like about this pack...the flapjacket. I love it. Take the brain off, and you still have a lightweight cover over the drawstring top. Yes, drawstring top, not a roll down. I like the drawstring top. Roll tops are harder to load the pack, harder to see down into the pack.
The side compression straps are clever and well designed, but I took mine off. You really won't need them if you have the pack mostly full. Once you cinch down the top, it is very stable. Removing the side straps will save you 0.6 ounces. There is also a bottom strap that will allow you to attach a closed cell foam pad (or whatever you want) really easily.
Very smart design on this: A+. I'm not really a gram counter but I challenge anyone who is passing over this pack due to it being too "heavy" to think it through.
Once you remove the brain from this pack (and possibly the side compression straps) you are within a couple ounces of the ultralight packs out there. And those ultralight packs will not have this kind of comfort and certainly don't have the Osprey guarantee. And they will most likely cost more.  And you might have to wait weeks to get it.
Also, if you have a really dialed in small kit, they make this pack in 38 liter and 48 liter sizes.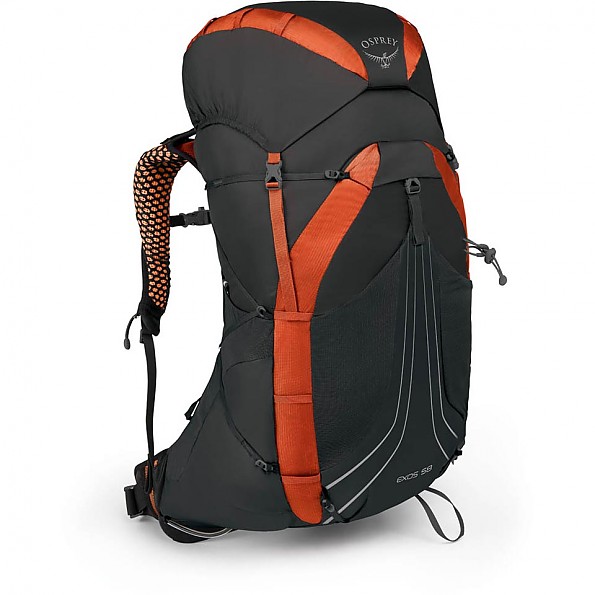 Background
Used it a few times backpacking in the southeastern US.
Source: bought it new
Price Paid: $200

This is a great all-around backpack if you don't overload it. With less than 35lbs of well-chosen gear, it works for both weekend and long haul trips, and you can manage 40lbs for a couple of days.
Pros
Lightweight
Great frame
Good balance
Cons
Pack material less durable than some
I'm a 5'7", 145 pound, 63-year-old woman who works in the backcountry in summer, usually for 6-8 days at a time. My pack has to be light enough to let me move quickly, but big enough to carry my personal and work gear. I can't carry the 55 pound loads that I did when I was younger.
After a year of frequent use, I have to say that the Osprey excels at the sub-35lb weight and sucks above that. At lower weight, it's well-balanced and fits solidly. At higher weight, the shoulder straps chafe and cut, even though most of the weight rests uncomfortably on your hips.
I just completed an 8-day, 80 mile hike in Patagonia (Torres del Paine "O" circuit) and the pack was able to haul all the gear I needed; I was miserable for 2 days, and fine the next 6. The pack is also doubling as my all-around travel back, being manhandled into busses and planes.
Organization is critical. The pack is a top loader, so you have to accept that a lot of stuff will be buried most of the day. That said, the two long outside pockets, the lid, the small side pockets, the hip-belt pockets, and the sort-of-beavertail pocket leave you enough options to keep everything you need handy if you think well in advance.  I found it balanced better with my tent (Big Agnes Fly Ck UL3, about 3.5 pounds) sandwiched between the top of the pack and the lid, rather than attached to the bottom.
I'm seeing some abrasion from encounters with rocks and busses, but no holes.  Given how light the material appears, I'm impressed with its durability. My favorite features are the airspeed frame, which holds the pack well enough away from your back that you don't get sweaty, and the 2 pound-6 oz base weight, which makes it practical to use the pack as a day pack when you're base-camping.
I've had a lot of packs in my life, and this i sthe first one I would replace with the same model if anything happened to it.
Source: bought it new

Version reviewed: 2014
This is an excellent light pack for UL backpackers who can go for seven days with a starting load under 30 lbs (2014 model). This would make a great thru-hiker pack.
Pros
Very comfortable harness and belt
Excellent mesh back panel ventilation
Detachable lid for shorter day trips
Nice strap setup on pack bottom
Durable materials
Easy to compress w/side straps
Cons
More neutral colors would be nice. (Please!)
Osprey needs to sell optional side pockets
Pack bottom straps could be longer for holding CFC pads
I bought this pack to replace my aging REI Cruise UL 60 pack. I love the EXOS 58's comfort, even with 30 lbs.
The mesh "trampoline" style back panel rides very comfortably and is cooler by far than my mesh covered foam REI back panel. In addition this mesh panel has a "storage space" between it and the bak of the pack that I use to store my foam sit pad and sometimes a light jacket. Of course this cuts down a bit on the panel's breathability.
Inside this single compartment pack is a small QR buckle to hold up your hydration bladder in its sleeve. Also there's a larger nylon webbing and QR buckle to pull the load in and up a bit. I have the same setup on my old Dana Designs Terraplane and like it a lot.
Outside are two small hip belt pockets  good for small tube of sunscreen, a small baseplate compass, etc. There are narrow "pockets on each shoulder strap. I use one for storing my Camelbak bite valve to keep it clean. Very handy for that purpose.
After some more trips I may remove the useless (to me) mesh side pockets since I carry my electrolyte bottle in a "Wet Rib" front pouch. I've already removed the hiking pole carrier loops. If my poles aren't in my hands then I'm at camp. 
This pack is a good combination of fairly durable materials, an ingenious frame and back panel and lightweight but very adequate straps and buckles. The choice of light hardware on this pack reminds me of the light hardware on my Tarptent Moment DW and Scarp 2, light and very durable. 
I purchased two (now discontinued) Granite Gear medium size side pockets. I like to keep gear in them that I may need quickly, such as 1st aid kit, water treatment kit, potty kit and stove gear. They attach nicely on the pack's side compression straps. 
Source: bought it new
Price Paid: 20% off REI retail

Lightweight, very comfortable, fantastic back system and lots of pockets.
Pros
lightweight
lots of pockets
very comfortable backsystem
Well to start, the back system is very good. I mean the way it is curved lets good air flow stopping your back from getting sweaty. The waist pockets are really big, lots of room I found for important things you need at hand.
The walking pole quick storage is a thing of brilliance, you compress the poles and put in the loops freeing your hands to map read etc. and all so the open back pocket, which is separate from the main pockets, is a very good idea. You put your wet tent or wet  clothes. If you lift the top hood underneath is a good size zipped pocket (for first aid, toiletries etc!) there is a whistle on the chest strap. Also on the shoulder strap there is a small pocket, i think it might be for a compass or a small mobile phone etc.
The rucksack i used before was a Golite Jam 50 liter which was great, but i noticed i was prone to a sweaty back in the summer. With the ospre exos 58 with its mesh and curved back this does not happen. You can also see the poles tucked in to the carry straps, which i can't stress how great a feature this is!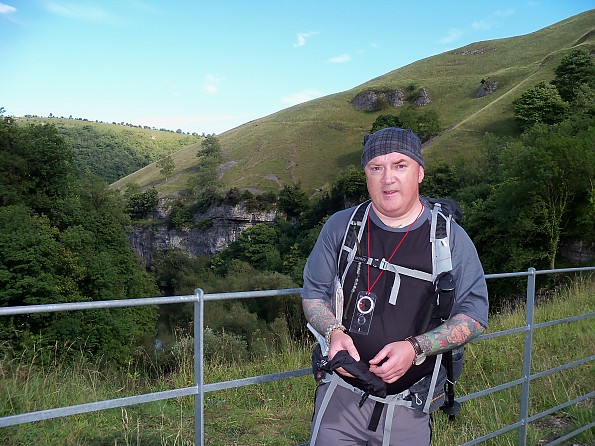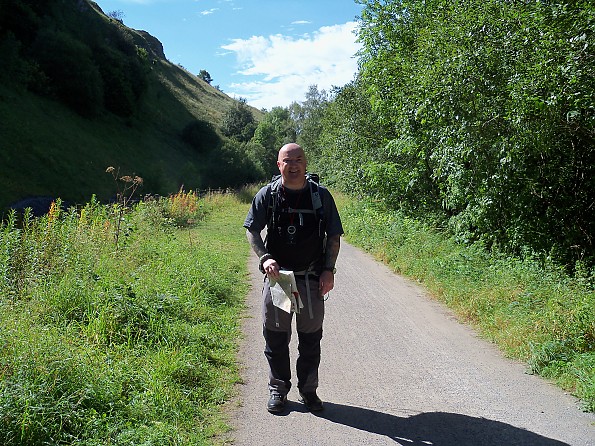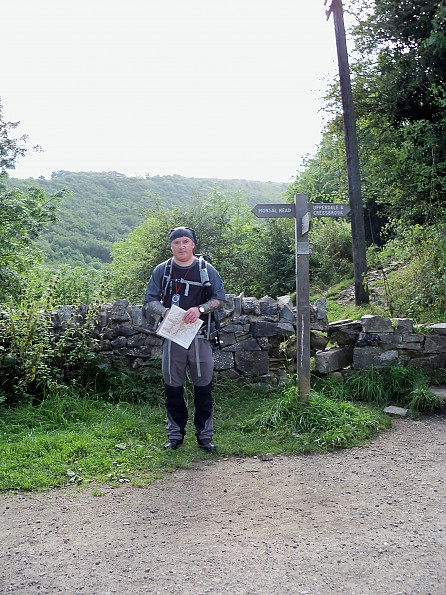 Source: bought it new
Price Paid: £158.95

I recently completed a 223-mile hike with an Osprey Exos 58. Not only did it easily accommodate 35 lbs, but I carried 4 liter-sized water bottles in the side pockets and a Lil' Sami bear canister inside. When a mouse chewed 3/4's of the way through one of the shoulder straps, Osprey express shipped a replacement to my next resupply point free-of-charge! My hike was not delayed at all. Second Osprey I've owned and am about to buy another!
Pros
Truly ultralight
Very comfortable
Great customer service
Cons
Exterior mesh could be more durable
I recently completed a thru-hike of the Ouachita Trail. It consisted of 223 miles, from Oklahoma into Arkansas, of mountain trail that was often overgrown with briars. Water was very scarce; many days I packed 3 or 4 liters of water. Daytime temperatures were generally in the mid-60's. 
My Osprey Exos 58 came through like a champ! Not only did it easily accommodate loads of 30 to 35 pounds, but it was spacious enough to handle 4 liter-sized water bottles in the side pockets and a Lil' Sami bear canister inside. In my opinion, Osprey makes the most comfortable packs on the market, even on the warmest of days. It fit well and was easily adjusted. 
On top of making a dynamite backpack, Osprey truly cares about its customers and stands behind its products with a warranty that can't be beat! On the second night of my hike, a mouse chewed three quarters of the way through one of my shoulder straps. Not only did Osprey replace the pack free of charge, but they managed to express ship it to me at my next resupply point.  My hike was not delayed.
Thank you, Osprey!
This is the second Osprey pack I have purchased and I am about to purchase another. Best pack I ever owned!!!  --True Grit
Source: bought it new
Price Paid: $165

This is an awesome pack. Not only is it the most comfortable pack I've ever owned, it's also lightweight and durable. I've loaded it to 55+ pounds comfortably, even on long hauls. In addition to the roomy interior pocket, it has easy external access for water bottles, rain jackets, ice axes, and sunglasses.
Pros
Comfortable
Lightweight
Durable
The best feature of the Osprey Exos is the comfort. The shoulder straps have surprisingly thin foam with lots of ventilation, and the hip belt is similar. Both combine to comfortably hold the weight snugly against your body. The back is a net that provides more than an inch of ventilation (unless you use a water bladder, in which case it can block the ventilation).  
The pack holds enough for 3-4 days in summer or a weekend in the winter. The pack has one large chamber for gear, and can be cinched down on top and on the sides to ensure a compact profile. The side compression straps are thin, yet strong, typical of the "just enough" approach used by Osprey.  
The pack has a full suite of external pockets and straps to hold your en-route gear. Two ice axe straps with quick-release bungees make for quick release. There is a stretchy front pocket that holds your rain jacket, two net water bottle pockets on the sides, and two vertical pockets on the front. I haven't really found a great use for these pockets, as anything you put in them will compete for room in the main pocket.
There are net zipper pockets on both sides of the hip belt that are great for sunglasses or lip balm, as well as a pocket good for an iPod or phone on the shoulder strap.  There is also a generous pocket on the top of the pack, with a document envelope in the interior.  
The pack has held up very well over two years of rugged use. Nothing has broken to date.
Source: bought it new
Price Paid: $169

Excellent lightweight pack (not ultra light), great for weekend, multi-day, and through-hiking. Would definitely recommend assuming you can get the correct fit for your torso.
Pros
Lightweight
Fairly rugged if you don't thrash it
Well made
Have been backpacking for over 50 yrs., mostly high Sierras.  Male, 165 lbs.  Excellent pack. Had the previous version and put 52 lbs in/on it for the JMT (enough for a 10 day stretch).
This model has a bunch of upgraded aspects. The older version top pack was difficult to detach. I sewed small quick release buckles on so it would come off easier and faster. This model they designed that into the top portion so it comes off and goes back on way easy. I sewed on a waist belt (3/4" webbing) with a quick release buckle so it is a fanny pack for day hikes. Works perfectly. Only adds a tiny bit in weight and a lot of function.
The shoulder straps and hip belt are reinforced quite a bit more, so much more comfortable. The 52 lbs in the older model was not at all comfortable. I regularly carry 48 lbs (enough for 6 days, including a tent/fly/ground cloth, bag and 3 1/2" sleeping pad, and expedition bear canister) for the first couple of days on trail and although it's overloaded by weight it is reasonably comfortable. When it gets down to 40 or less it's very comfortable.  
This one and the older one seem to be accurate in terms of volume. Everything adjusts easily.  The adjustable straps on the sides of the pack tighten the load and make it secure enough so it doesn't wobble around at all when the load gets lighter, and keeps the load correctly positioned on my back and hips.  
All in all, a pack that would only be improved upon if were even lighter. But if lighter it most likely wouldn't be as durable. This one will last if you take care of it. I don't scrape it around on the rocks and am careful with it in general.
Source: bought it new
Price Paid: Retail minus 20% at REI

Light enough, big enough, comfy enough—SO durable.
Pros
Mid-weight
Good capacity
Durability
Osprey warranty
Cooling airframe design
Cons
Thin straps
After a long life, straps slip slightly on high loads
Only one main pocket access point
I've had this pack for years now. It's definitely not Ultralight, but it's close. It travels well on the trail, even with a heavy load. It's been a great urban travel pack, and also has been a great air travel pack (I hate suitcases). The tensioned mesh keeps my back cool and less sweaty.
This pack fit me well, as designed. Lots of adjustment and tensioning options to settle the load well. I'm tall and lanky, and I have always been happy with it.
The comfort level is good, although do not overload, as the straps may slip and the shoulder straps will crush down and cut into your shoulders.
Capacity is accurate.
The good and bad thing about this pack is that it has one compartment, with one access point. Simple, easy, but also frustrating if you need the thing at the bottom. Top of the pack has two more pockets, and there is a drying pocket, some hip belt pockets, and a lot of gear loops. It worked for me, but it can be hard if you packed up in a rush for sure.
I would not take this over capacity, or hang anything bigger than easily fits in the bottom strap (which can't fit a foam sleeping pad well). Very stable, rides well over all.
This pack crushes down really well—another great reason I use it for air travel.
Works great. AAfter 8 years I've noticed some strap slippage etc—only to be expected. REALLY great durability, backed by the Osprey warranty.
Taken: car camp and weekend backpacking in Iceland, hostel-type urban backpacking in continental Europe, weekend backpacking trips in Wisconsin and Colorado, air travel all over. I bought this in 2013, still works great given standard wear.
Background
This was my second pack, now of three total.
Source: bought it new
Price Paid: ??

I got this backpack because it was really light and had great reviews. I have not been disappointed in this pack!
Pros
Lightweight
Pockets, storage
Suspension system
Stable
Cons
Straps a touch thin, but it's light
Fit: The fit of this back is really comfortable with the loads that I carry, 20-30lbs. I can really feel the pack snug to my back. You can really cinch the back down with all the compression straps.
Comfort: The only thing that I wish I could have without sacrificing much weight is that my hips are larger for a man and I wish the hip padding was larger or longer rather.
Capacity: I think that this back has super powers and the ability to carry any options that I go with either hammock/tent for one person or packing for me and my kids with 4-man tent.
Organization: It does not have the compartments of my other packs, but I actually was always annoyed with those internal compartments. It does have plenty of storage options in the hood, and water pockets on the side and the front pocket. It's perfect to my liking.
Ride: Super stable, the way you can cinch the pack makes it very stable and you feel it's a part of you.
Features: Trekking pole stow away, hip pockets, and compression straps make this lightweight pack one to consider for at least the loads I'm carrying. I have not tested the pack at heavy loads. The other thing I love about the pack is I'm learning every time I use it different features. It was a thought out pack.
Conditions: I have used this pack for about a year on six or so trips, even a weeklong trip and no complaints.
Source: bought it new
Price Paid: $189

An overall great pack! Light, sturdy, feature rich, and comfortable. Keeps you cool in the summer and allows you to over stuff it in the winter. You will be looking for more days to take this sweet ride on the trail.
Pros
Light
Strong
Very breathable
Full of features
Cons
Hip belt is a little on the light side.
For the weight and an almost frameless pack, you can't get a more stiff ride that keeps the gear snug. I love this pack especially during the summer months with the wide open mesh back that allows your back to breath better than any other pack on the market.
Full of features not found on many packs, i.e. trekking pole quick storage, top lid, super tight compression straps, load lifter, hip belt sinch straps, and much more.
A great pack for weekend or day trips that require heavy loads or varied luggage.
Pros
Long-lasting
Multi-purpose
Efficiently designed
Back-friendly
I won this pack from a Timmy O'Neill slideshow raffle in Boulder, CO, and have used it for bouldering and stuck it in crashpads, been alpine sport climbing and hiked 8 miles with a rope on top without back problems, taken it traveling by plane for domestic trips, and fit a very large number of things in this back pack via the shape, efficient space, and wonderfully multi-purpose and accessible compartments. 

The back support is absolutely wonderful -- no corners stick in my back, no imbalances, great for quick loading and unloading and hiking.
My pack has withstood snow and rain and wind and months and stretching. I love it.
Source: received it as a sample, freebie, or prize (Raffle)

After waiting for it to hit the retail stores, I finally purchased this product. However, once loaded, this pack sagged horribly in back, making me feel like I was carrying a bag of rocks, although it was packed well.
The hiking pole attachment on the shoulder strap, cut into my arm, leaving an open wound, something I didn't need on the trail. I had about 22 lbs total in the pack, not even a large load by any standards.
I did like the many features on this pack, including the interior water sleeve, the hip belt pockets, that held everything I wanted them to, the side pockets, which made it simple to get at my water bottles and put them back in.
I love the unisex styling, as not all gals can use a women's specific pack. The hipbelt and shoulder straps were reasonably comfortable.
This pack is plenty big enough to hold anything one would need for a week long+ trip, if packed correctly. However it just isn't the pack for me.
Design: Top loading, lightweight
Size: 58 litres
Number of Pockets: 9
Max. Load Carried: 23lbs
Height of Owner: 5'6"
Price Paid: $220

I love this pack! So light, so comfortable, and, tough!
Pros
Lightweight
Comfort
Details
Bought mine last year to backpack into Kauai's Kalalau Valley. It performed well, very well, for a four-day trip in tropical heat. Also used at home in Alaska for alpine trips and coastal rainforest trips. So many features, so light, so comfortable!
I just bought a second pack as my son's Christmas present since he keeps stealing mine. Both of us are ultralight backpackers due to physical constraints, and this pack keeps us going out there.
Source: bought it new
Price Paid: $219

Overall, the best pack I've ever owned. Light and comfortable.
Pros
Lightweight
Comfortable
Stretch pockets
Cons
Lack of a sleeping bag compartment
Materials seem a bit thin
I just used my Exos 58 on the Lake Ozette triangle trail in the Olympic National Park and it performed beautifully. I'm 6'4" and 285, so obviously I used the Large version and it adjusted out to fit just fine. I had about 35 pounds of gear and the suspension system was still comfortable.
Like some of the others, I wish it had a sleeping bag compartment, but hey, it's certainly not the first top loader I've owned. Overall, the best pack I've ever owned.
Source: bought it new
Price Paid: $180 with 20% off coupon

Waited for this pack for months after I read it was coming in January -- finally got one, but it came with a hole in the mesh right above the shoulder straps.
After much tadoo, finally got it repaired (Osprey just stitched the hole closed, I could have done that!!), but now the mesh pockets are fraying around where they are sewed to the zipper. I've used it only on 20 day hikes or so, also I see wear on the bottom where the frame is covered with fabric, even though I'm careful where to set it.
Bummer, Osprey!!!!
Design: top loading
Size: Osprey 58 large
Number of Pockets: 3 outside, two on lid, one inside pack
Max. Load Carried: 30 #
Height of Owner: 5'9"
Price Paid: $170

I don't think this will be a very durable pack. I used this pack for one weekend trip, with a load of 22 lbs. When I got back, I noticed that the mesh on the back was beginning to come apart at the side seams.
Comfort-wise, it was okay but not great. 
Price Paid: Don't remember.

Great design, so well thought out. It just didn't fit me (size long). I have a 36" waist, and I thought the belt would cut me in two. Unlike a lot of Osprey packs, you can't change these belts. The pack is working great for a buddy of mine with a 32" waist.
Number of Pockets: 5
Max. Load Carried: 25#
Height of Owner: 5'10"
Price Paid: $110

Your Review
Where to Buy
Help support this site by making your next gear purchase through one of the links above. Click a link, buy what you need, and the seller will contribute a portion of the purchase price to support Trailspace's independent gear reviews.
You May Like
Specs
small
medium
large
Price
MSRP: $220.00
Current Retail: $194.95-$260.00
Historic Range: $89.10-$260.00
Reviewers Paid: $110.00-$220.00

Load Range
20-40 lbs

Volume
3,356 cu in / 55 L
3,539 cu in / 58 L
3,722 cu in / 61 L
Dimensions
29.53 x 16.14 x 14.57 in
31.5 x 16.14 x 14.57 in
33.46 x 16.14 x 14.57 in
Weight
2.63 lbs
2.65 lbs
2.68 lbs
Main Fabric
100D High Tenacity Nylon

Accent Fabric
100D High Tenacity Nylon Triple Check Dobby

Bottom Fabric
210D High Tenacity Nylon

Recently on Trailspace