GoLite Breeze Pack

GoLite is no longer in business, and the Breeze Pack has been discontinued. If you're looking for something new, check out the best overnight packs for 2023.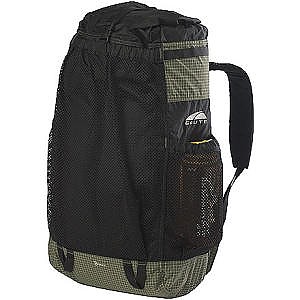 One of the first commercially produced ultra-light packs. Personally, I don't understand why this pack is so popular. People talk about it being so light that they often carry it on a single shoulder. My response is that any pack which is less than 20 lb can be carried on a single shoulder, and that a pack which is *more comfortable* over a single shoulder means that the shoulder strap design sucks. I was so disappointed with this pack I returned it to the store I purchased it from.
Size: Large
Number of Pockets: 3
Max. Load Carried: 20lb
Height of Owner: 5' 10"
Price Paid: $59

Light under 1 lb backpack, can easily carry enough gear for a long weekend, bombproof [have had over a decade with no problems].
Just got back from the Smokies, an Oct trip so had to carry the usual backpacking stuff plus warm clothes. I carry everything I need for a long weekend and do not share gear. My load was 18 lbs with food. The Breeze is good to about 20.
Well made with over 10 years use and still going strong. If you buy this pack and don't like it send it to me. I'll pass it on to one of my kids, thanks.
Source: bought it new
Price Paid: $75

The Golite Breeze is an inexpensive workhorse with generous volume. It's ultra durable and super simple design made it an instant classic and its features can be seen in many of today's ultra light backpacks.
Design: Top Loading Non Frame/Rucksack
Size: Large
Number of Pockets: 2 Side 1 Back
Max. Load Carried: 18lbs
Height of Owner: 6' 3"
Price Paid: $60

Hands down the absolute best, most versatile, toughest ultralight backpack I've ever used. It's been through 1000 miles on the PCT, a full tree-planting season being tossed in the back of dirty pick-ups and another 300 miles in the Rockies. The thing just won't quit!
Being frameless it's easy to stash in your suitcase when you take the plane, so you're always ready for a hike anywhere.The big mesh pockets are a must, and I'm very sad because they stopped making it. Looks like I'll have to sew one when I finally go through this one.
If you find one grab it! You can always sell it to me...
Design: frameless, no hip-belt
Size: 50 something litres
Number of Pockets: 3 mesh pockets
Max. Load Carried: 35 lbs
Height of Owner: 6'2"
Price Paid: 60$

This pack may not impress too much taken alone, but as part of a 'Ray Way' hiking system, it is superb. I have totally disregarded my heavier and more 'technical' packs, for the simple utilitarian Breeze. No irritating adjustments to be made, no useless straps to get in the way, just a very light, very tough and (with loads under 9kg) very comfortable pack. If you insist on taking loads of gear when hiking, then forget this pack. But, if you have the discipline to really take only what you need, then this pack is perfect. I use this for summer hiking and the Golite 'Gust' for winter trips when I need to pack a bit more stuff in.
Design: Top Loading
Size: 47 litres + 13
Number of Pockets: 3 mesh
Max. Load Carried: 10kg
Height of Owner: 6.3
Price Paid: $65

I use the Breeze primarily for alpine rock ascents and longer trad climbs. The light weight makes for easier climbing, plus I can stuff in a belay jacket, trail line, two quarts of water, shell, etc plus food without any problem. The exterior mesh pockets are also very useful.
The only drawback is that the pack tends to suffer abrasions and holes when used for climbing. I have solved this problem by applying generous amounts of 'Shoe Goo' to the pack base, and over small holes as they develop. Really, for Sierra routes like Russell's 'Fish-hook Arete', Whitney's 'East Buttress', or the Temple Crag this pack is ideal.
Max. Load Carried: 25lbs
Height of Owner: 6'6"
Price Paid: $49

Your Review
You May Like
Specs
Price
Historic Range: $61.95-$69.00
Reviewers Paid: $49.00-$75.00

Recently on Trailspace