Therm-a-Rest Z Lite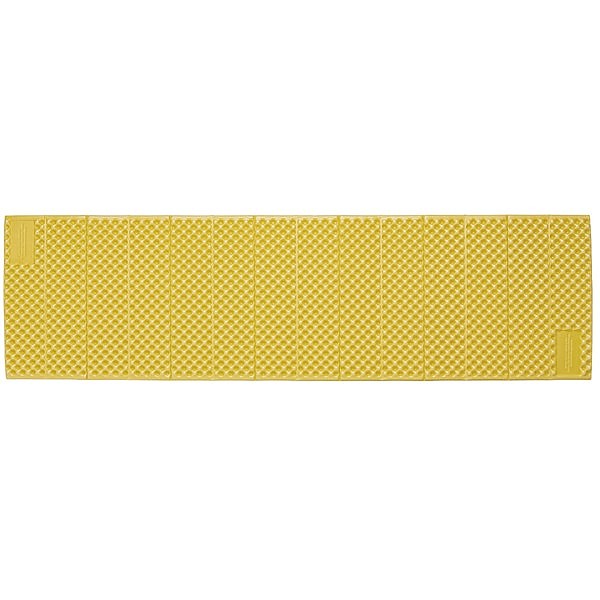 The Therm-a-Rest Z-lite pad is a closed-cell foam pad that offers an alternative to traditional flat pads. However there are some downsides which keep me from being able to recommend it. It might work OK for people with low body mass, especially if they are back sleepers. Cascade Designs customer support deserves a shout-out for being responsive and accommodating.
Pros
Lightweight
Eggshell style provides more cushion than flat foam
Responsive and satisfying customer support
Reasonable price
Cons
Not enough padding for side sleepers
Not durable, doesn't last very long before the eggshell shape gets crushed
I bought the Therm-a-Rest Z-Lite pad to replace an older Ridgerest style pad. My thinking was that the eggshell pattern would provide additional cushioning and a more comfortable sleep. While this seems to be true when the pad is brand new, unfortunately it doesn't seem to last. Unfortunately it seems to be a good idea (lightweight, additional cushioning) that just doesn't work out in actual practice.
I am on my second copy of this item. I used the first for a 30-day thru-hike of the John Muir trail last year.  Early in the trip, I noticed it starting to crush. The eggshell pattern seemed to be flattening out. As you might expect, as this happened, the pad got less and less comfortable. Eventually it felt almost like I didn't have a pad at all. After all, it's the eggshell shape that gives this pad its cushioning. The foam itself is very thin.
When I returned from the trip, I contacted Cascade Designs and explained what had happened. I didn't really expect a remedy, so I simply asked whether this was expected behavior. The representative requested photos which I supplied — and once they saw the issue they sent me a replacement pad (the first one was the original Z-lite;  the replacement was the Z Lite SOL).  Kudos to the company for providing responsive support and a satisfying remedy for my issue, even including an upgrade in the process.
I have used the new pad for just six nights and already it is starting to crush just like the original. Maybe it's just not good for people of my weight (I'm 6' and about 175#). Or maybe it doesn't work well for side sleepers since the shoulder and hips tend to place a lot of concentrated stress on the pad (maybe it would work well for a lightweight back sleeper with the weight more evenly distributed across the pad).
One note regarding the new SOL version. This model has a silver-colored aluminized surface which claims to "increase overall warmth by nearly 20%". While I haven't measured the actual temperature, I can vouch for the pad feeling warm when I hold my hand against it, so it does seem to have some merit. I have also slept on it for several nights with temperatures ranging from 29-35 and found it warm to sleep on.
By the way, the SOL pad is rated at 14 oz.  I weighed it at 14.3 oz on my scale — that's pretty close.  The previous version weighed in at 13.3 oz, so apparently the aluminized coating adds one ounce of weight.
Overall I'd say this pad might work well for light back sleepers. But (even before the crushing occurred) it's really not adequate for a side sleeper (one's shoulder gets numb from essentially pressing into the ground). Then when you factor in how quickly it crushes, I'd have to say I don't recommend it.
This image shows what the pad looks like with some eggshell shapes still intact, and others just starting to crush.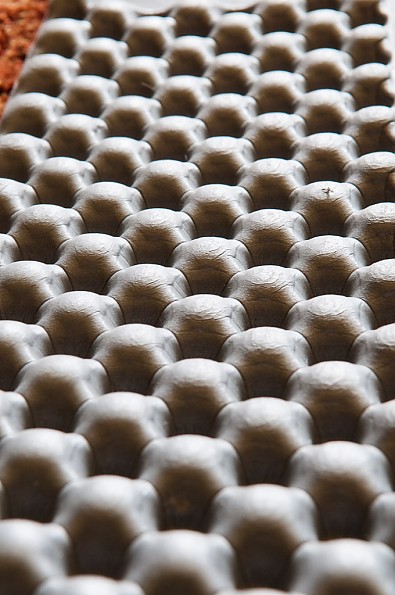 Here's what they look like when they're fairly crushed out. Granted, this was after 30 nights use. But the damage started early on. And shouldn't a pad last for (much) more than 30 nights?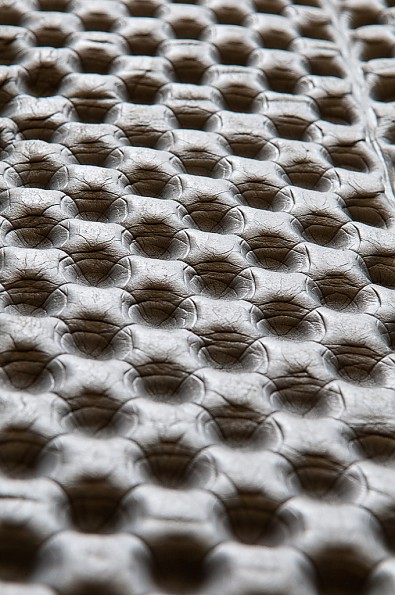 Here's what it looks like folded and strapped to a Deuter ACT Lite 65+10 pack.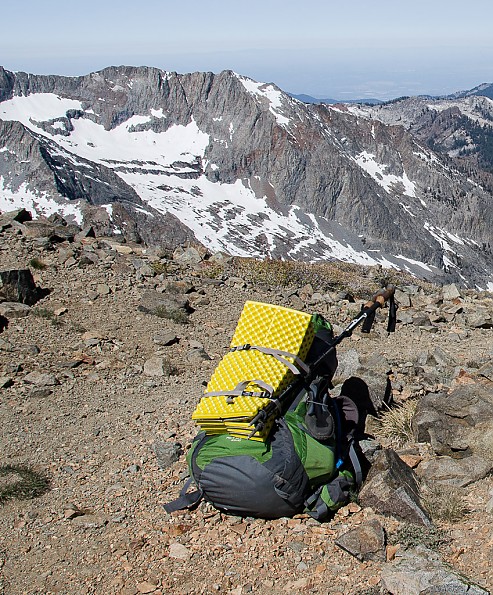 Source: bought it new
Price Paid: $45

Better than I thought it would be!
Pros
Light
Won't leak air
Works better than I expected
Great price
Cons
Bulky
Tacky material makes it hard to slide into bags
Not as comfortable as a good air pad
I got sick of slow leaks in my sleeping pads and decided to give the Therm-a-Rest Z-lite a try. It is about half as comfortable as an inflatable pad but I'm surprised how tolerable half as comfortable is. I do not rely on just this pad for more than a night or two but one to two nights and I'm ok with it.
Even my newest (expensive) inflatable is leaking air; I'll never have to worry about that with the Z-lite. For uber-comfortable sleeping, I use the Z-lite as a base and an inflatable strapped to my sleeping bag over the top – the Z-lite blocks rocks, twigs, and the cold, and adds a little padding, the inflatable adds the real cushion.
The Z-lite is bulky but my last trip I was able to squeeze it inside my backpack first and cram all my other gear in next to it. I do wish it came with its own bag. I may look for a long dry-sack to stuff it in so I can bungee it to the outside of my pack or to my motorcycle on motorcycle camping trips.
Source: bought it new
Price Paid: $35

A great pad if you are looking for something light and quick. The Z rest is at a great price point for what you get.
Pros
Easy to pack
Comfortable
Light
Durable
Price
Cons
The feel of it
Size options
For the past 15 years or so, I have been using a self inflating pad, which are great, very comfortable. My only problem with them is the fact that I have punctured them many times (the three I have are full of patches), and packing them. Not that packing a self inflating pad is that big of a deal, but it is a little time consuming (inflate/deflate, roll/fold and squeeze into stuff sack). So I wanted something that I could just lay out, sleep, wake and roll/fold and go.
My solution is the Z Rest. I was a little skeptical that it would be uncomfortable on the rocky grounds I'm usually sleeping on. I was wrong, it performed very well, and I sleep well. Granted it's not as comfortable as my self inflating, but it's not uncomfortable. I'd give it 7 out 10 comfort points.
The only complaint about comfort is the feel of it on bare skin, especially in hot, humid weather. It feels terrible. I always keep a sleeping bag liner (silk) in my pack. I have been using it as a cover/sheet for the Z Rest and it makes the pad so much more comfortable (on bare skin). Packing it is effortless.
I'm 6'3" 215 pounds. All my other pads are large (25" x 78"). I thought the length of this pad (20" x 72") would be an issue. It's not really, its doable. Width is OK, I do wish it had another few inches in length.
This is a great pad if you are looking for something quick, light, comfortable, affordable and durable.
Source: bought it new
Price Paid: $30

Nice and basic sleeping pad.
Pros
Accordion style fold-up
Lightweight
Durable
Cons
Cell foam collapses after awhile
This was one of the last items I purchased for my Appalachian Trail thru-hike in 2012, because I couldn't really make a decision. I had the Thermarest RidgeRest SoLite at first (their products are quite a mouth full), but it rolled up very large and didn't fit on my pack where I wanted it to.
The great thing about the Z-lite is that it folds up accordion style and so stays pretty compact. I decided on the short version, which went to to just below my knees, because I'd learned that you don't really need it to go all the way down to your feet which can save you a few ounces. Whenever there wasn't a log or rock to sit on, I could also pull it out and sit on this instead. It doesn't absorb water or anything, and so it was fine if it got rained on.
Blow-up or self-inflating mattresses were pretty popular, but there was always the chance that it could develop a leak, get punctured from some random object or a chipmunk attempting to ruin your life. I didn't want any of that mess so I went with this, and I'm glad I did. By the end of six months though, the egg crate design definitely was worn down quite a bit, but then again after six months you don't really care about that anymore. Anytime you get to go to sleep is a good time.
I'd recommend it overall.
Source: bought it new
Price Paid: $35

Great multi-purpose pad! Lightweight and highly recommended!
Pros
Durable
Multi-purpose
Lightweight
Warm
Cons
Not the most comfortable thing to sleep on
I am a novice when it comes to backpacking, but this was one of my favorite, most useful pieces of gear. Though I use an inflatable insulated sleeping pad to sleep on, I have this for a backup in case my pad fails for one reason or another or if someone with me has an issue with their pad.
It is not particularly comfortable to sleep on, I need more cushion personally, but it will keep you warm from the ground. I also have it in case the ground is too pokey or rough, to use under my sleeping pad for puncture protection.
I strap it to the bottom of my pack which also protects my pack from the the ground when I set it down, an unintended use, but it does. 
It's also a quick access seat, folded up for extra cushion or opened up to share a seat with others.
It also keeps your food warm as you are trying to rehydrate food. I add water to my pouch and set it on the pad, while I wait. 
 It is insulating, warm, and light. The multi-use is worth the extra ounces to carry.
Source: bought it new
Price Paid: $35

This pad really fits my needs. It is excellent for summer flash hiking because it is so light and easy to pull out and lounge around on! I find that the egg crate design forms little air pockets that act as extra insulation from the ground. So far I've only used flat closed cell pads which seem much colder even at the same weight. I prefer this to blow up pads because this one doesn't pop and you can pull it out and sit on it or lounge around without worrying about sticks poking it to death.
These do need to be replaced say every 100 or so nights depending on how rough of a camp spot you like picking... I always end up with the spots with the rocks and this pad does great keeping the pokeys away. After a summer on the PCT mine went flat, meaning the egg crate was all squished down, so I got a new one.
If you need a lot of pampering don't get this one, I have a tough back and many of my friends can't stand using anything but blow up pads because of the lack of cushioning in this one.
I guess I'm just lucky to have a tough back and be able to use this great product... don't use under freezing because this thing does build up little pools in the cups when condensation is an issue.
Price Paid: $30

"Lite" is right.
Pros
Lightweight
Folds well into a pack
I bought this on the recommendation of a buddy who leads wilderness adventures into Maine's 100-Mile Wilderness. It's lightweight and the folding design means it fits in a pack.
The two different sides allows you to control how much body heat is reflected back at you. The reflective side feels pleasantly warm the moment you lay on it. On hot summer days, the non-reflective side can provide a cooler rest.
What didn't work for me is I am a hammock hanger, and while pads are often used as an insulating underlayer, the Z-Lite folds up on the creases with the slightest move. This completely bummed me out, not only because I've never been able to use it in the backcounty, but I haven't found another pad that equals it in weight.
Still, if you prefer your camping as a "ground dweller," then this is a great lightweight pad to have.
Source: bought it new
Price Paid: retail

Basic sleeping pad that gets you up off the ground.
Okay, I use this as a secondary mat underneath my insulated inflatable mattress. I've used it stand alone in the past, but I don't think it is adequate enough to not wake up in the morning with a sore back. For what it's meant for it's great, but there are so many other options out there today. 
I have a friend who, when he hits the pillow is gone. He could be lying on a bed of nails with a circus performance going on around him and it's lights out — but I need serious comfort to get good sleep.
It doesn't quite fit the bill for me, but for the budget conscious or the person that doesn't require much to get to sleep, go for it. 
Source: received it as a personal gift

The pick and go sleeping pad for our adventure.
Pros
Versability
Easy
Durability
Value
Cons
Comfort against air model
I literally encourage everyone I meet to purchase this pad due the fact in my country it's sold for 30€ at Decathlon. Thru hiker or amateur, you can't go wrong with it. So easy to use, probably the closed-cell mattress!
Source: bought it new
Price Paid: 30€

This is a great product. I have not used it in the winter; spring and summer only. It's so light, you won't even know it's attached to your pack. Makes a perfect lounger when placed against a tree and much lighter than a folding chair. Dual purpose! Slide this under or over a self inflating Therm-a-rest and you're good to go. But it can be used just as well on its own. With the z-fold press you can fold over a couple of flaps and it adds that extra neck support lacking in most camp pillows. Triple purpose!
Price Paid: ~$30 US

Used this on a 7-day trip where the weather varied between 25 degrees and ice showers/snow to 75 degrees and sunny.
Indeed when in cold weather this pad collects a lot of moisture via the egg crate cups. It is definitely a measurable amount. This egg crate construction definitely makes the pad more comfortable. Be careful in that in very cold weather it is thin enough to conduct some heat away into the ground. Definitely a three-season pad. All in all though worked well, was light, comfortable, and packed fairly small.
This pad is FAST and light. I bought this pad at a REI used gear sale, nothing seemed to be wrong with it. I slept on it fine without any moisture problems. But I live in a dry climate. There was dirt/dust built up though. I like how fast it is to pack up and never curls. I can put it inside my pack if I only fold the two sides to create a "plate" instead of the log.
Price Paid: $16 REI used gear

The Therm-a-Rest Z-Lite is plenty light, but for comfort it is sorely lacking. I took it on a trip to the high Sierras in California and did a lot of sleeping on hard surfaces and the mattress just did not provide adequate comfort. After tossing and turning for hours, I found that the only position that was tolerable was flat on my back. I was ready to toss the mattress in the garbage when I got back home.
Price Paid: $39.99

The Z-Lite is a great lightweight sleeping pad. Requires no rolling and doesn't spring open given the chance.
It's not the most comfortable pad out there but given the weight you won't even know it's there and it gets the job done which is all I want/need. The ease of use as a kneeling or sitting pad is also a plus! Will probly buy another for the wife - given her approval of course.
Price Paid: $29

This is a great pad for a minimalist because it is super lite. It insulates well in cool temperatures and I have never had any condensation on it.
It's not the most soft and comfortable pad Ive ever slept on and I wish it was a little wider, but for what it is it is great. Plus you never have to worry about it getting a leak or patching it.

Price Paid: $36

I selected this pad because of the weight. My biggest issue is that in cold weather condensation occurs in the little cups of this egg crate design causing dampness of the sleeping bag. The amount of water sitting in the hundreds of little indentations is measurable. I haven't figured out how to avoid this problem except not to use it in cold weather.
Price Paid: $29

I purchased this pad because it will never deflate, it's light weight, you can use it as a seat and and a sleeping pad and it takes seconds to set up or take down. I haven't had any issues with condensation and I feel for the price I paid that it was well worth it.
I have used this pad for a few years now and it is definitely worth more than the 25 bucks I spent on it. I have used it as a seat, a bed, and during an especially rainy night last year, possibly a raft.
Seriously it is comfortable, light, affordable, durable, and inexpensive. 
Price Paid: $25

This pad is pretty comfortable compared to sleeping on the cold rock solid ground. It does cause a little condensation when its cold out though. I guess one way to prevent this is to put something between the pad and the sleeping bag. Other than that it works awesome, highly recommend it.
Price Paid: $34.99

Excellent three-season sleeping pad. As mentioned already, this is a very light and comfortable pad that can be folded up and stored in 10 seconds. Condensation does form in the winter, but this pad has made for many great deep sleep nights in any other season.
Price Paid: $30

Great pad...comfortable, faster, and lighter than an air filled pad. I take this everywhere with me and do have the condensation in cold weather but I don't mind. All in all, this pad is a good buy.
Price Paid: Around $30 US

This pad has allowed me to sleep on concrete, rocks, oak roots and poplar roots with no problem. I only wish it was easier to contain.
Price Paid: $25

My first pad. Can't be beat for ease and simplicity. Bought it on a whim at a gear sale. Couldn't have spent $20 better.
Price Paid: $20

I love it!
Easy to set up, didn't roll off of it, and was comfortable.
I have the 3/4.
Price Paid: $29

It's very light and it packs well. It's so easy to fold it.
My main problem with this product is that it's not comfortable at all! I don't understand how these other people say that it's comfortable.  Also, as other reviews stated, condensation gets caught in the little egg crate cups.  That's not such a big deal for me--my bag is synthetic. 
I got an Alps mountaineering light self inflating mattress. It's heavier but way more comfortable.
Price Paid: 0-Borrowed it from someone for a long time. :-)

This pad is awesome I used it for the first time in the front seat of my pick up and was sole on it. the fact that it folds instead of rolling up sells itself.
I have had other air up pads and this one is definitely better then the rest in comfort and ergonomics. I would definitely recommend it to a friend!
Price Paid: $30

Your Review
Where to Buy
Help support this site by making your next gear purchase through one of the links above. Click a link, buy what you need, and the seller will contribute a portion of the purchase price to support Trailspace's independent gear reviews.
You May Like
Specs
Price
MSRP: $39.95
Current Retail: $46.95-$57.95
Historic Range: $14.98-$57.95
Reviewers Paid: $16.00-$45.00