Deuter ACT Lite 65+10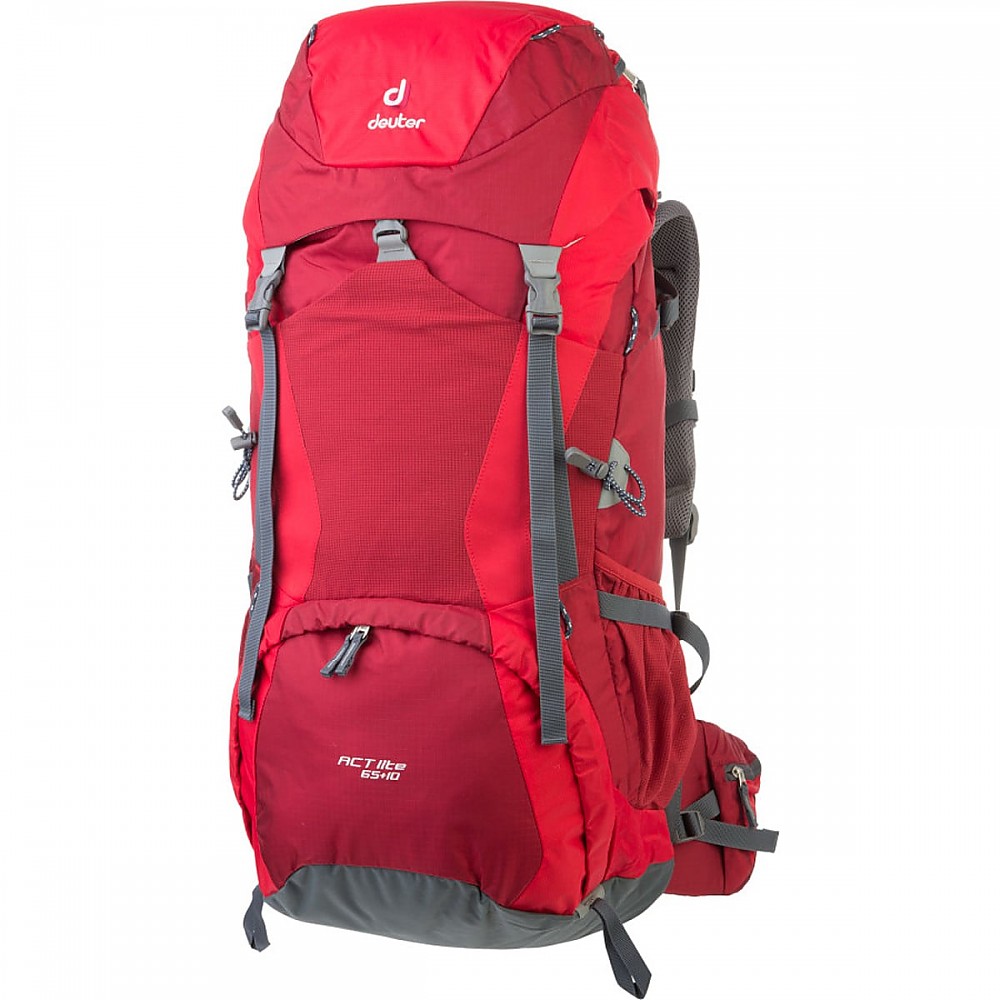 The Deuter ACT Lite 65+10 is, as the name implies, relatively light for a pack of its size (though not ultra light). Some comparable models can weigh a pound or two more. It provides more features (pockets, straps, compartment divider, etc) than a similarly-sized ultra-light pack. This pack does have a few relatively minor shortcomings, but overall has worked out well for me on trips ranging from overnighters to up to 10 days between re-supplies.
Pros
Relatively lightweight vs comparable packs
Solid and stable even when heavily loaded
Adjustable suspension
Includes pocket on hip belt
Durable pack body
Reasonably priced
Cons
Poor quality fasteners
Heavier than advertised
Possible fit issues for some users
Some questionable design decisions
Background
I originally decided on this pack to replace an aging external frame pack for a John Muir Trail through-hike in 2012 (this review is in June 2013).  I took the pack on one 3-night trip before that, then on the 30-day JMT trip.  I've used it on several 1-4 night trips since then.
Features
The ACT Lite 65+10 has some features of note:
The suspension system:  The pack has a system Deuter calls "Aircontact Lite". Basically it consists of breathable padding on the back, shaped anatomically in order to ventilate as one walks.  There is also a metal "x-frame" to add rigidity (the metal material is not specified).  The suspension is adjustable to accommodate various torso lengths.

The "+10" in the name consists of a fold-up extension to the body of the pack. This provides additional capacity when needed.  If it's not needed, it can be folded down inside the pack.
Durability
The pack is constructed of "Deuter-Duratex Lite" (500 denier weave Duratex) and "Deuter-Ripstop 210" (210 Denier Nylon).  So far I have found the pack body to be very durable.  However in at least a couple cases the little plastic fasteners on the outside of the pack have either come apart or fallen off. 
In one case I was able to jury rig the fastener by tying a knot in the remaining bungy cord.   In another case I found the connector that had come off and was able to re-attach it. 
I've been concerned that a more critical fastener might break (like the belt buckle) but fortunately they've held up so far.  I try to mitigate breakage by treating the plastic fasteners gently (for example I try to relieve the load on the belt buckle before unfastening it).
Otherwise, the pack has stood up well so far.  Even after the 30-day trip there aren't any real signs of wear to speak of.
Comfort
One of my reasons for trying the internal frame pack is that I never found the external frame pack comfortable.  There are advantages to the external frame style for sure, but comfort isn't one of them - at least for me.  When I first used the Deuter ACT Lite 65+10, I carried something under 35 pounds, and I found it to be very comfortable. It was the first time I could recall backpacking & not returning with bruised hips and shoulders.
On a longer trip, however, I carried more weight (ranging from ~38 lbs to the upper 40's depending on the length of my food supply). While still relatively comfortable, I suffered some back pain.  It felt like it caused a strain in my mid and lower back.  It feels like it would be more comfortable if it rode higher on my back rather than pressing into my lower back and upper buttocks.  I tried the strap and suspension adjustments recommended in the setup video by Deuter, and every other setting as well, and never resolved the back strain issue. However if I keep the load down to the mid 30-pound range (including food, water, etc) it feels pretty good.
In terms of the suspension's claimed ventilating capabilities, it's a little hard to say since I sweat wearing any pack, but it does seem to do a decent job.  I don't feel any sweatier wearing this pack than I did wearing my old frame pack which had much more open space around my back.  That's probably saying quite a lot since this is an internal frame pack that mostly presses against one's back.
Organization, Accessibility, Ease of Use
This is a fairly standard internal frame pack design with a separate sleeping bag compartment at the bottom and a top-loading upper compartment.  The separator between the two compartments can be zipped open (but is not removable).  There is also a stretchy pocket on the back of the pack - this is useful for small items one wants easily accessible.  I use it to carry a first aid kit, small water filter, map, and a few emergency items.  There is a water bottle pocket on each side, as well as a removable lid with a sizable storage pocket on top.  There is also a flat zippered pocked on the underside of the top cover.  The number and location of pockets and compartments works out well for me and I haven't had any issues with them.
Concerns
One disappointment with this pack is that it's significantly heavier than advertised. I selected it, among other reasons, for its weight. Deuter advertises it as 3 lbs 14 oz (62 oz). In reality mine weighs 66 ounces.  That may not seem like much of a difference, but it's a full quarter pound heavier than advertised.  Since it is targeted at those seeking a lighter pack, that's significant.
I've seen comments elsewhere that this pack seems smaller than its rated capacity. While I haven't measured the capacity to say for sure, I do fill it fully, even though I've only used it on warm weather trips (above 30°F).  I don't see it being large enough to use in the winter when I'd need to carry extra bulky clothes.  There simply isn't any room left to add anything.
One slight inconvenience is that the zipper on the bottom compartment can be difficult to operate when the pack is loaded.  There is a heavy fabric flap along the length of the zipper, and it can interfere with its operation.  This can be mitigated by squashing the pack contents to loosen up the fabric in that area.  
Another little annoyance I have with this pack is that the sternum strap isn't adjustable, so it's "one size fits all".  It's not possible to adjust it to control the tension on the shoulder straps.  Additionally, it seems to me it attaches to the left shoulder strap on the wrong edge.  Instead of attaching to the inside edge, it attaches to the outer edge.  Logically this doesn't make sense because the goal of the strap is to pull the two shoulder straps toward each other.
Lastly, I have run into a situation where the bottom compartment collects water if the pack is set down on the wet ground (i.e. when hiking in the rain).  It appears there is a double layering of material on the bottom, and water collects between the layers.  While it's understandable that the bottom would get wet, the water between the two fabric layers makes it difficult to dry.  Fortunately I pack my sleeping bag & clothes in the bottom compartment in waterproof plastic and would strongly urge other hikers to do the same.
In spite these few shortcomings, overall I am satisfied with this pack.  It is durable, if not the lightest pack around, and reasonably comfortable if not loaded too heavily.  It has worked out well for me on trips ranging from 1 to 30 days.
The images below illustrate various points made in this review.
Here's what the pack looks like on my back

Here's a view into the pack, with the upper portion extended.  The bear canister is a (small) BV450.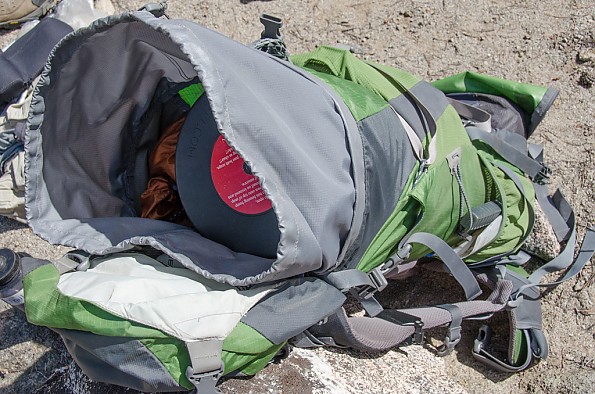 This is the sleeping bag compartment.  It's large enough to hold a Marmot Helium sleeping bag (in a sack much larger than that supplied by Marmot) plus several clothing items.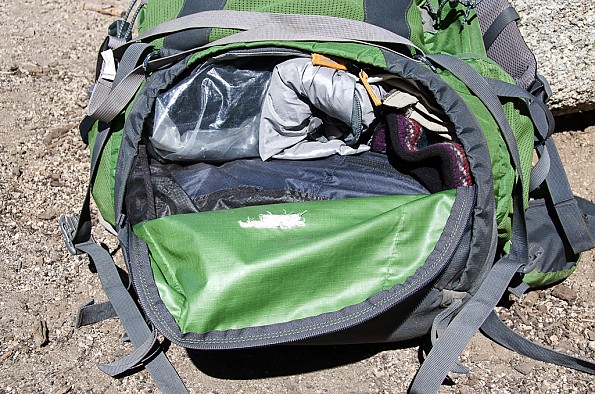 Here the pack is fully loaded including a Bearikade Expedition canister.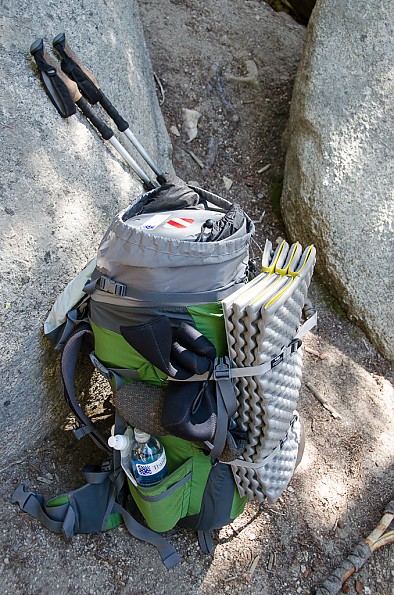 Why does the sternum strap fasten to the outer edge of the shoulder strap? And why does it have the stretchy material in the center (where it's bulged out). It can't really stretch anyway because there's also a solid piece of webbing in that section. And, most importantly, why isn't it adjustable?  Please note the metal bracket on the strap in the upper right corner of this photo is NOT part of the pack.  It's a Capture Clip used to carry a camera.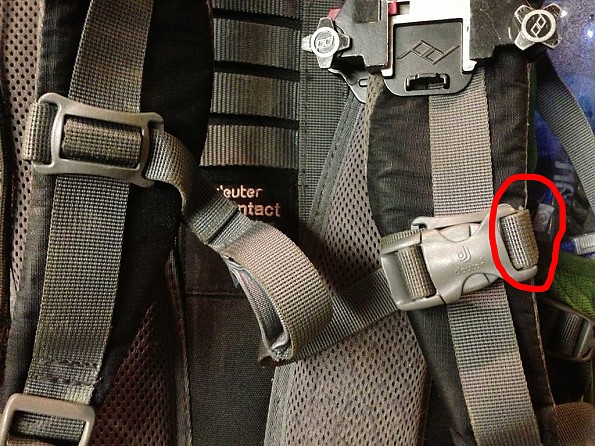 This is an example of the poor fastener quality. I had to tie a knot in the stretchy cord since the fastener that held the ends together fell off.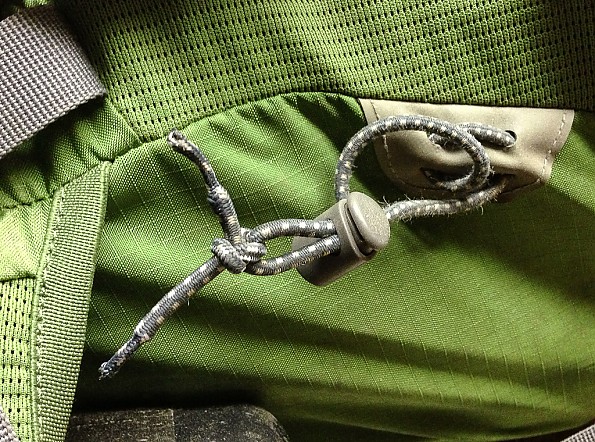 Here is where water accumulates in the bottom section between the two layers of fabric.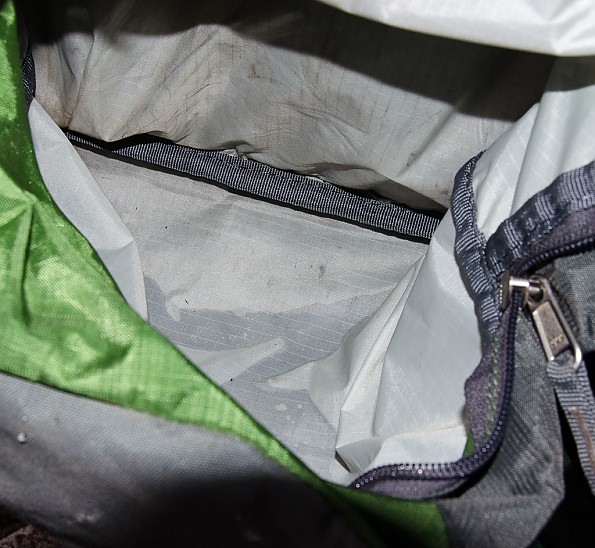 Here's where the zipper tends to bind up under the fabric flap.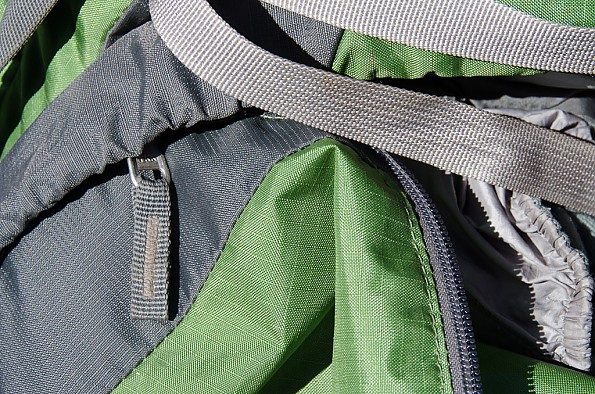 Source: bought it new
Price Paid: $199

This is a very solid backpack for those looking to go lighter but not ready to forgo all advantages of a traditional internal-frame pack. This pack is light on bells and whistles by design, but doesn't skimp on durability.
Pros
Lightweight
Durable
Sub-$200
Effective moisture management system
Reputable company with excellent customer service
Well-designed
Cons
No easy way to access items buried deeply
Tall and thin design limits packing variability
Cheap velcro H2O bladder holder that frequently drops a full bladder
I grabbed this pack after suffering for several overnighters with a cheap, hand-me-down Camp Trails Night Song II (a women's pack, mind you) and I can confidently say that save for changing my footwear, changing my pack to one that fits properly has been the single most important upgrade I have made to my backcountry kit.  
This pack fit me well right off the rack, but Deuter's VariQuick adjustment system accommodates a wide range of torso lengths (15" - 21" per manufacturer website). The hip belt and shoulder straps are decently well-padded and the adjustment straps slide easily and hold fast. The Aircontact system on many of Deuter's packs — essentially two long padded tubes that serve as the only place where your back is touching pack — works very well to vent heat off your back: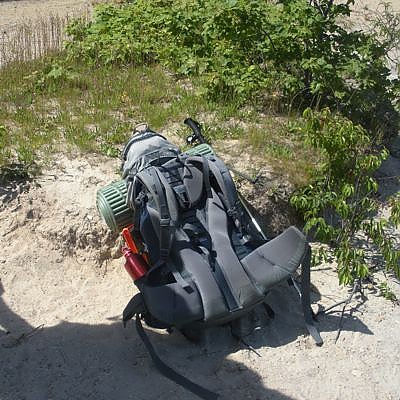 According to Deuter, this results in a 15% reduction in perspiration and a 5 degree average reduction in temp.  I don't have any way to verify this quantifiably, but I can say that it does feel noticeably cooler than my old bag.  
The sleeping bag compartment is cavernous, and for 3-season use I am easily able to pack all my spare layers and sleeping bag within.  The main compartment is quite tall and thin, which does limit the number of ways you can arrange your gear inside, and this is the main drawback in my opinion. Additionally, there is no easy way to access gear buried deep within the bag, which becomes slightly problematic when combined with the aforementioned narrowness: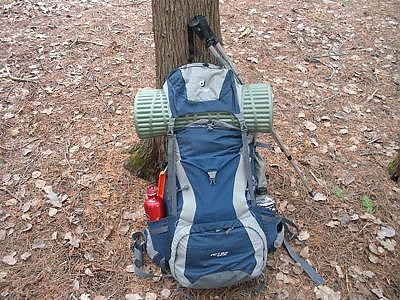 This pack claims to have a 65L capacity with a 10L sleeve that can be extended to yield a 75L capacity, and this does not seem to be an exaggeration compared to other packs that I have examined with similar capacities.  
In my experience, the frame of this pack is a perfect mix of rigid yet forgiving.  The removable hollow-core X frame transfers weight well and holds up to heavier loads (I consider anything over 45 lbs. to be quite heavy, but I think this pack would hold up well with loads slightly heavier than this). The shoulder straps have enough padding to keep me reasonably comfortable for a 20 mile day.  
One of the features I really like about this pack is the huge stretch pouch on the front. This easily swallows your puffy layer or wet rain fly that you want to keep separate from the dry contents of your pack: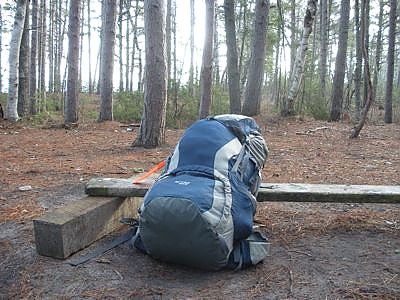 Other conventional features include a pocket on the hip belt that houses a camera or snack perfectly, dual water bottle stretch pockets on either side of the pack, dual ice axe loops, and a water bladder compartment. Of note, the velcro closure device intended to hold a bladder in place will typically drop any bladder with more than 2L inside. Usually this isn't a problem for me since the contents of my pack will keep the bladder from moving anywhere, but this could potentially cause problems with smaller loads and a full water reservoir.
This pack has been used for a few overnighters as well as a half-dozen longer trips (4 days). So far, no obvious signs of wear are apparent. The bottom of this bag is a reinforced proprietary fabric (duratex lite) that I have found to be quite tough. This pack ostensibly comes PU coated from the factory, but the first moderate rainfall I experienced saw a decent amount of leaking into the main compartment. Don't leave home without your pack cover.
I have used this pack almost exclusively for on trail hiking in the Midwest in early spring to early winter.
The reason I really like this pack is that it fits me nicely, is well made, is under 4 pounds (3 lbs. 15 oz.), under $200, and houses all my gear needed for a week-long 3 season trip perfectly.  While this pack lacks some of the nicer features on other models of comparable capacities (i.e. Gregory Baltoro 75), this was by design.
Deuter also has an Aircontact model in a similar capacity that is heavier and doesn't deny you any luxuries, but the ACT Lite series of packs are essentially meant to be stripped-down while maintaining the most necessary of features. No daisy chains, integrated rain cover, or additional straps. If you need these features and don't mind carrying a 6 pound pack, this may not be the bag for you. If, however, you are looking for a great compromise between features and light weight combined with solid value, then this would definitely be a pack to take a closer look at.
Fully loaded: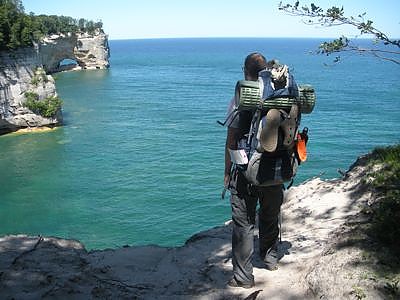 Source: bought it new
Price Paid: $199

I grew up with the old aluminum frame shoulder harness packs (virtually no hip support) hiking up and down the Presidential range in New Hampshire's White Mountains. This pack (mine is light blue -- slightly older) is wonderful for its capacity to make relatively light hiking a reality.

My pack, with a week's worth of food and gear (with bear canister) is about 35-40# at start, and everything fits PERFECTLY. I have used it on a couple of dozen significant hikes and there is not a sign of significant strain at the seams. The pack breathes German efficiency. The folks at Deuter are serious about their work. And as an older hiker I have had no significant discomfort with it!
Pros
Light, balanced size for light or moderately heavy packing
Plenty of space with nice distribution of pockets, holsters, straps, and internal compartmentalization.
Cons
I only have one?
I wouldn't mind having a holster/strap built on to the front left hip strap for bear spray (I keep it in the left side holster pocket now), and/or another zippered hip pocket on the left.
I bought my pack in ~2012-13, and have used it on a coupla dozen good hikes (would be more but life and location seem to preclude!), almost always purring with satisfaction over my lack of discomfort during and after. 
Usual starting load is about 35-40 pounds, once about 52. Feels balanced. Access to gear is easy and compartmentalization well-apportioned.
It has all of the usual bells and whistles: reservoir compartment and distribution access/stays, optional primary compartment division, padded full adjustable hip and shoulder straps, hip strap pocket for compass/knife/toenail clippers, etc. :) 
The back breathes so I am not consumed in sweat at the interface. The straps show no sign of strain where they are sewn in.
All-in-all a great buy!
Source: bought it new
Price Paid: approximately $200

This pack is very comfortable and durable. It carries a heavy load and has a ton of room. The price is very reasonable and it's perfect for long backpacking trips. I would recommend it for anyone, but it's especially perfect because the sizing adjustments work for just about anybody.
Pros
Comfortable
Durable
Easy to use
Fits everyone
Affordable
Cons
Water bottle pockets slightly hard to reach
Hip belt pockets are a tad too small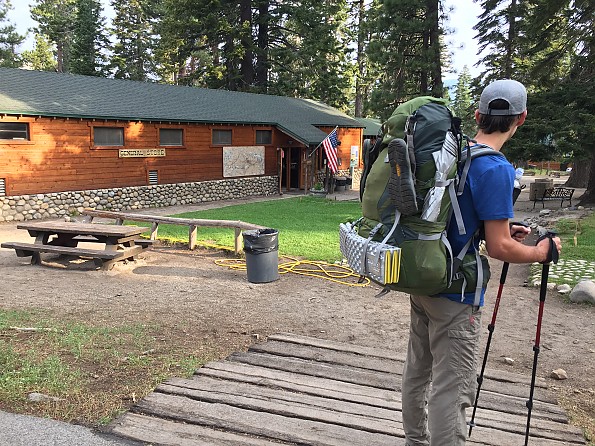 I used this pack practically "right out of the box" for my JMT thru-hike August 2017 and never once had an issue with it. It was comfortable and never felt heavy and I was carrying about 45 lbs.
I am 18 years old, 5'11" and very slender. Most packs rubbed my lower back at my spine, but the Deuter ACT has a cutout at just the right spot so that I never felt any friction.
The pack has lots of room so I never felt like I couldn't fit everything I needed in it, especially since I had to carry a BV500 bear canister which took up space.
While on the trail, I saw a lot of people carrying the same pack and we all commented to each other about what a great pack it was. My mom carried the same pack for women and she also loved it.
The only two things on the pack that I would redesign is the angle of the water bottle pockets on the side to make getting to your bottle easier, and making the hip pockets a little larger to hold a cell phone.
I highly recommend this pack.
Source: bought it new
Price Paid: $200

The pack was always comfortable on my five day segment of the John Muir Trail but annoyed me in a few ways:
The shoulder straps, and straps that draw the pack bag closer to your shoulders continually slipped their settings. The problem was particularly acute descending the steep and very loose Paiute Creek Trail. The sloppy fitting pack was a distraction as it wouldn't behave the way an internal frame pack should. That was day two of the trip, with a full bear canister.
I am 6'4" and am not persuaded that the pack is optimized for people my height in light of the above...
That same morning the main hip strap buckle gave out within ten minutes of hitting the trail. Half expecting it to fail, I had taken the liberty of stashing a grams heavier, same size mainstream fastex buckle in the pack.
Dandy but for the Deuter hip strap system, with its very tight fitting strap guides, forcing me to slash away the back-stitched anti-fray fold in order to get the faulty buckle out, and install the new one. All in all a very frustrating episode.
The paucity of lash points on the pack was an issue at water crossings. I like a place to tie my boots to. There is one flimsy-looking loop beneath the poseur elastic net. My sandals rode on a caribiner on this loop when the boots weren't hanging from the same. It never gave out, but it made me nervous.
Another feat typically eluding all pack makers that this pack suffers from is the complete loss of space in the hydration pocket with a bear canister loaded. I had to keep the bladder under my top pack, creating a slipping top pack as it drained. I didn't notice right away because I thought it was the slipping shoulder straps...
The hydration port in the pack bag chewed-up time as it is too small for easy ingress/egress of my Camelbak bite block fitting. Often the valve lever would be forced open as I struggled to get the hose through, leaking filtered water into the dirt instead of my mouth.
I liked the roomy sleeping bag compartment, able to hold my long bag and my uninsulated parka, handy in hail or rain. The pack weighs less than half my old pack. Stuffing with brutality had zero effect on the fabric or stitching of the pack bag. The top pack is deceptively roomy, and cleverly divided. The poseur elastic netting actually held my stuffed Thermarest perfectly. The suspension is great when the straps aren't slipping.

Update: April 6, 2011
Following up on my previous review I must add that after contacting Deuter with the complaints I listed in my review they took back the offending pack and sent me a brand new, modernized model of the same.
So refreshing after being left high and dry by other companies.
I haven't taken the new pack out in the field yet. But I felt the people of Deuter deserve the story published.  
Design: internal; thermo-plastic single stay
Size: about 4,000 inches
Number of Pockets: two net, one camera, exterior; two in main bag; three up top
Max. Load Carried: 45 pounds
Height of Owner: 6'4"
Price Paid: Warranty claim

Solid, no-frills pack that's relatively light and very comfortable. Good for weekend to week-long trips.
Pros
Comfortable
Spacious
Light
This pack is comfortable and spacious, easily fitting everything I need for backpacking up to a 4-day trip. I like the large separate sleeping bag compartment, how it is super comfortable easily handling a 30-40lb load.
It's also really durable, having been through a bunch of backpacking trips and as checked baggage on plane trips over 4 years. All it needs is an extra hip pocket. Otherwise it fit my needs perfectly.
Source: bought it new
Price Paid: $200

Lightweight, large capacity pack that's good for a week or a weekend.
Pros
Great ventilation
Lightweight
Comfortable
Load hauler
Tough
Cons
No lash points or daisy chain
External pockets are too small
Lid cannot be used as detachable lumbar pack
First and foremost, this pack is comfortable! Deuter's Aircontact system provides great ventilation for your back and the foam padding on the hip belt and shoulder straps is very comfortable and breathable. And, at just over 4 pounds, the ACT Lite is lightweight while sacrificing nothing in quality or comfort.
I also have Deuter's Aircontact 75+10 pack and have reviewed it too. While the 75+10 has multiple lash points on it's exterior, the ACT Lite is lacking them. I'm guessing Deuter omitted them to cut weight but a little more external organization would have been greatly appreciated. Bigger water bottle pockets and a bigger hip belt pocket would have been appreciated too. I do like the mesh pocket on the front of it though — great place to store wet items.
The pack material is tough enough to withstand almost anything. The first time out with it I lost the trail. After bushwhacking through a dense stand of baby lodgepoles, the pack looked as new as it did the day it came out of the box (okay okay — a little sap maybe, but not a single scratch!). All buckles and zippers are really heavy duty as well.
The ACT Lite 65+10 has great adjustability. There are multiple compression straps which make it easy to use as a load hauler or an overnighter. I've even tightened everything down and used it as a day pack just to see how it would work if I wanted to use it from a backcountry base camp. It's a little heavy for that purpose but it compresses down to a decent size and again, it's incredibly comfortable. I won't hesitate to use it as a day pack when base camping.
My pack is still new and has only been used for 2 multi-nighters and 1 day hike, so I'll have to see how it holds up over time. If it performs anything at all like my Aircontact I have no doubt it will still be around long after I'm gone.
Source: bought it new
Price Paid: $190 USD on sale

This is a great lightweight pack that is extraordinarily strong as well. Took this on a fifty miler to break it in and it performed exceptionally.
Pros
Lightweight
Strong with lots of storage
Great use of exterior space
Had it fitted at the shop for my son who packed it on the fifty. Hip belts and should straps were comfortable and fit well. It carried everything he needed for a five-day backpacking trek without using the additional space. Load was well distributed and everything worked in harmony.
This is a great pack that is well built and durable. It worked well in the rain and the humidity on the sunny days. 
Source: bought it new
Price Paid: $185

This pack is comfortable, roomy, and highly adjustable!
Pros
Expandable space
Lightweight
Adjustable
I love this pack. Simple as that. I've used it countless times on multi-day hikes and a few weeklong ones too! It's got room and then an expandable top for even more! I've carried 50 lbs comfortably with this pack. Plenty of pockets for great organization too.
Hip belts are nicely padded as well as the shoulder straps. I've had no issues with rubbing or discomfort. Once I mastered packing my gear, the pack rides snug, because it is so adjustable. Very stable. The two side pockets with compression straps are great.
My 2 liter water bladder fits great inside. However, I prefer to use the stretchy pocket on the outside for it.
My only gripe is that I poked a hole in the stretchy material of the outside pocket. It can get snagged on stuff easily, so put on a rain cover or something if you're heading thru brushy stuff to help avoid snags.
Source: bought it new

Highly recommended for multi-day hikers, tons of space.
Great pack. Took this on a 5-day hike on the AT and I had more than enough room for necessities. I was able to carry my sleeping bag in a stuff sack inside the pack with a hammock, as well as my clothes/food. Very light for its size but very durable.
I've hiked more than 1000 miles with this pack and it's still 100% functional and has gotten more comfortable. I can carry 30 lbs very comfortably.
Source: received it as a personal gift

Hi,
I just bought this pack and I'm wondering how it goes on flights. The last pack I owned had a zip cover to enclose all the back straps to ensure they weren't damaged when in the cargo of a plane.
Is there a good way to secure the straps or does anyone have any advise on what works/what doesn't?
Cheers,
Erin
Price Paid: $250AUD

I recently replaced my old Kelty Slickrock with the Deuter 65+10. It made its first four-day excursion on the Appalachian Trail.
The pack was comfortable and roomy enough for my needs. It handled well with 40lbs. I liked the sleeve and strap set up for the 3l bladder and I had no problems with 32 oz water bottles staying put in the side pockets. (This was a concern, as I had read a complaint about this on a review). Not sure why they had a problem??
Will keep it for years of fun. Good German engineering!
Price Paid: $141

If you just started backpacking and you have a low budget this is the pack to start out with. I took this pack on a weekend hike for a 12-mile round trip in the Shenandoah National park in the spring time. The pack had a decent amount of room for gear and a big enough sleeping bag compartment.
The only downside to this pack was the durabilty of the materials and the comfortabilty of the foam used in shoulder straps and the hip belt.
Great for a weekend backpacking trip if your budget is low.
Price Paid: $140

I started backpacking last year and purchased a Gregory Z pack. After two day carrying 35 pounds I had sore hips and a sore spine. This pack would work great for another body but not mine.
I did research and looked at Osprey, Gregory, Deuter and REI. I went to a store that had all these models and immediately liked the Deuter when I cinched the belt. Love it. It's 12 ounces heavier than the Z pack I started with but it doesn't matter how light it is if it's not comfortable. I like the torso adjustment which can be changed in seconds.
Price Paid: $179

I am a gear junkie and this is absolutely the best pack I have ever owned. Lightweight, comfortable, relatively cool.
I have not had any problems with the straps. The pack has very little outside storage pockets, but that is the only drawback. The adjustable torso system did not give me any problems; I was able to dial it in to my exact torso length.
My Osprey was $100 more in price, but now resides in the closet...
Design: Top-Loading internal
Size: Large
Number of Pockets: 5
Max. Load Carried: 40
Height of Owner: 5' 11"
Price Paid: $179

I bought this pack for a 6 day trip in Alaska because I could make it fit the 62 linear inch requirement of the airlines.
I had it loaded at about 45 pounds and it did great. First time I've had a pack that didn't leave me with sore spots on hips and shoulders the morning after.
Adequate room. Carried the full load well, and also is light enough that I used it as a day pack every other day.
Love it.
Max. Load Carried: 45lb
Height of Owner: 5'8"
Price Paid: $159

Where do I start. First let's talk about what makes Deuter packs different, the ventilation. The pack is BY FAR the coolest pack I've ever carried. Historically I've used North Face, VauDe, and Jansport packs. Each one left me a sweaty mess after just a couple miles. The Deuter left a couple spots that were wet but overall I was dry.
Otherwise, the pack is plenty stable with the X style aluminum stays. I really dig the double duty bottom. There seems to be just the right number of pockets. The pack's weight-to-capacity ratio is good. The bottom line is I can put 35 lbs in this thing and carry it for 18 miles and not have all the usual sore spots.
Nitpicks that cost the pack half a star. Some of the zippers for smaller pockets are overkill. Next is a nitpick I have with many packs. The bottom compartment divider. I love the bottom compartment with separate access, but the divider is always optional with a really heavy duty zipper. Make the darned pack one way or the other. Make the compartment or leave it out. Who the heck chooses a separate compartment and then an open rucksack the next time out. Wow, that was a rant.
RD
Size: 4000-4600
Number of Pockets: 7
Max. Load Carried: 35lbs
Height of Owner: 6'-1"
Price Paid: $80 I know the rep...

Your Review
Where to Buy
Help support this site by making your next gear purchase through one of the links above. Click a link, buy what you need, and the seller will contribute a portion of the purchase price to support Trailspace's independent gear reviews.
You May Like
Specs
Price
MSRP: $199.00
Historic Range: $98.93-$220.00
Reviewers Paid: $80.00-$200.00

Weight
3 lb 14 oz / 1760 g

Capacity
3970 cu in / 65 L

Size
31 in x 14 in x 13 in / 80 cm x 36 cm x 33 cm

Material
Deuter-Ripstop 210 / Deuter-Duratex-Lite

Recently on Trailspace