Osprey Atmos 50

The Atmos 50 has been discontinued. It was replaced by the Osprey Atmos AG 50.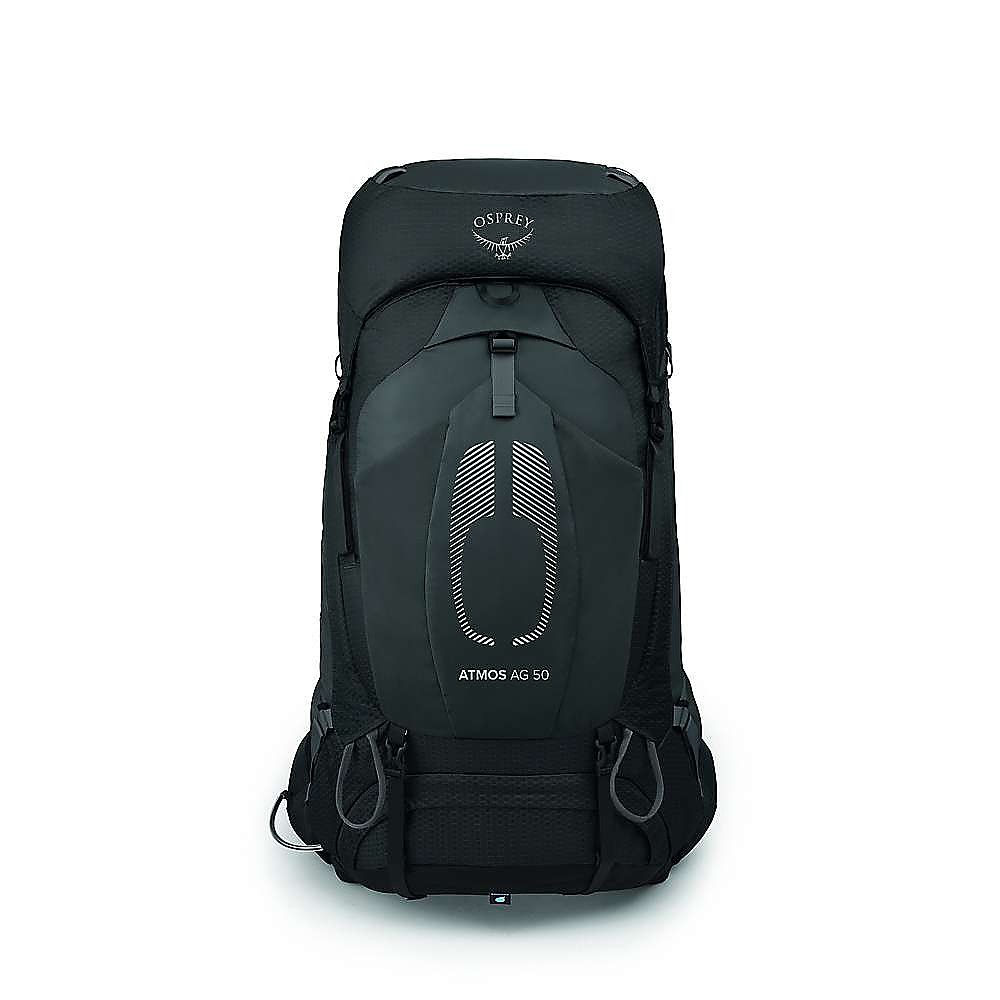 The Osprey Atmos 50 is a well-designed, lighter weight backpack that is sized for overnight to multiday trips. The pack's torso length and hip-belt can be easily adjusted for a custom fit and greater comfort within its intended range. It is comfortable to carry for many miles and was a good choice for reducing the weight I schlep.
Pros
Stretchy front pocket
Easily adjustable torso length and hip belt padding
Large vertical pockets for small items
Hip belt pockets
Hydration bladder compatible
Easily accessible trekking pole storage
Mesh "trampoline" back panel improves air flow across the back
Cons
Ridiculously long hip belt straps
Thin padding in the hip belt
Side pockets too tight
Main compartment only accessible from top
Background:
I am in the long term process of reducing what I carry, to go farther distances and still retain what I consider to be comfort out in the backcountry. I bought this backpack as a lighter and smaller alternative to my Gregory Baltoro 70. The pack weighs just over 3 pounds; 2 pounds less than the Baltoro. Not ready for a frame-less pack, this pack was a good replacement for my heavier pack.
Load carrying ability:
The pack has a load rating of up to 40 pounds. I have carried as much as 35 pounds and found it comfortable and well balanced over many days, even wearing the pack for over 13 hours. 
The only real issue noted is soreness in my hips from the hip belt. I think it comes from the thinness of the padding and could also be from a notch in the foam, near the rear of the belt on each side. I not sure of the purpose for the notch; maybe ventilation or weight reduction.
The mesh trampoline works really well to keep my back cool and away from the main compartment. A wire frame around the perimeter of the trampoline also does a great job distributing the pack's weight onto my hips rather than my shoulders.
Hip belt notch: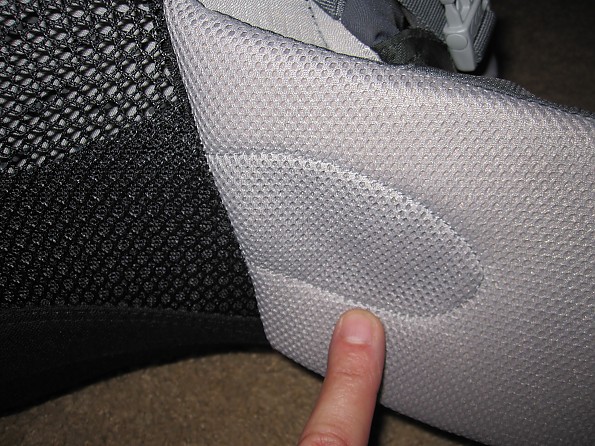 Shoulder fit after adjustment: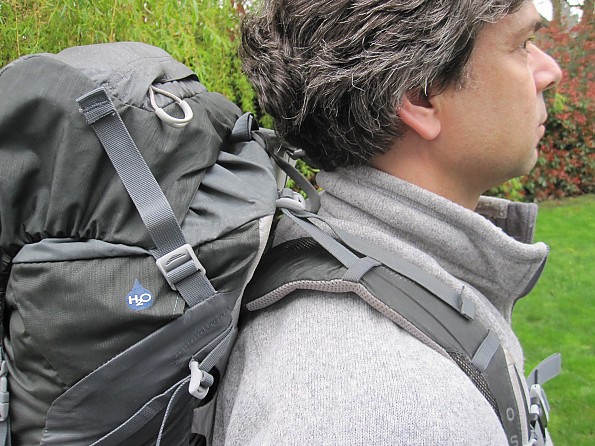 Mesh Trampoline: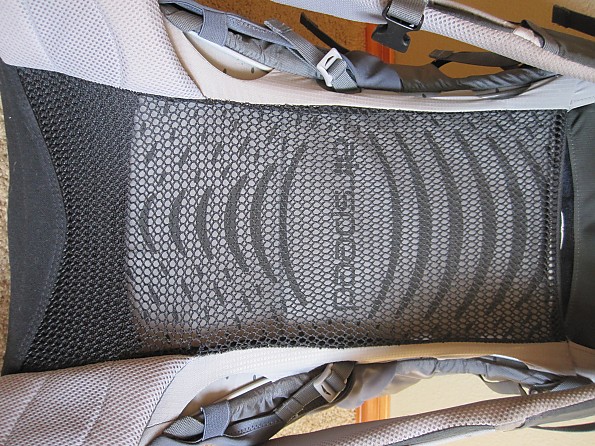 Storage:
For me, moving to a 50 liter pack took some adjustment and some better gear choices. I now have no problem using the pack for as many as four days out. The main compartment is used for the bulk of my gear and has waterproof hydration sleeve.
I only recently started using a 3-liter bladder with the pack. I found that by removing the bite valve and attaching it to the output of my gravity filter, I can fill the bladder without removing it from my pack. It works really well and I don't need to remove anything to fill up with water.
The main compartment is only accessible from the top which means I have to carefully pack to ensure I have things easily accessible if needed on the trail while also keep the load balanced. It would be nice if there were front or side access points.
The pack is also equipped with a top lid pocket, two large vertical pockets in the front, a large stretchy front pocket, stretchy side pockets and hip belt pockets. I use the lid pocket for snacks, maps and water filter. The two vertical front pockets is where I keep most of my smaller items like a first aid kit, headlamp, knife, pocket shovel, toilet paper, etcetera. The stretchy front pocket is where I stuff a fleece or rain jacket for quick access.
The two side stretchy pockets are for one liter bottles if I take them. However, I find them to be too tight to easily get bottles in and out of. Actually, it's irritating. I cannot get a bottle out by myself without removing the pack.  The hip belt pockets are great for chapstick, compass, and a small camera.
Top lid pocket: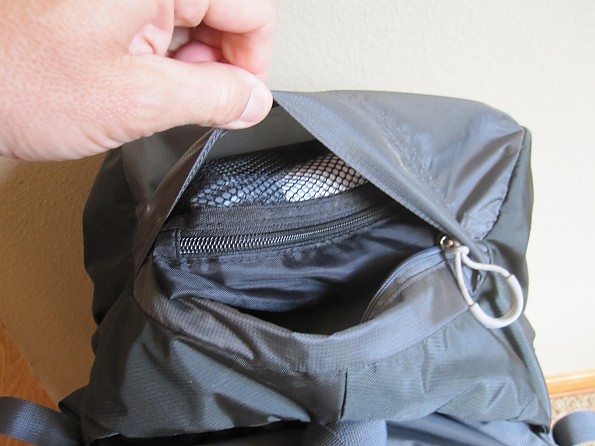 Main compartment: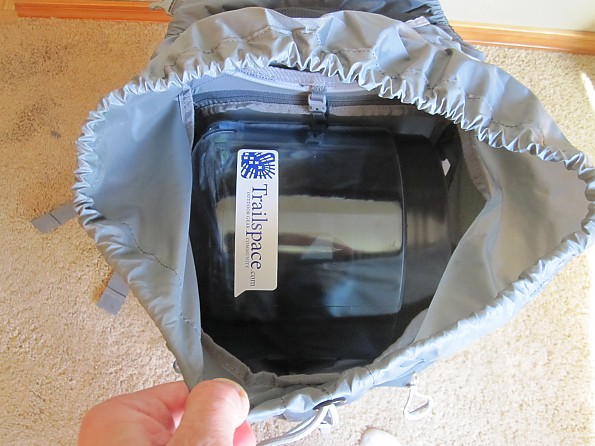 Of the other features the pack offers, one to note that is different from other packs I have used is the "Stow on the go" for trekking poles. There is a loop for the pole tips on the bottom left side the pack and a shock cord attachment on the left shoulder strap for the handles. It makes for an easy way to stow your poles when they are not in use, like when scrambling up or down a steep incline where you need to use your hands.  I have only used the feature once to climb in and out of a ravine where a rope was placed as an assist.  It was handy not having to remove my pack and attach the poles to the back.
Stow on the go: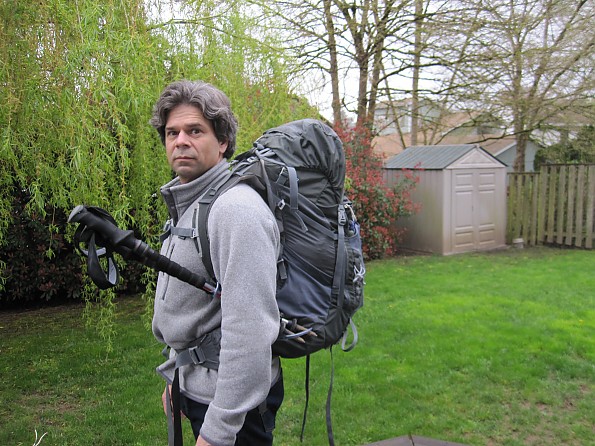 Adjustable fit:
I have a 19-inch torso and bought a size medium which is rated from 18 to 21 inches. The shoulder strap harness is held to the frame with a wide hook and loop fastener. It takes a little effort to separate and keep apart the pieces when adjusting the harness but, adjustment is pretty quick and simple. I found that even though I am not at the range bottom for the pack, I have the harness almost as low as it goes. This makes me think that if a person has an 18 inch torso, they should look at the smaller size.
The hip belt padding is also adjustable to accommodate a 28 to 38 inch waist for the medium size with hook and loop to hold the padding in place. The wide range of waist size in the belt leaves me with a ridiculous amount of excess strap for my 32 inch waist. 
Access to harness adjustment: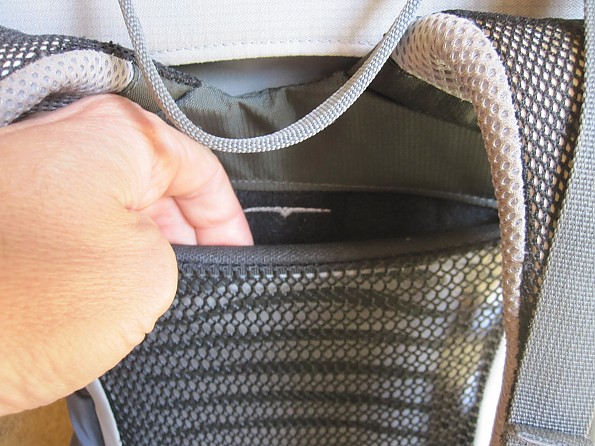 Excess belt: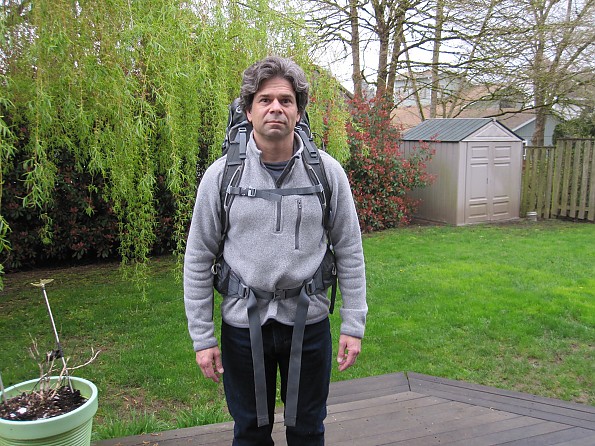 Overall, the pack has worked pretty well for me. I have used it for two years now with only the complaints, mentioned above. I have about two hundred miles on it and so far has held up very well with only minor abrasions.
So far, none of the zippers have failed, no buckles broken, or fabric torn. It has seen some bushwhacking, bounced and slid (with me) while climbing down a ravine and saved my back when falling during a lava field crossing. 
Source: bought it new
Price Paid: $150

This is the favorite of my ~12 backpacks. This is the pack I use for ultralight overnights or for cold-weather day hikes when I must carry water for my wife, the snow shovel and a heavy camera.
Pros
Excellent load-carrying for the weight of the pack
I love the mesh back and pockets
In addition to cold-weather dayhikes, I use my Atmos 50 for ultralight backpacking—multi-day for just me or overnight for myself and spouse. I also use this pack for international trekking trips where I need to carry as much on the plane as I can squeeze into 22". 
The best thing about this pack is how comfortably it can carry up to 35 lbs.  Above that, I'd rather have my Osprey Aether 65.
Source: bought it new
Price Paid: list price—I don't remember

I've had this pack for about 2 years now, logged over a hundred miles collectively with it, and have not had a lot of problems with it. I took this pack to Philmont Scout Ranch, New Mexico, the AT, and numerous weekenders, and would not have had any other pack.
I'll start with what I like first. Bought the pack and experienced a fleeting phase of buyer's remorse when I realized it was a challenge to pack. However, what it taught me was to stow my gear neatly and effectively in order to maximize the available space. Once you learn to pack it, it's very roomy. You cannot just dump your stuff in this pack.
Fortunately, I learned to pack it, and ever since have fallen in love with the way it packs. Even with 45 pounds of gear in it (on a 12 day trip), it still rode my back very comfortably with that much weight. Ordinarily I was carrying 25-30 pounds in it. I literally forgot I had it on at times. The airspeed (or whatever it is) suspension system is amazing, keeps you dryer than your buddies, and distributes the load correctly. Anyone who tells you otherwise, just has too much stuff in their pack and could downsize.
As far as features go, the two outside pockets are the highlight of the pack. They house so much gear; I couldn't believe what I was pulling out of them at night. I really did not use the lash points on the outside of the pack, as I'm a firm believer against what we like to call "The Bandwagon Effect", or, a bunch of nalgenes, clothes, crazy creeks, etc. hanging off your pack. But they would work if you wanted them. I only used the pad straps to hold my Thermarest Prolite 3 and it was the only thing on the outside of my pack. The stretch woven pockets work well if you pack something soft on the inside like your sleeping bag next to them, so your nalgene can compress it more and use the space. They are a little hard to use. The hip belt pockets have not busted on me yet, as some others have said, but I knew to be careful with them beforehand because of these people, so thanks to everybody who mentioned it.
Now for the bad. The pack itself does not have really stiff material boundaries. This means, when packing, if you don't pack the inside first, the stuff in the outside pockets will bulge inward and consume some of the room, making it more difficult to get stuff into the bottom of the main compartment. The same concept applies to the expansion collar and the top pocket. Stuff in the expansion collar will really shrink the size of your top pocket. I try to avoid using it where I can.
Also, the zippers do get stuck, particularly on the top pocket. It really could use no material covering the zippers, or completely covering the zippers. As it is, it's just enough to drive you crazy. The other thing I think happens to every pack. If you leave the top pocket open, open the lid, and then pack the main compartment, then shut the lid hard, stuff goes everywhere. Something I learned the hard way, but I think the only way to fix that is not leave the top pocket open. :) The airspeed doesn't work as well if you have a H2O bladder in the mesh pocket. The straps can be a little uncomfortable at times, but it is easily adjusted with the lifters or by transferring more weight to the hips.
Overall, great pack. I'm not going anywhere without it.
Design: Top Loading Internal
Size: L
Number of Pockets: 5
Max. Load Carried: 45 - 50 lbs.
Height of Owner: 6' 3"
Price Paid: $160

Terrible service. Osprey is a company to avoid.
After doing the research and trying on packs I chose this one as my next pack for many reasons, one of which is the quality of product we have come to expect from Osprey.
On my very first weekender with it the material tore. Occasionally this will happen so taking advantage of the lifetime warranty I sent it in for repairs. WORST PATCH JOB I HAVE EVER SEEN. After a month long discussion with their customer service I was told this was their standard and if I wasn't satisfied I would have to find my own seamstress.
Bottom line POOR CUSTOMER SERVICE and a BAD COMPANY to do business with.
Price Paid: $189

This is a review of many packs. Ultimately I did not choose the Osprey Atmos 50. Though I give it 4 stars based on my observations.
I was taking a 17-day trip to Europe and my only luggage was one backpack. I compared the following backpacks:
'06 REI UL30,
'06 REI Catalyst 35L,
'06 REI UL45,
'05 Kelty Redwing 3100,
'06 Gregory Z Pack,
'06 Gregory G Pack,
'06 Osprey Atmos 50,
'06 Osprey Atmos 35
Testing:
First off I recommend REI for backpacks. They have a very liberal return policy which allows you test at home and then return. Also very knowledgeable
and helpful staff.
Some of these (REI UL30, REI UL45, REI Catalyst 35L, Gregory Z-Pack and Kelty Redwing 3100) I purchased and tested at home, them later returned. For these I packed exactly what I was bringing with me to Europe. Total weight of pack was 23-25 lbs., then later returned. I also did in-store testing on all of them by packing weight sacks equaivalent to 20-25 lbs and then walking around the REI store for 15 mins.
This was an April trip so I needed some mild to chilly weather clothes. For reference as to how much the packs can hold, this is what I packed in each of the bags I tested at home and eventually what I brought to europe on my trip:
1 pair jeans
1 pair lightweight long pants
6 pairs boxers
1 short-sleeved t-shirt
2 long-sleeved t-shirts
1 long-sleeve Columbia fleece
1 tolietry kit
2 paperbacks
2 small top 10 travel books (equal to 1 paperback together).
2 undershirts
6 pairs socks
1 pair gym shorts
1 long sleeved button down shirt
1 sweater
1 folded up duffel bag to use for return trip for souvenirs
1 outlet adapter
1 ipod power supply
1 cell phone power supply
1 Marmot Precip Jacket (sometimes I was wearing this)
I first wanted to see if everything would fit and then I put the pack on for about 15-20 mins. I also wanted to get a pack that was small enough to carry onto a plane. For sizing note that I'm 6'3" 190 and always tested the large size which hold a bit more than the smalls and mediums. Also note that I bought four of the REI stuff sacks and put clothes in those. They worked great for easier packing.
Backpacks Tested:
'06 REI UL30 - $85
Tested in store and at home.
Very light. Not much in the way of outer pockets. I could just barely get everything into this. That's with really squeezing and putting most books in outside pockets.
I really liked the skinny/tall feel of the pack. The support system and padding on the shoulder straps was not as full/quality as the osprey, gregory or kelty. But good enough for my travel needs and comfortable. Though maybe not if you were doing an all day hike. If it was a little bigger or if I was bringing a little less it would have been the winner.

'06 Catalyst 35L - $90
Tested in store and at home.
Light. But not as light as UL30 or UL45. And no outside pockets at all.
This fit everything. Nearly equivalent space as REI UL45. The Support system and straps a touch better than the UL30, UL45. Also has the skinny/tall feel like the REI UL packs, which I felt was more comfortable and makes squeezing into airplane and train luggage compartment much easier. In the end, the lack of outside pockets and it being a touch heavier than UL45 was the reason it wasn't the winnder.
'06 Gregory Z-Pack - $190
Tested in store and at home.
This was a grade up in size and quality from the others. Very light. Lots of outer pockets with a big outside net pocket. I easily got everything into this with plenty of room to spare. I could fit 1.33 times my load.
Seemed to be very high quality. The support system and shoulder straps were a step up from the REIs. But it had a ton of straps. Straps everywhere. The staps were really a nuisance. I liked it and was very comfortable. But it was more than I wanted to pay and was also concerned it was to big to carry on a plane.
'06 Gregory G-Pack - $150
Tested in store.
I really liked the outside big net pocket. And like the Z-pack was of high quality. It didn't seem to fit as much stuff as the REI Catalyst 35L and maybe just as much or a little less than the REI UL30. Also seemed to be a little small for me. It rode real high on my back and didn't rest on my hips. The large of this seemed to fit like a medium of other packs.
'06 Osprey Atmos 50 - $200
Just looked at in store. Didn't put on and test. Looked great. REI didn't have a large on the floor. The REI staff were big on this model and a couple of them said they had bought one for themselves. But I was 1.5 weeks a way from my trip and couldn't take a chance on it not being shipped in time. The Ospreys were my favorite as far as style goes.

'06 Osprey Atmos 35 - $160
Tested in store. Had a fantastic support system. In a class by itself for the support system. It was the first one I tested in the store so I was just getting
started in getting the feel of the packs. Didn't test at home with my exact stuff. But based on the in-store testing it seemed to hold less than other bags of the same listed size. I say this based on how many of those 'weight' sacks that the REI staff loads in the pack for you. You then go walk around the store for 15 minutes.
The REI UL30 and REI Catalyst 35L each fit more stuff than this bag. This bag would not have been big enough for me.

'05 Kelty Redwing 3100 - $70 (on sale on REI.Outlet, normally $110)
Tested at home. This thing fit a ton. It's got a different configuration than the other packs. This one is short and wide. The REIs were long and skinny.
The Osprey and Geregory's were in between. It easily fit in everything. Fit as much as the Gregory Z-Pack, maybe more. Had good/enough outer pockets for my liking.
At first, I though it was great. Had a comfortable shoulder straps and good support system. After a while though it seemed a little bit heavier than it should have. Maybe it was because all weight was outward, because of the short/wide style. I was also concerned that it was going to be too wide to fit into the overhead compartment on a plane or at least too big to pass the size test to get it onto the plane. I didn't want to take that chance. Though the REI.Outlet price was a great deal.
'06 REI UL45 - $100 - WINNER
This is the one that I didn't return.
Tested in store, at home and on a 17-day, 3-country, 4-hotel, 7-train and 4-plane Europe trip.
Very light. Very durable. Very portable. Very comfortable. Not much in the way of outer pockets. The lack of outer pockets is its biggest fault. It fit everything listed above. But without much room to spare. Though I could have squeezed in a few more t-shirts and didn't fully utilize the top pocket. Like the other REI packs I tested it has more of a tall/skinny style. That fit better for me and also seemed to carry the weight easier. It rested on my hips correctly. Not much in the way of bells and whistles like the Osprey and Gregory's. Only one outside packing strap that locked the cover to the top loading opening to the main body. But that's all I needed to get it tight and squeezed in. I thought this was a pro not a con. Whereas the Gregory's had straps everywhere. The UL45 also has an internal strap to compress the stuff in the pack. It's also on the UL30. Not sure if that made much of a difference, maybe a little.
This pack and the UL30 had the ActivMotion support sytem which means the shoulder straps on each side and the back suspension are one piece that moves together. I actually didn't think this was advantage for me. It actually seemed to make the pack more likely to be crooked on my back than the other packs. But not a big deal. And REI totes it as an advantage so maybe I was doing something wrong.
As I said above the REI packs seemed to hold more stuff than other packs with the same listed capacity. This was a big advantage. More space for your money.
Keep in mind that I generally did not have the pack on my back for more than 1hr at a time. Usually just from train station to hotel. Or walking between terminals in the airport. But during those times it was very comfortable, you forget it's on your back. Also very protable in terms of storing it in airplace overhead compartments and train luggage racks. I never had a problem. It fit with plenty of room to spare.
This would be the perfect pack for me if (in order of importance)...
1 it had an outside back pocket/net like the Gregory packs. and/or a little bigger outside packs
2 it had a water bottle holder pocket or any kind of pocket on the hipbelt
3 the support system was a little closer to the Osprey Atmos packs.
I highly recommended the REI UL 45. This pack has worked out great for me. I plan to use it on other trips and on weekend camping trips.
Max. Load Carried: 25
Height of Owner: 6' 3'
Price Paid: $200

I've used this pack for 2-4 night trips in the Smokies. 5 nights is pushing it, as this thing isn't huge, but it provides all of the space I need. If you're looking for a sturdy, lightweight pack that offers more support than an ultralight pack over a few days, it's hard to go wrong with this pack.
Pros
Comfortable straps
Excellent back ventilation
Cons
Not huge
No sleeping bag compartment
I love this pack. It fits me well. I'm 5'8" and 140 pounds. The hip belts sit in the appropriate place and all of the straps fit me correctly, which can be difficult to manage with some men's packs since I am short.
The pack rides comfortably on my back and doesn't really bounce around at all, even if the load is light. This pack carries loads exceptionally well. The capacity is decent for weekend trips, but the lack of a sleeping bag compartment is a slight inconvenience. It's not a huge deal, but it is something that I've lamented late at night when I'm setting up camp.
Outside of that, accessibility is pretty good. There are a few small pockets for loose items. I can't complain. Osprey is a great brand. It works well. If it ever doesn't Osprey carries a lifetime warranty. I've had this pack for a year, and I intend to use it for at least 10. 
Bottom line, Osprey is top of the line. 
Source: bought it new
Price Paid: $220

Awsome pack for multi-day lightweight trips, or for mountaineering day-long excursions.
Pros
Lightweight, yet tough
I like the multiple pockets
Cons
I'd like a bottom access zipper
The pack is extremely comfortable. I've had it for five years now, and I've used it many, many times. I use it for weekend hikes, week-long hikes, and mountaineering excursions.
The many pockets allow for easy organization. The straps are very comfortable to support weights up to 50 lbs.
This pack has seen A LOT of action, but it has yet to show any wear or damage. 
It's big enough that I can go on a solo trip for a week and fit everything I need in it. I go very light-weight, and this pack is perfect.
I'm a big fan of this pack. Osprey is an excellent pack maker.
Source: bought it new
Price Paid: ~$200?

I bought a medium Atmos 50 at REI last week and went on a hike to Phelps Basin in Washington State. Total trip length was 13 miles with pack on. Weather was overcast, but it only rained while I was in tent for the night.
Pros:
Lightweight - Superlight pack has lots of weight saving design elements.
Packing - Pockets were very easy to use for bottles and small items.
Comfort - I did not sweat or have wet clothing when compared to similar hike with Gregory pack.
Cons:
Sizing - At REI I was helped by an employee that was apparently not knowledgeable about Osprey packs. They run smaller than other packs apparently and he used another brand to
determine the correct size for me. I should have bought a large, which I learned later.
Outcome: I returned the pack to REI and am buying a large Atmos 65 for $180.00 online. So, a larger bag, and the correct size, for less.
I would recommend this pack for 1-4 day hikes. I did not have a stove/pot set, a lot of food, or a sleeping pad and I was fine for an overnight hike. My bag was mostly full, but I had a large camera and a large pillow taking up much of the space. The reason I am upping to a 65L is that I plan on doing some week longs hikes.
P.S. REI is very understanding about returning items, and even though the pack was used they took it back.
Design: top loading
Size: M 50L
Number of Pockets: 3 zipperred external
Max. Load Carried: 30lbs
Height of Owner: 6'0"
Price Paid: $199

Osprey Atmos 50
I have had this pack for about 6 years now and have used it exclusively for travel to many different countries.
PROS:
*Durable - has been thrown around, sat on, overstuffed and the pack has proven very durable
*Very light - just 1.5 kg
*Airy back space keeps you cooler while carrying the pack
*I really like the slim, pared-down hip-belt padding and shoulder strap padding, which is comfortable despite the thin, perforated material
*A good size for my traveling needs
CONS:
*Top-loading access - I have found this really annoying the more I use this pack. Having to take everything out to get to the stuff at the bottom is extremely inconvenient. A durable, non-corroding side zip would be a vast improvement.
*The top lid doesn't sit quite right so the material at the top of the pack covering the top of the internal frame is becoming scuffed and damaged.
*You have to buy a separate rain cover (expensive if you buy the Osprey brand one). And, the Osprey rain cover tends to slide off when the pack is fully loaded and being tossed around by baggage handlers because it only has attachment points at the top, and not at the bottom of the pack. An integrated rain cover would be much nicer - it wouldn't come off and no extra purchase necessary.
*I live near the sea and the salty air has corroded the zippers on the pack, on the hipbelt and inside the pack, rendering them completely immobile. I have tried many times to fix this to no avail. Salt-proof/rust proof zips would be a huge improvement.
Design: top-loading
Size: 50 litres
Height of Owner: 5'5''
Price Paid: don't remember

For lightweight and short trip backpacking, I am a big fan of this backpack. The mesh venting technology works well, keeping the sack off my back. Like someone said before, it carries a bit like an external frame, without the weight. A complement to Osprey's internal frame system. Pockets in the hip belt are nice for convenience items. Slots for Camelback bladder and bite valve are a big plus.
I feel like Osprey really did think of everything as far as storage options and accessories go. The emergency whistle built into the chest strap is way cool.
As for the negatives: This is the only pack I have owned and used for an extended period of time, so I will obviously be biased. I gave 4.5 stars to account for this.
Like previously mentioned, the venting system takes from the storage component in the bottom of the pack, so you have to be picky about what goes on the bottom. The clothes loops are attached by a flimsy velcro and loop system. I lost a t-shirt to these loops. Luckily it was an out and back hike so a friendly hiker left the shirt and loop on a signpost and I was able to retrieve it. I wish the hip belt wasn't so flimsy either, but at least it has a little padding.
I have carried loads up to 32 lbs (in the winter) with this pack and it has performed well and left me without any pain in my back or hips. Would like to get the Osprey rain fly and see how it preforms too.
I feel that as far as comfort goes Gregory bags get a slight nod, but as far as lightweight packs with load carrying capability go, this one is great. And yes, the $40 price tag is correct. It was brand new and I found a smokin', I mean smokin' hot sale.
Size: med
Max. Load Carried: 32
Height of Owner: 5'11"
Price Paid: $40

I've used this pack for overnights, and am planning on some weeklong trips with this pack. It holds all my gear no problem. My only complaint is with the shoulder straps, they dig into my collar bones so bad I had to pick up some wash clothes and stuff them between my bones and the straps to ease some of the pressure. Otherwise a great pack. It's light, roomy and easy to organize my gear in.
Size: Large
Max. Load Carried: 35+ lbs
Height of Owner: 6'3"
Price Paid: $130

I just used this backpack for the first time on a 5 day backpacking trip and I agree with most of the previous reviews about the back pack. However I will add a couple things. I didn't think the mesh covered cavity that sits against your back was really effective in keeping me cool, especially for the difficulty it creates in packing gear.
Also, I stuffed this pack about as full as possible (I packed too much food and a large tent) and the curvature of the main compartment can create large voids in the pack as well as weird stress points on the outside pockets' zippers. If you are someone who packs things in bags (i.e. all food in a bag, all clothes in a bag, tent in a bag) as opposed to everything packed individually and intermingled (i.e. clothes, food items and other items mixed together to create the best fit in the pack) then this may not be the best pack for you because there will be a bunch of empty voids in the pack.
Also, though I didn't weigh the pack, I am guessing that I started out with about 35-40 pounds and the hip belt wasn't rigid enough to transfer all the weight to my hips and I was probably carrying about 60% of the weight on my hips and the other 40% on my shoulders.
Other than those complaints, the pack is a nice size and it does hold quite a bit of stuff without looking or feeling huge and there are a lot of nice ways to carry things on the outside of the pack. I don't think I'd be happy with it for $200 bucks but it's a fairly nice pack for what I paid.
Design: top loading internal
Size: 50 liters
Number of Pockets: 3
Max. Load Carried: approximately 40
Height of Owner: 5'5"
Price Paid: $60

Great backpack! I just came back from a 5-day backpacking trip, and the Atmos 50 never failed to impress me. Even with the women's small model (about 2800 cu. inches), I still managed to not only jam everything I needed, but everything I wanted.
The fit is amazing! At my height of less than 5 feet, it took me a few days to try out numerous women's and kids' backpacks. The Atmos 50's comfort, thanks to its well-designed contoured hipbelt and internal framing, was a blessing when walking over mixed, uneven terrain. One of my favorite features of this pack is its mesh back! It kept a nice buffer of cool air against my back while trekking on warm days.
Design: top-loading internal
Size: women's small 2800 cubic inches
Number of Pockets: 6+
Max. Load Carried: 45
Height of Owner: 4'11"
Price Paid: $75

I share the other reviewers fondness for this pack. Osprey does a terrific job of building quality gear and this is no exception. The suspension system is the most innovative I've ever used -- it's the closest to an external frame that you'll ever see.
Update: April 23, 2008
Not a bad bag, but lots of issues for me: I didn't like the stretchy fabric panels they call pockets, shoulder straps are uncomfortable. Zipper on lid routinely jams (fabric needs to overlap the zipper more). Pack is hard to load and needs additional access. Frame has now been copied by other manufacturers (Lowe most recently) so overall I was unimpressed.
Design: Top load internal
Size: 3000
Number of Pockets: 2
Max. Load Carried: 30
Height of Owner: 5'8"
Price Paid: $150

This pack felt sooooo good in the store, where I walked around with it fully loaded for 10 minutes. It's incredibly light, cool on the back, and holds a lot of stuff.
However, in contrast to some of the other reviewers, I'm not fond of its frame system. It gives the Atmos a tremendous arch that makes me want to lean far forward to keep it properly seated against my back. Perhaps it's just not quite the right shape for my body (it's my first full-size backpack). Perhaps I'm not loading it properly. Perhaps there's a trick to getting it closer to my back. If there is, it certainly would be nice to have some instructions to that effect with the pack or on their web page.
I'll be keeping it for the time being, but in the future will pay closer attention to the natural arch of the pack versus the natural arch of my back.
Height of Owner: 6'1"

It's hard for me to not rate this backpack five stars, but being that it is the only backpack I've ever used, I'm not sure a five star rating would be appropriate.
I bought mine two years ago and have used it for two 5-day backpacking trips in addition to quite a few day hikes to crags with loads of climbing gear.
I love the vented back and the fact that this pack is comfortable on my back without a shirt. Its design allows me to clip all kinds of things to the outside while keeping the essentials inside. It works perfectly with a Camelbak hydration bag as well as having a few "easy access" locations to store food while hiking.
I have a couple complaints that will keep it from getting the fifth star:
First, the waist straps are ALMOST too large for me. I'm 6 foot exactly and have a 29 inch waist. I needed the large size for my back and shoulders, however the belt barely fits me. I generally keep it as tight or almost as tight as it can be made. If I ever lost some muscle or weight, this pack would not fit me properly.
Second, this pack is really for someone who is going light to ultralight. On my most recent trip which was actually 6 days, we ended up splitting our supplies and restocking after 3 days. While nice to have that option, I would have had a lot of trouble finding the room for 6 days worth of supplies. I'd say this pack will at most get you through 5 full days even if you have a very compact sleeping bag, sleeping pad, tent, and only do a Jetboil with freeze dried food. Something to consider if you're the kind of person that likes a couple jars of peanut butter, some cheese, and other luxury items.
All that said, my girlfriend liked the pack so much that she also bought herself one. It fits her almost perfect! Definitely give this pack consideration.
Size: large
Max. Load Carried: 40 pounds
Height of Owner: 6 feet
Price Paid: $150

This is def. the most comfortable backpack I have ever worn. It sticks to your body. There is relatively no swaying and it feels great. Just like the company reviews say it distributes weight efficiently. Amazing!
Size: 50
Number of Pockets: 7
Height of Owner: 5'10''
Price Paid: $199

I can't say enough about this bag. I was recently in Australia for five months, I did everything from hiking the Outback to lugging gear around Sydney. This pack was comfortable in all situations. I overloaded it as well, and even then the back was more than reasonably comfortable on long treks. The bag has so many features and pockets that weight distribution isn't even an issue. If you need a short hike pack this is the one, cheers.
Price Paid: $200

This is a great lightweight backpack with an excellent suspension system. The mesh paneling (think Aeron chairs) and stabilization system combine to give you cushioned, form fitting pack that distributes weight properly onto your body. Fully packed , 28lb, it feels wonderfully lightweight, cool, and comfortable on your back.
One problem with the suspension system is that it is curved, and partially arcs into the main compartment of the bag. This makes the pack difficult to load. Packing the bag from the outside in can help in certain cases. Currently, packing the bag is no longer an issue; it took a couple multi-day backpacking trips to find the best way to pack my stuff.
The interior pocket for the water bladder is also pretty much useless because of the curvature of the the suspension system. It is much better to hang your water bladder in the meshed pocket directly behind your back. This is advantageous because the water provides additional cooling on your back during warm-weather hikes.
This pack easily holds around 28lbs of your stuff without any sweat. If you load more than 28lbs, the pack does not perform well and the shoulder straps will cut into your shoulders.
The two front outerpockets can both easily hold a Jetboil PCS, or Nalgene bottle. The two side pockets do not hold much and can be extremely difficult to use when the pack is fully loaded. The mesh pockets on the hip belt are great for holding a pocket sized (Canon Elph) camera.
Despite these minor shortcomings, this pack is a keeper. I would not even consider another pack unless it had a mesh back panel system similar to Osprey's.
Design: Mesh back panel, top-loading ultralight
Size: 3000
Number of Pockets: 8
Max. Load Carried: 28lbs
Height of Owner: 5'8"

This is a 5 for me. It's a great light backpack. I wouldn't say that this is an "ultralight" pack, but it's light enough at approximately 3lbs (medium).
I've packed this for various 30+ miles-3 day hikes and it's proved to be great thus far. It hugs on the body very nicely-the pack was so comfortable that I could hardly feel the weight. The only downside on this pack is the way it curves. Also, it's a toploading pack (so are most ultralight-light packs). It's tricky to pack, however I like it. I'd rather have it that way than to lose its breathability on your back. That is also another plus. The back system is so nice because it breathes so well.
Something else to add. It is 3000cu in.,however there is so much room in the backpanel and side and top that it doesn't feel like there's a lack of space.
I definitely recommend it for people who are into light backpacking.
Design: top-loading Internal
Size: 3000cu in, 50lit
Number of Pockets: front,top,2sides.
Max. Load Carried: under 30 pounds.
Height of Owner: 5'4"
Price Paid: $150

Great pack. I snagged one at the REI scratch and dent sale. Brand new. All I have to say is that it's awesome. The suspension system is awesome. It's very comfortable to wear. The hipbelt and shoulder straps are very comfy. I would definitely recommend this bad boy.
Design: Top Loading
Size: M
Number of Pockets: 3
Max. Load Carried: 40 Lbs
Price Paid: $65

I must have tried on a zillion packs and I knew this one was for me the minute I put it on. All of the Osprey packs felt great when I tried them on, but the airflow back and the light nature of this pack sold me. I am not an ultralight freak (at least not yet :) ) but I don't mind traveling light. I had the Atmos 50 up to the Osprey recommended weight limit many times and felt like I was carrying a lot less! It takes a little practice getting used to loading due to the airflow frame, but once past that it is a treat to use!
Price Paid: $179

I love this pack. It doesn't haul a lot of weight but when packed lite it hugs your back and you probably won't notice it is there. I've had to travel through thick huckleberry patches off-trail with it on, which I could never had done in my old pack. The weight stays distributed wonderfully.
The airspeed design against the back is great; it feels like you are lying in a hamock. The aluminum frame that creates the airspeed pocket, though, does encroach on your packing room so you best have your system worked out. I just hiked 25 miles with a bear canister and it faired rather well; I could have used a little more space with the canister, though. I realy love the pockets on the hip belt, too. Perfect for a compass and maps, sunglasses, or a snack. So, to conclude, I love this pack!!!
Design: Top loading
Size: L 3200 inches cubed
Number of Pockets: 3
Max. Load Carried: 30
Height of Owner: 5ft 10in
Price Paid: $200

Love this pack. Used this pack for over 100+ miles in NH's White Mountains this summer and it held up to every task. Used this as my overnight pack, bought an Osprey Talon for day hikes.
Price Paid: $199 USD

I love this pack and was led by a sales person toward the women's medium.
However once I was about to head out with it I realized it was too tight around my neck.
Maybe it was a particular pack - but it looked like the neck opening between straps on the women's versions were very small. Unless you are a VERY petite woman I would try the men's version and take a close look at the neck clearance. I am a small but athletic build and the women's were too petite.
Price Paid: $139

Your Review
Where to Buy
Help support this site by making your next gear purchase through one of the links above. Click a link, buy what you need, and the seller will contribute a portion of the purchase price to support Trailspace's independent gear reviews.
You May Like
Specs
small
medium
large
Price
MSRP: $199.00
Current Retail: $315.00
Historic Range: $69.80-$315.00
Reviewers Paid: $40.00-$220.00

Weight
3 lb 3 oz / 1.45 kg
3 lb 7 oz / 1.54 kg
3 lb 10 oz / 1.64 kg
Capacity
2800 cu in / 47 L
3000 cu in / 50 L
3200 cu in / 53 L
Recently on Trailspace