REI Cruise UL 60

The Cruise UL 60 has been discontinued. If you're looking for something new, check out the best weekend packs for 2023.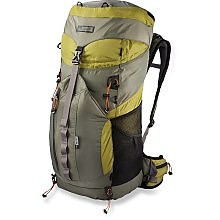 My experience with this pack is mostly positive, but I have complaints about the hardware. The pack is comfortable and the fabric is well sewn and zippers are durable, but the plastic used for the snap clips on the vertical straps at the lid and inside the cover are brittle and the smaller/inner one broke early on in one of my first weekend trips with the pack. It limited my ability to compress the load the same way I had on the way in, but wasn't a disaster.
This is a problem I've had with the REI duffel bag's slide buckles, which snapped immediately when only partially filled with clothing, so my conclusion is that REI is using poor plastic hardware in general.
So, when buying any REI bag, I recommend taking a look at the hard bits and looking for replacements before heavy use. I should say, REI has great customer service and will typically replace broken parts for free. I would still recommend the pack.

Design: Top-Loading Internal
Size: 60L
Number of Pockets: 4-6
Max. Load Carried: ~35 lbs
Height of Owner: 5' 9"

Great inexpensive lightweight pack. I got one of last year's models on sale for 80 bucks. Have used it in the deserts in Arizona where I live, and up in Zion last week. Holds a ton of stuff.
Only negative is the chest strap sits waaaaay too high on me, like at my neck. Other than that it is well worth the money.
Size: 60
Number of Pockets: 3
Max. Load Carried: 35lbs
Height of Owner: 5'10
Price Paid: $80

The REI Cruise UL 60 is a very well designed lightweight backpack (but not really ULTRA Light). That's because it has an internal frame of two oval aluminum rods which enable it to carry up to 40 pounds. With the side pockets and their straps (explained below) my pack weighs 3 lb. 7 oz.
This pack is the second version of the UL60 and its fabric upgrade from light ripstop Silnylon to Dyneema reinforced ripstop was needed. REI thankfully did it with no added weight. Both versions have the easily adjustable Velcro-on shoulder harness, great for fine tuning the comfort.
My max weight carried for a 6-day Grand Canyon trip was 35 lbs. with 3 1/2 qts. of water. BUT, even with a men's size Large, I had to add REI's "aftermarket" side pockets to get enough space and easy access to toilet, 1st aid and water treatment gear.
I do wish REI would have made the lid so it could be taken off and used as a fanny pack for side trips. And they also need to make the two hip belt pockets large enough to hold more than just coin batteries.
Eric
P.S. (5/13/12)
I still have this pack but had to get my shoemaker to sew the belt back on where the lumbar pad is. He did a great and nearly invisible job.
Also I noticed the vertical tubular aluminum stays were wearing a groove where the top of the waist belt rubs against them. My fix was to wrap a strip of Gorilla duct tape around each one. So far so good.
Yeah, I could have taken it back to REI for a refund due to those problems but I really like this pack.
Design: Top loading internal
Size: 3,300 cu. in.
Number of Pockets: 6 counting the "shovel" pocket and net pockets
Max. Load Carried: 35 lbs.
Height of Owner: 5' 10"
Source: bought it new
Price Paid: $129

This is an excellent pack with outstanding support. It's truly an ultralight pack, and made 35lbs feel as good as I could imagine. Some straps on the exterior bottom would be a nice touch for a sleeping pad or tent, but aside from that I really can't complain.
At first, I was concerned that the straps had so little padding, but after 30 miles, my back felt better with the pack on than without.
For the price, weight and well thought out design, you can't go wrong.
Design: Top Loading
Size: 60 liters, 3900 ci
Max. Load Carried: 35 lbs.
Height of Owner: 5' 10"
Price Paid: $120ish

This pack ripped on my first outing in Sequoia. The material is WAY too flimsy and you're only doing yourself a disservice by buying it. I replaced it with an Osprey pack at the REI in Vegas and went on my way.
Price Paid: $130

I've had this pack a year, and I've used it for many things. I've dayhiked in the Sierras, Santa Lucia Mtns. and used it as a travel pack, for a flight and cruise. It's the perfect size for an overhead compartment when you take out the stays and remove the hipbelt.
I recently overloaded it on a hot and sweaty climb on the High Peaks Trail in Pinnacles National Monument (it was supposed to be cloudy, cold, and windy). On the less technical sections of the trail it handled the 20 pound load perfectly. I then strapped my partner's 15-pound pack onto the Cruise UL with carabiners and started in on the semi exposed, but with a hand rail climb 600-1000 feet up into the cyclopian lava formed rock formations.
Other than a little sway from the extra pack swinging back and forth, the cruise made the cumbersome load pretty comfortable. I did probably 4 of the 6 miles that way with what ended up being a weekend load, over guide book definition "strenuous" terrain, and all I can really complain about is that the soles of my feet were killing me the next day, but that ain't the packs fault.
Height of Owner: 6'
Price Paid: $100

My first internal. Very comfortable, saves a lot of weight. I realize there are lighter packs, but not lighter, better packs for the money. A great value. Only negative...hip belt pockets could be bigger.
Design: top loading internal
Size: 3800
Max. Load Carried: 30#
Height of Owner: 5'10"
Price Paid: $104

Your Review
You May Like
Specs
Price
Historic Range: $99.83
Reviewers Paid: $80.00-$130.00

Recently on Trailspace