BearVault BV500 Journey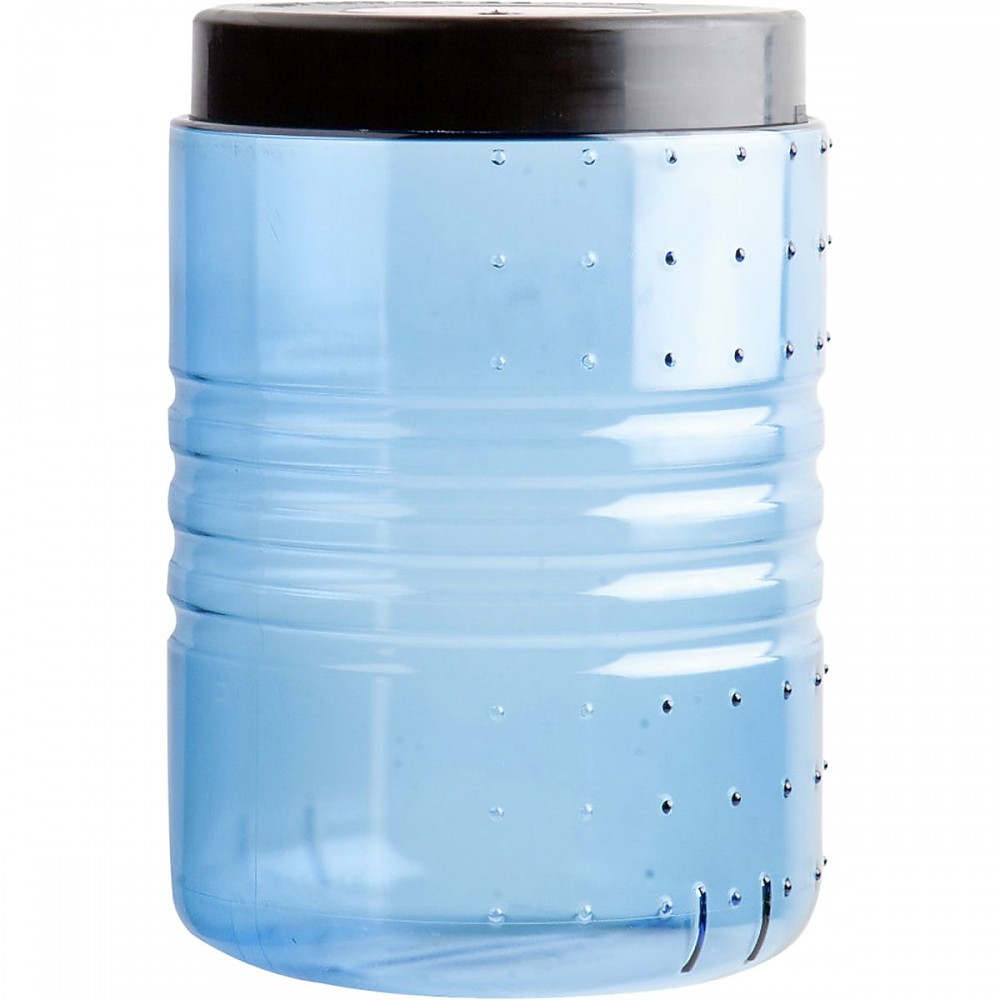 All bear canisters are heavy and bulky, but this one makes up for some that by being transparent, secure, versatile, and fairly priced. If you're in a place that requires a canister then this is an excellent choice.
Pros
Transparent
Tough
Designed to be carried inside or outside pack
Secure
Doubles as a seat
Cons
Heavy
Bulky
Lid can be a challenge to open
I've had my Bearvault BV500 for many years now and have used it several times in the high Sierra of California. It's my guess that no one wants to carry a bear canister due to their bulkiness and weight, but the BV500 has some features that make is a good choice when you have no choice other than to carry a canister.
Despite the years of use the device is still in excellent condition and works like new. It weighs 2 pounds 9 ounces. There is a smaller version for shorter trips that weighs 2 pounds 1 ounce.
First off, being transparent is a real plus. Instead of digging around in a dark hole searching for a bag of gorp or a tube of toothpaste you can see where things from the outside and then just reach in and grab it. For me this is a major plus over other brands of canisters.  
Additionally, the outside of the canister is grooved and has some raised bumps that allow it to be securely strapped to the outside of a pack if preferred. A smooth surface, like most other canisters, pretty much guarantees that the canister will fall off the pack at the most inconvenient moment.  
With careful planning I can fairly easily carry a week (six nights) of food and toiletries in my canister. There are a few tricks. 1)  Make use of all space. Plan and pack carefully.  2)  Crackers or any breakable items will likely be crushed in a packed canister.  3) Use tortillas instead. 4)  Keep in mind that your trash will have to be stored in the canister at nights. 5) Chocolate will melt when a canister is left in the sun.
What are the downsides? It can be difficult to open. In order to open it you have to press in on the rim of the lid to cause a small tabs on the lid to pass over similar tabs on the canister body. Small hands may have a problem with this, but it's easy to use a spoon handle, stick, or whatever to depress the lid in order to open it.
One caution is to not get dirt or grit into the threads on the lid or canister. Grit can cause it to be very difficult to remove the lid. Rinse clean and then dry if you get the lid dirty.
When the lid is screwed all the way on the canister makes a nice seat.  A canister will fit vertically or horizontally inside a larger backpack. Mine fits in my 70L and 85L packs with no problems. I carried it outside of a pack once and that worked fine, but I find it easier to use my larger pack and carry the canister inside.
The canister has been repeatedly tested to stand up to black bears and grizzly bears. In the Sierras, for the most part, bears just walk away from canisters since they know that they can't open them. 
Source: bought via a "pro deal"
Price Paid: $50

If a bear can is required or deemed necessary, this is a good choice.
Pros
Good shape to put on pack
See-through
Easy to find food
Straight sides stow food better than curved
Makes a good seat
Cons
Lid can get slippery
Hard to get a grip on canister
Can be Fiddly to open
While this can is harder to open than some of its counterparts, the benefits outweigh the one con. And with some practice, opening it becomes less of a hassle. I've tried a couple different techniques that take some of the frustration out of the process.
Because this can is straight sided, food packs very neatly and compactly inside. I managed to stow nine days' worth of food in my canister as well as my hiking partner's. The neck and lid accommodate that last little "cram" space.
Another asset is the clear plastic construction. I didn't have to unpack the can every time I wanted to find something.
The feature that is the nicest benefit is the flat topped lid. I used carpet tape and a cut down kneeling pad, and I always have a camp chair.
I have had this can for three summers, and have carried it for several different trips over dozens of miles. I have carried this on quick little overnighters to multiday PCT trips to my daughter using it to summit Mount Adams. I love not having to hang a bear line, and it's nice to know the little varmints will stay out of my food, too.
While the can defeats the ultra-light approach I like to take, it's a great solution to food storage and protection. I have found the can to be little worse for wear after being used, dropped, and kicked.
Heck, I've dumped out the food and hauled water when getting water was inconvenient!
I would get this can all over again.
Source: received it as a personal gift

Better to have it and not need it. I needed it.
Pros
Fits horizontal in my Bora 65; bearly LOL!
Human food for humans
It will work until them bars learn to twist lock
I only hike west of the Great Divide
Can be used for more than food
At 2lbs/9ozs lighter and larger than Garcia, UDAP, and Lighter 1
I can see what's inside to reach it easily
Cheaper than a LocTote Flak Sack II
Great camp stool, too
Cons
One bear on the AT named Yellow Yellow already has learned how
She's teaching others her technique
It always takes up a lot of space in the pack
Heavier than a Ursack 7.6ozs or LocTote Flak Sack II 2lbs
Doesn't change dimensions like Ursack Major or Flak Sack II
Love to walk our Redwood National and State Parks here in the 'hood. Love those black bears and their scat's on the trail. Of course, the blackberries are ripe. Keep 'em wild.
That's right, you can read about Yellow Yellow on the AT opening these by twisting her head and shearing the lock tabs. It's the hundredth monkey effect, but it's black bears around her slowly picking up the technique. My treks are all West of the Great Divide, so no worries for now.
https://www.nytimes.com/2009/07/25/nyregion/25bear.html
Of course, no packable food container is bear-proof, only resistant; meaning it passed the IGBC test for certification. I bought the BV500 over other canisters predominately because it's clear and affordable for me. I want to see what's in it. Its size makes it good for a camp stool, too. When packing less food there's room for other gear, so the space isn't wasted. Unlike the xt and LocTote Flak Sack II, if a bear does get a hold of the BV500, the contents will probably remain intact and my trek will still be on.
If I had my druthers, I druther a got the only IGBC CERTIFIED backpack; the LocTote Flak Sack II 13L that cost $150, but the BV500 at $77 will do fine until I do.
P.S. For odor-free bagging forget about the overpriced ones and just do what the pot growers do here in Humboldt; use turkey bags. They're tough, odor-free and much cheaper.
Source: bought it new
Price Paid: $76.95 shipped from Backcountry.com

I used this bear canister in late August in Rocky Mountain National Park, CO. It was a rental as I typically prefer bear bags over canisters, but bags were not permitted in said park (apparently mother bears have taken to sending their cubs up trees after bags).
This canister was light enough and with some clever arrangement in my pack, I had no problems with its bulk, either. I can't comment on this canister's resilience to bear attacks as I did not encounter one while on the trip, but it was hard enough for ME to open up. I can only imagine that a bear would find it impossible without thumbs.
Bottom line: This is a pretty solid canister; I gave it 4 stars simply because I greatly prefer to use bags, so take this review with a grain of salt.
Your Review
Where to Buy
Help support this site by making your next gear purchase through one of the links above. Click a link, buy what you need, and the seller will contribute a portion of the purchase price to support Trailspace's independent gear reviews.
You May Like
Specs
Price
MSRP: $99.95
Current Retail: $92.50-$94.95
Historic Range: $67.04-$94.95
Reviewers Paid: $50.00-$76.95

Weight
2.5 lb / 2 lbs 9 oz / 1.16 kg

Interior volume
3 Gal / 700 cu in / 11.5 L

Capacity
7 Days

Material
Specialty rugged polycarbonate and other durable resins

Diameter
8.7 in / 22.1cm

Height
12.7 in / 32.3 cm

IGBC Certification
#5339

Recently on Trailspace