MSR Hubba Hubba NX 2P

The Hubba Hubba NX 2P has been discontinued. The MSR Hubba Hubba NX 2P was renamed and is now called the MSR Hubba Hubba 2P.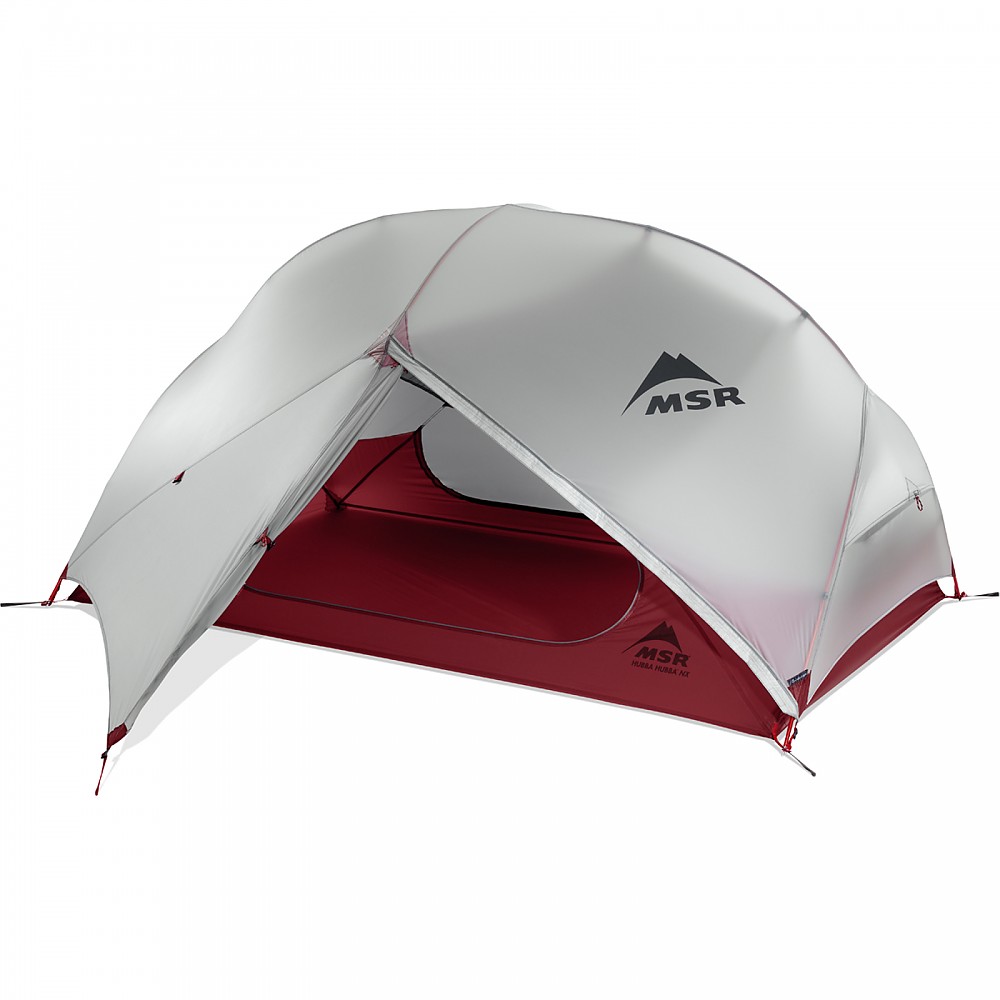 More room than I thought possible from a tent weighing just 3 pounds 7 ounces. Perfect for two people (and a dog). Highly recommended.
Pros
Spacious and comfortable
Variety of venting options
Lightweight
The MSR Hubba Hubba NX 2P is the lightest and roomiest tent I have used to date. The pole and tent design create a 2-person tent that feels more like a mansion than a lightweight backpacking shelter.
Specifications:
Weight: 3 pounds 7 ounces
Interior Height: 40 inches at peak
Floor dimensions: 80 inches by 48 inches
Pole Material and size: DAC Featherlite NSL, 18 inches in length when folded
Tent and Rainfly Materials:
Canopy: 20D ripstop nylon

Mesh: 15D nylon micromesh

Floor: 30D ripstop nylon with 3000mm DuraShield polyurethane and DWR

Rainfly: 20D ripstop nylon with 1200mm DuraShield polyurethane and silicone
Out of the Box:
The tent, fly, poles, stakes, and guy lines come packaged neatly in the stuff sack.
Unlike traditional stuff sacks which open at one end, the MSR sack is more of a "bucket." It opens from the side which makes packing and unpacking much quicker and easier.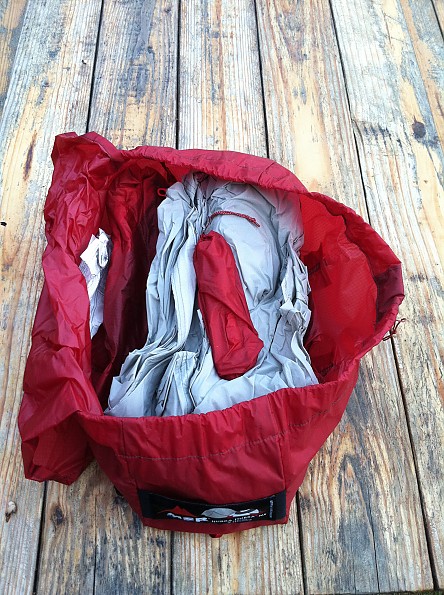 This feature is like wheels on a suitcase, you don't think you need it until you try it, then you wonder why no one else is designing things this way.
Set up and Additional Features: 
Setting up the MSR Hubba Hubba NX is simple and fast. The single pole quickly snaps into position and easily attaches to the tent floor, the wall of the tent lifts to clip to the poles. The cross pole is held in place by a rubber gasket keeping it in the perfect location.
MSR color-coded the fly and tent so that it is impossible to incorrectly position the fly. The corners of one side have red straps on both the fly and tent while the opposite side is grey. This is a welcome feature when setting up the tent after a hard day on the trail.
In the Woods:
I recently brought this tent on an overnight with my wife and dog that took us across the Pemigewasset Wilderness in the White Mountains of New Hampshire. I found that the tent was a pleasure to carry since it was so light it almost disappeared into my pack. This was assisted by the clever design used by MSR which included the addition of compression straps on the stuff sack.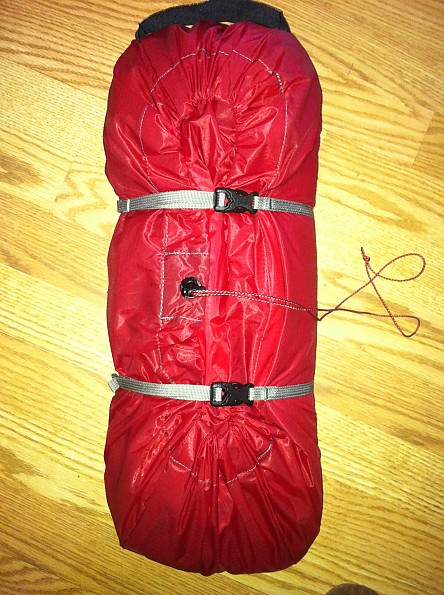 This allowed me to tighten the stuff sack down to really compress the size of the tent.
The first day of our trip was spent in the clouds and rain which lead to a saturated tent site for the first night. This test was conducted without the use of a ground cloth which initially caused me some concern which was quickly alleviated by the durability and water resistance of the tent floor. The night consisted of passing showers and gusty winds with temperatures dropping into the 40s. We stayed warm and dry all night because of the well-designed tie downs and rain fly which did not produce any excessive flapping during strong winds.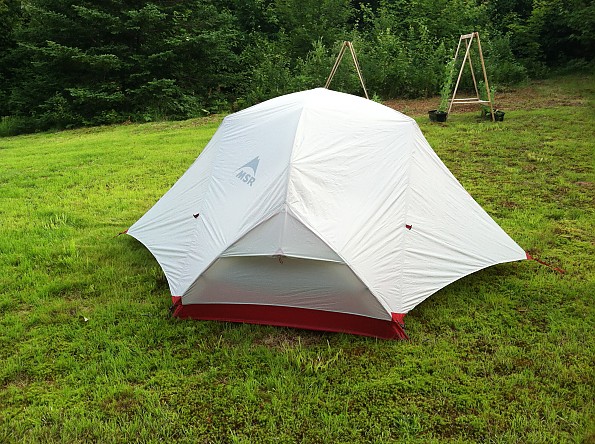 Unlike other tents I have used, the MSR Hubba Hubba NX 2P provides a number of venting options so that when the rain fly is on you do not feel too enclosed. This is accomplished through large vestibule doors on either side which shed rain away from the doors even when rolled open as well as vents on both ends providing a cross breeze without losing protection from the rain.
The living space inside the MSR Hubba Hubba NX 2P is massive. Two adults and a 55 pound dog fit comfortably with room for our packs and boots under the vestibules.
As I have mentioned earlier, the headroom in this tent is outstanding. I was able to sit up comfortably in most sections of the tent. This makes time in the tent much more enjoyable and far less claustrophobic than many other tents on the market.
Day two of the trip was met with clear skies and a dry hike home. To test additional compression of the MSR stuff sack I separated out the poles so that the tent and fly were alone in the bag. MSR added an additional compression strap designed to compact the tent even further.
By packing the tent and poles separately I was able to compress my pack even further for the hike out which was necessary for the rocky narrow trail being used that day.
Conclusion
This was a great tent to test. The spacious living space and light weight design made it a pleasure to carry into the backcountry. It held up wonderfully against wind and rain and comfortably fit two adults, gear, and a dog.
I would highly recommend this tent to anyone looking for a lightweight backpacking tent.
Source: received for testing via the Trailspace Review Corps (Sample provided by MSR for testing and review)

Bigger on the inside, than it appears from the outside, it's a well-constructed 3-season tent for those looking for an ultralight option. A few ounces heavier, but the tent body material is thicker relieving that "easy goes it" approach to tent durability. More expensive than other UL tents, but with the features, quality, and warranty, you'll get your money's worth.
Pros
Lightweight
One pole, hub style system
Generous vestibule space
Quality materials and construction
Easy access, wide-mouth, top-loading stuff sack
Cons
More expensive than other UL tents/options (tarps)
Smaller dimension than similar tents
Vents only accessible from outside
PREFACE
This is the spring 2014 version of MSR's Hubba Hubba. Here are a few things that I was looking for when I was doing my research. I was looking for a:
freestanding tent

preferably one pole design

lightweight

stronger/thicker material, especially floor

option for footprint and fly setup

quality materials (plastic fittings vs. metal fittings)
As of this review, the tent still remains around $390. Higher than I would have preferred but I had a $100 gift card and had a 15% website discount. While it is higher than some of the others that I compare below, it hit all of my high points and I liked the tent when I tried it in the store.
TENT SPECS
Here's a quick once over of tent specs and features:
Floor

: 84" x 50"

Height

: 39"

Symmetrical tent pole/body design

Weight

: 3 lb. 13. oz (tent body, poles, stakes, stuff sacks for poles/stakes/body)

Material

: 20 denier body nylon/15 denier mesh, 20 denier rainfly, 30 denier floor

Freestanding
Tent instructions within wide-mouth stuff sack

TENT EXPERIENCES/COMPARISONS
My previous tents have been the basic two pole, "X" design. The usual 4.5 or 5lb option. Most recent tent I owned (*cough* borrowed for an extended period) was an older version of the REI Half Dome. While on a trip in 2013 I bunked with a friend who had a Big Agnes Copper Spur UL2.  This was my first experience with a UL tent. 
When I was looking for an UL tent, I kept the features of both of these in mind. With several great options out there, I was down to the BA CS UL2, REI's 2014 Quarter Dome 2 (its answer to BA CS UL2 at $100 less than BA full price). I've compared the HH to these two in several areas below and how they shaped my decision-making process.
SET UP
The only issue I had when I first set it up was with the tent fly. The vestibule zippers start at each tent fly corner as opposed to each vestibules point and perpendicular to the tent body. As with most things, once you get used to it, it's fine...and it makes for easy access from within the tent.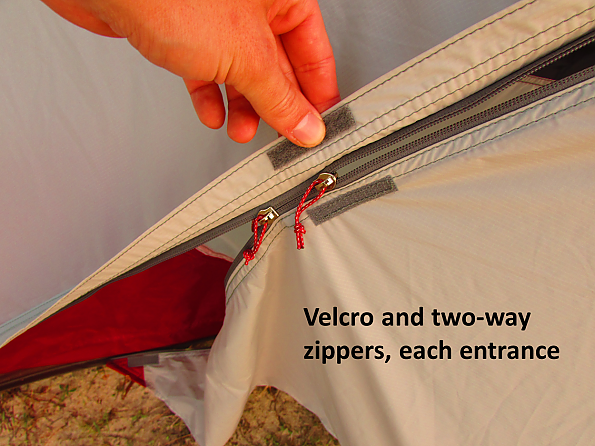 A great feature with the zipper being at the corner of the tent is that I can remain in the tent completely while opening and closing the vestibule entrance. With others designs having the zipper ~30" away from the body at the tip of the vestibule, the HH makes it easy to open and even roll up and tie off the door to increase air flow.  I've grown to really like this design!
CONSTRUCTION & DURABILITY
Tent Body
First thing that I noted when I actually got into the tent was that it is much bigger than it appears. Even when looking at the manufacturer's pictures with a couple sitting, facing one another in the tent, it really doesn't do it justice.  The walls are near vertical and the symmetrical design does not force any one sleeping position such as those tents that taper in size.

The floor dimensions are smaller than others. At 84" x 50" it's tighter than the Big Agnes CS UL 2 or REI QD 2; both of those being about 5-6" larger in both directions.  For my wife and me it isn't a problem.  She has only been with me once while out with the HH, but we slept head to toe, making use of the room as best as possible. No problems, shoulders just barely touching the edge of the tent. The peak height is also 39".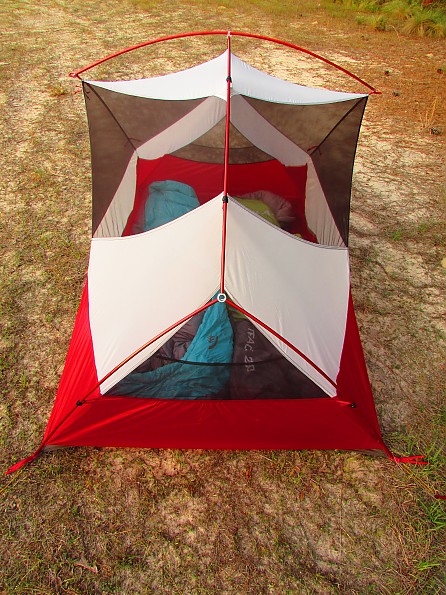 I was slightly concerned with condensation when it comes to the body as primarily some form of non-mesh material, especially when compared to the pre-2014 design. The distance between the tent poles/fly and the body is great enough that air can freely flow (also mentioned below with rainfly).
Other than my wife and me, we planned for our third family member to join us on several trips.
Scamp the dog...also a picture of vestibule space...two birds, one stone.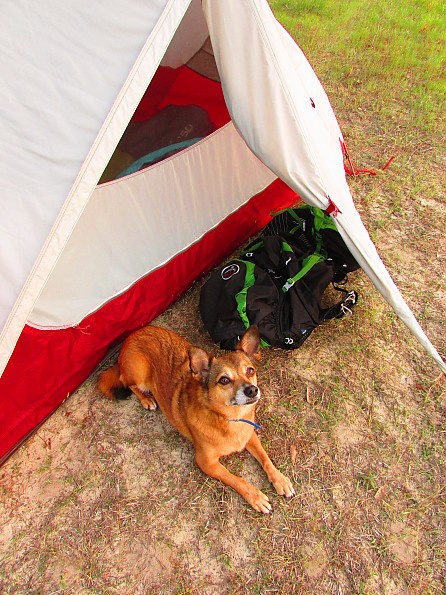 This potential for sharp nails on the floor was another consideration when choosing the HH. It is a few ounces heavier than other ULs, but the floor is 30 denier high-tenacity ripstop nylon with a polyurethane coating and can take more wear and tear than others. 
I also purchased a footprint (comes in its own small zippered bag, but I just roll up with my stuff sack).  Possibly overkill with the tent's natural strong floor, but it gives me additional safety in rainy conditions and offers other set up options. The tent is an investment and I'd rather rip the cheaper footprint than tent. Note that the footprint alone (no bag) will add 7 ounces to your combined weight. I do not have a digital scale, so I can't confirm this weight.
Two options to increase air flow. Remember to pull taut. While the tent fly isn't taut in the second picture (my fault), there is no issue with its setup. The rainfly is held back by toggles located along each vestibule.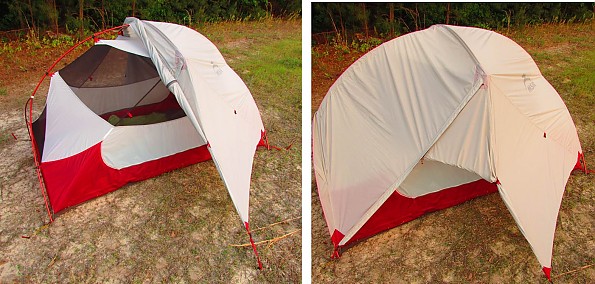 Poles
Not much to go over here. The HH has a unified DAC Featherlite pole, two hub system and is a symmetrical design.
Two hubs on either end of the, like two "Y" shapes connected at the bottom. Poles and body are symmetrical, no color coding of "this end goes into..." necessary.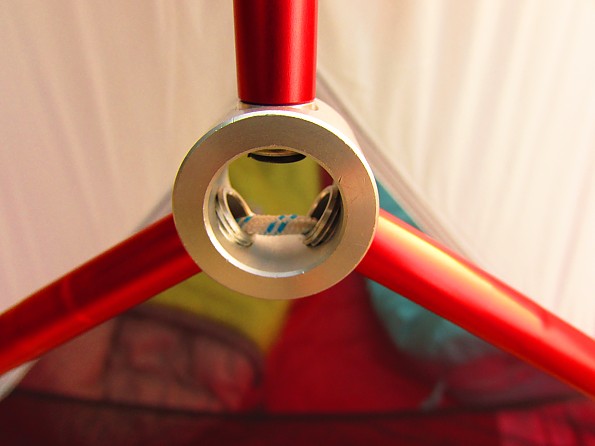 Rainfly/Fast Pitch Option
I have not had any problems with condensation. Although sometimes it may be a tent issue, a lot has to do with air flow (or lack thereof). The two kickstands (further below) do well in where they are positioned to keep air circulating in and out. It does have less mesh than the pre-2014 model, but the canopy material still seems to breathe really well.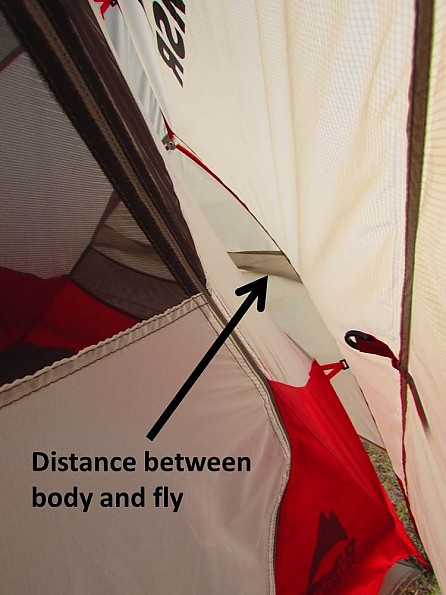 Fast Pitch Option below (footprint, poles & rainfly), tent can also be set up without the footprint (poles and rainfly only)
Six Mini Groundhog stakes, 6" long come with the tent for the four corners and two vestibules. Also guy lines, two tensioners and tent pole repair sleeve are also included.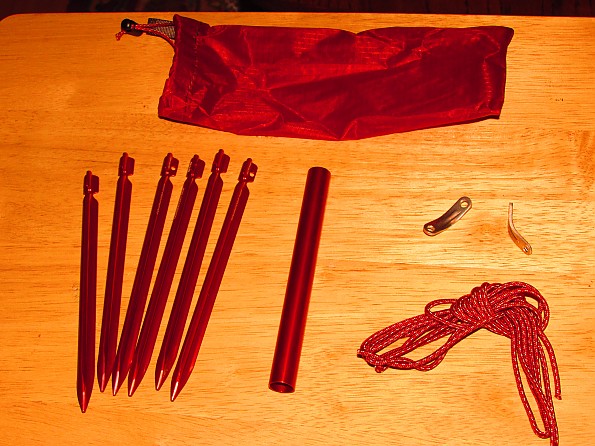 UNIQUE FEATURES
Kickstand Vent
On either side of the rainfly, there are two kickstands which increase airflow. The kickstand is made from nylon covered plastic. It has a Velcro end piece with Velcro on the main tent body (attached when not in use) and another on the body which extends when open. If anyone has questions, I can add a video explaining.

A feature that I did like on the REI QD 2 was that the vent (opened by the tent's pole instead of separate kickstand) could be accessed from the inside.  No need to go outside the tent and worry about the weather or nighttime.  If this were on the HH then I could safely say that MSR has thought of everything.  Something to consider when comparing.
Rain Gutter
Yeah, you heard right. No flower beds, bird feeders or anything, but this does have a rain gutter. On both openings there is an extra flap of material on the tent fly which can prevent excess water from pouring down when you open the vestibule.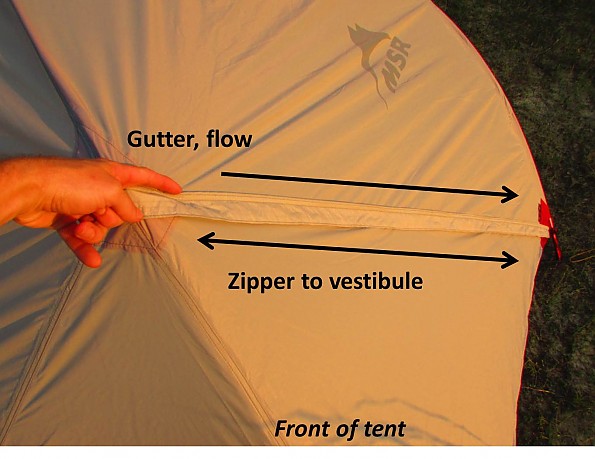 I've only used it several times here in NC when there was light to moderate rain at night. When I woke up the next morning there wasn't a problem with any of the beaded rain falling on me when I opened the vestibule.   Wasn't part of my original list of "wants" but cool additional feature and removes the worry of getting wet on exiting the tent. No torrential downpours yet, I'll update my review once this occurs. I always set up my tent after every outing (even one nighters) to clean off the fly and footprint. So this tent gets hosed and cleaned every time I use it, regardless of rain at night.
Wide-Mouthed Stuff Sack
This makes things so easy to put the tent away, no need to make sure you roll the tent tight enough to put it away in a sack that has its opening on the end. The opening has a toggle and cinch to tighten. There are also two buckles to enclose it further. Very easy to use and I love the options, it seems like MSR was not just thinking solely about the tent and the stuff sack as an afterthought.
Option 1 (rainfly, pole, stakes, body, footprint)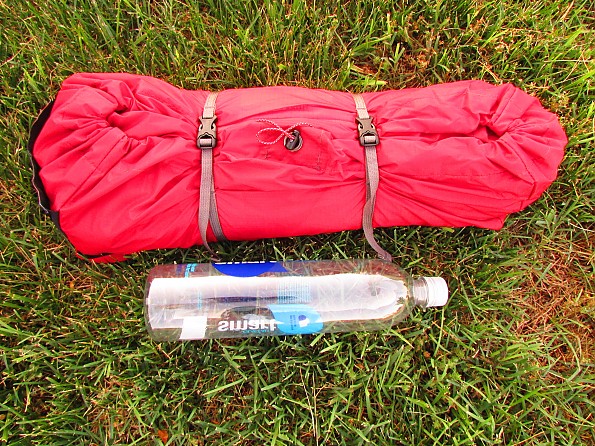 A second option is available because of buckle that goes the length of the sack.  The poles and stakes can fit into the pole sack and the fabric items (footprint, fly, body) will go into the sack and wrapped in more of a ball shape.  It gives the availability to store differently if you need to in your pack.  I haven't used this other than to take this picture.
Option 2 (rainfly, body, footprint in left "ball" and stakes & pole in pole bag). The "ball" is in the same position as Option one, it is just folded in from the left and right and buckled with a buckle the goes lengthwise. KEEP IN MIND, the plastic kickstands on the rainfly when folding in...don't break them or you'll be left without an option to vent. Just align them accordingly when bundling up with Option 2.
WARRANTY
While I can't speak on this point personally, I have heard and read that MSR (Cascade Designs is the parent company) has a great warranty when it comes to their products.  Considering this versus other tents, it helped me to feel comfortable in spending a few extra bucks. With the REI Quarter Dome 2 being my second option and $90 cheaper, their return policy for the first year is great but I was thinking long-term. 
OVERVIEW
While on the pricier side, the Hubba Hubba has earned its stripes with me. With quality materials, I feel confident both on the trail or car camping, as well as in inclement weather and condensation-prone mornings.  For me the tent itself is a 5/5 for performance, features, and quality.
I'm not going to take away from my individual rating due to the cost...if the price goes down in one year then a lower score based on cost wouldn't reflect accurately...just note my dismay at the price from this emoticon >:( With other UL tents or even tarps costing less, if you could get this tent on sale I'd put it just as competitive as any other UL option.
Source: bought it new
Price Paid: $390 (less $100 giftcard and 15% off)

Lightweight tent that is awesome for all your backpacking needs.
Pros
Easy setup
Good headroom
Very lightweight
Two vestibules with decent amount of space
Best storage sack I've ever used.
Super compressible
Big doors
Cons
Fragile materials
Footprint is essential
Minimal pockets
The Hubba Hubba NX is one of the best backpacking two-person tents on the market. It's lightweight at 1.6kg with a footrpint. I've had the Hubba Hubba NX for nearly two full seasons. I've used it in massive rainstorms, windy nights, car camping, wild camping, and everything in between. Most of my days out have been in the Canadian Rockies.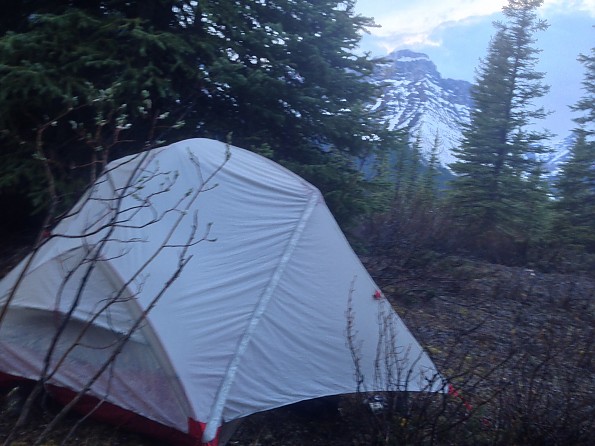 It's easy to set up as one person, though a second is never unwelcome. Rarely does it take more than 3 minutes. The single pole design is simple, and there are colour coded gromits, so you know which end is which.
When it rains having a footprint is great to keep everything dry. I'll throw the footprint down, chuck all my gear on top, then the fly. Once under the fly I can set the tent up from inside, and keep myself and all my gear dry. I do find that unless you guy the vestibules down tight its not very wind resistant.
In heavy downpours I found my pack which filled up most of the vestibule got wet on the sides, but my boots were dry closer to the tent body. But I've never had any leakage issues, nor has condensation been a problem. It's very breezy. I've tested the condensation of this tent with a significant other and found that it never seems to get wet on the inside, as "active" as your nocturnal habits may be. I found it very cold on a night that must have been around -1° or -2° as it snowed a tiny bit without a mat, and a 0c sleeping bag, so the tent wasn't really at fault. Outside of that I've never had any issues.
The tent itself is more than enough room for two 5'10" athletic males, such that they can sleep without bumping into each other at all. We easily had about half a foot of space between us, and nearly a whole two square feet of space beyond our heads with our feet at the base. More than enough to store clothing, and gear.
Be warned, this is an ultralight tent, and treat it as such. I did have a pine needle puncture the floor. It is definitely on the fragile side. It was an easy patch, and I have since sat through a night where the rain created a 5cm deep puddle around us, and had no problems. Since the incident I have had no other problems, but I am much more careful now. This is the tents only real drawback. 
The storage sack is really cool. It's built like a lightweight rope bag, so its super easy to cram the tent in and compress it. I normally keep the poles separate, making it easy to squeeze the tent down to the less than the size of a loaf of bread. 
In terms of features the pockets are mediocre and leave something to be desired though there is space for a gear loft. I have found that by placing a headlamp on the body pointed up at the fly, it illuminated the whole tent really well as the white fly makes it into a kinda giant lantern. It's bright enough at 70 lumens to comfortably read, and the non-directed light makes finding things in the tent really easy. 
Source: bought via a "pro deal"

The MSR Hubba Hubba NX is a great tent for bike touring. Sets up easily and takes down even easier. Holds up well in the rain and wind.
Pros
Easy setup/take down
Lightweight
Light inside
Door system
I bought this tent for a 2 1/2 month bike tour in Europe. In general, I think this tent is great. With its one-pole hub system, the tent sets up quickly and easily. The rainfly is color-coded, so that is also easy.
I like that the tent is not all screen. The opaque tent material comes up on the side to allow for some privacy if you want to sleep with the vestibule doors open. Also, the tent fabric is a light colored material. That's good and bad. Good, because inside the tent it is very light. Bad, if you are trying to stealth camp.
It shed water very well. The tent bottom is very waterproof. In a bad rainstorm, the bottom of the tent felt like a water bed, but it was dry. On the rainfly, rain flows down the channels near the zippers, thus keeping the rain from running into the tent.
I found ventilation to be good, especially if I unzipped (2-way zippers) the vestibule doors from the top a bit, in addition to the vents on each end of the tent.
There was plenty of room for me on my Exped mat and all my panniers inside the tent if I wanted. There was also enough room under the vestibules for all four panniers under one side.
The tent packs into a compression bag (if you store the poles separately, which many backpackers do, but not bike tourers). Even with the poles in the bag, it is still pretty small. The large opening of the bag makes it very easy to stuff the tent and rainfly into it.
I had one major problem with the pole. 15 times into pitching the tent, a connection between two pole sections snapped. The tent comes with one repair tube. That was great, until the second one broke...and the third, fourth, fifth, and sixth sections.
With the exception of one break, none occurred during any amount of wind or other inclement weather. The tent was pitched on level ground. Personally, since I've not heard of this happening to anyone else, I think the pole was defective.
Overall, this is a great tent. It's lightweight, yet sturdy (except for this one's pole).
I purchased this tent at REI. I've notified them of the pole issue, and they are replacing the tent.
Source: bought it new
Price Paid: $389

Full comfort with limited weight. Excellent materials and smart solutions give you waterproof even in strong storm and chill in hot/stuffy days. Very comfortable for two people and super fast to pitch. Totally recommend for long trips with backpack.
Pros
Weight
Easy to pitch
Waterproof
Comfort
The easiest to pitch expedition tent I've ever seen. Even for those, who never setup before, because of intuition solution (like color marks or folding poles). What's important you don't need a lot of space to set it up.
Very stable and waterproof. Even in strong storm, when couple of tents (with all stuff in it) went wet I was sleeping with no stress. (I don't use original footprint, but a cape.)
There are two entrances, bought with storage place which is very practical.
Tent is comfortable for two persons (on strong storm, when friends tent didn't make it we had sleep in it in 3 per. It was not comfortable but possible)
I use this tent in every weather (hot summer/winter/rain/wind) and it never disappointed me. No flutter, soak or moisture, even when it's frozen.
I travel with it mainly in the mountains. The highest pitch point was on a 13,000 ft on glacier. 
There are a lot of accessories which you can bay and use to make it more comfortable but I'm minimalist.
The most important thing for me in this tent is full comfort with minimal weight. That's way this tent is great for long trips even in difficult terrain.
Source: bought it new
Price Paid: 340$

Very lightweight and capable tent with room for two people and a vestibule on each side. Quick and easy setup and take down.
Pros
Setup is quick and easy
Lightweight but still strong
Great thru-hiking tent
Easy to pack in the carry bag
Cons
Tent pole snapped, but it was a very strong wind.
Roomy enough for two people, but maybe not for two people and gear inside
Expensive, but worth it
The MSR Hubba Hubba NX is a lightweight and capable three-person tent. Setup takes just minutes—it is so easy and one person can do it alone with no problems. Also packs easily in the tent bag as it's not your normal stuff sack type bag.
The tent weight is very light but still provides complete waterproof coverage with very little condensation on the inside. A vestibule on each side keeps my husband and I happy! The vestibule zipper is easy to open and close and it's easy to sit in the tent with your feet outside.
This tent may be a bit small inside for taller people, but otherwise it's fine for two people with some gear inside and has a high ceiling. The mesh is not the strongest and we have a few snags, but we have used this tent many, many times.
We did have a tent pole snap in very windy conditions but MSR quickly sent us the replacement part. Great customer service! 
Source: bought it new
Price Paid: $350

I bought this tent to replace my heavier Marmot tent for my next thru hike on the JMT. I saw it set up in a store and was impressed with the durability of the fabric and the weight. This is almost 2 pounds lighter than my Marmot tent.
Pros
Durability
Lightweight
Roomy
Packs nicely
I bought this tent for my upcoming trip to shave off a few pounds from my pack. This tent meets my standards for a great 3-season wilderness 2-person tent. I have no complaints at all.
Easy to set up in less than 5 minutes first time. Very roomy for one person with plenty of vestibule room for gear. A little cramped for two people, but definitely doable. 
Source: bought it new
Price Paid: $329

Light, great for backpacking. While it can accommodate two people snugly, I see it as my solo tent. This is sharp looking, easy to set up, and totally element proof. I went through a two-day extreme storm at Lows Lake in NY, without wind or rain getting me. Great buy!
Pros
Super lightweight
Sharp looking
Easy setup
What else to say? It really is the perfect solo tent even though MSR makes smaller. This two-person shelter gives me that bit of fun space a big guy needs. Well worth every penny.  
Background
Canoe camped about five times. Weathered a huge storm.
Source: bought it new
Price Paid: $370

Quality tent that I have used for five seasons. Has held up well throughout the time of use with no issues. Highly recommend this tent for three-season use.
Pros
Large vestibule space to keep gear out of rain
Large liveable space inside with great headroom
Easy to set up
Cons
Slightly heavy compared to some of the other brands
Zippers bunch up at times making it a little difficult to zip up doors at times.
More than enough livable space for one person. Could be a little tight for two people depending on the size of group.Large headroom, easy to change clothes in.
The tent is a little heavy compared to some of other products out there. Definitely not an ultralight tent. This tent is durable!
Background
Love this tent! It has met all of my needs going on six seasons. No complaints! I would highly recommend this tent to anybody looking for a high quality durable tent.
Source: bought it new
Price Paid: $220

This tent is easy to set up, comfortable for two, and lightweight.
Pros
Easy to assemble
Poles all connected
Includes rain fly
I have set this tent up with another person in varying conditions and configurations. We purchased the footprint separately, and the setup is just as easy. The stakes are small, the tents are permanently connected. This is a snap.
The tent is taut when pitched and remains stable. It is comfortable -- good ventilation, but keeps occupants warm when needed.
There is enough room to sit upright and change clothes in the tent. There are two small storage pockets and a gear hammock (optional). It packs up small and the tent poles and stakes can be carried separately as needed.
Source: bought it new
Price Paid: $350

Very lightweight. Best for hiking. I would recommend it.
Pros
Lightweight
Quick to set up
Cons
It isn't super burly, if you break gear easily this may not be the best for you.
Quick setup. Haven't used a footprint, but I don't usually and it has been fine. 
If properly pegged out is pretty stable in the wind. Not good for snow.
Lightweight fly as well so mine eventually got a few rips in it, but has been great for years now. 
Good ventilation, especially with the optional pushout of little arm with velcro.
Lots of room for one person how I usually go, but with both vestibules lots of room for two. 
Packs small.
Works great
Regular features. 
Has held up great
Used it three-season backpacking, coastal hiking beaches, alpine meadows, car camping, for about nine years. 
Background
I guide middle school and high school trips, so use it often.
Source: bought it new
Price Paid: can't remember

This tent is a classic!!
Pros
Light
Waterproof
Spacious for this weight
Easy to set up
Cons
Some condensation in the morning in some cases.
This tent is a classic. I travelled and backpacked with it, through storms and sunshine.
Even after years of use, it holds on real good. As long as you make sure your fly is nice and tight, you'll be safe from rain.
I definitely recommend it.
Source: bought it new
Price Paid: 300 euros

Poorly made. Panel design is subpar. Leaked unmercifully first night.
Cons
Poor quality build
Leaks like crazy
Saggy vestibules
I purchased this tent while on a four-month bicycle tour to replace a Marmot Tungsten 2P.  After five hard years of cycletouring it failed. I was in Rotterdam and pick this up at a local sporting good shop. I had done my research and this was the only one they had that met my needs. They did not have the Marmot one.
So I purchased this and the first night I set it up in my hotel room to test. Everything looked OK. I was a little concerned about some of the construction but I'll let it slide. The next night after a 45 mile day it was raining pretty hard and I set up the tent properly. It leaked all night. The condensation was so bad it was an unusable tent.
I am very disappointed in it. There is a puddle of water in the ceiling panel. Vestibules sag so much they were useless. I wanted to like as it got decent reviews, but for me it isn't anything that I can use in the conditions I find myself. I'll pass on this tent.
Full refund time—I called them immediately 24 hours after I made my request for a refund.
Background
Experienced one night of unacceptable performance. And unacceptable design and finish.
Source: bought it new
Price Paid: 480€

This is a truly great tent for lightweight camping—one of the lowest weights you are going to find. We used it in heat, sand, and rain and it always stayed comfortable.

The fabric is a bit thin and is prone to condensation, if you are wary of that. It is easy to set up and carry and I definitely recommend.
Pros
Light
Easy setup
Good packaging
Roomy
Your Review
Where to Buy
Help support this site by making your next gear purchase through one of the links above. Click a link, buy what you need, and the seller will contribute a portion of the purchase price to support Trailspace's independent gear reviews.
You May Like
Specs
Price
MSRP: $449.95
Historic Range: $199.93-$479.95
Reviewers Paid: $220.00-$390.00

Weight
4 lbs 2 oz / 1.76 kg

Floor Area
29 sq ft / 2.7 sq m

Vestibule Area
17.5 sq ft / 1.62 sq m

Interior Peak Height
39 in / 100 cm

Tent Volume
43 cu ft / 1217 L

Recently on Trailspace