Daniel Oates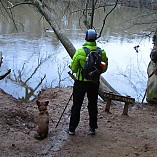 I am a:
backpacker
Location
: Florida
Occupation:
Air Force Officer
Affiliations: I am a member of the Trailspace Review Corps. I have no professional or personal relationships with any other outdoor industry manufacturers or retailers.
Activities
Hiking
Backpacking
Trail running
Orienteering
Adventure racing

Geocacheing
Disc Golf
Ultimate Frisbee
Photography

Vitals
| | |
| --- | --- |
| Height | 5'9 |
| Weight | 150 |
| Torso Length | 18 and 7/8 |
| Boot/Shoe Size | 9 |
| Jacket/Shirt Size | M |
| Pant Size | 32x32 |
I'm a 28 year old (2015) and enjoy hiking, playing disc golf and DIY projects! My outdoor experience began in high school when I ran cross country.  This has since transitioned into trail running and backpacking.  For me trail running isn't just about getting the distance in, but also enjoying the views.  Taking pictures is often part of my trail runs and hikes, you never know when you may need it.
I've always been a hands-on person and love to build things from scratch and taking pride in what I've accomplished.  Since spring 2014, I've started making some of my own gear and accessories.  Well worth it and one-of-a-kind! My next project for Winter 2014/Spring 2015 is a karo-step top quilt for ground use.
Finished project...just as tax season 2015 gets going...it'll have to wait until after April :( More detail on it is located here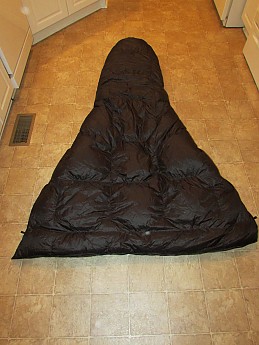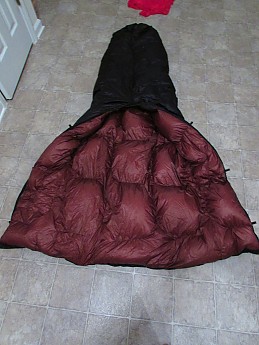 In addition to camping and hiking, I love to play disc golf and Ultimate.  A few years back I came across the adventure of Geocaching; check it out, it's a great way to get the family outdoors and working together!

I went to college in the mountains of NC and that's when I took more of an interest in hiking, primarily day hikes in the Smoky Mtns and Appalachian Trail. Personal favorite spots in NC (piedmont to mountains) are Panthertown Valley (mtns), Raven Rock State Park (piedmont), and Linville Gorge (mtns).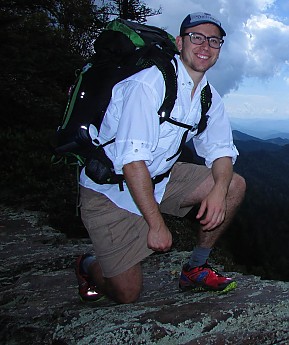 So why did you join Trailspace?
It all started with a great backcountry hiking trip in August 2013. I had plenty of hiking and car camping experience, but didn't have as much knowledge about backpacking. The trip was to Glacier National Park and I was with three of my college roommates.  We got back together for a 4-year reunion (of sorts) and it was a blast. I saw amazing views, trading great stories, crossed various wildlife, and got memories that will last a lifetime. 
Trailspace came into the picture in the months preceding the trip. I was buying new gear and wanted thorough advice since, for me, my gear is an investment and I want to be confident in what I wear and use.  I enjoyed the interaction between members on the Trailspace forums and helpful reviews on gear. It was an easy decision for me to join in July 2013 as a member of Trailspace.
Below is a picture of that trip to Glacier.  All four of us are at the top of Red Gap Pass on our way down to Elizabeth Lake (Many Glacier region of the park).  It pretty much sums up the trip, the breathtaking view and "what's next?" feeling of the park.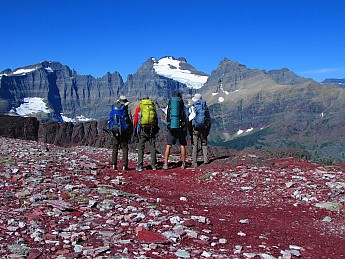 So how do you review?
My reviews come from the gear that I have either borrowed for an extended period of time or currently own.  I'm glad to pass on my experience and feel free to add any comments or questions that you think may help others. These are some good tips to keep in mind.

I think taking pictures from all angles, out of the box, and while using in the field benefits other members extraordinarily.  We can all see the basic pics from the manufacturer's website, but we want to get the reviewer's actual experience. I  have also included a handful of videos to show other aspects of the gear that may be difficult to portray in the narrative or pictures.
My reviews are written from my background of an outdoor enthusiast, trail runner, and hiker. Anyone with other experience like climbing, canoeing/kayaking, or biking are more than welcome to comment on any review as your approach can aid in the helpfulness of my review!
Thanks for reading and see you out on the trail!
Gear Reviews (57)
Forums
Daniel Oates has started 10 forum threads (including 1 trip report) and participated in 181 discussions. View all »