Trailspace Trail Runner Cap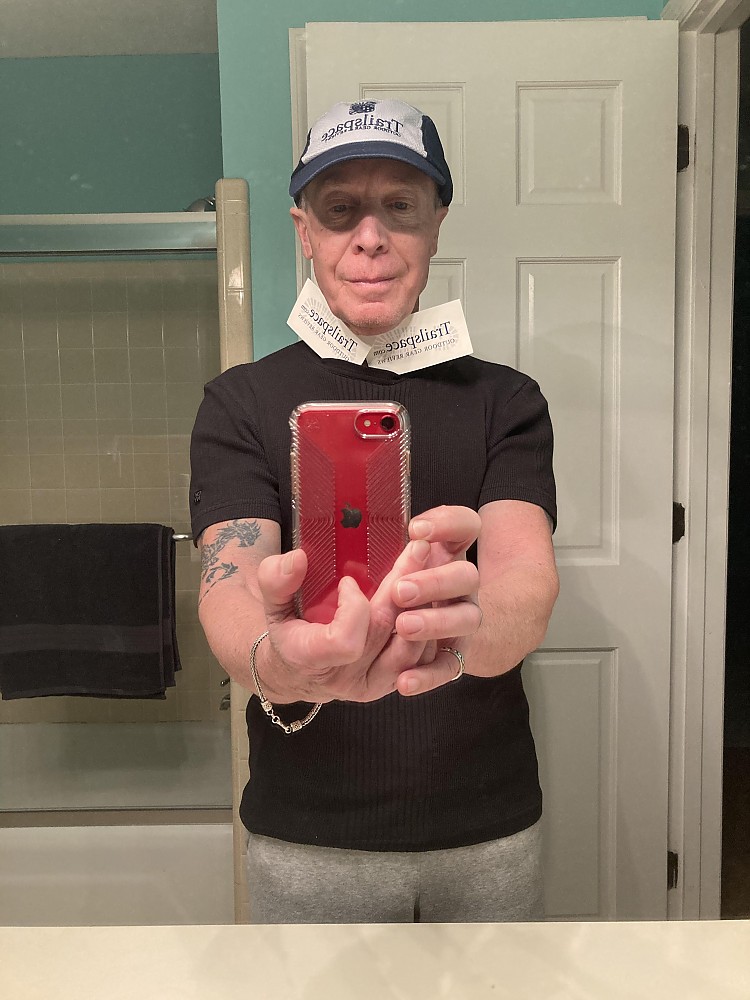 Who doesn't want to look fly, feel cool, and represent Trailspace? It's a comfortable, lightweight, and well-fitting hat that drys quickly and wicks sweat very well.
Pros
Wicks (and drys) quickly
Lightweight
Representing Trailspace!
Cons
Durability sacrificed through light fabric (material snags easily)
Got this awesome hat from Trailspace as Reviewer of the Month. I've owned some type of running hat for the last 10 years. This one is by far my favorite. With a sweet TS logo on the front and "trailspace.com" on the back, it's actually a Headsweats brand hat, so you can find it in the store...though you may not look as sharp!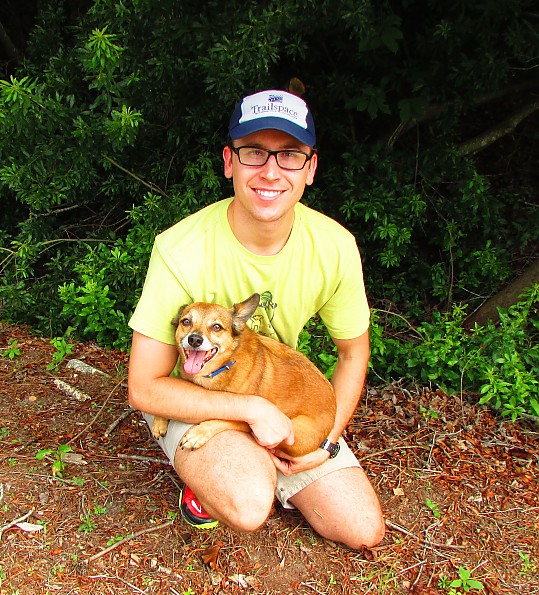 It is very lightweight and is 100% polyester. I have a larger-ish head and doesn't feel too tight, though I am using almost all of the band. The hat stays snug on my head and I'm never nervous about it falling off.
The complete polyester with it's drying and lightweight do come at a cost and that's durability. The material is very breathable, but what is sacrificed is its abrasion resistance. At the same time, I currently also have another running cap (now retired!) that has a combo of mesh and cotton paneling. Again, it's advertised as wicking, but it doesn't dry as well as this in locations other than mesh. At the same time, the hat is more durable.
It's a toss up between wicking and durability; for me, I'd rather be cool and comfortable!
I think you can tell which one will breath better!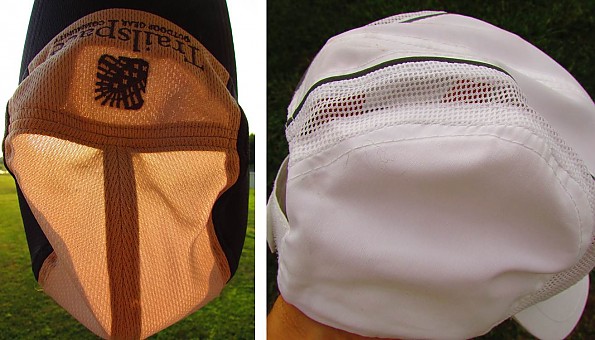 I've had similar 100% polyester base layers and a little thorn can do a bit of damage.When you're on the trail, just watch your head. When you're on the town, just stay classy.
Adjustability: The hat has a buckle in the back. A little something different than other hats I've had in the past. I actually like it though. It seems like it could be delicate, but it does stay tight (having the ability to use the buckle and a strap to cinch it tighter). 
Well, might as well finish with a laugh. This is what happens when you have an entire afternoon free...
Director of Photography: Brittany Oates, Scamp the dog as himself, Frisbee throwers: Mark & Karin Oates
Source: received it as a sample, freebie, or prize (Trailspace Reviewer of the Month prize package)

I don't like wearing sunglasses when I hike — invariably they distort my vision. Since much of my hiking is in the bright Sierra sun, I need protection for my eyes. Additionally I need protection to prevent sunburn on my scalp. The Trailspace cap works very well on both counts, and as a result I use it on almost every trip.
Pros
Lightweight
Dark color under visor to minimize glare
Dries quickly when it gets wet
Cons
Plastic latch on strap
New model darker color scheme isn't as cool as original model in hot sun
I finally sprang for one of these caps recently and took it on a 4-day/3-night backpacking trip in the high country of Kings Canyon National Park. It works as advertised!  
The material is very light and breathable, so it's comfortable to wear, and didn't feel hot on my head. The headband really does wick moisture, so it didn't feel wet even at times when I was sweating heavily. This is in stark contrast to the standard cap I had been using all along — that one got drenched with my sweat on hot steep climbs.
This cap also works well to minimize sun glare on my eyes. The brim is a good size to help block the sun, without restricting my field of vision. Additionally, the black color on the underside helps minimize glare.
I'm not a fan of the little plastic latch on the strap.  I prefer velc... ummm, "hook and loop" for this application. But so far I've had no issues with the plastic catch, so I can't complain.
This is a nice cap for outdoor activities in the hot sun. I'd definitely recommend it for this purpose.
Source: received it as a sample, freebie, or prize (Trailspace.com)
Price Paid: $17.95 plus $5.95 shipping

Except that it blocks the sun it's hard to tell it's there.
Pros
Lightweight
Coolmax material wicks very well
Makes my head look smaller
Cons
Coolmax material can snag, be careful
I got this nice hat mailed to me as a prize from TS. It would be bad form to diaparage a gift and I really can't anyway; it's a great hat. I have been eyeing a lightweight cap for summer hikes and climbs so this fits a niche I was already looking to fill. 
The coolmax material is extremely breathable and is an excellent choice for sweaty activities in warm weather.  I live in the desert (semi-arid shrub-steppe) so its ideal for where I live.  I wore it rock climbing two days ago and it was the ideal cover for the sun and also fit well under my helmet when I turned it around.  It would fit under my helmet facing forwards too but I wanted the bill in the back. 
The black side panels, according to my wife, make my head look smaller which is a good thing; I got a big mellon.
If I had to stow it it would take up zero space since it is so lightweight. 
If I was forced to say something bad about this hat I'd mention that Coolmax material is very prone to snagging so take care when walking through brush. A spark from a fire would also severely harm the hat as well but a good understanding of its limitations can mitigate these shortcommings. 
Mine came with a BB-sized purple stain on the bill that would bother me if I had paid for the hat.   
I have no substantive gripes and lots of praise for this cap.
Update: The lightweight buckle on the back broke when I used the cap to swat flies. Since my head seldom changes sizes I stitched the strap in-place. No longer an issue. The purple "stain" washed right out the first time I rubbed a little dish soap into it. 
Source: received it as a sample, freebie, or prize (Trailspace)

Lightweight, very breathable
Pros
minimal weight
very breathable
dark visor damps down reflections
easy to adjust
Cons
visor comes down a bit far, blocking view above
A bit cool for the mountains
My usual hat is a cotton 'radar' cap, which while it's warm in spring, fall and winter is too hot for summer. I'll wear it for the first hour or so, then once it starts getting warm out, it hangs off the strap on my pack. That's when I get that nice sunburn on my forehead, which seems to be a lot higher and more exposed than it used to be!
My test run was a 15 km dayhike, through mixed forest with sun getting through about half the time, carrying a 15 lb pack.  The temperature when I started was about 20°C but it warmed up quickly to around 24°. This time, my cap stayed on my head for the first couple of hours - nice ventilation through the coolmax fabric, good shade for my eyes (love the visor with the black underside!) and no weight to speak of.
What I DIDN'T realize was how well the hat was doing its job! I took it off at the rest stop, and enjoyed the cool breeze on my head. When I started out again I clipped the cap to a carbiner on my pack — within just a few minutes, my face was drenched in sweat and I took the hat to mop it dry. The hat had been preventing that from happening, but because it was so efficient, I hadn't even realized it! I put it back on, and while my bald spots weren't quite as well-ventilated, I could finally see again without having to squint through a salty blindfold.
Not for cold weather, of course, and I'll probably keep the old cotton hat around for cooler conditions or for rainy days, but the Trailspace hat is a great cap for summer hikes.
Source: received it as a sample, freebie, or prize (Trailspace)

An amazing hat; fits well and is sure to be a "talk of the trail!"
Pros
Cheap!! (read here, FREE!)
Stylish
Great fit
Great BLING to start as a Trail ambassador!
Cons
Inedible if you forget to pack a bear canister or snacks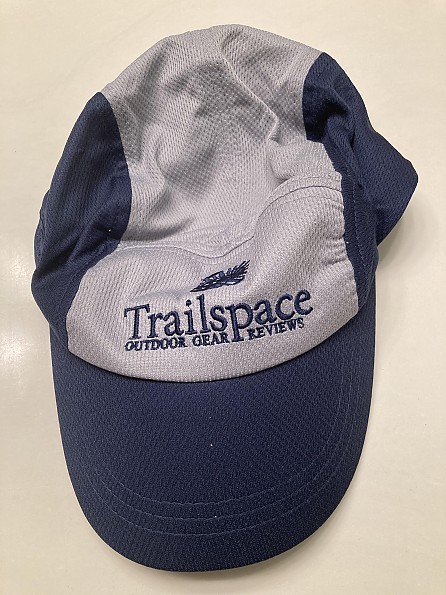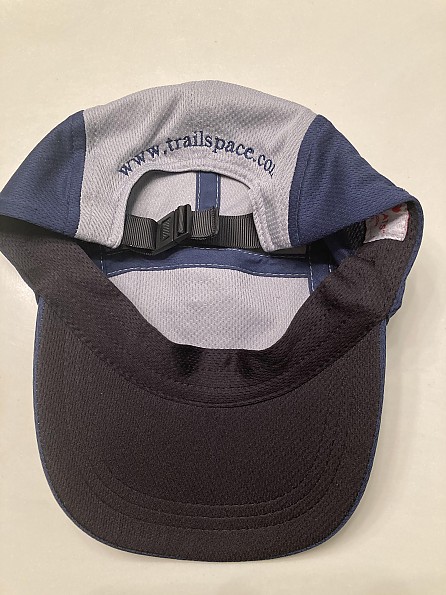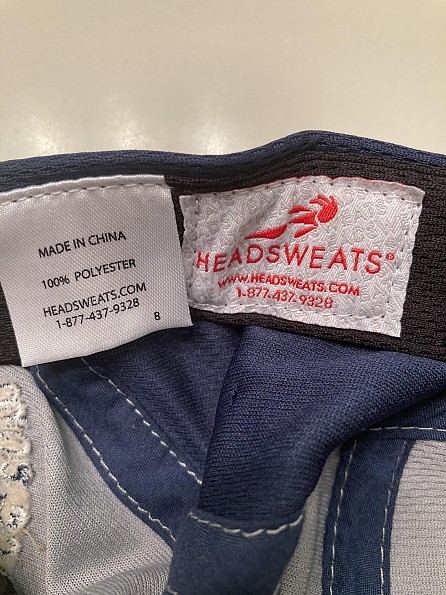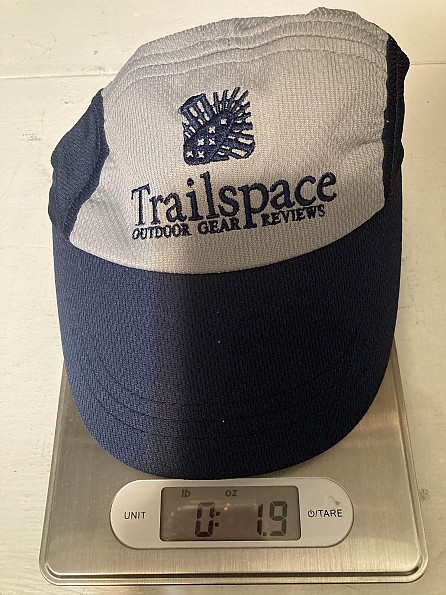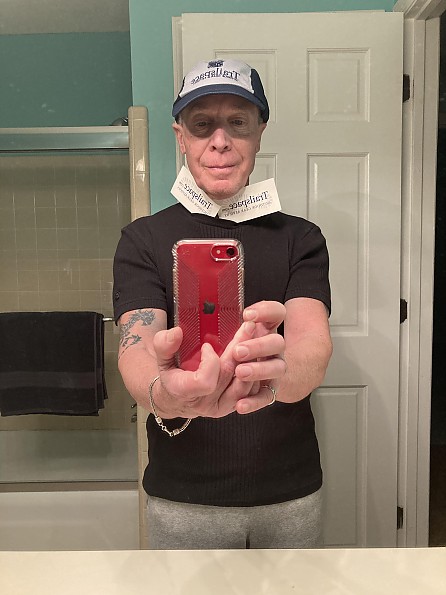 Experience
I've worn this stylish and comfortable, lightweight hat for about 35 seconds as I walked outside. Unfortunately, it was night and nobody was around to exclaim in wonder and awe about this phenomenal free gift (however, my dog looked up from his nap and appeared to like it… but then went back to sleep when he realized it wasn't dinnertime).
Source: received it as a sample, freebie, or prize (Top 25 Reviewer prize from the awesome and incredibly cool Trailspace!!)

Light, breathable cap your outdoor activities. I like the attractive, subtle colors of this hat and its low profile fit. The Headsweats band around the inside does a good job of keeping the moisture off your face.
Pros
Breathable
Lightweight
Easily adjustable
Headsweats band around inside does a great job
Cons
Fabric can pick/pull if it gets caught on a branch
This hat came along with the Patagonia shoes I won last year in a contest on Trailspace. I've worn it many times for hikes and am proud to promote the Trailspace community. The hat wicks moisture well with the open weave material and the Headsweats band keeps it from running down your face.
I normally wear visor style hats, but I have been pleased with this one because of its weight and breathability. I have noticed that the material can catch on limbs and cause a pull.  I've clipped off a few small ones, so just be careful when you're wearing it.
Source: received it as a sample, freebie, or prize (Trailspace contest)

So light you'll forget it's there.
Pros
Lightweight
Wicks moisture
Stylish
Yes, I'm gushing over this hat because it was a prize. BUT this really is a great hat for ultralight backpacking.
I wore this hat for a solid week on a recent backpacking trip. It kept the sun off my face. It wicked sweat. When it rained, it nicely served to keep my rain hood off my face. It weighs next to nothing!
The one con is the threads easily snag from normal wear and tear--much like the t-shirts made from the same material. After a week, it looked more "seasoned" than the regular ball cap I wear.
Source: received it as a sample, freebie, or prize (Trailspace!)

Lightweight, breathable, and offers good coverage.
Pros
Lightweight
Breathable
Wicks fast
Cons
Fabric snags on low hanging brush
Before receiving this hat, I was using a cotton based visor that I typically paired with a bandana for neck coverage. What I didn't like about my old visor was it never dried fast enough due to the cotton fabric.  
Since getting this Trailspace hat, I no longer had that issue. This hat wicks moisture from your forehead effectively and sometimes I forget I have it on due it being so light.
Here's a shot of yours truly sporting the Trailspace hat!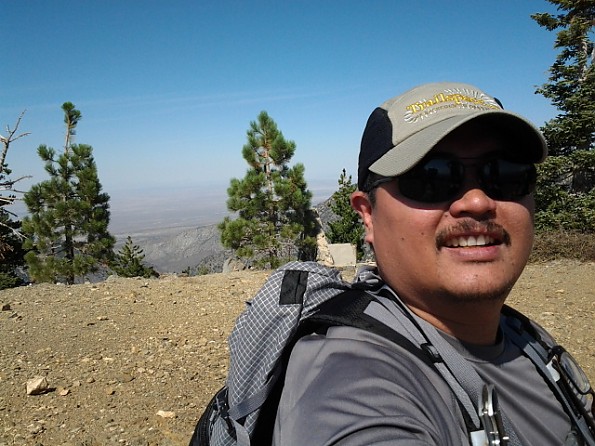 Source: received it as a sample, freebie, or prize (Trailspace!)

I received this hat today - just in time. The weather was forecast to be in the upper 90s, and I had about 4 acres of grass to cut. With no hat to wear, the timing was perfect. Field test? You bet.
First of all, I was pleased with the quality. I've owned runner's caps before, and some were flimsy and cheap. Not this one. Well built, and made of quality grade materials.
The first thing I did after donning my new headpiece, was adjust the backstrap. Happily, I was able to adjust it small enough for my little noggin. There is ample length in the strap though, to fit a WIDE range of sizes.
As I worked I was, every once in a while, reminded that I was wearing vented cap when a nice cool breeze filtered through the mesh. The terry sweat band worked great, absorbing all the perspiration I could give it. And the brim is just the right length to keep the sun out of my eyes, without being too long like one of those fly fishing hats. The dark under brim cuts glare nicely.
For outdoor work, backpacking, hiking, flatwater kayaking, and even under a climbing or bike helmet, I see this cap becoming my new summer favorite.
Fabric: nylon with poly mesh
Price Paid: $18

Excellent cap if a little flimsy (see below).
Cons
flimsy plastic latch
material snags on thorns and bushes
Excellent cap if you sweat like me. Took along on many long walks/hikes, but I managed to break the flimsy plastic latch at the back, a big problem since I am from Nepal with no repair facilities that I know of and I paid a good price for my standards.
Source: bought it new
Price Paid: $18

This is the hat for anyone in really warm weather. I wear a hat a lot of the time outside and here in SoCal, it gets really hot in summer, so I usually wind up sweating in a regular ball cap-style hat. The side vents on my Trail Runner make it a lot cooler than most other hats and I highly recommend it to anyone who wants to keep their head cool while hiking (which should be everyone).
Price Paid: gift

I received the vented Trailspace and the Trailspace Tactel hat last Christmas.
I will say without a doubt that these are the nicest hats I have ever owned.
I love the vented hat for distance running and for working in the yard. Very well designed.
Trailspace, you have a winner on your hands.
Thanks!
Ed Geary
Clermont, Fl
Price Paid: gift

Your Review
Where to Buy
Help support this site by making your next gear purchase through one of the links above. Click a link, buy what you need, and the seller will contribute a portion of the purchase price to support Trailspace's independent gear reviews.
You May Like
Whether on a run after work or a weeklong backpacking trip, the Trail Runner Cap is a reliable companion. To help you keep a cool head on those hot and humid summer days, it is made of lightweight, extremely breathable Coolmax polyester. The five-panel active fit design features a Coolmax sweatband and easily adjustable hook-and-loop closure.
Specs
Price
MSRP: $18.00
Historic Range: $17.95
Reviewers Paid: $17.95-$18.00

Weight
1.7 oz

Material
Coolmax polyester

Color
Navy/Grey