Klean Kanteen
Reflect Kanteen
1

review

5-star:

0

4-star:

1

3-star:

0

2-star:

0

1-star:

0
Reviews
No plastic, no paint, nowhere. Klean Kanteen touts…
Rating:


Source: bought it new
Price Paid: $30 (after 10% off coupon)

Summary
No plastic, no paint, nowhere.

Klean Kanteen touts this bottle as one of their uber-sustainable products. Like all other Klean Kanteen products, this bottle is made of stainless steel (18/8 in this case), but what makes this bottle unique is that it only contains two other materials -— a small silicone ring (food-grade, of course) on the cap to create a tight seal and a bamboo top (sustainably harvested, they say) on the cap.
Pros
Threading is durable, wide, and won't wear out.
Mouth is not too wide nor too narrow. Just perfect.
Looks sharp, for a water bottle anyway.
No worry about BPA or other plastic toxins
Sturdy D-Ring allows for clipping-on point
Cons
Condensates with ice cold liquids
A bit pricey for an uninsulated water bottle
Size and Weight: Holds 27 fl. oz. (800mL) and is on the more tall and skinny end of most water bottles I've used (9.75"x 2.75"). It easily fits into the water bottle pouches of both packs I own (Osprey Atmos 65 and Talon 22), on my bike's bottle holder, as well as any car cup holder I've tried so far. Also easy to carry by the D-ring on lid.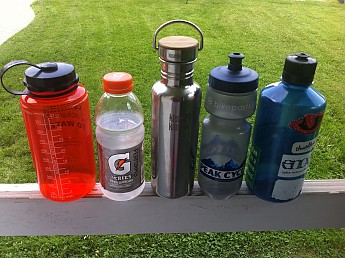 A comparison of the Klean Kanteen Reflect 27 oz. (center) with other bottles. As you can see, it's taller and skinnier than other commonly used bottles. 
Mouth: Easy on the mouth, with no sharp edges and wide enough to fit a standard sized ice cube but not much more. If you're familiar with Nalgene's two standard mouth sizes — that is, wide-mouth where you have to get the little sippy thing so you don't spill all over yourself (see above photo far left) and narrow-mouth where you have have to break up the ice to jam it in (see above photo far right), this bottle's mouth size is somewhere nicely in-between.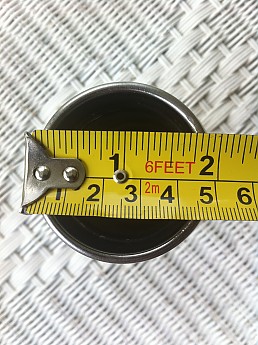 The bottle's mouth is very close to 1.75 inches or 4.45 cm. Perfect for getting ice in, but not so big that your nose gets wet when taking a drink.
As you can see, it's easy to fit ice into this bottle. No need to break the ice first. 
Cap: Easy twist-off cap where the metal D-ring acts as handle to twist the cap on and off. The ring also acts as something to clip onto. The bamboo top on the cap is purely decorative and never comes in contact with water in the bottle. I could have done without the bamboo, but it probably does look nicer than had they left it off. I'll slather some mineral oil on the bamboo every now and again just to make sure it doesn't dry out. I do this on all wood products in the kitchen (ie: cutting board, knife handles, drying rack, etc.) so this isn't exactly going to add any work for me.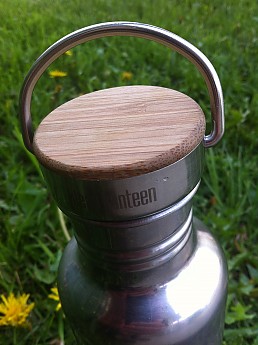 In this photo you can see the only two materials other than stainless steel, 1) the bamboo cap and 2) the silicon ring that helps create a tight seal. 
The screw cap is the main reason why I bought this bottle. I was sick of having stainless bottles that featured cheap plastic caps or threads that would eventually strip away and become useless. The threads on this cap are built right into the same piece of stainless steel as the bottle. Likewise with the threading on the cap. The threading is very wide, easy to catch and I don't foresee any possible way for it to wear out, unless I somehow severely dented the bottle in the threading area, which would take a lot of pressure to do so.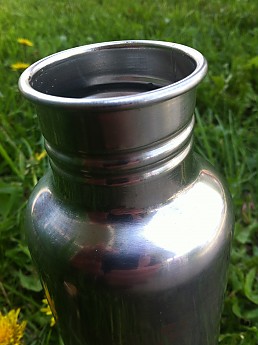 With its wide threads built into the same piece of steel. The cap is impossible to mis-thread when putting on. The wide, built-in threads are the main reason I purchased this bottle.
Condensation: This bottle is single-walled uninsulated, therefore should not be used with hot liquids. When ice cold liquids are put in it, it will perspire, or condensate on the outside.
Here are a couple additional photos to get a sense for its use.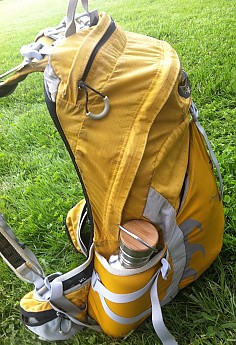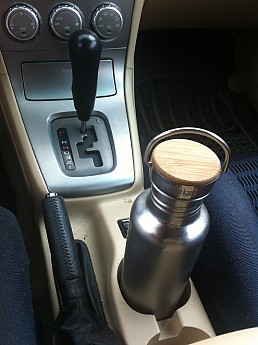 Conclusion: Although it felt strange to spend $30 on a water bottle, this has served both my wife and I well. It is durable and seals tightly. No leaks whatsoever. Easy to clean with no lingering smells from non-water liquids whatsoever. The sturdy D-Ring allows me to clip/tie it on a variety of things including pack loops, strung hammock lines and more. With no plastic parts, I suspect this will hold up for years, but only time will tell.
So far, it's gone on a number of day trips, one overnight trip and a couple mountain biking excursions. At 27 oz. I always take another bottle along as well. The Reflect is nice enough looking for my wife to take it to work everyday. 
Where to Buy
sponsored links
Help support Trailspace by making your next purchase through one of the links above.
Retailers' Descriptions
Here's what other sites are saying:
Klean Kanteen 27 oz. Kanteen Reflect with Bamboo CapEnjoy using the unique and creative Klean Kanteen 27 oz. Kanteen Reflect with Bamboo Cap. This unibody bamboo canteen comes from a single piece of stainless steel making it resistant and durable. The stainless steel bail is secure providing a handy attachment point. The cap from this Klean Kanteen is from sustainably harvested bamboo for an elegant look. An interesting feature of this bottle is the laser etched for life logo that does not scratch or wear off, even after several years of use. The canteen is available in two fine finishes which are a traditional brushed stainless and a mirror for you to choose the one you like best. Take the new and original Klean Kanteen 27 oz. Kanteen Reflect with Bamboo Cap on your next trip or adventure.
- SunnySports
The 27 oz. Klean Kanteen Classic Reflect Water Bottle takes the stainless steel water bottle to a new level. Same stainless steel you've come to know Klean Kanteen for - durable, easy to clean and toxin free. A sustainably harvested bamboo cap gives it a great look, flawless function and years of durability. Food Grade silicone is used in the cap where a softer material is needed. A laser etched logo replaces paint so it can't ever scratch or wear off. The mirrored finish looks amazing and is designed to last. No paint, no plastic, this bottle will last a lifetime, keeping you healthy and hydrated. Capacity: 27 fluid ounces (800 ml). Size: 9 in. H without cap x 2.75 in. W. Opening diameter: 1.75 in. (44 mm). Made of 18/8, food-grade stainless steel, no liner needed. BPA Free, Reusable and 100 percent recyclable. Doesn't retain or impart flavors. Slim design fits in most cup holders. Fits in the Kanteen Bike Cage. Rounded corners are easy to clean with no hard angles where dirt, germs or bacteria can stick. Stainless steel threads Fits large ice cubes. Sustainably harvested bamboo and food grade silicone cap. Color: Mirrored Stainless
- Tahoe Mountain Sports
In keeping with their commitment to innovation, integrity, and creating healthy, sustainable alternatives to plastic, Klean Kanteen crafted the unique Reflect Kanteen to be as beautiful and simple as possible.
- EMS
The 27 oz. Reflect bottle from Klean Kanteen is crafted using just sustainably harvested bamboo, food-grade silicone and stainless steel. This makes it beautiful in its simplicity and deliberate in its design. PRODUCT FEATURES: The Stainless Unibody Bamboo Cap. Fashioned from a single piece of stainless steel, the cap is strong and durable. The stainless steel bail is firmly attached, providing a handy attachment point. The cap is beautifully finished with sustainably harvested bamboo Laser Etched For Life. The logo is laser etched onto the bottle, replacing paint. With nothing to scratch or wear off, it's as durable as the Reflect itself. A Fine Finish. The Reflect is available in two finishes, our traditional Brushed Stainless and Mirror
- Appalachian Outdoors
Free yourself from paint and plastic with the Klean Kanteen 27oz S. E. Classic Reflect Water Bottle. Available in a brushed or mirror finish, the bottle is made from durable stainless steel and features a sustainably harvested bamboo cap.
- Backcountry.com
Klean Kanteen Reflect Kanteen
currently retails for:
$29.95 - $32.95

where to buy: