Osprey Talon 22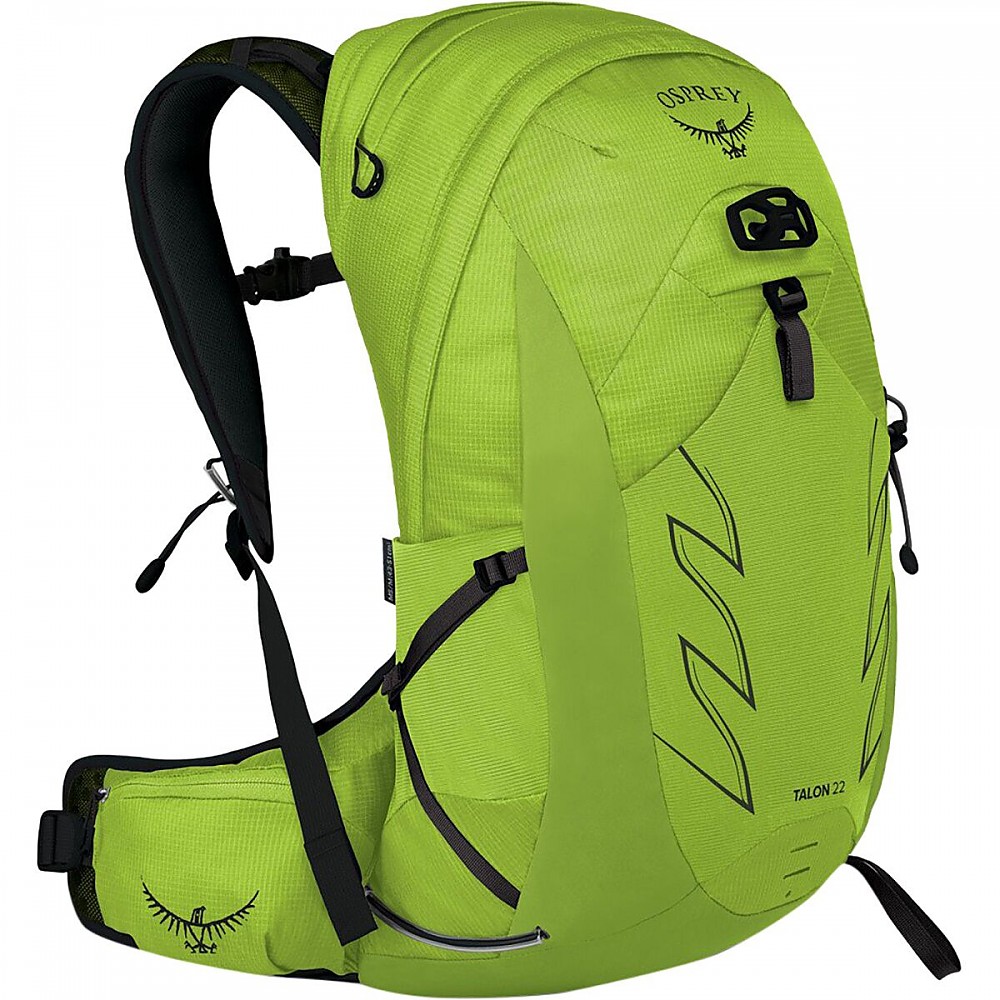 A great daypack for beginning hikers or just everyday use. Biking, hiking, skiing, fishing, school books, etc. This pack is versatile and durable.
Pros
Lightweight yet durable
Spaces are plentiful
AirScape mesh back allows the back to breathe
Bright color options — great for cycling or hiking in areas near hunters
Cons
Zipper handle on main compartment is sometimes lost in crevices
Hipbelt pocket is too small
Top mesh pocket sometimes snags on sharp objects inside pocket
Fit: Great fit. Even for a slightly bigger person (6'3" with a 34" waist) like myself. Straps are very adequate. I bought the M/L size, which is a full 22 liters, whereas the S/M is only 20. 
Comfort: When going on a day hike, my wife and I will fight over who gets to carry the pack. Yeah, it's that comfortable. 
Capacity: For a 22 pack, this thing is incredibly spacious. I've seen packs closer to 30 that would be hard pressed to store as much stuff as this one. One highlight is the front stretch pocket. It can hold my bike helmet, although as the photo shows, it doesn't fully consume it. The helmet, in this case, has never fallen out of the stretch pocket. The main compartment, is plenty of room for the helmet, but typically, I just strap the helmet to the outside of the pack.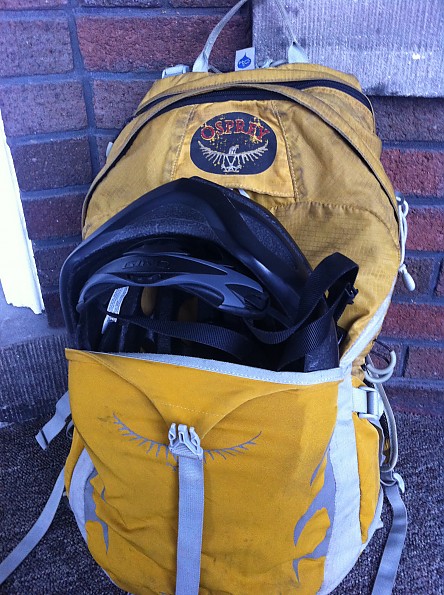 Organization & Accessibility: Everything feels very secure. In the past I've been worried about water bottles slipping from side pockets, but never had such problem with this pack. 
Ride: Hugs the back, but allows the back to breathe. Mesh-lined should straps are not only comfortable, but also seem to help distribute weight evenly.
Compression: Works best when it's near full, so I also carry an extra layer in it. 
Ease of Use: Before this pack, I never owned one with this style of straps. However, they are intuitive and perform well. Everything performs extraordinarily well except for the hipbelt pocket (too small for my camera, although it can fit an iPhone), the top mesh pocket (very occasionally snags on something sharp in the pocket like the pointed end of a pen cap. See photo.) and it's sometimes hard to locate the main compartment zipper when the pack is fully loaded.
Also, I'm not sure why they constructed this pack with a stretch pocket on each of the shoulder straps. These small pockets barely squeeze an iPhone, so if you have a larger phone, no way it's going in these pockets. I never use these pockets, and I would imagine that one would have been enough.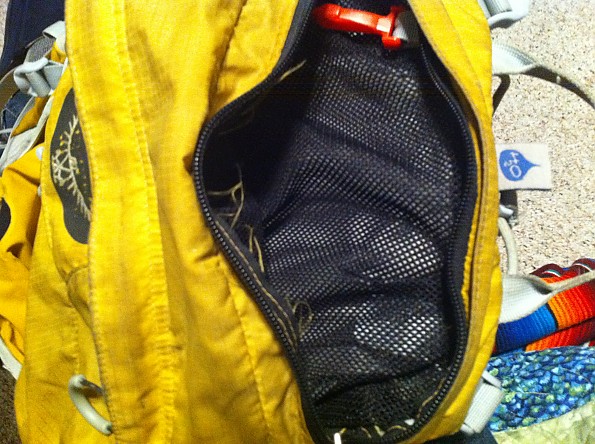 Here's a look inside the top mesh pocket of the Osprey Talon 22. Occasionally, small sharp objects like the pointy end of a pen cap will get caught in this mesh.
Construction and Durability: Has held up great other than being dirty and never truly coming clean (I bought the yellow color for visibility sake when cycling with it or when hiking in areas that are open to hunting, such as state parks).
Conditions: Had this pack for four years now. It's served as everything from an airport carry-on to a fly fishing daypack and from a hiking daypack to a daily cycling commuter pack. It's been all over with me — it has been beat up by the rugged New Zealand mountains, battered by the sun and sand in Samoa, soaked in the Cascades, hauled in the Appalachians, wind blown in the Adirondacks and much more.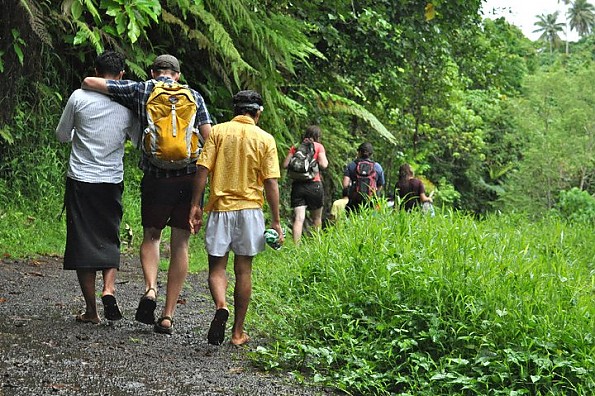 Walking the trail back from a gorgeous waterfall/swimming hole on the Savai'i Island of Samoa. The humidity was tough and the sand found it's way into everything, but the Osprey Talon 22 did its job well.
Source: bought it new
Price Paid: $99 USD

A lightweight bag suitable for day trips and commuting, though the lack of a lid to protect from a downpour or two may not suit everyone.
Pros
Lightweight
Fits well
Mesh back
Range of colours
I use this bag a lot as it is great for commuting to work on my bike or for day walks. There is plenty of room in the 22l compartment for wet weather gear, food, drink, and other essentials.
The mesh pocket on the front is big enough to stow a fleece or rain jacket for quick and easy access. Towards the top of the bag is a toggle to hang a bike helmet from. Two side pockets have enough stretch for a couple of water bottles up to 750ml. There is an internal stowage pocket big enough for a phone and a second zip provides access to a smaller compartment for essentials without having to dig around to the bottom of the bag—I find this VERY useful.
The mesh back is effective in keeping me cool in warmer temperatures or when I am peddling hard. There are two small pockets on the hip belt which I use for sun cream and anti-bacterial hand gel. It is good to have these things close to hand as I am more likely to use them. There is a single loop on one strap and on the back of the bag for trekking pole stowage.
Finally, there is a stretch pocket on the left shoulder strap, but it is quite small so you are limited with what you could put in it. The bag is fully adjustable with shoulder, hip, and chest adjustments. All the clasps and zip tags are well designed and easy to use. 
Construction of the bag is good and all the stitching is uniform with no snags or cotton tails. It is very lightweight so I do not notice it on my back that much when all the straps are adjusted correctly.
My only gripe with the bag is the lack of a lid. In downpours, rain quickly penetrates the zips and unless you use a stuff bag, items inside will get wet. For £10 more, it's bigger (33l) brother comes with a lid, so may be worth considering.
In summary, this has proven to be an excellent general purpose day bag and commuting bag. It is well made, lightweight, and packed full of features, though the lack of a lid may put some off as might the cost. At £90 that's a huge ask for a day bag, even if it does come in a range of colours.   
Experience
Long-term use day walking on trails in the UK and cycle commuting.
Source: bought it new
Price Paid: £90

Love the pack, great for all sorts of tasks!
Pros
Lightweight
Well-made construction
Many features for the prices verses other brands!
Cons
Rain cover not included
"Osprey" patch wearing off after a few years of use.
Bought the pack back in 2012 and it has been my go-to pack for all sorts of activities; school, hiking, biking, rollerblading, air travel as a carry-on or another other odd activity that didn't require a larger pack. The pack has been all over the place and I don't leave home real often without it.
As far as the fit goes, I'm 5'11", 170 lb, 32" waist male for starters and I purchased the m/l size. The adjustable harness makes for a custom fit and the hip belt fits comfortably around my waist. I love the mesh-perforated shoulder straps, lets air through to keep me cool.
The only complaint I have besides not coming with a rain cover is that I wish the back panel was Osprey's Airspeed panel. I have the Osprey Stratos 36 with the Airspeed back panel and love hiking with that, but can't justify carrying a 36L pack on a day hike. The Airscape is OK, but hiking/biking in humid Minnesota during the summer leaves for a rather sweaty back.
With that said, the Airscape is still functional and is certainly better then nothing. It does provide much needed ventilation. Again, that is my only real complaint, but something to consider.
I've purchased a 2L bladder and haven't had any problem getting flow from it with the pack being loaded. The side stretch pockets are a little small for a full size Nalgene bottle, so I usually keep those in the stretchy front pocket.
The side pockets work great for holding bug spray, sunscreen, larger smartphones, smaller Gatorade bottles to name a few things. Hip belt pockets work great for holding keys, granola bars, smaller cameras. Each strap comes with a clip which holds the extra length of strap to itself so straps aren't flapping around, love that feature! Helps give the pack a clean feather.
The pack has been to Denali, Rocky Mountain NP, most recently the summit of Mt. Elbert (highest peak in CO), several day hikes in Minnesota and New Mexico and the pack has never let me down. It has done everything I've asked of it and it made me a believer of Osprey's products!
Waiting for my current one to wear out so I can have an excuse to pick up the newest version, but don't think that is going to happen anytime soon.
Source: bought it new
Price Paid: $79.99

This pack is a perfect size for day hikes; snacks, jackets, and extra water all fit nicely. The stretch pocket on the outside is great for holding maps and any other quick access needs. The hip strap with pockets also makes for a secure fit with easy access to smaller necessities. The easy adjustment straps etc. also make it a snap for either my husband or I to wear comfortably.
Pros
Great organization pockets
Easily adjustable
Perfect size for day hike
Cons
If the pack is stuffed to the brim, it is not easy to access items on the bottom.
On hot days your back will sweat.
Fit: This pack fits both me and my husband, though it is a bit large for my torso. (I am 5'7" and my husband is 5'11")
Comfort: All straps are comfortable and easily adjustable. It does not have great ventilation, but any pack is going to make your back a little sweaty.
Capacity: This pack holds more than enough for a day hike, and also works great for one person for a weekend getaway.
Organization & Accessibility: The pack has plenty of outside organization and access (2 zipper hip pockets, 2 water bottle pockets with straps to secure any size bottle, one large stretch pocket with snap, smaller top zip storage, small inner zip pocket for keys or wallet, large inner cavity for bulky coats, blankets, snacks etc.)
Ride: When all buckled down (hip and chest straps) and adjusted, this pack is very stable. Depending on how you pack the inside things will shift etc. but not terribly.
Compression: The only compression available is on the water bottle pockets.
Ease of use: Everything works well, the stretchy pockets keep their elasticity well.
Features: I love the reflective accents, this adds safety. 
Durability: This pack has held up for more than 5 years with consistent use. Lots of day hikes and overnight travel use. 
Source: bought it new
Price Paid: I don't remember

Lightweight, super comfortable, quality daypack. I would buy it again.
Pros
Lightweight
Really good quality
22 liters seem like 30 liters
No frills and efficient pack
My wife and I both have versions of this pack. We both love them. Hers is a blue and green color combo and mine is the black and grey. I am much harder on gear and use packs more extensively. My wife uses hers for the occasional day hike and on all of our traveling adventures.
These Ospreys are light and comfortable, but very durable. They are quality packs and we both feel like they are enjoyable, convenient and efficient to use. They are 22 liters but pack like they could be 30 liter bags there is that much room in them. I really like the trekking pole holder and the mesh pocket to slip things in for convenience like rain jackets or whatever. The materials are tough and the design is well thought out. There are minimal pockets in the pack but it is meant to be simple. When we need extra organization we simply use packing cubes or individual pouches for organizing items inside the main compartment.
We have done trail runs, bike trips, traveling, day hikes, daily commutes, etc. with these packs and have been pleased. We would buy these packs again and for me to stick with a piece of gear for a long period of time, it needs to be a quality piece and it needs to work. This is one of my favorite packs in its class and in our family we currently have and use Osprey, North Face, Gregory, Jack Wolfskin, Mountain Hardwear, Jansport, and Maxpedition bags for name brand.  Plus a few other brands over the years. 
The Osprey products are top shelf.
Experience
Extensive experience
Source: bought it new
Price Paid: $50

The Talon 22 was exactly was I was looking for in a pack. I needed a lightweight pack for 3 purposes:
1. Day hikes - I have a laptop pack already that doesn't work well for hiking. I needed a pack that has a hydration sleeve, outer pockets and straps (but not a lot so they aren't dangling and get caught in everything). 
2. Ultralight overnighters - The talon 22 proved to be the perfect amount of space for minimalist overnighters. I carried a 20lb load (food/water/gear) comfortably, that included the following gear:
Sleeping Bag - Montbell UL SS #5 - 1lb 2oz
Sleeping Pad - Therm-a-Rest Zlite - 14oz
Shelter - GoLite Shangri-La 1 Fly+Nest - 2lb 4oz
Stove -  Jetboil PCS
Water filter - Katadyn Hiker Pro 
Other Misc - Food, 2L water, clothing, pack cover, camera, etc 
When packed correctly, the back doesn't bulge out even when stuffed to maximum capacity. The hip belt works great (unlike most daypacks I've tried) at taking the weight of the pack off the shoulder straps. The pack fit like a glove, allowing me to climb over fallen trees and over rocky terrain without shifting around.
3. Airline travel - I never check luggage in, and I don't like wheeling my bag around. This is the right size for a carry on that fits all my belongings, and still stuffs under my seat or in the overhead compartment.
Price Paid: $86

Just recently took this pack out for the first time — and love it! A mid-March dayhike in the Rockies requires a little bit of everything, and the Talon handled all my layers (taller guy = larger stuff) and everything else comfortably.
Pros
Size
Various pockets
Hydration
This pack nails everything in a really positive way. As mentioned above I'm taller (6'5"), and the adjustability made for a good fit.
The top compartment is convenient, and can handle an SLR.
The hydration pocket holds a 3-liter reservoir well.
Both the shoulder and hip straps have pockets on both sides allowing for easy access for smaller things easy.
On this first hike, was out for three hours; and I was bummed out to have to take it off!
Also, it's style is pretty kick-ass. Which is a nice bonus.
Source: bought it new
Price Paid: $75

I have used this pack over the past four years for everything, including two-day light backpacking trips, fly fishing, and carrying my laptop and books to campus. The strap design makes heavy loads seem much lighter, and the hip pockets are perfect for carrying keys and small items without having to remove the pack to reach them.
Pros
Reflective lines for nighttime safety
Strap design
Air flow design for your back
Cons
The thin inner pockets wear down easily if subjected to low heat
There is no hard lining in the bottom to keep pack rigid
If you are looking for a daily backpack for school or day hikes then this bag is a great investment. However the small design is not fit for carrying much external weight, such as a sleeping bag or shoes tied to the outer surface.
Source: bought it new
Price Paid: $80

Reasonable price and lots of adjust-ability for a small pack.
This is a really nice pack, but large folks should try it on before purchasing. It has plenty of adjustments to fit many sizes, but if you are over 6 feet, you will want to make sure it fits you properly. Variances in torso length will determine if this pack is right for you.
That said, I still use this pack for urban adventure where I'm not really putting long miles in. The hydration bladder fits well into the pack and there is plenty of room for your basic gear set.
There are a variety of pockets, external an internal, for storage use and convenience. Because of its small size, load distribution isn't really a concerning factor. Once items are in the pack, the side straps can be adjusted to cinch everything down nice and snug.
Fit and finish for all Osprey products is top notch and potential buyers should always feel confident in their purchase.
Source: bought it new
Price Paid: $98

So far so good with the pack. It offers all around excellent features for its size that are hard to find in similar sized packs.
Pros
Legit waste strap with quick access compartments
Breathable back mesh
Very lightweight
Osprey quality construction
Cons
Relatively expensive compared to other day packs
Might be too large for the typical day packer
I've used this now for a 20-ish mile day hike and for a few short 5-10 mile hikes. At first I was a little concerned that it was too much bag for a day hike and too little bag for multi-day.
I can now say that its extra volume doesn't in any way cause it to feel bulky or in the way for fast hiking and would recommend it over a smaller pack for the added versatility that it will occasionally provide.
I am still skeptical of using it for multi-day as I am not quite that hardcore as to do a multi-day with such sparse equipment as one would have to go with in order to make this pack work.
I think the pack is basically what you should expect from an Osprey pack. It has the typical construction quality, insanely lightweight, class leading back "sweats mesh", and waist straps. There's even strapping for bringing poles, axe, etc. Ultimately, I think it provides more versatility than you will find in another pack without tradeoffs in bulk.
A few small issues: The bottom is of a light grey color that instantly is stained. Why this bright orange!? I'm a big fan of orange, but I much prefer the darker orange they use on their larger packs. That's really about it!
Source: bought it new
Price Paid: $99

Two things stand out about the Osprey Talon 22: ventilation and bonus features.
Pros
Well ventilated
Stretchy front pocket
Separate compartment for hydration bladder
Several features such as a helmet clip and tow loop
Cons
Hard to lash bigger items to the outside
Water bottle pockets are small
This pack is for people who want clever features and are willing to pay about $100 and carry a little more weight. I use my pack 3-4 times a month during the summer in the Colorado Rockies and twice a month during the winter and I believe it is the most comfortable and versatile pack I have ever owned.
Source: bought it new
Price Paid: $89

Meets all my expectations for a durable, easily accessible, and multi-functional day hike backpack. Exceeds its own advertising for a comfortable, stable, and ergonomic fit that reduces fatigue and strain.
Pros
Easily accessible belt and mesh pockets
Panel loading
Loops for trek poles
Helmut clip
Cons
More pockets and loops
Not waterproof
Secure location for phone
For the novice or day hiker Osprey has constructed the backpack of choice. Compact and good looking it can easily double for biking, fishing, and canoeing trips. Ultralight hikers may find the components and wearability an intriguing option.
Source: bought it new
Price Paid: $100

I needed a day pack for a day hike up Arizona's highest peak, Humphrey's Peak just north of Flagstaff. The Talon 22 was my choice. It easily handled two 70 oz. hydration bladders and the rest of my gear like a champ. The pack was very comfortable and I would recommend it to anyone who needs a lightweight technical day pack for hiking or even trail running.
Design: top loading technical day pack.
Size: med/larg
Number of Pockets: 2 side pockets, 3 main compartments
Max. Load Carried: 15
Height of Owner: 6'0"
Price Paid: $99

Used just a couple of times, but has been great both times! Plenty of room for a long day hike.
Pros
Light
Comfortable
Lots of room
This pack has been great the couple time I've had it out. Took it on a 13+ mile hike around a local lake with the dog. This pack seems to never end while packing it! It swallowed a jacket, rain shell, lunch, snacks, a few water bottles the dogs stuff and still had more room! Light, comfy and good looking.
Source: bought it new
Price Paid: $99

Excellent daypack. Very comfortable.
Pros
Comfortable
Spacious
Unisex
Bought in 2016 for day hikes and travel. Really comfortable for both myself and my wife, who is half my size.  Bought because I was so impressed with my Aether 70, and Osprey always seems to get rave reviews.
The hip belt allows you to load this thing down and still be comfortable on a long walk. Also has a water reservoir slot, which I use often.
Great little pack.
Source: bought it new
Price Paid: $100

02/10/11 I recently bought the Talon22 as a day pack.  I like to do fast day hikes. The pack is extremely comfortable.  I carry a pretty heavy water load and a couple of extra layers.  
The pack has lots of adjustments and is ruggedly constructed.  Great little pack.
Price Paid: $75

Your Review
Where to Buy
Help support this site by making your next gear purchase through one of the links above. Click a link, buy what you need, and the seller will contribute a portion of the purchase price to support Trailspace's independent gear reviews.
You May Like
For those moving fast and packing smaller loads, lightweight packs in the Talon series adjust for a wide range of comfort and suit any style with the option of several sharp colors and graphics. Designed for mountain biking, trail running, fastpacking, peak bagging, and adventure racing. Features the AirScape back panel with ridge-molded foam that creates air channels, and adjustable harness, and mesh hip belt pockets.
Specs
S/M
L/XL
Price
MSRP: $130.00
Current Retail: $120.00-$160.00
Historic Range: $49.98-$160.00
Reviewers Paid: $50.00-$100.00

Load Range
10-20 lbs

Volume
1220 cu in / 20 L
1,343 cu in / 22 L
Dimensions
20.08 x 9.84 x 9.06 in
22.05 x 9.84 x 9.06 in
Weight
1.91 lbs
2.04
Main Fabric
bluesign-approved recycled 100D x 210D wave check high-tenacity nylon, PFC-free DWR

Accent Fabric
bluesign-approved recycled 420HD nylon packcloth, PFC-free DWR

Bottom Fabric
bluesign-approved recycled 420HD nylon packcloth, PFC-free DWR