Osprey Aether 70

The Aether 70 has been discontinued. It was replaced by the Osprey Aether Pro 70.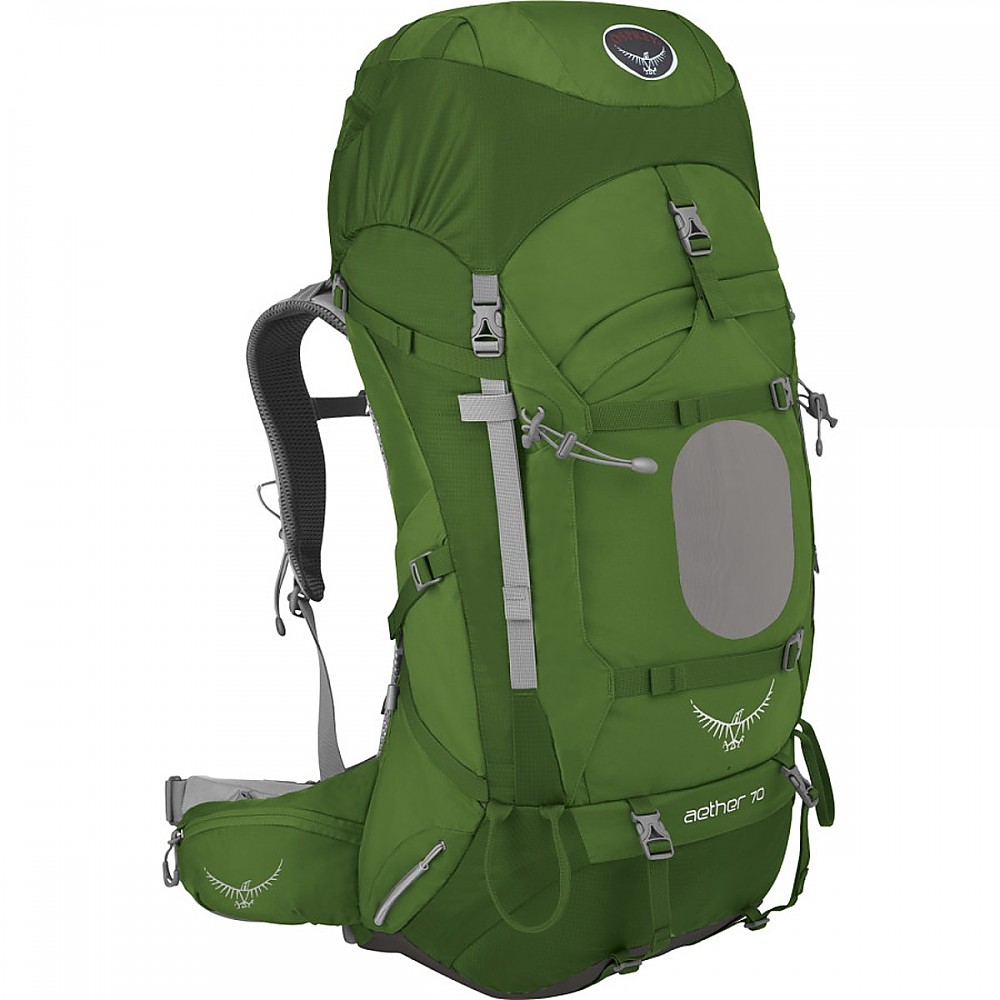 Wonderful craftsmanship with a great carry.
Pros
Great ride
Swallows gear
Highly adjustable
Excellent workmanship and materials
All in all the Osprey Aether 70 is my all-time favorite "big boy" pack.
If you follow gear you know that Osprey is considered top-of-the-line, as much for their rock-solid, lifetime guarantee as their superior products. The Aether is my fourth Osprey pack and I don't see myself ever switching brands.
I'll bypass all the specs which can be found easily enough but will just mention a few of my personal thoughts. A big plus for me are the numerous compression straps and the flexibility of use they provide. A common misstep is over packing just to "top off the pack" but with the strategically placed straps, on both the sides and at the top of the main compartment, you can pack down the load without having to fill it up.
I'm also a big fan of how it carries. I try to keep my loads as light as possible but have carried 50 lbs with no sway with the weight falling where it's supposed to. The materials used just scream quality and despite a couple of years of frequent use show no real sign of wear. While you can swap out the hip belts if you want I prefer the minimal padding.
(Side note: Osprey has a feature in which they will 'mold" the hip belt to your body contour via a heating system found in many of the stores where Osprey's are sold. I've been told, by an Osprey rep. in fact, that it is not necessary and more of a gimmick than anything. The standard hip belt will take shape on it's own after a couple of trips. I found this to be the case.)
One drawback to the model I have, which has been changed for 2013, is the lack of hip pockets. If keeping a bar, camera or phone close by is of importance, consider the newer model. Also, while the stuffit pocket is great, and the vast main compartment just swallows gear, I would like to see one more zippered pocket on the top lid. There's just one now and I would prefer not having to hunt for smaller pieces I might need. That said, the top lid does come off to make a very useful hip pack for day hikes out of base camp.
And other great element of Osprey is their customer service. I've stepped on and broken buckles in the past and all it takes is sending them a photo of the broken piece and a description of where it's located and they will immediately send you free replacements. That kind of thing really matters to me.
So if you're looking for a killer pack that handles both an overnight and week long+ excursions, you really can't do much better than the Aether 70. I HIGHLY recommend this pack.
Source: bought it new
Price Paid: $180

Ultra comfy, ultra adjustable pack able to handle significant weight.
Pros
Relatively lightweight
Stable
Durable
Well-designed
Huge capacity
Adjustable
Access features
Compression straps
Cons
Water bottle pockets
Bear spray slides off hip belt when unbuckled
When it comes to packs, it either feels good or it doesn't. I tried on numerous packs and even though most technically fit, this is the only one that felt good. I'm shaped kinda weird (narrow shoulders, thick chest) and needed significant finagling to come up with a pack that fit and felt good. The result was well worth the wait.
The harness can be switched around with the pack which makes for a very versatile fit.  I ended up with a medium pack coupled with a small harness. It's arguably the most comfortable internal frame pack I've ever worn.
All the requisite straps are present and fully and easily adjustable. Nothing unusual here except there are tons of them.  You can compress your gear in so many different ways you'll probably need a moment to reflect.  Go ahead...
As with every internal frame pack I've ever worn, you will sweat and the pack will not vent enough to keep you comfy in this regard. All these pack designers coming up with new high-tech names for their back panel venting systems (the Aether 70's is the "Airscape"...oooo!) should spend their time and money elsewhere. As far as I've been able to tell none of them are particularly effective at venting and the Aether 70 is no exception. You will sweat.  Embrace it.  Revel in it.  Let it make you feel like a hero from the dim recesses of history.  Or a tax accountant from Jersey, whichever you prefer.
There is a sleeping bag compartment accessible from the bottom of the pack via a zipper and compressible with two straps. I'm sure your sleeping bag will approve but if it complains you can remove the divider between the sleeping bag compartment and the main body cavity of the pack which will allow your sleeping bag to socialize with the rest of your gear. 
There is a huge main compartment and a stretchy front pocket for your toilet paper, though you'd need to bring lots of toilet paper to completely fill it up. There is a  zipper opening on the pack body which allows you to access the main compartment from the outside of the pack in kind of a pseudo panel-loader way.  This helps if you dropped something small inside the main compartment and don't want to upend your pack to get at it (you know it dropped way down and is now chillin' with your sleeping bag, right?).
The pack lid is huge and very adjustable.  You could put anything from a pair of long underwear to a large stuffed animal to scare away bears from your camp at the end of the day in there.  The lid can be disengaged and worn as a fanny pack.  Or a large ugly hat.
The hip belt is special.  You can take it in to any one of a number of authorized Osprey retailers and they'll heat it up for you in a special little oven (don't try this at home) and you can wear it around the store for 15-20 minutes or so. This molds the hip belt padding to your hip bones for a custom fit.  This makes for a supremely comfy pack ride, even with a large, heavy load.
The pack is also very durable. You could run over it with a truck or verbally abuse its ancestry and it'll just sit there and look at you.  Well, I'm not sure about the truck part, but if you did and something broke Osprey would probably replace/repair it.  Their guarantee is outstanding.
The water bottle pockets suck. They're oddly shaped and not accessible while the pack is worn.  Whatever I put in them I always feel like it's vulnerable to falling out.  This is my only real complaint. For such a well-thought-out pack to neglect the water bottle pockets, well, that's just disappointing.
Overall, if you're looking for a heavy-duty, long-range pack that can handle the load and not offend you, buy this one.
Source: bought it new
Price Paid: $270-ish

Great pack and great service from Osprey. Has held up well with intended use. Highly recommend this pack and anything from Osprey. They stand behind their products.
Pros
Comfortable hip belt
Lots of room
Awesome Osprey customer service!
Cons
Heavy
No rain cover
Another pocket or two
Bought this pack almost two years ago and have used it on a couple of extended trips. It has held up very well and has handled 30-40lbs of gear with little issue. Hiking at a fast or slow pace, jumping over rocks or trees, the pack stays in place and I barely feel the load shifting about. I have had other packs with straps fail just from climbing or jumping over objects on the trail.
This pack still looks brand new after many uses. Unfortunately on my last backpacking trip the shoulder straps were starting to become very uncomfortable as the days wore on and I had to put all the weight on my hip only to be able to carry on.
When first researching the pack I was torn between which size to purchase. I have a small waist but a larger chest. The large size pack was too difficult to tighten the waist belt adequately and the medium fit was almost perfect. But the straps for the medium were a little tight even on the highest setting.
I was able to adjust the shoulder harness with its velcro attachment to make it fit a bit better. I didn't realize at the time I purchased I could swap out the different sizes in the waist or shoulder straps. I am a weight lifter and over the two years my chest and back had gotten a little larger and hiking for long periods of time became uncomfortable with this pack in the shoulders.
I decided to contact Osprey to see if I could purchase a larger shoulder harness. Told them of my issue and they sent me a larger shoulder harness free of charge! I really didn't expect that to happen. The larger shoulder harness made a world of difference and I am now ready to handle the longer hikes in better comfort with this pack. Osprey really went over board to make me a happy customer and that carries a lot of weight with me.
As far as drawbacks go, I wish for the price this pack had come with a built in rain cover. I hike mostly in the Colorado mountains and the rain here can sometimes be missing for long stretches but when it does come, it comes in buckets.
Also completely empty this pack is a little heavier than I would like. The other thing I would like would be a few more pockets for separating out my gear. Because of the lack of pockets I sometimes find myself digging for something in the voluminous center pouch.
I tend to be on the cheap side over the years when it comes to my gears and have spent more than my fair share of time repairing gear after a long hike or occasionally even during the hike. This is the most I've ever spent on a pack, but it's also the most durable pack I've owned and as I mentioned earlier Osprey really did make help to keep me using this pack for years to come with their customer service. 
Source: bought it new
Price Paid: $203

This pack is comfortable, durable, lightweight, and versatile. The Aether provides excellent body fit, adjustability, and balance. Very well designed storage and accessory pockets.
Pros
Comfortable, relatively lightweight, and versatile
Excellent body fit and easy to adjust
Ample storage capacity for 3-season backpacking
Easy to reach accessory pockets with sturdy zippers
I'm 5'9", 160 lbs. ("average build"), over 60, and have a surgically repaired back, so comfort is important to me. After a fitting at REI and trying on several competitive models, it became clear Osprey understood body symmetry. Loaded with 35-40 lbs the pack sits comfortably above my tailbone and distributes the load across the length and width of my back, alleviating unnecessary rubbing/chafing, and sore spots. 
Plenty of strap and belt adjustments available to accommodate for the terrain we're hiking—from Zion to trails along the PCT, and through airports en route to the next destination. The belt is extremely comfortable even with moderate amounts of small tools in the pockets. Love the fit of the firm, yet flexible cushioning in the waist/hip band. It's still breaking in, but was comfortable from the get-go so I'm expecting years of comfort.    
To date (three trips) I've had ample capacity for a four-day backcountry adventure and more than enough for weekend trips. Glad I opted for the 70 since my older equipment isn't ultralight or ultra-compact by today's standards. A 60 would have been too small and an 85 too large. This is the Goldilocks model for me :-)  
So impressed by the quality of the material and design of the Aether. Easy to overfill the pack and use the well placed compression straps to cinch everything down tight. When packing for a flight I wrap up the loose straps with a few large luggage straps, and so far the airlines haven't been able to rip them off via conveyer belt (like they have on my GF's pack).    
Weight distribution is excellent, though knowing how to pack also helps. I haven't hiked any real elevation in this pack yet (5,000' or more), but on rolling trails +/- 1,800' and long "stairways" the pack remains very stable and balanced. No unnecessary swaying from side to side or unexpected drag on my lower back. Downhill is also cinch with a few center of gravity adjustments to the shoulder and waist belts. 
The pack has all the comforts I was looking for: easy to find and use zippers; lots of pockets and a few large compartments for clothes and gear; sturdy holds / loops for hanging gloves, poles, bear spray, whistle, etc. One of the best designed packs I've ever used.  
To date I find this an excellent pack for my 2-4 day hikes and suspect it will work well when we head out for longer treks, and car camping. Time will tell, but the group I hike with are all grizzled guys and gals outfitted with 2-10 year old Ospreys. I'm guessing this will be a tough to beat pack too.
Conditions have varied to date: hot and dry Zion and Red Rocks Canyons, damp PCT and hard snowpack in OR, and showery forest outside Mexico City. Taking it to Banff soon, so I'll find out how it performs in elevation. Wish me luck with my new pack!
Source: bought it new
Price Paid: $179 (sale price)

Carries heavy loads with ease, half a star off for lack of pockets. Great suspension with mesh back panel for ventilation. It is made with the highest quality materials,
Pros
Great suspension
Comfortable hip belt
Carries big loads
Have wanted to add this pack to my gear stash, but didn't want to drop $300 on it.
Well, when Osprey came out with the new model of the Aether, I was able to find the older model deeply discounted. It was money well spent. The Aether carries 40 lbs with no problem. My Gregory Triconi 60 (basically the Baltoro 60) is good up to around 35 lbs.
The Aether 60, 70. and 85 come sized- I carry a large; measure your back for sizing if purchasing online.
Below: the Aether in Dutch Doctor shelter Harriman State Park, N.Y., February 2017.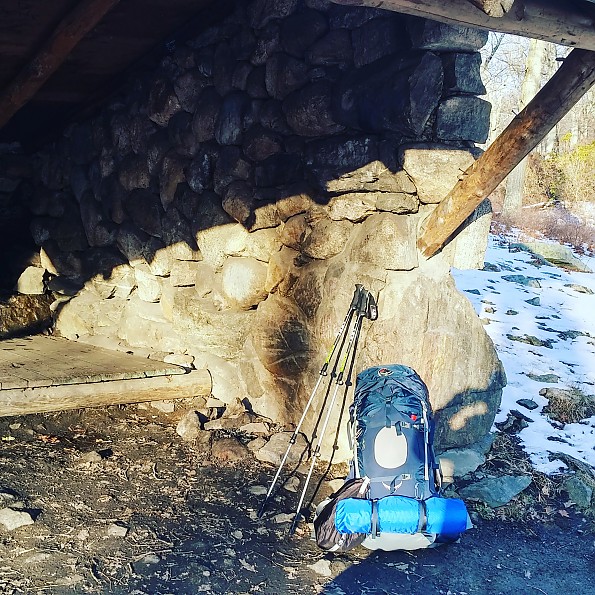 The pack is very well made. The materials are very durable. It has a sleeping bag compartment, a large main compartment that you can access from the top or front panel, and a large top lid pocket. It has a stuff pocket on the front panel; I use it to carry camp shoes. I'd prefer if this pocket came with a zippered closure as opposed to the buckle closure the pack has.
The pack has two water bottle pockets, and a hydration sleeve; be sure to fill any of them before packing the pack. You might be able to squeeze water bottles into a filled pack, but there is no hope of sliding a full water bladder into a fully packed pack.
Below: the Osprey Aether 70 with Big Agnes Two Track mummy pad attached in front of frozen Lake Sebago, Harriman State Park, N.Y., February 2017.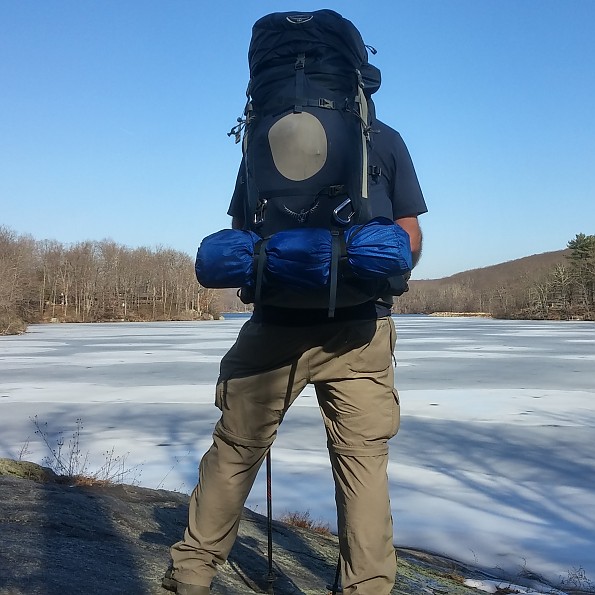 The pack has two good size hip belt pockets. It has a loop for attaching trekking poles while hiking: a great idea, but very difficult to use. There are four points on the front panel that allows you to attach the Osprey Daylite pack, which adds 13 liters and one pound.
It is a great multi-day backpack that carries big weight comfortably. I highly recommend it.
Source: bought it new
Price Paid: $175

Excellent overall backpack. This pack has come with me on hundreds of miles of backpacking adventures, and it has always proved itself to be a high-quality, comfortable, and well-thought-out pack.
Pros
Comfortable
Relatively lightweight for a robust pack
Good compression straps
Durable
Simple design
Cons
Older model doesn't have hip pockets
I think I bought my Aether 70 in 2010, and since then it has seen a lot of miles. It's come on frequent long and short backpacking trips, kayaking and canoe trips, long bus rides, and also a year-long backpacking trip throughout South America. And with everything it's been through, I really can not say a serious complaint about it.
It is the second large backpack I've owned. My first backpack was from another highly reputable brand, but honestly, the Osprey does everything better: weight, comfort, and ability to fit gear. 
Even though the belt does not have a lot of padding, their patented molding technology for the belt makes the pack extremely comfortable (I didn't do the store fit option — I just let the belt form itself over time). The balance of the pack is very good, even under heavy loads.
Although some people would compare the weight of this pack to others and say it's heavy, I find the weight surprisingly low given the heavy duty fabric and robust zippers. But it's definitely not an ultralight. And the pack does a great job of taking in a lot of gear. I'm not sure why, but my other pack is an 80L and this Aether 70 Medium seems to be better at fitting the gear due to the Aether's slightly wider shape than my other more narrow pack.
Durability has been especially notable, and apart from a few very minor items, my pack has upheld itself very nicely over six years of heavy use. I think the only thing I would change would be to add hip pockets, but I believe the newer models have these. Oh, and maybe add some padding to the top handle that's used when picking up the pack from the top, but that's a very minor detail.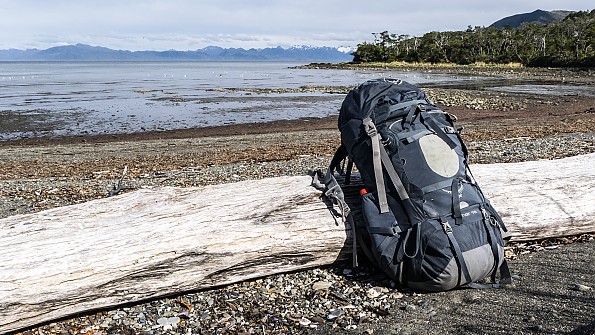 Source: bought it new

If you want a bag that is going to last and fit everything you could possibly want inside, then this is the bag for you. Extremely sturdy as well as being very comfortable and adjustable!
Pros
Size
External pockets
Top of bag comes off to become a day pack
Comfort
Sturdy
Straps
This bag has a huge number of adjustable straps that are mostly there to make your pack as comfortable as possible. Along with the normal shoulder, chest, and hip straps, there are two more (located above the shoulder) than can move the top of the bag closer or further away from your body depending on your preference.
As well as this, this bag comes in different sizes to accommodate those with shorter or longer torsos. Some of the straps are also used to attach items to your bag. The bottom of the pack has two straps perfect for a roll mat of tent. Along with this walking pole straps and axe straps are available too. 
Due to this huge number of straps the bag is very comfortable. Along with this all of the padded straps are very thickly done, meaning rubbing and uncomfortable hips is never really an issue. 
The Osprey Aether 70 is HUGE. You can fit pretty much everything you need inside and this has the danger of making you bring more stuff than you need. The "I might need it" mantra is easy to follow with this pack. There is a piece of material that can be used to create two sections within the main bod of the bag. This can be used for anything from bear canisters to a sleeping bag or just leave it open and have a huge space to fill.
Along with this there are two water bottle holders either side that fit 1.5L bottles in comfortably, a netted front that expands to take awkward sized items or things you don't want inside your bag. It looks like it would rip easily but I have tried putting crampons in and surprisingly there was no rip at all :)
On the pocket front there is a large pocket on the top of the bag. This is great for stuff that needs to be easily accessible. It also can detach from the bag and be used as a shoulder bag for little day trips if you want to leave the big one at home. Lastly, on the pocket front, there are two pockets on the hip belt. They are again large and able to fit plenty of snacks, a compass (for those that still use them) as well as things like gloves and a hat.
I have had this bag for three years now, it has been to Uganda, Australia, New Zealand and most recently on a 3-week section of the Pacific Crest Trail in California, all of which is has taken in its stride. 
All in all this bag is a good go-to for those wanting something strong and reliable. It isn't the lightest bag you will ever carry, but it makes up for that by being extremely comfortable and versatile.   
Source: bought it new
Price Paid: 160 Pounds

This thing is a beast! I can finally enjoy overloading my pack! And my girlfriend can help with the load too!!!

Every backpacker who wants to trek in comfort needs this pack (or the equivalent Ariel for women).

Cons
I need help getting my water bottle out
I was finally caving in and upgrading to an "expensive pack."
My girlfriend loved our 1st 10-mile overnighter last year but complained about the pack she used. (I just had her wear my old 25 liter day hiking pack.)
She's very petite 5'3" 110 lbs and had chronic neck/shoulder and sciatic pains due to a motorcycle accident. (I didn't pressure her, she is adventurous and doesn't let her daily pain stop her from having all kinds of extreme fun.)
So I promised we'd get her a super comfy pack next time. (I was thinking she's get a 35-40 litre pack because she's tiny.)
I usually go on at least 2-3 trips a year, but was off for over a year due to a knee injury.
So I got Labor Day weekend off last minute, as did she, and I put together a quick trip with a friend and his family for 2 nights.
I've been promising myself that I'd upgrade and downsize to an ultralight pack for the last 4 or 5 painful trips.
My theory was I needed to shave a few pounds of the 6lb, 80 litre pack I was lugging. It always left me with bruised/chaffed shoulders and hips and would rub my neck raw.
I did lots of research online but that doesn't compare to actually trying on packs. So we spent a whole day store hopping around So Cal trying on every pack out there.
I had my heart set on the Osprey Exos 58. What I read online sounded like it fit the bill, but it wasn't adjustable at all and the shoulder straps rubbed my neck and it had 0 padding.
I did give lots of other packs a try also. I really liked the way the Gregory Baltoro looked, but it had a hard belt and wasn't as adjustable as the Aether.
What sold me on the Aether 70 and my girlfriend on a 65 litre Ariel! (yes, my little lady got a pack almost as big as mine!) was comfort.
These were the only packs we found with curved shoulder straps around our necks for zero contact. The harnesses are completely adjustable which we were able to dial in right there in the store.
I picked the 70 over the 85 because I was trying to downsize after all. She picked the Ariel 65 because anything smaller looked like she wouldn't be able to hold all her warm cozy clothes. I got a very nice looking dark blue and grey Aether 70 and my girlfriend got the cute sea blue Ariel 65.
OK, so we're back from our mission and we loved them!!!!
I overloaded my pack as usual with the following "luxury items".
3.5 pound waterproof Ecoxgear Ecostone bluetooth speaker for music, a waterproof fuji camera, 2 collapsable rubber bowl/mugs so we doen't have to eat out of meal bags, 2 rubber collapsable shot glasses, bottle of tequila in a nalgene, extra sneakers, extra food/snacks (in case we get hungrier or need to spend more time in the backcountry) 10 litre MSR dromedary bag with a spigot to save trips to the river for water.
I carried all that extra weight with ease. Not one pain associated with the pack. Any discomfort came from the difficulty my legs/heart had lugging junk up and down 1,000 feet in & out in the heat.
My girlfriend lugged a full pack and she was way ahead of all of us.
I have a co-worker who bought an Aether 85 and he loaded it also on three trips this summer and loves it.
I credtit him with the referal towards this pack also.
He was my guinea pig and he was also a rookie who jumped right into some major climbs and had no complaints either.
Source: bought it new
Price Paid: Money

Great pack for larger loads.
Pros
Great design
Great support
Comfortable
Ability to carry heavier loads
Lots of adjustment options
Airspeed pack panel
Cons
Floating lid can be cumbersome
Lid doesnt have organization pockets
"Heavy" pack
I received this pack as a gift for Christmas, and now that the weather has been warmer I have been able to put it to good use. 
After I received the pack I returned to the store it was purchased from (EMS)  to make sure that it was the correct size for me. Luckily the size matched my torso length and the hip belt was also the perfect size (there is the ability to switch out the hip belt, and shoulder harness to create a customized fit). 
In addition to having the pack sized correctly to my frame, the staff at EMS also warmed the hip belt so it would form to my body for a more comfortable fit. Once I was finished with all the sizing completed, I returned home to fill the pack up with all of my gear. 
I was able to shove all of my gear into my pack. Since winter though, I have started to switch out my gear for smaller lighter stuff (like getting a PocketRocket canister stove instead of carrying an MSR SimmerLite liquid gas stove, a Big Agnes Air Core pad instead of a Therm-a-Rest self inflating pad). My roommates though I was a bit off my rocker when I would walk around the house, up and down stairs, with a full pack on. It successfully passed the at home test.
One thing I particularly love about pack is that it is large enough for me to stuff my bear canister (Backpackers Cache) into the pack. With the Cache in the pack it feels more stable on my back then having it attached on the outside of my pack.
The pack has all the standard straps to create a comfortable fit. Compression straps, load lifter, chest, and wide hip belt. I have the newer model with the side hip belt pockets. I have been able to stuff my cell phone and Clif bar in one pocket, and multi-tool and headlamp into another. 
The top lid is a floating lid, meaning it can be adjusted depending on how much is filled into your pack. This is great when your pack is stuffed to the brink, but is annoying when you are carrying a smaller load as it tends to flap around. Plus, there is a superfluous amount of straps for the lid. The lid can also be removed and paired with the hip belt to create a lumbar pack for quick day hikes. 
In theory this is a great feature, but the straps that are tucked into the top of the lid for future use tend to flop out from their hiding place and just get in the way. The fact that the top lid doesn't have any type of pockets inside to organize things is also a downer. Basically you just throw things in there and hope nothing falls out when you need to unzip it later on. 
The Airspeed back panel is a great design feature that keeps your back a bit cooler when you are hiking. No matter what the claim is, your back will still sweat; just not as much. Osprey seems to have improved the airspeed design on newer packs like their Stratos or Atmos line, but the circulation found on the Aether is still acceptable.
Should you choose to use a water bladder, the compartment for storing it is on the outside of the pack, between the main compartment and the airspeed back panel. Paired with the Osprey Hydraulics system this is a feature I enjoy. The ability to remove the bladder without opening the pack makes things easy and you needn't worry about packing it first before the rest of your pack.
Two side pockets and a large front pocket are made with stretch material so you can fill them with your gear.  There are also attachments if you desire to connect the Osprey Daylite pack add-on. 
The pack has been filled with about 30-40 lbs. of gear and is really comfortable. The pack itself is a bit "heavy" at five pounds. Considering I only do weekend/week long trips, it's not much of a bother. I don't know if the weight would be an issue if you were considering to do a long thru hike with it. 
Overall, I enjoy this gift, and it will be my go-to pack for many adventures.
Source: received it as a personal gift

Very comfortable over adverse terrain with a heavy load. Packs gear enough for two people for a weekend without flinching. Compression straps keep all loads secure and tight to the center of the pack. I have and will recommend this pack, especially for weekend to week hikes.
Pros
Tons of space
Loads easily, gear accessible
Cons
Rock abraded through the sidewall.
Difficult to secure a non-critical strap (bladder retainer) when fully packed.
My previous pack was a Kelty Redwing 3100, which is 3 things: ruggedly built, not meant for long hikes, not well suspended. Bear that in mind with this review of the Aether.
Fit: Excellent. I'm 5'10", 173 lbs. with an athletic build, 18.5" torso, 39" chest. The Medium fits my frame nicely, though I do have to keep the sternum strap fairly loose. I adjusted the suspension attachment mid-hike with a fully loaded (~48 lbs.) bag and my Osprey Hydraulics 3L in place, also full. It was a little difficult to break the shoulder straps loose, but loosening compression straps helped. When unloaded the suspension is a cinch to change.
Comfort: I hiked the Hermit Trail of the Grand Canyon with this (maiden voyage, in fact) and stayed surprisingly cool. The pack rests nearly fully on my hips, but the hipbelt fits well enough that the weight isn't felt. I'd like a hip load-lifter, but it's not necessary. Should load lifters are easy to adjust while on the move, and are effective.
Capacity: My old pack (3100) was burst-at-the-seams full for an overnight. The Osprey hauls our tent, food, clothes and sleeping goods effortlessly. It holds enough that my wife's bag is nearly empty.
Organization and Accessibility: Once everything's loaded, cinching the pack down with the multitude of compression straps (like 9 of them) keeps the gear both immobile and tight to the frame. I'm an internal packer, and can't stand anything on the outside of my bag. The toploading and J-zipper front flap allow everything to be grabbed very quickly. More importantly, the hipbelt and accessible meshy pockets on the side allow the hiker to grab and stow snacks or trail trash without help.
Ride: Again, excellent. The suspension distributes weight very well and remains compact over a variety of loads.
Features: External bladder access is a dream, as is the hipbelt. I didn't find the trekking pole stowage as useful as it seems, but I admittedly didn't use that feature much.
Construction and Durability: This is where it lost a half star. Somewhere along the trail I scraped the side of the bag on a rock, which abraded through the side of the bag. Luckily it's still under warranty (....which lasts forever!) and they're fixing the issue. In the future I'll be more careful with the bag, but as I said earlier my Redwing is very durable and has been used to haul rocks. The Osprey is not thin-walled or under-built by any means. All strap attachments are robust, multi-stitched, etc.
Conditions: Down and up the Grand Canyon for 3 days and the pack was awesome. I've got about 30 miles on the bag, and can't be more impressed with the usability and comfort. I don't like bags that move or shift when I spring nimbly from rock to rock, and this feel like a cool koala hugging you from behind.
Source: bought it new
Price Paid: $200

After 25 years I decided to upgrade my stuff. I checked them all and I'm totally sold on the Osprey line. The fit and finish of this pack is the way things should be. Lots of adjustments but not confusing. Once you get it adjusted it fits like a glove and unless you put on a few pounds you never have to mess with it again.
Belt and shoulder straps cinch and release smoothly and HOLD unlike some other brands where you are constantly cinching the straps. Seams and strap attachments are all well stitched. Mine has been on the trails in Montana including Glacier National Park and whenever I meet folks I'm not surprised how many Osprey packs I see.
Do not buy another pack without first checking out Osprey line. Grace and Peace on your next journey.
Design: Top Loading
Number of Pockets: 3 open spandex and 1 zipper on top flap
Max. Load Carried: 70 liters
Height of Owner: 6'

Comfortable, well designed pack.
Pros
Comfort
Spacious cargo
Rugged
Purchased (2013) for long weekend trips. I prefer to pack lots of creature comforts, and this pack allows me to bring everything I want and need for 2-3 night trips.  
The suspension is what sold me. Even heavily weighed down, it is comfortable and fits my hips/shoulders/back really well. I would advise trying on before purchase, as you'll want the size option that best fits your torso.  
Lots of compartments. The pocket for the water reservoir is easy to access, which is important. I probably still haven't found/used every little pocket—so much thought was put into this thing.
My experience has featured long hikes (15-20 days), steep incline/decline, heat and cold. While it's always gonna be exhausting, this pack is as comfortable as they come. Can't speak to the long-long trips, but I imagine it's perfect.
Source: bought it new
Price Paid: $220

Great backpack. Handled load great, added bear proof container and tent on outside of pack and it remained very stable.
Pros
Very strong material and zippers
Ability to look through pack from top and front is very usefull
Cons
No weaknesses I could find, so far
We did a 12-mile hike for first trip with pack and the hip belt was fantastic. I was told you should get the belt formed before hiking, but it performed great.
I had plenty of room for a two-day hike / bear canister and / large sleeping bag and food for group of four.
Source: bought it new
Price Paid: $260

Vedry comfortable and roomy. Best backpack for several days. Like the water bottle holder on the side and webbing. Good quality.
Very comfortable
Roomy — enough space to take items for other people or multi day
Nice extra pockets on top
Nice water bottle holder on sides
Places to add things externally
Most comfortable backpack made
Color is a little strange (bought the green)
Kind of expensive
Source: bought it new

This pack is very durable, and can carry a large amount of gear/weight evenly, so it is very comfortable to haul over long distances. From multi-day rock climbing trips to backpacking in the wilderness, the storage on this pack has kept me organized, and held together while beating it up and abusing it.
Pros
Organization
Durability
Weight distribution
The fit of the pack is true to size. The chest strap sits in a great position, which also allows the waist belt to hold the weight like it is supposed to. This allows heavy loads to be carried comfortably for long periods of time.
Being able to haul 70L in this pack, you can carry as much as you need for a week in the wilderness. From canoe trips, to traveling Europe, and going on multiple wilderness backpacking and climbing trips, I have used this for a wide variety of situations, and it has met my needs every time!
Source: bought it new
Price Paid: $229

A pack that will carry what you need and then some! Solidly constructed with plenty of areas to strap things to the exterior if needed. The hip belt and shoulder strap system is the best I have ever used!
Pros
Tons of adjustment on hip and shoulders
Roomy
Spacious "brain" fanny pack
Easy to get to water bladder storage
Cons
Side pockets on hip belt only useful for small items
This pack met and exceeded my expectations and needs! The detachable "brain" worked great for side hikes when all I needed to carry was rain gear and some water. The interior compartment is roomy and provides plenty of room for personal and crew gear. The outer pocket/pouch is handy for items needing to be easily accessed like a folding camp chair (Crazy Creek) or even a solar panel charger.  
Plenty of loops and compression straps to cinch down and attach items like a sleeping pad. This pack include hiking pole straps, if you choose to use those, and plenty of adjustment on the shoulder straps and hip belt.  
The design on the padding near the back allows air flow and provides a barrier to the water bladder pouch ensuring the water stays cool or cold despite a hot back riding near. The water bladder pouch is easily accessed making refilling the bladder easy (good design change from earlier packs where the bladder was stored inside the pack).
This pack worked perfectly for a 10-day trek in the mountain of Philmont Scout Ranch (Sangre de Cristo mountains in NE New Mexico). The price tag isn't bad considering what you get from space to durability! Very durable and worthy of the Osprey name!
Source: bought it new
Price Paid: $280

Version reviewed: 2012
Bullet proof. I have the 2012 model with over 3,000 miles of hard back country California. The custom fit is excellent. I carry over 40 lbs most of the time.
Pros
Tough
Balances perfectly
Can carry 2 weeks worth of equipment
The fit is perfect. Take your time in the store. A total custom fit can be had if you take your time. The belt is heavy duty, perfect moulded fit.
I have been on mining excursions where I have walked along the Feather River for three weeks and lived out of this pack and carried 65 lbs the whole trip. I have thousands of miles on this pack (2012 - 2015) and it still performs like it did when I bought it from Mountain Sports in Chico, CA.
When climbing over and around boulders it's nice to be able to cinch the pack tight to your back. If you are rough on your stuff like I am, buy an Osprey. iIf you break a buckle like I did when I shut my tailgate on it, just contact Osprey, take a photo of the broken part along with your pack info, and they will send you a new one free of charge (actually they sent me 2 sets ). Fantastic lifetime warrantee.
By the looks of my pack I think I still have many more miles left on it and would not trade it for any pack out there.
Source: bought it new
Price Paid: $270

Comfortable, rugged, reliable brand.
Pros
Great backup service
Rugged construction
Removable lid
Comfort
Stable
This pack has fit like a glove since day one. I'm a big fella and able to carry some big loads. This pack ensures the weight is firmly driven into the hips and not carried on the shoulders. The hip belt is the strength of this pack. It is nicely padded and carries the load perfectly. I do long tramps for tens of kilometres a day and this bag makes that all the more doable. This is all the more so given the type of county
The organisation of the pack is also great. The separate sleeping bag compartment at the bottom is very handy.  It is internally large and carries everything. Actually that's also a gripe.  I have a tendency to overpack and this large volume just exacerbates my lack of discipline in this respect.
There is ample strapping that allows the bag to be cinched down so nothing moves. And the additional pole attachments are a real bonus. This makes the bag very stable particularly as I walk a lot of gullies and hills (swaying backpacks are a curse when ascending or descending).
The lid is a real strength. When I set up camp I'll often go for an exploratory tramp around my site for an hour or two. Having the lid that converts to a 'bum bag' is very handy. I can carry my jacket, torch, emergency blanket and first aid kit and head off for a short adventure. 
The pack is extremely durable. I've had mine for years and it still looks knew. I've given the pack hell.
Only gripe is the lack of hip pockets. I do like to have my gels held in there rather than in my short pockets. I believe this has been rectified in later models (my bag is from 2011).
A great feature of this pack is the back up service. It's basically guaranteed for life. I've had it in once (last year) for a replacement sternum strap.  Was done in a couple of days and didn't cost a cent.
Overall a fantastic purchase.
Source: bought it new
Price Paid: $269 NZ

I love this pack. It's comfortable, even when loaded down pretty heavily. It holds a ton of gear but allows you to access that gear more easily than a lot of other packs.
Pros
Versatility
Comfort
Quality construction
The quantity and positioning of compression straps make it easy to reign in smaller loads, as well as help me exercise pretty good pack discipline on shorter trips. The sleeping bag compartment is huge, which is nice.
I also really like that I can keep my trekking poles on the side when I don't need them, rather than reaching around, having a buddy help, or taking off my pack.
In all, this is a great pack. Couldn't be happier with it.
Source: bought it used
Price Paid: $125

The most awesome pack I've ever owned. Ten plus in design, weight, and comfort.
Pros
Lots of pockets
Amazing comfort
Great adjustments
I've used this pack for weekend trips and week long trips. It is the most comfortable pack I have ever owned. My only disappointment is that I didn't purchase earlier!
It fits extremely well and conforms to my body very well. It's very light. The Aether 70 is versatile in that it can be used for a weekend backpacking trip as well as a week long trip (though you need to pack well for a week long trip).
There are plenty of pockets for storage. Even the hip belt has a small pocket for a small camera or cell phone (but who are you going to call while in the wilderness -- ghost busters?).
This pack has gone down the Grand Canyon, the great inverted mountain, to 12 thousand feet trails. Lots of varied terrains. The pack always stays put. I never have to stop and readjust. Access to stored items is very user friendly. It is durable. The craftsmanship is second to none. Great quality of material and zippers.
I highly recommend this pack. It truly is the best backpack I've ever owned. It will be my last backpack as well. Put it on and be ready to be amazed; that is if you can even feel it!
Source: bought it new
Price Paid: Great price at Amazon -- $175.00

Durable and well made all around pack.
Pros
Adjustable
Durable
Very good compression
Comfortable
Stable
Cons
Many straps
Could be lighter
I have used this pack while hiking and traveling. I bought mine in 2011 and I have use it many times during these years. It will swallow gear for one week 3-season hiking trips.
Pack is quite comfortable and it handles weight very well. If you don't want to take so much stuff with you, the compression is very good and you can compress extra space away easily. Because of many straps it can be good to have some coverbag if you are traveling by plane to avoid them to stuck somewhere.
Everything is well made and I would say that this pack is very durable. After 3½ years of use its condition is very good. If you are looking for durable pack, then this might just be it.
There is enough pockets to organize your things. There is no hipbelt pockets in my model and I would like to have those. But that is not a problem with new models.
In summary Aether is very great choice if you are looking for a well made, all around pack.
Source: bought it new

Very useful for long weekends trips, mountaineering, and alpinism.

Pros
Very light
Large space
Adjustable
Cons
Thin shoulder straps, cause pain with heavy weight (about 28 to 30 kg.)
I've used it climbing in winter conditions with bivy gear.
Very comfortable. The width can be reduced thanks to the compressor belts providing freedom of movement to the arms.
Source: bought it new
Price Paid: $220

I've taken this bag on several trips and would trust with hundreds more.
Pros
Comfortable
Many pockets/straps
Lots of space
I've taken this bag on several trips and would trust with hundreds more. Extremely comfortable, and carries large loads easily. I regularly carry 35lbs+ on my trips and this pack makes it seem lighter.
Fit: I'm a large framed male, and this pack is very comfortable. It has several strap adjustments that make it feel just right.
Comfort: Very comfortable.
Capacity: I've never had this filled all the way, but I have no doubt that this would easily be able to carry in what it advertises.
I love this bag!
Source: bought it new
Price Paid: $220

Great pack, built with quality to last for a long time.
Pros
Great compression
Solid construction
Comfortable
Great customer service
Cons
Heavy for ultralight backpacking
I love this pack! I bought this pack after looking and trying on several brands, and could not be happier! Great fit with sturdy construction and features that let you fine-tune the pack to your body and your load.  
Soon after I bought this pack, I bought another for my 16-year-old son. We have done several multi-day trips to the BWCA in northern MN and absolutely would not consider anything else. We purchased the pack covers from Osprey, as well as the 4L hydration bladders which work with the pack flawlessly.  
Source: bought it new
Price Paid: $250

Excellent pack, and I highly recommend it for comfort, functionality and overall quality. Unfortunately a chest strap part fell off and went missing, which negated what I think is an otherwise flawless pack.
Pros
Functional design
Comfort
Lghtweight
Capacity
Ease of access
Cons
Only one I can say so far: the chest strap is missing on the right side, and for no apparent reason.
This is my second Osprey pack (retired the first after 18 years). I just returned from a long weekend trip into Rocky Mountain Nat'l Park, and I was completely impressed. I carried the heavy load (tent, cooking gear, water filtration) since my GF's pack was significantly smaller, and it netted out about 55 lbs.
I was entirely comfortable except on the last day the right side chest strap simply disappeared. I noticed it missing after breaking camp, packing up and donning the pack...a half hour of searching made me think it wound up in the tent overnight, but after returning home and scouring my equipment I could not find it. I've put in a parts request on the Osprey website, and hope they can replace it.
Other than that, I think this is an excellent pack and look forward to using it again on another trip here in a couple of weeks.
Source: bought it new
Price Paid: $225

Got a great deal on this pack and I love it. The "all mighty guarantee" can't be beat although I very much doubt I'll ever have to use it as the workmanship is second to none, and the materials all look as though they'll last a lifetime.

My one complaint would be more pockets on the outside, but that's a minor one. Very, very comfortable — I hiked with the Aether fully packed a week after completely separating my shoulder and never felt the weight.
Pros
Workmanship
Design
Comfort
Incredible warranty.
Cons
I'd like to see more pockets and a rain cover.
I probably wouldn't have got the Aether if I'd paid full price, which would have been a shame as I wouldn't have discovered just how good it is. The pack is very well put together and looks as though it'll survive anything I throw at it. If not, Osprey's "All Mighty Guarantee" has everything covered for life — what's not to like about that?
After picking it up on sale, I was going to try it for the first time on a hiking weekend with my son's Scout troop, but with a week to go I completely separated my shoulder and strained the tendons in the other badly enough that I was on pain killers 24/7. I decided to go for it anyway, and although sleeping on the ground wasn't a lot of fun, I didn't feel the weight of the Osprey on my shoulders at all during the hike.
It's easily the most comfortable pack I've ever owned, with lots of adjustment in the straps and a great hip belt (even though I haven't had it heat moulded to me yet). I like that it's a top and front loader with compression straps, but the downside is the large outside pocket sits directly under them and it's hard to get stuff out when they're cinched down.
More outside storage space would be nice — my son's Kelty Red Cloud has a ton of pockets which make things a lot more accessible, but that's a minor complaint as the Osprey has a lot of space inside. Considering we're talking about a backpack that retails well north of $250, it's odd that the Osprey doesn't come with a rain cover, but I bought a cheap Walmart one that does the job rather than coughing up another $30 for the real thing.
Overall, a great pack that I know I'll be using for a long, long time and in theory with the awesome warranty, I may never need another. A highly recommended and very well made backpack.
Source: bought it new
Price Paid: $140

Love this pack. It's very solid construction, a good hip belt and is very comfortable under heavy load.
Pros
Sturdy
Lots of room
Great hip belt
Cons
Allows for too much packing?
I bought this as my first hiking backpack because I felt like I needed all the extra space. I wanted to make sure I didn't miss anything. So I loaded it up for a 3 day hikes will all the essentials and then some! With water, I had a bit over 50 pounds on that first trip and it handled it with ease.  I have to admit that I over packed :)  
I have since gotten a bit smarter about what I pack and 70L is slightly on the big side for me. I still use this pack when I go backpacking with my girlfriend as it allows me to take on a few more items so that we can keep a better pace.
The hip belt saved me on that first trip, but I had it so tight that my hips felt bruised (not raw, but felt like I took a good hockey check). In subsequent trips, the belt felt much better with less weight on my back.
The side pockets are very usable, the back mesh is great to throw in rain gear for both quick access for an oncoming storm or drying once the rain is done.  I like that I can access the sleeping bag from the bottom, but my North Face Cat's Meow is a very tight fit.  The Western Mountaineering Ultralite easily fits, at which point I can slide in my tent next to it.
I also like the top of the bag that can be used as a day bag.  I often use it when we have a bit of a walk for water away from camp.  I can then pack it with the water filter and first aid kit (which I always leave there for quick access anyway).
I like the loops that allows for storing your hiking poles.  I normally prefer hiking with the poles, but sometimes we get in bushwhacking or tight spots and being able to put them away without removing my pack is great.
Source: bought it new
Price Paid: $280

Light pack, large voluminous compartment. Best fitting out of the dozen or so packs I tried for a long torso'd person. No hot spots on the back.
Pros
Back padding
Adjustability
Size/weight
Cons
No hip pockets
Lack of small accessory pockets
Webbing too long
This was the first "serious" backpack I've purchased.  Being the type of person that does homework on gear purchases, I tried many different packs (about a dozen total) from entry level to top of the line.
Having a long torso and large chest/shoulders made it difficult to find one that fit well. 
Finally tried the Aether and after a few adjustments, it fit like a glove!  "test drove" it for a while around the store with weights in it and was mostly sold.  (like I said, homework). I looked up reviews and talked to outdoors friends. A couple of them had Osprey packs and one thing that always came up was "durability"
So with that I was sold. Purchased the backpack and after about 200 I'm happy I did.
The only issues I had with the pack: Many of the other packs had accessory pockets on the hip belt, but not the Aether.  I guess I got mine too early, as the new models now include them. Also wished it had a couple more smaller zippered pockets on the sides or back, but the benefits out weighed these little cons.
Source: bought it new
Price Paid: $235

Good pack with lots of room, pockets and accessories, but the shoulder straps were too uncomfortable for me.
Pros
Lots of room
Lots of pockets
Cons
Uncomfortable shoulder straps
This was the first pack I bought as a new backpacker. I got it because of the great reviews and because it looked cool! The fit was nice, but the way the shoulder straps sat on me produced fatigue quickly. It rode good on the trail but I was constantly readjusting the shoulder straps because of soreness. Because of this, I returned the pack and bought the Gregory Baltoro.
Give this pack a try, it didn't work for me but it might for you.
Source: bought it new
Price Paid: $260

Custom fit, adjust on the fly, distance comfort
Pros
Comfort
Adjust on the fly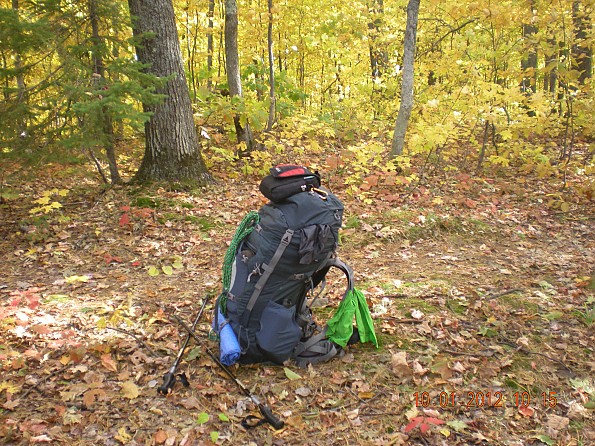 I took my first (of many I hope) trip with my new pack. 6-days and about 54 miles in the Porcupine Mts, Lake Superior. 
The pack exceeded my expectations. I was a little woried about the size and all I'd need for a week going solo, but it worked just fine. I do wish it had a few more organizational pockets on the outside and especially on the belt, but it wasn't anything I couldn't overcome with clip on pouches.
So, when you buy the pack, spend the time to have the belt heat fitted. It pays off to really be able to pull this belt tight and keep the weight off your shoulders, then, when your waist needs a break, just a pull here and theye while walking and youre soulders can take a little burden for a bit. The little tweak here and there became so routine, it was second nature.
There are 3-4 adjustments you can make so you can keep moving for the full day if you wanted to. My best this trip was about 14 miles with a 52 lb pack. The greatest testimony is, on very rutty, hilly ground, I can pull it tight all around and the weight of the pack NEVER pulled me off balance; it was part of me.
I have to say, after a week, I am more impressed with the pack and its capabilities then I thought I'd be. You "learn" it very quickly and it returns with a close and comfortable fit. 
Source: bought it new
Price Paid: $235

Extremely comfortable, supportive, tons of great features. Highly recommended.
Pros
Comfort
Support
Lightweight
Capacity.
Cons
Material could be more water-resistant
I have the latest version of the Aether 70 — the harness is a little better than that of the previous version, the tradeoff being that the pack is slightly heavier — a worthwhile trade!
The capacity is perfect for multiday treks in the winter months, when you need to carry more warm gear. It has at least 10 more litres of capacity, in comparison to my Aether 60, probably more like 15. The respective heights are similar, the 70 has a significantly broader base.
The moulded hipbelt fits like a glove, and the back panel sits nice and flush against my back. I love the ability to pack away, or take up, my hiking poles as I move, such a simple but useful feature. I use a pack cover in the rainy conditions, as I've found the pack material very quickly wets-out and starts to seep into the pack contents. The detachable top compartment is another great feature, with its built-in lap belt. I use it for taking the essentials with me when I wander away from camp,  off bird-watching, fishing etc. 
This is the largest of my Osprey packs. I'm only 65kg, so a 70-litre pack is pretty much the limit of what I will carry, around 19-20kg of gear. The 60 litre Aether is perfect for the warmer months, carrying 15-17kg. 
Source: bought it new
Price Paid: Aus$275

I have just recently bought this bag; however I have not thoroughly tested it out on the trail yet, therefore, I will give it a default 4.5 stars, for the sake of writing this review.

I would like to add something, I did not read from the other reviewers, when briefly glazing through the reviews.

-- This bag has the customization option of indeed, as noted by others, heating the hip belt, and moulding it, like a pair of skates, or a mouth guard. I believe the Argon series, by Osprey, also offers custom moulded shoulder straps as well, but that is another matter.

-- However, this bag can also be customized in-store, by choosing the appropriate shoulder strap size, hip-belt size, and of course, pack torso size. For example, I bought my Osprey pack, as a Large (tall) pack. However, I am slim around the waist, so I had the hip-belt that comes default with the Large pack removed, and a Small size hip-belt placed instead.
Also, as the shoulder straps were riding too high, I had those changed as well, to Medium size shoulder straps... Basically, you the hip belt and shoulder straps are removable, and the store which sells the Osprey packs, should have a bunch of different sized hip belts and shoulder straps ready to use.

My pack: Large Torso Length (Tall), Small Hip Belt, Medium Should Straps
Price Paid: Around $180, Canadian. Was 40% off.

This is my FAVORITE bag of all time.   have only been at this a little while, but have traded many a things in to REI because I'm very particular.  I got this bag however and I absolutely love it!
It is a nice big bag that will hold all you need and more, not a lot of pockets so if you're one for organization I dunno how it would make you feel.
I love this bag though because I can get it to sit oh so right no matter how much gear I have in it or how little! Anything from an over-nighter (of comfort) to a thru-hike this bag will perform!
I hope it'll last forever and knowing that it's Osprey makes me think it will!
Price Paid: $190 on sale

This pack is awesome. I'm a rather hefty 6'0" and this pack feels like it just another part of my body when properly cinched in and adjusted. I have an Osprey daypack and based on the quality of that pack, I had no qualms about purchasing this as my main pack. I look forward to many years of use with it.
Just a note on one of the other reviews (written in 2007). The reviewer had two nitpicks about the pack:
"the back pocket is impossible to get into when securely cinched down as 2 of the straps are over the top of the pocket.
to use the lid as a daypack you must remove the hipbelt from the pack, a feature I never use but some may."
Both of these issues have been fixed with the 2010 model. The straps can now be re-routed to avoid blocking the pocket. Also, the daypack now has its own hipbelt so you don't have to remove the main belt.
Stay safe.
Height of Owner: 6 feet
Price Paid: $200

I think this is a fairly comfortable pack. My main complaint about the pack is the backpanel, it's too close to the back and doesn't breath well, and the weight.
There are better bags in the 60-70L range out there, some even made by Osprey. The new 2010 Atmos 65 comes to mind. So when compared to other Osprey packs available it is just "Average".
Design: Internal Frame
Size: Large
Number of Pockets: 6
Max. Load Carried: 35 lbs
Height of Owner: 5' 10"
Price Paid: $200

After having had some opportunity to use the Aether 70 in various conditions, I've got a thought or two perhaps worth sharing.

Firstly, the fit of the pack, after having had the hip belt well and properly heat-fitted by a knowledgeable sales guy, is the best I've ever had. It much more easily brings the load in close when necessary, and makes carrying a load significantly more comfortable than my other/previous packs, made by such outfits as TNF, Lowe, and Mountainsmith. (NB: None of those packs are current models--all are at least several years old.)

Secondly, the general design of the pack makes for easy organization without too much gewgaws and such. I'd like for the top-end opening to be a bit wider, but that's about the only complaint.

Zippers and drawstrings work very well, smooth and quickly and easily released/opened when so desired. Hydration compatible, of course, with well-sited openings for drink tube. Shoulder straps and hip belt both very comfortable. Separate access to sleeping bag compartment allows for quick and easy access to sleeping materials and helps with packing quickly.

Only other complaint is that the stretchable fabric trim on one of the lower side pockets has stitching coming free--probably because fitting a 1 L Nalgene in the pocket is a tight fit--perhaps too tight.

Easily my favorite pack purchase.
Design: top-loading internal
Size: 70 L
Number of Pockets: 1 large main, 1 sleeping bag, 2 small side, 1 outside front
Max. Load Carried: 45 lb
Height of Owner: 5' 8"
Price Paid: $189

My concern (living in the sub tropics, aka Florida) is usually not only the comfort of a pack but more the heat and moisture buildup when wearing same. I took a chance on the Osprey 70 and was pleasantly surprised at how dry (a word we seldom use down south) my first (August 93 degree, several hour, morning to late afternoon dry run) worked out.
Not only was the pack MORE comfortable than any of my "vented" day packs but the back of my cotton shirt was quite dry. The pack rode close to my body and the customized belt transferred most all the weight (40 lbs) to my hips as the shoulder strap was used to steady the load and bring it in close.
I am now a believer, while I agree that the side pockets are not available while pack is on... I attached a small utility pack to the belt and had "my necessities, knife, binos, snacks" close at hand. The Camelbak rode well in the pack and I returned home without the usual back and leg aches and pains from a test run.
Design: top loading, internal flexible frame
Size: medium
Max. Load Carried: 45 lbs
Height of Owner: 5' 8"
Price Paid: $205

So far this pack is great! It is lightweight with plenty of space for up to 5 days easily, in three season conditions. It is extremely comfortable and the molded hipbelt is excellent. I love how Osprey hipbelts cinch, it is much better than others, in my opinion.
Cool little things like a built in whistle on the chest buckle and a detachable top pocket that combines with the hipbelt to make a daypack show that extra thought and care go into these packs. Compression straps allow for cinching up extra space making it usable and comfortable as a day pack or an ultralight weekender.
There are few things to criticize but I have to come up with something. If you are a pocket/organizer lover then this internal frame, like many others, doesn't allow as much built in compartmentalisation. For many that won't matter.
The other thing is that it is hard to reach water bottles in the side mesh pockets and is even harder to get them back in alone. I have to have friends take out and put in my bottles when I need a drink so that I don't have to remove the pack (I don't have a water bladder).
Overall, I love it and would recommend it to anyone who tries it on and finds it comfortable.
Number of Pockets: 5/6
Max. Load Carried: 35-40 lbs.
Height of Owner: 6'
Price Paid: $240

What can I say that isn't good about this pack? Yes, there are a few very small dislikes but this is true with any type of gear not specially made for me, not very likely.
Very comfortable and just love both the fit and weight transfer of the hip belt and also how it pulls tight from both sides,two buckles not just one. Very easy to get the hip belt perfect. The load transfer with this pack is very good as is the ride. Have used with 45 lbs and my back country skis thrown on for good measure, they are not light!
I was going to go with the Gregory Baltoro but have had other Gregory packs and found them to be on the heavy side and not as nice to wear. Give this pack a try before you buy anything else.If it fits your body style then you won't be unhappy with your choice.
Design: Top loading with sleeping bag access
Size: 4200 cubic inches
Number of Pockets: 2
Max. Load Carried: 55
Height of Owner: 5ft 10in
Price Paid: $200

This pack is astounding in terms of functionality and comfort.
It is a bit heavier than some packs but makes up for it in comfort. The weight difference, in reality, is hard to remember when you're hauling 40-50 lbs of cold weather gear. Trust me, you'll be glad for the extra comfort of the great support systems.
The molded hip belt is absolutely crucial. In addition, the load adjustment straps are easy to get to and actually pull the load higher or lower quite well. I've used it for everything from 3-4 night cold weather (sub 20s) in January to ultra lite speed hikes/trail runs in April and I couldn't be any happier.
My only advice would be to make sure you get some system to organize your gear inside of it. The sleek design is awesome (I use it as a approach pack for climbing as well) but you sacrifice pockets.
Happy Trails
This pack is a great compromise between being reasonably light, but still having the frame and padding needed to carry mid-weight loads with comfort and stability (35-45lbs). My experience with some of the vaunted ultralight packs is that they are only good when you are able to keep your load ultralight. That's all good until you need to carry more stuff. I don't mind carrying an extra pound if it carries the rest of the load better.
This pack hauled gear up to high-camps in the Andes with good stability. I appreciated not feeling tipsy when scrambling over house-sized ledges and through car-sized boulders, even when tired at altitude.
The stretchy side-pockets hold big water bottles, fuel, and poles with security and ease. The back pocket will take a large bladed folding shovel. There is mesh welded into it for airing out socks, gloves, etc. when on the go.
I won't comment too much on the fit, because everyone is built different. For me the fit is perfect. Try one on and see if you like it.
One nice little detail, the pack sits up well on its own most of the time. It doesn't fall over constantly when you're packing/unpacking.
My only real complaint was that the stretch-woven material on the side-pockets seems to be a bit less durable than old-school mesh pockets. When you have them stuffed with bottles and grind them on the rocks, they'll start to show wear a bit. It's not major, but I'll eventually goop some seamgrip over the abrasions if they get bad.
I hold the same kind of opinion for my Aether that I do for Granite Gear. Light packs that can still haul realistic weights, and a great fit. Oh, and the Lid-Fannypack option is actually comfortable and practical for a change.
Design: Top-Loading Internal Frame
Size: 70 Litres
Number of Pockets: 4 plus the Main
Max. Load Carried: @55-60 lbs
Height of Owner: 6'2" (21" Torso-36" Waist-go for the Large!)

This pack is awesome. I took the recommendation of Backpacker magazine's gear guide and researched this pack and ultimately found it on sale at a great price. The pack is very comfortable and spacious.
The only potential gripes I could make are a)the shoulder straps are a little uncushioned (at least more than my last pack) and b)the outer pocket is difficult to get into because of the straps. But, once you get everything else cinched into place most of the weight is not on your shoulders anyway...and I haven't really needed to put much of anything into the outer pocket yet due to the spacious interior.
Overall, I would seriously suggest anyone looking for a new pack to check this one out. And then find it on sale!
Max. Load Carried: 40
Height of Owner: 5'8"
Price Paid: $209.99

I was originally going to buy a Gregory Baltoro, but noticed the weight difference between it and the Osprey and went with the Osprey Aether 70. I have used it for a multi-day section hike on the AT in Georgia and also on several shorter hikes in North Carolina and North Florida.

What I like about the pack, in addition to its 4.5 pound weight, is there are "just enough" pockets and storage places. It is neither an empty shell, like a Catalyst, nor a maze of pockets, like a Whitney. I prefer to dispense with the partition between the sleeping bag and the main compartments, so I can shove tent and/or poles down to the bottom of the pack to optimize space above. The side pockets are perfect for Nalgene 48 oz bottles - more than adequate for carrying water for meals. I personally don't like putting a hydration bladder inside my pack, because it takes up premium space and there's a spillage risk. I put mine on the outside/rear of the pack, and use the hydration sleeve inside for dirty clothes or other segregation items.
I agree with the other reviewer that the pocket on the back is inconvenient to find a use for. Maybe to carry camp flip-flops? I clip my Crocs with a light carabiner.
Interestingly, I did not initially like the hipbelt. I followed Osprey's advice and got an XL based on my midriff bulge. As I used the pack, it seemed to loosen up a bit, to the point that I did not feel like the load was being supported by my hips, but by my shoulders instead. I did not feel "confident" that way. So, I got a Large belt as a replacement, and I now feel the load transfer to my hips, in the same way as the (stiffer) Gregory belts.
In closing let me make three points: First, if I had it to do over again, I'd still get the Aether 70 for weight and features. Second, I like mine so much I got my wife an Ariel 65; and it fits her like it was custom-made for her. Third, if I was doing a thru-hike, like the length of the AT, I would probably opt for an Aether 85, for that extra space for food and clothing at the start of each 5 day section, between re-stocking points.
Design: Front/top loading
Size: 4,300 cubic inches
Number of Pockets: Don't know, haven't counted
Max. Load Carried: 45 pounds
Height of Owner: 5'11"
Price Paid: $240

After my first summer that included a week in the Winds and Tetons, and several weekend jaunts closer to home I feel I have finally found "my" pack.
What I like:
Hipbelt - It is worth the difference the heat molding makes, buy this from a dealer who can custom heat mold the belt for you. Other highlights are the two strap hipbelt design, this puts the pressure point off of your hip bones and spreads it out around your whole hip. It hugs them like a monkey. Also the straps to tighten pull toward the center of your body, not away from them. This simple difference makes adjustments easier by far and you can tighten down more easily.
Suspension - Being 6'5" this is one of the few packs that accommodates my long torso. I appreciate the curve of the shoulder straps.
Pack bag - it is simple. A bag with a removable sleeping bag compartment divider, and the Osprey top clip strap to help secure loads. The compression straps can also be clipped to adjust to smaller loads, useful when day hiking during a trip where the tent stays put for a night. And the pockets on the side are deep. No worries about losing your Nalgene. There is also a hydration sleeve and port for those bladder types.
Zipper pulls on the sleeping bag compartment are easy with gloves
few nit picks:
the back pocket is impossible to get into when securely cinched down as 2 of the straps are over the top of the pocket.
to use the lid as a daypack you must remove the hipbelt from the pack, a feature I never use but some may.
Design: Top loading internal frame
Size: lg 4400 cu in
Number of Pockets: 3
Max. Load Carried: 35 lbs
Height of Owner: 6'5"
Price Paid: $239.99

I have been an avid backpacker for at least a decade and have used or tried many packs. For the past two years this has been my go to pack for both week long and weekend trips. Overall the pack's construction is excellent, after having seen hundreds of miles on the trail and having been tossed on the ground and into the back of my car it looks as good as the day I bought it.
Osprey has an incredible suspension which carries weight on two staves down the sides of the pack. This feature is incredibly comfortable and allows for a great deal of air flow to pass between your back and the pack, perfect for hot summer days.
The only feature that I am unimpressed with is the belt. While it is thermo molded to your waist, the belt lacks padding and can become uncomfortable on extended trips.
Another downside for me is the lack of pockets and storage space outside of the main compartment. There is one mesh pocket that runs the front of the pack but is impossible to retrieve items from while in use.
By far and away the construction and suspension of this pack far outweigh its shortcomings.
Max. Load Carried: 40
Height of Owner: 6'2"
Price Paid: $250

I really love this pack, certainly compared to when I did most of my backpacking with external frame packs years ago! But just a couple of minor gripes which prevent me giving it a fully enthusiastic five stars, you may think them trivial in which case, fine; if I could give 4.5 stars I would.
Firstly, it's really incredibly comfortable to wear, and the ventilation seems fine, but then that's based on UK conditions so maybe in hotter climes others may differ, but up to 8 days backpacking in Scotland, carrying everything including food (but excepting the odd drink in the pub) and it felt as good to put on at the end as at the beginning. (We started with eight days food so we could take it easily and that includes the dog's food so fairly well loaded)
The moulded hip belt fits fine but occasionally it's easy to get one of the various straps caught in the buckle which then snaps loose, a nuisance, not a problem, but the pack does come festooned with a vast number of straps! If I have a gripe with the carrying system it would be that the (very strongly S shaped) shoulder straps can be a bit narrow on the collarbones, if you're particularly broad chested check it out carefully - and the sternum strap isn't generous for length unlike almost every other strap on the pack.
But the overall impression is of a very comfortable, well designed, well made, robust pack. making load carrying simple.
Packing is standard top loader although stuff from the top can slip down into the bottom compartment unless carefully packed from the start since the gaps round the edge of the divider are a little large. The front pocket strap is a bit odd in that in attaches a couple of inches below the top of the pocket, which therefore gets pulled out of shape when the strap is done up - odd but not really a problem. More problematic is that the upper compression strap does up across the front pocket and can make access into everything except the top few inches of the front pocket a bit awkward at times if the compression strap is cinched tight but I hardly ever use the front pocket for rapid access so it's not a problem for me.
Purely as a matter of personal preference I think I preferred the mesh side pockets on the previous version because it makes it easier to see what's where in them but that said the knitted work fine so again a niggle not a problem.
All his probably sounds like carping about minor points, but put simply, if I had to buy this capacity pack again, would I buy another Aether 70? Yes, it's that simple.
Height of Owner: 5' 11"

I have used this pack for bushwhacking in the mountains of S/E Oklahoma, as well as the Texas hill country. It's light, comfortable, and ideally suited for multi-day trips. The vented front pocket is great for stashing a rain jacket or other need-to-get items. There is a sleeping bag pocket and sleeping pad straps. The IsoForm harness and CM hipbelt were form-fitted by the local dealer, and I've never had a pack that carried like this Osprey. It moves with me...
For a quick overnight loop for a multi-day adventure, this pack will prove a reliable partner.
Design: top-loading internal frame
Size: 4400
Number of Pockets: 3 (2 side pockets)
Max. Load Carried: 42 pounds
Height of Owner: 6' 3"
Price Paid: $235

I have hiked about 50 miles so far with my Aether 70. So far, so good. There are aspects about this bag that are fantastic, the weight, price, features are all top notch. In particular, I like the elastic pockets, straps and the airscape back. When hiking in hot weather, my skin has a tendency to get rashy and pimpley (blah) and I have noticed that it is less with the Osprey.
I have not yet had the hip belt heat molded to fit me, perhaps that would help with the fit better. As a typical male, the hip belt slips right off my hips. Perhaps on the other biggest reasons I bought this bag is because of the adjustability Osprey packs have. The average weight I carry is about 40 lbs. This pack is more comfortable than my old one but not yet as comfortable as I had hoped.
So 4 stars instead of 5 with the hope that with the adjustablity and heat molding it can get even more comfortable.
Design: top loading
Size: 4,200
Number of Pockets: 4
Max. Load Carried: 45 lbs
Height of Owner: 6ft
Price Paid: $229

I down-sized from the Gregory Palisades for my 3-5 day excursions into the Applachian. This pack was firm on my back, was extremely comfortable (great suspension) and held all my gear. And it is fully 2 lbs lighter than my Palisades. I could not be more thrilled with this pack. My four hiking buddies all tried it on and wish they had it.
Design: Top Loading with Sleeping Bag compartment
Size: Medium, 4lbs 9 oz, 4200 cu in
Number of Pockets: 2 side mesh, 1 back shovel pocket, plus lid
Max. Load Carried: 40 lbs
Height of Owner: 6'
Price Paid: $189

Starts off with too much weight.
If you aren't backpacking then it would probably be a good pack to travel with. From my experience it is too heavy.
Source: bought it new
Price Paid: $270

Good quality, needs more space. Seems smaller than other 70s.
Cons
Lacking organizational space
I like the pack but wish It had more storage compartments as the side pockets don't really qualify as compartments. I also like to overpack and prefer the weight to doing without. Purchased an Osprey Manta and jerryrigged it to piggyback this pack for extra space on longer hikes.
Source: received it as a personal gift

Your Review
You May Like
Specs
small
medium
large
xl
Price
MSRP: $290.00
Historic Range: $128.93-$310.00
Reviewers Paid: $125.00-$280.00

Weight
4 lb 13 oz / 2.17 kg
4 lb 15 oz / 2.23 kg
5 lb 3 oz / 2.35 kg
5 lb 4 oz / 2.38 kg
Capacity
4089 cu in / 67 L
4272 cu in / 70 L
4455 cu in / 73 L
4638 cu in / 76 L
Recently on Trailspace