Osprey Daylite

This is a very lightweight pack, easily adjustable for either of the two us of, who are of very different sizes! Best used for short day hikes or winter activities in which a large capacity pack is not required.
Pros
Very lightweight yet durable
Quite comfortable
Easily adjustable
Cons
Small capacity
Narrow unpadded waist strap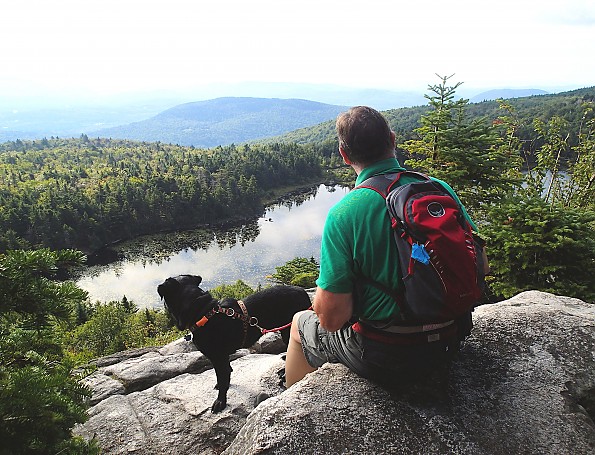 This little day pack weighs barely a pound, yet has served us well as a second pack for day hikes. It is very durable, comes in a variety of colors, and has nice features that project it a bit past other basic "sack" day packs I have had.
The capacity is a bit small for me to use it as my standard day pack. I usually carry dog and human first aid supplies, extra water, survival gear, camera gear, and outerwear "just in case"...the Osprey (793 cu in. capacity, holding 13 l. of gear) cannot adequately contain all my regular gear for most day hikes or winter snowshoeing trips. However, my husband loves the Osprey, so when we hike together, I split up the gear. He wears the Osprey, and off we go!
The pack has nicely adjustable straps, including a sliding adjuster for the sternum strap. The waist strap (which can be removed) is a plain narrow webbing strap, without padding, but serves quite adequately for this pack. The shoulder straps have nice padding, and there are accessory loops on them, which I really utilize. The pack can comfortable be used by either my 6'5 husband, or by 5'7 me, and it is nice to have that flexibility.
The back is ventilated, and there is a hydration reservoir. I did put in a hydration reservoir from my Camelbak once, to see how it fit, which was fine, but I have only used water bottles with this pack. There is no hook or loop to attach the top of the reservoir bag, but the hose can be placed under the accessory loop on the shoulder straps. The side pockets are large and deep, and there is a strap over the top at an angle which can help hold taller water bottles in place.
I mostly use the pack in the winter, when skijoring. It is so light, and non-cumbersome, that I can wear it, while using a skijoring belt, without any discomfort, The size is just right, to throw in a basic FA kit, water, paw wax, ski wax, and of course dog treats for the trail. It is comfortable over a summer trail shirt, or over a winter anorak. The reflective trim is a nice feature, especially if we are skiing or hiking in low light, on a trail shared by snowmachines.
There is a large main compartment, with a long zipper side to side, to it is easy to open the pack and find what you are looking for. There is a designated tablet sleeve area, though I do not use this for electronics. The smaller pocket has an attached clip, and elasticized pockets. This smaller pack can apparently be an "add-on", to attach to other Osprey packs...obviously increasing its versatility.
This is the second summer we've used this pack, and have been quite pleased with its level of quality, and durability. I certainly could recommend this as a simple, lightweight,  day trip pack.
Source: received it as a sample, freebie, or prize (American Hiking Society)

A versatile, lightweight day pack: on or off trail, my new day-to-day pack. Another reason Osprey is my pack brand of choice.
Pros
Simple
Light
Versatile
Comfortable
Durable
Cons
Bungee stopper came off
Bladder sleeve doesn't hold shape
This is my fourth (yes, fourth) Osprey pack and it's another winner. I have 70, 50, and 36 liter packs for different occasions. The Stratos 36 is sweet for all-day hikes, but it's too large for those quick 2 hour hikes with friends. The Daylite has filled that need very nicely.
The setup of the bag is simple. It strikes a nice balance between keeping it basic and having the features that get me through. The main body is just a single compartment and a small zippered pocket at the outside top. There is a key clip (must) and a criss-cross bungee for an extra layer or flip flops for aching feet. The stopper that kept the toggle on the bungee came off a few times under high tension, so I just removed it and put an overhand knot in its place. The body fabric has been really durable and has an awesome DWR. I spilled some cola on it and it beaded like a dream and wiped with no stains.




The back panel is comfortable. There is a flat foam sheet with three raised wave panel foam pieces against your shoulder blades and lumbar. The pack isn't made to carry a lot of weight, but when you max it out with water and food, it's still comfy. The bladder sleeve is between the foam panel and the main body, so it sits outside of the compartment of the bag. I carry a 100oz Camelbak and it's large for the sleeve, so it is a bit tall and takes up some space in the main compartment. Not a deal breaker, but makes the panel rounded and weird sometimes.
The hip belt is just a 3/4" adjustable webbing strap. It's adjustable and stowable. It's not the most supportive thing, but, again, not a huge hauling pack. It's really most handy when scrambling or cycling and keeps the pack on your back nicely. The shoulder straps are light and airy and very thinly padded, and they have elastic H2O routing bands. The sternum strap is nice with an emergency whistle on the buckle.
I've read others' comments on the inadequacy of the mesh water bottle pockets. I've had some issues with my 32oz. Nalgene popping out of them, but I just use 1L water bottles from the gas station because they're narrower, taller, lighter, and it's better than trashing or even recycling them.
I also use this pack for my work bag: it holds papers just fine as well as my keys, wallet, and phone. Overall, a great bag that I'll be using for a long time.
*I am an employee at Whole Earth Provision Co. in Dallas. My views do not necessarily represent the views of Whole Earth Provision Co. or its employees. I pride myself in providing unbiased reviews of products I purchase for my personal use.
Source: bought it new
Price Paid: $49.99

Great all-around day pack for many uses from outdoor active to around town travel.
Pros
Comfort
Lightweight
Integrated hydration pocket
Cons
No external gear loops of any kind
I got this pack last year and I've used it on several outings, from day hikes, snowshoe trips, cross country skiing, and even just shopping around town while travelling. The pack is comfortable and has enough pockets to stow everything I need while not being too busy with excessive pockets. The integrated hydration pocket holds a water bladder securely, but sometimes I simply tuck a water bottle in the side pocket.
I have a short torso, but this pack fits me fine. The shoulder straps are padded thinly, but I don't carry much weight in this pack. The material on the inside of the straps is vented so it breathes when you exert yourself. The compression straps are easy to use, but I usually don't need them.
The pack has a removable back panel cushion, which I haven't removed, but does add a nice option if you want to pack it away in a larger pack and use it for an ultra light summit pack (that's my husband's thing though).
The styling and color suits my taste and the 13 L size works for most of my day adventures. The outer pocket has a few smaller organizer type pockets that make it easy to keep my items organized.  
The only thing I would add to this pack is some sort of external gear loop to clip and accessory item. Otherwise it's a great pack and serves me well.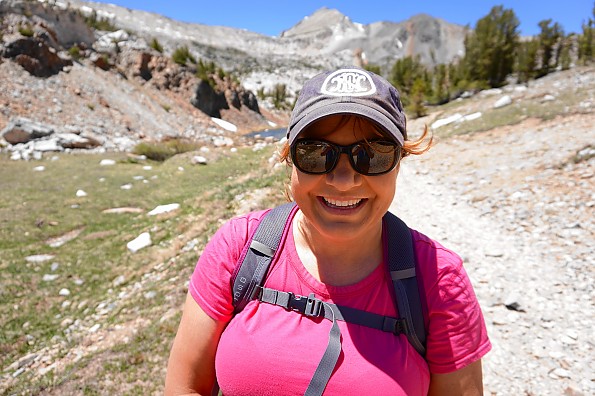 Source: bought it new
Price Paid: Under $50

Excellent daypack. Lightweight, comfortable, and durable.
Pros
Lightweight
Durable materials
Comfortable
Hydration port
Warranty
I first bought this pack to use a hydration bladder while skateboarding and mountain biking. I then started using this pack daily for school, and on the weekends for day hiking. I've now done several overnight hikes with this pack.

Fit
The pack fits me really well and is extremely comfortable when properly adjusted. If I have a light pack weight I don't even feel it. Literally.
Comfort
As I said above, the pack carries light loads really well. The straps and back are very breathable. Compression straps on the sides help keep the weight close to the body.
As I've mentioned, I've used this pack for overnight hikes, but this was possible because I was cowboy camping with lightweight and compact gear. It did the job amazingly well, allowing me to be faster and more agile than with a larger pack.
The sternum strap takes a bit of the load off your shoulders and the waist strap does not transfer weight to the hips, but helps stabilize the pack extremely well, allowing it to move with your body without throwing off your balance.
I've used and abused this pack for five years or more and there's not a single hole or tear on the fabric or mesh. The biggest sign of wear is the logos rubbing off. I've bushwacked through some seriously rough terrain, carried tools and school supplies, skateboarded (and crashed many times) with this pack and it's held up amazingly well.
I would not hesitate to recommend this as an everyday bag, day pack, or even an overnight pack if you're confident that you can keep your gear small and light enough to fit inside. My favorite pack, period.
Source: bought it new
Price Paid: $50 USD

Lightweight
Ventilated
Backed by Osprey's All Mighty Guarantee
Pros
Perfect size for a day on the trails
Ventilation on back panel and straps is great in warmer and humid climates
Cons
Material Is a little lighter weight than I'm used to seeing from Osprey...however, this also contributes to the overall UL feel of the pack.
Picked this up on a crazy sale and could not be happier with the price I paid for the pack. It was exactly what I was looking for and despite saying it fits up to a 2-liter hydration bladder, I am able to run my 3-liter Camelbak in it with no issues whatsoever. It actually slides into an open compartment that sits between the main pack and the backpad. So it is easily accessible without opening zippers and going into the main compartment. There is a pocket in the main compartment that will also hold larger items like a laptop or hydration bladder.
The zipper pulls on this pack are top notch, as are the simple, yet thoughtfully laid out mesh pockets that makes organization easy.
I had considered a variety of other pack styles and options, ranging from high-end $130-$150 dollar offerings from evoc, Dakine, POC, Troy Lee Designs (Osprey has two TLD models that are still on sale as of this writing @ REI) and Leatt. I came to the conclusion that I could probably find something that fit my needs, if I was patient. (I actually busted out a 20+ year old Mountainsmith Torrent hydration pack that had been packed away several moves ago to get me through a few rides while I was looking for my next MTB pack) 
Since I already had the bladder from a Camelbak Motherlode pack that has seen light use, that eliminated the need for one to be included with my next pack. Once I saw the price in the color I was actually looking for, I jumped on it. Even though this pack was purchased expressly for mountain biking, it would be an absolutely perfect light daypack for any outdoor adventures.
Background
I have used it on of all my MTB rides over the past few weeks.
Source: bought it new
Price Paid: $30

I initially purchased this for an add-on to my Osprey Aether 60 so I have better organization. The Aether is a great pack but there 's no real zippered pockets accept for the lid, so I end up a bunch of stuff sacks taking up room in the main bag area. The Daylite was a great solution to my issue. Mind you, I was using Kelty packs before this so I was spoiled with a lot of zipper pockets on the outside, which made organization a breeze. 
The Daylite fits very well onto the Aether packs.
Also, with some of my Keltys, you could take off the lid and use it as a fanny pack for day hikes after making camp. Again, another solution with the Daylite.
I recently started using the pack just for day hikes. There's enough room to bring all I need for the dog and me for the day.
Some have said that the water bottle pockets are to small. I fit my 1L Camelbak and 32 oz Nalgene in with no problem. And not once have they fallen out, or been a pain to get out.
Only real issues I have with it is the slide for the shoulder straps rub on my inner arm when I wear sleeveless shirts, which I usually do. It's just annoying. I wish there was more of a stash pocket on the front rather than the bungie thing. I do find it a bit tight with the shoulder straps getting on and off. But once it's on, I'm good.
I'm 6'3" and about 220. I found the pack to fit me just fine, though I almost max out the shoulder straps. The waist belt is OK, better than nothing especially when scrambling up and down and going fast. It gives better control. The chest strap is longer than most others.
If you have an Osprey pack that would accommodate the Daylite, I would suggest getting one of these. It is light enough to not make a difference really. And if you're looking for a small, light day pack for hikes when you don't need to bring much accept for some food, a little cloths, a towel some dog stuff etc, this is a good choice.
Also, nothing seems cheap on this pack and it is durable. I expect it to last me a long time.
Price Paid: $40

Great lightweight daypack.
Pros
Well made, great materials
Lightweight
Packs very flat
Cons
At my size (6'1") it's a bit tight in chest and shoulder area
I bought this from the REI Outlet. I wanted a lightweight day pack that I could carry with me while canoe camping and backpacking in case I stayed at a campsite for multiple days.
Very lightweight. Great for carrying water, food, a shell, and any other essential gear. My Gregory Triconi 60 has a lid fanny pack, but I don't like taking the pack apart to use it. During summer I set up camp in Harriman State Park, and had to hike a half mile to a lake to pump water.
This pack was perfect for carrying a filter and numerous water bottles/ bladders. It has a main compartment, and a smaller top pocket with mesh organization, and a key fob. The pack has two good size mesh water bottle pockets, and an external  hydration  pocket.
It is a summit pack, and it attaches externally to the Osprey Aether 70, and other Osprey multi-day packs.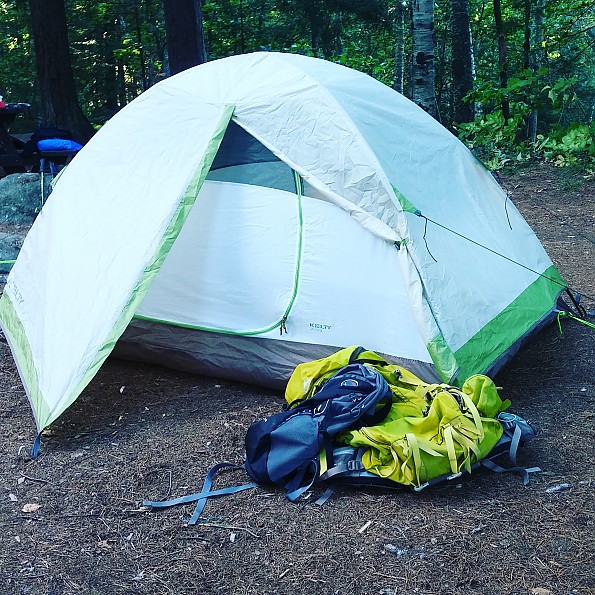 Above: the Daylite atop the Gregory Triconi 60 on Halfway Island, Saranac Lake, N.Y.
Source: bought it new
Price Paid: $35

I used a larger Osprey to hike across Spain. This lighter, compact pack is perfect for biking my 20-mile commute to work each day. I use it on day hikes and as a lightweight purse for events, concerts, kayaking, picnics.

The two major compartment keep clothing and snacks. There is small zippered pocket at top for keys, ID, etc. Mesh pockets on side hold water bottles easily. It has a hydration compartment. I will be using this to hike Mt Whitney.
Pros
Size
Weight
Comfortable fit
Perfect for women/petite
Great for day hike
Cons
Too small for weekend hike
Limited storage inside
Long straps flap while biking
Perfect for my applications.
Source: bought it new

Great daypack for our family to go hiking with.
Pros
Great storage
Deep pockets
Cons
Zipper gets stuck sometimes.
My wife and kids got me the Osprey Daylite daypack for Father's Day, and it is the perfect size for our family to take short hikes. It has plenty of room with deep pockets and I like the little pocket on top for all of my camera gear that I bring with me (I make YouTube videos).
In fact, I made a review video of this if you or anyone wants to get a better idea of what this looks like.
Source: received it as a personal gift

I have owned a Daylite for about six months now.
It is of overall good design. Its size is sufficient to hold my gear for a short day hike and the harness suspension makes for a glue like fit in your back. The smaller pocket is perfect for holding your small pocket items like keys, wallet, cellphone glasses, etc. Also having an extra 10-liters of storage space on your pack isn't all that bad.
However, there are some drawbacks. For one, the shoulder strap adjustments seem to be a bit short, so if you are a bigger guy you may run out of adjustment room. Second, the mesh water bottle pockets are too small for a Sigg much less a Nalgene. Lastly, the hydration pocket is too narrow for a 3L Camelbak resivoir.
Even though there is no hip belt, they provide you with a 3/4" webbing strap which I do not use as the pack is plenty stable without it. You also have to be somewhat careful how you pack it because if you put something sharp sticking into your back you will feel it.
Interesting tip: you can remove the back foam pad relatively easily. If you ever end up in a situation where you are stuck out on an unexpected overnight then you could use it as an insulating pad to sit on.
Let me just start by saying that I love Osprey packs, and own no less than 5... Bought this pack as an add-on for my larger Osprey packs (Aether 70 and Exposure 50) and it fit perfectly. I usually hike to a nice location, make camp and take day trips from there. So the Daylite seemed like a good idea. The year before I had strapped on a Talon 11 instead of the Daylite, or stuffed it inside an even larger pack (Bora 95)
The problem with the Daylite is that it is not a very comfortable daypack. The harness is too short/small/narrow and the hip belt is replaced by a strap. And the back panel is too thin, so if something hard and uneven in shape is in the pack, it pokes me in the back. The outer mesh pockets are also too small to hold my water bottles secure in rough terrain.
The Talon 11 is a much better option, but it is not fitted to be used as an add-on. I sent Osprey an email asking if they could retrofit the Talon to work as an add-on pack, but they weren't able to do so. Too bad, as it would be perfect.
Design: Top loading daypack
Size: 13 liters
Number of Pockets: 4
Max. Load Carried: 5-6 kilos
Height of Owner: 180 cm

Very easy to use. Best bag for a summer camp staff person. Versatile and light, but full featured in its straps, side pockets and zippered pockets.
Fit: Fits close to back.
Comfort: Thin hip belt strap but shoulder straps fit very well and are adjustable.
Capacity: As advertised it fits a good 13L on the inside and has ability to old gear on the outside.
Organization: Simple two zippered pockets make it simple to remember where your items are.
Ride: Perfect ride if you're not too tall...
Compression: Can easily hold heavy loads...
Ease of use: Few parts and very well made. They always work well on the trails.
Features: Can be added onto other packs of Osprey's.
Construction: Very durable in my opinion. 
Conditions: Needs a rain fly if in heavy rain.
Source: bought it new
Price Paid: $50

Small and perfect for short day hikes.
Pros
Comes with a whistle in back straps
Hydration compatible
Comfortable fit on hips and shoulders
Back panel ventilation
Cons
No secure side pockets
A little small for longer hikes
Too small to fit much water
It is perfect for a short day hike to hold raingear, emergency and snacks, but it is missing some zippered side pockets for easy access items like chapstick or cell phone. The side pockets do not stretch and placing water bottles on the sides does not leave much room for stuff inside.
It is hydration compatible on the other hand, which leaves the side pockets free for other gear. The back panel allows fair ventilation and the pack sits well on the hips and the shoulders making it comfortable to move around. But the perfect hidden bonus is the whistle on the back straps.
All in all it is great for a short light hike.
Source: bought it new
Price Paid: 30$ on sale

This thing does not budge. I do a lot of fast hiking/ long distance trail running and my old pack would bounce like crazy, even with the straps cinched down and the load well distributed. This little guy will hold tight to your back and you'll hardly notice it's there.
It has a well ventilated back, a small front pockets for keys/bars/whatever, it takes a hydration bladder if you use them, and it holds enough for a quick jaunt and not much else. Seems relatively durable for what it is, but the straps are a bit lightweight.
That being said, I don't think that you shouldn't expect a $49 lightweight pack to really last more than a couple of years with constant use/abuse anyways.
I'm totally satisfied in my first 6 months of use. The only real downside is that I only own one and I constantly have to fight the wife for it on my days off.
Design: Lightweight
Size: 750 Cu. In
Number of Pockets: 1
Height of Owner: 5'9"

Overall decent but fit isn't very good. I'm 5'10" and the straps are too small on me. Straps are also at the VERY end to fit reasonably comfortable but that means any slippage and it comes undone. No real waistband except cheap strap.
It's built fine - just fit is for smaller people. Needs more outside compartments - really just one small one (and I mean small) on the pack outside otherwise its just one 'sack'. Couple of mesh side panels are nice for water bottles but it seems I constantly have to open the pack to get what I need since I can't store in a smaller outside access area.
There are better packs out there that fit better.
Height of Owner: 5' 10"

This daypack seems indestructible.
The yoke harness takes some getting used to but works well. Loads lay nice on the small of your back, not up high. Although not designed with hydra in mind, it can accommodate a 1 liter bag and some gear.
The sternum and waist straps are a bit small. They could be wider. I am 5' 10" @ 204 lbs and the chest straps just barely reach to a comfortable level.
Osprey makes great packs. I have had two and liked them both.
Design: daypack
Size: 750 ci
Max. Load Carried: 10 lbs.
Height of Owner: 5' 10"
Price Paid: $49

overall, an excellent daypack, versatile and very handy. one nice feature that i had discovered on accident is that the daylite is waterproof. the compartment for a water bladder comes in handy on each trip that i bring it on, and the mesh compartments on either side of the pack are useful as well. also, the daylite can be connected to several larger backpacks from osprey, such as the aether 85.
Design: daypack
Size: 750 cu in.
Number of Pockets: 4
Max. Load Carried: 13 lbs.
Height of Owner: 6,3
Price Paid: nothing, i won it.

Your Review
Where to Buy
Help support this site by making your next gear purchase through one of the links above. Click a link, buy what you need, and the seller will contribute a portion of the purchase price to support Trailspace's independent gear reviews.
You May Like
Specs
Price
MSRP: $50.00
Current Retail: $37.50-$65.00
Historic Range: $20.00-$65.00
Reviewers Paid: $30.00-$50.00

Weight
1 lb

Capacity
793 cu in / 13 L

Dimensions
18H x 9W x 9D in

Fabric
Main—210D Nylon Double Diamond Ripstop / Accent and Botton—400HD Nylon Packcloth

Recently on Trailspace