Kelty Redwing 3100

The Redwing 3100 has been discontinued. If you're looking for something new, check out the best weekend packs for 2022.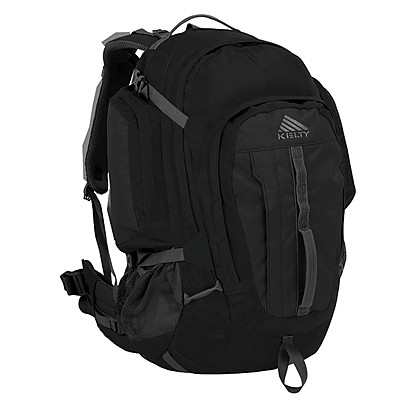 Specs
Price
MSRP: $109.95
Historic Range: $49.97-$119.95
Reviewers Paid: $45.00-$109.00

Reviews
16

reviews

5-star:

9

4-star:

6

3-star:

1

2-star:

0

1-star:

0
Good pack for weekend trip. Anything longer than 3 or 4 days and you are going to be short on space. Great fit, and lots of compartments.
Design: Internal Frame
Size: 3100
Number of Pockets: Many
Max. Load Carried: 38 Lbs
Height of Owner: 5'6"
Price Paid: $89

I have the 2009 model and have used it bi-weekly over the past year. The Kelty Redwing 3100 is my go-to pack for day use or up to three days in the field. I am 6' with a 21.5" torso length. This is one of the best fitting packs I have found in the price range. I also like the way it distributes weight to the belt. My typical overnight pack weight is about 35 pounds or less depending on the weather. The Redwing 3100 handles the load comfortably.
I have also used the Kelty Redwing 3100 quite often on bouldering day-trips with my 17 year old son in northern Arizona. He carries his crash pad and a few essentials, and I carry our day-camp gear (~ 20 pounds) in the Redwing 3100.
Based on price and serviceability, I would definitely recommend the Kelty Redwing 3100 to a friend.

Design: Internal Frame Pack
Size: 3100 cubic inches
Number of Pockets: 5
Max. Load Carried: 45 pounds
Height of Owner: 6'
Price Paid: $109

Have the 07' or 08' model. Lots of space/room and it is hydration compatible (not included). I actually put my Camelbak hydration pack in and fits/works well.
Main compartment is huge. Front compartment has organizer for personal belongings (maps, key FOB, wallet, etc), side pocks on both sides (though they have unzipped on their own before), and also has a mini front compartment for miscellaneous things. the 2 side bottle pockets are huge, make sure you cinch your bottles in so you don't lose em'.
I have used as a carry on for plane traveling, 4 day camping adventures and also use it daily as my gym bag. From a trusted name...well constructed with a modern appearance. Get it NOW.

Design: internal frame backpack
Size: 3100cu.in.
Number of Pockets: 5
Max. Load Carried: 5 Lbs approx.
Height of Owner: 5' 7"
Price Paid: $49.99

This new one is a replacement for my old one that is about 10 years old. I love the old one but one of the straps is beginning to tear and the inner coating is flaking off. It has served me well and faithfully. I like the new one's suspension system but haven't carried it with a load yet.
I am a little concerned about the side pockets where I keep my liter size water bottles since they are smaller than on my old one. Yeah, I know, use a water bladder. I still like bottles.
Design: panel loading
Size: 3100 cubes
Number of Pockets: about five
Max. Load Carried: 15 to 20 ???
Height of Owner: 5'10"
Price Paid: $109

I absolutely love this backpack compared to many others I've seen. Although it's a daypack, I used it for a 4-day trip and it worked fine.
The reason for the mediocre review is within the first 4 hours of using it, one of the strap mounts on the bottom of the backpack tore apart. The things I had strapped to the outside of the pack weren't even that heavy, so I was surprised that it tore apart so easily.
Max. Load Carried: 35 lbs
Height of Owner: 5'11"
Price Paid: $70

This pack is another example of Kelty durability and longevity. It's a very durable pack with a large main compartment plus two large-ish pockets on the back. While it seems small to me for overnight use, it makes a very roomy day pack.
Pros
Front-loading design
Large capacity for day hikes (or quick overnighters)
I am very happy with this pack. In some places it's listed as a multi-day pack, which might be true if you don't need a tent or sleeping bag :). For me, it's perfect for day hikes into remote areas, where I tend to carry extra food/water/clothing as a contingency in case of emergency. The front-loading style makes it easy to access the contents, and the pockets and mesh water bottle holders work out great.
I'm pretty picky about gear, but I can't think of anything I'd change on this pack, so I gave it 5 stars.
I did experience a few hikes where I developed some lower back pain - but discovered it was due to how I'd packed. By moving heavy items, like water bottles and food, to the top, and fine tuning the waist and shoulder straps, I've pretty much eliminated that problem.
Design: front-loading day pack
Size: 3100 ci
Number of Pockets: 3
Height of Owner: 6'
Source: bought it new
Price Paid: $100

Not a bad small pack at all. Basically, this is an affordable and unpretentious summit pack. Would you really bring this to a summit or when you're on duty with the Forest Service? Well, you'd probably want something more deluxe like a Dana Bombpack, but this Kelty is much less expensive, a panel loader, and you wouldn't think twice about taking it on an international trip as your day pack - which is why I bought mine (without the adjustable frame, discontinued for $50).
I's perfect for travel. Not too big, not too small. I use it for everything, from cramming pro camera gear into (I put my cameras into a camera bag and the whole thing into the bottom of the Kelty pack, and there's enough space left over to jam in a large jacket, notebooks, and a tape recorder) to packing enough clothes and other items for a two-day trip somewhere to work on a newspaper story. I can usually get away with taking this pack as a carry-on. And it has a very nice hip belt - quite unusual in a pack of this size costing so little.
Design: Panel loading, internal frame rucksack
Number of Pockets: lots
Max. Load Carried: 20
Height of Owner: 5' 9"
Price Paid: $50

This is the best full-day pack ever. The aluminum strut, plastic frame sheet and belt is sufficient to transfer heavier day type loads to the hips. The padding is great. It is easy to access any sort of clutter you bring through the front full-zipper opening without having to unpack. It has plenty of pockets for organizing sunblock and sundries and an inside sleeve for hydration bladders with top hose opening.
Versatility is this pack's watchword. Whether hauling photo gear and tripods out to Hawk Mountain, rope and clips for a rock climb, or binoculars, water and kids snacks for a family day outing, this pack has you covered. It is tough and durable, with thick materials. Really one of Kelty's best efforts.

Design: Front loading internal frame
Size: 3100 cu in, 50L
Number of Pockets: 5
Max. Load Carried: 25 lbs
Height of Owner: 6' 3"
Price Paid: $100 at Backcountry Gear

I love this pack. I have owned it for two years and abused it in every way possible. It has been on probably around 20 backpacking trips including the Grand Canyon, Superstition Wilderness, Hawaii, and the San Francisco Peaks.
It has been on literally hundreds of non-backpacking trips as well, from a day in San Diego to two and a half weeks in Croatia. It is also my everyday pack — for a year my only mode of transportation was a motorcycle so I would do grocery shopping, laundry, and everything else with this pack.
It is the perfect backpacking pack. For reference, I am 5' 9'' and 160 lbs with a 30-inch waist and a 40-inch chest. It is incredibly comfortable; I have never had any sore spots or aching back, even after 15 mile days.
It is lightweight but quite roomy; I can fit gear, food, and water for a 5 day trip in rainy weather (any longer trips I would suggest a larger pack though). It also cinches down quite small, so it is great for just a day-hike too. I have used it tons of times just with some lunch and a water bladder. It has just the right amount of pockets and compression straps, plus a spot for a 3L bladder.
All the straps and belts are easily adjusted and easily undone. I have even had the pleasure of using the tool loop on an ice-climbing adventure; it was great for my ice axe. It actually works great for a pillow too, I always turn it upside down and the padding on the back is comfortable enough to sleep on.
This pack is exactly the right size for a carry-on. I have been on around 15 flights with it and even packed everything I needed for three weeks in it and still used it as a carry-on. Plus, it is a totally comfortable way to carry your stuff around airports.
As far as durability goes, it is showing no signs of wear after two years of constant abuse. There is a small hole where a campfire ember burned through, but no broken buckles, straps, zippers, or anything else. I have dragged it through mud, subjected it to 100 mph winds, loaded it with over 50 pounds, and even dropped it off a 30 foot cliff once completely full.
What improvements would I make to this pack? There is one thing I would change — I wish there was some way to strap things to the top. There are loops on the bottom, but I don't like strapping things under my pack and there are loops on the back, but that is a bad way to weight a pack; so I wish there was a strap or two on the top to put a sleeping pad or backpack. Though, because of the handle and the way it is built, the top cannot support any weight even if there was a strap.
In summary, I have been very, very impressed by the Kelty Redwing. It has exceeded all of my expectations. It is great for up to 5-day backpacking trips, as a carry-on, and an everyday backpack. It is durable, comfortable, and adjustable. I highly recommend it.
Price Paid: $79

I bought this pack for my first big Russia trip in 2001. Now the inside is flaking off and I can't find anything that might match its phenomenal track record. 
I have backpacked around Europe and Russia with this pack for months at a time, hiked through the Olympics, the Dolomites, and in Hawaii, trekked across Sicily in the rain in December...etc. 
It is great because the square bottom can hold books (I can't do without, and I go crazy with those new curvy-backed packs) or other flat things, and as a petite female I can fit everything including a set of winter clothing (excluding coat) for up to three months travel without a problem. 
The single open space is good for me because I am extremely methodical about my packing and I can be picky about how I fold and where I put things to create order.
My only issue came up recently as it does not fit a bear canister (and it's totally not waterproof anymore). I have problems with the tall, narrow backpacks and their silly suspension flopping back and forth, this pack fits low and close and usually I don't notice it's there. On the other hand, I am a muscular, ex-firefighter female and I want my pack to have some weight to it so having it low down suits me best. 
Occasionally on planes the fat side pockets have been an issue but I often don't fill those when I want to use it as a carry-on.  The top pocket can stick out too but it's usually pretty compressible. 
This is, of course, an older version of the pack, I assume others have carried on the good style.
Price Paid: $99

It's my second Kelty. I needed something smaller than what I had for shorter trips. I travel rather light, so the bag isn't under much stress. But like other Kelty products I've used, I'm quite satisfied.
Height of Owner: 5ft 2in

I love this pack. It fits perfectly with the adjustable frame. The waist belt, sternum strap and shoulders adjust perfectly as well. It is well balanced and holds whatever you pack into it securely. I use for hiking and to carry my camera gear. It's large enough to hold two days change of clothes and two full camera set, Large Format and Digital. Fully loaded I can carry up to 45 lbs in it and not feel it on my shoulders. It worked wonderful for air travel fitting perfectly as a carry on fully loaded. I've taken it twice internationally.
Design: Front-loading
Size: 3100 cu. in.
Number of Pockets: 4
Max. Load Carried: 45 lb
Height of Owner: 5' 9"

I love this pack for international travel. I have taken this pack (and only this pack ... no other packs straggling in the behind) to: Guatemala, Belize, Thailand, UK, Italy, and Kenya. I have traveled with it for as short as 2 weeks and as long as 3 mos. I have sat on the sides of roads in the middle of nowhere hithchin' with this trusty pack cushioning my rump. I've always been able to fit in whatever I need. I love it so much that I have named it Fred.
Design: front-loading internal
Size: 3100cu.in.
Number of Pockets: 2 on front with cargo nets on sides
Max. Load Carried: 30 pounds +/- 5 pounds
Height of Owner: 5'7" (67")
Price Paid: $99

Outstanding design. The internal supports do a great job of transfering the load to the hips. It's a little heavy (thus the 4 stars instead of 5) but it does such a good job of distributing the load that it's more comfy than lighter loads in other packs.
I've used this for extended day hikes, rock climbing, and for overnight airline travel. It has very tough construction so wear is almost nil. The zippers are great, no sticking or other nastiness.
I'm very happy with this pack. If you're looking for a large daypack that can be used overnite this would make an excellent choice. Oh, the low price was because it was an older model on sale at Sports Chalet. I lucked out!!!
Height of Owner: 5'5"
Price Paid: $45

This is definitely a good pack. For 100 dollars one could probably do better, but it's really a solid pack. I've lugged it through the boreal forest in Manitoba and a number of other environments and it really hasn't dissapointed. It is fairly heavy for a day/overnight pack, but it is also built pretty solid.
Pros:
- Carries 30 lbs and under very well
- 35 lbs is even bearable
- Very rugged build
- Zippered design can save packing time
- Hydration bladder
- Wide hip belt transfers load comfortably
Cons:
- Heavy! nearly 4 lbs
- Heats up the back pretty fast during hot days *typical of most packs however
- Zippered design could fail
- The outlet for the hydration bladder hose is put on top of the pack which could allow water to enter during heavy rains (though one would probably use a rain cover at that time)
- 100 dollars is a lot for this pack compared to other offerings
- All the frign straps dangle because there is no integrated strap holder (I should just buy rubber bands)
This is a solid pack, you might not be impressed, but you won't be disapointed.
Size: 3100 ci
Number of Pockets: 5
Max. Load Carried: 35 lbs
Height of Owner: 5' 8"
Price Paid: $100

Unusual number of pockets and nice division of space make this one stand out. Two large mesh pockets for 1 ltr waterbottles on the bottom. Great pockets on sides and front. Excellent division of space makes it easy to find your stuff in the dark. Hydration pocket, unusually good fit and straps galore makes this versatile for multiple uses. Good fit for a tall person and nice size for a weekend trip. The 2650 Redwing is way too small and doesn't fit properly. Pricey but flexible enough to cover plane, picnic or trail.
Design: Front Loader
Size: 3100
Height of Owner: 6' 7"
Price Paid: $100

Your Review
You May Like