Garcia Backpackers' Cache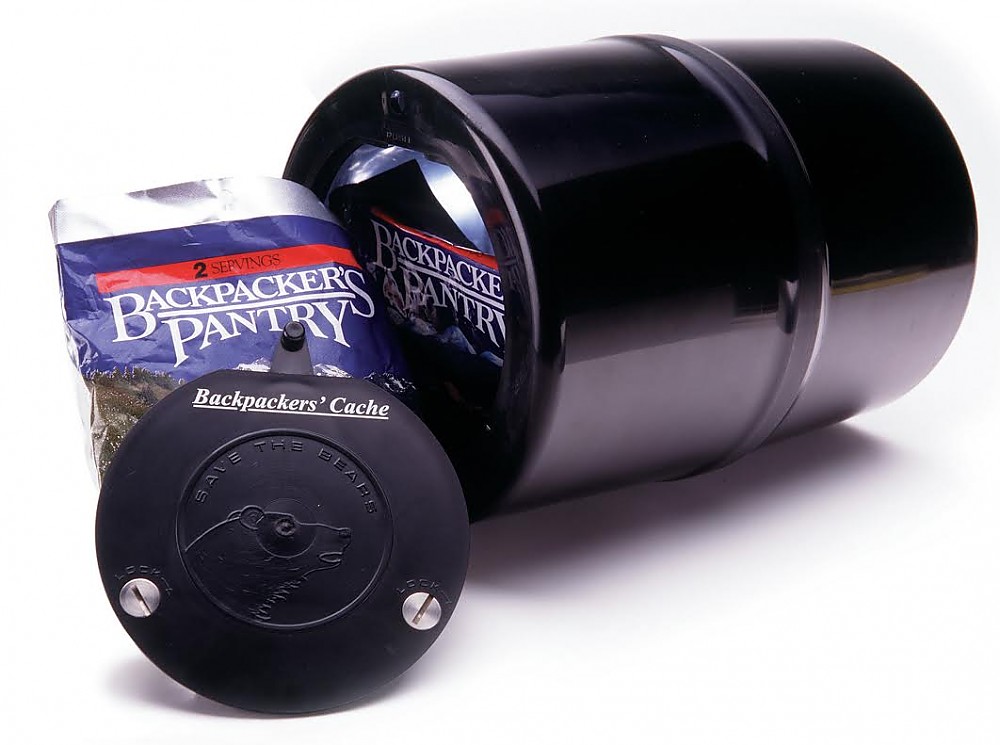 This moulded ABS plastic bear-proof container is perfect for preventing a confrontation between your food, yourself, and a curious bear. Great for use as an additional storage container, and tough enough to be used as a food cache

Absolutely essential for all overnight trips in the back country where bears or large wild animals reside.

Recommended by many Park Rangers - so don't leave home without it!!
Pros
Excellent security from wild animals
Tough - bear resistant
Lots of space for food
Can be used as an extra seat at your campfire
Cons
Large size - need a smaller version for solo overnight trips
Takes up lots of space in your backpack
No means to attach to the outside of your pack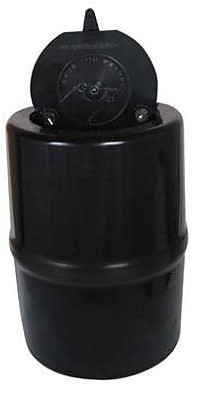 This is the **ONLY** canister that is allowed in the Adirondacks. If a ranger stops and wants to see your bear canister and you have the wrong type - expect to be sent back and get the right type. You've been warned.

PRO's

Two metal tabs that secure the lid are hard for bears/animals to turn - makes an effective seal 

Large - one canister will hold food for one person for 3 days (3 meals per day) or two people on a weekend / single overnight stay. 

Tough - bears can't get their teeth around this canister. I've seen the score marks from bear teeth on my canister. Haven't yet seen a bear sit on a canister but would presume it's tough enough to withstand 400lbs or more. 

Makes an excellent seat until you have to move it out of your camp site. 

Found that experienced raccoons have failed to open the canister. That says quite a bit!!! LOL 

Hard plastic makes it easy to clean with a quick wash. 

CONS

The container is large for a solo single overnight trip. A smaller half size version would be ideal. The canister takes up a lot of room in your back pack so make sure that you have a larger pack for a weekend solo trip.

Heavy - wish it was a little lighter. However, lighter materials may sacrifice toughness and robustness.

No handles or sling for attaching to your backpack - you have to carry it by hand (heavy if you have food in it) or put it in your pack. 

Lid does not seal against food odors - animals will find the canister if you have an attractive smell emanating from the canister if you don' wrap your food up.

Brighter colors - the black color tends to blend in with the undergrowth when you realize that a bear has played with your canister and you have to go look for it. 


TIPS

Place at least 100yds from your campsite. Day or for overnight. Bears are far more active during the night than the day - however, bears will go where there is food. 

Bears can get frustrated with trying to open the canister. They will play with it for a while - so the further the distance from your campsite the more sleep and peace of mind you'll get. 

Place lid down - reduces food smells and also to slow water seepage from heavy rain. (Lid is not water tight) 

Do not place near a slope or near water. Bears can move the canister around quite a bit when trying to open it. If you place it near water it can float away.or take in water. If you leave it near a slope, good luck finding it the next morning after a bear has played with it. 

Expensive for what you get. Could be cheaper.  If you plan to do multiple overnight trips in bear country for years, then the expense is worth it - for the occasional overnight trip - rent instead of buying.
RECOMMENDATION --> For all back country overnight trips - don't leave home without it!!
**OTHER NOTES**

I received positive feedback from the manufacturers:  Here is their response.

"A smaller container can run into trouble with larger bears. The size and shape of the container are part of the design to keep bears out. Nevertheless, we have been looking into both a slightly smaller version and a premium version with more advanced materials."

"The black color of the plastic helps to lengthen the life of the container by reducing the effects of UV exposure. This is especially important for containers in rental programs that see nearly constant use during camping season.  I have heard of some people brightening their containers up with either paint or reflective tape, but I do not have the details on either."

Source: rented it

Convenience and security in a stout package. After you accept the bulk and weight of it as a given, the bear can is worth it for the piece of mind, especially now that some bears have figured out how to get to bagged food!
Pros
Easy-to-use
Strong
Doubles as a stool
Convenient
I've used the Cache on two trips in the Ouachita Mountains, one with two other hikers and one by myself and the piece of mind it offers has greatly out-weighed its own bulk and, well, weight!
It takes up quite a bit of pack space if placed in the main pack compartment, but I have a larger pack with deep recesses into which the canister disappears creating plenty of nooks to stabilize the can with extra layers, socks, and other accoutrement. Using the carrying case, you can lash the can to the top or back of a pack, but inside the pack is easier and more stable if you have the space.
The construction is of a thick, sturdy plastic that hasn't shown any wear after drops and such. It also conveniently holds the weight of an adult making it a great camp stool for cooking or just relaxing. The lid locks are easy to operate with a key or knife, and there is a small button that allows you to lift the lid with ease. I've put the can out overnight during long down-pours and nary a drop entered to spoil my food, even without a can liner.
If you can justify the weight and space the can takes up in your pack, it sure beats having to hang a bag in a tree at the proper height and distance from the trunk, etc. With a group, it's even easier to carry. A large group may need more than one can, though. Our trio struggled to stuff three days worth of food into this can and we did resort to hanging our overflow fragrant toiletries and some small food stuffs just to be safe.
With bears and small rodents becoming craftier as more people enter the wild spaces, the bear can seems the last defense against our hungry forest friends.
Source: bought it new
Price Paid: $74.95

This is a very good value. It's not the lightest out there, but it's also not the most expensive: with reasonable gear choices, I can afford the extra weight. Unless you have room inside your pack, you'll need the optional carrying case.
Pros
Reasonably priced
Easy to open (if you're not a bear)
Doubles as a stool
Cons
Heavy
Opaque
Narrow opening
I bought this can several years ago, when I returned to backpacking after a too-long hiatus. Bear cans are mandatory through much of the Sierra Nevada.
Although I prefer the wide opening and clear body of the BearVault, just opening one in the store was a real—wait for it—bear for me: I couldn't imagine trying it with cold and wet hands. Some people complain about the Garcia needing a tool to open, but I've always got at least a Swiss Army knife in my pocket (currently using the Bundeswehr model on the trail ) so it's a non-issue for me. Also, in answer to one critic's question, "Who carries a coin with them on the trail?" I'm old school enough to always have some change on me for a pay phone.
If you use an internal frame pack, this or any other can will suck up room in a hot hurry. I lash mine to the top lid of my Kelty external frame. The slick, oblong shape make the optional ($17 at REI) carrying case or some equivalent mandatory: I understand the design decisions there, basically increasing the bears' frustration levels so they'll go away.
The case comes with a pair of webbing straps: if you lose them or a buckle breaks, a length of paracord tied in a Canadian jam knot works fine. No problems with the zipper, but I might have preferred a roll-top or drawstring closure for the case. Maybe I'll make my own one day.
The URSACK is the lightest weight alternative and is comparably priced, but may not be approved everywhere. Also, even though the bruins can't get your food, they'll leave a mangled mess inside trying. The Wild Ideas Bearikade Weekender model weighs 10 ounces less, has a bit more interior volume (650 cu. in. vs 614 cu. in.) but costs nearly 4 times as much: bringing the family along makes the Expedition model tempting, or I could just spread everyone's food among individual Garcia cans and still have money left over.
Overall, I'm highly satisfied with this product.
Source: bought it new
Price Paid: Don't remember

Every ranger likes to point out the added benefits of carrying a canister. And, they do help you cope with the extra pound + you're carrying. It makes a great stool. Your crackers don't get crushed. And, in a pinch you can use it to bail out your canoe.
However, these things are heavy. You'll definitely feel it alongside your titanium pot and ultralight tent. And, they are a little awkward to pack depending on the width of your pack.
But, this model is the bombshelter of culinary delights. There are other options like Ursasack and that clear canister (??) - both of which have had some issues. But, this one is virtually impossible to crack. Opening it requires a coin - which bears don't carry. So, you're safe there.
I personally like to carry the clear canister because 1. it's clear and I can see what's inside 2. it's a bit lighter.
Simple to use but, very large.
Cons
Heavy
Must have knife or coin to open
This is everything you need in bear country. It has a lot of space, simple to use, and works great. However, you need a knife or coin to open the lid, it did not fit our our packs so we had to keep it on the outside and it is heavy. This is what to be expected from a bear can.
Great for a long trip in bear country. 
Source: bought it new
Price Paid: $55

Better than nothing.
Cons
Hard to open
Small opening
Difficult to pack
I've used the Garcia product a few times. While it may serve the need, it is difficult to load, due to the small opening.
Who in the world carries a coin while backpacking. The screw-like closure is a pain to open.
Is it effective? If it is hard for me to open and get stuff out, it will certainly be so for a bear.
Source: borrowed it

It's relatively inexpensive. It's easy to open. It's rugged. It works as intended.
Pros
Simple elegant design that is rugged
So much less expensive than the Cadillac of the canisters
Will carry a lot of food
Cons
It's heavy (1243g or 43.85oz.).
I have had my Garcia for almost 20 years. It has never failed me. It carries a lot of food with careful, deliberate packing.
Source: bought it new
Price Paid: $50

Your Review
Where to Buy
Help support this site by making your next gear purchase through one of the links above. Click a link, buy what you need, and the seller will contribute a portion of the purchase price to support Trailspace's independent gear reviews.
You May Like
Specs
Price
Current Retail: $79.00
Historic Range: $69.95-$79.00
Reviewers Paid: $50.00-$74.95

Recently on Trailspace