Osprey Aether 85

The Aether 85 has been discontinued. It was replaced by the Osprey Aether Plus 85.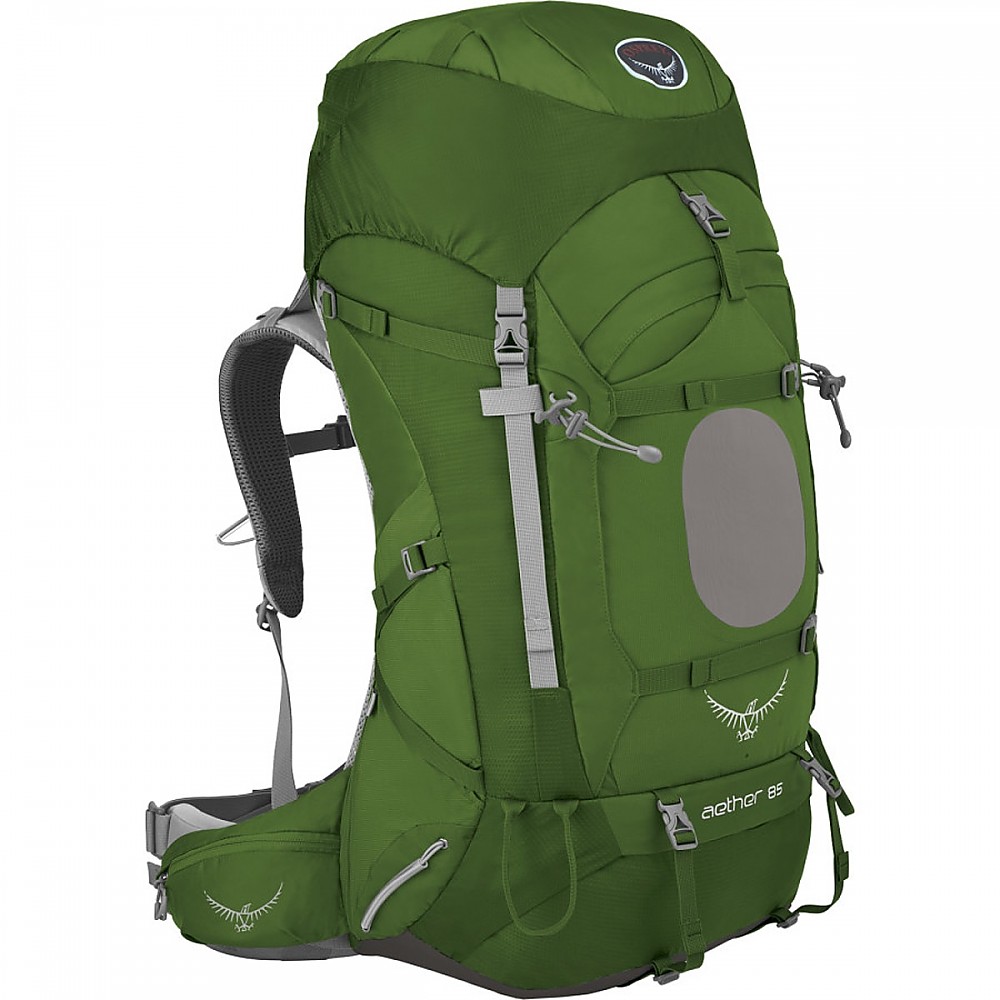 Specs
small
medium
large
Price
MSRP: $289.00
Historic Range: $115.73-$330.00
Reviewers Paid: $20.00-$345.00

Weight
4 lb 13 oz / 2.15 kg
5 lb 1 oz / 2.25 kg
5 lb 4 oz / 2.34 kg
Capacity
5000 cu in / 82 L
5200 cu in / 85 L
5400 cu in / 88 L
Reviews
14

reviews

5-star:

7

4-star:

7

3-star:

0

2-star:

0

1-star:

0
A tough bag packed with clever features for both summer and winter use.
Pros
Everything has been thought of when it comes to stowage of tricky items including ice axes, trekking poles and waterproofs.
Cons
My particular model has a removable chest strap that removed itself at a really inconvenient moment. This looks to have been addressed on the latest model.
Also, lack of a rain cover which is available on European models. Does it not rain anywhere else?
Fairly pricey compared to like for like bags.
This is a great bag! I have used the Osprey Aether on several big trips to various areas of Great Britain in all weathers and all seasons including full winter conditions on the Cairngorm plateau. I tried several bags in the store and this proved to be the best fit.
It was easy to adjust once on my back. I am able to fit everything I need in the bag for me and my wife (she is on the petit side) and organize items effectively inside. The ability to section off the bottom of the bag or use the whole bag as one single compartment is a useful feature as is the front zip which allows alternative access to the bag other than the top.
There are several compression straps that work well to stabilize items stored in the bag. Other adjustable straps on the shoulders and hips are easy to use. Other than the chest strap clasp losing itself at a critical moment on a mountain leader course the bag performs well.
The after sales service is brilliant. I contacted Osprey UK about the problem with the chest strap and it was replaced straight away. Construction quality is high throughout and everything has been thought of. There are many ingenious ways of storing items such as trekking poles, ice axes and waterproofs. This is a bag that has the potential to last me many years to come.
I like the low key colour which blends in well on British hills. I have not used the removable lid which acts as a small bag. This seems to be unnecessary and simply adds weight and clutter  to the bag. I would have preferred a second lid pocket and a rain cover instead.
Over all I would recommend this bag for its quality of construction and clever features which add up to make time out on the hill easier and more enjoyable. Check which model you are purchasing as several stores still have old stock (which lacks the upgraded chest strap and rain cover if it is a European model) sold at the full price. 
Source: bought it new
Price Paid: £160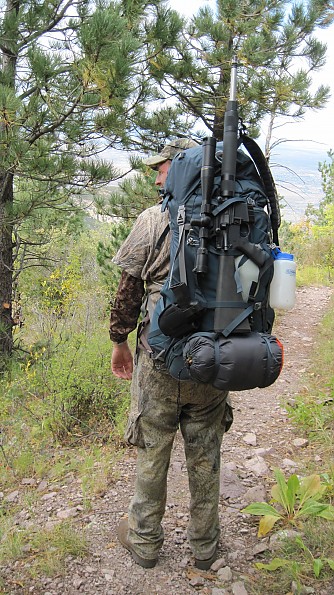 I never take the time to write a review, matter of fact this is the first time. I used the reviews on this site and others to help point me in the right direction. I purchased this pack for a deer hunting trip.
When I went to my local outdoor specialty store I learned a great deal about the advancement in pack technology as I had an older pack which did not fit correctly. I am tall and have a long torso...this pack is infinitely adjustable to any body type....after the adjusting, it fits like a glove.
The store I went to had weight sacks which I used to test all the makes of the packs they sell....this is a must do!! As a note, the reviews I read about the Kelty's and the shoulder adjustment slipping because of a 2 inch piece of Velcro is TRUE as it happened when I tried it on with 60 lbs.
I used this pack with 45lbs and hiked up a rocky mountain with an elevation change of 4000 feet. On the way back I added an extra 30 lbs of meat...at 75 lbs it was a difficult hike down the mountain but I must say, the pack was as comfortable as could be for 75 lbs...meaning it did not hurt my waist or shoulders...the hard part was the strain on the legs and hip carrying that kind of weight.
There is no magic pack that will make this kind of weight seem light but the trick is to find a pack that can carry this kind of weight with out pain to where the pack attaches to the body...this did it for me...I am impressed.
As an important note....I upgraded to the thicker IsoForm hip belt and shoulder straps which I think made a huge difference.
The pic shows how you can attach a rifle to the pack.
Size: 5200 CU. IN.
Max. Load Carried: 75lbs
Height of Owner: 6'3"

When it comes to packs, you want something comfortable. It needs to be well made, rugged, and have useful features. I've owned the Osprey Aether 85 for some time now and wouldn't change it for anything else.
Pros
Well built
Comfortable
Great features
Intro:
When it comes to packs, you want something comfortable. It needs to be well made, rugged, and have useful features. I've owned the Osprey Aether 85 for some time now and wouldn't change it for anything else. Here is my break down review of the pack:
Comfort:
-       I find it to be extremely comfortable even when its full to the brim tipping 60lbs. At 40lb I can hardly tell I have it on, it does an extremely good job of distributing the weight on my hips and shoulders. At the end of a long day I don't get that soreness on my shoulders that I've gotten with other packs. It has plenty of adjustments to make sure you get the perfect fit.
Quality:
-       The quality of the pack is great. Overall the stitching on the seams is good and the zippers function flawlessly even when the pack is stuffed, it is easy to open and close. Where you can really tell the quality is on the shoulder straps, waist straps and back padding. The straps are well padded and thick as to not dig into your skin while carrying heavy loads. Also the back padding has webbing and allows for great breathability so you're not building up a ton of sweat in your back.
Features:
-       Mountaineering packs shouldn't have too many pockets or compartments but it should have the right ones. The Osprey Aether, has very convenient features that make for a very practical pack. (1) The zippered pockets on the waist straps allow for storing any thing from lip balm to sunscreen or a GoPro camera. It allows for quick reach of items that you may need frequently without having to take off the pack. (2) It also has secure loops on each side of the pack to store two ice axes or tools in a safe way where they won't poke you or anyone around you. (3) The straps at the bottom of the pack let you strap in your sleeping pad nice and tight. (4) It has a water bottle holder on each side for quick access. (5) The top is a removable 15L summit pack, once you remove it from the main body it has two straps that allow you to throw it over your shoulder or even wear it like a fanny pack! (6) Lastly the front of the pack has a mesh layer that can be used to store anything you wouldn't want to get mixed in with the rest of your gear…like…poop bags. (There are more features to the pack but for me these are the most important.)
Ruggedness:
-       If this pack lacks in anything, it's in the fact that i'ts not waterproof. If you are typically climbing in snow, you have to be careful how you lay it down or your gear will end up damp. Other than that, it is built like a tank in every other aspect. Mines has been thrown on rocks, dirt, gravel, snow, and glacier and it's still good as new. No rips or tears anywhere.
Final thoughts:
-       This pack earns 5 stars in my book. I consider its build very solid and useful for anything from backpacking to mountaineering. It's large enough to hold enough gear for multiday expeditions and very compactable for short trips. Its adjustability makes it suitable for heavy loads and comfort that last for hours on end. Whether it's scrambling up rocks or slogging up a snow field this pack will perform great. It's worth every penny!
Source: bought it new
Price Paid: $275

Great pack. I like the versatility, it has multiple pockets and you can access equipment from the top and bottom. I have a slight back problem and I needed a pack that you sit just right. This pack takes some serious getting used to. It took me about two days for it to adjust right but it has so many ways to adjust it, that once I got it there it was great.
Stays close to you with plenty of head room. It also has an easy access pouch on the top. The camelback pocket sits very low! No one ever gets this right! They put it up top so it's easy to get to but when you fill it up your pack feels 20lbs heavier. This lets the water weight sit on the waist. And the material is water resistant, so light moisture doesn't require a rain cover.
Over all, well thought out and comfortable.
cons
- the isoform hip belt is a crock.
- the fanny pack conversion belt is ridiculous.

Max. Load Carried: 30
Height of Owner: 6'3"
Price Paid: $210

A great pack for any trip. The pack is big enough for 5-7 days and useful enough for 2-3 day trips.
Pros
Tons a straps
Spacious
Durable
Top pouch turns into a lumbar pack
Cons
Wish it came with a rain cover
Water bottle pockets are easily accessible
I have used this pack for three seasons and I have been nothing but pleased with it. I am also comforted by Osprey's Lifetime Warranty and have used it once on a previous pack and was impressed with the work they were able to do!
This pack can easily let you carry 50 lbs, but why would you? It fits me like a glove and I have never had any rubs or bruises. It has a webbed outside pocket that keeps those small trinkets together and it also unzips to help you get to those items that are stunk in the middle of this behemoth. It also has a hydration pocket for bladders but after picking one up and it leaked all over my stuff I took it back.
I have used it in the rain, sun, and snow and wish only that it came with a rain cover. I bought this at an REI garage sale and got a killer deal on it. 
Source: bought it used
Price Paid: $20

Lightweight, comfortable and tons of space.
Pros
Very lightweight
Enough room for all my gear and more
Cons
A lot of straps which can get caught in heavy bush if not rolled up
All in all, a great pack. I have used it all over, from a two-week snowshoeing expedition in Labrador to a full month backpacking around the coasts on Newfoundland. This pack has taken me to the Rocky Mountains in Alberta, and to the top of many glaciers around the Little Yoho Valley.
It comes with a comfort form waist belt, and the top pouch turns into a fannie pack for those quick day excursions.
Source: bought it new
Price Paid: $345

Bought this bag off steep and cheap. I thought it was a good deal—and I had heard lots of good things about Osprey packs. After a summer full of abuse the pack did great! Nothing real long or crazy—that will be this summer.
All the weekend trips it did great! I like the stretchy pocket in the back-and I had last years model with all the straps goin everywhere. I like the straps-I can shrink it down real small-they work great when I tie it up for air travel.
I had a clip break on it, and that kinda sucks. I know Osprey would happily fix it but I don't feel like sending it back yet.
I recommend this pack or any other one made by Osprey.
Price Paid: $150

This backpack is great. I used on a 75 mile Philmont trek in New Mexico. Incredibly comfortable ONCE ADJUSTED. If you don't adjust it, it can get a bit uncomfortable.
The airscape stuff offers good ventilation, but seems like a very heavy material. Plenty of space inside and out. Not too many pockets. The water bottles are hard to get to while hiking with it on,I often had to stop to take them out. Custom mold is quite comfy, as is the fannypack/daypack thing on top.
Overall a very nice pack. Plan on adding another review after a small mountaineering expedition this winter.

Design: Top Loading internal
Max. Load Carried: 80 lbs
Height of Owner: 5'6''

Osprey's Aether 85 is fundamentally a very good pack. Once adjusted (I was ready to toss it off the cliff until I did a major adjustment), it carries its load much better than any other pack I have had. Somehow, they got that all right.
However, I consider the lid a collection of design flaws. The pocket is too small – it could easily be larger with negligible weight sacrifice. There is no tiny pocket for wallet and keys (a hook on a string in the main compartment handles keys, but who wants keys in the way all the time.
Although Osprey claims the lid can be removed and used as a butt-pack, preparation requires so many annoying steps that their claim borders on fraudulent. It involves unthreading six strap tighteners, rethreading four of them, ripping apart 9 square inches of tightly compressed Velcro holding the hip belt on the pack and wrestling it into a similarly difficult place on the lid. All this hard enough at home. Imagine doing it with gloves and cold fingers on a cold day. Then you reverse the process to get the belt back on the pack, plus, the four hip belt tighteners must be readjusted to personal fit.
Other packs have a light-duty waist strap built into the lid, and four snap buckles to remove it from the pack. Simple. Job done. Osprey should be ashamed.
The complicated hip belt tightener is a matter of personal preference. The left and right attachments to the belt are pully arrangements, designed, I suppose, so you don't have to pull as hard to tighten.
Personally I have never had trouble getting hip belts tight, and fussing with the belt's two adjustments in addition to the buckle seems unnecessary. I prefer the simplicity of the old style single adjustment. Personal preference.
But the ability to carry load with minimum discomfort is excellent. For that, it's a joy to use. I grafted on a lid from a previous pack, with a bigger pocket and four attachment buckles. I will keep this hybrid.
Design: Top loading internal frame
Size: 85 liter
Number of Pockets: Enough, not too many.
Max. Load Carried: 45 lbs
Height of Owner: 6' 1"
Price Paid: I forget

By far the most comfortable pack I have ever used. The molded hip belt is a nice feature and due to the strategically located compression straps, I've been able to use it ranging in length of two days to a week. I would recommend this piece of equipment to anyone in the market for a new backpack.
Design: internal
Size: 85 liters
Number of Pockets: 3 external pockets
Max. Load Carried: 45
Height of Owner: 6'3
Price Paid: $280

Ditto!!
BEST pack I've ever owned (including a Dana Design Terraplane).
NO comfort issues ... right out of the box! In fact VERY comfy.
Nice set up with the lid that coverts into a waist belt...and a few pockets to help organize.
Plus... holds plenty of stuff!!!!!!!!!!!!!
Design: Internal
Size: 5300
Max. Load Carried: I've carried 60lbs comfortably

I traveled for more than one month through China and Tibet with this backpack and I love it!
I easily get pain in my back from carrying loads, but with this backpack I can walk for days without having this inconvenience. It's light, very comfortable and very good quality. I can recommend it!
Size: 85liters
Max. Load Carried: 20KG / 180 ounce
Height of Owner: 1,90 meters / 6,23 foot
Price Paid: 230 USD

I bought an Aether 85 in sunburst yellow. I have only one trip with this pack so far, but it was a 14-mile overnight thru hike with 6000 vertical feet in Alaska's Kenai Mountains packed with about 45 lbs of gear. I was initially impressed by the build quality and specs. It is indeed light for a pack of this size.
The hip belt and suspension are very nice and fully adjustable / interchangable, I have the large pack size with a medium hip belt. No sore spots or rub spots on my hips or shoulders. My tall size sleeping bag fit in the sleeping bag compartment easily. The hydration pouch and slots / straps for the tube worked very well, my long 3 liter Camelbak did not fit all the way in the pouch due to sleeping bag at the bottom, but a 2 liter probably would and the 3 liter worked ok. All the compression straps and general compression strap layout worked very well, the bag did not shift on a trip that had some steep 3 point climbs and long ridgline traverse.
If you're looking for a large volume lightweight pack I highly recommend this one. It has a lot potential. Could be a good winter bag, skis (up to mid-fat) could be carried a-frame style in ice axe loops, shovel could fit well in front pocket.
Design: top loading internal
Size: 85L / 5,400 ci
Number of Pockets: 3
Max. Load Carried: 50
Height of Owner: 6'6"
Price Paid: $269

Great backpack. Great for multi-day backpacking trips. It can hold a lot of supplies with considerable volume/space.
Pros
Love the brain of the pack. It can be detached and transform into a 20-30 liter day pack.
The brain of the pack has easily accessible zippers that I can reach while hiking.
Great backpack. Has a lot of room.
I typically carry approximately 50 plus lbs of personal and crew equipment at a time.
Highly recommend for those that like great warranties and good backpacking equipment. 
Experience
200 miles of backpacking with this backpack specifically. (I have over 1,000 miles of backpacking under my belt).
Source: bought it new
Price Paid: $300

You May Like
Recently on Trailspace