The North Face Cat's Meow

A solid synthetic bag that will treat you well in three seasons.
Pros
Fairly lightweight
Comfortable
2lb 13oz (older model)
Zipper does not stick (older model)
Fairly compact for 20°
I've always been intrigued by the Cat's Meow. It seems as though it has been a solid seller for North Face so I thought it must have a decent cost/performance ratio. 
After having slept in it on a number of occasions now, I would say that It's a pretty decent bag. Many of the reviews on Trailspace are divided on the bag. It seems as though the older model gets a better review than the newer model. I have the older model. 
Warmth: I found the threshold for warmth and comfort to be about 35°F. I am a pretty "in the middle" sleeper. Not cold nor hot. At 35°, with a base layer shirt and pants and socks, I felt a bit of a chill and was brought slightly out of my comfort level. Anything above 35°F and I think you'll be fine. After dozens of bags, I would say that most bags' comfort level is roughly 15°F over the listed (survival) rating so this bag fits into that category since it is listed as a 20° bag. 
Fit and Comfort: The cut on the older model is wider in the foot box and legs. I found it to be amply wide and comfortable. The length in the regular was perfect for me at 5'11". The hood snugs well around the head.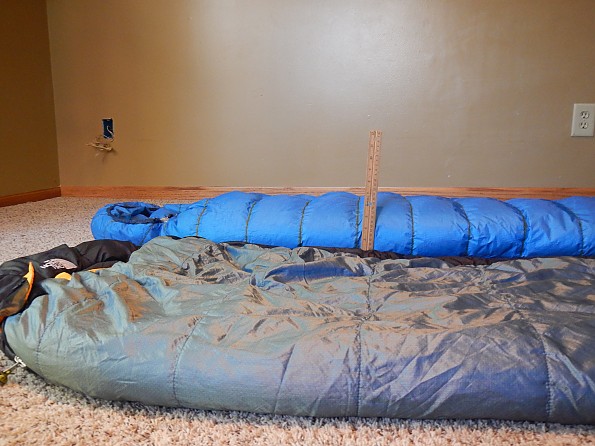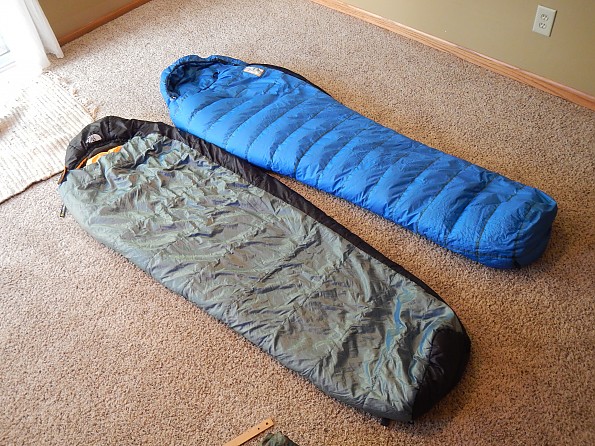 Cat's Meow is the darker bag in the foreground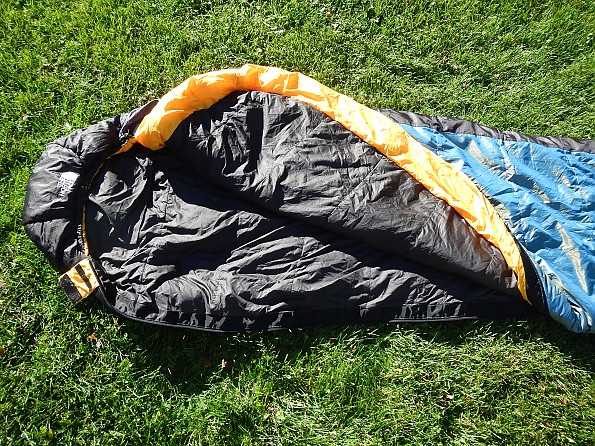 Entry/Exit: Most reviews on the newer model say that it sticks. This model does not have the annoying nylon strip that gets caught in the zipper so it opens and closes great. It's easy to release the hood baffle and access the zip.
Moisture Resistance: One morning my foot box was moist from contact with the tent wall but I didn't notice it in the bag. Since synthetics don't absorb moisture to a great degree, I've had no problem with it. 
Packability: Packs down decent for a synthetic 20° bag. I think it is advertised as a 9x 17 stuff sack. You can get it down to a 9 x 12 pretty easily with a compression bag.
Loft: Even after a washing and a fluffing, the bag doesn't seem to have much loft. Just a couple of inches. This makes me wonder if it has lost some over the years from the previous owner.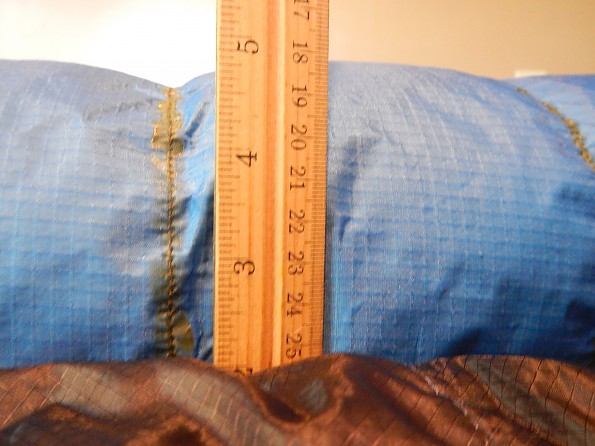 The Cat's Meow is the darker bag in the foreground.
Ease of Use: All parts work well. The mini pocket is still in-tact, velcro still sticks, zipper works, hood baffle is still working. No rips in the stitching. 
Features: Small pocket on exterior flap that folds over the zipper. I would prefer an inside pocket if I'm in any below freezing temps so my contact solution in my lens case doesn't freeze. It has a pillow sleeve in the hood so your camp pillow or sweatshirt doesn't shift around too much.


Small exterior zip pocket
Construction and durability: I find that the bag is well made and has withstood the test of time. 
Conditions: I've used the bag in summer and fall weather from 70° nights to 35°. Since I've found the lower end temp threshold at 35°, I don't feel the need to try it in sub freezing temps. (note: for tests, I used a mylar heat reflective bubble wrap style base sheet with a Therm-a-Rest 1" Trail Lite pad over it)
Conclusion: Overall, I think most people would find the bag fulfills the needs of three-season backpacking and camping. If you are well versed in high-performance ultralight bags, you would probably pass on this one but if you are looking for a solid, general purpose synthetic bag, this might be the ticket for you. 
Source: bought it used
Price Paid: $50

This is a very popular yet overpriced and underperforming sleeping bag best used during warm weather. The foot box is very small, while the torso area is extra roomy. The small zippered breast pocket is very useful for keeping earplugs or hearing aids, until the material gives out after a few months of use. The small flap of material that covers the soft nylon zipper is at the worst length possible, guaranteeing that the zipper will snag on almost every use.
Pros
Synthetic will stay lighter and warmer when wet
Lightweight
The breast pocket
Cons
Poor material used for the zippers
Poor design of the zipper
Not as warm as advertized
I am not a North Face fan after using this product for the last couple of years (about 40 nights). I'm a warm sleeper and was very disappointed at how this sleeping bag actually pulls warmth away from my body in even mild temperatures.
I always have to keep a sleeping bag liner with me, even though I am hot sleeper and the temperatures are 10+ degrees warmer than the bag rating. I actually felt warmer one night when I used just a silk liner and a poly tarp as a blanket. The coldness I feel is in the upper body and not in the foot area.
I'm 6'0" 220lbs with an athletic build. I have the long version which I believe I needed. With the long version there is enough length that I don't feel restricted stretching out in the bag. The design and cut of the bag is not efficient for most body types. The foot box area is very small, while the torso area is very large. I can barely cross my ankles without the material binding up and restricting my movements. But in the torso area there is enough room that I could read a book inside of the bag if I was short enough to pull my head inside.
The hood of  the bag is big enough to fit a small pillow inside and the drawstrings allow you to tighten the face hole down to your eyebrows. The velcro on the flap that covers the zipper pull rubs under my jaw and is scratchy. I'm not sure if its benefit out weights its drawbacks.
The zipper runs down the bag to your knees which is generous and is appreciated on those stiff mornings. But the material around the zipper, the inner flaps next to the zipper and the air baffle are very thin and are at just the wrong length and position to where it causes the zipper to snag on almost every use. Unless you use both hands and a foot to keep the zipper path straight while closing, expect to have snags. All bags will snag, but this design and materials seem to be one of the worse offenders.
The breast pocket was one of the biggest features I wanted when I purchased this bag. This is a great spot to keep ear plugs. But I was disappointed when the glue gave out and the pocket started pulling away from the bag after a few months of use. I re-glued the pocket which has held up longer than from the factory. But now the zipper has gotten so bad that it binds up in the middle both opening and closing the pocket.
The included stuff sack is one of the best features of this bag. It is over sized enough to where you don't have to stuff the material in to close the sack before cinching the sack down. This is where a lot of bag manufacturers like to try to cut some corners and give you a small sack that will just barely contain the bag. Once you close the sack there is very little area saved when you cinch it down. I can easily keep my silk liner in the bag and stuff it in the sack.
Summary:
The North Face Cat's Meow sleeping bag is overpriced for the warmness and durability of the materials you get. There are lighter warmer and lower priced bags from other reputable companies that will last longer than this bag.
Source: bought it new
Price Paid: $160 -20% coupon $130

I bought the Women's Cat's Meow several years ago, so this may be an older version than the one you may be considering for a purchase. I am a 5'2" woman with a frame to match and my sleeping bag was said to be designed for a 5'6" woman. I am also a Southern Californian who is less adaptable to weather changes.
Pros
Glow-in-the-dark zipper pulls
Flannel like material at feet and as a muff like pocket for warm hands
Material feels clean
Cons
Feels cold at 50 degrees
Too much space to heat up
Zipper snags
The zipper pulls have glow-in-the-dark tabs, making it easier to find in the evenings after a long hike when I just want to crawl in my bag and sleep. Unfortunately after about a year, my zipper began snagging on my bag. There were days I thought I was going to be trapped in my sleeping bag or feared that I would tear my bag while trying to get in. It's also harder to ask for help unzipping your sleeping bag if you are in a bivy.
The designers put a lot of thought into the construction with the warm flannel bits protecting and warming your extremities. I have crawled into the bag and stuck my cold hands in the nice muff area and had them warm up fairly quickly compared to staying outside and trying to rub them together and blow into them or shoving them in jacket pockets. The material they used on the inside of the bag other than the flannel-like sections feel clean even after a 9 day trip after having been glopped in mud, rolled in sand, waded in a semi-mucky creek.
Unfortunately for me my non-standard physique this is less like the tight mummy bag one would expect making my body work harder to warm up more bag space, which could be a positive for you if you don't like tight spaces. Additionally, my short legs only allow part of my feet reach the warm flannel region designed to keep your feet warm. I have also gotten cold while desert and mountain camping. On "colder" nights (55 and below) if I don't pull the the strings on the hood in, my shoulders can get cold too.
Overall, it is the best and most comfortable sleeping bag I've ever had.
Source: bought it new
Price Paid: I don't remember what I paid for it.

Best synthetic bag for the price.
Pros
Lightweight
Durable
Price is right
Cons
Not true to rating
Packs large
I got this bag for my first 'real' backpacking bag and used it over 1400 miles on the PCT (border to Sierra City). Overall I think it's a great bag for the price and it will remain a staple in my gear for excursions that could be moist or chilly.
Having said that, I have to agree with other reviews that I've read in that it is not quite a 20° bag, more like 30 or 40, but this can be easily mended with any liner really (I just use a poly one). This could be a little biased too, as I tend to sleep freezing cold no matter what, but I do use a closed cell foam sleeping pad. My BF has the men's and he complains it's too hot!
I'm a small woman (5'2" ~120lb) so I have no complaints about size or snugness. The main reason I chose this over an Ultralamina was to be able to mate mine and my partners bag, so I love the opening zipper — very easy to use and can be opened and used as a quilt if it's pretty warm, a feature I definitely prefer over the Ultralamina's awkward half length zip.
Also I chose this bag because I have an unnatural fear of my bag getting wet and this has definitely kept me warm even when drenched, and it dries super quick so that takes care of that quite well. Synthetics are simply inferior in packability compared to down, but for me I'd rather know that I'll be warm despite damp conditions and IMO this bag is pretty packable for a synth. Not great, but doable.
It's certainly not for UL hikers, weighing in at about 2lb10oz. It does well in not losing loft though either for a continuous fiber synth. All in all I may have to give this bag the title of best synthetic on the market, it has done me well thus far! It truly is the Cat's Meow and I would surely recommend it to anyone looking for a solid synthetic 3-season sleeping bag.
Source: Bought by sponsor

Good price/function/weight ratio; the stated weight matches the actual weight. I've used this bag a lot, though the coldest I've had this bag to was the mid-thirties, moderate humidity, and inside a tent. Performed well, though I suspect that 20 degrees would be optimistic without a liner or some clothes.
I've had my bag about three years and it has lost a fair amount of loft. This is simply a fact of life for synthetics. It helps if you don't smash it into oblivion, however.
When I received my bag in the mail, the first thing I did was to see how much I could compress it. I immediately regretted doing so, as I could tell the difference when I pulled it back out of the compression sack. (Can you think of any other $150 dollar item that you own, which you feel compelled to smash?!)
I'm not really that hard up for space in my backpack, so I quit compressing it so much. In fact, I have recently skipped the nearly 1/4 pound weight of a compression sack altogether, and began putting it in an ultralight stuff sack! It will stuff to 8 1/2" X 18" this way, with very little compression.
The bag has a fairly tight cut. I have the men's long model and I bought the women's model for my wife. She couldn't tolerate the tight fit and passed the bag down to one of our kids. (Bought her a Mountain Hardware Switch 20, which she likes much better). I am 6' 2", 210 lbs. The girth is tolerable until I try to stick out my pointy elbow, which is attached to my very long arm.
The zipper performs well in daylight, less well when you are fumbling in the dark. I haven't had any bad snags, though it occasionally hangs up.
The small pocket they provide I find to be absolutely useless in the dark. In my opinion, they could lose this feature and save a few grams. If an item is really needed in the middle of the night--flashlight, toilet paper--it gets put it in the corner of the tent anyway.
I really do like this bag, though I sound as if I don't.
I give it 4 stars. I base this on the balance between price, functionality, and weight. This is an award winning bag (Backpacker Magazine), but not because it's the best on the market; it is award-winning because it excels in its price/weight range, while still meeting reasonable expectations for a synthetic bag.
As I have already alluded to, I didn't buy this bag expecting it to be a 5 star bag. Like a lot of backpackers, I long for a 5 star, $300, down bag (like the ones made by Western Mountaineering, Montbell, or Feathered Friends). I also long for a lighter bag. I drool over the 1 1/2 pounders like a sugar-starved kid in a donut shop. But for now I am content--sort of--with my $150, synthetic, sub-three-pound, Cat's Meow.
P.S. When I bought my bag, it was listed as being filled with Polarguard. Newer listings show Climashield. I don't know if this is the same or similar stuff. This is something worth looking into, since the reviews seem to have gone downhill more recently.
I bought this as a replacement for my old Kelty summer bag that is not keeping me warm anymore. I have been using mummy bags for 30 years and have never been unhappy with one before.
THE GOOD:
I immediately took this bag out on a high-altitude June trip in Colorado to hike some snowy 14,000+ -foot peaks. Temps were below freezing every night, but the Cat's Meow was warm enough to make me sweat and yet compressible enough to pack easily in the morning. Polarguard Delta is awesome.
THE BAD:
Supposedly this bag was designed for women, but it's pretty obvious to me that the kind of woman the designers have in mind who sleeps flat on her back all night long without ever moving a muscle (like if she were in a coma). Compared with my previous mummy bags, this one is just very uncomfortable for a sleeper who tosses and turns and who likes to sleep on one side and then the other. The main problem is that the lower part of the bag is overly narrow and twists uncomfortably at the slightest movement. I also found that the hood part of the bag was cumbersome and got in the way when I tried to sleep (I prefer to wear a hat to bed rather than encase my head in a hood).

North Face's guideline is that the "regular" size women's bag will fit up to a height of 5'6". I'm a little less than that and would recommend a "long" for anyone taller than about 5'4". If I lie down full length with my head in the hood, it seems like the bag is not long enough.
OTHER OBSERVATIONS:
1. Comes with a cute zippered pocket at the top of the main zipper. Why? I do not know. I would not put anything hard in there lest it poke me while sleeping, and I would not put anything delicate there because I would smash it while sleeping.
2. Comes with a pointless "handwarmer" pocket inside. Don't they know that the warmest place for your hands inside your sleeping bag is next to your skin, not in some separate pocket?
3. Comes in pretty colors -- baby blue and silver. It is such a light blue that I expect it would show dirt and grunge over time, requiring that the bag be laundered more frequently.
4. The main zipper jammed the third night the bag was used, eventually requiring me to find my glasses and a headlamp and risk waking my companion.
CONCLUSION:
I'll have to put my (now used) Cat's Meow bag on Craigslist and get myself a normal "men's" cut mummy bag that provides a couple inches more of girth for the legs and does not come with a ridiculous, over-engineered hood like the Cat's Meow does.
Design: mummy
Fill: Polarguard Delta
Temperature Rating: 20
Weight: 2 lb 10 oz (nominal); 2 lb 12 oz (weighed by me)
Price Paid: $119 US

My gal and I just bought the Cat's Meow (she got the women's version) and we took them on a overnight camping trip to try them out. We thought it would be a good test since the forecast was clear with a low of 35 degrees.
To sum it up... I was toasty and she got a little cold. I was surprised to hear her say it so thought I would check the weather when I got home. To my surprise the actual low was 29 with a 4 hr avg of 30. So my review is... very good bag.
I think if it's going to be warm at 20 degrees you will need a good underpad with strong R-rating and a silk liner. We only camp below 40 degrees twice a year so this is going to be a great bag for us.
Enjoy!
Update: October 18, 2011
I agree that a bags temp and comfort level can change from person to person.
I use a Sea to Summit Thermo Reactor liner with a Therm-a-Rest Base Camp pad (if on the ground).
I have used my Cat's Meow camping for a week in 15 degrees at the Grand Canyon and countless nights from 20-30 degrees in cool damp conditions both on my pad and in my Eagles Nest hammock.
In ALL of those situations — by hit and miss — I find myself wearing my Under Armour cold weather base, and a heavy REI fleece (tops and bottoms) along with my SmartWool socks and a beanie. I try to always know what the temp is going to be and can layer to control comfort and usually sleep very well.
I know I'm pushing the limits of this bag on some nights, but based of my sleeping temp, the conditions I camp, I would say this bag is not comfortable for me at 20-25 degrees in just a base layer on a pad. For 25 or below, I need my liner, a base layer, and the fleece.
That aside, this is a very nice bag, has held up very well and looks and feels as good as the day I got it. I would definitely recommend the bag but think my next bag is going to be a 0 degree bag that I can use for camping in 10-20 degree weather.
Call me cold!  Call me Sally!
Cheers!
Design: Mummy
Fill: Polarguard
Temperature Rating: 20+
Price Paid: $110

I'm not sure this bag needs yet another "it's not a 20 degree bag" review, but I'm going to add one. 
I recently purchased a Cat's Meow because it seemed like a good bag and I figured that it should at least be comfortable to 30 degrees (and it was on sale). 
The first night I used it it got down to around 40 and I was slightly chilled.  I wore socks, light silk long underwear tops and bottoms, and a light fleece cap.  Hmmmmm, how could I have started to get cold at that temperature?  
I continued my trip and we had several more nights in the 40's and I was fine. Then heading back though Colorado we stopped several nights in the mountains at various parks and forests and experienced lows in the high 20's - low 30's ... now I was cold. Adding a heavier pair of socks, a heavier silk top, and a fleece vest helped a lot, but it was still far from ideal.  I would rate the bag at 35 - 40 degrees.
Compared to being cold, the fact that the zipper snagged on the lining pretty much every time I opened or closed it was a minor inconvenience.
The bag is well made, the compression sack is nice as is the mesh storage bag, I found it comfortable (a long version - I'm 6' 2" and 185 lbs), and it packs down nicely for motorcycle travel, so I would recommend this bag on quality as a 35 - 40 degree bag.   
Price Paid: $130

How many stars should you give a bag that only keeps you warm at room temperature?  I'd give it fewer but at least the bag is lightweight.
This bag is very, very cold.  I am always the last person to get cold.  I have spent a lot of nights in the Cascades and Sierras and never been cold, until I got this bag. 
The first time I slept in this bag I was in a wooden shelter in the Berkeley hills.  I was on a thick pad, wearing all my clothing and it barely got down below 40 deg F.  That was the coldest I'd ever been in a sleeping bag up 'til then.  I shivered and chattered my teeth the entire sleepless night.
The last straw came when I spent a week in the summer at about 6000 ft in the Sierras.  I had to put on two pairs of pants, shirts, etc. every night.  In the summer!  I tried a Reactor thermal blanket and that helped some but I did not like it clinging to me and I was still cold.
After more than 30 nights in it I finally gave up on it and got a Marmot Trestles 15F long extra wide.  The extra weight is more than compensated for by the quality of sleep I now get.  I am comfortable in just boxers and a tee even at 35 deg F.  Not ultralight, but it definitely is ultraplush.  I love my Marmot Trestles 15F.
Price Paid: $120?

Some bags, and manufacturers, rate their bags conservatively: this is not one of them. 20 degrees is TRULY a survival temperature on this entry-level bag. It is thoroughly enjoyable as a 50 degree, but in the 40's, if you're a cold sleeper you'll will be chilled, by 30 you'll need copious layers (read: down sweater, cap 3, pants, down booties, double socks.....), and by 20, despite donning every piece of clothing you brought including a hat and stuff sacks modified as gloves, you'll spend the later a.m.'s awake and shivering.
Of course, this is very basic bag (while still being legitimate, read: not from a big-box). And, if used in appropriate temperatures, the bag does have a some decent qualities. For a synthetic it does stuff down rather small - a bit smaller than a volleyball, and is relatively light.
My favorite quality, and the reason for choosing this particular synthetic over others, is its ability to zip into it's partner (the men's and women's come in both right and left-handed zippers, not to mention regular and long sizes). Of course, the zip-in option causes a big gap as the hoods can't cinch down so it really only does apply in warm climes.
Overall, this bag is ok in warmer temperatures, certainly the temp rating is anything but conservative. It is of decent, albeit entry level, quality which is reflected in the relatively low price. Good for wet, warm climes when down just won't do.
Design: mummy
Fill: Climashield Prism
Temperature Rating: 20 F
Weight: 2 lbs. 14 oz.

This bag rocks. Notice all the complainers seem to not know the correct use of a 3-season sleeping bag.
Pros
Quality materials
Low weight/super compressible
Comfy
Cons
Zipper tends to catch if not eased up or down
All the Coleman campers need to stop their whining and use this product correctly. You shouldn't have a lot of room in your bag, it should feel a little claustrophobic. You are supposed to use an insulated sleeping pad to accurately gauge any sleeping bag rating around the 20s. 
Also, that hood, it cinches really tight and locks in heat very well...once again if used properly this bag is one of the best in its price range. May not be as comfy and roomy as you're used to but it does insulate very well. The zippers do suck, but quality interior materials seem to catch a lot easier than thicker heavier material.
You can get away with dropping a 13 lb sleeping bag on the ground and staying warm but we're working with 2+ lbs.  It's not gonna protect you from alpine conditions without some help. With a smart layer of clothes, this can easily become a 0-10 degree bag.
Overall, this is a good all around synthetic three-season bag. I have had it for over five years now and am happy with how the construction has held up.
However, this bag has lost a LOT of loft. It is not anywhere near its original 15-degree rating. I don't think I would use it for anything much less than 40-degrees now. I recently slept in it during a 25-degree night, and was very cold.
It is my feeling some of this loss in loft is due to compressing the bag in a compression stuff sack for hikes (always stored it loose). At first this seemed like a good way to gain some space in my pack, but now I would highly advise against this practice. I feel sure that if I had let the bag take up lots of space in my pack, it would have retained much more of its loft. I think compression and bag longevity are definitely at odds with one another, for any type of bag fill.
The Cat's Meow is definitely a good bag for a synthetic and for the price range. As with all TNF products, I wonder if the quality is what is use to be. I have seen some of their gear fail under minor conditions.
Have moved on to a Western Mountaineering Apache which is a world of difference. But that's another story.
Design: Mummy
Fill: Synthetic
Temperature Rating: 15 F
Weight: 3 lbs +
Price Paid: $160

If temperatures were above 50F this is the bag I'd use, I slept in it last night for the first time at about 40 degrees and I was cold all night long, there was a cold spot running the along the side opposite the zipper, although I couldn't feel any deficient stuffing with my hand I could feel it with my entire body. I just exchanged a REI Mojave, that also failed to keep me warm, for this bag and figured it had to be a good bag, The North Face is one of the most respected brands. The 20F rating is a lie, I'd rate this bag at twice that.
Make no mistake I am not a novice backpacker. I removed all my clothes and changed into clean, dry long underwear before crawling into the bag. I wore a beanie cap and slept on a good quality ground pad inside a tent on a mild spring night at about 5000 ft. There's absolutely no reason I should have been cold. I guess for 3 season use I'll have to buy a bag rated to 0 deg if I actually expect to be warm. It's a shame when reputable companies have to rate their bags so far below their actual warmth.
Design: Mummy
Fill: Polarguard Delta
Temperature Rating: 20F advertised 50F as tested
Weight: 2.14 lb

I just spent 2 nights in the Black River State Forest, Wisconsin. I took the Cat's Meow out for the first time, expecting to be disappointed with all the complaints about temperature rating.
Most of the night was around 32F, but around 3am it dropped to 26F. The humidity was 100% most of the night (didn't find this out until I got home). I was comfortable all night, only felt slightly cold when I woke around 4am.
Of course with the cooler temps and high humidity, I woke up with the outside of the sleeping bag drenched (around where I had been breathing). I have the single wall Nemo Meta 2P, which also had a lot of moisture just above my head. Thankfully this bag did well at repelling outside water, and knowing it was synthetic vs. down gave purpose to my purchase for use on wet outings.
For $100-130 this is a great deal for anyone. It's comfortable and kept me warm when I expected it to. They only downfall I noticed was how it was more restrictive with movement. I like to stretch a little more then it allowed. That may be another synthetic vs. down issue.
Overall, it was money worth spent.
Price Paid: $120

The North Face Cat's Meow has been one of the standard bags amongst the three-season sort for quite some time. It has been periodically updated, with alterations in things like zipper lining, draft tube, modifications to shell material, and so forth, but throughout it has remained a solid do-to sleeping bag for three-season use.
Rated at 20 deg, it's certainly not (in my experience) suitable for use below that mark, unless in concert with a significant liner, extra clothing, etc. I've used it in temps ranging from low 20s (I chilly, esp. feet) to fifties-plus (left unzipped to allow me to stay comfortable).
I've used two versions of the bag, and both have withstood lots of use without difficulty. It packs small, using the provided stuffsack, and maintains loft well. With care, it should provide many seasons of use.
As temps dip, it is imperative to have an insulated sleeping pad under the bag, or it will allow you o get cold in dependent areas. Without a pad, it's simply not suitable for temps below freezing, in my opinion.
All in all, though, a very good performer for most weather.
Design: mummy
Fill: Polarguard
Temperature Rating: 20

Version reviewed: Polarguard Delta
After purchasing this bag from REI, I read some reviews of the bag. Kind of a cart before the horse situation. A few people complained that it wasn't a "20F-7C" bag. On the other hand several other reviews praised the bag for it's warmth and packability. While going on a trip wasn't in my time frame, cold weather was. Living in the Sierra Nevada's, cold weather is readily available on a February evening. Looking outside the thermometer said 20F at 2:00am so I grabbed my pad and slept in the back of my pick up. I don't know what the naysayers problem is, but I was in my boxers, T-shirt and socks. While I wasn't on fire in the bag, I was still very comfortable. The only complaint I have is that the toggle for the draw cords would pinch on the chest material when pulled tight and I couldn't get the chest cord any tighter. It did seem a little too roomy in the chest and this might save smaller people some heat if TNF cuts down on the extra space. Overall this bag rocks.
Design: Mummy
Fill: Polarguard Delta
Temperature Rating: 20F
Price Paid: $126

I got this bag for Christmas, and just used it on two trips -- 5 days backpacking in South Dakota and 8 days kayaking in the Boundary Waters. This bag performed great. It kept me toasty warm, lofted up great, and packed down fairly small for synthetic fill. It snowed three of the 5 nights I was in SD, and once in the Boundary Waters, so I am assuming the temp was in the low 30's, if not the high 20s. I should say that on those nights I was wearing long underwear, a long-sleeved shirt, wool socks and a fleece hat to bed, as I usually do in cold weather. I don't know how it would do in 20 degrees (as rated), but I tend to add 10 degrees to all temperature ratings anyway.
I bought this bag because my 1 lb 15 oz summer bag was not cutting it at temperatures lower than 45 degrees. I am very happy with this bag. I should also say that it is so fluffy compared to my old bag that I can use a thinner (and lighter!) sleeping pad and still be comfortable.
Design: mummy
Fill: Polarguard Delta
Temperature Rating: 20 F
Weight: 2 lb 12 oz
Price Paid: $169

Great piece of gear!  I am delighted with this purchase.
I used this bag on a month long bicycle tour in the Sierras and was very pleased. It exceeded all expectations. It will definitely be going along on many future bicycle and backpacking trips. It is now my primary sleeping bag.
It packs reasonable small, is very light, and is warm enough. I think it only got down to 32F on this trip, but I was never even chilly and I was wearing only running shorts and a very thin tech tee shirt.  I am sure I would be fine down to the rated temperature. 
Most of the trip I zipped it open and used it like a quilt because it would have been too warm most of the time. I think I only actually got in the bag and zipper it when the temperature dropped to 40F or below.
Workmanship and design appears to be top notch and choice of materials excellent.
Some of the reviews puzzle me. I don't get how anyone could possibly be cold in this bag at 40F.
Price Paid: $165

I bought the (Polarguard fill at that time) bag a few years ago for use in the Cascades and Olympics in the iffy early and late seasons.
First time I used it was on a 6-day trip through the Bailey range in ONP in early fall. Weather was fairly good so I slept under the stars each night. I never even unpacked the tent. Temps were down to frosty in the morning, and one night the wind just howled- blowing loose items away. I slept in capilene top and bottoms, cinched up the hood and was always toasty.
The bag was a little bulky in the stuff sack that came with the bag, so I got a compression stuff sack, which helped save a little space in the pack.
All in all, I've been satisfied.  Will be interested to see how it performs over time.

Update: As is often fairly common for synthetic bags, repeated stuffing lead to loss of loft. I replaced this bag with a First Ascent/Eddie Bauer Ignitor (see review).
Price Paid: $125

Great bag. My first trip with it was a trip where it snowed and rained so it was super humid and I was fine, nice and dry. It got down to 15 at night and I was fine but I'm a warm sleeper, so if you sleep cold wear a fleece to bed.
Overall the best bag I've owned. It replaced my 20-year-old EMS bag that stopped keeping me warm in the 50s. I got it cheap at an REI sale.
Update: March 14, 2010
When i first got this i posted a great review on it. however after 2 years and 40-50 nights in the bag it has lost almost all of its warming ability, the lost has gone down to almost nothing and it has trouble keeping me warm into the low 40s and as a 20 degree sleeping bag that is unacceptable.
I have many North Face products and it seems clear to me that they now care more about fashion than usefulness and the quality of their products has suffered as a result.
Design: mummy
Fill: climashield
Temperature Rating: 20 f
Weight: 2 maybe
Price Paid: $49

Up until two weekends ago all my experiences with this bag were in warmer weather and I was too hot in the bag. Well since I have had this bag for awhile, I forgot and thought it was a zero degree bag. Friday night I was slightly cold, and at 5:40 a.m. when I looked at the thermometer outside it was 15 degrees F. Saturday night I was pleasantly warm in the bag and the morning low was 25 degrees F.
Now I read that it is a 20 degree F bag. So the rating is right on as I was cold at 15 and warm at 25. The bag is tighter than my old 35 degree bag, but it rolls with me so that is not a problem. I used to wear a stocking cap in my old bag, but with the construction of the hood on this bag I did not need to wear one on this last outing.
Design: Mummy
Fill: Polarguard Delta
Temperature Rating: 20 F
Weight: 2 Lbs 13 oz
Price Paid: don't remember

What can I say about this bag? Many are praising it for its comfort, compressibility, and ruggedness. However, I haven't seen many complain about the crampedness that this sleeping bag gives. I have been sleeping in mummies for over 7 years and this is the only one that ever made me claustrophobic. The knee area is really cramped and on the first night I decided to take it out and use it as a blanket; It was 40 degree and I was freezing really bad. Did not know what to do so a friend offered me to trade for the night. I wasn't really able to try it for its warmth (as a mummy) but I will cast my lot with the majority's opinion... that its not so warm. I own another TNF, The Blue Kazoo, and it has served me well so I guess I will just stick with it.
Design: Mummy
Fill: Polarguard Delta
Temperature Rating: 20 Farenheight
Weight: 2lbs 12oz
Price Paid: $129

Awesome sleeping bag, but a little too warm for Texas weather.
This was my first sleeping bag and I am very glad I bought it. It taught me a lot about what to look for when buying a sleeping bag. This bag is one of the best bangs for your bucks. It is light, warm, comfortable and cost effective.
The only issue I ran into was on warm nights I slept on top of the bag and it is so good, that it became too hot me! Like I said I learned a lot from this bag.
Source: bought it new
Price Paid: $130

I have no complaints beside the glow in the dark zipper. I wake at night to this glow in my eyes. Maybe I'll tape it.
As for being cold I wonder what other people are using. The temp rating is based on the user wearing a base layer and sleeping on a pad. I have slept in this in late fall in Colorado at 11,500ft. It has been down to 20degrees with snow on the ground. A little chilly when I wake up but I tend to kick socks and sometimes longjohns off during the night. Once I put my socks back on in the early A.M. I am fine.
If you are cold in this thing in 50 degree or 40 degree temps you should probably consult a physician. Or wear socks, lj's, and use a Thermarest pad.
Price Paid: $90

This bag accompanied me on an 836 mile bike trip from Seattle to San Fansisco and I must say, I liked it very much. It worked well in most of the temperatures I encountered... but there were a few nights where I had to bundle up first before going to sleep (ie, long johns, 100 weight fleece jacket, 200 weight fleece jacket and pants, wool socks, wool hat...) in order to be comfortable.
I love that the bag fits my size (I'm 5'2") although, I wonder if anyone more than an inch or two taller than me would be able to use it. It packs down really nicely, and the compression sack made fitting it onto my bike much easyer. However, after a solid month and a half being squished down, it has yet to regain its orginal "puff".
I really can't believe what some people are saying about my trusty Cat's Meow. For one thing, it may be that mine is about 10 years old and was made in the US, not China. But still, mine has been very good over the years. I had a problem with the zipper once, but TNF fixed it for free. As for the temp rating debate, I slept out in an open trail shelter in mine on a night that hit 15. And I was just fine. Yeah, I wore long underwear inside the bag, but let's face it, at 15 it's not like I wanted to take that off period. And my buddy who was with me managed just fine in his Cat's Meow, even though he's only a skinny 140 when he's wet. Overall, I love this bag.
Design: mummy
Fill: Polarguard 3d
Temperature Rating: 20 F
Weight: about 3
Price Paid: $150

This bag has a some great features and some real drawbacks. The lining material is great because it feels warm to the touch when compared to other bags. It feels almost like brushed polyester, and helps you feel warm much more quickly than other bags. Also, the loft was amazing... until I washed it according to the instructions.
After one wash, the stuffing only 'puffs up' to half the hight it used to. Also, the stuffing in parts appears to have come loose from the stiching. I think this is just a bad apple-- my girlfriend's North Face bag has survived countless washings flawlessly.
The hood is a bit small- I think the materials shrunk a little in the wash. The hood no longer reaches up over my forehead, so it is not very useful.
Design: Mummy
Fill: Polarguard 3D
Temperature Rating: 20 F
Weight: 3lbs?
Price Paid: $189

Penn Trails has been using this sleeping bag as part of the gear we set our clients up with for a backpacking trip. We've been using these bags, both Long and Regular size, for about four years now.
After a great deal of usage, including washing after each use, we find that the bags still have great loft, solid structure, and look almost as good as new. We use the bags all three seasons and find that the vast majority of our clients, both men and women, report the bags to be comfortable in cool weather (to about 30 degrees).
As with any other totally synthetic bag, they can be a bit humid and sticky in warm weather, especially given their close construction. These bags pack well, especially when placed in compression stuff bags.
I understand different people sleep differently and have different temperature thresholds--so I won't say that people are wrong in their opinions; however, I have had my bag for over seven years now and have never been cold in this bag.
After seven years, we went camping in the North Georgia Mountains two weeks ago--temps were in the teens overnight and there was 2-3 inches of snow on the ground when we woke up the next morning. I never got cold in the bag. If it is over 20-25, I have to leave the bag unzipped or else I am sweating. With the temps in the teens, I did have lightweight long underwear on, but again, I was very comfortable. It compresses easily and is very lightweight.
I am extremely pleased with this bag.
I've heard lots of good things about this bag. I've only bought mine today so this is hardly a review. I've been searching the internet for user's concerns about the amount of yellow around the collar/hood as I'm worried it's going to get soiled quickly. I just don't want it to look bad when the new model of the Cat's Meow has eliminated most of the yellow. The new model is identical to the light blue and yellow model except it has black around the hood and comes with navy blue or orange colors. I don't doubt the warm/quality of the bag for the price, it's just I want to be happy with the bag as I expect to be looking at it for a number of fun filled camping years!
Design: mummy
Fill: Polarguard
Temperature Rating: -7 C
Weight: 3 lbs
Price Paid: 169 CDN

Used this bag for 20 years from snow backpacking to motorcycle tours, hunting fall through winter. Polarguard insulation has been great, after 20 years of abuse, has to be replaced.
Cons
I like more room than a mummy bag provides
Bag was great. Just replaced with Wiggy's rectangle. More room. I noticed Wiggy's does not stuff as readily. And Wiggy's is heavier.
Cat's Meow was a 0 bag and was too warm in the summer, but all around I could not ask for more from this bag. They do break down if stored compressed.
Source: bought it new
Price Paid: North Face outlet in Berkley 100 bucks

Version reviewed: 1993
I have had this bag for nine years of continuous late-spring/summer/early-fall use. At first it would keep me warm down into the twenties. (Sleeping bag ratings are relative to the individual, humidity, sleep patterns, warm/cold sleepers, and many other factors. I would never bring a 20 degree bag on a trip where I would expect to sleep in 20 degree weather!) But the loft compressed quickly through heavy use. I have beat this bag up very badly but have had no other problems. Currently I use it as a summer bag and a smile crosses my face when the temperature rises enough to pull it out again. Add a fleece liner to it, and I can even pull off spring use (Maine/Quebec Canoe Guide).
Design: Mummy
Fill: Polarguard HV
Temperature Rating: 20 F
Weight: More than 3 Lbs.
Price Paid: about $130

We purchased one for me and one for my wife. There were no defects in workmanship in either bag.
Our first use was an overnighter in the Manassas Gap shelter on the AT at the end of October, 2007. It got into the 30's that night and we both froze in these "20 degree" bags. I mean we were flat out miserable.
We used them several times after that in temperatures that dipped into the 40's and did ok.
I'm not sure what the rationale for rating a bag for much lower temperatures than it's capable of withstanding is. I certainly would be leery of buying anything from North Face again and I'd never buy anything from them that I couldn't get from another source.
Design: mummy
Fill: synthetic
Temperature Rating: 30
Weight: 2lb 10oz (advertised)
Price Paid: $150

I've had this bag for over a year and besides its constrictive design, I've noticed that it's rating is way off. At REI it was retailed as a 20-degree F bag. I was already downright cold at the upper 30's on several occasions. Then I noticed in campmor that it was rated as 20-35F. Hmmm, so what' the deal? It truly needs a draft collar and tape to prevent the zipper from snagging (which it does EVERY SINGLE TIME I USE IT).
I plan on using it for one more season. Its light weight still attracts me as does its constuction, materials, and compressibility. This time I'll sleep with my synthetic fill jacket.
Next time I'm going with a Wiggy.
Design: Mummy
Fill: polarguard 3D
Temperature Rating: 20/35F
Weight: 2lbs,14oz
Price Paid: $165

Great bag all around. I've used it in Oregon during long, cold, wet nights, and have woken up well rested. To be honest, I was first using it with many layers worn during the night and not being able to warm up. It wasn't until my second weeklong trip that I realized that the less clothes I wore, the warmer I was. Leave it to the synthetic fill.
The Cat's Meow is best used with a sleeping pad, I have found. When compressing any sleeping bag when using it, it will lose its "warming" abilities. hus, an insulating layer is required between the bag and the ground/floor. I use a Thermorest 3/4 pad and it works perfect.
Design: Mummy
Fill: Polarguard Delta
Temperature Rating: +20
Weight: 2lbs, 13oz
Price Paid: $150

I was at first skeptical that any bag could be worth $180. After I read that one of Backpacker's staff rated his as the best piece of camping equipment he owned (even after 20 years), I decided to try it. I am extremely satisfied, I sleep VERY cold, but with a couple of layers I have been comfortable at 25 degrees. I have yet to wash it, I hope I never have to, so I can't comment on the durability during a wash. I was suprised how small it packs and how little it weighs. I would recommend it to anyone. If the price seems high, just think about freezing when an unexpected cold night comes up!
Design: mummy
Fill: Polarguard 3D
Temperature Rating: 20 F
Weight: 2lbs. 14oz.
Price Paid: $180

My wife and I each bought one of these bags on sale out of Campmor. Mine was 125.00 (long) and hers was 115.00 (regular). I can't remember what the fill is right now but these were last years models and I think they have a different fill now. We bought a right and left zipper so they zip together.
We used them for the first time a couple of weeks ago in north Georgia and it got down to about 28 F I think. I slept with a hat on and some polypro and I was very warm. Probably did not really need the long underwear.
I think that these bags will serve my needs perfectly.
Design: Mummy
Fill: Synthetic
Temperature Rating: 20 F
Weight: 3 lbs
Price Paid: $125

I have had this bag out several times now and have to say the tempurature rating is way off. I liked to froze to death in 34 degree nights in Death Valley. Yes, I was wearing long underwear, socks cap, fleece top, pad, etc. I will only be using this as a spring/summer bag now. I also noticed that there is a little note in the instructions of not to store it above 120 degrees F. Like don't have it in your car on a warm day. Sheesh, what kinda material doesn't hold up under 120 degrees? I am having serious thoughts of sending this bag back and getting a down one.
Design: mummy
Fill: polarguard Delta
Temperature Rating: 20 F
Weight: 3lbs
Price Paid: $160

I'm a cold sleeper and unfortunately this bag didn't suit my needs. It was probably 0-5 C at night and I was very cold, even in fleece, hat, socks etc... I'm a woman so I think there was too much room around me in the bag, I'm 5'6" and there was lots of room at the feet. I should have realized this in the store but was inexperienced in choosing a bag. I know they make a woman's version, the Cat Walk which has a smaller cut.
However! My boyfriend also bought this bag and yes they zip together beautifully. He thinks it's great and slept in boxers only.
Design: mummy
Fill: synthetic
Temperature Rating: -7 C
Weight: 3 lbs?
Price Paid: $260 CND

I read all the hundreds of reviews for this bag and many of them complained about the temp rating. I went to the Sierra this winter and true to the majority's opinion I was freezing to death on a 35degree weather at night, even though I had a therm-a-rest and a fleece jacket. I only felt okay after borrowing an extra bag from a friend of mine. Also, although no one seems to complain about it, is the fact that the foot box is extremely small and my legs soon got cramped in a few hours. Maybe that did not happen to others....
Design: Mummy
Fill: Polarguard Delta
Temperature Rating: 20 Farenheight
Weight: 2lbs 12oz
Price Paid: $99 At Sport Chalet

Version reviewed: Long
The Cat's Meow bag is a very good one to say the least. It is comfortable, roomy (I purchased the "long", which fits up to 6'5") and WARM. It packs down to a relatively small size and when damp, holds body heat in effectively (I've never soaked it). There is one problem however, the zipper, which is advertised as "self-repairing", gets stuck every single time I zip or unzip it. This is very annoying, especially in the dark after a long hike. Aside from this however, it is a near perfect synthetic bag. I even use it to sleep inside my house sometimes!
Design: mummy
Fill: polarguard HV
Temperature Rating: 20 degree-f
Weight: 3.1 lbs
Price Paid: $160

I have bought this sleeping bag 2 years ago and I am relatively satisfied.
It usually keeps me warm and it is really comfortable. I have slept in many different conditions and was warm most of the time.
My only concern with this sleeping bag is that it appears to have lost a significant amount of its warming potential after continuous use.
As a tree planter, I have slept in it everyday for 2 summers and now the bag does not appear to be as good as it was. I would not dare go below 36 degrees now.
So it is not everlasting...
Design: mummy
Fill: Polarguard
Price Paid: 200 C$

I am very pleased with this bag, it is very comfy and the soft lining is very nice. I had a kelty silverstreak before and it lost its loft very quickly. I haven't washed it yet and hope I don't have to. I haven't tested the extent of the temp rating, but I'm sure its accurate-well as accurate as you can get with all the factors that play a part in temp ratings. I think I'll have this bag a long time. If you don't buy it for the comfort, buy it for the great price- It's a STEAL!
Design: mummy
Fill: Polarguard 3D
Temperature Rating: 20-30 F
Weight: 3lbs. 2 oz (long)
Price Paid: $165

Version reviewed: '99
I purchased it on sale for $125 at REI. I was very dissatisfied after the 3D insulation collapsed really quickly (even though I did not keep it stuffed,etc.), its warmth rating was way liberal, the zipper constantly snagged, and the hood design was very uncomfortable. It also weighed substantially more than similiar models from other brands. TNF does not seem to make very good sleeping bags. Don't waste time with TNF sleeping bags, go for other good companies like Marmot, WM, FF, or Moonstone. TNF'S outerwear is not that bad though, if you can get it on sale.
Design: mummy
Fill: Polarguard 3D
Temperature Rating: 15 F
Weight: 3 lbs, 8 ozs.
Price Paid: $160

Unlike people who log on just to trash a product they don't really own, I've used both the new and the old NF Cat's Meow and they are well-thought out products that perform pretty close to their temperature claims. Construction quality is good for an import and the zipper works well. As for the whining about temperature rating, far too many variables go into what makes someone sleep warm and comfortable at a given temperature--body fat percentage, metabolism rate, time since last meal, barometric pressure, humidity, wind velocity, and general mental health. Give it a rest.
Design: mummy
Fill: polarguard Delta
Temperature Rating: 20+
Weight: 2 lbs 12 oz
Price Paid: $119

This bag is not as warm as other 20-25 degree bags. Over the years, I've found that a new 20-25 degree synthetic bag will keep me warm when temperatures are in the low 40s. This bag did not. 
I'm wondering if some of TNF's recent modifications to reduce weight removed necessary insulation. I think temps would need to be over 45 for me to be sufficiently warm in this bag.
I did find the glow-in-the dark zipper pull annoying, but it is easily removed. The compression sack that comes with the bag looks highly water resistant.
For 20 years I have been proud to own the North Face Cat's Meow. It is the best overall spring/summer/fall bag you could want.
Easily compressible, it dries quickly when wet, and re-designed for 1997 it has a new thermo-stat lining. Comes with draft collar and tube lining. Not reccomended for below 20 degrees.
My last use was on the North Rim - Grand Canyon at Halloween when temps dipped below 16 degrees and I was frosty even in my tent. For general use however you won't find a better bag for the price.
Design: mummy
Fill: Polarguard HV
Temperature Rating: 20 F
Weight: 7 lbs
Price Paid: $200

The first night I ever used this bag I fell in love with it. It is very warm and comfortable even in wet and humid weather. The full length zipper is very nice for warm weather and ventalation. Great bag and very good value. Keeps you warm in the low 30s but I would not go any farther than that. Overall, a great bag with nice features and it keeps you warm and cozy. The fit is a bit confining but all mummy bags are like that. Great Sleeping Bag!!
This is a very comfy bag with great loft. I bought it to replace my TNF Aleutian to save a pound. It is a lighter tent and noticeably more comfortable but it isn't smaller. When I packed the bag down into its stuff sack it took me a good 3 minutes so I bought a larger compression sack that works fine but like I said it doesn't pack smaller. This isn't an issue for me but if I were shopping for a smaller bag I'd look somewhere else.
Design: Mummy
Fill: Polarguard Delta
Temperature Rating: 20
Weight: 2lb something oz
Price Paid: $140

The quality of materials used in this bag is quite impressive for the price you pay for it. The fill holds its loft very well after having been packed several times. As for temperature, I sleep very warm. Even at 15 degrees I've got the thing unzipped. The warmth is very consistent with no cold spots. It keeps me warm camping in Utah's winter. For me, it may be a bit warm for summer nights. I would buy it again though, I think it's a great value.
Design: Mummy
Fill: Polarguard Delta
Temperature Rating: 20 Degrees
Price Paid: $159

Here in South Carolina I don't need a warm bag so as long as I stay in-state this bag keeps me toasty. About three years ago I began doing the Appalician trail where the bag was cool, but not uncomfortably cold. I was dissapointed about it until I stuck my head outside the bag where it was below zero. I have an older model of the bag that doesn't have a smooth lining which I could do without, but it is a great bag.
Design: mummy
Fill: Polarguard HV
Temperature Rating: 20 F
Price Paid: $160?

The coldest I've slept in with this bag is about 35F, which was comfortable. But I don't think I would go much colder than that, certainly not the 20 it is rated for. Definitely a 3-season bag (I split time between mid-Atlantic and upper-NW). Other than that, it is light and compresses well. It does feel a little tight, but I am new to mummy bags. It is still new, so I can't comment on losing loft.
Design: mummy
Fill: synthetic
Temperature Rating: 20F
Weight: 3 lbs

I wanted to cut a little weight and this did. Stuffs to a very small size, now I can store extra clothes in the bag area of my pack. Kept me very comfortable in low 30's F, with no tent. It doesn't have a draft collar but it didn't seem to be needed, the hood pulled tight. As to durability, time will tell. Not enough mileage on it yet. I hope to remedy that though.
Design: Mummy
Fill: Polarguard 3D
Temperature Rating: 20-30 F
Weight: 3 lbs.
Price Paid: $180

OK, I got this bag Christmas 2007. I have used it at 0 degree weather and I was fine with my Adidas shorts and a white T on. I slept in this bag indoors a couple of times and it was super hot. I know it is a 20 degree bag but I'm just saying. It packs really small and it fits me well. I'm 16 yrs old and I'm 5'6". Great bag so far.
Have been nothing but warm and comfortable in this sleeping bag. Have had a number of sub freezing nights, but stayed plenty warm in the bag. Have used it for one season without any signs of wear. At home, I leave it hanging out of the stuff sack, and it seems to be maintaining its original loft very nicely. Not a single complaint.
Design: mummy
Fill: Polarguard 3D
Temperature Rating: 15F
Weight: 3 lbs
Price Paid: $140 on sale at REI

This has been a great bag that has served me well. This is only my second mummy bag though as my first Coleman mummy lasted five years.
The bag has gotten wet a few times and never has it lost its insulating capabilities and never have I gotten wet in it. Great bag and I would definitely recommend.
Price Paid: $100

If you like to be warm, DO NOT BUY THIS BAG. I was cold at 35 degrees. The bag is light and compresses well, but that is all. It is not a three-season bag, more like a summer time bag. I sold this bag and bought a Western Mountaineering and have never been happier with my sleeping bag.
Design: mummy
Fill: synthetic
Temperature Rating: 20
Price Paid: $139 (on sale)

I was disappointed with this bag. It left me with cold spots, especially at the feet. I froze when it hit 30. It's been awhile since I had this bag- so maybe they've improved it? It seemed to lose loft fairly quickly. Try Sierra Designs if you're a cold sleeper- it's no contest in my opinion.
Design: Mummy
Fill: Synthetic
Temperature Rating: 20
Weight: ?
Price Paid: $169

After I slept in my wife's, I had to have one. The sales guy at REI told us that we could zip them together. Zip two mummy bags together?!?! She had a Right Hand zipper, so I ordered a Left. Combine that feature with Thermarest pads and it's like we never left home.
Design: mummy
Fill: Polarguard HV
Temperature Rating: 15 F
Weight: 3.5
Price Paid: $150

Funny enough the ratings of this bag is either very high or very low which makes you wonder how consistent the quality of the bag is.
For my part this must be the worst bag I've ever owned. It's nowhere near it's comfort rating and should be sold as a summer bag.
Price Paid: $120

It's a light bag and that's it.
You getting freezy at about 4 celcius (crap) and sweaty at 12-13 Celcius.
Not what it promised. But if you need a bag there shall be light, water repelant and it shall be used in the tempatures between warm and cold it's an ok sleeping bag.
Design: mummy
Fill: Polarguard
Temperature Rating: 4-12 celcius
Weight: 1,4 kilograms
Price Paid: $250

I love this bag!! The Polarguard keeps me warm and cozy and is very light weight making it good for backcountry camping. Never use a tent when I with my Cat's Meow. I will probably go for the dryloft version next time around for its waterproof qualities.
Design: mummy
Fill: Polarguard HV
Temperature Rating: 15 F
Weight: 3.5lb
Price Paid: $99 on sale

This bag is great! I've gone through 2 of these bags... one short and one long. The Polarguard help keep me warm with minimal clothes. I've been at temperatures reached 0 F with this bag and still toasty. Would not recomend this bag for winter trips though.
Design: Mummy
Fill: Polarguard HV
Temperature Rating: 15 F
Weight: 3.5 lbs
Price Paid: $160

Conscious that several factors influences the system body of each person. I nevertheless confirm that at my own opinion, after five years of using it (30-40 times yearly) under very different conditions, I am fully satisfied by my CAT'S MEOW.
Design: Mummy
Fill: Polarguard
Temperature Rating: 20 F / - 7 Celsius
Price Paid: $200

This is an outstanding bag! Not only is it comfortable, but it is also warm, has lots of loft, and very soft. I would rate it a 9 out of 10.
Design: Mummy
Fill: Polarguard 3D
Temperature Rating: 20C
Weight: 2lbs. 14oz.
Price Paid: $99 (on sale)

This is an a great bag. This bag will keep you warm to 15 degrees a and probably colder. If this bag had a draft collar it would be perfect.
Design: mummy
Fill: Polarguard HV
Temperature Rating: 15 F
Weight: 3.5 lbs
Price Paid: $139

I used a North Face Cat's Meow sleeping bag for many year back in the '80s and '90s. It is an excellent bag!
Source: bought it new
Price Paid: $80 back in the early '80s.

Wost bag I ever owned. Freezing cold at 50 degrees. Zipper constantly jams. A real piece of junk.
Price Paid: $150

Your Review
Where to Buy
Help support this site by making your next gear purchase through one of the links above. Click a link, buy what you need, and the seller will contribute a portion of the purchase price to support Trailspace's independent gear reviews.
You May Like
Specs
Men's
Price
Current Retail: $127.96-$199.00
Historic Range: $60.00-$219.95
Reviewers Paid: $49.00-$250.00

Women's
Regular
Long
Price
MSRP: $169.00
Current Retail: $159.20-$199.00
Historic Range: $78.95-$199.95
Reviewers Paid: $119.00

Stuffsack Size
6.5 in x 21 in / 16.5 cm x 53 cm
6.5 in x 21 in / 16.5 cm x 53 cm
Temp Rating
20° F
20° F
Total Weight
2 lb 10 oz / 1182 g
2 lb 12 oz / 1258 g
Price
$169.00 USD
$179.00 USD