Osprey Talon 33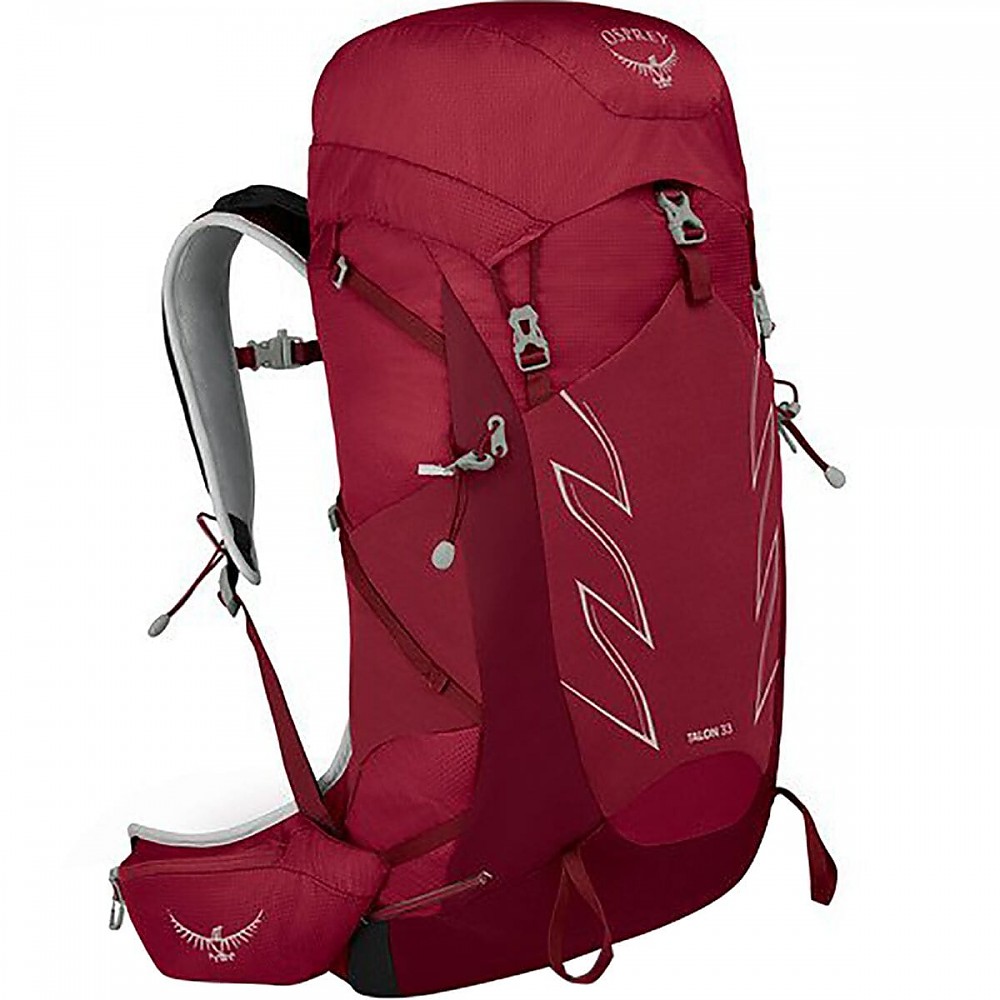 This pack is a perfect size for most day to 2 day activities. Though it took me around India for 3 weeks so it can stretch quite far...
I am an amateur adventurer in lots of different things so like gear that covers lots of bases,  i have taken it hiking, travelling, canyoning, climbing, back country and resort skiing, adventure racing, kayaking and it suits everything. have owned it for 2 years +
*I find it useful for all top entry packs to separate my gear into dry bags to minimise time wasted on finding items. this bag fits two medium dry bags comfortably.
Pros:
 It is light weight, the suspended harness system is fantastic. In terms of air flow it is good, but i think unless you wear no shirt you'll never eliminate sweat on shoulders and back. It does feel cool in the Aussie summer though. The soft harness allows you to pack this away into other bags etc unlike a rigid harness.
It is so adjustable too, i am 5'7" and my partner is 6'5" and with the large harness we can both adjust it for comfortable use.
it has some good little key and money stash pockets, one hidden in the hydration sleeve which was great when travelling in India! and for keeping things safe on the trails
hip belt and shoulder stash pockets perfect for snacks, phones and maps.
the front and side stretch panels fit an amazing amount in them and with folded in lip to help hold onto things. bottles, helmets, jackets great for quick grab items.
it drains out water well when canyoning, it fits a dry bag perfectly in the main compartment
surprisingly tough straps, buckles and loops for holding things on and in bag including skis for short back-country hiking. I haven't broken any and i expected to break the buckles, as I have on various other packs.
Cons:
It is designed to be light weight so obviously not as hard wearing as a heavier fabric bag like my old Macpac, canyoning has taken its toll!
If you overload the pack you notice the lack of rigid frame, but you really have to pack it with heavy items to notice this.
I have found some stretched stitching where the compression strap joins the main compartment, probably due to over loading while traveling though.
after 2 years of use the hydrophbic layer on the fabric is starting to peel away around the top entry, but this is a high wear area and it doesn't affect use at all.
I have a tiny hole (2-3mm diameter) on the base of the bag where the base joins the frame/back. this is probably due to use in canyons though (not a light activity on gear!) 
overall: a comfortable and versatile pack for day and even multi day trips for a variety of activities. I would recommend this as your go-to pack for almost anything.
Price Paid: $120 Canadian

This pack is incredibly convenient. I use it for many things besides overnights, including adventure racing and orienteering. Because it's lightweight and well-made, even if it is not full, it's not a burden.
Pros
Lightweight
Hip pockets
Condenses nicely
Can hold very large water bladder
Cons
Angle of water bottle pockets
Water bottle pockets are hard to adjust
Needs more loops to hang things from
The fit on this bag is a little large, but I was larger when I bought it. It actually cinches down really well.
All the straps are very comfortable and adjust at all the right spots. They also have a ton of venting on the straps and the back allowing air to flow just about everywhere.
I would say that the bag is very accurate in its advertised calculated volume. All my gear for my hikes and mountain bike trips fits well.
At first when I bought this bag it had a couple bad slider buttons and it caused me to lose some very expensive trekking poles. Osprey quickly rectified the situation and from what I understand the newer bags have better security. 
Because of the numerous pockets and one large pocket all of my gear is fairly easy to access. Packing the bag is a breeze.
The load is always very well distributed and I am always very comfortable with the bag on me, no matter what is in it. It condenses and expand well to form to whatever load I have.
Some parts of the bag are designated for certain things and it all works out really well and to my comfort.
Originally I bought this bag because of the great lifetime warranty, but I don't think I'll ever have to worry about using it again. The bag has surpassed my expectations. The $160 I spent on it at the time was a great investment and still is.
I have had the bag for three years now. It has seen the back woods of Maine, mountain bike trails in Ohio, lakes and rivers of Pennsylvania, and will be seeing Iceland next year. It's still in fantastic shape and I expect it to stay that way for many more years to come.
Source: bought it new
Price Paid: $160

I purchased the Osprey Talon 33 based on Osprey's overall reputation and the fact that a fellow hiker told me on the way up to Mt. LeConte in GSMNP that he would never place another brand of pack on his back again after using Osprey products. I also found a review of this pack in the Backpacker 2007 Gear Guide and they rated it best overall daypack. Looking in the spec pages of the Backpacker gear guide it indicates that the Talon 33 has an internal frame which is not the case-it uses a foam non framed suspension.
I went ahead and kept the pack though and trail tested it this weekend on a short day hike at Bad Branch Falls in Kentucky which is unpredictably a perfect place to try out this pack. There was a section of climbing over large boulders which truly allows you to appreciate the integration of the suspension, shoulder straps and hip belt. This pack was designed to move with you, whichever angle your back is in. Many packs out there (especially day packs) need you to remain perfectly vertical for them to stay in one place on your back, but the system included on the Talon keeps everything in place nicely and comfortably.
The Airscape backpanel was comfortable, but I still ended up with a lot of sweat. I had been expecting more airflow such as in the case of the Stratos packs, but overall I was satisfied. I would say the best feature of this pack is how close the hydration pack area is to the backpanel. Placing your CamelBak or Platypus in the fridge prior to your hike and placing it in the hydration sleeve acts as an air conditioner for your back!
Prior to my test hike I loaded the pack up with my Marmot sleeping bag, Therm-a-rest Trail Lite pad and there was still plenty of room for a small backpacker's tent, so realistically you could stuff some Cliff bars in the pack, fill up on water and place some extra clothes in the pack and do a two night trip. I can't wait for my next hike with this pack or trying it out on my next mtn. bike ride.
Design: Top Loader
Size: M/L
Number of Pockets: Many
Max. Load Carried: 15-20 Lbs
Height of Owner: 5'11"
Price Paid: $119

It's light. Juuuuust big enough for overnight or a few days if you go ultralight.
Pros
Light!
Sturdy. Pretty sturdy anyway.
Bells. Whistles.
Cons
You'll need to requisition a waist belt if you are fat/fattish. They'll provide one for free.
This is for the men's version. Mine fits 5.8, should go shorter > taller, so there you go ladies.
Great daypack. Great ski/board pack. No complaints. Got all yer belzNwhistles without extra weight (key clip, full pockets, compression, bottle sides, that kinda thing.) Comfortable as any pack I've owned w day loads. Ventilation solid but not superior.
I can't speak to this backpacking (really no reason not to use my 38L Vapor Trail. Stiffer and a deal cushier, only a poundish more..) Did bring home a few loads of 30lb groceries though. Sooooo:
It's not an overnight pack. You will need good pack skills and stiffening. Built-in stiffening is pretty fragile. For most this means you take your sleeping pad and roll it out in the empty to make a "hole." Then you pack the load correctly in yonder hole and should be fine. If you are kinda new to this the reason you want stiffness is it takes load off the shoulders and puts it on the hips. Wimpy little daypack hip belt here, but it still matters.)
You can get by without rolling a pad inside as I did w/ the groceries, but I'm pretty good at this. Are you? Lots of places n straps to lash up extra stuff on the outside. You could conceivably carry 50lbs. Would NOT recommend it, but maybe you're bugging out.
Final important note: I'm pretty fat and always have been. You will need a spacer if you are too. Esp for ladies who are even wider in the hips. Presumably the ladies version has more belt, but rest assured(Ish) Osprey will help you out if you need the spacer. I just sent an email. No charge.
Background
S tons. Years in the backcountry. >>> a year sleeping in the backcountry. All of the CO trail. All of Virginia and more on the AT. Outward Bound sacrificial leader. Snowboarded and hiked most of the continent. Capable if not expert hunter.
Source: bought it new
Price Paid: $80 in ~2016

Good day pack.
Cons
Low weight capacity
Hydration sleeve overated for this pack
I bought this pack for lightweight multi-day hikes. The bag has tons of features; belt pockets, hydration sleeve, removable brain with lots of pockets for organization. The webbing in the back panel does a great job of keeping the pack off your back and your shirt dry!
The pack fits me great, and is comfortable, up to the manufacturer's suggested weight limit, which is about 15 pounds. Once over that weight, the pack becomes pretty uncomfortable and feels unstable.
The hydration pouch is really only suitable for a 2 liter bag, and unlike my larger packs, you would probably want to use an Osprey or similar bag with a frame. That's going to make the bag heavy without the water, and weight is not something this pack was built for.
There are a few tie downs and with all the extra pockets I was really excited about a sub two pound bag with all the features.  
But I would only recommend this pack as a day pack, and for that it's very good.
Source: bought it new
Price Paid: $120

This is my favorite bag and will never buy any other pack. It is a little small for a long multi-day hike, but great for 1-3 days. I just did a 4 day hike and it was loaded to the max. The padding around the hips is not very padded and I ended up with cuts on both sides from the bag.

I love this bag for a hiking a few nights, but would recommend a larger more comfortable bag for long multi-day hikes. The bag is super light weight and is constructed very well. Some of the hardware looks to be very small and fragile, however, I have had no trouble what so ever and I have put this bag through hell.
Design: Top-loading
Size: M/L 2,000 cubic inches 33 L
Number of Pockets: 4 + main compartment
Max. Load Carried: ~40lbs
Height of Owner: 6'0
Price Paid: $120

I'm sorry, but I am not happy with this pack. It is frameless so if that is your style great! This could be the pack for you!
It does have a lot of storage and can compress and expand rather well, but I have yet to figure out the harness setting to make it comfortable for me. Since it is frameless also, when stuffed full the back can get lumpy and cause some pressure points.
Lots of cargo space, super light, but not my style.
Price Paid: $120

Your Review
Where to Buy
Help support this site by making your next gear purchase through one of the links above. Click a link, buy what you need, and the seller will contribute a portion of the purchase price to support Trailspace's independent gear reviews.
You May Like
For those moving fast and packing smaller loads, lightweight packs in the Talon series adjust for a wide range of comfort and suit any style with the option of several sharp colors and graphics. Designed for mountain biking, trail running, fastpacking, peak bagging, and adventure racing. Features the AirScape back panel with ridge-molded foam that creates air channels, and adjustable harness, and mesh hip belt pockets.
Specs
Men's
S/M
L/XL
Price
MSRP: $160.00
Current Retail: $140.00-$190.00
Historic Range: $25.98-$190.00
Reviewers Paid: $119.00-$160.00

Load Range
10-20 lbs

Volume
1,892 cu in / 31 L
2,014 cu in / 33 L
Dimensions
25.59 x 11.02 x 9.84 in
27.56 x 11.02 x 9.84 in
Weight
2.406 lbs
2.67 lbs
Main Fabric
bluesign-approved recycled 100D x 210D wave check high-tenacity nylon, PFC-free DWR

Accent Fabric
bluesign-approved recycled 420HD nylon packcloth, PFC-free DWR

Bottom Fabric
bluesign-approved recycled 420HD nylon packcloth, PFC-free DWR

Recently on Trailspace