Klymit
Cush
Reviews
There was a time when pillows were the mark of the…
Rating:


Source: bought it new
Price Paid: $20

Summary
There was a time when pillows were the mark of the meek, the fragile, and the mild... No MORE!! Lightweight, super-durable, and perhaps most importantly, versatile, the Cush, from Klymit, is my go-everywhere-a-pillow-is-needed pillow!
Pros
lightweight
75D durable nylon
compresses down to nothing
versatile
This neat little item does everything that it claims to be able to do on its packaging! As a pillow in the backcountry it is excellent and offers multiple shapes to suit every kind of sleeper: back, side, belly, etc!
As a seat, be it on rocky ground with overlook views, in a shelter waiting out a downpour, or on the floor of gate A6 awaiting the arrival of a flight that will never come while surrounded by people that may not all get seats on the plane the way that they all got seats at gate A6, the Cush is an ultralight life/ass-saver!
The Cush is shaped in such a way that, if opened up and laid flat, it is a single layer seat for two individuals.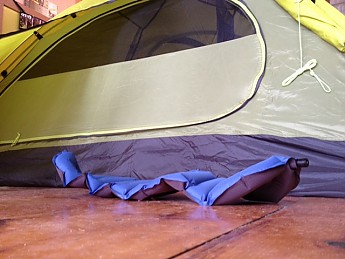 With the wings folded beneath the center the Cush is a double layered butt cushion or a nice little pillow for the sleepy trekker.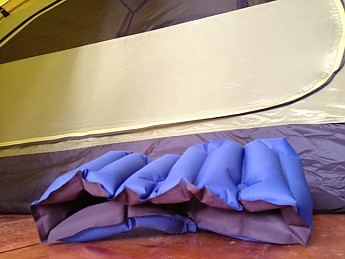 I used the Cush in the evenings in its four layer form, with the wings folded under the center and then the center folded in half.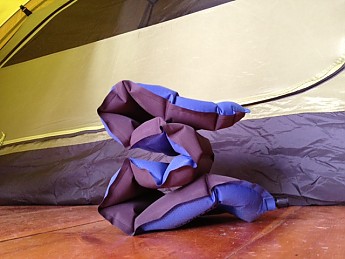 I have used all kinds of pillows form the foam filled drawstring camp pillows to the soft-on-the-inside stuff sacks that one fills with their extra layers; I can state confidently that I slept better on the Cush folded twice to make four layers than I ever have on any other kind of pillow.
The materials are strong and held up well through miles of wilderness filled with pine needles, thorns, abrasive stone, and splintery tent-platform-boards.  
The valve is solid and very easy to use.  
The product, still packaged, is shown here relative to the size of a standard business card: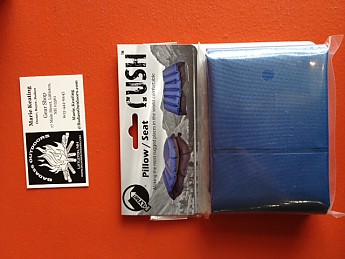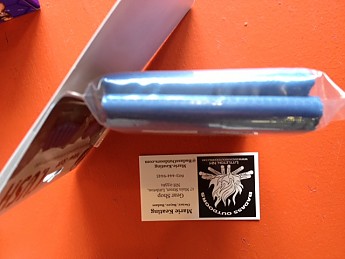 The overall folded/deflated package is about the weight of a small aluminum carabiner and the volume of a deck of cards.  This is a small weight/space price to pay for cozy evening slumbers and squishy butt padding around the campfire!
This is a piece of gear for the adventure traveler, the wilderness wanderer, the hard core trekker, the ultralight thru hiker, and the raging gear geek too!!
Lightweight, foldable backpacking pillow. Received…
Rating:


Source: received it as a personal gift

Summary
Lightweight, foldable backpacking pillow.
Pros
Can fold over to make thicker
Lightweight
Can use to sit on in camp
Received this as a gift for Christmas and I like it a lot. It's super easy to carry. I stuff it inside my mattress bag. It's long enough you can double it over to raise your head higher when you sleep. Can also be used to sit on if you need to in camp.
It packs down super small and adds virtually no weight…
Rating:


Source: tested or reviewed it for the manufacturer (I kept it)

Summary
It packs down super small and adds virtually no weight to your pack, but can be inflated in 2-3 breaths. Great for camping or taking naps on mountain tops!
Pros
Lightweight
Extremely packable
Durable
Comfortable
I have had it for 6 months now and have never had any issues. The material it is made from is very durable and has never punctured, even when I have used it on rocks and sticks.  Great for sleeping and sitting around on.
Klymit Cush
currently retails for:
$13.45 - $50.00
MSRP: $19.95