Therm-a-Rest Z-Seat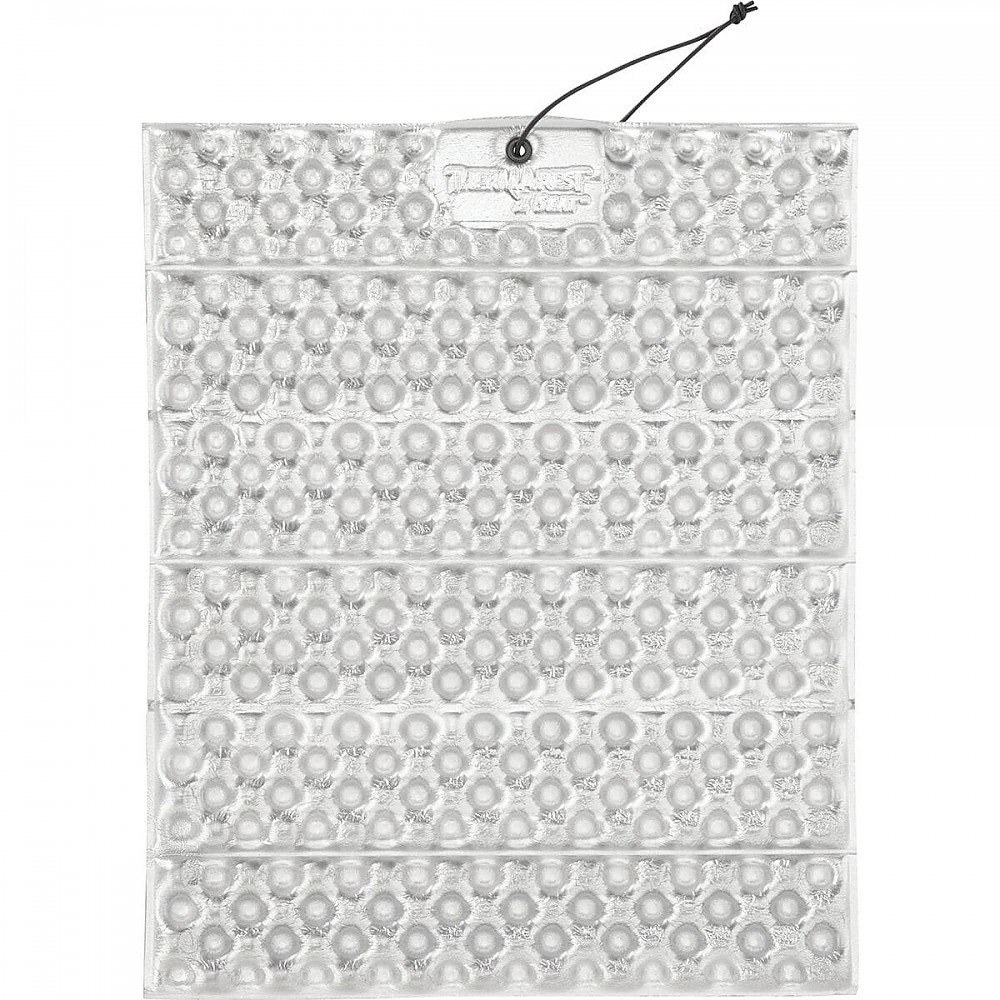 The Z-Seat is a lightweight and inexpensive piece of camp furniture. It will never replace the comfort of a camp chair, but it's also multipurpose, simple, and easy to carry for thousands of miles.
Pros
Versatile and multipurpose
Inexpensive
Durable
Lightweight (2.2 oz)
Simple
Keeps things comfortable, clean, warm, and dry
Cons
Easy to lose/blows away
Always would prefer a chair...just not to carry one
Few color choices/ too inconspicuous
A tad bulky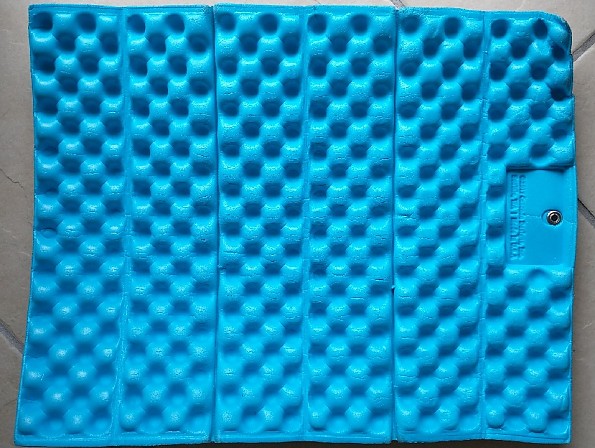 Accordion-folding foam pads are a ubiquitous piece of gear that have been around for a long time. The Therm-a-Rest Z-Seat is a pared-down version of the popular Z Lite pad. Both utilize the same materials, but the Z-Seat has more compact folds and sections. (As an aside, an old Z Lite pad can be cut into several sit pads...I've seen these in hiker boxes, just waiting to be repurposed.)
The Z-Seat is widely imitated and available online, often for less than $5. I've used both the Z-Seat and non-branded knock-offs and there is a difference in the material, size, and weight of each. However, since the design is so basic, a cheaper knock-off will meet most people's needs just fine.
I prefer the Z-Seat for its better quality, comfort, and durability. It's been the one I've carried the most and is thus the focus of my review (though a few pictures depict my first non-branded foam pad, color orange). Just note, many aspects of this review would apply to any foam pad on the market.
Z-Seat specs:
Dimensions: 12 x 16 x 0.75"

Packed dimensions: 12 x 2.5 x 2.75"

Material: molded closed cell foam

R-value: 2

Weight: 2 oz
Ease of Use: The Z-Seat unfolds almost instantly to provide a clean, dry, warm, and padded spot to sit or kneel. When break time's over, it folds just as quickly back into your pack. There's almost no weight penalty for carrying one and it will fit into the side or back pocket of most any pack.
As any good infomercial will proclaim: But wait, there's more!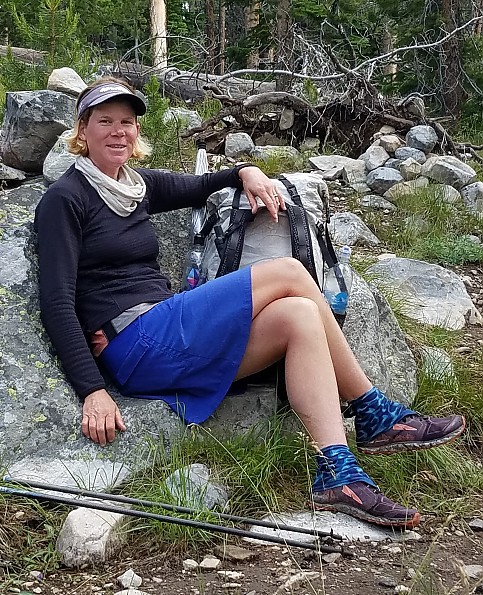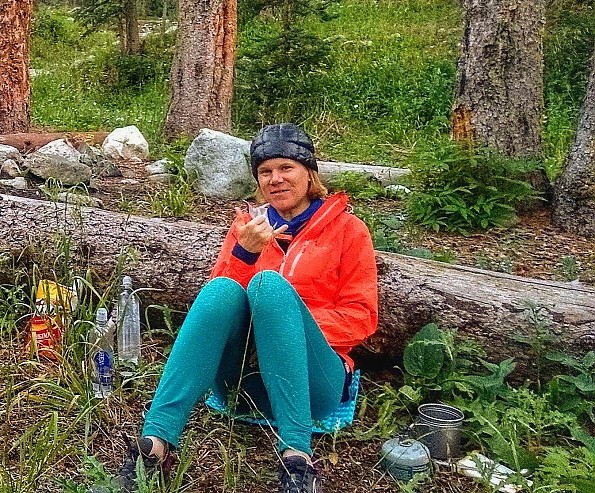 As other reviewers have nicely detailed, a foam pad can serve many functions. Here's a list of ideas, many of which I've incorporated into my own daily camp activities:
Wind screen for a stove

A hot pad for setting a pot or coffee mug onto to protect a surface (bottom of a tent)

A foot pad to step on when changing shoes, socks, cleaning feet, etc. Or just a place to rest your tired pups at the end of a long day on trail....ahhhh!

A surface to place items (pack, spoon, dishes, food, etc) to keep them out of the dirt/sand/mud

A fan or sun shade

A backboard for a sign "Hiker to town/trail"

Extra thermal protection when placed under clothes, a sleeping pad, head, etc.

A rain blocking device

A pillow

A splint for a broken leg/arm

Internal support for a frameless pack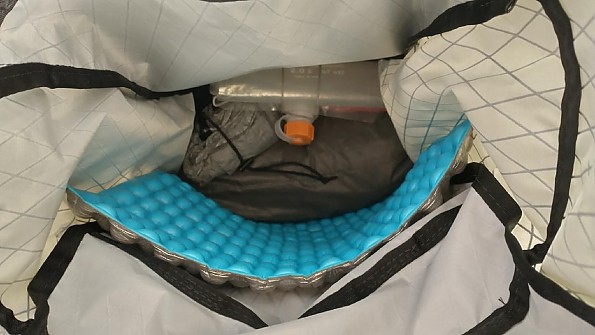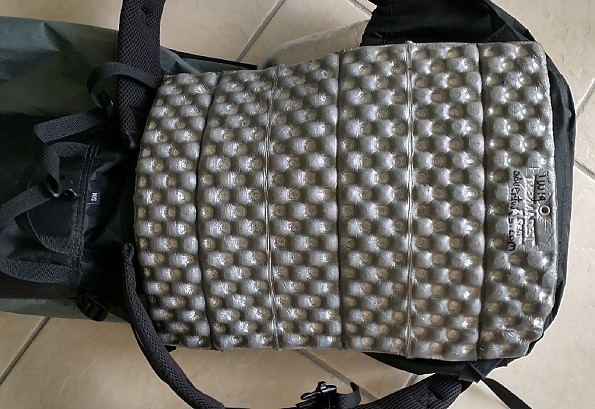 And finally, as decorative head gear in a hikertrash fashion show, on location at an AT shelter near you: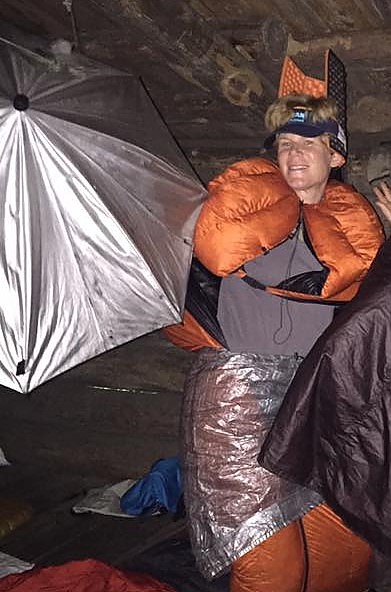 Features: The Z-Seat comes with an attached bungee cord and hook for securing it while folded. I removed this, not for the weight but rather to reduce extraneous stuff. Often I would sit on the cord/hook by accident, so it had to go. The pad stays folded just fine when shoved in my pack pocket.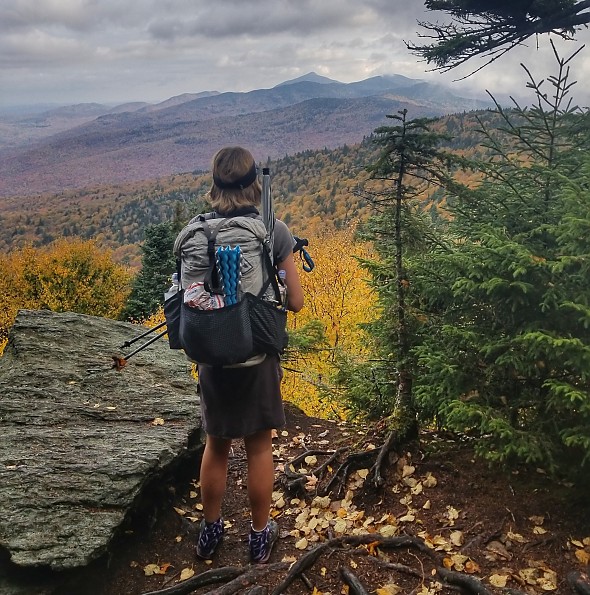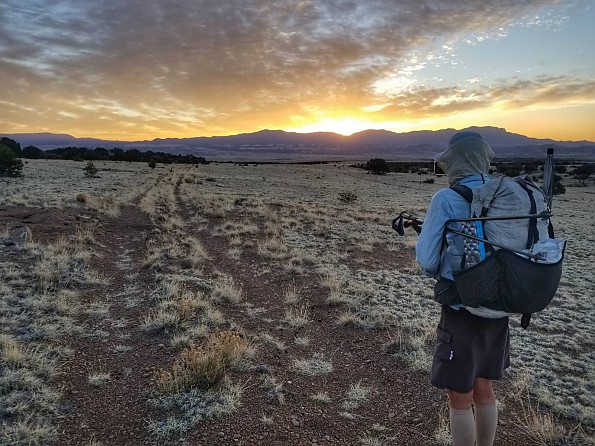 One side of the Z-Seat is silver, which is reported to reflect heat and therefore increase the R-value of the pad. I don't feel that the pad's large enough to notice this effect, but it can't hurt.
The Z-Seat's limited colors (brown, yellow, silver, blue) also leave a lot to be desired. Normally I'm a fan of gear that comes in earth-tones, in following with Leave No Trace Principles. I think this is especially important for tents and tarps, which should blend into their surroundings. Does anyone enjoy seeing a bunch of orange tents surrounding an alpine lake? Maybe the folks at REI but not me (I LOVE my camo tent!).
However, there are a few pieces of gear where the opposite applies, primarily for safety. Examples include rain jackets, sleeping bags, and foam pads/inflatable mattresses (as well an any clothing item worn during hunting season). In lieu of having an orange tent, such items can be used as signaling devices during an emergency. The rest of the time, they can stay packed away or inside a shelter, not causing any distractions.
This bright idea pertains to a foam pad because it's an item that rotates in and out of my pack quite regularly, often being the very last thing stored. As such, it's the one piece of gear that I've left behind on numerous occasions, luckily always to be recovered before I'm too far down the trail or by a friend that's just behind. I've also recovered several of these for other people.
In fact, I came in possession of my first Z-Seat because it was left behind by another thru-hiker. Lo and behold, it's the brown version, which perfectly matches the color of every log and pile of duff on the trail. Why, Therm-a-Rest? Such items (including stuff sacks) should be brightly colored so as to call attention to their presence. No one wants to leave behind gear to become trash in the environment or someone else's responsibility for packing out. Manufacturers could help in this regard by offering neon colors (unless of course their unscrupulous intent is to force us to keep buying replacements).
When I purchased a second Z-Seat, I opted for the brightest color (blue) but am still dissatisfied with this choice. My first foam sit pad, the cheap knock-off, was at least orange.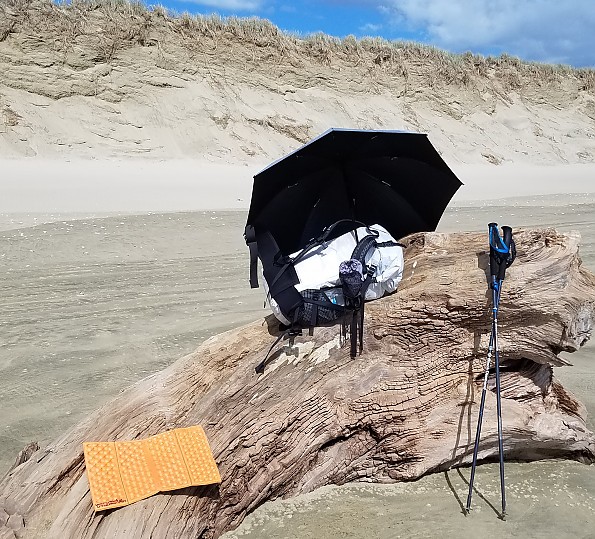 Construction & Durability: The Z-Seat is made from pretty durable closed-cell HDPE foam. It doesn't readily absorb water and is easy to wash the dirt off of in a sink or stream. The foam does break down over time, becoming compressed and sometimes punctured, abraded, and cut. This is not surprising given that it comes directly in contact with the ground so regularly. I consider it a sacrificial item, helping to protect more expensive things, like my clothes, body, pack, tent, etc. This is not to say that a Z-Seat can't last through multiple long-distance hikes and years of (ab)use.
As for the cheaper non-branded versions, they seem to be made of a less dense foam, which can absorb some water. The foam also becomes compressed more quickly. I used one of these for thru-hikes of the Colorado Trail, Te Araroa, and a few section hikes on the AT, so they can work just fine for long periods of time.
I found a Z-Seat while on the PCT, sat my butt on it, and immediately noticed just how much more plush it felt than my old foam pad, so I traded up. The Z-Seat also has a larger surface area but weighs almost double that of a knock-off foam pad...I can spare the extra ounce given the comfort.
Conditions: I've been carrying a foam sit pad since I started thru-hiking in 2017. I used to carry a folding camp chair for shorter hikes, but I can't justify the pound and significant real estate the chair entails over tens of thousands of miles. The best camp furniture is the kind you find on the trail, without having to carry it an inch, but for the rest of the time, a foam sit pad is a good compromise.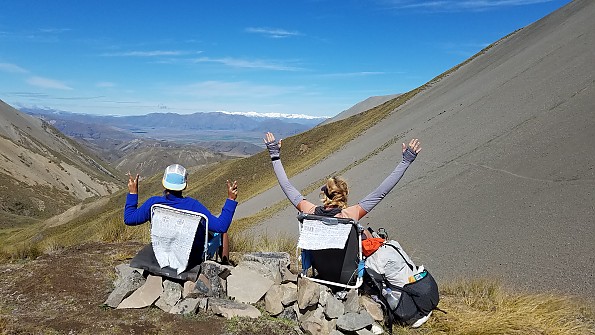 Source: bought it new
Price Paid: $15

Therm-a Rest's Z-Seat should be standard equipment in your pack! Functional as a protective seat while resting, it may also be useful for several other innovative means while on the trail.
Pros
Functional and versatile for many applications
Lightweight, only 60g (2oz)
Prevents damaged gear and clothing
Cons
None that I have experienced
Therm-a Rest's Z-Seat should be standard equipment in your pack! Functional as a protective seat while resting, it may also be useful for several other innovative means while on the trail…
Simply a scaled-down version of Therm-a-rest's award-winning Z-Lite mattress, the Z-Seat is light and compact enough to tote on the outside of your pack whenever you need a quick, comfortable rest and pack-off break.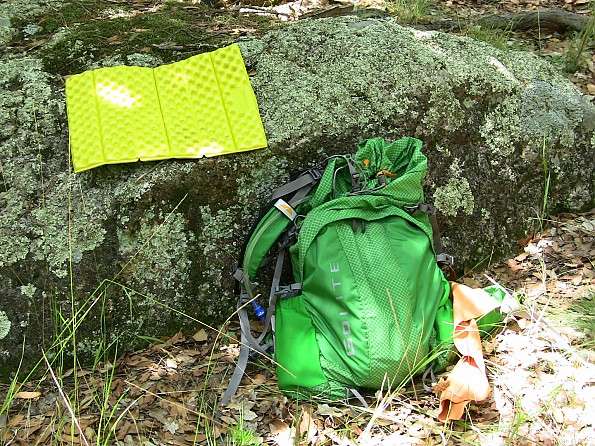 Why is the Z Seat important? For several specific reasons…
Statistically, this cross-linked polyethylene, accordion-style Z Seat measures 16" x 13" x .75" (41cm x 33cm x 2 cm), weighs just 2oz (60g) and has an R-Value rating of 2.2. That's quite a bit of comfort on the trail, and here is why it's so important…
Regardless of how many times you rest, or when you arrive at camp and need a comfortable place to sit, the last thing you want to do is damage or soil your clothing. We pay quite a premium for our hiking and backpacking clothes, why risk damaging or destroying the fabric, stitching or both?
Also, sitting on the ground without protection will only grind dirt and other biological material into the fibers of your clothes, not only damaging the fibers, but creating a cold, wet (if the terrain or object is damp) spot you may soon regret.
In addition, I've used my Z Seat for several other applications including…
Foot rest. Here's a link to a previous review,

https://www.trailspace.com/gear/klymit/inertia-x-lite/#review30596,

stating that I incorporated the Z-Seat as a foot rest at night. It performed flawlessly for me in this respect and certainly saved me from losing some zzz's.

Stove Windscreen. This application may be difficult for some not to excuse due to the obvious danger, but as a windscreen, cooking with alcohol, kept far enough from the flame, the Z-Seat has always pulled through for me when propped between rocks for support.

Pack rest. If for whatever reasons I set my pack down without resting, I always do so on the Z-Seat and for the same reasons I do not want to damage my clothes. For that matter, especially my pack because my pack is not something I can throw in the clothes washer or replace as inexpensively as a pair of shorts.

Gear, of any kind. I've used the Z-Seat as a gear rest when cooking rather than placing some items in the dirt or on the ground. This keeps my gear cleaner, more accessible, and easy to find if everything I need, at that moment, is located in one place.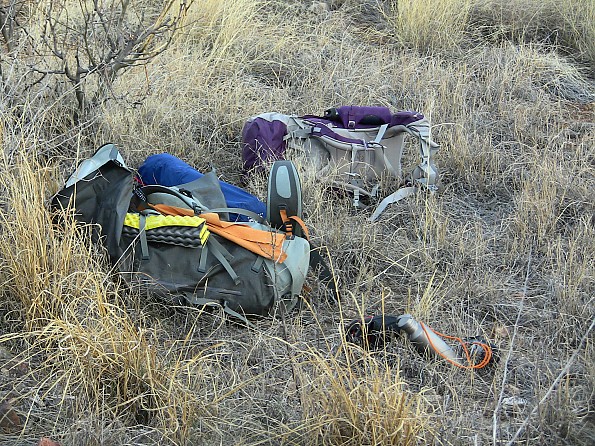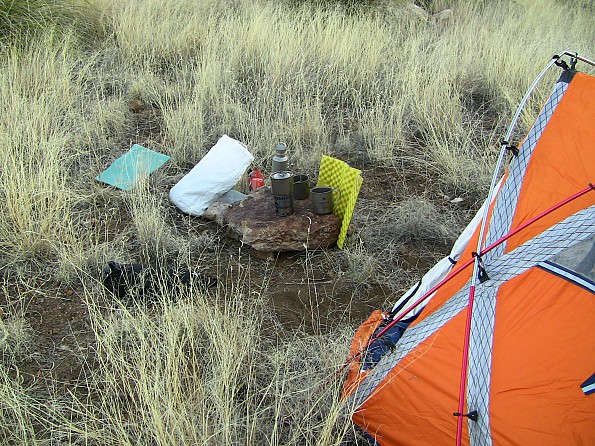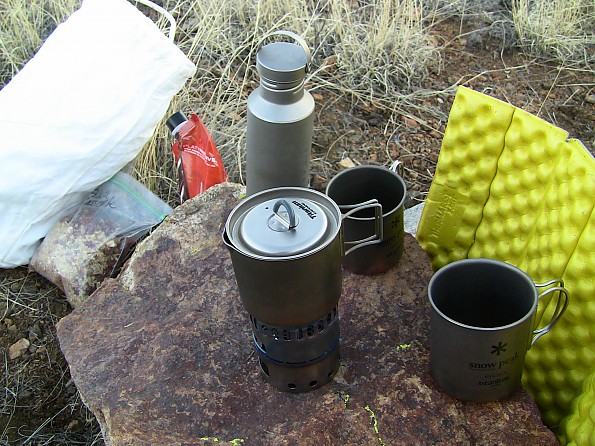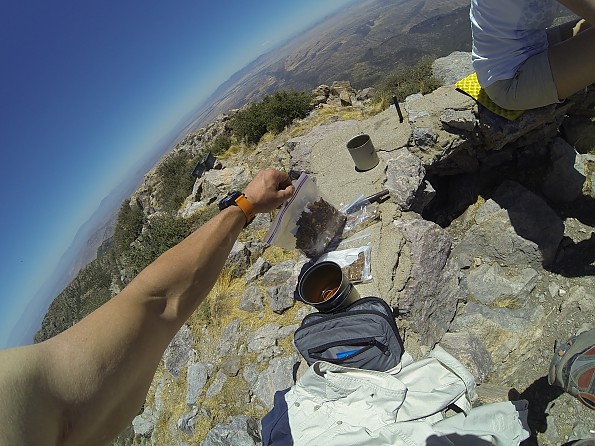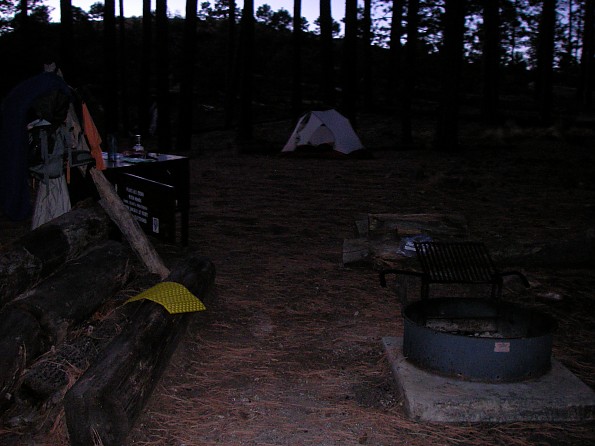 The idea is that I prefer to find as many functions for any single item as possible and if it's capable of being useful in more than one application, and I'm able to leave a lesser, single-functional item at home, I've essentially accomplished some savings in both overall pack weight and volume, and saved myself some hard-earned cash and frustration having to deal with damaged and/or lost clothing and equipment.
In summary, you need the Z-Seat! You'll probably find additional uses with yours.
Reach Your Summit!
I am not nor have I ever been affiliated with Cascade Designs or Therm-a-Rest in any way!
All photos copyright, David Drake.
Source: bought it new
Price Paid: Full Retail Price

Packs small for transport, but it's maybe a little too small to comfortably use. For the price, it's an OK deal.
Pros
Small
Lightweight
Cost
Durable
Cons
Too small
Not comfortable
This sitting pad is based on Therm-a-Rest's popular Z-Lite sleeping pad. I bought mine primarily so that I wouldn't have to sit in the dirt or on bumpy logs and to kneel on to get into my tent. I think it accomplishes these goals fairly well but I have two complaints. 
1) It is truly just a sitting pad and as such, you're only ever going to get your butt to fit on it. I would prefer if it were just a little bit bigger so I could rest at least my thighs on it and keep my legs mostly out of the dirt. 
2) It's made from the same nubbly material as the Z-Lite sleeping pad, which isn't the most comfortable material. When I'm sore and tired this bumpy pad is actually a little uncomfortable.
Recently I purchased a full-length Alps Mountaineering foam pad on clearance for $6. I cut the pad into three pieces and now have three sitting pads that are longer than the Z-Seat, which allows me to keep more of my legs out of the dirt. The Alps pad is also softer and smooth, making it a lot more comfortable to sit and kneel on.
Source: bought it new
Price Paid: $15

Great little seat for when out hiking. Works perfectly.
Pros
Folds up small
Insulates well
Cons
Material is not indestructible
I purchased the Therm-a-Rest Z-Seat in Limon/Silver after seeing my friend had one on a winter hike. When everyone stopped to have lunch and we were all looking for a dry place to sit down he just took this out and sat on the nearest rock.  
The material is designed to insulate you from the cold wet ground and it does that well. The silver side radiates your body heat back up which helps keep you warmer and the material keeps the snow and cold away from your backside.  
The seat is made from a thin foam with a sort of egg crate design built into it. But the best part is that the Z fold allows it to fold down to a good size which can be attached to the outside of your pack easily. It is extremely lightweight. I weighed it and it is only 2 ounces, not that I am a nut about weight, but every bit helps.
The only downside I can see is that the material that they used is not going to be indestructible. It is a softer foam that I am sure over time will bear the marks of the various sticks and rocks that will poke and snag at it on the trail. But, for the price I think it is well worth it. I no longer have a wet cold behind when taking a break on a hike.  
Source: bought it new
Price Paid: $17.34

I bought the Z-Seat after one too many trips of sitting on soggy logs or muddy rocks. I was tired of getting my butt wet or muddy or being uncomfortable. My main motivation was comfort. I walked into my local outdoor gear shop and picked one up for $15.
My first impression was nice. It was nice to not have to look for a "clean" spot to sit down the next trip I made. I liked that the Z-seat was really light and that it cleaned off really easily. If it gets muddy all it takes is a couple of wipes with a damp cloth and it's clean again.
But, my attachment to this product came on a much different trip. On a trip to the Sangre de Cristo Mountains in Colorado my friend, my girlfriend, and myself got caught in a freak snowstorm next to a mountain lake. We went to sleep cold and woke up in the morning freezing our buns off. The temperature was supposed to be in the 70's and here we were in the 40's. The only place it was warm was on a large rock that was exposed to the sun. The rock, however, was as cold as ice. We didn't really have a good place to sit to make breakfast.
That's when I fell in love with the Z-seat. Both my girlfriend and enjoyed warming up and cooking breakfast without freezing our butts off while my buddy kept complaining about how cold the rock was.
Is this seat a necessity? No. Should you buy one? Yes. It makes life much, much more comfortable.
Price Paid: $15

A really warm, comfortable lightweight seat, that packs down really small!
Pros
Small pack size
Warm
Light weight
I have the mustard yellow with the bright silver finish on the underside. It is the new more efficient thermal finish that Thermarest makes.
I have several sit mats all work and are comfortable to differing degrees of success, but this Thermarest Z Seat with the Sol (aluminium coating) finish is really brilliant. It has a small pack size — 2.5cm by 33cm by 2.0 cm thick. It is instantly warm. The honey comb pattern makes for a really comfortable seat. Rolled out flat the dimensions are 33cm by 41cm.
This is my favorite camping sit mat.
Source: bought it new
Price Paid: £11.70

Your Review
Where to Buy
Help support this site by making your next gear purchase through one of the links above. Click a link, buy what you need, and the seller will contribute a portion of the purchase price to support Trailspace's independent gear reviews.
You May Like
Specs
Price
MSRP: $15.95
Current Retail: $15.95-$32.95
Historic Range: $7.37-$40.00
Reviewers Paid: $15.00-$17.34

Weight
2 oz / 0.06 kg

Seat Dimensions
13 x 16 in / 33 x 41 cm

Seat Height
75 in / 2 cm

Packed dimension
12 x 2.5 x 2.75 in / 30 x 6 x 7 cm

Thickness
.75 in / 2 cm

Materials
Cross-linked Polyethylene

Foam type
Molded closed cell

Fabric
50D Polyester

R-Value
2.1, 1.7

Country of Origin
USA Built of the Finest U.S. and Global Materials

Recently on Trailspace