Klymit Inertia X-Lite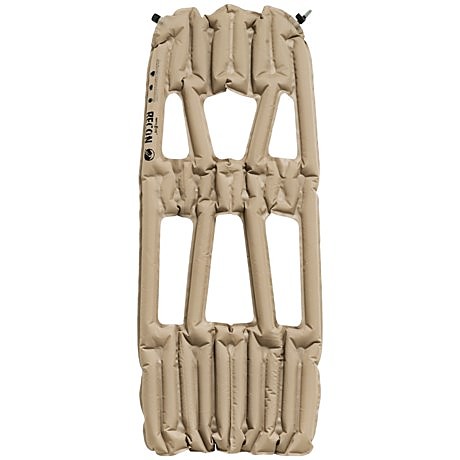 The Klymit Inertia X-Lite Sleeping Pad is a minimalist's dream at 173g for a sleeping pad, but will this inflation-style pad provide a comfortable night's sleep?
Pros
Minimalist's dream at 173g for just the pad
Packs light, less weight in your pack
Takes up less volume inside pack
Cons
Loft pocket and body mapping technology is questionable
Uncomfortable if sleeping in the fetal position
Low R-Value rating
The Klymit Inertia X-Lite sleeping pad is a minimalist's dream at 173g for a sleeping pad, but will this inflation-style pad provide a comfortable night sleep?
Klymit claims the Inertia X-Lite is the lightest, the most compact, most durable, torso-length ultra-lightweight, three-season, warmest in cold weather, embodying cutting edge sleeping pad technology, providing good comfort, only breathable pad on the market, and, last but not least, state-of-the-art solution sleeping pad in existence.
Whew, that's quite a bit to assert to, but is it comfortable enough, will it perform as well as Klymit suggests and will the Inertia X-Lite stand up to these assertions? Let's take a look…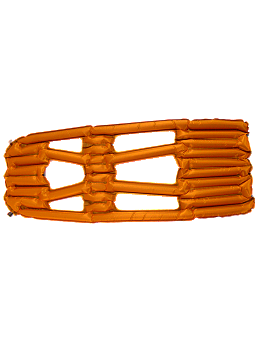 Pictured above, courtesy of Klymit, the oral valve is on the bottom with the dry air pump/release valve on the top.
I've used this pad for close to 9 months and as many backpacking trips all within the confines of "but it's a dry heat" southern, AZ and the Sonoran desert; traveling vertically through 6 different biotic life zones in temperatures, measured in fahrenheit, ranging between the mid 30's up through the 80s. With the exception of temperatures below freezing, I feel comfortable enough to make a concerted assessment of this sleeping pad...
Ease of Use: Three substantial breaths, Klymit suggests 4 or under full breaths, in the oral port and it's inflated! I've also found the oral valve to be quite a bit easier to use than the leading brand of inflated sleeping pad, I own.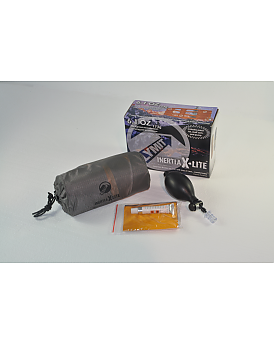 In above picture, courtesy of Klymit, the pump is attached to the valve that is otherwise permanently attached to the pad. I leave both the stuff sack and the repair kit at home during short two or three night excursions into the wilderness. If the pad suffers a puncture wound, I may too have to suffer for a short period of time as a result. On longer trips, a week or more, I would certainly bring the repair kit, weighing approximately 10g, along.
Klymit includes a Dry Air Pump with this pad. Although it's not necessary, I'm able to "dial" in a more finished rigidness that I prefer in a sleeping pad that I'm unable to acquire from breaths alone. Klymit suggests between 0 and 25 pumps are all that is needed after the initial two breaths, and I agree. Klymit also suggests that if the dry air pump is used that it can cause the pad to leak air if pump is not immediately removed from port.
Features: Klymit, in my opinion, has indeed reinvented the sleeping pad! Their breathable, Loft Pocket Technology claims to "allow the sleeping bag to loft down into the open spaces in your pad, turning cold spots into warm spots by creating convective heat traps".
With that said, I was under the impression that Klymit developed this versatile pad to insert inside or under your sleeping bag, at least this is the roar I've been hearing. I'm not at all convinced of the effectiveness of this pad inside my sleeping bag. In fact, I find the pad absolutely useless inside my bag! I've spent a number of nights trying to make this pad work for me with the application of using the pad inside my sleeping bag, with no success, whatsoever.
When used beneath my sleeping bag I find the pad far more useful and most likely for one particular element… I am a restless sleeper and toss enough in my sleep to toss the pad along with myself when it's inside the bag. In other words, when I roll, it rolls, and I found myself constantly readjusting the pad. This is very unfavorable when you're interested in a good night's rest.
When the pad is beneath my sleeping bag I've concluded the pad performs similar to all other camping pads, migrating little if at all, and the sleeping bag between myself and the pad will, in fact, "loft down into the open spaces" in the pad, exclusive of claimed performance.
I mentioned how much I enjoyed the oral valve earlier… Klymit's valve technology seems to be easier to manage, open/close, than the leading brand. In fact, there are two valves on this pad. The second valve accommodates the dry air pump, which incidentally weighs 22g (on my scale), and includes a quick-release for quick air release. When packing this pad I release the main valve and depress the quick-release valve at the same time… pad is instantly relieved of air, more efficiently than any other inflated pad I've used in the past and quicker than the seconds it takes to inflate it. 
Weight… just 173g (Klymit's claimed weight, 171g on my scale) for the pad; 193g (on my scale) for the pad and dry air pump.
Size: 42" x 18" x 1.5" or 107cm x 46cm x 4 cm
Packed size: 6" x 1.5" or 15cm x 4cm if using the included stuff sack, pump and patch kit. I simply roll it up, without all other features, and throw it in the pack… minimalist!
Color: Orange (top), Gray (bottom)
Construction & Durability: Thus far, the pad seems to be bullet proof. I have used the pump to acquire the most rigid performance achievable and this pad has indeed remained rigid throughout the night, in contrast to every other inflatable pad I have used! 
I have, unfortunately, not been able to find specifics on the material composition of this pad, not on the box, included paperwork or on Klymit's website. Nylon, I'm assuming, with welded construction, but that's it. If you're at all interested in the construction of the pad before making your purchase may I suggest a phone call to Klymit.
Personal notes: Time spent in the wilderness in colder weather has been miserable at times. On at least two occasions, with temperatures in the lower 40's to mid 30's I've been cold. I find no benefit, other than weight savings, to the loft pocket technology! This pad seems to be most functional at temperatures above 40 degrees fahrenheit.
Remember Klymit's assertion that this pad provides "good comfort"? The pad, in my opinion, performed tremendously better, comfortably speaking, beneath my sleeping bag than it did inside the sleeping bag, and at neither time was the pad more insulating from the cold ground. I will never believe this pad to be warmer or equally as warm as a solid construction pad unless I see some controlled environmental thermogenic testing concluding the validity of the technology.
Now, whether the pad is inside or beneath my sleeping bag I've needed to take one particular step to retain a level of comfort I have not been able to do without. Because the length of this pad is only 42" my feet are not protected from the cold, hard ground. I've either placed my flexible water bladder beneath my feet simulating a water bed or my sit pad (Therm-a-Rest Z Seat), which is essentially a small pad I use to sit on when resting. I always have both of these items with me when backpacking and find them an integral part of my gear, each of them now performing a function greater than their original intended use. Can't beat that. I find no disagreement with the void or area between the sleeping pad and the specific gear used to comfort my feet.
The Inertia X-Lite is not for the side sleeper! I tend to side-sleep and toss enough to consider this pad a poor performer. The loft pocket technology is apparently designed to cradle major pressure points while lying motionless on your back, and not at all while in the fetal position. And, because of the loft pocket technology, in consideration with performance, if I expected the overnight temperature to drop below freezing I would most likely choose a different sleeping pad, one with a higher r-factor energy rating (at this time I have no idea what the r-value energy rating is associated with the Inertia X-Lite but I suspect it's minimal at best). The Inertia X-Lite is therefore, in my opinion, impressionable as a three-season pad, risky as a winter pad.
I've employed the Inertia X-Lite with two sleeping bags I use on a regular basis. When used in conjunction with my lightweight, low-loft, three season, 650 fill weight goose-down bag the two of them together perform miserably. When characterized together with my heavy-weight, high-loft, four-season, 850 fill weight goose-down bag it performs considerably better. But, does this loft technology really work or is it just a gimmick? I honestly believe, residing with my first cognition, as a minimalist, I appreciate the technology, whether or not it works, and thoroughly enjoy the weight and volume savings in my pack.
Depending on what may be most important to you I hope I have delivered as much insight as possible into the world of Klymit Inertia X-Lite sleeping pad. And, to conclusively answer my initial question, will this pad provide a comfortable night sleep? Well, that depends most considerably on your personal sleep habits and the temperature at which you intend on using it.
I believe, if and only if, you're a minimalist, go ahead and give this pad a chance. If not, you're more likely suited to something a bit more substantial. I enjoy the weight savings too much to leave it at home and I've spent many nights considering the benefits of this pad… the only two I'm able to report positively on is the weight and volume savings.
Reach Your Summit!
This is an independent review! I am not at all affiliated with Klymit!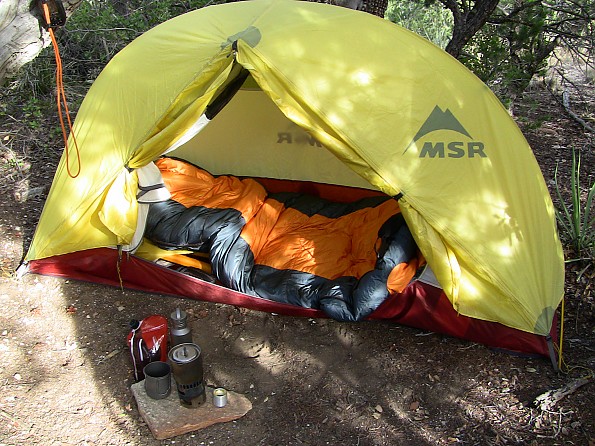 Klymit Inertia X-Lite beneath the Sleeping Bag (Photo copyright David Drake)
For reference, all material below comes directly from Klymit's website…
Loft Pockets & Body Mapping
Body Mapping:  Klymit camping pads are revolutionary in that they mirror the human anatomy.  By doing so, they provide a sleeping surface that is designed specifically to offer you more comfort and a better night's sleep whether you sleep on your back, your side, or your stomach.  We have created 2 luxurious body maps:
Pressure Point Body Map:  This acclaimed minimalist body mapping technique has been winning over backpackers since it's introduction in 2010.  The Klymit Inertia camping pads comfortably support all the places your body touches a sleeping surface.  The remaining areas are removed to minimize weight, allow for breathability, and enhance warmth.
Anatomical Body Map:  The V shaped designed pads are ultra comfortable camping pads designed to mimic the muscular structure of your back.  By matching the contours of the human body, the Inertia XL and Static V naturally accommodate all body types and offer enhanced comfort over standard camping pads.  This neutral body map is ultra comfortable by itself as found in the Static V.  When combined with the comfortable loft pockets, side rails, and built in pillow on the Inertia XL, and the ability to customize the pressure, the result is the most comfortable camping pad on the market.
Loft Pockets:  This patent pending technology is a Klymit exclusive that makes our camping pads the most versatile available.  Whether the pad is under your sleeping bag or inside of it, the pad allows your sleeping bag to stay puffy underneath you, thus capturing the warmth from your whole sleeping bag and not just the top.  This technology allows the lightest, most compact, and most comfortable camping pads on the market to also be the warmest camping pads in cold weather, and the only breathable pads on the market in the summer.  Simply put, you can always sleep in any condition that the sleeping bag is rated to on any of our camping pads with loft pocket technology.
All pictures, with the exception of the one noted, contained within, courtesy of Klymit!
Source: bought it new
Price Paid: $66.44 plus tax

Small on size and weight, big on performance! Klymit successfully set out to create air mattress comfort with the minimal weight penalty that is more typical with closed cell foam pads.
Pros
Minimalist small size when packed
Ultralight for an air mattress at 6.9 ounces
Only two breaths to inflate — Dry Air Pump not needed
3/4 length is fine
Works inside your sleeping bag
Klymit "body mapping" design seems very supportive and comfortable
Cons
There is a significant comfort issue — see details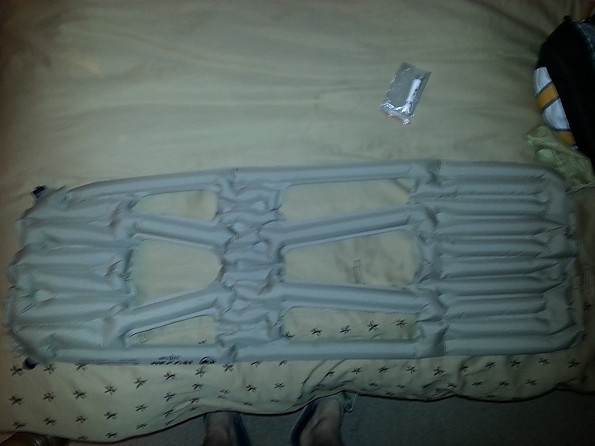 Klymit Inertia X-Lite Recon Inflated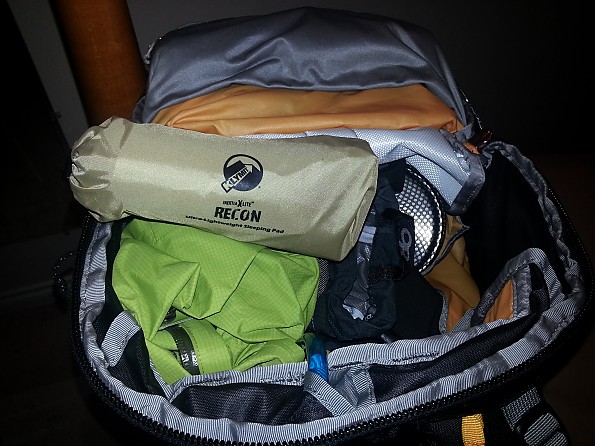 Klymit Inertia X-Lite Recon on top of the pack.  Man that is small.
I took a group of Scouts on a winter campout this weekend, and thought I'd give my new Klymit Inertia X-Lite Recon a try. This would be a nicely controlled test of its performance as I'd be in a lightly heated alpine cabin where I'd sleep in an unpadded bunk. This would give me a chance to see how the pad works without the variables of rocks or roots under my back.
First, the good:
Minimalist size and weight — This really does pack down small and weighs in at only 6.9 ounces. In an effort to follow "Minimalist" and "Ultralight" hiking theory, I've been trying to get my gear smaller and lighter. The Inertia X-Lite Recon certainly gets top marks in this respect.

As the manufacturer advertises, it takes less than two breaths to fill the pad. Nice. I'd also like to add, there really is no need for the Dry Air Pump. In some ways, I think it's useless and it really just takes up space.  YMMV.

The 3/4 length works from a sleeping pad point of view. From a thermal point of view, I can't be sure as I was also sleeping on a full-length 1/2" thick Evopad which has always kept me warm even in sub-20°F weather.

I used the 

air pad

 inside my sleeping bag and it seemed to 

work

 great that way... at least as I went to bed it felt good.
Now, the bad:
As I went to sleep, I was sure I'd be rating this pad as a 5 star. I was so comfortable and well supported.  I thought that the body mapping was wonderful from a spinal-support point of view. A few hours later I woke up with a terrible feeling in my spine.  It didn't occur to me that the pad was 

the

 issue, so I 

re-adjusted

 and tried to get back to sleep. Hours of this went by as I continually re-adjusted.  Finally I pulled the pad out of my sleeping bag. This quickly fixed the issue and I got a little sleep.
I am not giving up on the pad. I'm going to try it again and see if the bad experience was an anomaly. If there's an improvement, I'll gladly come back and alter my review.  For now, I have to say the pad is unusable and I don't know why. I very much hope I'm wrong.
Source: bought it new
Price Paid: $90

I've used this for two backpacking seasons and it lives up to its claim—lightweight while providing comfortable sleeping conditions.

Edited to 4.5 stars because the optional air-pump broke after only a few uses. The pad can still be used without the pump so I didn't attempt to contact the company for a refund/replacement.
Pros
Lightweight
Small pack size
Protects from rocks/objects that would otherwise cause uneven surfaces.
Cons
Pump broke within first few trips. (Not designed to be compressed IMHO)
Minimalist—If you're looking for cushioning this provides the bare minimum to keep you off the ground.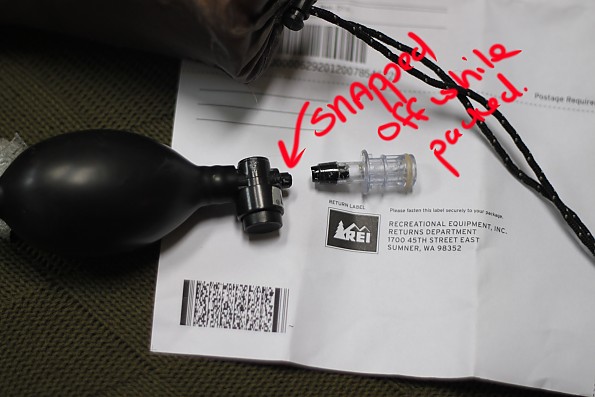 This packs smaller than a can of soda, and it weighs less (7.9 oz with the pump attachment I don't use anymore). I still keep this pad for solo trips when weight can't be distributed among other hikers. Even though the included pump broke (see photos) I can still inflate this satisfactorily on my own.
Even on rocky ground this pad has exceeded my expectations—but it certainly isn't a luxury mattress. If you're looking for something to keep you off the ground and remove pressure points between you and the floor of your tent then this is a great fit. For shorter destinations or where weight isn't as much of an issue I might suggest something more substantial such as a 3/4 Therm-a-Rest or equivalent as a competitor. 
That being said this is an easy to inflate, lightweight pad that will cover 90% of an UL backpacker's needs and I'm not an UL backpacker. Not the most comfortable pad I've had, but the skeleton design distributed my weight well and I'm a big girl (5'11" 210 lbs).
Will upload pictures when I have the chance.
Source: bought it new
Price Paid: $75 - 100

Lightest pad in the world AND it is stupid comfy! Lasted me the PCT and still going...
Pros
Warm
Light
Durable
Unbelievable comfort and support for the weight
Cons
Only for fit ultra light athletes
Doesnt look comfortable but is.
I've used this for over 100 nights now in night temps from 85°F to about 10°F. It has done its job. You must learn to adapt to a pad that just supports your pressure points. If you aren't super experienced and have a heavy gear list stay away. If you have your gear on a spreadsheet you probably already have this pad. If it's good enough to get me through the PCT, I think weekend fast and lighters will dig it too.
Source: bought it new
Price Paid: $80

Great pad for the price.
Pros
Keeps air
Packs small
Comfortable
I took this on a 10-day trip to the Boundary Waters in late spring. There was still snow on the ground and it isn't ideal for warmth but it kept its air and was comfortable. For the price it's a great pad and it packs so small!.
Source: bought it new
Price Paid: $55

It would probably work for a very small person who does not move around too much while sleeping.
Cons
Too slippery, slides around under you
I am trying to go as ultralight as possible, so this sleeping pad was very intriguing. On a 3-night trip, the first time I overinflated it. When I let a small amount of air out, it was more comfortable. 
Unfortunately, the slippery surface of the mat plus the small dimensions make it very difficult to stay on the precise spots the design requires. I weigh 155# and am 5' 9".  The second night I swapped with my trail mate so he could try it.  He came to the same conclusions. 
I am going to go back to my ALPS Mountaineering pad and find other ways to reduce my pack weight.
Source: bought it new
Price Paid: $73

Your Review
Where to Buy
Help support this site by making your next gear purchase through one of the links above. Click a link, buy what you need, and the seller will contribute a portion of the purchase price to support Trailspace's independent gear reviews.
You May Like
Specs
Price
Historic Range: $34.95-$89.95
Reviewers Paid: $55.00-$90.00

Weight
5.6 oz / 159 g

Dimensions
42 x 18 x 1.5 in / 106.7 x 45.7 x 3.8 cm

Inflation
2-4 Breaths

Pack Size
2.5 x 5.5 in / 6.4 x 14 cm

Fabric
30D Top / 75D Bottom Polyester

Recently on Trailspace