Kupilka
21
1

review

5-star:

0

4-star:

1

3-star:

0

2-star:

0

1-star:

0
Reviews
A beautiful cup of Finnish design, made of composite…
Rating:


Source: received it as a personal gift

Summary
A beautiful cup of Finnish design, made of composite material, that is the perfect solution to one's need to cradle a cup of hot coffee in your palms on a cool, backcountry morning.
Pros
Great design
Fits imperfectly in your cupped hands
Keeps drinks hot
Doesn't burn hands or lips
Easy to clean, doesn't absorb moisture or odors
Cons
Relatively heavy
Relatively low volume
Can't cook with it
The Kupilka 21 is modern interpretation of the traditional Scandinavian kuksa drinking cup. The originals were hand carved from birch burls, and would last a lifetime. These are made of a composite of wood and plastic, and ought to last a lifetime.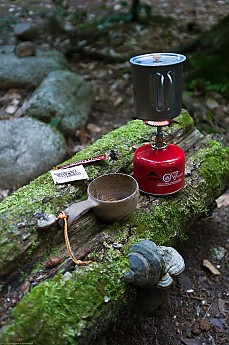 Design - It was designed by the company's managing director, Kari Kuisma along with well-respected Finnish designer Heikki Koivurova. It has a traditional shaped cup, with a highly stylized handle. It is a thing of beauty that begs to be filled with coffee, and cupped in one's hands on a cool morning.
Material - Kupilka's products are constructed out of a "biomaterial" composite of 50% pine fiber and 50% plastic.  The wood fiber provides better heat endurance, and higher durability. The plastic provides a low-maintenance cup that cleans easily, doesn't absorb smells, and is insensitive to humidity.

Sounds good so far, eh?
Stats - Kupilka claims the 21 holds 7.10 oz, and weighs 85 g / 2.99 ozs.  8 ozs filled mine to the rim, so 7 ozs is probably a more useful volume. It weighs 3.03 on my scale, and I suspect that's within normal manufacturing deviation when biomaterials are concerned.
Compared to the Snow Peak 300 Titanium cup:  
The ti cup holds 10.6 ozs and weighs 2.5 ozs.  On weight and volume, the ti cup wins. I'm gonna say durability is a wash. One can cook with the Ti cup, but that would melt the Kupilka. So the Ti Cup wins the multi-use test. Once filled with boiling hot water, the ti cup will scorch your lips, and you certainly won't hold it in cupped hands. So, in the watching the sun rise with a cup of hot coffee gently warming your hands test, the Kupilka wins!
Clearly, the Kupilka wins the funky, groovy test …
Hey Romeo!  What about your promise to the He-Men, Gram-Weenies Club?
Sure, the ultralight illuminati will eviscerate me over the very act of carrying a cup, which as we all know is a completely unnecessary 3 ozs.  
I'm sorry, Spanky. I've got to live my own life.
In the morning, if I'm having a hot breakfast, I'll boil enough water for both my coffee and my cereal. I'll pour boiling water into my cup, stir my cereal ingredients into the pot, and make my coffee while breakfast is cooking. When a water source is too shallow to fill my squeeze bag, I'll use the cup to dip. Its round bottom makes it perfect for mixing stuff, like my peanut butter and granola snack.
I have either eliminated, or changed a whole lot of stuff in my efforts to reduce weight, yet this has accompanied my on all four long sections of the AT totaling 1,318 miles. 
Bottom Line: It will accompany me on this summer's section.
Kupilka 21
currently retails for:
$21.21