Leatherman
Style CS
3

reviews

5-star:

1

4-star:

1

3-star:

0

2-star:

1

1-star:

0
Reviews
The Leatherman Style CS is an inexpensive, good quality…
Rating:


Source: bought it new
Price Paid: $19.95

Summary
The Leatherman Style CS is an inexpensive, good quality basic multi-tool. It comes with a knife, scissors, tweezers, nail file, flat screw driver and bottle opener that fits easily in your pocket or clips onto your pack so you can quickly find it when needed.
Pros
Compact
Lightweight
Basic useful tools
Cons
Small knife blade (1.5 inches) has limited uses
Tweezers initially difficult to remove
A while back I was re-evaluating my gear, looking for ways to reduce what I carry. I came across three pieces (a small folding knife, tweezers and scissors) that I don't use often and always carry. I wondered if I could find a small multi-tool to replace them.
I already have a Leatherman Charge that is too big and heavy with more tools than I practically need for backpacking; that was out. So being partial to Leatherman, I started with them. I quickly found the Style CS and the Micra. Both are compact and lightweight with minimal tools. Both tools are inexpensive and I could have tested both but, I ended up choosing the Style CS over the Micra.
I really liked that the tweezers are removable and easier to maneuver. The Micra's tweezers fold out from the handle. I also liked the bottle opener better. Having a Leatherman C303, I was already familiar with the opener design.  Other than that, the scissors and knife are the same. I tested each of its components. Each tool performed the tasks I would typically be using the tool for well. So far, I am very happy with my decision.
The Style CS (top) and the three tools it replaced: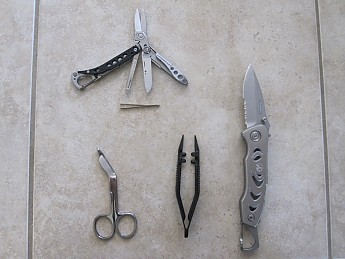 Testing:
After initial examination, I decided the knife and scissors needed a little sharpening. This is usually the case with mass produced, inexpensive blades. The knife was easily touched up with a ceramic stone. On the other hand, the opening on the scissors was too small to get my stone into. I decided to use 400 grit sandpaper wrapped around an ID card and that worked great. 
Sharpening the scissors with sandpaper: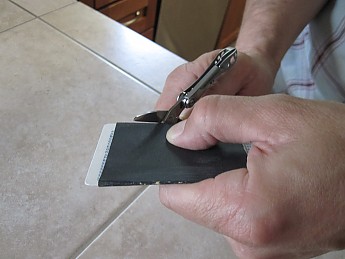 The knife blade is small and can be folded out without having to open the whole tool. It doesn't lock but, snaps solidly in its usable position. Best uses for the blade are cutting small things like cordage and food packaging. Just for fun, I tried it to make feather stick shavings and it worked well for that too.
Feather stick shavings: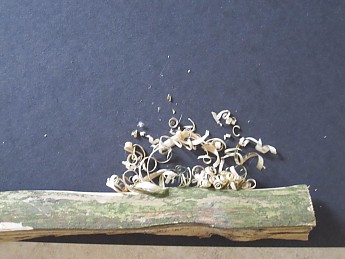 The scissors are also small but effective. They use lever action to keep tension on the blades and make using them easy. I found they efficiently cut through fishing line, nylon thread and dental floss. They also cut through ¼ inch jute twine with some effort.  The knife works better for that. Lastly, I tested the scissors on mole skin and they worked just fine.
Items cut using the scissors: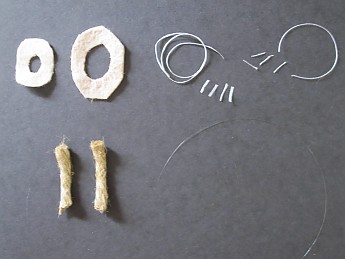 For testing the tweezers, I decided to pluck some hairs from my arm (no pictures) which they performed very well. I decided it would be a bad idea to jam a splinter into my skin. The first few times I pulled the tweezers out, it was really difficult and hard on my fingernail. After ten times or so of working them in and out, I was to get them out with little effort.  The nice thing is they still seem to lock in place and won't fall out accidentally.  We'll see if that lasts over time.
Additional tools include a small nail with worked really well to smooth out my nail after fiddling with the tweezers. On the end of the file is a small flat blade screwdriver.  I found it is perfectly sized for tightening eyeglass frame screws. Also because of its shape, it can be used on small Philips head screws.
Lastly, the bottle opener, which doubles as a tiny wire gate carabiner for clipping onto your pack belt loop. The opener does what it is supposed to and works well. As I said though, I am familiar with the design and already knew how to use it. I did find though that it works much more effectively with the tool partially opened giving more leverage to pry the cap off.
Tightening a screw in eyeglass frame: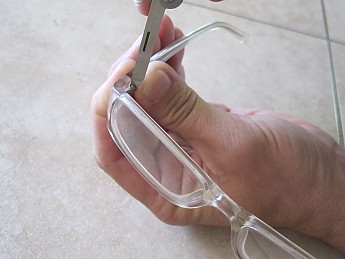 Using the bottle opener: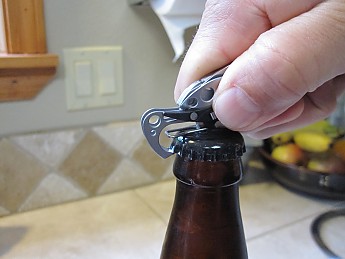 Tool partially opened for better leverage when prying the cap off a bottle: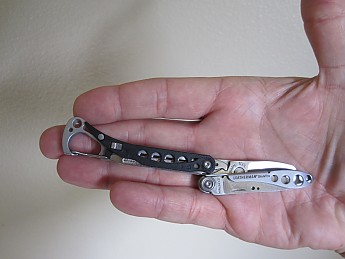 Great design, sturdy tools, and very light and compact.
Rating:


Source: bought it new
Price Paid: $19.95

Summary
Great design, sturdy tools, and very light and compact.
Pros
compact
lightweight
good design
Very compact (size of a standard cigarette lighter when folded), scissors are very solid and easily cut through seal-a-meal bags (one of my primary reasons for purchase), the blade is accessible when the tool is closed and is sturdy, and the clip works well. 
It had exactly the tools I needed. Very pleased with this purchase.
I picked up this little multi-tool at REI several…
Rating:


Price Paid: $20

I picked up this little multi-tool at REI several months ago. What I was looking for was a small, light little tool with a blade, scissors and tweezers. The Style CS has those things and also includes a nail file, flathead screwdriver, and carabiner clip/bottle opener.  
When I am backpacking, I rarely use my knife as it is, and I have found myself needing a pair of scissors far more often than a blade; I thought that the Style CS would be a perfect fit for my needs.  It is, in theory.
What I like:  As I said before, it is obviously light weight.  It fits in your pocket, your pack, or you can clip it anywhere to ensure you don't lose it.  It has all the features I wanted in a multi-tool.  When you pop open the tool to bust out the scissors, you can get quite a bit of leverage on the handles when cutting, which surprised me considering the size of the tool.  The blade opens without having to open the tool up.  Also, it never hurts to have an extra biner clip around.
What I dislike:  Basically, there is one major flaw in this tool that ruins it.  The blade and scissors are so incredibly dull it is not useable straight from the package.  This wouldn't be a problem, since it is relatively easy to sharpen a blade.  The scissors, however, are so small that it is not possible to sharpen them.  Trying to cut a piece of moleskin with the scissors turned into a massive hack job that resulted in me finally just ripping the forlorn chunk the rest of the way off, and moleskin doesn't tear easily.  Considering I would really only be taking this thing backpacking, a set of nice sharp scissors could last me quite some time.  
One minor caveat is that the "bottle opener" is pretty small and flimsy, and you have to pry several times around the perimeter of the bottle to get it open.  Not a big deal for me personally, but there it is anyway.  
Yes, the Style CS is very cheap, and there will always be those who love to say "you get what you pay for", and I would be one of them. However, if the scissors don't cut anything more substantial than lined notebook paper, then this thing isn't worth nearly the $20 price tag.  
Also, the name "Style CS" has me wondering if Leatherman was intending this to be more of a cutesy glove box accessory/stocking stuffer instead of useable tool.  Considering its flaws, it wouldn't surprise me.
Where to Buy
sponsored links
Help support Trailspace by making your next purchase through one of the links above.
Manufacturer's Description
Visit Leatherman's Style CS page.
Retailers' Descriptions
Here's what other sites are saying:
The handy, keychain-size Leatherman Style CS multitool clips easily to a belt loop or pack strap. It's so stylish it's almost a shame to slip it into your pocket and out of sight.
- REI
Leatherman Style CS Multi-Tool. 420HC Knife: A knife crafted from 420HC, a high-carbon stainless steel that is corrosion resistant and can be easily maintained. Spring-action Scissors: Scissors for cutting paper or other light materials that automatically spring back to the open position when not being used. Sprung tools are helpful for reducing hand-fatigue, especially in scissors where the user may be opening and closing the tool many times to make multiple cuts in a row. Flat/Phillips Screwdriver: A flat, angled screwdriver tooled from 420 HC stainless steel that can be used on Phillips or small slotted screws. Tweezers: A precisely designed personal care tool for removing or picking up very small and/or delicate items such as slivers or fish hooks. Nail File: Made from stainless steel, this file is ideal for nail care when a conventional nail file is unavailable. Carabiner/Bottle Opener: This tool features a one way gate and allows for easy clipping to a belt loop or strap. It can also be used to pop the top on a favorite beverage. BLADE LENGTH: 1.6 in / 4.06 cm. CLOSED LENGTH: 2.9 in / 7.5 cm. WEIGHT: 1.4 oz / 41.1 g. Key Ring Hole: A strong loop for attaching a split ring or key ring, allowing the user to keep their multi-tool handy at all times. Outside-accessible Features: This multi-tool features tools that are accessible while the tool is in its folded or closed position, mimicking the functionality of a pocket knife
- Tahoe Mountain Sports
The handy Leatherman Style CS is one unique clip-on multitool. Fits in a pocket or clips on your pack or bag for easy portability. So stylish it's almost a shame it fits so easily in your pocket.
- EMS
Have a complete plethora of tools on hand, all thoughtfully combined on one clip-on multi-tool with the Style CS Keychain Tool from Leatherman. Small enough to fit in a pocket and easily clipped to a pack, this tool has spring-action scissors, a handy 1.6 inch blade, a screwdriver and more - plus a tough nylon handle.
- Mountain Gear
Leatherman Style CS
currently retails for:
$19.95 - $27.50

where to buy: