Leatherman Charge TTi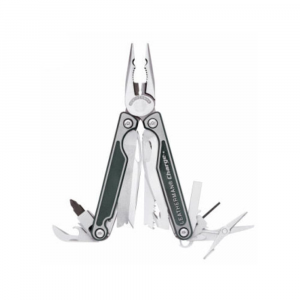 When it comes to multitools I consider myself to be a pretty hardcore user. I never go anywhere without mine, I use it for all types of stuff all day long.
The Leatherman Charge TTi is the latest in a long line of multitools that I have owned over the years. That list includes Two Gerbers (Original MultiPlier, MultiPlier 600), a SOG PowerPlier S44, a Vise Grip Multitool, an Original SwissTool, and Four Leatherman tools (a PST, Original SuperTool, Original Wave, and now my Charge TTi).
I have had this TTi sample for about 7 or 8 months now (I had my first TTi for two weeks before I broke it) and I carry it every day on my belt as part of my portable tool kit. I managed to break the first TTi I bought after 2 weeks of carry (which greatly disappointed me because I am used to Leatherman producing a really tough indestructible tool…I mean it took me 10 years to break my original Supertool!). But I feel that with the Charge that I have to be kinda ginger with it because it might break.
The main three weaknesses that the TTi has IMHO are:
Weakness #1
If you'll look at a side view photo of the TTi you'll see a piece held down by a rivet. The piece that is held down by the rivet is way too thin gauge metal to be in that spot...because if you look at the right side of the pic. you'll see that their are these little metal fingers that spread when you fold open the tool to use the pliers.
This design makes it so you can't open the blades on the outside of the tool while it's unfolded. This is not a problem per se...UNTIL you try to use the pliers to bend something or tighten something; and when you put some real torque on that joint those little metal fingers will split apart and that flat piece of metal will bow out like a little mountain peak! Then your pliers will just flop back and forth and the tool is mostly useless.
Now I will give credit where credit is due, Leatherman has about the best warranty service in the industry. When I broke mine I sent it off and by the end of the week I had a brand new shiny tool in my mailbox... That's great if you use these tools like I mostly do, at work during the day... but if you are preparing for a survival situation or are using it out in the wilderness you better carry a spare because if it breaks you might be up a creek!
Weakness #2
One of the main reasons that I bought the TTi over some of the other tools out there was the S30V Steel Primary blade. I read all about how sharp the blade is and how it holds an edge so great. Well I should have known, that this also means that it is really hard to put an edge back on this blade when it does finally get dull; and on top of that, because it is so hard (which makes it hold the edge so well) it is also very brittle and chips easily.
I have several places on my blade where there is a chip of steel that broke out, and the only cure is to take a carbide sharpener and remove enough metal to smooth the edge back out again, or just let it slowly wear down over time. Next time I buy one I'll go back to the regular Leatherman steel like they used in the Supertool.
Weakness #3
The scissors... They are great sharp scissors that cut like ninety, but they have one problem; often mine allow the blades to travel past being fully closed because they have a loose hinge or possibly a hinge that loosens up over time, but I have not worked on my scissors very hard compared to some users. Next revision they should make the scissors a little longer and have a better hinge. I'm not sure exactly how to fix it, but it needs some design attention.
So after ripping on the Charge for a bit now I am going to point out what I like about it...
1. As with my other Leatherman tools, they have the best Needle Nose Plier design and the best wood saw blade I have ever used on a MT, bar none. The pliers come to a great size tip, and now that the Charge has included the crimper I like them even more. Their saw blade cuts fast and stays sharp, if anything I wish it was a little thicker so it would not try to bend when you get to sawing fast. It's great for cutting drywall or pvc pipe in a pinch.
2. I also like the big dedicated flat blade screwdriver, but I miss the dedicated #2 Phillips, but I guess you have to trade something for the interchangeable bit socket. I also miss the Awl blade on my Supertool, but I guess you can't have it all...and I'm not geeky enough to carry two multitools, yet :)
I am not going to kid myself, it is a multitool, by definition a jack of all trades master of none. Therefore I also supplement mine with several other small dedicated tools plus a dedicated pocketknife with a heavier blade. These work better at their individual jobs then the compromised ones in the charge.
My dedicated knife is a CKRT M16-10KZ
http://www.amazon.com/Columbia-River-Knife-Tool-M16-10KZ/dp/B0017UV9W0
I also augment mine with a small dedicated screwdriver because the Leatherman is fine for tightening a screw or two, but as many times as I am needing to take stuff in and out of racks or open an electrical panel in a day I just need a dedicated screwdriver.
an Xcelite 600 Series Multidriver
http://www.amazon.com/Xcelite-600V-4-way-Pocket-Screwdriver/dp/B000ZUADDO/
(Picture does not show nutdriver socket on butt of tool)
And a small set of slip joint pliers because while Leatherman by far makes the best needle nose pliers on any multitool, sometimes needle nose pliers aren't the right tool for the job. (and yes, I did try the vise grip "toolbox" multitool, see link ... but it's even worse about being almost never the tool you really need, and the knife on it sucks even worse than the knife on my original Gerber)
Xcelite 50CG Slip Joint Pliers
http://www.amazon.com/Xcelite-Plier-Utility-Midget-Jaw/dp/B000ZUK39I/
(Proto tools makes a nice set of pliers like this just a tad bit larger and more rugged but they won't slip into the sheath of the TTi with the tool in place)
http://www.amazon.com/Proto-261sg-Power-Track-Plier/dp/B00209O2NK/
and a little screwdriver for tiny stuff called the "teeny turner" made by picqic…
http://www.amazon.com/Picquic-06102-Teeny-Turner/dp/B001QVPHBO/
I also carry the Leatherman 42 piece Bit Kit in my back pocket in its little sheath (this kit is a great value at $12.50 )
https://www.trailspace.com/gear/leatherman/bit-kit/#review18186
Lastly, I also bought the little Leatherman flashlight that fits in the side pocket of the Charge sheath. This is a great light for its size. Very bright, and runs on a single AAA battery for quite a long time. It fits right into the sheath and is very tough. It is the Leatherman SERAC S2 Led Light.
http://www.amazon.com/Leatherman-831062-Serac-2-LED-Flashlight/dp/B001ELX7CW/
I know that this sounds like a lot of stuff, but all of it fits neatly in my front right pocket, plus the bit kit in my back pocket, and the elastic pockets of the Charge TTi sheath. And BTW I wear dress pants to work, not Cargos or Jeans so I just have normal pockets.
In the end, while I like the layout of the TTi and the weight, I have to say that I still think that the original Leatherman Supertool is probably one of the best multitools I have ever owned, and if they still sold them new I would still be using one. My old Supertool is still my backup tool, but since the leather sheath wore out I upgraded to the Charge because I wanted to have interchangeable bits and a small pair of scissors.
In the end I would like to tell the manufacturer that no matter how many tools you put on a MT durability of each tool and integrity of the overall tool frame is key, because someone's life might depend on that tool in a survival situation and as far as I'm concerned the Leatherman Supertool is the most durable, KISS, MT I've ever owned or used if only it had interchangeable bits and a small pair of scissors.
My main reason for giving this tool 3.5 stars is twofold,
1. The reduced durability vs. previous Leatherman tools I have owned.
2. #1 connected with the fact that this is the most expensive MT I have ever bought...I would have thought it would be tougher.
If the TTi had been $65-$75 I would have rated it 4-4.5 Stars because it would be a better value.
Actually, while writing this review, I saw that they have a new version of the Supertool out, and I might just have to get one and try it out...maybe it might be a better tool...who knows I guess I'm a sucker for tools :)
RMG

Price Paid: $120

It stays in my pocket! I have just about every type of high end knife or multitool. I can carry any of them for the chores that I do every day. Cutting back stray blackberry bush limbs, tightening the odd screw, or working on my archery equipment are just some of the things it does well, but better than the rest of the tools that could be with me.
Pros
S30v steel stays sharp after many uses
The pliers work and don't misalign from normal tasks
It has a pocket clip and is one-hand open
Cons
The joint screws need tightening
It has no small blade
It has no small blade
Which tool do you use? The one you have. If you're not carrying it you most likely won't use it. That being said the Leatherman Charge TI is the one you will love to carry. 
1. The knife blade rocks and I know, I use a knife in some form everyday of my life.( Not just in the kitchen wise acre.)
2. The pliers make life a lot easier when your fingers are not going to get it done.
3. The locking mechanism on all of the tools work and work well and with an ease that I am not used to. I have snapped, bent, or broken all kinds of locks.
4. One-handed opening blade that closes with the same ease. This is not a switchblade, but it does open quickly enough to fight off pieces of rope and or the occasional midget zombie I mean little zom... I mean diminutive undead person.
5. I dare you to find someone rational that dislikes it.
6. I have been using the tool (not just a knife) for two years and a few months. I live in the mountains and have used it in the snow, below freezing with and without gloves, and find it to be useful almost every time. I am yet to think I should put one of the other really good knives I own in my pocket.
Source: bought it new
Price Paid: $136

Nice tool... if you need and use it!
Pros
Perfect it you need it
Nice object
Status symbol (?!)
Cons
Plyers are a bit stiff
Do not buy "just because it is cool"
Very nicely done. I bought this for bike touring, took it on a 4-week tour. I was surprised to see that I had just about no need for it :(. The material feels like solid quality, many functions but, for cycling, I just did not need these. I kept it because it is such a beautiful piece of work but I hardly ever use it. Oh, and if you watch the weight you carry be aware that it is quite heavy. Not really a "con", but be aware.
Source: bought it new
Price Paid: 150$

I bought this Leatherman when it first came out, so I have been using it for a quite few years. The Leatherman quality in this model is excellent as usual in what we see in their products.
When I first got this tool I was a working Firefighter/EMT. It came in handy through many fires and MVA's.
The tool's knife holds a very sharp edge and access to the other tools are easily accessible. You can clean this multi-tool in no time at all. The titanium on this knife does cutback on the weight. Previously to this one I used to carry a Supertool.
Recently I am a Scoutmaster and have been getting extensive use of it when I take the Boy Scouts out on their monthly campouts. If anyone is looking for a very reliable tool this is the one I recommend.
I absolutely love this multi-tool. I use it for everything everyday. It goes from the backwoods to my everyday job. It's also very strong and sturdy, it survives diesel fuel and oil all day long. I have seen this at some stores for around $85 now.
I have had this for nearly 3 years and it keeps kicking day in and day out. The only multi-tool I will purchase. I STRONGLY recommend this.
Price Paid: $135

Top tool.
I have Wave [20 yr Anniv. (YEAH) + current model Wave (BLAH)].
This is the best, in my book. The ability to have many tool bits is great, especially at work.
On a trip I predetermine the tool bits needed and off I go.
Titanium, whatever, just jacks the price I think.
Top of the line multi-tool, I carry it on my belt pretty much everywhere.  Very sharp blades, very well designed and made.  I'd buy another of the same if I lost this one.
i loved the Wave but this knife is nicer because it's titanium and it has a pocket clip.
only drawback is it's not as strong as the Wave when clipping through barbed wire.
Price Paid: $75

Your Review
Where to Buy
Help support this site by making your next gear purchase through one of the links above. Click a link, buy what you need, and the seller will contribute a portion of the purchase price to support Trailspace's independent gear reviews.
You May Like
Specs
Price
Historic Range: $83.93-$192.80
Reviewers Paid: $75.00-$150.00