Mile High Mountaineering
Salute 34
1

review

5-star:

0

4-star:

1

3-star:

0

2-star:

0

1-star:

0
Reviews
This daypack has many features that give you the versatility…
Rating:


Source: bought it new
Price Paid: $229

Summary
This daypack has many features that give you the versatility to store your gear in many configurations for your next adventure.
Pros
Access to the main compartment from the top, side, bottom and entire pack at once
2 hip pockets, 2 internal pockets (waterproof) and 1 top pocket
Conceal side straps on both side of the pack
Cons
I didn't have any problems with the zipper, but if you are in sandy conditions could see failure if not careful
Price and weight of the pack
If you have rubber type items and put them in outside bottle holders or hip pockets they will stick
If this is your first pack I would think hard about buying it. I feel this pack is not for everyone. I like to bushwhack and follow animal trails, which sometimes have limited space areas. This pack has very strong material, but at the cost of weight, but I don't have the fear of knocking shoulder strap off.
This pack gives me the ability to care want is needed on my adventures in day hiking without the worry of the pack falling apart, my gear stays in place.  I have quick access to any part of the pack with the snake zipper.
These are the things I am looking for in the following order, Convenience, Comfort, and Weight (CCW). I am not an ultralight person, so if you looking for this kind of pack you can stop reading.
The first is Convenience; the S type zipper gives me access to the entire pack in a few seconds, 90 percent of the time this is great, but in windy conditions you may want to rethink, because lighter items may blow away.  Located inside are 2 zipper pockets which are waterproof, also you'll find a pouch for your water bladder; I use this for my food mostly. The unit closes very easy, the stated size of the pack is 34 liters, if you fill it up all the way, the S zipper will cause problems to open and close, using side straps will help to open and close but be aware.
The second is Comfort; it took me about 10 carries to get the straps to dial in to my body, but after this I could go 10 or more miles with out adjustment with the same layers I was wearing. The back arch and the way the hip belt moves helps tremendously. If you don't like the movement of the hip belt you can adjust from both sides that will stop the movement. I have more than 50 carries on this pack. 
The third is Weight; no matter what anyone says, less weight is better. I found out if the suspension system is design well, it will transfer the weight to your hips and in the long treks will be much more enjoyable with out pain. The pack does a great job and has me thinking how important it's to have proper support, yes it weighs a lot more than other packs, but I have more control of weight which I feel is a better trade off from my hips to my shoulders.  
The side pockets are great. I keep a 40 oz Klean Kanteen with no problems. I do remove the bottle after hikes to prevent long term damage to the pockets, but I don't think it will damage the pockets.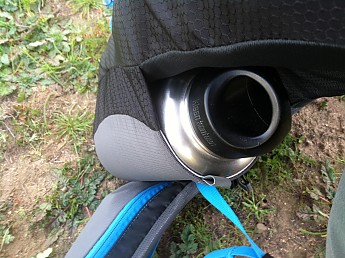 The top outside pocket has food, sunglasses and reading glasses with extra gear, you could put larger camera inside with no problems, also feels like felt inside pocket.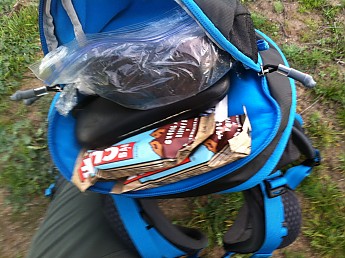 I did contact MHM about the pack. They responded very fast and referred me to a video about pack. The video gave me information but sometimes I need things in writing. I guess that makes me old. There are a few things to note, the side straps are hidden in the outside pocket with ice axe or trekking pole loops, the loops can be adjusted for size. The outside pocket has room for rain gear or whatever you want.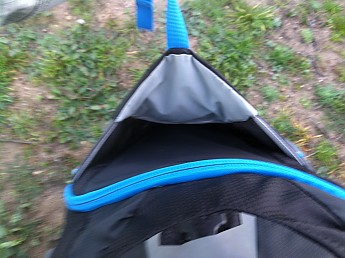 This pack meets and exceeds all my needs. This may be overkill in the amount of pockets and access it has, but what a joy to have it on the trail. My way of telling that this works for me is I don't need to adjust every few miles and it just becomes part of me. I don't have to worry about failures.
Mile High Mountaineering Salute 34
currently retails for:
$228.95 - $229.00