Mile High Mountaineering Divide 55

Specs
Price
MSRP: $269.00
Historic Range: $203.37-$249.99
Reviewers Paid: $240.00

Weight
4 lb 10 oz /

Volume
3400 cu in / 55 L

Torso length
17-22 in

Reviews
2

reviews

5-star:

1

4-star:

0

3-star:

0

2-star:

1

1-star:

0
A very well thought out and designed pack that needs to have a few kinks worked out. MHM is a fairly new company so growing pains are to be expected.
Pros
Pack fits well once dialed in and stays dialed in once set
Ventilation is above par.
The shoulder straps are comfortable and adjustable.
Sternum strap adjusts easily.
For a mid-size pack it swallows a lot of gear.
The integrated stuff sack is convenient, speeds morning packing.
The panel lets me snag something out of the bottom of the pack without unloading everything.
Cons
Lack of reference in the provided literature as to what the actual maximum load range of the pack is per MHM's specs.
Durability issues surfaced in the initial test.
Expansion collar too big for "pack slicker."
Hip-belt is difficult to remove.
I tested Mile High Mountaineering's (MHM) Divide 55 internal frame/hydration compatible backpack on a few weekenders and an 80-mile/7-day trip on the Laurel Highlands Hiking Trail (LHHT) in S.W. Pa.
I was hesitant to use this pack on a trek this length, due to its size, but it fit my gear and food with room to spare. I found this pack to very comfortable on my 80-miler, but have some questions about durability. Mile High Mountaineering is a new company and has some manufacturing kinks to work out.
Keep an eye on them, because new features take time to get right, but when they are dialed in, they may become "industry standard."
In the initial test of this pack, several components failed. I was unable to determine conclusively if the sample pack provided by MHM had been used prior to my test, damaged in shipping, or had manufacturing defects.
I repeated the test on the same trail with a replacement pack, also provided by MHM, which I confirmed was new and undamaged. This review reflects my experience in both tests.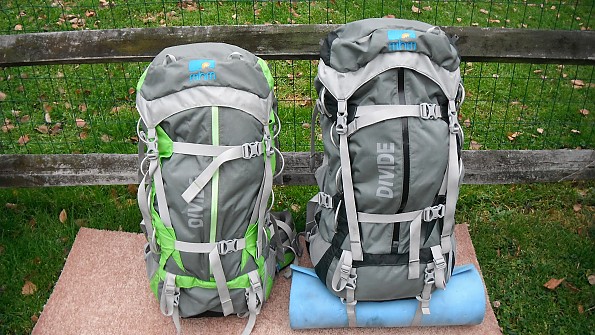 Initial test pack (green, left) and replacement test pack (black, right).
The Pack:
Here is a video courtesy of Mile High Mountaineering in regards to the features of the Divide 55:
(Now lets get into the "nitty gritty" of what I have found from my experiences with the Mile High Mountaineering Divide 55...)
Fitting the Divide 55:
The harness allows 5 inches of adjustment for torso lengths from 17" to 22" (the shoulder straps are marked 17"-22"). The harness is anchored directly to the Y-frame and uses webbing passed through a camlock buckle ("Slide N' Lock Harness").
Adjustment of the pack is quite simple. Torso length is adjusted with a camlock buckle located in between the backpanel and the pack body, which moves the shoulder straps up or down. The sternum strap was very adjustable and fit my 44" chest with plenty of room and rides on a rib built into the shoulder straps for vertical adjustment. The webbing measures ¾" — a perfect fit for the magnetic attachment for my Osprey bladder.
Hipbelt
The Divide 55 has an adjustable variCant dual-pivoting hipbelt. This comfortable hipbelt pivots with your body and does not constrict movement. The hip-belt is removable, but getting it off is quite a project, due to the sewn-in loops in the webbing. Unfortunately, the fabric separated where the webbing connects to the hipbelt. This webbing is connected to the main buckle and could pose problems if it failed. This could have caused me to abort the trip if I didn't fix it. 
This problem didn't occur on the second pack I tested.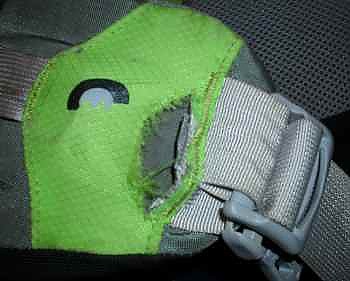 Hip belt failure.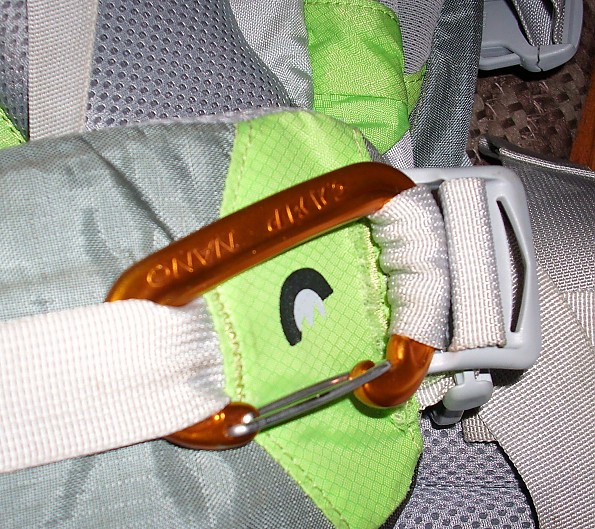 My MacGyver rig.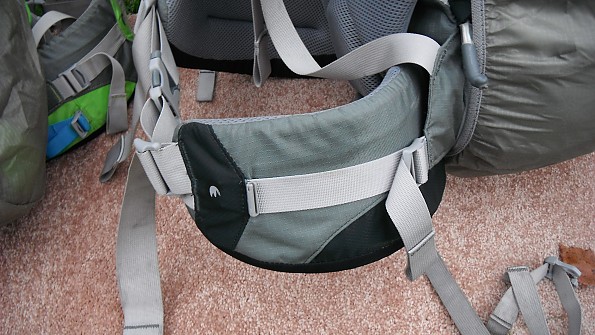 Intact hip belt on replacement pack.


Shoulder Straps
The shoulder straps on the Divide are very comfortable. At their widest, they are 3 inches and are 1-inch thick throughout and do not cause any type of discomfort despite loads of up to 34 pounds.
Sternum Strap:
The sternum strap on the Divide 55 worked very well for my 44-inch chest. The sternum strap is made from webbing that incorporates a quick release buckle to secure it.
Color/Design
The Divide 55 line has bright and vibrant colors, except for the "midnight black!" The first model I tested is "hyper lime" and let me tell you, it is noticeable. 
The second model I tested was the "midnight black" color variation of the Divide 55.
The bright colors have an energy to them in some odd way, which I haven't experienced with prior packs.
Other colors available are "solar yellow, and "blaze red" as listed in the link provided below:
http://www.mhmgear.com/products/packs/backpacking/divide-55/
Suspension/Weight Distribution
This pack utilizes MHM's Sync A.C. System, a "Y" shaped dual-stay 6061 aluminum frame and HDPE frame sheet. It is solid, very supportive, and comfortable. I adjusted the pack with 15 pounds and tweaked the fit with my on-trail load, ranging from 17.4 pounds (weekends) and 34.7 pounds for my 80-miler.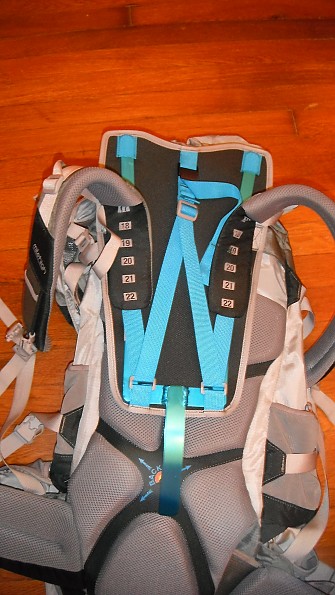 I found it an awesome weekend pack, handling smaller loads well without stress or failure. The Divide 55 was comfortable and even with room to spare there was no "sloppiness" during boulder hopping or rough terrain.
Ventilation
The Divide 55's backpanel has a perforated center insert with air channels. Despite temps in the upper 80s with humidity levels close to 90 percent, I could feel a noticeable amount of air on my back, which is a plus. The ventilation of the Divide 55 was very good considering the conditions.
Organization and Accessibility
Pockets
The Divide 55 has a "hiker friendly" layout. There are four exterior pockets on the Divide 55 (two per side), which are constructed from what I believe to be a polyester/spandex fabric. The material is robust and I had no problems with durability of the side pockets. These pockets have an elastic collar that secures their contents and feature drain ports.
There are two separate pockets in the lid. One is accessible from the exterior, via a waterproof zipper and the other is concealed inside the lid. This pocket is accessed by opening the lid of the pack and is made of mesh with a Velcro type closure. I wish the closure spanned the entire length of the opening!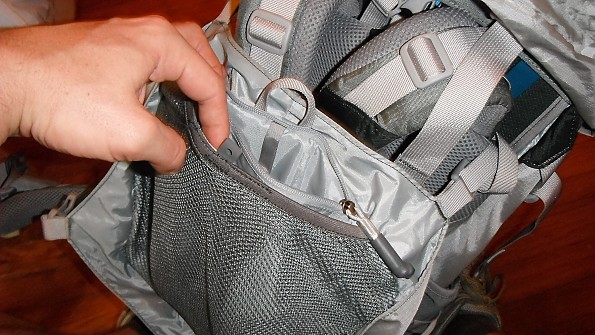 Top lid pocket.
Integrated stuff sack:

The Divide has a unique built-in stuff sac in the bottom of the pack body. The primary purpose is sleeping bag storage, but I found it useful for rain gear and gaiters. With a 40-degree synthetic bag, there was space left over. The more you put in the sac, the less internal space is left in the main compartment of the pack body, due to the bulge generated by your items in the integrated stuff sac. There is a zippered access point that allows access to this feature as seen in the photo below.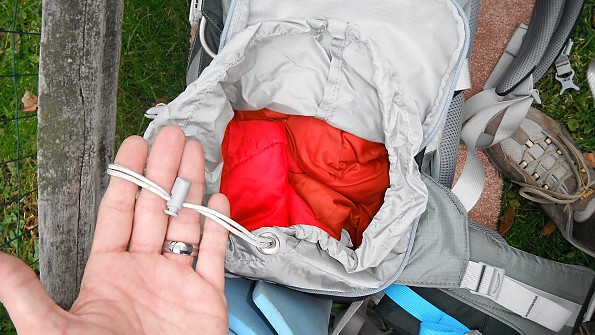 Straps, Loops, Etc.
The eight poly loops (gear loops) on the exterior of the pack body are heavy cordage, protected with clear tubing. I used these with a carabiner to carry rope, my water bottle and my Tevas. I found this the perfect place to put them while on the trail to give them a chance to dry out a bit in the sun.
The Divide 55 incorporates two adjustable ice axe loops on the bottom of the pack body. They are constructed from ¾-inch nylon webbing with what I refer to as tension adjusters. I did not have a use for this feature. If one was to pack skis the loops could be cinched down around the area of the bindings, which would increase how secure the skis would be attached.
Compression Straps:
There are nine compression straps on the Divide 55. There are two larger adjustable ¾-inch webbing loops at the bottom of the pack. I used these for my closed-cell foam sleeping pad it held my pad with no problems.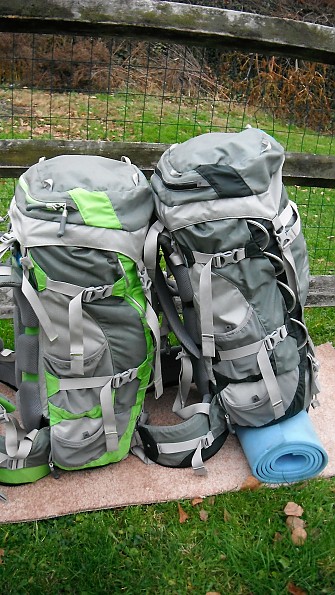 However, if you use the integrated Packslicker pack fly you will have to remove your pad from the bottom of the pack in order for the cover to fit on the pack. You can secure a pad vertically on the pack body with the horizontal compression straps and still use the Packslicker.

Water Resistance:
The pack is polyurethane coated for water resistance. It also has an integrated, 30d ripstop nylon, double siliconized pack fly (Packslicker). Despite both, moisture got into the "quick-stuff pack sac."
Granted, the wind was blowing so hard that a few large trees dropped, but this shows the Packslicker, coating and stuff sack aren't foolproof in heavy rain. In a drizzle the weather protection is adequate.
There are two zippers with a waterproof covering — one on the lid and the other a vertical zipper on the panel. The waterproof vertical zipper on the panel malfunctioned. It zipped halfway, then moved with difficulty, as if the teeth were not lining up. This created a gap in the waterproof protective covering.
When I arrived at shelter, I played with the zipper for more than an hour. There was no debris in the zipper, no missing teeth, and no obvious reason for this failure. Afraid that it would open up and I would lose something, I used my web belt to reinforce it for added peace of mind.
On the plus side, all of the zipper toggles are fairly large and rubberized, likely glove-friendly due to their size and texture.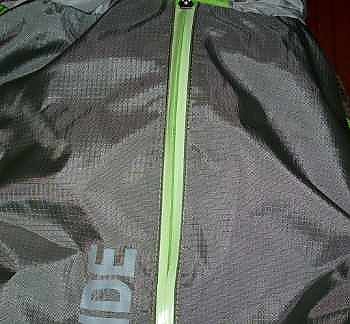 Misalignment issues with zipper (first pack).


Hydration Compatibility

Inside the pack there is a divider for a hydration reservoir, separate from the main storage area. It fit my 3L Osprey Hydraform bladder and matches a port in the top of the pack body to run the hose out to the shoulder straps. It is centered so your hose can route right or left. There are also elastic attachment points on both shoulder straps to secure the hose to either side of the pack.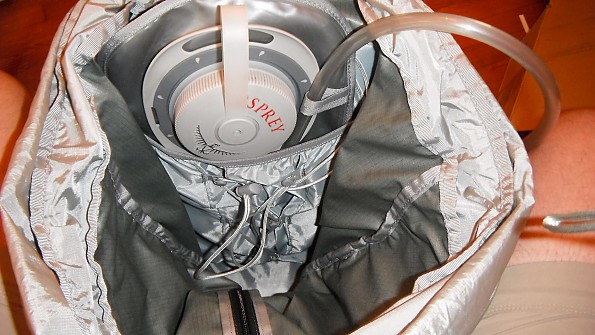 Hydration pocket.


My personal thoughts on the MHM Divide 55:
I like the design and features of the MHM Divide 55. I took this pack out on four weekend trips and an 80 miler and it survived. I liked the load carrying capacity, the comfort, and the layout of the pack
I have found from my testing that the Divide 55 is an awesome weekend pack. I used this pack on four weekend trips in the Laurel Highlands here in southwest Pennsylvania, and it excelled. I would feel comfortable packing the Divide 55 with a maximum pack load of no more than 25 pounds(not counting bladder weight.) That is where I would draw the line.
I would not use the Divide 55 with heavier loads. Heavier weight stressed the first pack I tested beyond its limits. Take this into consideration in colder climates or if you're seeking a pack to carry more than 20 pounds(although I did not experience any failures in the new unused pack supplied by MHM.)
If MHM can improve the construction/durability they can compete against the mid size packs that are currently available. It's an awesome pack when it is in one piece.
Product Notes:
The pack I tested was a Mile High Mountaineering Divide 55 backpack, (55+10L/ 3350 cu in) The entire pack body is constructed out of 315 denier ripstop Cordura Plus 80g. The pop colored (as MHM refers to the bright stuff) areas of the pack are constructed of 210 mini diamond nylon 6.0 40g, and the bottom is beefy 840d Invista Oxford Nylon 6.6 80g. All are PU/DWR coated.
Manufacturer weight: 4 lb 9 oz
Testing Notes:
I tested the MHM Divide 55 primarily in the Laurel Highlands in southwest Pennsylvania. This is very rocky terrain with an abundance of sandstone, slickrock, and lush vegetation. Temperatures ranged from the mid 40°F's to the upper 80°Fs with a maximum humidity levels close to 90 percent. There were days on my LHHT trip that I ran into some pretty hairy storms (kinda odd that I always seemed to get hammered mid-trail.) Elevations ranged from 1200 to 2950 feet.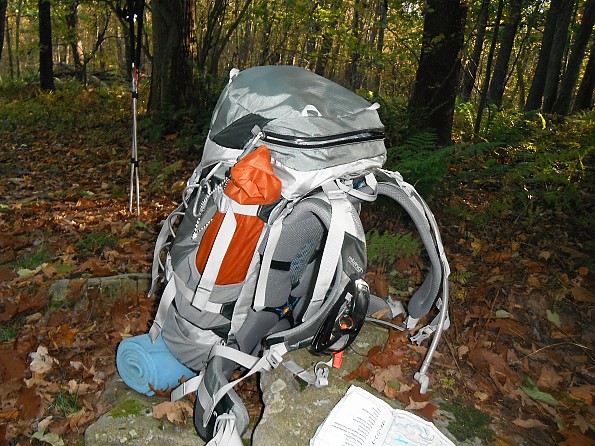 I hope you have found this review helpful and as always I hope the info contained within this review serves you well.
Happy hiking.


Source: received for testing via the Trailspace Review Corps
Price Paid: Samples provided by Mile High Mountaineering for review

I saw a short clip on a Denver news channel about Mile High Mountaineering, being they are local I decided to try them out. I liked the look of the pack to start with.
Brief history of me: I am a tall, larger woman, with a severe lumbar back problem that has now moved into my hip. Being 6'2 I have always had to get a man's pack. They never fit quite right so I just had to find the best ( but never quite right ) fitting pack. They either would not fit around me, shoulders to narrow or wide, the frame dug into my hips or right in my lumbar spine where all my issues are, were not large enough liter wise, and on and on.
I went to Neptune Mountaineering in Boulder, Colorado, and tried on the Divide pack. (Honestly I didn't have much hope.) I stuffed 30 pounds in the pack and walked around the store for a couple hours. WOW! I had virtually no pain in my back or hip. The lumbar area of the pack fit my back like it was molded just for me. I HAD TO HAVE ONE!!
I got one and started walking 3-15 miles 3-4 times a week with about 20 pounds in the pack.
Three things happened:
I have lost 20 pounds because I enjoy the almost pain free walking, so I actually go!
My lower back and hip hardly hurt after walking, and I had no tiredness between my shoulder blades!
My daughter loved it so much I bought her one.
My daughter and I went on a 3 day backpacking trip on the Colorado Trail (about 30 miles), and I was sore at the end of the day, but not almost crippled (as I had been with previous packs), I had no shoulder fatigue.
I had a place for everything: The easy top loading, front entry, built in rain fly, the side pockets, the built in sleeping bag stuff sack, the roomy top cap, the easy to reach load lifters, are just a few of the outstanding features.
I have emailed MHM on a couple of occasions, and the reply time has always been less than 12 hours, and very friendly, and eager to help out in any way possible.
I was about to give up my backpacking time with my daughter, but Mile High Mountaineering has made it possible for me to continue. I can never thank them enough for the most AMAZING pack I have ever tried. If you are considering a new pack, this is the one!!
Price Paid: $240 on sale, worth every penny!

You May Like
Recently on Trailspace