MSR
Hoop
Specs
January 2011

Minimum weight
4 lb 8 oz / 2050 g

Packed weight
5 lb 7 oz / 2500 g

Seasons
3-season

Sleeping capacity
2

Doors
2

Floor length
8 ft 0 in / 240 cm

Floor width
4 ft 4 in / 130 cm

Floor area
47 sq ft / 4.4 sq m

Vestibules
2

Vestibule area
18 sq ft / 1.7 sq m

Peak height
44 in / 112 cm

Reviews
A great lightweight and spacious backcountry tent…
Rating:


Source: bought via a "pro deal"
Price Paid: $250

Summary
A great lightweight and spacious backcountry tent for two.
Pros
Strong geometry for varied conditions
Spacious for two
Multiple setup configurations
I was the manager of a local gear shop in Flagstaff, Arizona (Four Season Outfitters). My girlfriend was interning in Yellowstone last summer and I decided it was about time that she had her own tent.
She had some specific stipulations that were difficult to find. However, the MSR Hoop fulfilled them and fulfilled them well! So, to start, I know most people will get all butt hurt and not look at this 2-person tent because it weighs 4lbs 8oz. That's fine.
This tent is absolutely bomber for "3" season sil nylon tent. All you ultra minimalists/sub 3lb 2 man tent people can go get something that will blow away in 20 mph winds. We've had this tent set up in the desert southwest, rainy pacific northwest, and up on Rainier. It has seen 50 mph winds, stood up to a 2 foot snowfall, and 48 hours of straight rain. Although I still wouldn't classify it as a 4-season tent, this tent is a SOLID 3+ season shelter.
It can be setup multiple ways. You can set up the Hoop free standing, non free standing, or fast pitch style with the optional foot print. Depending on the weight/conditions you expect, you can set up the tent with or without the two small poles on either end. These obviously add strength and stability (and the free standing aspect) but some weight. If you aren't concerned with that, don't pack those poles and you can set it up non free standing and save a few ounces.
I bought the footprint and have set it up fast pack style as well, just rain fly, poles, and footprint. This tent is mainly fabric versus mesh, so it keeps the breezes out and increases privacy when the fly isn't on (big for us in the Southwest). Dual doors and vestibules. Has internal pockets, both upper and lower, to stash your gear. Perfect amount of space for my girlfriend and I when out on backpacks. I wish it had a gear loft but I rigged one up myself.
If you are looking for a stout tent that can handle almost anything, look at the Hoop!
A little heavy but a very nice tent for two taller…
Rating:


Source: bought it new
Price Paid: $275

Summary
A little heavy but a very nice tent for two taller people, or someone like me who is tall and lets his two 55lb dogs sleep in the tent with him.
Pros
Large for a 2P tent
Many different setup options
I have only used this tent once, but since there were no other review I decided to go ahead and post a review here and update it if needed after more uses.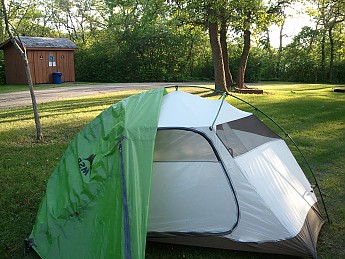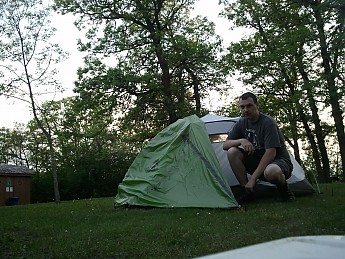 In these two pictures I have it set up in my ready-for-rain mode because it was suppose to rain that night and I wanted a view until that started. The tent breathed quite well with the half rain fly, then as I was drifting off it started to rain, so I quickly pulled the rainflay over and clipped it into place.
Unfortunately in my haste and grogginess from being half awake I did not open the vents, and as a result a half hour later I woke up overheating. I realized the problem after a few minutes and opened the vents which are held open by a plastic pieces with velcro sewn into the rainfly. Once open things cooled off fairly quickly.
I have more pictures I will upload, but in these photos I did not set up the poles that make this tent freestanding, one of the three setup options along with the lightweight mode with just the poles rainfly and a footprint.
As you can see the tent is not that tall, but I am 6'4" but I had plenty of room to sit up and strectch all the way out without me or my 77" long length pad touching the ends of the tent.
As I mentioned earlier the night I used it it was suppose to rain and did rain. I am pleased to report that me, the actual tent, and the two fairly large vestibule areas stayed perfectly dry.
MSR Hoop
MSRP:
$349.95

The MSR Hoop is not available from the stores we monitor. It was last seen April 16, 2015 at Mountain Gear.
If you're looking for a new three-season tent, check out the best reviewed current models.