Platypus
GravityWorks Filter System
Reviews
Overall I found the Platypus GravityWorks 2 liter…
Rating:


Source: received for testing via the Trailspace Review Corps (sample provided by Platypus for testing and review)

Summary
Overall I found the Platypus GravityWorks 2 liter to be a convenient and easy approach to the problem of providing potable water. No water treatment system is perfect, of course. Backpackable systems do not sterilize the water, but rather purify it to a level safe for drinking. No system suitable for backpacking removes industrial, agricultural, or mining runoff. Pump and gravity filters like the GravityWorks do not remove all viruses (except for those filters using an auxiliary iodine matrix). The weight is reasonable compared to other approaches to water treatment in the backcountry.
Pros
Versatile (fits many water containers)
Lightweight and compact (full kit 12 1/8 oz., light for hydration bladders 7 5/8 oz)
Easy to use and maintain
Very rapid treatment (measured 40 sec/liter, spec 1.5 liters/min confirmed).
Waterproof instruction sheet permanently attached to storage bag
Filter pore size of 0.2 microns blocks all protozoa, most bacteria, and some viruses
Cons
Filter pore size is 0.2 microns, so some viruses can get through
Cannot be used for water with ice in it or at temperatures below 32°F/0°C (allowing the filter to freeze will create voids in the filter element that allow contaminated water to flow through unimpeded).
Can easily get air-locks in line when starting filtering and when back-flushing
Requires back-flushing frequently (manufacturer's recommendation after every 2-4 liters)
As with all filter systems, care is required to prevent cross-contamination of components
Water Quality
As I discussed in my 4-part review of water treatment systems and in my more recent review of the ultraviolet-based Camelbak AllClear system, when I was growing up and when I began going into the woods and hills on my own, we drank from streams, lakes, whatever water was available, with no real concern about what was in it. My mother, who grew up in rural Missouri, told us that water in the creek was safe after it had flowed over three rocks (even if there was some dead animal just upstream). If it was murky, we let it settle for a while and maybe strained it through a piece of muslin to get most of the sand, gravel, sticks, and other junk out. We lived for a while in Central America and never worried about the water out of the tap.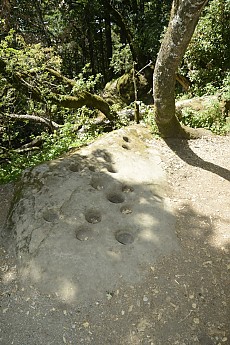 The "test kitchen" for the GravityWorks,
an Ohlone "Grinding Rock"


As a teenager and into my late 20s, when backpacking and climbing in the Sierra and Rockies, we would dip a cup in the stream (or just lay down on the bank and stick our faces in the water) for a drink. In some areas, such as during the dog sledding expedition I went on in Alaska in late March 2013, I still often just drink directly from water sources that I judge to be safe.  I suspect that, being exposed to so many critters, I have developed some immunity, because there were times when companions would become ill, usually a week or so after the trip, while I did not.
There was one major exception — I grew up during the era when the dreaded polio (poliovirus diameter 27 nm or 0.027 micron) was rampant. Since it was suspected to be transmitted through swimming pool water, we were never to drink or swallow water from the municipal swimming pool. Note that the poliovirus diameter of 0.027 microns is about 10x smaller than the GravityWorks pore size of 0.2 microns.

Many backcountry travelers drink from the streams and lakes without ill effects. But others get extremely ill. The problem is that as soon as we wander more than a few feet from "civilization," there are no guaranteed safe sources of water. I discuss the question of water and what's in it in some detail in my four-part article, "Backcountry Water Treatment" here on Trailspace.

The problem is even more critical when we go to some foreign country. Even straight out of the tap in a fancy hotel, the water may subject us to Montezuma's revenge, Aztec two-step, backdoor trots, beaver fever, loose stool, runs, summer complaint, tourista, trots, Pharaoh's revenge, mummy tummy, Delhi belly, and many other terms. These complaints are estimated to hit 20 to 50 percent of travelers. Foreigners coming to the U.S. suffer from our "pure" water and food, too.
Staying properly hydrated and healthy is fundamental to having an enjoyable experience. And that means having safe water to drink. But people get sick despite having treated their water or even packing it in. Trailhead interviews of backpackers in the U.S. and Canada point to personal sanitation and careless handling of food as the primary sources of problems rather than contaminated water. Still, even with diligent hand washing and using sanitizing hand cleaners such as Purell™, it is a good idea to treat the water you get out of the streams and lakes. Not all people in the backcountry diligently follow Leave No Trace principles and practices. And there is a reason that giardiasis is also called "beaver fever".
Water Treatment
There are several classes of water treatment suitable for the backpacker — boiling, halogen tablets (chlorine and iodine), filters, and ultraviolet radiation. All these methods have their advantages and disadvantages. You can also buy bottled water when travelling, except that some sources of bottled water just re-fill the bottles from the tap.
I have collected and used examples of all of these methods over the years. These approaches, combined with diligent hand washing and sterilizing, plus careful handling of food, have kept me almost free of the affliction in the backcountry in 3rd world countries as well as in the US, Canada, and Western Europe. Note I said "almost free". The few times when I was pretty miserable were most likely due to poor handling of food.
The most likely sources of illness from water are microorganisms like bacteria (E. coli for example) and protozoa (giardia and campylobacter, for example). Viruses are less likely in alpine environments like the Sierra, Cascades, or Rockies.
As a broad generalization, filters will remove bacteria and protozoa, but will pass most viruses, since backpacking filters have pore sizes no smaller than 0.1 micron. The hepatitis B virus is 0.042 microns, for example.
Halogens, in the form of tablets (Aquamira, Potable Aqua, and other iodine and chlorine-based brands) or solution (plain, unscented chlorine bleach) will kill bacteria and viruses, and, with sufficiently long times, protozoa (at least 4 hours to more than 24 hours, dependent on temperature). Ultraviolet light will kill or inactivate all the microorganisms. However, all ultraviolet systems, except solar exposure, depend on batteries, hence require carrying a sufficient supply or having a solar panel or other electric source.
The instructions that come with the Platypus GravityWorks specify that you back-flush the filter every two to 4 liters, and after your trip, you treat with chlorine bleach before you store the filter or after long-term use (15+ days). All filter manufacturers, whether pump or gravity, specify similar maintenance guidelines. An important caution is that you should store the "clean" and "dirty" components of the system separately to prevent contamination.
Product Details
The box contains "dirty" and "clean" bags, hoses, filter, and adapters for various bottles, as is now typical of gravity-feed filtration systems. There is a storage bag with two compartments, one of which has instructions for use printed on a waterproof plastic flap attached to the storage bag. The unit shipped to me for testing is the 2 liter size, list priced at $109.95 at some shops and $99.95 at REI and other stores. There is also a larger 4 liter size, listed at $119.95 in some shops.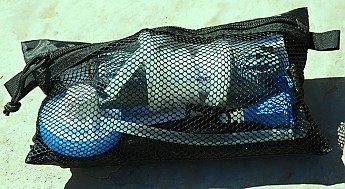 The GravityWorks in its storage pouch

As I opened the box and removed the contents (including directions in English and French, both of which I read, though not necessarily fluently in either), I compared the parts list to the items as I removed them (I have at times received packages that were short needed items, either because they were listed as "optional extras" or were just plain missing). All specified items were there, leaving me to spend some time figuring out how many of the various water-carrying containers I own could be fitted with no leakage. Cascade Designs (manufacturer of Platypus products) has done a fine job of adapters, covering the vast majority of the water bottles and hydration bladders that backpackers are likely to have these days. The main bottle top has a clever stepped-pipe design that fits a very wide variety of bottle openings, along with a double-ended press-fit adapter that fits most hoses.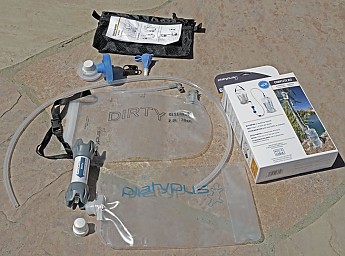 The components of the GravityWorks and its box

I will note that, in my personal experience, the plastic out of which the Dirty and Clean reservoirs are made is not very durable. I have had this material (specifically some Platypus foldable water containers) crack after repeated folding and unfolding, especially when used in very low temperature conditions (my "cold temperature" use includes a lot of sub-zero F environments, including -40 to -50°F and below). The Platypus GravityWorks is not intended for use in subfreezing temperatures (below 32°F), as is true for all water filtering systems, so this may be a moot point. Some of the failures, however, have occurred in more moderate temperatures.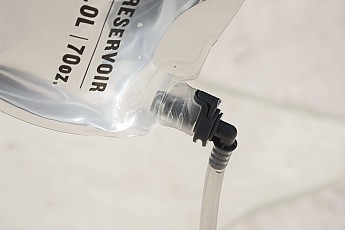 The quick-disconnect coupler attaches the short "dirty" hose
to the "Dirty" reservoir
The filter - water flows in the direction of 
the arrow, from the black inlet and out the 
white outlet through the "clean" hose
Setup
On receiving the package from Trailspace Gear Review Corps Central, I opened the box to examine the contents, and review the instructions. The supplied items consist of two transparent bags, one labeled "Dirty", the other having only the "Platypus" brand name on it. The top of the "Dirty" reservoir has a zip-type (finger operated, no slider) closure and a 2 foot clip-type strap threaded through two reinforced holes to allow hanging the filled "Dirty" reservoir from a tree or convenient hook. The lower end of the "Dirty" reservoir has a female quick-disconnect coupler, which matches the male coupler on the short 6-inch  "dirty" hose. The other end of the short "dirty" transparent hose is press-fit onto the knurled black ("dirty") inlet end of the hollow-fiber membrane filter cartridge, specified to have a pore size of 0.2 microns.
The opposite end of the filter (the white "clean" outlet) gets connected to the long (42-inch) "clean" transparent hose The transparent hoses perform two main functions beyond simply transporting the water being treated – inspection for discoloration in the water (indicating contamination or filter failure) and allowing checking for air-locks. They also play a role in checking for bubbles during the Filter Integrity test, which would indicate internal breakage due to dropping or allowing water inside the filter element to freeze.
A ratcheting hose clamp is provided to slide onto the "clean" hose to control the flow of water through the system.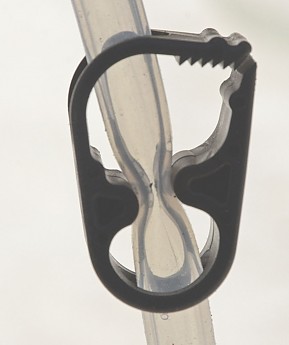 The ratcheting hose clamp in open position

 A big plus for the Platypus is that both clean and dirty bags and the hoses are transparent. This gives a visual indication of the effectiveness of the filtering process and an alert in case the filter is clogged or compromised, as well as a visual check on air-locks in the system. Other gravity filter systems (such as my Sawyer) have opaque bags and hoses.
The hose adapter for the Platypus push-pull drink valve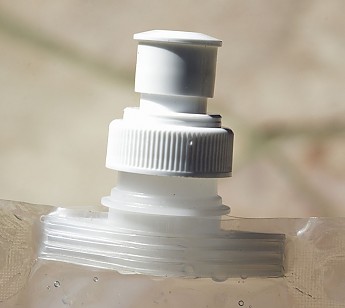 The Platypus push-pull drink valve on the "Clean" reservoir
 
The versatile water container adapter system to match
a wide variety of water bottles and hydration bladders
 The adapter on a standard 1 liter Nalgene water bottle

The adapter on a Hydroflask of smaller opening
Direct connection to the hose of a Camelbak hydration bladder

The Water Filtering Process
Where possible, for any water treatment process, I let the water settle for several hours or overnight, then decant the clearer water from the top through a couple layers of old cotton sheet into another container for treatment or filtering. For the Platypus GravityWorks (and other gravity-fed systems), this means pouring the water into the "Dirty" bag. During the testing, I both filled the "Dirty" bag by immersing it in the pond or creek and alternatively by filling my Sea to Summit "Kitchen Sink" (a 10 liter foldable bucket, also used in my 4-part article on water treatment).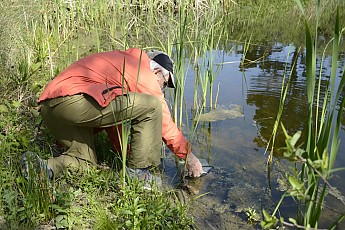 Filling the "Dirty" reservoir by directly putting it into the pond

Using the Sea to Summit 10 liter "Kitchen Sink" to collect water for drinking

Filling the "Dirty" reservoir from the "Kitchen Sink". Note that wearing an Official Trailspace Cap is necessary to insure a complete, accurate, and thorough review of any gear by the Trailspace Gear Review Corps!

The Platypus GravityWorks filtering process itself is very simple and rapid. Most of the steps are illustrated in the accompanying images. The Dirty reservoir is filled with water from the nearest stream or pond and the "zip" closure sealed by running your fingers over it and squeezing. Test that it is closed by inverting the filled bag. The Dirty bag is then hung at some height above the ground, preferably high enough that the hose line will be relatively vertical from the Dirty bag to the entry point of the clean hose into the Clean bag. The female quick-release connector at the bottom of the Dirty bag is closed until you insert the short hose connector into it (after assembling the rest of the system).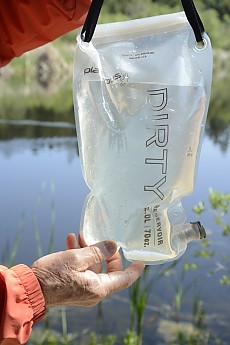 The Dirty reservoir filled with pond water,
ready to have the quick-release coupler inserted to filter
The next step is to assemble the feed line by attaching the short hose to the input of the filter by sliding it onto the black knurled connector (note the big arrow on the side of the filter body in the image above). The long "clean" hose is attached to the output of the filter by sliding one end onto the outlet white knurled connector. The ratcheting clamp is opened and slid onto the clean hose. I found it most convenient to place the clamp about 6 inches/15 cm from the filter. You now choose what container you will be feeding the filtered water into and attach or drop the outlet of the hose into it.
In the illustration, I show filling the Clean bag with the Platypus push-pull cap on it. For this, you attach the hose to the blue elastic cover that fits over the push-pull cap that you have attached to the Clean bag. Remember to open the cap. At this point, you insert the quick-release connector on the short hose into the connector on the Dirty bag.

The assembled and filled GravityWorks filter ready to filter

The Clean bag does not need to be hoisted off the ground, though it can stand upright. As the images show, the receiving container should be about the hose length below the Dirty source bag. The clamp is then opened and the water will flow fairly quickly through the filter and into the Clean bag, bottle via the bottle adapter, or from the end of the clean hose directly into your bottle or hydration reservoir.
You may encounter an air-lock in the line. The illustrated instruction sheet that is attached to the storage bag shows one method of removing the air-lock, which is caused by one or more air bubbles in the line. Once the bubbles are removed (or more correctly, moved to the Clean bag or water bottle), the system filters the water fairly quickly, taking about 90 seconds to filter 2 liters of water. I have found with gravity filters that letting the first few ounces of water flow through the system and onto the ground tends to avoid air-locks.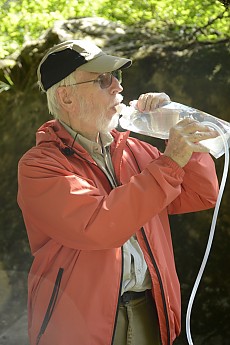 A refreshing drink of freshly filtered water!
Of course I drank it! That's part of the thorough 
testing the Trailspace Gear Review Corps does!
Note that NO systems readily carried by backpackers are capable of removing industrial, agricultural, or mining runoff. Be aware of the sources of the stream or pond from which you are taking your water. Platypus includes this warning on the box, in the directions folder, and on the flap in the storage pouch. There are several popular regional open spaces in Almaden Valley, not far from where I live, that have all their streams and ponds contaminated by runoff from the old mercury mines in the area, notably in the ominously named Almaden-Quicksilver County Park.

Avoid cross contamination by making sure you:
Do not allow untreated water to get into the "clean" parts of your system (hose, clean reservoir, water bottles, etc)

Store the clean and dirty components of your system separately (I use individual Ziploc bags for each component, rather than just shoving everything into the two compartments in the provided storage bag, a habit I developed years ago with other filter designs).

Back-flush as recommended every 2 to 4 liters of water

For storage and on long (greater than 15 days) outings, disinfect the system as recommended with chlorine solution.
But what do you do for a month-long backpack or a thru-hike on the PCT (2,600 miles) or AT (2,200 miles)? Following the directions explicitly would mean back-flushing the system several times a day if you are using it for a group of 3 or more. Based on my experience with other filters, I would expect that back-flushing is only needed when the flow rate is noticeably slowed.
Some water sources (glacial melt or streams in volcanic regions) do clog filters more rapidly, which would require more frequent back-flushing. But even many of the shorter thru-hikes require most hikers more than the 15 days recommended in the instructions for the disinfection cycle. Personally, I believe that the recommendations for disinfection are overly conservative. However, as always, since I am not an MD or public health professional, I recommend following the manufacturer's instructions.

Testing
I carried the GravityWorks on several short hikes and overnights. I did not carry it on an extended expedition, since (1) I needed to complete the evaluation in a fairly short period, and (2) the extended expedition I did go on was at high altitude and low temperatures, thus risking freezing the filter and fracturing it.
In tests with tap water, I found that the claim of 1.5 liters a minute was matched (40 seconds with the Dirty bag filled to the 1 liter mark and 1.5 minutes when filled to the 2 liter mark. When using somewhat murky pond water, I found that the rate slowed after a few Dirty bags full. Back-flushing as directed returned the flow rate to the 1.5 liter/min rate.
The GravityWorks worked fine on all outings. The taste of both the stream water and the murky pond water was as good as some of the pricey bottled waters. For many filters I have used, ponds as murky as the one in the images often have a noticeable taste even after filtering. In my experience, filters with an activated carbon element do remove much of the taste, though Platypus does not offer a carbon accessory.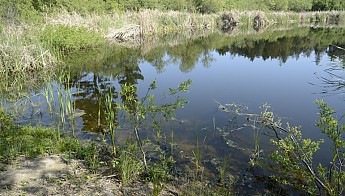 This pond was one source for the filtering tests

Over the years, I have acquired a number of water treatment systems, including several pump filters and a competing gravity filter. A common complaint about pump filters is that they require a lot of tiring muscle power to get a liter of water. This is especially true of those filters which have sub-micron pore sizes, such as Katadyn's Micro (0.2 micron pore size) and my Katadyn Hiker Pro (0.3 micron pore size plus carbon element).
By contrast, gravity filters like the Platypus GravityWorks require no muscle power, using the Earth's gravity to do all the work, plus gravity is there all the time. In addition, the GravityWorks is lighter than most pump filters, particularly since you can use it in the "bottle"configuration and the Platypus Clean reservoir will serve as your hydration reservoir to go in your daypack.
Maintenance:
Filtering and UV water treatment systems require a certain amount of maintenance, which chemical treatment systems do not. Boiling requires carrying extra fuel, though no maintenance beyond that for the stove (which you have to do for cooking anyway) and cleaning the pots.
The maintenance of the Platypus GravityWorks is quite simple. In the field, the only thing you need to do for most trips is occasional back-flushing. This is done by simply inverting the system to run filtered water backward through the filter. The instructions advise regular backflushing every 2 to 4 liters, or if the flow is noticeably slowed, indicating clogging of the filter.
Fill the Dirty reservoir and run the water through the GravityWorks as usual, disconnecting the quick-release coupling on the Dirty reservoir, while there is still a half-liter or so of water remaining in the Dirty reservoir. This ensures that there is no air-lock in the line, along with a supply of clean water in the Clean reservoir to use in the back-flushing.
Next, raise the Clean reservoir a few feet and let water flow out of the quick disconnect coupling onto the ground for a few seconds or until the water runs clear. You can now lower the Clean reservoir and reconnect the quick-release coupling and resume filtering as usual. That is all there is to the back-flushing.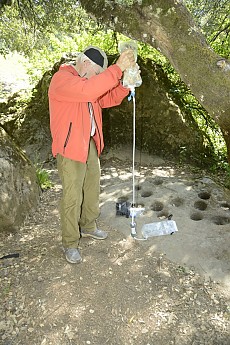 Back-flushing while leaving the Dirty reservoir attached

As mentioned above, after a couple weeks of constant use or when placing the unit in storage, it is a good idea to disinfect the system. This, too, is a fairly simple process, especially if done at home. First rinse the Dirty reservoir with clean water. Then fill the Dirty reservoir with 1 liter of  clean water and add 2 drops of household bleach – the plain chlorine bleach that has no fragrance or dyes. Read the bleach bottle carefully to be sure it is pure sodium hypochlorite (the cheap store brands generally, not the nationally advertised brands). Be very cautious with the bleach, since it is poisonous and can cause blindness in concentrated form if you get it in your eyes and can bleach spots on your clothes if you spill it. Do not let small children in the vicinity.
Next assemble the filter system with the clamp closed. Hold or hang the Dirty reservoir with the now-chlorinated water above the sink or laundry tub, open the filter and let the solution drain through the filter. When completely drained, rinse all parts of the system with clean water and towel-dry the insides of the Dirty and Clean reservoirs. The filter itself will not dry inside, but the chlorine solution that remains will prevent growth of the nasty critters and biofilm.
If you have reason to suspect a possible fracture of the internal filter elements, the instructions include a simple Filter Integrity Test, which is to attempt to blow through the filter in the reverse flow direction. If you can blow through the filter in reverse, or blowing through the filter toward the Dirty reservoir, if you can see a steady stream of bubbles, the filter is compromised and should not be used, but must be replaced.
Operating Limitations
The operating limitations are unlimited on the high end (except by human tolerance) and no lower than 32°F/0°C, or water containing ice. Note that allowing the filter to freeze is likely to cause cracks in the multi-filament filter element, which would allow unfiltered water to get through.
Weight
The GravityWorks filter system can be carried in several different configurations at a wide range of weights, from light enough to satisfy the most avid Ultralighters to a more complete configuration that is still quite light.
Full kit to cover all possibilities on an extended trip – 12-1/8 oz
Filter, Dirty bag, hoses, hose clamp, and bottle adapter – 9-1/8 oz
Filter, Dirty bag, hoses, and hose clamp (fill bottle directly – 7-5/8 oz
Conclusions:
The Platypus GravityWorks 2 liter filter is compact, light weight, effective on most water sources found in North America, and easier to use and more rapid than pump filters. Given the caveat that it does not remove most viruses (rare in places like the mountains in the Northeastern U.S., the Rockies, the Sierra, and the Cascades), it is an excellent choice for backpackers.
My personal choice:
My personal choice for water treatment depends on the type and location of outing. I have and use all styles of treatment. All the approaches have their advantages and disadvantages. Filters and UV systems tend to be heavy, plus filters tend to clog, especially when the water source is from a melting glacier or a stream that runs through volcanic soil (such as in the Cascades). Chemical treatments take an extended time and tend to leave a disagreeable taste, with some chemical treatments having long-term health risks. Heating water to pasteurization temperature (155° F for 5 to 10 minutes, boiling is not necessary) requires extra fuel (water boiled over campfires often tastes of smoke and ash).
If I will have a source with clear water or can get the water clear enough with settling and a prefilter, I use the UV systems (the SteriPen or Camelbak AllClear) for my personal water (plus maybe one companion) for long day hikes, backpacks up to a week or so (longer if I carry my solar panel), and for third-world countries where I will be using tap water.
If the water is going to be turbid (full of glacial flour or volcanic ash, for example) I use a filter with prefiltering (Katadyn Hiker Pro usually, sometimes Sawyer gravity filter 2 liter), followed by either a UV treatment or chlorine dioxide tablets . Cooking water has to be heated anyway, so no further treatment is needed. I have been using UV treatment for tap water in foreign countries (a few times in a restaurant, when I was unsure of the source of their "bottled" water. But remember, you can't use the UV treatment if there is ice in the water.
Having said that, based on my tests during the review, the lighter weight, and the transparent reservoirs and hoses, I will be making a lot of use of the Platypus GravityWorks 2 liter filter from now on.
Comparative weights of some water treatment systems as carried in the field:
            Platypus GravityWorks complete kit: 12-1/8 oz
            Platypus GravityWorks bottle kit: 9-1/8 oz
            Sawyer 0.1 micron gravity filter 2 liter: 16.2 oz (including the two 2-liter bladders)
            Camelbak All Clear (bottle, std cap, UV cap, case): 13.6 oz
            Camelbak ¾ liter bottle with bite valve and non-filter straw: 7.2 oz
            Camelbak Groove (¾ liter bottle with "straw filter"): 6.9 oz
The following do not include a bottle or other container. Container weight should be added:
            SteriPen Venture Opti (UV) with batteries: 3.6 oz
            SteriPen Venture contact (UV) in solar case with spare batteries (Opti is same): 11.5 oz
            SteriPen Pre-filter: 1.5 oz
            Katadyn Exstream XR (bottle with filter straw and "virus treatment"): 9.6 oz
            Katadyn Hiker Pro pump filter kit (incl prefilter): 15.6 oz
            Sweetwater pump filter kit (incl prefilter): 13.4
            First Need pump filter kit (incl pre-filter): 14.2 oz
            MSR MiOx kit (generates chlorine dioxide from rock salt and water): 5.8 oz
I've used the Platypus GravityWorks for about a year…
Rating:


Source: bought it new
Price Paid: 110 bucks

Summary
I've used the Platypus GravityWorks for about a year now. Extremely easy to use and the best part... It requires NO pumping. It's also lighter compared to some of the other water filter systems out there (especially when you ditch some of the hydration connection components that may be unnecessary based upon each individual's hydration carrying method).
Pros
Lightweight
Easy to use
NO PUMPING!
Cons
Pricey compared to pump options (Saw the Katadyn Hiker PRO at the time of this review for 60 bucks at REI)
The Sawyer option comes with the million gallon guarantee, while the Platypus has a filter life of 1,500 liters.
While writing this review, I am resigned to note that whatever I write, I'll probably not get anywhere close to Bill S's review, in terms of attention to detail, quality of the review, etc. etc. Actually, his review was part of the reason why I chose the GravityWorks system in the first place. But here are some of my personal experiences with the GravityWorks 2L:
Effectiveness: So far, I've had nothing but good experiences with the GravityWorks. I've never gotten sick from the water I've consumed from water treated with the GravityWorks, but I've also only used the product domestically in the United States.
According to the product, the filter physically removes particles, protozoa, and bacteria down to 0.2 microns in size, including giardia, salmonella, cryptosporidia and others. From a personal experience, I've always had great tasting water when treated with the GravityWorks. I've used it with water sources ranging from alpine lakes, streams, and rivers.
Speed & Efficiency: Platypus claims a flow rate of 1.5 liters per minute. Of course, backflushing the GravityWorks periodically will improve the flow rate of the filter. While I have never actually timed the claimed 1.5 liters per minute flow rate, I did have an experience in Cottonwood Lakes in the Sierra last summer where I used the GravityWorks while a fellow buddy of mine used a traditional pump system. Needless to say, the GravityWorks was much faster and easier compared to my poor buddy pumping away.  
Capacity: While I only purchased the 2L version, it does treat enough water for groups based upon the ease and efficiency of use. I've used the GravityWorks for groups of four and water filtration duties are a breeze.
Furthermore, since the Gravity Works comes with an assortment of components for hooking up to hydration bladders, Nalgenes, and push/pull caps, the GravityWorks is perfect for groups of hikers who have varying individualized hydration systems for carrying water. In terms of weight, for a group of 4, that only comes out to be 3 ounces per person for a water filtration system!! (Total claimed weight of the GravityWorks: 11.5 oz)
Ease of Use: The Gravity Works is EXTREMELY easy. Simply fill the dirty bag, connect the components, and let gravity run its course. While the Gravity Works is commonly shown hung from a tree branch, I've often hung the dirty bag around my neck when branch hangings aren't easily found.
Sounds a little silly, but on trips to alpine lakes during hot days, hanging the dirty bag around my neck was actually quite pleasant, as the water in the dirty bag helped cool my core while filtering water. But of course, the best part of about the GravityWorks is that there is NO PUMPING INVOLVED.
Cleaning of the product is also quite simple. Two drops of bleach for every 1 liter of water helps disinfect the system for long time storage and after long term usages. A simple backflushing of the GravityWorks also helps improve the flow rate of the filter.
Features: The filter life of the GravityWorks is rated to 1,500 liters. This is a little disappointing knowing that the Sawyer version has a million gallon guarantee at the same price. However, the GravityWorks is lighter compared to the Sawyer system (Sawyer 2L System claimed weight: 16 oz).
Construction & Durability: After a year of use on multiple trips, I've had no issue with the construction and durability of the GravityWorks. Disinfecting the system assists in any smells or bacteria growth when storing the product for long periods of time. As aforementioned, backflushing the GravityWorks helps improve the flow rate after multiple uses. So far, after a year of use, I've had no problems.
Conditions: I've used this product mainly in California (Sierra, Angeles National Forest, and once in the Cascades in Oregon) during warm spring/summer/fall months so I cannot attest to its ability in cold/below freezing weather.  
Price: As noted above, there are other less expensive water treatment options out there, such as the Katadyn Hiker pump system. However, at the time of this review (May 18, 2014), I saw that the GravityWorks 2L is on sale for 80 bucks at REI, 30 bucks cheaper than the usual price.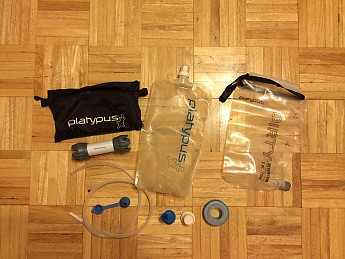 Use of Gravity Works at Sykes Hot Springs in Big Sur: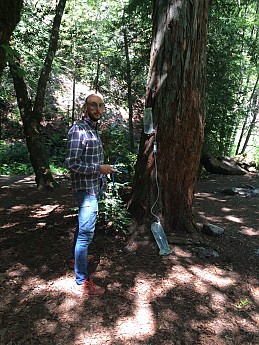 Here's another pic of the GravityWorks in use in the Sierra last summer (sorry for the gratuitous "bending over in front of the camera" picture):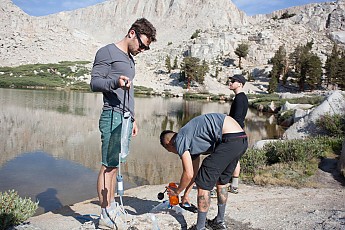 Game changer. Used on an 11-day trip to the BWCA and…
Rating:


Source: bought it new
Price Paid: $129

Summary
Game changer.
Pros
Lightweight
Fast
Easy to operate
No moving parts
Easy to backflush (usually)
Multi-use
Cons
Needs syringe for occasional backflushing
Used on an 11-day trip to the BWCA and sourced my water right next to the shore. I could literally see little critters swimming around in the pre-filtered water most of the time.
After having used an MSR MiniWorks ceramic filter for years, and having been quite happy with it, I was reluctant to part with $129 for this new technology, but it turns out to be one of the best investments in kit I have ever made. You simply fill the dirty bag, connect the inline filter, hang the dirty bag higher than the clean bag, and go do something else for 5 minutes! No more sweating 1/2 liter for every liter of water laboriously pumped through a ceramic filter! 5 minutes later, you return to a clean bag full of crystal clear water.
Backflushing is usually as simple as holding the clean bag higher than the dirty bag (thus reversing the flow) but occasionally you need to give the clean bag a bit of a squeeze to force crud out of the filter element. There was one instance where I wasn't able to use this method, and it kinda freaked me out. However, I had a large syringe from a backup filter (Sawyer brand that uses similar hollow fiber tech) which I was able to use quite effectively to push the crud back out of the filter (and it was a LOT of crud).  A syringe should be included for the price that this filter costs.
The clean bag can be used as a storage bladder, and the spout fits standard caps and nozzles (I think I have Nalgene brand, and they fit just fine).  The dirty bag can be used to store dirty water for putting out the campfire when it's time for bed.
11 days, a LOT of water (seriously, it was sooo easy to use we washed up with filtered water just because we could!) and no cooties. Oh, an NO MORE PUMPING (FTW)!
Though it is a little bulky and requires some at home…
Rating:


Source: received it as a personal gift

Summary
Though it is a little bulky and requires some at home care, this filter can't be beat as far as filtering a lot of water quickly with very little work. To filter water, all you need to do is scoop, set, and relax.
Pros
Holds up to 8 liters of water
Filters quickly and with little effort
Relatively light
Cons
A little bulky
Requires care to prevent mold or mildew
When I hike, I normally travel with my husband and my dog.  The Platypus filters more than enough water for us.  Plus it takes all the work out of the process.  All you do is dip the dirty bag into the water source (the bags are labeled in big letters to prevent confusion) and elevate it above the clean bag.  The water flows from the higher bag, through the filter, and into the clean bag.  Then sit back and relax, but not for too long because it only takes 2.5 minutes to filter 4 liters.  The greater the height difference, the better the flow especially at the end.  (They call it GravityWorks for a reason.)  This filter excels for large groups or when the water source is a trek and you only want to go one.  Each bag holds 4 liters, so you can filter 4 at the source, and the scoop up 4 more to filter later. 
This product meets all EPA & NSF guidelines for the removal of Bacteria and Protozoa, including Giardia, Cryptosporidium, E. coli, Salmonella and Cholera.  It does not work on viruses, chemicals, or toxins so if your hike is planned for Africa or Chernobyl, look else or pack water purification drops.  In my experience, the Platy does a great job clearing up water, and significantly lightens up rusty, leafy water.  If the water is really full of debris, I would recommend pre-filtering with a bandana or the like before running it through the filter.  This will help prevent clogging, as with any filter.  
The two bags roll up together with the hose and filter and come with their own little stuff sack.  I normally store them at the top of my bag so there's no chance of a hose getting creased.  They're probably more durable than I give them credit for, but I do try to treat them with care.  
Cleaning them out after the trip is a little more difficult.  The filter itself is really easy - give it a quick back-flush and you're good to go.  The dirty bag is also easy because the top opens completely like a zip-lock.  Just stick a paper towel in and wipe it out, then dry it.  The clean bag is where the pain lies.  It opens with a normal sized bottle cap, so in order to get it to dry completely, you must blow into the bag and find a way to keep sides of the bag rom pressing together.  Once the bag is worn in, it gets easier through.  
I have had this filter for year now, and its still looking and working well after full season of use.  I'm excited to use it again this summer,  I usually only go on 2 or 3 day trips, so I cannot speak to its durability during constant use, such as on a long trail.  If you are a solo hiker, this filter is probably overkill.  Platypus makes a smaller model that only has a dirty bag, and then filters into a water bottle.  This might be a great consideration if you don't need the volume.  
OMG! Seriously? If you haven't already drooled all…
Rating:


Source: bought it new
Price Paid: Used a REI gift card. I just don't remember. Whatever the going rate at REI is.

Summary
OMG! Seriously? If you haven't already drooled all over one of these like a lifeless zombie online or in your local shop for hours by now than you've probably already bought one. Here's why you should too. It's perfect in almost every way. Period.
Pros
NO PUMPING! This is the best part. Hands down.
Super fast! This thing is quick. Before you get your cook pot set up it's ready to go.
Light. Like Feather light.
Small. Fits anywhere you want it to.
Large capacity. 4 liters at a time is plenty. Really.
Versatile. Rig it up with your own bladders. I don't care.
Easy to clean. Back wash and done.
Cons
Hmmmm. I'll get back to you on that.
Oh. Not 4-season. You freeze it, you broke it.
I could just list everything above in the Pros column but I have to get something in here too. 
The Platypus GravityWorks Filter is a God send. It filters out everything I'm worried about accidentally ingesting plus... No more endless trips to hand pump out of the stream! No more iodine and chlorine tablets or boiling or any other negative thing any experienced backpacker can come up with when it comes to getting their potable water. It's a drag.
Well, no more. Because these guys invented something called "Gravity". Okay. They didn't invent it but they did find a way to harness its power to make backpacking just a little more fun for everyone.
I recently bought one of these for myself, but I have been using a friend's for a few trips. Including a couple weeks in Hawaii.
Imagine hiking into your campsite and you still have to go a 1/4 mile to resupply your water for the night and breakfast tomorrow. Thinking about having to pump four liters would have been a nightmare. I don't care how good your pump is. But instead you just fill up your four liter bag and off you go to camp.
If you wanted to be really nice and bring more back you can sit there and let the filter do its work and when done fill up the "dirty" bladder one more time for later. We often bring a plethora of bladders when we know water won't be close and know we'll be at the same spot for a while. This is convenience at its best. 
Now, once you've filled the "dirty" bladder through its Big Mouth opening at the top, just zip it up and let gravity do its thing. The instructions tell you to back wash it after a little water comes out of the clean side of the filter. This does work. If you don't the air bubbles will get caught in the filter and stop the filtering process cold. One note about filling the bladder. Bring a little shovel and something to ladle water out of streams just in case you can't submerge the entire bladder. I'd say bring a pump for that too but that would defeat the purpose.
Your bladders are full and they're hanging from a tree or post and all you have to do now is use that nifty little plastic stopper to release water from your clean bag directly into your mouth or cook pot, water bottle, over your head or whatever. It's great. The plastic piece is a little odd in its design but very effective. Once you get the hang of it you wont feel like you're all thumbs trying to manipulate its springy latch system.
Another cool thing about this filter is you can detach it from the bladders and submerge it directly in water and use it like a straw. There is hardly any resistance from the filter itself. Great for day hiking or whenever your out in the woods. 
The filter is very light and can be damaged if dropped more than a few feet. You can test it to make sure if you aren't already. Spare filters are like $45 I think. Get one and bring it just in case. It's always good to have a backup. Even better when that backup is the same filter. 
So this filter is versatile enough for any person on any trip short of excursions where freezing temperatures are expected. Even than, you could probably keep it close enough to your body to prevent that from happening but I wouldn't take the chance. Great product.
This water filter is definitely the best thing going.
Rating:


Source: bought it new
Price Paid: $100

Summary
This water filter is definitely the best thing going. I have been on numerous multi-person hikes and it keeps everyone in water no matter what the situation. It filters 4 liters of water in minutes and is very easy to use and clean the filter. There is no pumping...just scoop up 4 liters of water and hang both bags. It is as easy as that. In less than 10 minutes you have 4 liters of water.
Pros
It weighs about the same as most pumps.
It filters 4 liters of water virtually effortlessly.
It is so easy to clean the filter.
Cons
The only con I can think of is that sometimes the "pinch" seals at the top of each bag are tough to close with cold hands.
I hike between 50 and 150 miles each summer in the High Sierras. I have been hiking about 15 years, and in that time I have used many water purification methods (iodine, pumps...).
The first trip into the backcountry with the Platypus, I was completely sold on it. It was a trip with five other people. We hiked 60 miles over 6 days. During the trip, hiked all day and camped near water each night.
Each night as we entered camp, the first thing I did was take out the Platypus Gravity filtration, scoop up 4 liters of water in the "Dirty Bag" (labeled), hang this bag above the "Clean Bag" and open the clip allowing water to flow. Then I went about my business setting up my tent. Before I was finished setting up my tent, the system had already filtered 4 liters of water and everyone was able to drink. We transferred the 4 liters into a bladder and were able to filter more as we needed it.
This experience is typical of every time I have used this system.
While hiking, some of the hikers have gotten low on their individual water supply. I stopped with him, took out the Platypus system, and we were back on the trail within 6-7 minutes. He completely filled his Camelbak in that time.
At least four of my hiking buddies have purchased this system after experiencing it with me. 
I have had this system for about three years now and it has never failed. With no working parts, or small pieces which can easily break or become lost, It is perfect for any size group.
The only negative I can think of... pinching the bags closed so water doesn't spill out. When it is very cold out, pinching the "zip-lock" tops of the bags is difficult with cold fingers.
The ease of use though, GREATLY outweighs any small negatives such as this.
This is an excellent filtration system. In my mind,…
Rating:

This is an excellent filtration system. In my mind, water purification is the toughest place to find the perfect piece of gear —  chemicals take too long and muddy up the taste of delicious mountain water; filters break, clog, slow down, and take too much effort at the end of a long day, UV systems run out of batteries and the bulbs break. While this isn't perfect, it's a great piece of gear to have available.
I bought the CleanStream before leading a group of 9 people, including several new backpackers, on a long trip into the Sierra Nevada. I figured the large capacity and ease of use would be helpful with such a large group, and it came through.  All you have to do is fill it up, hang it, and then ignore it, and you'll shortly have a big bag full of clean water.  I've only had the CleanStream for about 6 months and it's already filtered hundreds of liters of water with no issues at all.
Downsides: As another reviewer noted, the zip closures can be surprisingly difficult to seal.  It begins to run slow fairly quickly, and backflushing is a bit finicky. But these are minor problems — the benefits of such an easy-to-use system far outweigh my minor gripes.
This filtering system is the best I've used. I am…
Rating:

This filtering system is the best I've used. I am an ultralight backpacker, and I've carried and used this filter in all four seasons. It is uncomplicated and filters a lot of water very fast with no work our your part...fill it and hang it.
If you cannot find anything to hang it from, the ClearStream filters fast enough that you can just hold it up until the water moves from the "Dirty" side to the "Clean" side.
The only drawback I've found is that the "ziplock" style closures are a bit tough to seal and even more so in cold weather. However, once you get them zipped tight the water does not leak out. I love this filter.

I have owned other filtration systems before but nothing…
Rating:


Price Paid: $89.95

I have owned other filtration systems before but nothing that worked this well and was this simple to use. It's light weight, clearly marked (one bag is marked clean and the other dirty), fast, and most importantly the water gets clean with no weird taste. Oh and filtering 4 liters at a time in under 3 minutes doesn't hurt either. I can't think of anything bad to say about it.
What gets better than being able to filter dirty stream…
Rating:


Price Paid: $100

What gets better than being able to filter dirty stream water into clean drink water in less than 2 minutes and you're getting 4 liters of it at once in a carryable bag. The bags are very thick and durable as well as the rest of the materials for the filtration unit.
The filtration system is so easy to use you can pull it right out of the bag and start to use it. Everything is labeled clean bag, dirty bag, which way to filter the water through the filter and so on.
When you're done using the unit just roll the bags up unhook the hoses from the filter and throw everthing into your pack and you are ready to keep on trekking. I wouldn't get anything else this is extremely practical and efficient to use on the trail.
Excellent and easy way to filter large quantities…
Rating:


Source: bought it new
Price Paid: $109.95

Summary
Excellent and easy way to filter large quantities of water in the backcountry.
Purchased the Sawyer 2-liter gravity system, only to have it clog permanently after first use. Returned it and got the Platypus and not only is it lighter and more compact, it's much easier to use and is more versatile. Plus, it's fast! Clocked it filtering 2 liters at 1 minute 33 seconds. Not bad. It can be a bit of a struggle to fit all the components into the stuff sack but that's minimal compared to how well this system works.
Highly recommended.
Simple, quick, reliable, light, easy to use, easy…
Rating:


Source: bought it new
Price Paid: $100

Summary
Simple, quick, reliable, light, easy to use, easy to store. I will not replace this any time soon.
Pros
Light
Very easy to use
Very fast
Reliable
Cons
Occasional clogs (but easy to fix)
I switched from an MSR Sweetwater two years ago and I love this Platy Gravityworks. I won't switch any time soon.
It's very fast—scoop up some water in the dirty bag, hook up the hoses and clean bag, hang it on tree and go set up your tent or do whatever. It's done in a couple minutes. It's easy to clean, easy to store, no pumping. It's much better than the pump systems
It can clog with sediment or air bubbles. In that case you either add some clean water to the clean reservoir or let it fill the clean one slowly for a  couple minutes, then squeeze clean one to backwash it. Problem solved.
I've used it in very cold temps and had no issues, but I did have to keep it in my bag at night.
Great water filtration whether going solo or out with…
Rating:


Source: bought it new
Price Paid: $99

Summary
Great water filtration whether going solo or out with the family. Ease of use makes for a great value.
Pros
Ease of use
Compact in the pack
Cons
Frequency of backflushing necessity
I bought this water filtration system to carry in my pack when I have my wife and son with me. The ease of being able to hang your water while it filters itself and complete other tasks is a great value.
The whole system fits nicely in my pack and is relatively lightweight, adding 10.75 ounces for the 4 liter kit that I bought. Some may say that's a lot, but my favorite mountain home in WV has no water on the top of the 29 mile mountain. The bags allow you to carry an additional 4 liters of clean water as well as 4 liters of dirty water to filter. The frequency of back flushing is overcome by the ease of doing so.
I absolutely love this system.
If you need lots of clean water fast, the Platypus…
Rating:


Source: bought it new
Price Paid: $100

Summary
If you need lots of clean water fast, the Platypus GravityWorks filter system is for you.
Pros
Fast
Great for groups
Simple to use
As the High Adventure coordinator for my scout troop, I often take groups of boys into the wilderness for true backcountry camping experience. The GravityWorks helped us get back on the trail quickly many times. You can filter 4 liters of water very quickly, get everyone re-hydrated fast and get all bottles topped off in no time.
We have used it while canoeing and you can even filter while paddling with the correct setup. I have filled up and kept it in camp with 4 clean liters and another 4 ready to go in the dirty bag. System rolls down to a small size and is relatively light. 
I have used this system now for three summers of canoeing hiking and backpacking. One time I had problems with the filter but later realized it was my own fault as I had not reconnected the hose properly. I always have purification tablets as a secondary system and fire as a third backup if needed, but prefer the filtered water best. 
Great filtration product for groups of 1 to 6. Leave…
Rating:


Source: bought it new

Summary
Great filtration product for groups of 1 to 6. Leave the pump home and save the workout for the gym.
Pros
Easy to use
Fast
Convenient
Light
Mechanically simple
This easy-to-use filtration system is long over due. The glass filament filtration is fast.
We often backpack with 3 to 6 in a group. The chore of manning the filtration pumps was always one of the dreaded chores. The GravityWorks system filtered water for 5 days for a group of six. Not once did we have  to resort to the use of PolarPure iodine or boiling to keep up with demand.
Like any filtration system, GravityWorks should not be allowed to freeze, the expanding ice crystals will crack the filtration pores. Similarly, prefiltration of turbid water is helpful for extending filter life. I usually carry a handkerchief for this purpose.
The back-flushing of the GravityWorks filter was effective for clearing the contaminants.
This was a please to use without the pain of squatting at the creekside. Just scoop the water, check for floaters, hang, and wait a couple of minutes.
This is a great water filtration system. It's very…
Rating:


Source: bought it new
Price Paid: $100

Summary
This is a great water filtration system. It's very light and suitable for long backpacking treks. Not the fastest system but filters water for the least amount of work.
Just fill the "dirty" reservoir bag from a stream or lake and hang it from a tree or nail on the side of a shelter. Then hook the filter and finally the "clean" bag at the bottom. Now go off and do something else while the filter and gravity do the work for you.
This filter physically removes particles, protozoa, and bacteria down to 0.2 microns in size, including giardia, salmonella, cryptosporidia and others.
It takes about three to five minutes to filter 2 liters of water. If you notice the flow is slow you can hold up the clean bag briefly effectively reversing the flow and clearing any debris from the filter. This usually restores a good flow.
This filter treated water for both my son and I as we hiked the Long Trail in Vermont. We would usually filter during a lunch break or after making camp in the evening. Was perfect for the two of us, but might be slow for a larger group.
It's very easy to use this filter. No moving parts to break. Everything works fine and flawless.
I've had this filter for over three years and have had no problems with quality. I replaced the filtration cartridge after two summers of use. The newer filtration is even lighter than the old one.
I'm very pleased with this water filter.
Works well with clear water. Took one of these on…
Rating:


Source: Purchased at REI by a member of our group

Summary
Works well with clear water.
Cons
Ziplock closures
Challenged performance with high solids water
Took one of these on a 93-mile trip of the Allagash River in Maine. Worked very well for the first several days and had worked well during our shake downs. The high mineral and vegetation solids water of the rivers and lakes that make the Allagash challenged this after several days even with proper back flushing and care when filling the dirty water bag. 
Ended the trip using an MSR ceramic pump system.  We had to clean the ceramic filter frequently, but we still made water for 15 people.
This is another version of the Platypus GravityWorks…
Rating:


Source: bought it new
Price Paid: $99.95

Summary
This is another version of the Platypus GravityWorks filter systems in a 2 liter model that attaches directly to a water bottle rather than another reservoir. The unit comes with multiple attachments to allow connection from the filter output to a wide variety of bottles. As the name implies, the system uses gravity to draw impure water through the filter unit efficiently and without effort from the user.
Pros
No pumping!
Quick. 2 liters in under 2 minutes.
Filters bacteria and protozoa down to 0.2 microns
Cons
Cannot allow filter to freeze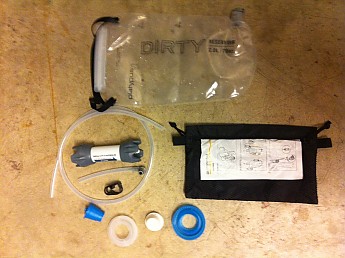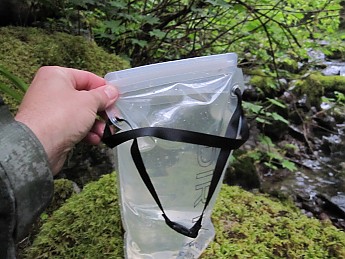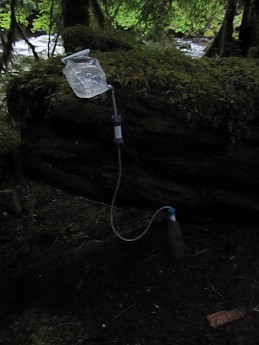 I bought this system as a lighter weight alternative to the MSR Miniworks EX. I also wanted an effective means of filtering without a lot of effort or time involved.  The GravityWorks delivered.  
When I took the "dirty" water reservoir down to the creek to fill, the first thing I noticed was how easily I was able to fill it and without completely submerging it. I then walked back up to camp, attached the filter to the self sealing quick disconnect of the reservoir and the "clean" side to a water bottle.  I hung the reservoir and watched it fill.  
Compared to the Miniworks, it was fast and filled two 1 liter bottles in under 2 minutes. That time includes the bottle switch. The Miniworks, takes over 2 minutes for 1 liter and is quite a workout to force water through the filter with the hand pump.  I also liked the fact that I didn't have to stay right at the creek until the filtering was completed.  
The filter uses hollow fiber technology and the manufacturer states it will last 1500 uses. The best part, no moving parts to break. The unit also assembles and stores easily. In general, I am sold by it.

Platypus GravityWorks Filter System
currently retails for:
$87.94 - $119.95
MSRP: $109.95