Platypus
SoftBottle
2

reviews

5-star:

0

4-star:

2

3-star:

0

2-star:

0

1-star:

0
This lightweight bottle is well designed with surprisingly…
Rating:


Source: bought it new
Price Paid: $8.95

Summary
This lightweight bottle is well designed with surprisingly nice features. It is a good replacement in terms of weight and flexibility to traditional hard sided bottles.
Pros
Lightweight
Collapsable
Well designed
Cons
Bottom catches on pack side pockets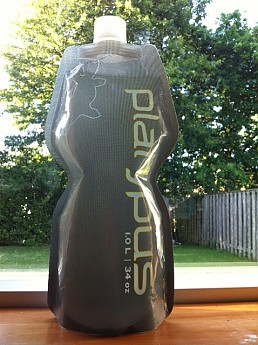 Initially I bought the SoftBottle to further reduce weight of what I carry on the trail.  After using it though, I have found it is very well designed product that is more than just lightweight. Here is what I like about the bottle:
The bottle is light.  At 1.2 ounces for a one liter bottle, it is one fifth the weight of a typical Nalgene one liter at 6.5 ounces. 
It is also nice that I can just roll up the bottle when it is empty and tuck it away.  A hard sided bottle just takes up space.


The "waist" of the hour glass design allows one handed use while drinking.

The bottle is made from a nylon/polyethylene material which seems very durable and will last a long time.  Time and use will tell.
The only thing I find somewhat annoying about the design is that when filled, the edges around the bottom tend to catch on the fabric of my pack side pocket. This requires some extra effort to get the bottle into pocket and I cannot put the bottle away with my pack on by myself.
Overall this is a well designed product and for me, was a good purchase.
Platypus introduces a lightweight, flexible, and foldable…
Rating:


Source: bought it new

Summary
Platypus introduces a lightweight, flexible, and foldable alternative to heavyweight and rigid waterbottles. 80% lighter than a Nalgene bottle of a comparable size, not only are these bottles lighter, they're much more packable, and can be rolled-up once they're emptied. Flexibility doesn't come without some problems, and these bottles do take some time to get used to drinking and pouring from them.
Pros
Incredibly lightweight (80% lighter than Nalgene bottles!)
Can be folded flat and rolled-up when not in use
BPA-Free
Inside lining does not retain flavors or taste like plastic
Fits both pockets and drink holders
Inexpensive
Can be used to replace Sawyer Squeeze water bags
Reusable with a longer life than disposable water bottles
Cons
Narrow opening
OK for cold beverages, not recommended for hot beverages
Shallow threads on screw-on cap
Needs push-pull cap to regular flow
Not as stable as a rigid water bottle
Could benefit from a lanyard or carabiner hole
Like any other hobby, backpacking can become very expensive very easily, and making the transition to lighter gear often comes with a matching price tag. Sure, the easiest places to cut weight are the largest items you carry (shelter, sleeping bag, pack), but these are also the most expensive piece to replace.
When I began backpacking, I couldn't afford to upgrade any of my "Big Three."
That left me two options: A.) leave at home anything I wasn't 100% sure I needed, and B.) spend the little money I had as smartly as I could.
A friend from Trailspace advised me to reconsider packing a Nalgene bottle. It was an unnecessary amount of weight, and something as simple as a store-bought, recyclable, plastic Gatorade bottle could get the same job done — without the extra weight. 
Only trouble with Gatorade bottles is that they retain their shape, and are as bulky empty as they are filled.
For under $10, you can pick up a Platypus Soft Bottle from pretty much any major gear retailer.
These were so inexpensive, I actually bought a couple: a half-liter, and a full liter.
The 0.5L (17 fl oz) bottle measures 5" x 12" and weighs 0.8 oz.
The 1.0L (34 fl oz) bottle measures 6" x 13" and weighs 1.2 oz.
The smaller was for drinking, the larger, for storage. I kept the small one 100% filled, and would drink from it until the larger one ran out, at which point, I'll fill both and begin all over again. This system worked well for me, and I was able to keep hydrated all day.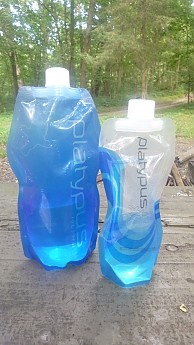 I like to start my day out with a cold glass of water, so I pre-filled these, left them in the fridge overnight, and put them in the car cup holders for the drive to the state park. 
Yep. Cup holders.
The bottoms are sized to fit not only round or square pockets, but drink holders, too.
The interior lining is made from food-grade polyethylene so, even without an initial rinse, these didn't taste like plastic. If you fill them with another kind of beverage, they won't retain the flavor from one and transfer it to another, either.
I was able to stuff both, filled, into one of the side mesh pockets of my Kelty Coyote 4750. Here I could access them both without taking my pack off, even keeping them on the same side and freeing-up the other mesh pocket completely. 
The weather was really warm (mid 80's, sunny, and clear) in the middle of summer, here, so I used these things from before I made camp well into the ride home.
They were in and out of pockets, cup holders, rolled, dropped, screwed, unscrewed, and dirtied - but they kept their original form, didn't dent or puncture, and were easily cleaned off.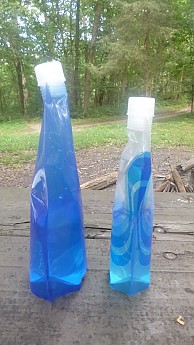 The bottoms flatten when filled so these will stand on a flat surface. 
Drinking and pouring from them gets tricky: you can't just grab them from the side and tip them back.
Although they've hourglass curves and a pin-up "waistline," I'd a hard time trying to drink from these with one hand.
It's a two-handed affair, and you have to be mindful of the force with which you're squeezing. This could probably be easily remedied by purchasing the "push-pull" caps they sell. Squeezing them in the middle without one will have the water come gushing out the front, since there's nothing to stop or regulate it. 
When it comes to refilling them, hold them by the top opening and fill them that way. These stood strong against a hand-powered ground water pump with a LOT of water pressure coming out of it.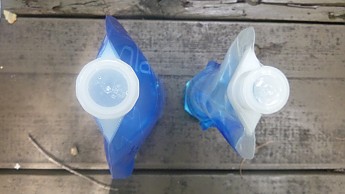 I know these are good for cold beverages, but I highly doubt they'd stand-up to anything hot, much less boiling, so these do lack the versatility of doubling as sleeping bag heaters in colder weather.
The screw-on caps have shallow threads, and may not work as well as they could with a Sawyer Squeeze filter. I've found out, though, that rubber garden hose washers (from your local hardware store) will tighten the seal and fix this.
These definitely could benefit from a reinforced hole for a carabiner or lanyard. I'd punch one in myself, but not being sure how it would affect the bottle structurally, I'm hesitant to.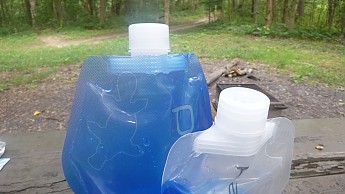 All in all, there're far more benefits to using these than using a rigid plastic water bottle. 
Heck, these even fit my Sawyer Squeeze filter so I've got back-up bottles in case the SS ones ever fail me. It's a built-in back up plan I didn't even have to think about.
Once I was done with them and my trip, I just rolled 'em up together, stuffed them back in the mesh pocket, and that's that. It's nice to know most the weight you're packing is water weight, with these.
4-and-a-half stars, because they offer way too darn much that it more than makes up for whatever few shortcomings it has.
Where to Buy
sponsored links
Help support Trailspace by making your next purchase through one of the links above.
Manufacturer's Description
Visit Platypus's SoftBottle page.
Retailers' Descriptions
Here's what other sites are saying:
There's not a hard bottle out there that's cleaner, greener, and more flexible than a Platypus SoftBottle. Each one comes with their Clean-Taste Guarantee and it's made with zero BPA. The SoftBottle is green, too, because it's ultra-reusable and lightweight, it uses less energy and materials. Finally, your SoftBottle defines flexible. It fits in a drink holder, a round pocket, a flat pocket, or any hand. When empty, it rolls up and fits anywhere you want it to fit. Plus, it weighs 80% less than hard hydration bottles.
- CampSaver.com
Clean, green, and oh-so flexible, the BPA-free Platypus SoftBottle is ultra-reusable, lightweight, and easy to pack.
- EMS
Flexible, lightweight and durable, the 17 fl. oz. Platypus SoftBottle(TM) Water Bottle with Push/Pull Cap takes up less space in your pack or sports duffel than a traditional water bottle. 80% lighter than standard hard-plastic bottles, it takes more than five Platypus SoftBottles to equal the weight of one 1-liter, hard-plastic bottle. Compact and flexible design can be flattened when empty and rolled up to fit practically anywhere in your pack. Platypus SoftBottle(TM) water bottle is sized to fit in a drink holder, round pocket, square pocket or in your hand. Food-grade polyethylene lining ensures bottle won't retain flavors or taste like plastic; plus, it's 100% BPA free. Includes a screw-on push/pull cap. Closeout.
- REI
The zero-BPA Platypus Softbottle can be used over and over again without getting the dirty, musty taste that a lot of hard bottles are known for. It's also super-light, and can be stored anywhere when empty--just roll it up.
- Backcountry.com
Platypus SoftBottle
currently retails for:
$4.73 - $12.95
MSRP: $7.95

where to buy: