Reviews
This lightweight bottle is well designed with surprisingly…
Rating:


Source: bought it new
Price Paid: $8.95

Summary
This lightweight bottle is well designed with surprisingly nice features. It is a good replacement in terms of weight and flexibility to traditional hard sided bottles.
Pros
Lightweight
Collapsable
Well designed
Cons
Bottom catches on pack side pockets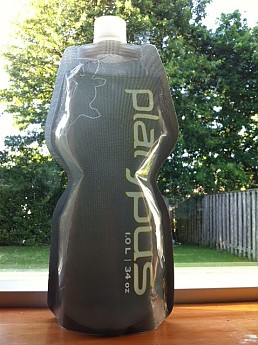 Initially I bought the SoftBottle to further reduce weight of what I carry on the trail.  After using it though, I have found it is very well designed product that is more than just lightweight. Here is what I like about the bottle:
The bottle is light.  At 1.2 ounces for a one liter bottle, it is one fifth the weight of a typical Nalgene one liter at 6.5 ounces. 
It is also nice that I can just roll up the bottle when it is empty and tuck it away.  A hard sided bottle just takes up space.


The "waist" of the hour glass design allows one handed use while drinking.

The bottle is made from a nylon/polyethylene material which seems very durable and will last a long time.  Time and use will tell.
The only thing I find somewhat annoying about the design is that when filled, the edges around the bottom tend to catch on the fabric of my pack side pocket. This requires some extra effort to get the bottle into pocket and I cannot put the bottle away with my pack on by myself.
Overall this is a well designed product and for me, was a good purchase.
Platypus introduces a lightweight, flexible, and foldable…
Rating:


Source: bought it new

Summary
Platypus introduces a lightweight, flexible, and foldable alternative to heavyweight and rigid waterbottles. 80% lighter than a Nalgene bottle of a comparable size, not only are these bottles lighter, they're much more packable, and can be rolled-up once they're emptied. Flexibility doesn't come without some problems, and these bottles do take some time to get used to drinking and pouring from them.
Pros
Incredibly lightweight (80% lighter than Nalgene bottles!)
Can be folded flat and rolled-up when not in use
BPA-Free
Inside lining does not retain flavors or taste like plastic
Fits both pockets and drink holders
Inexpensive
Can be used to replace Sawyer Squeeze water bags
Reusable with a longer life than disposable water bottles
Cons
Narrow opening
OK for cold beverages, not recommended for hot beverages
Shallow threads on screw-on cap
Needs push-pull cap to regular flow
Not as stable as a rigid water bottle
Could benefit from a lanyard or carabiner hole
Like any other hobby, backpacking can become very expensive very easily, and making the transition to lighter gear often comes with a matching price tag. Sure, the easiest places to cut weight are the largest items you carry (shelter, sleeping bag, pack), but these are also the most expensive piece to replace.
When I began backpacking, I couldn't afford to upgrade any of my "Big Three."
That left me two options: A.) leave at home anything I wasn't 100% sure I needed, and B.) spend the little money I had as smartly as I could.
A friend from Trailspace advised me to reconsider packing a Nalgene bottle. It was an unnecessary amount of weight, and something as simple as a store-bought, recyclable, plastic Gatorade bottle could get the same job done — without the extra weight. 
Only trouble with Gatorade bottles is that they retain their shape, and are as bulky empty as they are filled.
For under $10, you can pick up a Platypus Soft Bottle from pretty much any major gear retailer.
These were so inexpensive, I actually bought a couple: a half-liter, and a full liter.
The 0.5L (17 fl oz) bottle measures 5" x 12" and weighs 0.8 oz.
The 1.0L (34 fl oz) bottle measures 6" x 13" and weighs 1.2 oz.
The smaller was for drinking, the larger, for storage. I kept the small one 100% filled, and would drink from it until the larger one ran out, at which point, I'll fill both and begin all over again. This system worked well for me, and I was able to keep hydrated all day.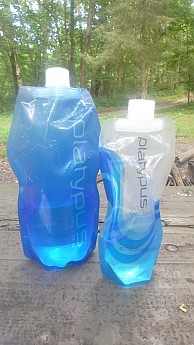 I like to start my day out with a cold glass of water, so I pre-filled these, left them in the fridge overnight, and put them in the car cup holders for the drive to the state park. 
Yep. Cup holders.
The bottoms are sized to fit not only round or square pockets, but drink holders, too.
The interior lining is made from food-grade polyethylene so, even without an initial rinse, these didn't taste like plastic. If you fill them with another kind of beverage, they won't retain the flavor from one and transfer it to another, either.
I was able to stuff both, filled, into one of the side mesh pockets of my Kelty Coyote 4750. Here I could access them both without taking my pack off, even keeping them on the same side and freeing-up the other mesh pocket completely. 
The weather was really warm (mid 80's, sunny, and clear) in the middle of summer, here, so I used these things from before I made camp well into the ride home.
They were in and out of pockets, cup holders, rolled, dropped, screwed, unscrewed, and dirtied - but they kept their original form, didn't dent or puncture, and were easily cleaned off.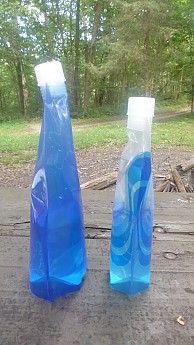 The bottoms flatten when filled so these will stand on a flat surface. 
Drinking and pouring from them gets tricky: you can't just grab them from the side and tip them back.
Although they've hourglass curves and a pin-up "waistline," I'd a hard time trying to drink from these with one hand.
It's a two-handed affair, and you have to be mindful of the force with which you're squeezing. This could probably be easily remedied by purchasing the "push-pull" caps they sell. Squeezing them in the middle without one will have the water come gushing out the front, since there's nothing to stop or regulate it. 
When it comes to refilling them, hold them by the top opening and fill them that way. These stood strong against a hand-powered ground water pump with a LOT of water pressure coming out of it.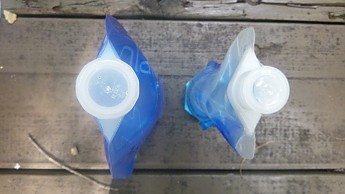 I know these are good for cold beverages, but I highly doubt they'd stand-up to anything hot, much less boiling, so these do lack the versatility of doubling as sleeping bag heaters in colder weather.
The screw-on caps have shallow threads, and may not work as well as they could with a Sawyer Squeeze filter. I've found out, though, that rubber garden hose washers (from your local hardware store) will tighten the seal and fix this.
These definitely could benefit from a reinforced hole for a carabiner or lanyard. I'd punch one in myself, but not being sure how it would affect the bottle structurally, I'm hesitant to.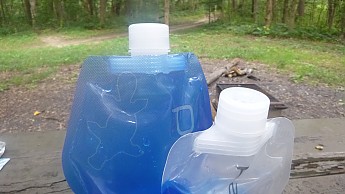 All in all, there're far more benefits to using these than using a rigid plastic water bottle. 
Heck, these even fit my Sawyer Squeeze filter so I've got back-up bottles in case the SS ones ever fail me. It's a built-in back up plan I didn't even have to think about.
Once I was done with them and my trip, I just rolled 'em up together, stuffed them back in the mesh pocket, and that's that. It's nice to know most the weight you're packing is water weight, with these.
4-and-a-half stars, because they offer way too darn much that it more than makes up for whatever few shortcomings it has.
Bottom line, doesn't flavor water and is easy to clean.
Rating:


Source: bought it new
Price Paid: Les than $15

Summary
Bottom line, doesn't flavor water and is easy to clean. What more do you want? Oh yeah, great price. This is firing on all cylinders.
Pros
Doesn't flavor water
Easy to clean
Great price
I bought my first one in 1998. I probably shouldn't but I'm still using it. I have packs from other manufacturers but the bladder in them is a Platypus. The bladder is the most important thing and nobody makes a better one.
I have one from another company and I had to buy some expensive cleaning kit and a special thing to dry it out: not with the Platypus. I just wash it, blow it up like a balloon, and leave it on my drying rack and before you know it, I'm good to go.
I have one that I keep in an emergency pack, that's folded down to nothing, but will come in really handy if I ever have to get away from home due to an emergency like an earthquake. There is one other company that makes a bottle that is almost as good, but they are way expensive.
I feel very comfortable recommending these bottles.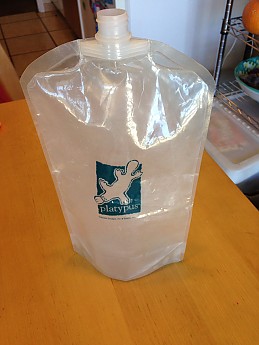 I got a .5 L Platypus SoftBottle to work with my Sawyer…
Rating:


Source: bought it new
Price Paid: $7

Summary
I got a .5 L Platypus SoftBottle to work with my Sawyer Mini water filter. The Platypus works great. I've had no problems with leaks, and the bottle fits my Sawyer perfectly. It seems like a higher quality bladder than the bladders that come with Sawyer Minis.

I recommend this setup to my backpacking friends who want a durable, easy-to-use filter system.
Pros
Portability
Durability
Ease of use
I've had my Platypus for almost a year and have brought it on five different weekend backpacking trips. Although it's only seen moderate use, it's been crammed in crannies in my pack and somewhat abused on the trail, yet still does a stellar job of holding water and doesn't seem likely to fail any time soon.
My Platypus is lightweight and does an excellent job of holding water. It also fits my Sawyer Mini Water Filter like a glove, and seems to be a higher-quality product than the Sawyer bladders. Plus, the slight concavity of the sides makes it easy to hold when full.
I don't have any negative things to say about this bottle; it is well-made and does the job it needs to do. I would definitely say it's worth the money to purchase it, and  I look forward to using my Platypus SoftBottle for many years to come!
Great for helping to filter water. I use the soft…
Rating:


Source: bought it new
Price Paid: $8.95

Summary
Great for helping to filter water.
Pros
Lightweight
Small pack size
Pairs with Sawyer Mini
I use the soft bottle with my Sawyer Mini to filter unclean water. The top thread screws right into the Sawyer for a tight seal.
I modified the bottom end of the softbottle and attached some paracord so that I can hang it upside-down with the Sawyer Mini screwed on the end and let gravity push the water through the filter and into a Nalgene bottle I have.
It's not the fastest way but it will drip 1 quart (32 ounces or almost 1 liter) of water every 30-40 minutes or so. It's nice because I can let it do its thing while I'm setting up camp or packing up camp, eating, etc.
I haven't had it for long so I can't talk about durability though but for around $9 it's a great deal.
Lightweight, compact design is perfect for minimalist…
Rating:


Source: bought it new
Price Paid: about $9

Summary
Lightweight, compact design is perfect for minimalist backcountry camping, but durability is in question.
Pros
Very light, weighs (.9 ounces)
Compact
First, let me start by saying that I absolutely love these bottles. I purchased three of them. I take two on trips with me and figured I would have a spare to bring on trips where water sources are more scarce. 
When I received them, I was amazed by how light they really were. I always weigh my stuff on a very accurate postal scale and these come in at .9 ounces.  I really love the drop in weight from my Nalgene bottles and the fact that they roll up into nothing is ace. 
The first thing I do before assuming that something is going to work in the woods is test it. I'm really glad I did.  BEWARE that out of the three new bottles I purchased, one leaked, and one was not far off. 
The bottles are basically just a bag that has a plastic insert at the top that comprises the threaded section. This plastic insert has 4 ridges the bag is bonded to that seals the unit. Or at least those ridges are supposed to seal the unit.  What I found is that they are not all completely sealed. Wherever there is an unsealed spot it allows water to pass and find another ridge that has an unsealed place until water is flowing  out of the bag and you have a problem.
I really hate complaining to companies and mailing stuff to get things replaced, so I just repaired these myself with some silicon sealant. It is really easy to reach inside the opening and smear a small amount of silicon onto the faulty areas. I then place the cap on the bottles and give them a gentle squeeze to coax the sealant into the voids and make the repair as durable as possible.
I think this is a problem that is very uncommon and while I wouldn't expect this to be the normal experience, I do want people to be aware so they can know the possibility exists.
I think these are great bottles and I will probably buy more in the future.
Where to Buy
sponsored links
Help support this site by making your next gear purchase through one of the links above. Click a link, buy what you need, and the seller will contribute a portion of the purchase price to support Trailspace's independent gear reviews.
Platypus SoftBottle
currently retails for:
$4.99 - $8.95
MSRP: $7.95

Recently on Trailspace