Kelty Coyote 4750

The Coyote 4750 has been discontinued. If you're looking for something new, check out the best expedition packs for 2023.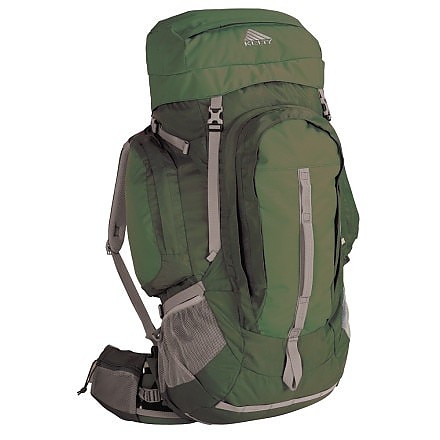 I bought this pack in early 2010, I forget when exactly, I bought it to replace my old ALICE pack I had been using. I was on a budget, so when I saw this pack at REI for $100 on sale I decided I would give it a try. So I loaded it up with about 25lbs of store weights and wore it around the store for about an hour. It felt pretty good so I bought it.
My initial thoughts were it looks good, seems to be a durable construction(heavy duty fabrics etc), and has plenty of room for my winter gear. I am on a budget, so I use 1 pack year round and just compress it down in summer.
My wife has a Kelty Redwing 3100 that I use sometimes, and I thought that they be similar, and they are kinda. I was a bit disappointed when I opened the front pocket to see it wasn't as well organized as the Redwing.
The side through pockets are great for stowing trekking poles, fishing rods, and camera tripods.
I have put about 350-400 miles on this pack since I purchased it earlier this year. Overall I am very pleased with my purchase. It can be adjusted to a very wide range of torso lengths and the straps all have a lot of adjustment room as well. I am 5'11 and about 210lbs and it fits well, could go bigger or smaller still.
Some of the connection points could be reinforced just a tad more.
Pros: Durable fabric, wide adjustment range, comfortable up to 50lbs loads, plenty of pack room, cheap pricetag
Cons: Compression strap connection points and pack strap connection points could be reinforced just a bit more. Pack straps slip more than higher end packs, and thus require adjustment more often while hiking...not a real big deal.
Cons Explained, I have had no strap connection point or seam on the bag fail. The compression strap connection points when in use holding bulkier gear on the outside of the pack show signs of strain. It looks to me that you could easily over tighten them and have one start to give out.
Like I said I have used the pack for roughly 400 miles and carry a sleeping pad and a camp chair on the outside of the pack and they have held up fine. I think it's just a matter of time before one pops.
Pack strap upper connection points, These need to be reinforced a lot more. I have a back injury from my service in the military so I had gotten away from the military donning style of placing the front of the pack against your legs, then bending down putting your arms through the shoulder straps , grasping the frame stays and lifting the pack up and over your head to don. This method works great by the way, and is my preferred method still.
So like I said I had tried to go away from that method and was using the knee hoist method, where you hoist it up and then kinda roll/swing it over alonyour hips as you put your arms through. Works well enough, but after about 200 miles/20 days of doing this I would occasionally hear a light pop sound.
At first I didn't think anything of the noise other than maybe the strap was twisted while I was putting it on and it was straightening out or something similar. It wasn't what I would call one of those "bad" sounds. But one day I noticed that the tops of the shoulder straps had begun to tear through their reinforcement area by about 1/4 of an inch or maybe a little less. I then realized what those noises were, it was the slow demise of my pack strap reinforcement.
From that point on I went back to the military doning style for packs and I had no more trouble over the other 200 or so miles I have done this year. The tears have gotten no bigger, I am confident that this will no longer be an issue. I am sure Kelty would replace or repair it if I sent in a warranty claim.
Overall I am very happy with this pack, and I would recommend it to a friend or anyone on a budget. It is worth the money and it will last you quite a many seasons I would imagine.
Like another poster mentioned this isn't a Lexus, it's a corolla. It is nice enough, comfortable, and will get the job done without breaking the bank.
Update: July 11, 2011
This is an update to my original review of the Kelty Coyote 4750:
I have recently had to return my Coyote due to failed seams and stitching. I had mentioned in my previous review that I thought the stitching could be reinforced a bit more. In the long term I found my initial assumption was correct.
Background information:
I used the pack on about 15 trips, and put roughly 700-800 miles on the pack. The heaviest load the pack ever saw was 45 lbs, but the typical load was around 30-35. The Kelty documentation that came with the pack says that the maximum load should be limited to 65 lbs.
I used my Coyote 4750 for about a year and a half. During this time I slowly begin to notice the the compression straps and shoulder straps showing signs of strain. Eventually the stitching began to fail on both shoulder straps and actually began to rip off of the pack body. Most of the compression strap also had a few stitches begin to come loose. And the hipbelt connection had thread wear/strain as well.
Conclusion:
The shoulder straps on any pack should be reinforced to withstand some use and abuse. I am not overly rough on my gear, but do not baby it either. I believe that this is a manufacturing flaw/defect/design issue. On a side note, when I returned my pack to REI the clerk told me that they have seen quite a few of the 2010 Coyotes come back for the same shoulder strap issue.
During my use of this pack, i found I liked the pack overall as it was comfortable and held all of the gear I needed it to. The failure of a key component however was not acceptable to me having used the pack within the specified limits and the time frame of ownership.
Price Paid: $100-ish

This was my first internal frame pack and it has worked great for me. I haven't done anything too rugged with it, just a few weekend trips so far, but I'd be confident taking it anywhere.

At over 75 liters it's more than enough space and I've been comfortable with nearly 40 lbs of weight. I would recommend this pack as a good entry-level backpacking pack for someone who wants good features for a great price.
Pros
Adjustability
Front and top access points
Great value
Top lid turns into fannypack
Cons
Hipbelt is rather large
Mesh side pockets not very useful
The pack has an adjustable suspension system, so it fits a large range of torso sizes. This is very important in choosing a pack, because an ill-fitting pack will not distribute weight properly. The pack has been quite comfortable to me, the shoulder and hip straps are very well padded while giving the pack a good structure.
The front and top loading points are very convenient, allowing you to get to your gear without taking everything out of the pack. I would be wary about the front-loading compartment's zipper closure because the curved zipper path could cause some difficulty loading when the pack is fully loaded, and the zipper may be a weak point. If loaded and adjusted properly, the load sits well on the hips and close to the body, allowing for good balance and the ability to carry heavy loads.
The mesh side pockets are a weak point. Mine have stretched out so they flop uselessly at the sides of the pack. they might be good for easy-access snacks but the shape and placement is not conducive to a water bottle which is what should be going there. The pack is also hydration compatible, having a sleeve against the inside back of the pack that fits about a 2-3 liter hydration pack.
Source: bought it used
Price Paid: $70

Great worry-free pack for first time backpackers. It's fairly light and easily adjusts for different heights and load bearing styles.
Pros
Lightweight
Easy to pack and organize
Durable
Cons
Zippers can be difficult to close when pockets are full.
I bought this pack about 4 years ago when I was preparing for my first major backpacking trip.  I knew very little about backpacking, how to fit a backpack, or even how to pack it.  However, the new backpack's intuitive layout and strap system made all of this easy. 
I am about 6'1" and 160lbs and the pack fits me almost perfectly.  The chest strap can be a bit tight when hiking at higher altitudes so I usually hike with it unbuckled.  The hip belt is a little low for my liking but it can be easily adjusted. The pack stays remarkably cool while hiking and suspension straps above the shoulder pads can be adjusted to allow for more or less ventilation.  The hip, shoulder, and suspension straps can be easily adjusted while hiking to change how the load is beared. 
The pack is essentially one big stuff sack with compression straps that can pull the top down on the cavernous main pocket. Even though this is an internal frame pack it is not lacking in large internal spaces. There is enough interior space that I have seriously though about using my 10-year-old sister as training weight. 
The pack still has bottom loops to attach a sleeping bag or tent without much difficulty and a second sleeping bag sized object can be placed under the upper stuff sack straps. The pack also has a number of small pockets for organizing small items and a sleeve for hydration bladders. I have never had stability or balance issues with this pack even when hiking on rough terrain.  The pack material is extremely durable and after 3 years it looks no more worse for wear. As a final note on packing, the top converts to a summit/daypack within seconds.
The biggest trek I've ever taken this pack on was a 35-40 mile trip through the Rawah Wilderness in Northern Colorado.  It was 8 days long without food resupply so space was at a premium.  I didn't have to much difficulty fitting all of the gear (general backpacking equipment and 5 meals) including a portion of my tentmate's gear when he got mild altitude sickness. Other than having some difficulty closing the outer pockets and I can't say I have any complaints.
Source: bought it new
Price Paid: $129

I'm 16 and went on my first ever overnighter backpacking trip with this pack! It was very comfortable and I can't wait to use it on many more excursions. Thank you Kelty for your amazing good quality gear!
Pros
Comfortable
Good weight distribution
Durability
This pack fit very well. Unfotunatley, I don't believe I didn't set the load straps correctly, but that is my fault. The weight distribution of this pack is very good. It rides nicely on the hips. It is easy to use. The adjustable straps for the top lid are useful for bear canisters. The detachable top lid that turns into a fanny pack is an awesome feature for any of you peak baggers!
Finally,even if a bit heavy, Kelty always makes very durable and high quality products!
Source: bought it new
Price Paid: $135

Very well constructed. Excellent load carrying capacity.
Pros
Excellent load carrying engineering.
Excellent materials used.
Cons
Loading in front pocket will put strain on the zippers.
Bought it from campmor on a sale about 2 years ago for $85. Getting the backpack to sit on your hips makes for a comfy journey thus waist size is critical.
I have a tendency to load up the backpack on trips n typically it weighs ~55 pounds. While loading I make sure that the weight is balanced. I don't really feel the weight. It's very comfortable.
I typically put in a footprint for the tent, the tent itself, a sleeping bag, my clothes, n food in the main pocket. The side pockets hold water bottles - 1 litre each. The top pockets - flashlights, headlamps, emergency lamps, snacks, etc. Capacity is as advertised.
I have used it for two years now, and although i have not misused it it has definetly lived up to my expectations - with the design, material, construction, capacity and price.
Source: bought it new
Price Paid: $85

In addition to the Coyote, I've got a couple of other Kelty packs and love them all.  My one and only beef is that they're on the heavy side and when you're packing 50+ lbs of food and gear, every ounce counts.
I have not encountered the same issues some other reviewers have mentioned with the shoulder straps or stitching and I've overstuffed it to the point where other more expensive packs have failed.  I was most impressed that the zippers didn't bust on me.
Shoulder straps and hip belt are well padded and comfortable, and the torso length is easy enough to adjust although you have to play with it plenty to get it to fit perfectly.
All in all, Kelty makes a terrific product that is built to last.  I can't believe I paid 1/4 of what other packs big brand, high end packs cost!
Price Paid: $75

I just returned my second Kelty Coyote. The shoulder straps kept slipping on the first when carrying 35+ pounds. I tried a second and found it to be a design flaw. I'm training to climb Mt. Rainier and did not want to spend my energy cinching straps the entire way up the mountain.
The pack was durable, roomy and solid in every other way. They just need to re-engineer the straps..... or maybe my REI store got a bad batch. Fortunately, REI is wonderful about returns. 
Price Paid: $159

Great pack for the price. I bought this from Dicks with a coupon for around $120-ish. 
Light enough for the price. Great hip belt with pockets. The external pockets are handy for quick access to rain cover (not included) and miscellaneous items. It has side compartments for tent poles that were nice. 
I've taken it 40 miles on the App Trail and many trips on Kennesaw Mountain and Stone Mountain for testing/training with no issues so far.     
Price Paid: $120

The best value in a backpack, period. There are better packs, but they are more expensive and they are all overpriced. This backpack is superior to all packs in its price range, all less expensive packs and even some more expensive backpacks.
A smart choice and at 4750 cubic inches, it's probably the largest pack most people will ever require. How anyone could buy a pack like this for the price I paid and only rate it 4.5 stars is unbelievable - there is no better value in the market. 5 stars.
Price Paid: $104.95

i've had this pack for 5 years and it kicks ass, i've have been around the world three times with it, and bring it every year i go fishing in alaska with very few problems. you can fill it to the top (my record is 60 lb of gifts) or strap it down (had it down to 15 lb on my last trip) way easy. the easy access in the front is a life saver, and when you get the straps adjusted right you can run, bend, squat, turn, damn near do cartwheels in the thing.
so those are the pros, the only con is the buckles, they suck, i've broken the waist band buckle and two of the other ones so bring spare buckles if you are going somewhere were there isn't a sporting good store.
Price Paid: $160

I didn't know that carrying 25 lbs on your back could be so comfortable! This is the men's model but it fits like magic and there seems to be endless amounts of space. For the comfort and price points, I don't think you could find a better pack!
This backpack is absolutely great. It has top and front access to the main compartment which is extremely convenient. Furthermore it has many pockets throughout which are fantastic for organizing and grouping gear. The adjustable frame/shoulder straps are remarkably easy to use and allow for a good deal of adjustment (particularly for people between 5'4" and 5'10"). Granted, I would still recommend trying it on first as with all packs.
Once I got the pack dialed in, I carried about 45 lbs load with ease and comfort! The convenience of being able to remove the "lid" and waist strap to make a fanny-pack is pretty neat and could be very useful, though I have not used said feature. Construction feels solid and zippers run smooth.
As I found out, it appears to be pretty water resistant...or so I found today in the Smokys after I forgot my pack-poncho.
I would definitely recommend this pack and it is a very appealing price.
Design: top and front loading internal frame
Size: 4750 cu in
Max. Load Carried: 45
Height of Owner: 5'8"
Price Paid: $120

So far this has been a great backpack. I bought it a couple of weeks ago, as a substitute for another Kelty Trail series backpack that was just too pricey. However, this backpack is growing on me the more I use it.
The only problem I had with it was that the waistbelt buckle broke when I tightened it, however after that was repaired with apoxy it held up fine.
Backpacks are a very big purchase for me because I go on a least one weekend camping trip a month, as well a a week-long trek four times a year and this has been one of the more comfortable, durable backpacks I have purchased.
Design: front/top-loading internal
Size: 4,750
Number of Pockets: 4 (2 side,one top, one front)
Max. Load Carried: 35-40 Ibs
Height of Owner: 6'3"
Price Paid: $149

I love it. Used it on three different hiking trips so far and have enjoyed it big time. Easy to pack with open front.
Great pack for the price. Just got back from a couple weeks backpacking through Mexico and a month on the Colorado Trail. It's holding up great.
Size: 4750
Max. Load Carried: 45pounds
Height of Owner: 5"8
Price Paid: $150

Pretty good features for the price. I like the accessibility into the main compartment, convertible fanny pack, and good size. A little worried about the zippers and the waist belt isn't super comfy, but it will do. This Kelty kind of like getting a Toyota Corolla, rather than a Cadillac (Osprey or Arc'Teryx). Anybody who goes backpacking two or three times a year, this should do the trick just fine without blowing a ton of money.
Price Paid: $107 plus tax

I'm fairly average in size, 5'10, about 200 lbs. I find this to be a great pack. Low cost, perfect for weekend trips.
Design: Internal frame backpack
Size: 4750
Price Paid: $150

For my son, 12, fantastic!! Carried his entire load with room to spare for a week-long jaunt in Utah. A little heavier than we would like but well worth the expense. Torso adjusted to fit me too. I like Kelty. They put a lot of thought into their products.
Design: internal
Size: 4750 cu in.
Number of Pockets: several
Max. Load Carried: 45 lbs.
Height of Owner: 5' 2"
Price Paid: $135

I give this 4+ stars. I bought this pack for international travel--it was a toss up between this one and the Red Cloud Women's 5000. I'm 5'4, so I didn't want a pack twice as big as me. I was worried the Coyote wouldn't hold enough. Fully expanded, though, I can fit two weeks' worth of light packing in easily (fits a queen-size comforter and a couple of pillows, just to give you an idea). When it's fully packed, it still goes about eight inches above my head, so I think the Red Cloud would've overwhelmed me. The only thing it could use is a separate sleeping bag compartment, but the front of the pack opens into the bottom, so it's accessible that way.
I think this is the best choice I could have made (within a reasonable price bracket) for somebody my size or even a little bigger. The pack is also attractive and has gear loops on the top and bottom to strap more gear onto it, plus a daisy chain on the back. The top compartment is huge and can hold a light insulated jacket (such as a fleece) and a snack. The side water bottle pockets can fit a 2-liter bottle in EACH side. There is also a room for a bladder on the inside, but that's not my style. I recommend this pack for smaller adults.
Design: Kelty Coyote 4750 (2004 model)
Size: 4750
Max. Load Carried: 45 lbs
Height of Owner: 5'4"
Price Paid: $100

Just a comment -- I highly disagree that Kelty "puts a lot of thought into their products." Their designs are simple and inexpensive, yet durable for a good value, but are not designed all that well. It's hit or miss. For example, the "compression straps" on a Kelty Illusion go across the water bottle pockets (????), and the fly on the Teton (yeah, I know it isn't a pack) is incredibly skimpy. I could go on, but I think the point is made.
Stay away from this one. I bought mine at an REI garage sale for $45. It was return by the previous owner because the exterior side pocket zipper failed. I safety pinned it, no biggie...until the zipper pocket on the other side broke when I was on Rainier. And I didn't pack it all that much, knowing why I bought it so cheap. This thing has none of my confidence for an extended trip.
Your Review
You May Like
Specs
Men's
Price
Historic Range: $78.95-$160.00
Reviewers Paid: $70.00-$160.00

Women's
Price
Historic Range: $99.99-$159.95

Recently on Trailspace