Rab
Neutrino Endurance 600
1

review

5-star:

0

4-star:

1

3-star:

0

2-star:

0

1-star:

0
Specs
men's

Temp Rating
-3°C (Comfort), -9.5°C (Limit of Comfort), -28°C (Extreme)

Weight
1,100 g / 38.8 oz

Reviews
A finely crafted down sleeping bag with excellent…
Rating:


Source: received for testing via the Trailspace Review Corps (Sample provided by Rab for testing and review)

Summary
A finely crafted down sleeping bag with excellent loft, comfortable fit, and superior weather resistance. Using this bag in the backcountry will inspire confidence in cold wet conditions, and packing in at a reasonably lightweight compact form.
Pros
Superior weather resistance
Excellent form and fit
Superior comfort
Performs well below the 28F comfort range
The Rab Neutrino Endurance 600
Rab's Specifications:
Pertex Endurance Shell Fabric effectively sealed out rain and ice.
Pertex Quantum inner fabric lighter weight intended for maximizing loft. I found loft to be excellent.
Interior fabric on the hood is also Pertex Endurance fabric.
Rab claims the weight of the bag to be 38.8 oz; 21.2 oz of the total weight is down according to Rab. I found the bag weighed in at 40 oz with stuff sack. 
800 fill goose down. Specially treated hydrophobic down produced in conjunction with Nikwax company.
Usage:
A couple winter nights spent out in Uwharrie National Forest.  One cold windy February night in Birkhead Wilderness with temps in the mid 20's F and one slushy night in Northern Uwharrie, on top of a hill, just off a newly restored Uwharrie Trail section. The temps this night bottomed out around freezing, but started off in the 40'sF.  It was warm enough to melt snow into slush, thoroughly soaking the ground.  This was more challenging for the bag than the colder drier night I spent in Birkhead. 
The Rain/Wintry Mix test was conducted during a winter storm in my yard.  I was able to measure water repellency, and exposure time.  I was also able to determine water absorption by weight.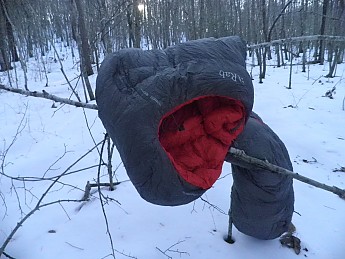 Simple construction and good fitting form. 
Rab states the bags are hand filled in Derbyshire England. The loft is a sufficiently cozy 6 inches (my measurement) and instills confidence to stay warm in temps well below freezing.
A cold night out in Uwharrie. 
Form and Fit:
The size of the bag tested is defined by Rab as regular. The length nicely fit my 5 foot 9 frame. As for girth, there was plenty of room for my chest (42 in) and shoulders. I consider myself broad in chest for my height, and I am 200 lbs. I had ample room to move about inside the bag.
For climate control Rab includes a well-fitting neck baffle. The neck baffle closes across the upper chest. Effective in sealing in warmth, the neck baffle has its own draw cord for custom fit. Using the neck baffle cord is easy to find sitting atop the chest and can easily adjusted, as there is plenty of room to move your arms. The bag is constructed with a tapered fit and a specially tailored foot box. The tapered fit was efficient yet did not feel constricting in the least. The fit allowed sufficient wiggle room, even in the knee area. The foot box allowed natural positioning of my feet and ample room to move around.
There is another baffle around the perimeter of the hood and contains its own draw cord as well.  Situated on the left, the cord lock is easy to find.  By pulling the cord one can customize the fit around the head.  The fit around the head is comfortable and well-conformed.  I found the perimeter to be comfortable even when snugly fit around my face.
The trapezoidal baffles effectively sealed in warmth throughout the length.
There is a ¾ length zipper with an amply filled draft collar running the full length of the zipper, and there are no cold spots at either end. The draft collar stayed in place without lifting and exposing the zipper. 
The YKK 5 zipper provided smooth and snag free opening and closing. There is also a small accessory pocket on the inside top right above the neck baffle. The pocket is closed by a YKK 3 zipper and easily contains small items such as a headlamp.
The colors are red inner fabric and a gray outer fabric with a Rab logo top center chest and model name at the top center of hood. On the left is printed a "European Down" and a Pertex Endurance logo. On the inside baffle at the top is printed information about the size and fill of the bag. 
Packing the Rab Neutrino 600:
Rab includes a dry bag stuff sack with a roll top closure and an internal draw string to contain the bag allowing enough room to roll the bag tight. Rab describes the sack as a "compression stuff-sack," however there are no compression straps. The stuff sack worked quite well and contained the bag in a reasonably small package that nicely fits the bottom of my Osprey Aether 60 and my new Osprey Exos 58 packs. The bag ultimately finishes out at about 12 inches x 8 inches.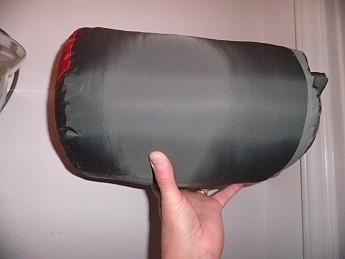 This bag fit perfectly in the bottom of my Osprey Aether 60 and also in my new 2014 Osprey Exos 58.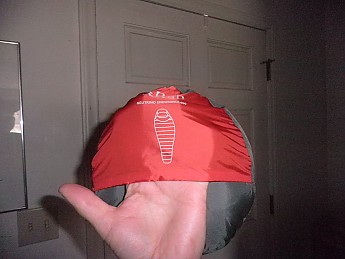 A "grab" pocket to facilitate removal of the bag.
On the Trail:
Using the Rab Neutrino Endurance 600 is a satisfying experience. The quality of craftsmanship is wonderful. Pertex materials in the shell construction instilled confidence that the bag will hold up to years of use. One other advantage I noted was how the low friction material made packing up a breeze. The zipper worked smoothly without snagging.
Comfort:
I found the fit to be very precise. For me the amount of wiggle room, foot room, and room about the chest to be nearly perfect. I typically shift around a lot when I sleep. I usually end up on my stomach in the mornings. In the back country I tend to sleep more on my side. When using this bag in cold dry temps of about 26 degrees F, I slept soundly with the only hint of the cold on my exposed face. There were no cold spots, and I found even the bottom of the bag effectively insulated me from the cold. My feet stayed perfectly warm and the heat distribution of the bag felt evenly distributed.  The head and chest baffles make a very effective seal that retains the warm interior air even when moving around.
Performance:
Please feel free to view my videos on how I tested the weather resistance.  I have posted links below. 
Rab rates the comfort temp of the bag to be about 28 degrees F. Rab also rates the comfort limit of this bag at 15 degrees F. The Extreme limit of the bag according to Rab is -15 degrees F.  I have used this bag in cold dry conditions, cold wet conditions, and tested the bag exposed in freezing temps with freezing rain and snow. In all occasions I found the bag to perform admirably. In fact, I feel confident that I could use this bag comfortably in temps around 10 degrees F. The lofty 800 fill down is impressively warm and inspires confidence in cold wet conditions.
I tested the bag exposed in the wintry mix of rain, snow and ice. I set the bag out on a ground sheet, covered the head with another ground sheet. Before setting the bag out, it is important to note that I weighed it in at 40 ounces. I then left the bag outside for 30 minutes. After ½ hour being exposed to the rain, snow, and ice I noted some accumulation on the surface of the bag. I also noted that the Pertex Endurance was holding up superbly.
I climbed in the bag for 7 minutes and took a temp reading of 70 degrees F. I noted that there were no cold spots, or wet areas. I did note that my back felt a cool spot in one of the videos. I later determined that my shirt had gotten wet. I then took the bag inside and weighed it again. I found no increase in weight. The water that was on the surface of the bag fell off before I could weigh it.
To test the hydrophobic down in my opinion would require some extreme measures such as submerging the bag in water. The Pertex shell performed so well, that the hydrophobic down did not have a chance to get wet when I removed my rain jacket. This successful test has inspired even more confidence in this product. It is also important to note that I would only expose my sleeping bag in the way I performed this test in an extreme  situation. In fact, I even felt some reluctance to expose this bag that way even while testing!
Condensation: Throughout my use on the trail in wet or dry conditions, I noted no condensation on the inside of the bag. Since I primarily use a fly/floor only configuration for my shelter in winter, I tend to have good ventilation. I never cover my mouth and nose while in my sleeping bag. This may have helped keep the condensation out.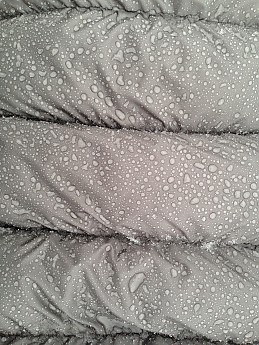 Note in the photo above the ice in the seams and how the water effectively beads.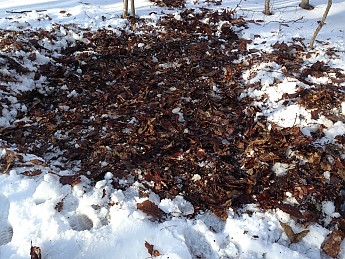 I cleared away the slushy snow and wet leaves. This was a good environment for testing the Rab, and it performed admirably.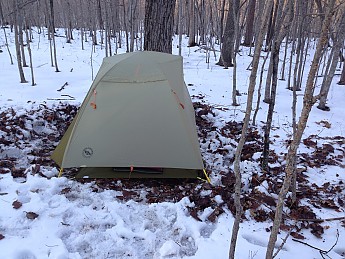 This is the shelter I used, the Big Agnes Fishhook UL2 fly and footprint.
Where to Buy
sponsored links
Help support Trailspace by making your next purchase through one of the links above.
Manufacturer's Description
refers to the men's version
The Neutrino Endurance series of bags are a range of down filled bags using 800 fill power Hydrophobic European Goose down that are designed primarily for use by alpine climbers.
The outer fabric is Pertex Endurance that is water resistant and offers piece of mind and protection in damp environments. The bag is a mummy taper shape so is streamlined and tapered to offer minimum weight and maximum warmth. The bag uses a lightweight Pertex Quantum lining that allows the down fill to loft to its maximum. The Neutrino Endurance bags are ideal for use on alpine bivi ledges, for lightweight backpacking in inclement weather or for year round use in tents to offer protection and piece of mind from spillages and condensation.
Perfect for: lightweight mountaineering / backpacking
Visit Rab's Men's Neutrino Endurance 600 page.
Retailers' Descriptions
Here's what other sites are saying:
Hunker down in the Rab Neutrino Endurance 600 27 Degree Down Sleeping Bag when the stormy weather is inevitable. Whether you're in a snow cave or managed to set up your tent before the storm blew in, the Neutrino Endurance presents a great option for riding out the coldest and nastiest parts of your high country trek.
- Backcountry.com refers to the men's version
Free Shipping. Rab Neutrino Endurance 600 Fill Sleeping Bag DECENT FEATURES of the Rab Neutrino Endurance 600 Fill Sleeping Bag Pertex Endurance outer fabric Pertex Quantum inner fabric Pertex Endurance inner fabric in hood and collar 800FP European Goose Down Mummy taper shape Proportionally assigned differential cut Internal YKK 3 coil zipped stash pocket 3/4 length YKK 5 coil main zip on 400 and 600 1/2 Length YKK 5 coil main zip on 200 Left and right hand zips available Extra long (additional 15cm) available on Anti snag zipper webbing tape Internal collar and hood drawcord Trapezoidal baffle chamber design Angled foot box Dry bag compression stuff sack Cotton storage sack Hand filled in Derbyshire UK The SPECS Total Weight: 39.5 oz / 1120 g Down Fill Weight: 21.2 oz / 600 g Down Quality (US-IDFB STD): 800 FP Grey Goose Zip: LT/RT 3/4 Shell: Pertex Endurance Liner: Pertex Endurance EN13537 Temperature Ratings Comfort: 19deg F / -7deg C EN13537 Temperature Ratings Limit: 7deg F / -14deg C EN13537 Temperature Ratings Extreme: -29deg F / -34deg C O/A Length: 86.5in. / 220 cm Height of Person: 74.8in. / 190 cm Shoulder Width: 27.5in. / 70 cm Hip Width: 20.5in. / 52 cm Foot Width: 16.0in. / 41 cm XL Length additional 15 cm: Yes - left zip only Outer Weight/m2: 58g/m2 Outer Comp: 100% nylon ripstop Inner Weight/m2: 35g/m2 Inner Comp: 100% nylon This product can only be shipped within the United States. Please don't hate us.
- Moosejaw refers to the men's version
Rab Neutrino Endurance 600
currently retails for:
$494.96

where to buy: