Six Moon Designs
Lunar Solo
Reviews
Excellent shelter for an extended backpacking trip.
Rating:


Source: bought it new
Price Paid: List

Summary
Excellent shelter for an extended backpacking trip. Simple, lightweight protection from the elements and bugs.
Pros
Lightweight
Excellent bug protection
Waterproof floor (if seam sealed)
Cons
Needs to be staked
Steep learning curve
Needs an adjustable hiking pole
Lunar Solo from Six Moon Designs
The Six Moon Designs Lunar Solo is a very well designed and lightweight tent for backpackers. It performs all the functions of a tent (shelter from weather, protection from insects, etc.), at the weight of a tarp.  
I used a 2009 model Lunar Solo on my thru-hike of the Pacific Crest Trail (PCT) that year. It protected me from sun in the desert, snow in the Sierras, rain on occasion, and clouds of mosquitoes in Yosemite. Overall, I never regretted my shelter choice during my PCT hike.
I still use that same Lunar Solo these days (early 2013). Although it is showing its age, with a little repair from time to time, it is still a reliable solo shelter.  
You can buy the Lunar Solo from Six Moon Designs (SMD) either seam sealed from the factory, or save a little cash by seam sealing it yourself. I like the opportunity to save a little by performing the simple stuff myself. I ordered mine not seam sealed and did the waterproofing (seams and floor). That way, if I'm sleeping in my Lunar Solo in the rain and wake up wet, it's my fault. 
The engineering of the Lunar Solo looks fairly simple at first glance. A simple single pole teepee type shelter with a hanging tub floor and bug net. You will learn the first few times using it that simple it is not. The Lunar Solo has a steep learning curve and must be setup perfectly for it to function as intended. Putting it up a couple times before taking it to the woods is a mistake.
This shelter requires practice to master with its staked design. Once mastered, you will learn how to improve it even more every time you use it. I switched to longer stakes to get it higher off the ground and improve airflow. Also, the sides must be pulled very taunt to maximize space inside. Once you get the hang of the shelters setup, you will be impressed by it's stability and weather resistance.
Condensation is an issue. There is no single wall shelter out there that is immune to condensation. We exhale moisture, and given the right conditions, the moisture will condense on the shelter material above us. The only way to minimize this condensation is through ventilation. The Lunar Solo does a very good job of this with its tarp like construction; however if there is little wind and the air is cool, you will wake up to some dripping. 
The Lunar Solo has an amazing amount of room inside for a solo shelter that is supported by a single hiking pole. Staked out perfectly, I have even used it as a two person shelter. We place our packs in the vestibule and have enough room to sleep comfortably. The small pocket in the bug mesh is a nice little feature for storing your headlamp, keys, etc.
The small packed size of the Lunar Solo and lightweight feature makes it my go-to shelter for most of my outings. I use it for backpacking and on overnight kayak trips.
Like most lightweight hiking gear, you have to expect damage during heavy use. I find it funny when someone brags about their latest super ultralight backpack or tarp tent and how much they paid for it. Then, a few weeks later up the trail, I find out they had to go into town to get some of that gear replaced due to damage.
It's simple folks - ultralight gear means less material, less tough material, less stitching, and less reinforcement. It's a trade-off between weight, durability, and comfort. A decision that each person must make for him/herself.
My Lunar Solo has been going strong for 4 years now. I have had to sew up a few places, patch a few holes, and re seam seal it on occasion. But given the use I have gotten out of it, I consider this shelter to be one of my better gear decisions.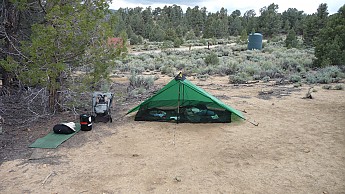 The space and function of this tent is impressive…
Rating:


Design: three-season, not free standing
Sleeps: 1
Ease of Setup: It's not difficult to set up but it does take repetiton to learn to lean the support pole off-verticle away from the tent to get the proper ground clearance around the perimeter of the fly.
Weight: 26 oz, 28 with stakes
Price Paid: $195

The space and function of this tent is impressive for its weight. Two people could squeeze if truly hard up. I'm 5' 11" and can easily sit up tall without pressing my head into the ceiling (peak height is determined by your pole or hiking stick). There's room to scatter my gear along with my pack inside. Ventilation is surprisingly effective.
My last trip had temps into the low 20's and by morning the outside was coated in frozen dew but inside everything was bone dry - not even frost on the inside of the ceiling. I've not used it yet in 'warm' wet weather but expect ventilation to remain more than adequate since one can partially raise the vestibule without exposing the door to rain. And speaking of the vestibule - very simple, clever, adjustable and huge.
I decided to get the standard floor, as opposed to the optional ultralite floor. I'd feel obligated to use a ground sheet with the ultralite floor and there goes my weight savings, so I'm not using a ground sheet, and have already accepted the inevitable wear spots on the floor. I went back and forth between the floorless 'Wild Oasis' model and the Lunar Solo before settling on the Solo so there is already part of me waiting for the day when I can cut the floor out without feeling guilty. I decided that having the option of sealing out flying bugs with the mesh door would probably trump the meager ounces saved in weight so that's how I ended up with the Solo.
Regarding the workmanship I have to concede that there is inconsistency in the quality of Six Moon products. I suppose the owner takes a certain amount of pride in having these things made in the USA but the flaws I've personally seen in the products strongly suggests at least one novice is let loose constructing these things.
Fortunately I was able to buy mine from an authorized retailer in Portland, OR (The Mountain Shop) so I set it up and spent a long time checking every seam and stitch. My flaw was an errant snip of the scissor that created a 2 mm hole in a very non-critical corner of the bathtub floor - easy to fix with seam seal and the 5% price reduction clinched the deal.
I owned an earlier version of this tent that used…
Rating:


Price Paid: $180

I owned an earlier version of this tent that used velcro down the side on the vestibule to close it. The newer one has a zipper in the middle which would be a great improvement over mine.
Anyway this is an awesome tent and I don't see why it is not listed under the 3-season tents just like gossamer gear tents are? Plenty of room, not the easiest to setup, but with a little practice that is resolved. Just like all single wall tents you will have some condensation at different times.
Bottom line is for about a pound and a half this is fantastic and I tried over and over to get my wife to put a zipper in mine (she wouldn't let me touch her sewing machine), so in the end I sold mine.
Where to Buy
sponsored links
Help support this site by making your next gear purchase through one of the links above. Click a link, buy what you need, and the seller will contribute a portion of the purchase price to support Trailspace's independent gear reviews.
Six Moon Designs Lunar Solo
reviewers paid:
$180.00 - $195.00

The Six Moon Designs Lunar Solo is not available from the stores we monitor.
Recently on Trailspace