Source
Widepac
Specs
Capacities
50 oz, 70 oz, 100 oz / 1.5 L, 2 L, 3L

Reviews
Same as Platypus, but much cheaper. I bought the 3L…
Rating:


Source: bought it new
Price Paid: 28 EU

Summary
Same as Platypus, but much cheaper.
Pros
Easy to clean (the bladder)
Neutral taste
Awesome bite valve with good flow
No leakage
Cons
No cleaning kit for the hose
I bought the 3L version on July '15 and it (almost) never left my backpack.
Before Source I was relying on two and maybe sometimes, three stainless steel thermoses for my hydration. That put a lot of extra weight, not to mention that I ended up getting dehydrated most of the times because I hated to stall the team or be left behind in order to get the thermos on/off the backpack. So I drank mainly at stops.
And then Source came into play with its fulfilling 3L capacity and the awesome helix bite valve which provides sufficient flow when you're not panting .
The bladder is super easy to clean since you can use a potato masher to keep it open in order to dry up or you can put a small towel in if your whole hand can reach down to the bottom.
The problem comes with the hose as far as cleaning is concerned since a kit is not included. My solution to that is to spin it fast like a lasso for the excess water to come to the other end and then leave it in an upright position for the evaporation to begin.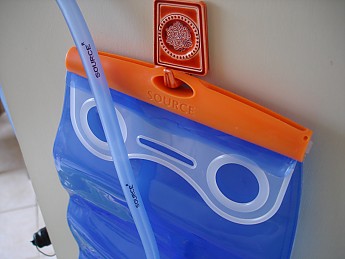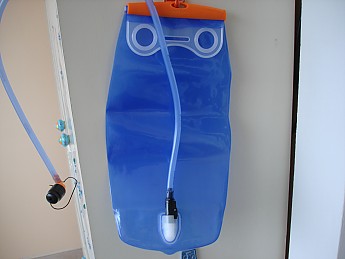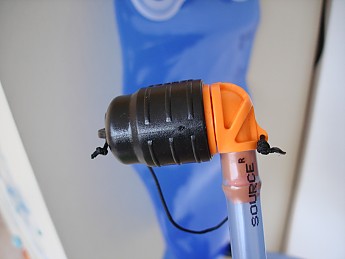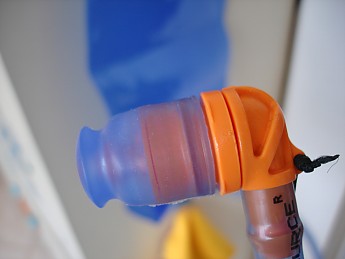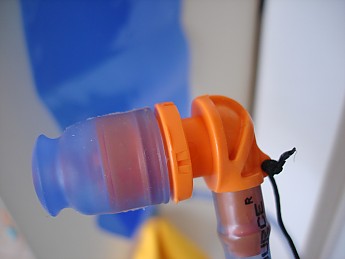 The valve can be further dismantled in order to accelerate evaporation.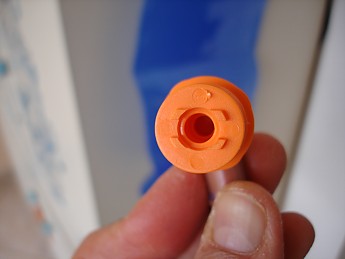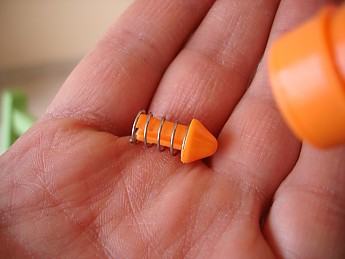 The material, as stated in the homepage, is BPA-free and other water bladder owners recommend using vinegar, or soda or lemon juice for disinfection. I don't know if those acidic/alkaline solutions would corrupt the bladder/hose and I'm not willing to try it so I just rinse with tap water and that's it.
Durability is good so far. No leakage or hint of rapture anywhere in my (sometimes) overstuffed 55L backpack.
Oh yeah! I love this thing!
Update: The potato masher technique for making sure that it's completely dry lol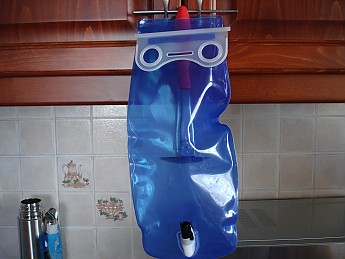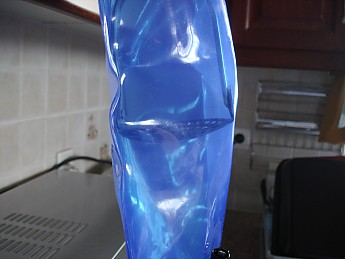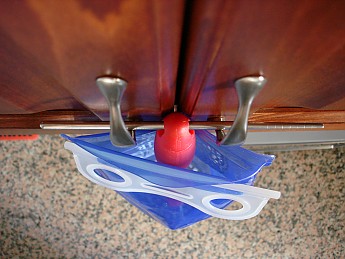 Source reservoirs are easy to fill at home or in the…
Rating:


Source: bought it new
Price Paid: ?

Summary
Source reservoirs are easy to fill at home or in the field, easy to add ice out of ice machines, easy to clean, they do not leak, and without a doubt the best on the market. Keep a 70 oz, a 100 oz, and a Divide partway full in the freezer, always clean and ready to go.
Pros
Ease of filling at home and in the field
Ease of cleaning
No bacteria growth
This water bladder has been working great in my backpack…
Rating:


Source: bought it new
Price Paid: $25 from amazon

Summary
This water bladder has been working great in my backpack on long trips. The hose is a good length and the bite valve cover protects it from dust and dirt. It is a great replacement for other bladders and can be found cheaper. Very durable and easy to fill!
Pros
Durable
Easy to use
Bite valve cover =clean
No leaking
Cons
Hard to twist nozzle to unlock bite valve
This is a strong and dependable water bladder for my use of backpacking. It holds 2 liters, which is plenty to get me from point A to point B, where I will refill. It was also convenient in size for water treatment. I treated directly in the bladder. It is easy to fill.
The only con is that the nozzle can be hard to twist to open, although this is a pro when it comes to leaking, which I have never had a problem with. If you leave the valve unlocked it will of course squirt water out. The plastic material is thick and strong, it seems to withhold many obstacles.
I have had this for about a year and take it on all my backpacking excursions. It is still like new. The bite valve has not started to wear like some competitors' nozzles. I definitely recommend this bladder to my friends! 
Revolutionary design for a water bladder and it's…
Rating:


Source: bought it new
Price Paid: $30 USD on sale

Summary
Revolutionary design for a water bladder and it's just as tough as they say it is. Love the slide closure! Great for backpacking (3L) or hiking (1.5 or 2L). Keeps water fresh for days.
Pros
really does keep water fresh for a long time
super tough
low profile in a pack
easy to clean and fill thanks to the slide closure
Cons
wider than most day pack sleeves will accomodate
donut shape can make drying it out a challenge
Okay, I don't know where I read the first review for this bladder, but when I watched a car drive over a full one without it bursting, I thought "what the hell do I have to lose?" I'd never heard of SourceOutdoor and although I was tempted to go with a Platypus for about the same price, I decided to try the Widepac more for kicks than anything else.
I'm surprised and impressed! The Widepac lives up to the hype — it's incredibly tough, clean, easy to fill, and definitely increases space in your pack.
A couple of things to be aware of...  First, although the profile is slimmer, the bladder is wider than most traditionally shaped bladders so you might have trouble fitting in the pocket of your pack, if it has one.  Second, even with the slide closure, drying it can be difficult due to the donut shape.  I've found that an empty paper towel tube on each side does the trick.
Cleaning is easy if it ever needs to be cleaned (the manufacturer claims it doesn't). To test that claim, I left water in mine for 6 weeks. Guess what — there was not the slightest hint of swamp and absolutely no sliminess on the inside.
As for its toughness, it can tumble down a 20 foot escarpment and get scraped all to hell but survive without a puncture or breaks in the slide or quick connect valve.
Most other hikers will never see this bladder so the coolness factor doesn't count for much.  That's okay since it's really more about quality than anything else, and this bladder is definitely a quality product!
Oh by the way, I've only found it online and it's made in and shipped from Israel so there is a shipping cost.  It appears there is very little distribution of this product in the US and I couldn't find a single retailer.

Practical and easy to use water bladder. Source Widepac…
Rating:


Source: bought it new

Summary
Practical and easy to use water bladder.
Pros
Lightweight
Bite valve has cover
Practical design—easy to pour water into a pot for cooking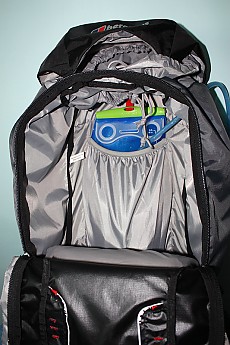 Source Widepac 3L in a Berghaus Wilderness rucksack
I picked this model of water bladder over others for two main reasons. It is a little lighter in weight. It opens from the top, which I find more practical especially when I need to pour water from the bladder into a pot for cooking. And its bite valve comes with a cover to keep dirt off the valve—a useful feature when you set your pack down on the ground and it topples over as packs do.
The slider looks unconventional but it works and I have had no problems whatsoever with leaks. I have even held the bladder upside down to test for leaks but not so much as a drop came out.
I have had no problems with mould either, though I am careful to dry out the bladder after use and I also keep it stored in the freezer.
So much easier to open, close, and clean than bladders…
Rating:


Source: bought it new
Price Paid: $30?

Summary
So much easier to open, close, and clean than bladders with screw tops. The new Helix bite valve is easier to clean than the original style, but too large and difficult to open/operate, especially one-handed (while biking).

Overall, though, my favorite bladder.
Pros
Easy open/close
Durable
Water stays fresh
Easy to clean
Leakproof
After years of struggling with the impossible to open CamelBak bladders, I was happily introduced to the Source slide top bladder. It is so easy to open and close that I was skeptical as to how leak-proof it would be, but I've never had an issue with that at all.
The only thing I don't love about this bladder is the new Helix bite valve. It is very large. It won't fit through the stay loop on the straps of some of my packs. Also, the cap can be a bit difficult to pop off and the twist valve can be a bit tricky to operate one-handed, particularly while biking.
It does seem to stay very clean, however, which is an improvement over the original valve they had.  Overall, a very good bladder.
Source Widepac
MSRP:
$29.00

The Source Widepac is not available from the stores we monitor. It was last seen August 8, 2016 at Source.
If you're looking for a new hydration reservoir, check out the best reviewed current models.