The North Face
Stormbreak 1
Reviews
Good all around value for a three-season solo tent.
Rating:


Source: bought it new
Price Paid: 129 CDN

Summary
Good all around value for a three-season solo tent.
Pros
Good value
3 Lb weight
Good headroom 34"w x 34"h
Freestanding (!)
Easy setup with really obvious colour coding
Cons
Inside loops for a gear hammock would be good
Footprint not included
Small vestibule (my 40L pack fits ok)
Extremely narrow at foot of tent (26")
I shopped around for a 3lb solo tent for quite awhile, and then happened to see this one. The price and weight looked great, and I trusted the brand to be a quality tent. After using it this summer and fall I found that I really like it.
I joked with my camping buddy that I would be sleeping in a coffin, as the tent has very tiny dimensions set up. I thought it might be claustrophobic, but with the good headroom and side entry I have found it very comfortable. Not much room for anything but me in there. (I'm 6'1" and 205) The footprint is VERY tapered and you would likely want to use a 3/4 sleeping pad or tapered pad and a mummy or semi-mummy bag instead of rectangular gear.
The ventilation is great, but would work against it in snowy or blowy conditions. Adjusting the fly just right would be important there.  I swapped out the pegs for aluminum stakes similar to the MSR Groundhogs as well.
All in all I'm very happy with it for three-season use, and for pack weight. For rainy or unknown weather, it's much nicer than a bivy bag.
The Stormbreak 1 tent is a good value if you are looking…
Rating:


Source: bought it new

Summary
The Stormbreak 1 tent is a good value if you are looking to reduce your pack weight at a reasonable price. It is constructed using quality materials and will keep you dry.
Pros
Lightweight
Weather resistant
Good price for the weight
Easy to set up
Cons
Not enough tent stakes are included and they are too heavy
Vestibule is too small for a backpack
The footprint is the same size as a sleeping pad.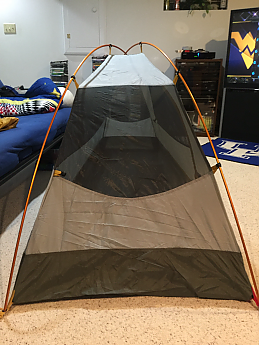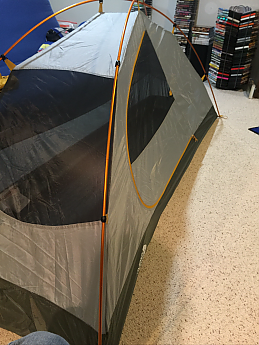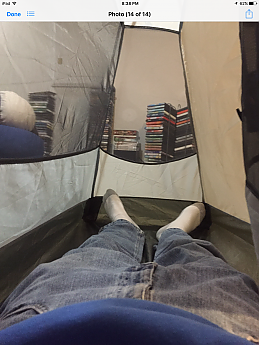 The North Face Stormbreak 1 tent is a good quality tent and is an excellent value for the price.
The tent is very easy to set up using the two lightweight aluminum poles. It is free standing and really only needs to be staked out to pull the rain fly away from the tent body and to keep it from blowing away. The tent poles put tension on the tent and keep it tautly pitched.
I have only used the tent in a rainy night one time and it was water tight with no water splashing into the tent. The rain fly is a little small and care needs to be taken that it is positioned as close to the ground as possible during stormy conditions to prevent back splash.
The tent is small and I did notice a lot of condensation. However, it did not drip inside the tent. I did have to let the fly dry a little to avoid putting it into my pack sopping wet.
The tent is very small and this is both a positive and a negative. The small size allows for durable materials at a relatively light weight. It is roomy enough to sit up in, but that is about all. The dimensions from side to side are the same as my sleeping pad. My biggest complaint is the small size of the vestibule. It is too small to fit a pack in to keep it out of the weather.
The tent packs up into a very small size and fits into the storage bag easily. Tent stakes are included, but they are heavy and not enough are included to fully stake out the fly. I replaced mine with lighter weight stakes and replaced the guy lines with some that are lighter and reflective.
I have owned this tent for a year and have used it on numerous trips. Yes, lighter weight tents are available, but at many times the cost.
Great tent for the price. Weighs 3.19 lbs. I shave…
Rating:


Source: bought it new
Price Paid: $129

Summary
Great tent for the price.
Weighs 3.19 lbs.
I shave some weight by replacing the stakes with Groundhog stakes.
Decent headroom and alcove for your pack.
The North Face Stormbreak 1
currently retails for:
$129.00