Eureka! Backcountry 1

The Backcountry 1 has been discontinued. If you're looking for something new, check out the best three-season tents for 2023.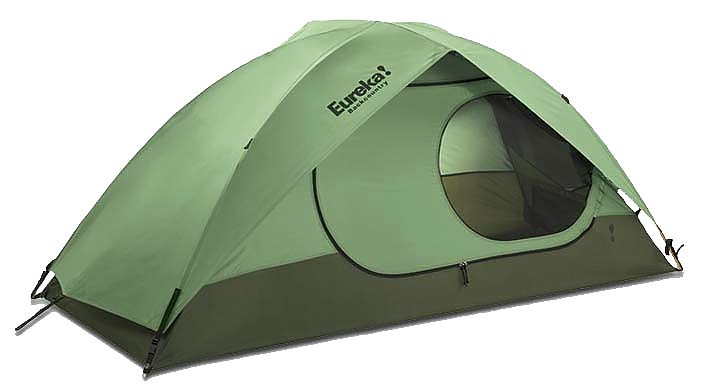 Rugged, truly free-standing solo tent.
Pros
Tough
Simple to erect
No condensation
Back-packable
Cons
No longer made
In a hard rain things get wet by the time the fly is on
I bought this over another solo tent because of the free-standing setup.  Not knowing that this was considered a good tent by others I used it with no preconceptions. This dog-gone tent worked great, packed small enough and did not weigh a ton.
At the time of my first backpacking trip with this I thought it might be a bit heavy, but for its price and even compared to pricier tents it doesn't weigh all that much now that I've done some research.
It has kept me dry in the wet, warm in the cold, and ventilated on hot nights.
Source: bought it new
Price Paid: I really don't dwell on prices, don't recall the price.

I've borrowed one of these from a friend for two weeks out in the woods for work. Simply amazing. Had a really heavy rainstorm for two days straight and I was the most dry SOB out there (they used the army issued crap). I really want to get myself one of these.
Pros
Lightweight, easy to pack
Keeps person and equipment dry in torrential downpours
Easy to setup and tear down
Space is plentiful
Cons
Stakes are terrible and weak
They are expensive (you get what you pay for)
Although a brand new one is very expensive, they are worth it. The durability on these puppies is great. I'm saving to buy a brand new one for my camping trips in the future. 
The stakes are total garbage, but that is an easy fix. The best thing I've ever done with certain pieces of camping equipment was mixing and matching parts. Trial and error. 
I look forward to owning one and using it often.
Source: borrowed it

The Backcountry 1 tent is truly amazing. It is extremely reliable. In fact, the TOLERANCE on the poles was even beyond my guessing of anything like it. Get this tent. It is a must for any bug out bag that you can imagine, and a must have for backpackers. Lightweight and easy to setup and take down.
Pros
Lightweight
Compact
Awesome seams
Excellent zippers
Quick up and down time
Add-ons available
Can support more than one occupant
Packs out very small
Very warm when it's cold and cool when it's warm!
Cons
Not many
Zipper can hang if not aware
Stakes are weak. Use some other brand.
Rainfly addition is a bit annoying
Staking down is not good for rough ground
Get better stakes
The first thing to mention is that there is plenty room in this tent to sit upright. Although a one person tent, you can easily sleep on your sides either way. In fact, you can comfortably sleep two if you don't mind being close.
It is definitely a three-season tent and has an excellent lower tub shell to protect against water and other elements. However, in extreme landscape condition I would suggest laying down a tarp first. Not necessary, but I like to take care of the bed layers of my tents.
This is also a free standing tent (although not advertised as so.) It is not necessary to stake it out. You can simply put in your pack to weight it down in high wind situations. Of course, staking it out will give you an even sturdier tent.
Out of box it took about ten minutes to assemble (rainfly included). Of course it comes with instructions, but the tent is very straightforward and anyone that knows tents will get what's going on immediately. The zippers are well made but there is a chance for a catch here and there. A seasoned backpacker would easily deal with this issue.
Once standing, this tent is VERY sturdy. Of course there are loops here and there to hang lighting and such. With the rainfly off, it is perfect for spring and summers. With it on it will easily shield your from fall conditions. In my opinion, if you have a good sleeping bag, this tent will satisfy the conditions of a cold winter. Rain is not a problem with this tent.
The take down of the tent takes a bit more time, however it is the fastest take down that I have ever had in a tent of this design.
THIS IS NOT A WALMART TENT. If you have considered building a bug out bag, this is the tent to get. And there are three great reasons: First = it is extremely lightweight for what it pulls off, second = up and down time is pretty freakin' quick, and third = repair for this tent would be a simple matter if you had some dental floss and a sewing needle.
The seams are REALLY great and the rainfly is perfect. Also, there is an aftermarket add-on for the tent that adds a vestibule. See link(s) below. All in all this is a fantastic tent. It, along with the add-on both fit into my Teton pack. Take a look at the links and determine for yourself.
My purpose for the tent and the other gear are for both recreation and preparedness.
Here are some links to check out: This guy is going to review the add-on for the tent… Personally I used both the standard rainfly that comes with the Backcountry 1 and added this one on top. In my opinion this converts it to a four-season tent. I was in there for about ten minutes in an air conditioned house and it got pretty warm in no time at all. I know that doesn't really count, but it was still a rapid transition:

Some other things to check out for serious backpackers: Goofy but educational… This stove can heat water super fast. I just got mine a few days ago. https://www.youtube.com/watch?v=-anFZdKDrBk
Okay - next up - the LIFESAVER: Works VERY well. You can get this on amazon.
https://www.youtube.com/watch?v=wDJhtAFZPpM
https://www.youtube.com/watch?feature=endscreen&NR=1&v=JhvEO7EZwPE
However, you are wondering about the tent. Well, they are very compact. To demonstrate, I have a review of my Teton pack and how it is set out. Note, the bottom of the backpack is designed for tent storage. Here you will see the space-to-size ratio for a tent to be stored there. Both the Eureka Backcountry 1 and the add-on rainfly (converting to four season) will fit into the Teton. You have to wait until the end of the backpack review before he shows you the 'tent' section for storage.
Source: bought it new
Price Paid: Cash

Favorite tent of all time. Perfect for backpacking and bike-camping trips.
Pros
Appearance
Durability
Quick setup
I've had mine since 2008, and it is still going strong. I just can't imagine using another tent after enjoying this one so much. I've got setup down to around 3 minutes.
We have really tough ground in our area, so I've never even attempted to use the stakes. Poles are sturdy and the floor space is good enough for all my gear and myself.
Source: bought it new
Price Paid: ?

Perfect one-person tent
Pros
Big one-person tent
Long life
Color
I have spent the last four summers sleeping in this tent every night in Colorado and it is excellent. I used the first tent for three summers in a row and then one of the zippers went bad, but it never leaked water.
The green color is a huge advantage versus all other tents that have loud colors. They quit making this tent in 2001, so if you can find one, get it.
Source: bought it new
Price Paid: $160

Great tent!
Pros
Waterproof as a duck's butt.
A great little tent. Easy to set up, relatively light and very straightforward.
If I want to go super light, I don't bring a tent, so this tent does its job perfectly. It is roomy and simple enough for car camping, and compact/light enough for backpacking, a truly useful tent.
I am 5'10" and using my large backpack as a pillow, could still easily stretch out in this tent.
The interior allows plenty of room for changing clothes, and you can keep all of your hiking gear to include your rifle in the tent while you sleep.
UPDATE:
This tent is the best I have ever used, no question.
Simple, no fancy pants stuff, but it works awesome. Durable and free standing. You can set this cat up after being bone tired with minimal effort. Run the poles, stand her up, crawl inside, and rack out. Waterproof as a duck's butt. You will be bone dry. I am super impressed with this tent.
Check the Baxter Pass Rae Lakes Loop trip report for details.
Price Paid: 100-130?

Excellent tent for motorcycle camping and backpacking. Small size and ease of setup are the best features.
Design: Solo, Three season
Sleeps: 1
Ease of Setup: Very easy set-up
Weight: 3.5 lbs
Price Paid: $129

Just spent 19 days (Adirondacks) in the backcountry 1, did not have time to seam seal this tent so I went to the woods with question marks! I was able to seam seal the fly top after the first rain and despite the lack of prep after 2 moderate to hard rains found a small amount of water along the door seams.
As mentioned in other reviews the fly might be considered the weak point, does not provide enough front back coverage and there was back splatter in the hard rain about half way up the front of the tent, seam seal and your (my) problem should be fixed.
Good ventilation and room, plus tent blends in to the Adirondack landscape so well, i had to search for it at times. I like this tent. Best price I have seen 'doms '
Price Paid: $119

This tent is great for the solo camper. Two shock-corded poles cross to support this freestanding dome. Wire stakes included. I'm 6'2" and have enough room within its 8' by 3' floorspace for myself and my backpack, which I partially use as a pillow.
Tent's height makes sitting up no problem. Doorway is generous in size, the window sizes and locations are great, the two tent pockets are ample and well placed, and I had no difficultly with the rainfly's pole installation as reported by some owners.
I do wish it had an enclosed vestibule area to use for cooking on rainy days or storing muddy boots, and am considering adding an extension to the rainfly to accomplish this. Also wish it came with a footprint.
All and all, a great tent for lone campers wanting more than a bivy but not a lot of bulk.
Design: three-season freestanding dome
Sleeps: 1
Ease of Setup: very easy, even at night
Weight: 4 lbs
Price Paid: $95 US

Absolutely fantastic solo tent. This tent has never let me down in the rain- not a single drop inside! Ventilation is also superb as I have yet to experience any condensation issues. The rectangular floor is easy to divide up amongst you and you gear, although you may be wishing for a bit more space- floor measures about 8' x 3'.
Setup is a breeze, and guying out (if needed) takes no time at all. I'm 5'10" tall, and the interior height allows me to sit up straight with no problems at all. The tent has two mesh gear pockets placed near the floor (one at your hand, the other at your head). The darker green color can be a bit depressing inside during a rainy day, but who cares at night.
I highly recommend this tent for soloists who want a reasonably lightweight, super dry shelter at a great price.
Design: 3.5 season, Al pole, freestanding
Sleeps: 1
Ease of Setup: A kid could do it
Weight: Slightly less than 4.5 lbs
Price Paid: $100

Takes 10 mins to set up with no complications. I do a lot of solo outdoor camping in Asia where it rains often. This is the perfect tent to set up in the rain and stay dry in. The mesh makes for great ventilation and the fly stays firm, though it does take a bit of trouble to get the fly in. In the end, I did what another reviewer did, sawed off 3/8 of an inch of the pole and filed it down. Don't know if the fly shrank or the poles were made too long.
Overall though, it's a sturdy trouble-free tent that is convenient and fuss-free. There's also plenty of space to put my pack in. If you don't mind a little extra weight and space, this tent is perfect, though at 1.75 kilos, it's not that heavy and doesn't take up that much space in the pack.
Design: 3 season free standing dome
Sleeps: 1
Ease of Setup: With eyes closed
Weight: 1.75 kilos
Price Paid: US $106

I have to say that this tent is excellent for the solo backpacker. It has seen several hundred miles with me and battled many rainstorms without wetting me or my gear. The only water I have ever seen in it was from pitching it in the rain. It has enough room for you to move and get dressed, but not hardly enough room for your pack, if it had a vestibule I would give it five stars.
Design: Three-season freestanding
Sleeps: 1
Ease of Setup: Very easy to set up
Weight: a little over 3 pounds
Price Paid: $110

The Eureka Backcountry 1 is a great solo freestanding tent. Just received mine from Dom's Outdoor Outfitters for $89.99 shipped.
These are initial review, after setup. Haven't taken in on the trail yet.
While there are lighter solo tents, they aren't many freestanding. You have to stake them down and or have to deal with guide wires. My son is in Scouts, and often backpacking, space is a premium, the ground is rock hard, and people trip over the guide wires. This tent is spacious at 8x3 with plenty of headroom. There isn't a vestibule, but there is plenty of room in side. Most reviewers complain about vestibules anyway. It's hard to get in and out, or/and often it dumps water on you. This is essentially a quarter dome tent, and weighs under 4 lbs. The fly gives plenty of coverage.
The tent goes up easy. It has small guides to slide the poles through, then in the holes at the corners, then a couple of clips. A note on guides, I don't like them, the pole gets hung going in and snags coming out, but these are only about a foot long. Be wary of tents with guides the entire length of the tent. Small guides or no guides allow the tent to put up quickly and with ease. I just returned a tent with full-length guides.
The fly goes on next, and it has one minor issue. Either the pole is too long or the material has shrunk, which isn't uncommon. It can be difficult to get the pole in the holders. Well, there is nothing you can do about the material, but you can cut the pole down. I cut about 3/8 inch off my pole, then sanded down the edges to make it easier. Warning, do this at your own risk as it could violate the warranty. I really like the tent and plan on keeping it. In the immortal words of Jean-Luke Picard, "Make it so!".
The tent has a huge door, easy to get in and out, and also has a window. Search for pics and you will see. It is very roomy; you can sit up with no problems. There is a pocket for small items at the head and side of the tent. The top of the tent is mainly mesh, so ventilation should be good. Would be good for stargazing with the fly off.
It comes with standard stakes and some tie downs, but don't expect to use those unless the conditions are very windy. Just turn the head of the tent into the wind.
Design: Three-season freestanding dome
Sleeps: 1
Ease of Setup: very easy
Weight: under 4lbs
Price Paid: $89.99

This tent is possibly the best all-around backpacking tent on the market today. It packs small, pitches with ease, and is relatively inexpensive. I have even squeezed two people inside for a night. It holds up well against thunderstorms and high winds as long as you stake it in. I have no complaints about this tent.
Price Paid: ?

I love this tent. It's seen a fair amount of action so far and has yet to disappoint. There's plenty of mesh for great star-gazing and ventilation, a burly set of poles for stability, and (best of all) room to party! The Backcountry packs enough room for my 6'1" self to lie comfortably with room on both sides AND with my entire pack inside at my feet. The lack of a vestibule means nothing with this behemoth of a one-man. Not only that, but it also provides just enough space for a close two-person night under the stars!
It can be a pain in the rear to get the fly-poles actually attached to the fly, but aside from that this is a great tent. I feel like it deserves an apology every weekend it lies untouched on the floor. If you don't mind carrying a little more weight than other one-mans, this tent could be for you.
Design: 3-season freestanding
Sleeps: 1
Ease of Setup: "t'aint bad!"
Weight: 3 lb 14 g

Your Review
You May Like
Specs
Price
MSRP: $199.90
Historic Range: $105.95-$199.90
Reviewers Paid: $89.99-$160.00

Recently on Trailspace