Wigwam
Rebel Fusion Quarter Sock
1

review

5-star:

0

4-star:

0

3-star:

0

2-star:

1

1-star:

0
Specs
Liner
100% Olefin

Outer
68% Stretch Nylon, 30% Merino Wool, 1% Stretch Polyester, 1% Spandex

Reviews
An all-in-one sock and liner that wore out quickly…
Rating:


Source: bought it new
Price Paid: $12

Summary
An all-in-one sock and liner that wore out quickly and failed to live up to its claims of blister free hiking.
Pros
Good initial fit
Seamless stitching
Lightweight
Merino wool
Fast drying
Cons
Poor durability
Stretched out quickly
Did not live up to marketing claims
Ready to be retired in less than 50 miles
I purchased my first pair of Wigwam socks earlier this summer at a local outdoor supplier. I spent a considerable amount of time in the store comparing the Rebel Fusion Quarter socks to other Wigwam products, as well as to similar products from SmartWool and a few other brands. What attracted me to this particular sock was:
They were on sale (as were all Wigwam socks in the store that weekend).
They claimed to be an all-in-one sock and liner.
They claimed to "prevent blisters."
TESTING PARAMETERS
I wore the Rebel Fusion Quarter socks over three weekend trips, totaling 8 days and 56 miles (Although the socks did not complete the third trip). On each weekend, I consistently...
wore my Merrell Moab Ventilator hiking shoes. I have hiked in MMV exclusively since 2007, wearing a variety of hiking socks. This particular pair was well-broken in, having done a few hundred miles in them. I have never had heel blisters in these shoes.
carried a starting weight of 20-23 pounds in my pack.
used trekking poles.
wore gaiters that completely covered the socks.
THE TRIPS
The first weekend in these socks I hiked approximately 20 miles (+/-). Trail conditions were muddy and wet. Despite the gaiters, my shoes and socks were wet most of the trip. At the end of each day of hiking, I would squeeze (not wring) out the socks and hang them from the ridgeline of my tarp. I was impressed to find them dry each morning. At the end of this trip, the socks were machine washed in cold water in the gentle cycle. No fabric softeners were used. The socks were line dried.
As I packed for my second weekend trip, I noted these socks already looked more worn than older hiking socks I have "retired" and now wear around the house. This second weekend trip did not go as planned. I only did 4 miles in dry conditions. My feet and socks remained dry the entire trip. As before, after this short trip, the socks were machine washed in cold water in the gentle cycle and line dried, with no fabric softeners.
Packing for the third trip, I had serious concerns about the durability of these socks. They looked old and worn out. My choice to wear them really came down to the desire to test their durability. At this point, the socks had only been worn for a total of 24 miles. Wigwam provides a 2-year guarantee on them. So I was expecting a lot more hiking out of these socks.
The first day of this three-day weekend covered 9 miles in steady rain. My feet were soaked through the entire time. As the day ended, I treated "hot spots" on three toes on my left foot. The morning of day two, the socks were still damp. After only 2 miles, I had a blister on my right heal. Because we were meeting another hiker at this spot, I had the opportunity to remove my shoes and socks and allow everything to dry out in the hot sun. By the time we set out, both my shoes and socks were completely dry. Six miles down the trail, I treated my left heal for a blister. At the start of the third morning, I was done wearing these socks. I switched over to the mid-weight hiker I had brought to sleep in at night. Wearing those socks, I had no discomfort or hot spots while finishing the last 8 miles.
In total, the socks were worn five and a half days and walked 48 miles before I considered them no longer sufficient to hike in. For an item labeled "Prevents Blisters," I developed 2 blisters and 3 hot spots.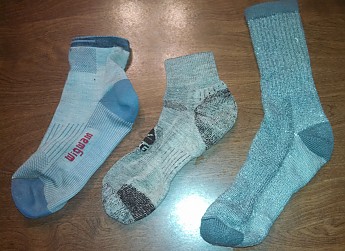 The Rebel Fusion is on the left. Note how stretched out the
neck and back of the sock is compared to the other socks.
The picture does not convey how thin & worn the back of
the Wigwam feels after less than 50 miles. The middle sock
is a discontinued Nike lighthiker. I have hiked (not packbacked)
in this sock for hundreds of miles. It still fits like a glove.
The midweight sock on the right is the Gander Mountain
house brand (2 pair for $11). This sock has more than 80
miles of backpacking on it, as well as a ton of hiking miles.
These were the socks I took to sleep in at night, and they
are the socks I finished the trip in after finding Wigwam to
be insufficient.
WAS I FAIR?
Before writing this review I asked myself if I had fairly used these lightweight socks for their intended purpose. The retailer descriptions posted on Trailspace.com use words like, "multi-sport," "trail runner," and "hiking." I could easily see the argument that they were not built for slogging a pack through the mud.
So I went to Wigwam's website and did a product search using their filter feature. I selected "Men/Quarter/Merino Wool/Backpacking." Three results were returned, one of them being the Rebel Fusion Quarter. As I was led to believe at the time of purchase, these socks are suppose to be a lightweight backpacking sock.
Where to Buy
sponsored links
Help support Trailspace by making your next purchase through one of the links above.
Manufacturer's Description
Visit Wigwam's Rebel Fusion Quarter Sock page.
Retailers' Descriptions
Here's what other sites are saying:
Formerly known as: INgenius Rebel Quarter A lightweight jersey sole multi-sport sock with a moisture-managing Olefin liner combined with a soft Merino wool outer sock for the superior, balanced comfort.
- Ramsey Outdoor
Wigwam Rebel Fusion Quarter Socks by Wigwam Mills blends the performance of a liner and sock in one light-weight, streamline package good for hiking, running and all your favorite outdoor pursuits. The 100 percent Olefin liner reduces moisture while the seamless design and foot-hugging fit reduces friction and pressure points on your foot. Outer: 65 percent stretch nylon, 30 percent merino wool and 5 percent spandex. Wool naturally thermo-regulates and resists odor. A fortified heel and toe make the Rebel Fusion No-Shows durable. Mesh air vents keep your feet cool. Formerly known as Wigwam Ingenius Rebel Quarter Sock. These Wigwam Socks are some of the best socks for running, hiking or exercising. Materials: 68% stretch nylon, 30% merino wool, 1% stretch polyester, 1 percent Lycra Spandex. Colors: Black, Light Grey. Cohesive moisture reducing inner liner. fortified heel and toe. breathable mesh air vents. seamless toe closure. Formerly known as the INgenius Rebel Quarter
- Tahoe Mountain Sports
The comfort of a dry pair of socks can turn your whole day around when out on the trail. Wigwam Mills Wigwam Rebel Quarter Socks gives you exceptional comfort in your trail runners when you are hiking for hours on end. PRODUCT FEATURES: Naturally soft and luxurious merino wool provides natural insulation from warmth or cold and quickly absorbs and evaporates moisture to keep foot dry Olefin, a superior moisture-repelling fiber, moves moisture away from the foot Ventilated mesh panels on foot and leg control moisture Seam-free interior eliminates rubbing and irritation Lightweight jersey sole provides strategic padding in heel and toe for enhanced walking protection
- Appalachian Outdoors
A lightweight multi-sport sock with a moisture-managing Olefin liner combined with a soft Merino wool outer sock for the superior, balanced comfort.
- Altrec Outlet
Wigwam Rebel Fusion Quarter Sock
currently retails for:
$10.99

where to buy: