Esbit
Pocket Stove
15

reviews

5-star:

8

4-star:

5

3-star:

2

2-star:

0

1-star:

0
Rating:


Source: bought it new
Price Paid: $11.99

Summary
This is a nice compact dependable cooking stove ,that is easy to set up and use! Its design is for boiling 2 cups of water. Great for the cook in bag meal users.
Pros
Easy use
Dependable fuel
Compactability
Durability
Cons
Not very light
Doesn't come with wind screen
One tablet only boils two cups of water no more than that
When using this stove in a light wind with a DIY wind screen it was able to boil water in 8 minuets. Heavy wind would mean the use of two tablets as well as more than two cups of water would also. It unfolds great and is very durable, as well it also is small when folded and can easily slide into your cook pot for storing.
This stove is a good backup and a great front runner for you lightweight hikers where space and weight mean everything!
Rating:


Source: bought it used
Price Paid: 1 pound

Summary
Great little cooker.
Pros
Lighweight
Strong
Boils water fast
Really great stove this. I got mine from an army kit resellers, so it was a bit dinged about, but even in that state it can do what it is meant to do with ease.
My only reservation is not a con. It is that it does take around two fuel tablets to boil a litre of water, but at least it boils fast.
Really great, I can see why the army uses it!
Rating:


Source: bought it new
Price Paid: $11

Summary
This is NOT a stove to cook a chicken over. It is a lightweight stove for boiling water. Used for this purpose it is great!
Pros
Light weight
Compact
Boils 2 cups of water in approximately 8 minutes
This little gem is perfect for what it is intended for — to boil water. Need to purify water? Water for MRE's?  Coffee/Tea?
I purchased this stove mainly for my emergency kit when winter hiking.  How good would a hot cup of tea or cup of soup taste if someone is injured on a cold winter day? Two cups of water take approximately 8 minutes to boil.
It is inexpensive — approximately $11. It is lightweight at 3.25 oz. Easy to light the non toxic fuel which you can blow out if you don't use it all (you may need a type of wind block for which i pack some tinfoil).
I usually just pack a tin cup in which the whole stove/fuel fits.  Perfect!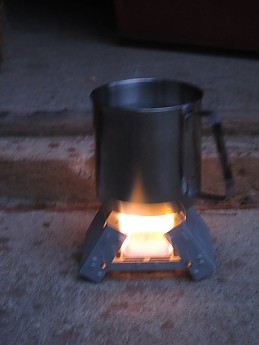 Rating:


Source: bought it new
Price Paid: $5

Summary
Pocket stove that works anytime any place
Cons
Four small rocks work too.
Nice way to boil a cup of water, using four stones can do the same thing or digging a small hole in the ground. The stove keeps any unfriendly impact to a minimum. Burns clean with its fuel table, can use military fuel tabs too.
Rating:


Price Paid: $9.99 for stove and some fuel cubes

I love this stove.  It weighs next to nothing and is fine (3 season) for my freezer bag cooking.  I have resorted to all freezer bag cooking to minimize cleanup, so now I don't always need my Svea 123. 
If I was on a long trek or in winter conditions I might bring the 123, but I have had no problems with the Esbit boiling a cup of water in five minutes or less.  There is usually enough left over from one solid fuel cube to also boil a cup for a hot drink.  
I was also able to use a solid fuel cube on a very rainy group backpack where we wanted a fire and could not find any dry tinder.  We had dryer lint but it did not keep going long enough to light the tinder. 
Very good stove.
Rating:


Price Paid: $6

I wanted a hassle-free, light, compact, and safe stove for backpacking and this bad-mamma-jamma delivered. With some help from tin-foil (wind-screen), this stove is perfect if your meal's preparation consist of adding hot water, stirring, and eating. 
With my 4qt. pot and two fuel blocks, I was able to boil enough water to rehydrate two meals (Backpacker's Pantry Beef Stroganoff & Pad Thai) and two cups of hot chocolate (to enjoy while we waited for the meals to "cook"); that's roughly 9 cups, so a little more than 2L in about 12 minutes.  In the morning I heated 3 cups in about 6 minutes with half a fuel block.
I know there are faster, more efficient stoves out there that look high tech with neato colors, but if you're not in a rush to eat, enjoy your scenery while you wait for your water to boil. 
Oh, it packs down to the size of a deck of cards and the fuel fits within; all of which, wrapped in the foil, went inside my pot along with unused food and drinks.  Win.
Rating:


Price Paid: $5

Great for boiling water. Due to compact size and ease of operation, I keep one in the glove box of the car and take one on every hike just for emergencies.
Rating:


Price Paid: $3

I got a used one at an Army/Navy surplus store for three bucks! A fantastic little stove about the size of a deck of cards and super light weight. The fuel even packs inside. The Esbit brand fuel tabs can get a little pricey but the generic army fuel tabs are smaller, lighter, cost about 2/3rds less and work just as good! The only thing is that the Esbit brand tabs pack in the stove better because they are the correct rectangle shape.
One tab brings one pint of water to a boil. 6 tabs pack in a stove. These suckers get hot, too hot to cook on without having something half raw half burned.
Rating:


Price Paid: $6.99

I love this stove for the long hauls. I use dehydrated meals mostly for long trips and this does the trick! It is light, reliable, easy to use, really cheap and uses safe fuel. It is not the fastest at boiling but hey, I'm in the wilderness and time is what I have!
The only problem I have is with Esbit fuel. It has sort of a fishy smell. I always hang it with the food stuff in bear country. We usually take a different stove on short hikes or winter camping but take the Pocket Stove for a backup! A great product!
Rating:


Price Paid: $5

The most useful stove I own. Weighs almost nothing. Fits into (almost) any pocket. Fuel is stored in the stove for convenience. Solid fuel, no messes. Fuel can be used as an emergency fire starter in wet conditions, burns for 10 to 15 minutes per tab.
ONLY downside, a windscreen MUST be used. A piece of tinfoil folded over a couple of times works well. As long as all you're doing is boiling a cup or two of water for rehydrating dehydrated meals, this is the perfect stove.
Rating:


Price Paid: 5

I have been bushwalking for many year on and off and have always have had an Esbit stove. I use it now in combination with shellite fuel stove (optum svea 123R amongst others) to simmer food or maintain the temperature of food already cooked.
While I cook another dish, so I don't have a train smash and have something that looks like a good meal, and for the coffee on the trail, it's perfect, you don't have to muck around with liquid fuels, and if you can find an Aussie Army mess kit the combination is cheap, compact and works well for short hikes.
I can't speak highly enough of this stove, it's never let me down, and always will carry one of these stoves. As for time it takes to cook a litre of water, I don't care, and it's a waste of information for a keen hiker as time is what you have to enjoy the great outdoors.
Rating:


Price Paid: 6 dollars or less

Gets the job done. Not the quickest but at the price and weight it is hard to beat.
Rating:

Size, weight performance. The krauts used these stoves on the Russian Front during WWII (what else do you need to know)?
Use propane or butane for car camping, but the Esbit can't be beat in the field. Use hexamine or trioxane fuel tabs (get em at surplus store) and don't worry about expiration date.
If you pay more than $3 for an Esbit you got ripped. The leftovers from WWII and the Cold War are still working just fine.
Rating:

You have to have an efficient setup to take full advantage of this design. Use a lightweight "pot" and try and keep it to about 2 cups with one tab. With a windscreen, it can boil up to 2 cups with one tab. More than that and it will take more than one tab. I am using it on the AT (thru-hike) and it gets the job done :)
Rating:


Price Paid: $10

It is not bad as an emergency backup. I had a hard time bringing any more than one cup of water to a boil per tablet, so I started building little twiggy fires as the tablet died down.
Where to Buy
sponsored links
Help support Trailspace by making your next purchase through one of the links above.
Esbit Pocket Stove
currently retails for:
$10.50

where to buy:
Specs
Weight—Small (including solid fuel)
6.3 oz / 180 g

Weight—Large (including solid fuel)
12.7 oz / 360 g

Dimensions—Small (closed/folded)
3.9 x 3 x 0.9 in / 9.8 x 7.7 x 2.3 cm

Dimensions—Large (closed/folded)
5.2 x 3.8 x 1.5 in / 13.2 cm x 9.6 cm x 3.9 cm