Hennessy Hammock
Ultralight Backpacker Asym
Reviews
Perfect for the solo backpacker in areas where there…
Rating:


Source: I bought it new at Trail Days, at a special event price

Summary
Perfect for the solo backpacker in areas where there are lots of trees. Most comfortable sleep this side sleeper has had in the outdoors.
Pros
Light
Easy setup
Extraordinary comfort
Don't need a flat spot, just two trees.
Cons
Bit of a learning curve
Need to invest in specialized insulation
Limited to those < 6' and 200lbs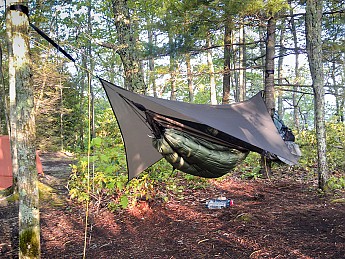 I had been hiking the Appalachian Trail, in long sections, using a lightweight solo backpacking tent. I came to realize that there are no flat tent sites in the mountains. Maybe a bit of an overstatement, but I often woke up to find myself bunched up in one corner or another of my tent, my old hips hurting from side-sleeping on the ground.
I began to see these hammocks, purpose built for backpacking. The asymmetrical design allows one to lay a bit on a diagonal, and flat! Side sleeping is absolutely not a problem (and your hip bone won't be grinding into the ground.) They have integrated bug netting held overhead by a ridgeline, and a tarp over the whole thing for inclement weather. Hang it from the right height, and it is the ultimate camp chair
They do need insulation underneath. A sleeping bag provides almost no insulation underneath you once you've compressed the insulation. True on the ground as well as in a hammock. There are many options, but the trick setup is to have an "underquilt" suspended under the hammock, and snugged up to the feet and sides, and a top quilt, or sleeping bag inside the hammock.
I hiked into Trail Days in Damascus to find Hennessy Hammock, Jacks R Better Tarps, and Dutchware set up together in the vendor area. I bought the Ultralight Backpacker Asym Zip, had some simple modifications done by Dutchware to be able to rig the tarp separately, and bought an underquilt from Jacks 'R' Better. I downloaded the kindle version of "The Ultimate Hang: An Illustrated Guide To Hammock Camping" by Derek J Hansen to my smartphone, read it twice, practiced hanging the hammock a couple of times, and mailed my tent home.
My first nights back on the trail provided me with raging thunderstorms. I stayed dry, and learned a bit about tarp camping in the process. I had previously replaced my sleeping bag with a HammockGear top quilt to lighten my load, and together with the underquilt, I was warm, dry and comfortable.  Within a couple of days, I was hanging my hammock as quickly as I had ever pitched my tent. The hammock and tarp pack down to roughly the size of my tent, and the quilts together packdown to the size of my equivalent temp-rated sleeping bag.
The Hennessy Hammock Ultralight Backpacker Asym is excellent out of the box with appropriate insulation. It is definitely built for one. Hennessy specifies a max weight of 200 lbs. It serves well as the basis of a modular system of tarps and quilts to provide year-round backpacking comfort. And there is a robust online community of owners, and of cottage-industry manufacturers, to help you achieve whatever goal you have in mind. 
I subsequently hiked 438 miles with this system, with no apparent wear or failures. I ultimately purchased a new, lighter tarp, with greater coverage from HammockGear. When I get back on the trail this spring, I will be packing my Hennessy Hammock.
The Hennessey Hammock Ultralight Backpacker Asym is…
Rating:


Source: bought it new
Price Paid: $200

Summary
The Hennessey Hammock Ultralight Backpacker Asym is a high quality shelter that will help you cut significant weight from your gear load.
Pros
highly functional
comfortable
high quality
light weight
compact
cooler than a tent
Cons
slightly tedious setup
standard fly is a bit small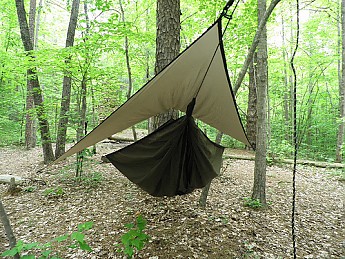 I have used the Hennessey for a couple of summers and I find that my summer pack is much lighter without sacrificing comfort.
This particular model will hold about 200 lbs capacity. It fits my 5' 9" frame, with room to spare. I find it a bit amazing because the suspension ropes are less than 1/4" in diameter yet are super strong and do not appear to stretch much at all.  
The kit comes with a nifty stuff sack with instructions printed on the side, two 1" wide nylon tree straps, a silnylon fly and a silnylon and net body. The hammock body contains full bug net suspended by a ridge line that creates a nicely shaped cocoon suspended off the ground. The whole thing weighs less than two pounds. 
I have added two stakes, and two longer 6' straps for grabbing those bigger diameter trees you find in mature NC forests. There is also a convenient 3 compartment net pocket that is suspended on the ridgeline, and a couple of mitten hooks for hanging stuff. 
Outside, the asymetrical fly is mounted using rings and mitten hooks on each end secured to the tent body by prussick knots. This system is ingeniously simple and very effective. The sides of the tent body can be staked to the ground  or attached to the fly via two small shock cords. This helps the hammock maintain its shape and keeps the sides of the netting off your face while you are blissfully rocking in the breeze. The fly can be configured many different ways depending on the weather condidions. 
This shelter has a great deal of versatility. I like the fact that I can leave my sleeping pad at home, and still use the hammock for a comfy bed, a comfy chair and even a nice lounge. When you do not feel like crawling in through the bottom, you can just lie on top of the netting. I find the hammock particularly comfortable to sit in while you are watching your food cook, or just enjoying the scenery. Even though I have slept in this hammock numerous times I am always pleasantly suprised at how comfortable this thing is after a long day of hiking. 
Some considerations: 
Back or side sleepers will be quite comfortable, the hammock design allows for one to lie diagonally across the beam for an almost flat position. Stomach sleepers will probably not find this arrangement comfortable.
Weather protection with the standard fly is adequate, but requires very careful alignment if you want maximum weather protection. You can acquire a larger fly from Hennessey but this means more weight and expense.  I am planning to experiment with a Kelty Noah's Tarp 9 that is a similar shape but a bit larger and heavier than the standard fly.
Set up can be made much quicker, if you add one of the many available after-market straps that allow for quick tensioning without having to use multiple lashing knots. Personally I prefer the knots, due to the weight concerns. If I were to keep adding accessories, then the weight savings would be diminished.  
Some hardy souls will gladly hang their hammocks in the dead of winter using special quilts and under-pinning. I am not one of these individuals. I use this tent strictly in warm weather and it excels in these conditions. The ventilation and comfort are far superior to a tent on those sultry summer nights. 
Practice setting up at home is highly recommended before venturing out on your hiking trip. This hammock has provided me many nights of comfort both in camp and on my back (due to significant weight savings). With some care in setup you can sleep comfortably in heavy rain suspended above the wet ground.
One accessory you may want to consider that I have not tried yet are sleeves that contain your hammock called Snake Skins. These "socks for your hammock" slide over the entire tent and fly containing it in a conveniently slim package that you can quickly pack. Very advantageous in bad weather. 
In summary my Hennessey Hammock has provided me some really good nights of sleep out on the trail and the weight savings has been wonderful. I can leave my tent, and my sleeping pad at home, in my case, netting me a 3 lb savings right off the top.  One caveat, though, if you are planning on heavy weather I strongly recommend a bigger fly.
I purchased this hammock for my 2008 Southbound thru…
Rating:


Design: three season, can purchase a hammock quilt to make it 4 season.
Sleeps: 1
Ease of Setup: super easy
Weight: 1lb, 15oz.
Price Paid: $189.95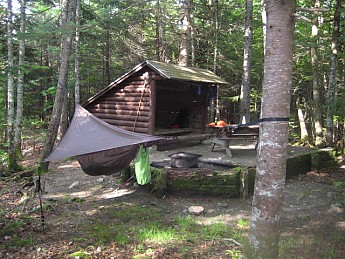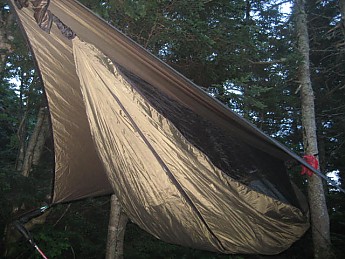 I purchased this hammock for my 2008 Southbound thru hike on the Appalachian Trail. I liked the price. Not sure what to expect but in hindsight I must say it was the best purchase I had made in years.
Setting up this hammock is a breeze. Tie each end of the hammock to included straps that go around the trees and put four stakes into the ground (two for hammock lines so you dont sway in windy conditions, and two for the hammock rainfly.
This hammock will make you into a stealth ninja (hahaha) - you can set it up anywhere there are two trees with distance enough to fit the hammock length. I have set up on the side of mountains, on top of mountains at alpine level (not recommended), in fierce rain/lightning storms, etc. - this hammock has held up through all.
The comfort level depends on each individual. It does take a couple of sleeps in it to get used to the hammock but once that's taken care of it's great.
The rainfly is made out of some really good slippery stuff that rolls rain right off it..this is a big plus.
The hammock itself has bug netting on the top portion so on nice evenings the hammock rainfly isnt needed. I found the bug netting to be 100% bug proof. The rainfly can be drapped down on each side of the hammock if wanted for privacy and/or in a bad rainstorm.
It's been a few years since I summited Springer and I still take this hammock out on the trail every chance I get. After hundreds of uses it's still in as good a shape as when I purchased it. I'd give it ten stars if I could. The Hennessy website gives in depth details on the hammock (including sizing choices) and shows you how to tie the hammock ends.
-Use a pad (Thermarest or whatever) under your sleeping bag for more stablization and comfort. Cold wind will pick up at times and you will want the pad between your sleeping bag and the hammock.
-I used two D-rings clipped onto the tree straps for even faster setup.
Make sure you use a strong brand or they will bend.
-Get snake skins for the hammock (they used to give them away free with purchase). It keeps the hammock dry until you are ready to use it. The snake skins are just protective covers for the hammock. See website for details.
Hennessy is of the elite of hammocks. Having slept…
Rating:


Source: bought it new
Price Paid: $180

Summary
Hennessy is of the elite of hammocks.
Pros
Good quality
Versatility
Side zipper option
Having slept in a Mexican hammock for a few weeks straight on vacation once, I figured that I could tolerate one as a shelter. It is a tough call whether a hammock will work for you or not, it all boils down to trying it. I am generally a side or stomach sleeper, so it has been an adjustment for me.
After a lot of reading, I went with the Hennessy Ultralight with a zipper, because of its reputation and features. By the way, the hammock forums (google it) will tell you all you ever need to know about hammocks. There is even a book on hammock camping.
The zipper is a newer feature and one that was kind of a deal breaker for me...I waited for a bit until Hennessy finally started making these, as opposed to the bottom opening. But it does make it a bit difficult getting in sometimes, mainly because you have to hang the hammock pretty high at first to account for the stretch in the cords. If you don't start out high enough, your bottom just may end up brushing the ground.
So when getting into the hammock from the side, sometimes you have to almost do a high jump maneuver (I'm exaggerating a bit, but maybe you see what I mean.) And you also have to consider the opening side when you hang the hammock...upslope as opposed to downslope would be preferable, but I've never had the opportunity to camp on a slope just yet. I admit, I have a lot to still learn about my hammock.
I have used it only in Florida so far but the very first night I used it, the temp dropped to 38 degrees! I used a Therm-a-Rest, a reflective sunscreen for a car, and a 30-degree down bag, and I was just warm enough..thank goodness there wasn't any wind. On another night, I was too cold in my 40 degree bag, and I don't think it got below 55. I didn't consider buying the supershelter mainly because I don't anticipate using it in very cold weather.
Others have pretty much said all there is to say....again, the hammock forums will answer all your questions. I look forward to using my hammock a lot more this next winter in Florida to really get a feel for it and will update my review then.
I bought this on a whim, saw it on display and read…
Rating:


Design: 3-4 season
Sleeps: 1
Ease of Setup: It is easy in the forest a little tougher in the desert.
Weight: With skins and pegs weighs in at about 2lbs.
Price Paid: $145

I bought this on a whim, saw it on display and read the "how to and why for" and thought that it might be nice to relax in, providing I could find two hard points far enough apart. I have since made it a permanent part of my backpack. It is great in all but the worst condition, I'd guess that to be a raging blizzard. It is great for solo hiking or even on a fishing trip when you don't want to listen to a campmate snore thru the night.
It sets up quick and is comfortable to the extreme. I use my light pad in it to ward off the cold from below and a bag for the season. The way it sets up it keeps me at a very comfortable angle and I sleep very well and wake up very refreshed. Better than sleeping on the ground by a long shot.
The only complaint I had is that the first time I set it up I didn't get the knot right and I landed rather abruptly on my butt. Hasn't happened since. I do recommend the snake skins, they make stowing the thing very easy.
I love my hammock. Best sleep on the trail comes in…
Rating:

I love my hammock. Best sleep on the trail comes in a hammock. Only problem is you can't curl up next to your significant other in a hammock.
I found this product by searching for a bivy sac on…
Rating:


Design: Hammock with rain fly
Sleeps: 1
Ease of Setup: Easy
Weight: 1.5 lbs.
Price Paid: $157

I found this product by searching for a bivy sac on the web. I liked the idea and the price so I ordered one over the internet.
I spent two rainy nights in the Catskills and it workded like a dream. I loved the way you can tie off the hammock to one side and use the fly as a cooking shelter. The weight and little room that it takes in the pack, (it packs smaller than a loaf of bread), makes this an easy choice for three season packing in the Northeast. I brought a light opencelled pad and I was toasty at night in my bag. Getting in and out to pee took a little getting used to as you enter through the bottom and with the pad and the bag inside, it takes some manuvering bu I have it down now. I just quarter fold the bottom half of the pad and push the bad up to the head and get in. the I smooth out the pad. Then I pull the bag onto my feet and pull it on up. I experimented by draping my rain poncho over one end and created additional space out of the rain to stow my pack for the night.
Overall, the weight savings make using this as a replacement for a tent a snap. It's even lighter than a bivy and I can set it up anywhere I can find two trees close enough together no matter the terrain. And who can beat the price. That Tom Hennessey is one smart fella.
Just hanging about. Pretty simple unit and a good…
Rating:


Source: received it as a personal gift

Summary
Just hanging about.
Pros
quick set-up
light weight
small packed size
no ground leveling needed
can be set-up on ground
Cons
could be a little longer
fly would be better if a little bigger
interior line clips should clamp on so as not to slide
Pretty simple unit and a good hammock system.
Sets up in a couple of minutes, best to test at home, know best tie-up spacing, not hard at all. Watch Hennessy setup video.
Stable as much as a hammock can be. Actually pretty darn good once you are in, easy to get in, don't hang too high lower (still off the ground) is better.
Weather resistance, be aware as to where the wind/rain may come from as fly is asymmetrical and possibly slide the fly slightly towards the weather side.
Ventilation is good. If too hot make fly tie higher, if cold make fly tie lower, even open the zip if no bugs.
Room & Storage: it's a hammock duh.
Pack-ability: very small and easy, just stuff it in the bag.
Ease of use: very easy.
Features: simplicity. Has a small double pocket and two clips inside on interior line.
Construction& durability: Seems OK.
I own the Ultralight Backpacker Asym with the Supershelter…
Rating:


Price Paid: $496 new for entire setup--hammock, insulation, tarp and skins

I own the Ultralight Backpacker Asym with the Supershelter insulation system, Snakeskins quick-setup covers, and silnylon 30D Hex Tarp.
I ordered the setup for solo fastpacking in the Rockies, and it's been extremely impressive. Some of my major trekking issues—weight, aches from ground sleeping, cold sleep, and storm protection—are now only an issue when I go above treeline.
My first overnight test run started on a sunny March afternoon, but by the time I slogged into my campsite 10 miles out, hail was bouncing off my head. I whipped out the hex tarp, tied it up, got underneath to hang the insulated hammock, and snugged in. Within twenty minutes, snow was howling down at a 45-degree angle, and within the hour, it was near-horizontal.
I only had a twenty-degree down bag, and since I sleep really cold, I figured I was in for an ugly night—maybe a dangerous one, if meltwater leaked onto my down. Ha! I was totally toasty—it was like being in a 70-degree room.
By dawn, there was nearly two feet of snow on the ground, but I felt great—no aches, I had comfortably side-slept, and I was warm. And, when I called Hennessy the next day to ask about why my head had been weirdly pressed against the hammock's back wall, the owner himself called back to puzzle it out with me and give me the right fix (I needed to hang the foot higher).
I've had some of my best trips in this setup. I only wish I could use it above treeline, and with a partner. And that I didn't look like a burrito on a string for mountain lions, but what the heck—at least I'm not at serving-height, like I would be in a bivvy.
Notes:
Definitely get the Supershelter insulation system or use a sleeping pad inside the hammock—otherwise you can get as cold as sleeping on the ground without a pad.
Because you don't have a lot of extra room, pack the rest of your gear small if you have a chance of windy precipitation—you can put gear in the hammock with you or outside under the hammock, but it doesn't provide a lot of shelter. 
Practice hanging it in your backyard a number of times before going out. It's easy once you figure it out, but it's best to be in practice.
You probably won't sleep much the first time you use it, because it takes your body at least a night to get used to sleeping in motion. 
When camping below the treeline, there's a better…
Rating:


Source: bought it new

Summary
When camping below the treeline, there's a better way. Ditch the tent and give a hammock a try.
Pros
Lightweight
Doesn't require level ground to pitch
Can be used as a chair
Cons
Can be cold as temps drop
This is the BEST shelter I have ever used. I use to look for a flat spot to pitch a tent. Those days are over! My last hike I camped on hillsides, over rocks, and next to some of the most beautiful scenery on the trail. You'll never again have to keep hiking while looking for a good spot to camp...now they are ALL good spots!
I've found the Therm-a-Rest RidgeRest closed cell foam pad placed inside the hammock is a great way to insulate yourself on cold nights. I use the large RidgeRest, which is five inches wider than the regular size and has a great R-rating. Also, using an inflatable neck pillow is a comfortable support for your head and neck. 
I find my Hennessy hammock to provide a more comfortable…
Rating:


Sleeps: 1
Ease of Setup: The easiest set up I've ever dealt with

I find my Hennessy hammock to provide a more comfortable night sleep than my bed. The hammock is great for spring summer or fall but is especially nice on warm summer nights!I have slept comfortably through plenty of extreme weather such as snow, rain, sleet, and winds.
Hammock camping completely ends the necessity for flat ground so camping spots are exceptionally easy to find even in steep or rugged terrain.
After five years of using my Hennessy hammock I have had little to no issues. I have used it for everything from bike touring to thru-hiking and could not have been happier.
For lite weight backpacking it is wonderful. Really…
Rating:


Source: bought it used
Price Paid: $80

Summary
For lite weight backpacking it is wonderful. Really helps me lower my pack weight.
Pros
Easy to put up and take down
Hennessy Hammock Ultralight Backpacker Asym
currently retails for:
$249.95