Kelty Noah's Tarp 9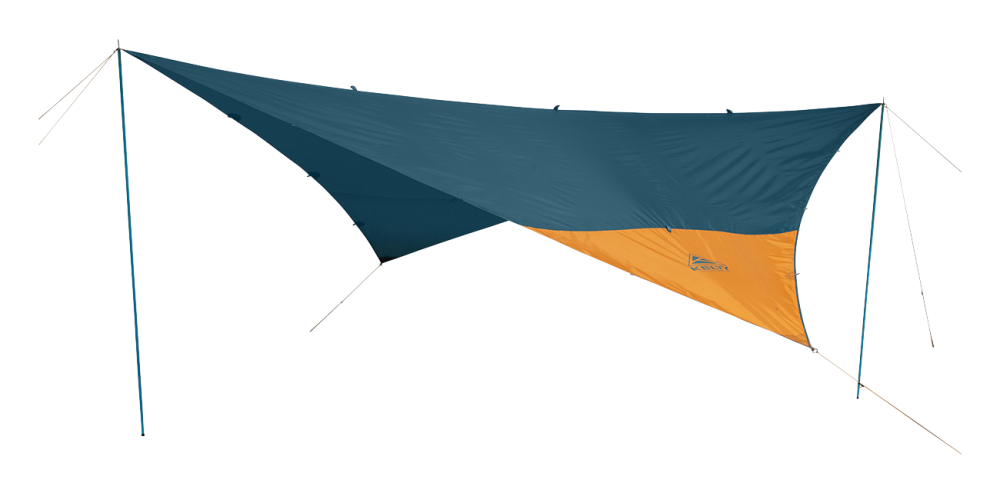 An inexpensive ripstop nylon tarp appropriate for shade for three to four people or as a shelter for one or two people.
Pros
Quality construction
Inexpensive/Value
Versatile
Cantenary cut allows for easy pitch and rain run off
Cons
Cordage quality is average
Bag is awkward
Cantenary cut may not be for everyone
Heavier than cuban fiber or silnylon
I went on a camping trip with a friend and he pulled out his Kelty Noah Tarp 16 (16 x 16). It worked out so well for our group, that when I got home I went online and bought the Kelty Noah Tarp 9 (9 x 9) for myself.
This tarp has quality construction, is relatively inexpensive and versatile. I've only used my tarp twice, but both times I put the tarp to the test. It does not cost a fortune like a cuban fiber or sil nylon tarp, so you can use it and abuse it and not worry.
My tarp came in a bag, with four cords and six stakes. I do not really like the bag because it is kind of awkward to use and I think the design with a zipper adds unnecessary weight. I'll probably switch it out for a ditty bag. The tarp came with two long cords and cord locks attached and two short cords and cord locks unattached. It came with 6 red three-sided aluminum stakes. The tarp has cantenary cutouts on each side which makes it easier to obtain a tight pitch. I believe that it also improves rain run off.  
The first time that I used this tarp was during a tropical thunderstorm caused by a hurricane that was hitting the Mexican coast. The tarp held up well. The second time I used the tarp was in the Ozark Mountains. The winds were moderate to strong with light fog.
Setup: With the cantenary design I believe that the best pitch method is a diamond setup. Since the tarp came with two cords already attached, the first time I set up the tarp it was very easy. I tied two cords to two trees and spiked down two corners with two spikes. It was set up in about 30 seconds. Of course there are probably 30 different ways to set up any tarp. 
Stability: When new the tarp and the cords seemed to stretch out. After the initial setup, the materials seemed to stretch less and created a more stabile pitch.
Ventilation: The great thing about tarps is that there is always enough ventilation. This also means that there is little to no condensation on the underside of the tarp. The Noah tarp ventilates well. I've primarily used this tarp to hang over my hammock. I've set up the tarp on the ground as well just for practice. When set up on the ground, the centenary cut does allow a gap between the tarp and the ground. This might bother some people in cold and wet weather, but it actually creates better ventilation in hot weather.
Room and Storage: The Noah 9 tent works well as a shelter for one person. Two people could fit, but might be cozy. Three to four people could fit under the tarp for shade or rain protection. 
Packability: The tarp folds up to about the size of rolled up blue jeans. It is not super small or overly large. I do not really like the bag that was included with the tarp because it has a zipper that could wear out over time and adds extra weight. 
Ease of Use: The tarp functions like a tarp. It is super versatile. I can sit on it, hang it for shade, rain or wind protection. I can set it up on the ground as a shelter. However, I mostly plan to use this tarp to hang over my hammock for cover.
Features: The only unique design element of this tarp is that it has the centenary cut (slight arches). This design might not suite everyone, but I like it. 
Construction and Durability: The tarp is well constructed of 70D ripstop nylon with water protection and sealed seems. All the tie in points seem to be well made.
I purchased this tarp online at Amazon during a sale. I believe that I paid $35. The following week it was discounted even more down to $25. I wrote into Amazon and asked it they would refund the difference. They did. Amazing. So I bought this tarp for $25, what a great bargain. Even at the normal price of $60 I think that it is a good value.
On my second trip, my friends were a little overzealous with the campfire. Although my tarp was set up 30 feet away a spark drifted and landed on the tarp and burned a small hole. Had I been using a $300 cuban fiber tarp or a $150 sil nylon tarp I would have been furious. However I was using a $25 Kelty Noah Tarp 9 and I could just take it in stride and consider the hole as a little souvenir of our awesome backpacking trip.
Source: bought it new
Price Paid: $25

This tarp is an excellent beginners tarp, although you will need to replace the guylines and stakes.
Pros
Waterproof
Durable
Good coverage
Versatile
Cheap
Cons
Guylines and stakes are garbage
Heavy
This tarp is an excellent tarp for a beginner just getting into backpacking, or for anybody that prefers durability over light weight. Sil-nylon tarps of the same size can be half the weight, but I have ripped them in rough backcountry settings.
For the casual camper who is unlikely to use this tarp over anything but a picnic table, weight is not an issue, and the price of this tarp cannot be beat. I prefer tarps to tents on almost every backcountry expedition, except for in the worst weather. When I am setting up camp in an unestablished area, or under heavy snow conditions, I usually pack this tarp.
Unlike a sil-nylon tarp, I do not have to worry about setting up this tarp in thick brush where it is likely to get snagged, and where a sil-nylon tarp would rip. Also, its heavier weight and durable waterproofing can handle heavy snow loads well. If this tarp rips, I don't have to worry about shelling out another $150 for a new sil-nylon tarp.
One thing to be aware of before buying this tarp is that the guylines and stakes are absolute garbage! When setting it up in the local park to test it the day I got this tarp, I bent two stakes and found that the material in the guylines bunches up to the ends of the cord. Also the cord locks slip, especially when wet.
I immediately replaced the guylines with paracord and use my MSR Groundhog Stakes (highly recommended). Learn a trucker's hitch so you can leave the cord locks at home. There are many guyout points on the tarp, which make it easy to set up in almost every conceivable configuration, and it does exceptionally well over a hammock. However, there are no guyout points at the center of the sides of the tarp. This is an inexcusable error, because it means the user is unable to set this tarp up in an A-frame configuration.
My favorite use of this tarp is as a sun/rain shade over a cooking area at a more permanent campsite. When camping in one place on a climbing trip for multiple days, it is nice to have a tarp to cook and eat under. In this way, it is easy to justify the weight of this tarp because I usually drive into this kind of campsite.
Overall, I find that the tarp is useful in some situations, and could be the perfect tarp for a casual camper/occasional backpacker. However, it does have some serious flaws. Be prepared to spend another $30 or so on new stakes and guylines, and if anyone can figure out a way to add guyout points to the center of the side of the tarp without damaging it, let me know.
Source: bought it new
Price Paid: Around $40

She's an amazing beast.
Pros
Very durable
Plenty of tie out points
The adventure gods will apparently favor you on occasion
Cons
A little heavy
A little bulky
Can get a little loud, but what tarp/rainfly doesn't?
I think the catenary cut design keeps it from being pulled completely taut when hung from corner to corner (I could be wrong)
I've had mine for a couple years now, and regularly use it in wind, rain, and snow.
The best thing I can probably say about this product is the time that it saved my hammock, down sleeping bag, and down underquilt from a flash flood. When the flowing water and debris pulled out my tent stakes, the tarp wrapped around everything and kept it all literally bone dry in the flowing creek water throughout the remainder of the storm. It was truly incredible. The adventure gods, and this tarp smiled upon me that day.
Everything else, everywhere else was covered in creek mud when the water receded, except my nice, dry, lofty down gear. I'm still amazed to this day.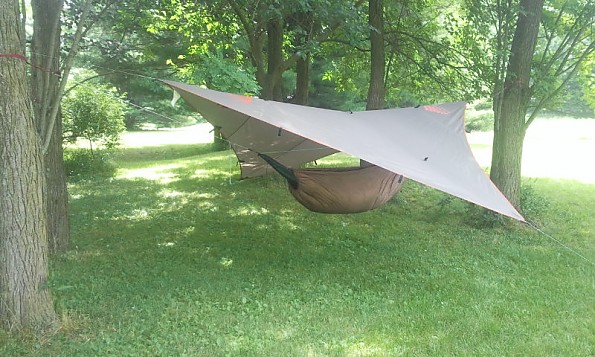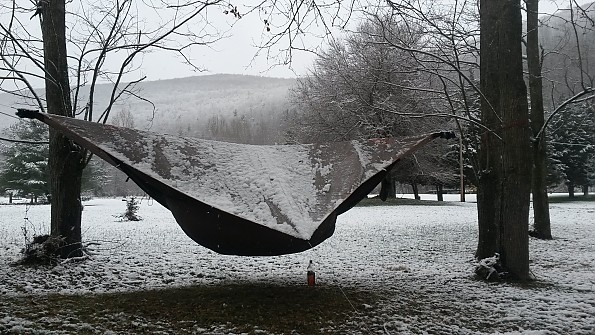 I keep it rolled up in mesh tarp snake skins, and attached to the ridge line when in the pack. It stays organized, makes for a real quick setup, and keeps the wind from blowing it away.
After dozens of outings, it finally needs to be re-waterproofed. Drops are starting to seep through on real rainy nights, or if a lot of wet snow falls in the night. Still a great product for anyone looking for this type of thing in this type of price range. I would definitely recommend this product to friends.
I have plans on upgrading to a cuben fiber tarp to save more space and weight (aiming for a comfort driven base weight that's also under 10 lbs), but I will definitely keep this beast in my spare gear.
Originally, I purchased the 12' x 12' version, but it was freaking gigundous. When you folded it down to 9' x 9', the extra material adds up to almost a second 9x9 tarp, and no backpacker wants to carry two of anything (unless it's food). A 9' x 9' tarp is plenty for a hammock (my hammock is 11' long).
Source: bought it new
Price Paid: $65 I think?

A nice option if you don't want to pitch a tent, and a great choice to keep stuff dry.
Pros
Lightweight
Packs small
Lots of guyout points
Stays waterproof
Cons
Odd shape
Optional poles are huge
I bought this with my REI dividend in 2010.  My wife and I were headed to Yellowstone and Glacier NP's for a trip, and it seemed as though this tarp might come in handy.  It did.  We slept under it in Idaho Falls for a night in lieu of pitching a tent, and it spent several days strung up over our picnic tables, keeping stuff dry. The weird shape can make getting a taut pitch a PIA sometimes, but it also allows some creativity in the way  it can be set up.  I bought a pair of Kelty's optional poles, but they're really too big and bulky for anything other than car camping.  We travel by motorcycle, and decided that having the extra heft along wasn't necessary.  Our primary use has been as a shelter against the rain, and we normally try to guy as many lines as possible to keep the tarp nice and tight.  During the first trip in '10, it held nicely against some light showers, with only some expected sagging with the weight of the rain water.  
Fast forward to another trip to the same parks, and again the Noah's Tarp did yeoman's duty in keeping our stuff dry.  We had quite a bit more rain this year, and as long as we pushed the big puddles out of the tarp before it sagged too much, all was well.  We had to tighten lines on a frequent basis, but that's not a big deal.  We use a product on the bikes called Rok Straps, which incorporate elastic webbing, and they were the cat's ass for easy cinching on the tarp.  Everything stayed dry, even when there was a gallon or so trapped in the folds.  It would have been nice to have had a pole for the center of the tarp to allow the water to run off, but hindsight is always 20/20. 
I'm very pleased with this piece of gear, and would not hesitate to buy another one.  The 9'x9' size is small, and there have been times when I wish that I'd have gone with the 12'x12' option, but really, there are no complaints.   I'd use it as a backpacking shelter more often, but my wife is adamant about having a full tent to keep out any unwanted "guests."  :)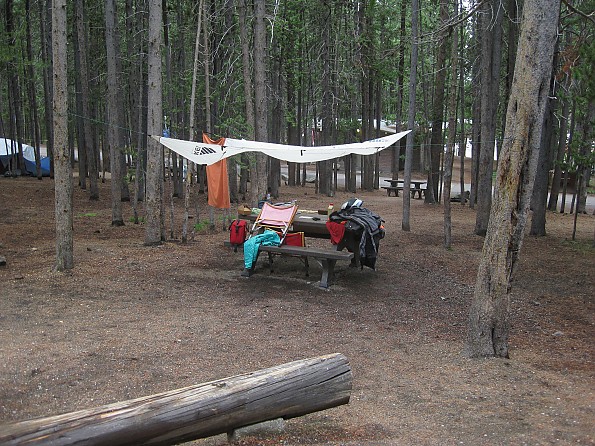 Source: bought it new
Price Paid: $69

This is truly a great product! Kelty rocks on this tarp for backpacking or anywhere you need a quick, dependable, rugged, lightweight tarp. I have both the Noah's Tarp 9 and the Canyon Tarp, which is the same as the 16. I highly recommend this tarp. Plenty of guy out points, factory taped seams, light pleasing color....Just the right size for an extra backcounty shelter or vestibule for you tent. I love mine. I will not leave home without it on backpacking trips....Stakes and guy out lines are supplied. Very small stuff sack makes this an extra small package to add into any pack. You cannot lose on this product....especially for the quality verses price...
Update: May 30, 2006
Kelty has truly done their homework on these tarps! I own the Noah's Tarp 9 and the Grand Canyon Tarp (no longer made but similar to the Noah's 16 Tarp). The Noah's 9 tarp is the perfect thing to carry backpacking for additional shelter, extra protection over your tent or any kind of shelter. I have used mine in rainstorms, snow, and any time the threat of rain looms over a backpacking trip.
The tarp is tough, lightweight, has a pleasing color as the others reviews have stated, and is highly recommended. It drys out very fast, and has plenty of anchor points for setting up. The light weight, the small size, and the tough factory coated seams all impress me highly with this tarp. One added plus is the shape. Because of its shape, it handles high winds very well.
I have been extremely pleased with mine. It is well worth the money! The ONLY con I can think of is that the Noah's 9 will not cover a two-man tent entirely. Look at the Noah's 9 tarp for an added porch to your tent, or as something to tear your tent down under during a rain, or as a stand alone shelter for eating, or sleeping under it with one or two people if you do not carry a tent. Do not count on it to entirely cover a two-man tent. If you want that, I suggest a larger one.
Design: Tarp-General Shelter
Sleeps: 2
Weight: Very Easy
Price Paid: $50

It's not the lightest or largest option out there, but it's one of the best.
Pros
Generous coverage
Easy setup
Tons of guyout points
Strong
Sheds water like a pro
Versatile
Excellent single-person shelter
Cons
Not the best shape for hammock coverage
A little heavy
Pitching in snowy conditions requires steeper pitch
Two people sheltering under it can be cozy depending on the weather. Three gets crowded.
This tarp was one of those semi-impulsive purchases that turned out to be some of the best money I EVER spent. 
What's not to like? Fast setup, strong, stable, reliable. I generally am able to set this tarp up in under ten minutes. My average setup time is 6-7 minutes. The generous number of tie-out points allow plenty of ways to put this up, beyond the classic 'diamond' setup. high, low, tent-style, you name it. 
The tarp has handled any weather condition I've used it in ably, sometimes even better than I can. Being an open tarp, ventilation is no issue. Granted, in cold weather this is a downside. 
Now, for hammocking, which is what I bought it for, this tarp is pretty good but a little on the minimalist side, I now realize. It gets the job done but there's no real weather buffer.  
For ground-sleeping, it's more than adequate. Depending on the pitch style, there is plenty of room for one or two people (though two can get cozy in lousy weather pitches), and three is almost always a crowd. 
It packs down into one of the side pockets on my pack, takes just a couple minutes. I have yet to have any failures on the guyouts, seams, anywhere. I've had this tarp weighed down by a couple hundred pounds of snow/slush, and while it stretched and bowed, it didn't take a set, and never failed. 
Worth. Every. Penny. 
Source: bought it new
Price Paid: $65

It's like a Swiss Army knife: lots of uses.
Pros
Durable
Waterproof
Packs small
Solo shelter
I forget how much I paid for this on clearance at REI, but it wasn't much. Less than $50 as I remember. Like a few others, I'm not one to pass up a good deal and usually find a niche for most of my stuff. Noah's Tarp was no exception.
When backpacking with my wife, we take it along as a sun shade or rain shelter and it easily sets up with a couple of trekking poles. I use two cords on the pole corners and one each on the sides and it's very stable in wind and rain. We carried it on the Speyside Way and it came in handy more than once. I also us it as a cook shelter during hunting season. I had some poles I'd saved from one of those cheap big-box shade shelters and I use two of those to set up a nice shelter I can cook and eat in and relax in the heat of mid-day. The tarp doesn't show many signs of wear and still beads water.
I know Dick Kelty is gone and it  may not be the same company but they do get stuff right, even if it isn't ultra-light, it is still durable, quality gear and worth consideration. Who among us hasn't owned (and loved) an external frame Kelty pack at some point?
Background
It's the only tarp I've used; I won't need another one.
Source: bought it new
Price Paid: $50?

This a very durable tarp with tons of options for set up. I take mine for three season hammock camping. Suspended on the diagonal, it gives great end to end coverage while retaining the option of staking it to the ground for max side coverage when the rain is blowing.
When I get to areas above treeline that do not offer good hammock hanging options, I use my hammock as a bivy and use the Noah's tarp as a tarp tent. With one hiking pole and three stakes, I've been able to set this up low and tight enough to withstand 50+ mph winds. I simply put some rocks and logs over the stakes for added security.
Since this tarp is tough and made from polyester, it is not the lightest tarp by a long shot. However, it does withstand more use and abuse than lighter silnylon tarps. I'd give it 5 stars, but there is a weight penalty.
Design: Tarp tent
Sleeps: 2
Ease of Setup: Lots of options
Weight: 27 ounces
Price Paid: $58

A very lightweight and cheap alternative to tenting. I added two old aluminum tent poles and about 12 stakes/guy out lines and it still comes in under 3 pounds. You can get it very taut, it has a multitude of configurations and can be raised or lowered to alter the declination of the sides, depending on how much storm protection you need. Very inexpensive when compared with the Moss Heptawing. Fully waterproof nylon without the annoying crinkling sound of cheap, woven plastic tarps. My only gripe was that I thought the loops were too big and didn't allow the tarp to achieve maximum tautness. This was remedied when I went to the shoe cobbler and had him sew the loops shut at about 2/3 the way.
Design: tarp
Sleeps: 2
Ease of Setup: About a dozen guy-out points
Weight: 1.5 lbs
Price Paid: $50

This is probably the best value for the buck in tarps. light enough to be carried for extra shelter if you plan on carrying a tent. I use this with my bivy in winter when bugs are not a problem. The tarp's design allows a reasonably taut pitch with just two stakes and a guy line on each end tied to two points, ie trees, bushes, trek poles whatever. The polyester material will not stretch and is very waterproof however I found it necessary to seam seal it carefully. All in all, a high quality, useful product with a very reasonable price.
Design: parabolic
Sleeps: 2
Ease of Setup: easy
Weight: 24 oz
Price Paid: $50

I like the variety of tie points that allow dozens of setup options. The 9 foot size is about perfect for a backpacking kitchen or to allow a dry place to assemble or disassemble a tent. I use trees and trekking poles to set it up when backpacking so the stakes and lines are the only additional items needed. 
I have owned mine for 10-15 years with no problems. I don't take it on backpack trips when rain is not in the forcast, but always take it when rain is anticipated.
Price Paid: $45?

Your Review
Where to Buy
Help support this site by making your next gear purchase through one of the links above. Click a link, buy what you need, and the seller will contribute a portion of the purchase price to support Trailspace's independent gear reviews.
You May Like
Specs
Price
MSRP: $79.95
Current Retail: $48.71-$64.95
Historic Range: $35.97-$99.95
Reviewers Paid: $25.00-$65.00

Seasons
3 season day use

Length
108 in / 274 cm

Width
108 in / 274 cm

Minimum weight
1 lb 11 oz / .765 kg

Packaged weight
2 lb 1 oz / .94 kg

Floor area
81 ft2 / 7.53 m2

Packaged Dimensions
10 x 9 x 3 in / 25.4 x 22.86 x 7.62 cm

Recently on Trailspace